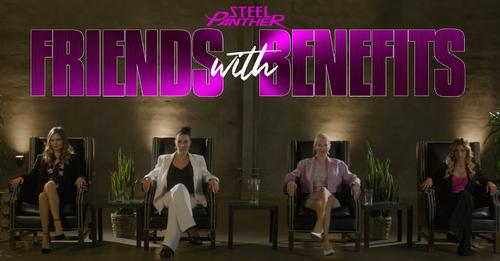 News | Steel Panther Dropped New Video Single
For the track ,,Friends With Benefits''
+++OFFICIAL PRESS RELEASE BY ACES HIGH PROMOTION+++
Glam-hard rock sensation Steel Panther (USA) dropped new, third single ,,Friends With Benefits" (Spoiler alert: plus topless video!). New studio album `On The Prowl' out Friday 24 February 2023.
WATCH THE VIDEO HERE:
COMMENT BY STEEL PANTHER
"With less than two weeks until the release of our sixth studio album 'On The Prowl' and to celebrate Valentine's Day, we are back with our latest music video from the album. 'Friends With Benefits' is a song that lyrically explores a mutually beneficial relationship between two consenting adults. The music video – directed by longtime collaborator J.T. Arbogast – is our take on the immensely popular show 'Shark Tank'."
The band appears in Panther Den as they try to pitch a series of creative ideas to four high-powered cougars. Products such as the Glorious Hole, The Coolcumber and Slikknutz all sound like meaningful creations until Michael Starr arrives selling himself and his companionship package. The band performs in front of the panel of female business leaders and by the time the song is over – there are more than just their wallets out.
Smartlink: https://lnk.to/Panther_OTP
STEEL PANTHER RELEASE THEIR OWN (FREE) `ROCK N TALK' APP
Always the innovators and constantly finding new ways to expand their societal footprint, Steel Panther are releasing their first-ever application for mobile phones called Rock N' Talk – loosely based off the 'Prowler' app in the 'Never Too Late' video. The app works like any other popular dating app, but this one is based around subscribers that share a mutual love of the band.
People can sign up and connect with other individuals in their cities and make plans to meet up at shows and develop friendships all thanks to their common interest in the band. The app will also look to expand to integrate other artists in the future.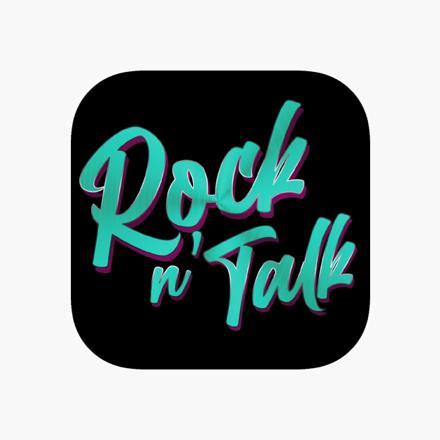 The app and sign-up will be free and is available for all smart phones now HERE
ABOUT THE ALBUM `ON THE PROWL'
From the opening synth intro of "Never Too Late (To Get Some Pu**y Tonight)" to the thunderous outro of "Sleeping On The Rollaway," Steel Panther is back with the infectious riffs, pounding drums, unforgettable vocals alongside the witty humor that has earned them a global audience. Songs like "On Your Instagram," "Magical Vagina" and "One Pump Chump" are sure to fit in on the biggest live stages next to the band's most-memorable songs. "1987" is an incredible retro look at that unforgettable year and the band even slows things down on the reflective "Ain't Dead Yet." The first single from On The Prowl is the memorable "Never Too Late (To Get Some Pu**y Tonight)."
'On The Prowl' will be released digitally and on CD, Cassette, and 2 different color variant records. Purple/Blue Marble is wide and Pink/Purple Marble will be a limited edition signed.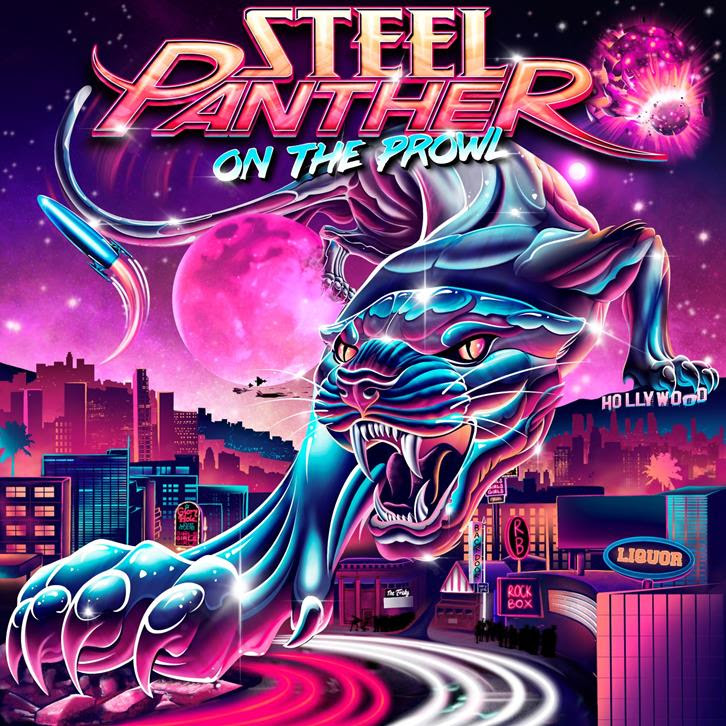 TRACKLISTING:
1) Never Too Late
2) Friends With Benefits
3) On Your Instagram
4) Put My Money Where Your Mouth Is
5) 1987
6) Teleporter
7) Is My D**k  Enough (feat. Dweezil Zappa)
8) Magical Vagina
9) All That And More
10) One Pump Chump
11) Pornstar
12) Ain't Dead Yet
13) Sleeping On The Rollaway
EUROPEAN SHOWS 2023
Support act: Winger (USA)
May 14: Glasgow, UK – O2 Academy
May 15: Newcastle, UK – O2 City Hall
May 17: Manchester, UK – Academy
May 18: Birmingham, UK – O2 Academy
May 20: London, UK – O2 Forum Kentish Town
May 21: Bristol, UK – O2 Academy
May 23: Leeds, UK – O2 Academy
Support act: TBC
May 25: Belfast, UK – Ulster Hall
May 26: Cork, IE – Cyprus Avenue
May 28: Dublin, IE – Vicar Street
Jun 3: Nurnberg, Germany – Rock Am Ring
Jun 4: Nurnberg, Germany – Rock Am Park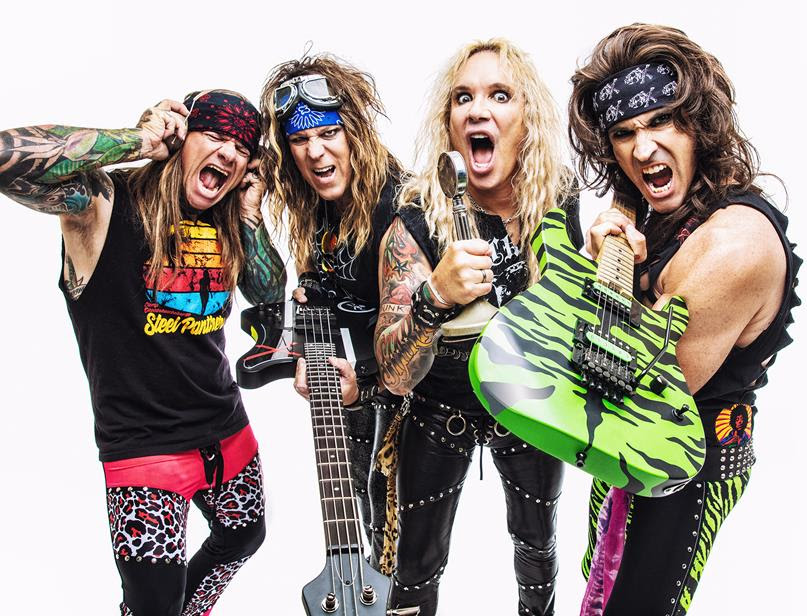 STEEL PANTHER IS:
Michael Starr – lead vocals
Satchel Parrish – guitars, backing vocals, acoustic guitar
Spyder – bass, backing vocals
Stix Zadinia – drums, keyboards, piano, backing vocals
For the uninitiated, Steel Panther was formed in 2000. Hailing from Los Angeles, the epicenter for rock n' roll in all its debauchery and glamour, Steel Panther has established themselves as the world's premier party band, melding hard rock virtuosity with parody and criminally good looks. They have continuously flown the flag for heavy metal higher than anybody this century. 2009's Feel The Steel announced their arrival as saviors of rock, showing guests such as Corey Taylor of Slipknot and Stone Sour, M. Shadows of Avenged Sevenfold, Justin Hawkins of The Darkness, and Scott Ian of Anthrax how it's done!
On its heels, Balls Out [2011] boasted collaborations with everyone from Chad Kroeger of Nickelback and Nuno Bettencourt to Dane Cook. The group unleashed a string of banging LPs, namely All You Can Eat [2014], Lower The Bar [2017], and Heavy Metal Rules [2019]. Meanwhile, they earned ink from Billboard, Classic Rock, Consequence, Metal Hammer, and more, tallying hundreds of millions of streams views in the process. They've logged countless miles on the road (and stolen groupies from) Aerosmith and Stone Sour in addition to leaving festivals such as Download begging for more.