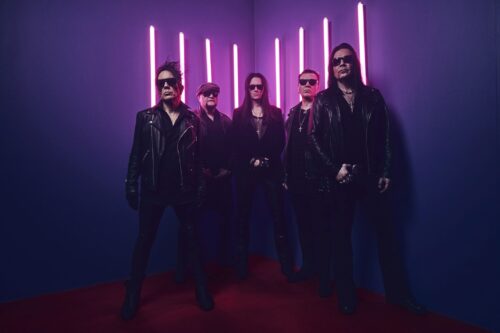 News | THE 69 EYES announce new album 'Death Of Darkness'
Out on April 21st 2023 via Atomic Fire Records
+++OFFICIAL PRESS RELEASE BY ATOMIC FIRE RECORDS+++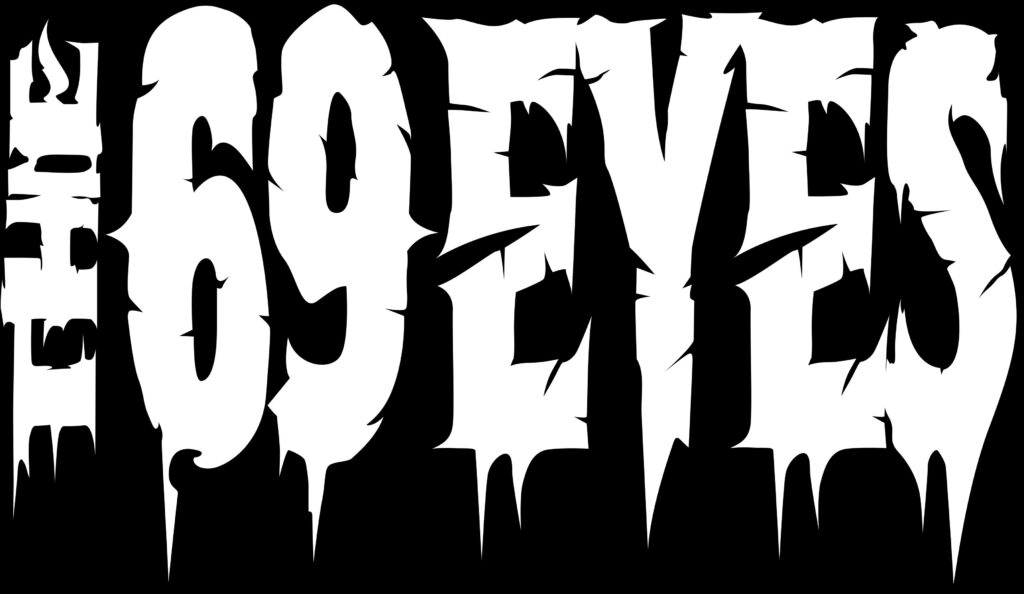 announce new album 'Death Of Darkness'.
Out on April 21st 2023 via Atomic Fire Records

Pre-orders are available now!

Catch the band on 'Gotta Rock' European and US Tour 2023!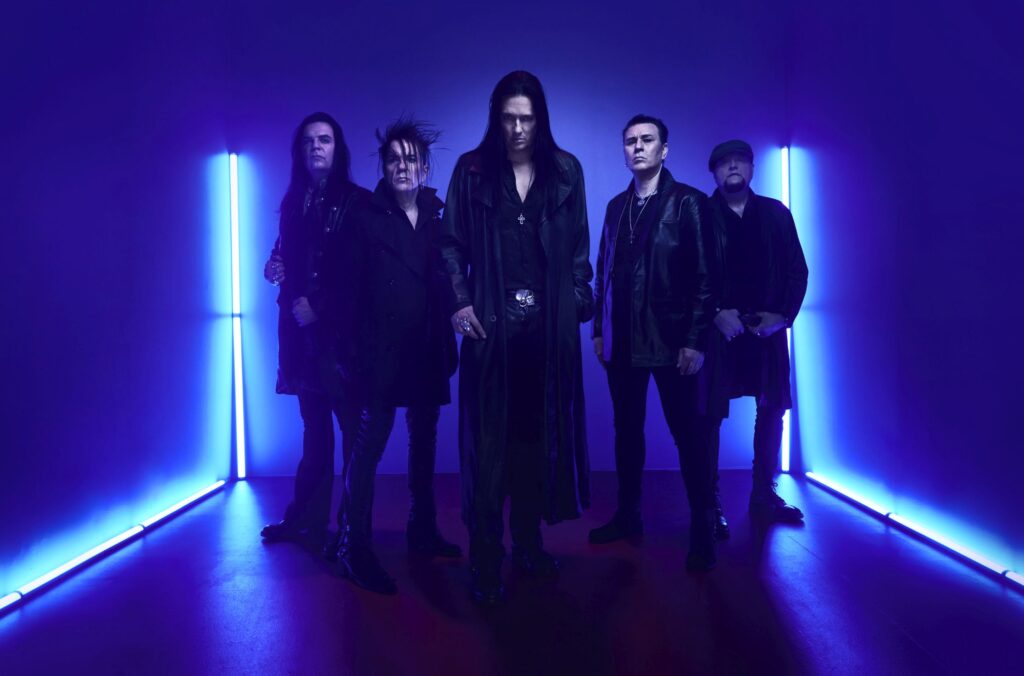 The wait is finally over! Today Helsinki's longest serving gothic rock vampires THE 69 EYES come out from their crypt announcing the new studio album titled 'Death Of Darkness'. The record will see the light of the day on April 21st 2023 via Atomic Fire Records (worldwide excl. Finland where it will be released by Vallila Music House), while in US the physical versions will be available on May 5th 2023.

"We started to make this album single by single, releasing first singles then an EP and now eventually the whole album. The method kept everything fresh and us on our toes while recording and writing new music. Our main aim was to get The 69 Eyes back to the Finland's airwaves. Our music is still on radio but over 15 years old classics. How about new ones? The first single 'Drive' made this happen and we hit the jackpot here in Finland by being a part of 'Sing meinen Song – Das Tauschkonzert' mainstream TV music show format! Now The 69 Eyes are back in the spotlight and Finland's top rock band playing sold-out shows", comments THE 69 EYES' frontman Jyrki 69.

'Death Of Darkness' was recorded and produced by Erno Laitinen at Inkfish Studios in Helsinki. Miles Walker took care of the mixing at Westside Sound Studios in Atlanta,GA alongside with Erno Laitinen while mastering duties were handled by Tom Baker. The artwork was created by the UK artist Adrian Baxter (PARADISE LOST, THE HALO EFFECT, MAYHEM, SCHAMMASCH, a.o.).

'Death Of Darkness' will be available in the following formats:
– CD Digipak
– LP in sleeve blue-clear
– LP in sleeve blood red marbled
– Digital

Pre-order the album in the physical format of your choice, pre-save it on your favorite DSP, here.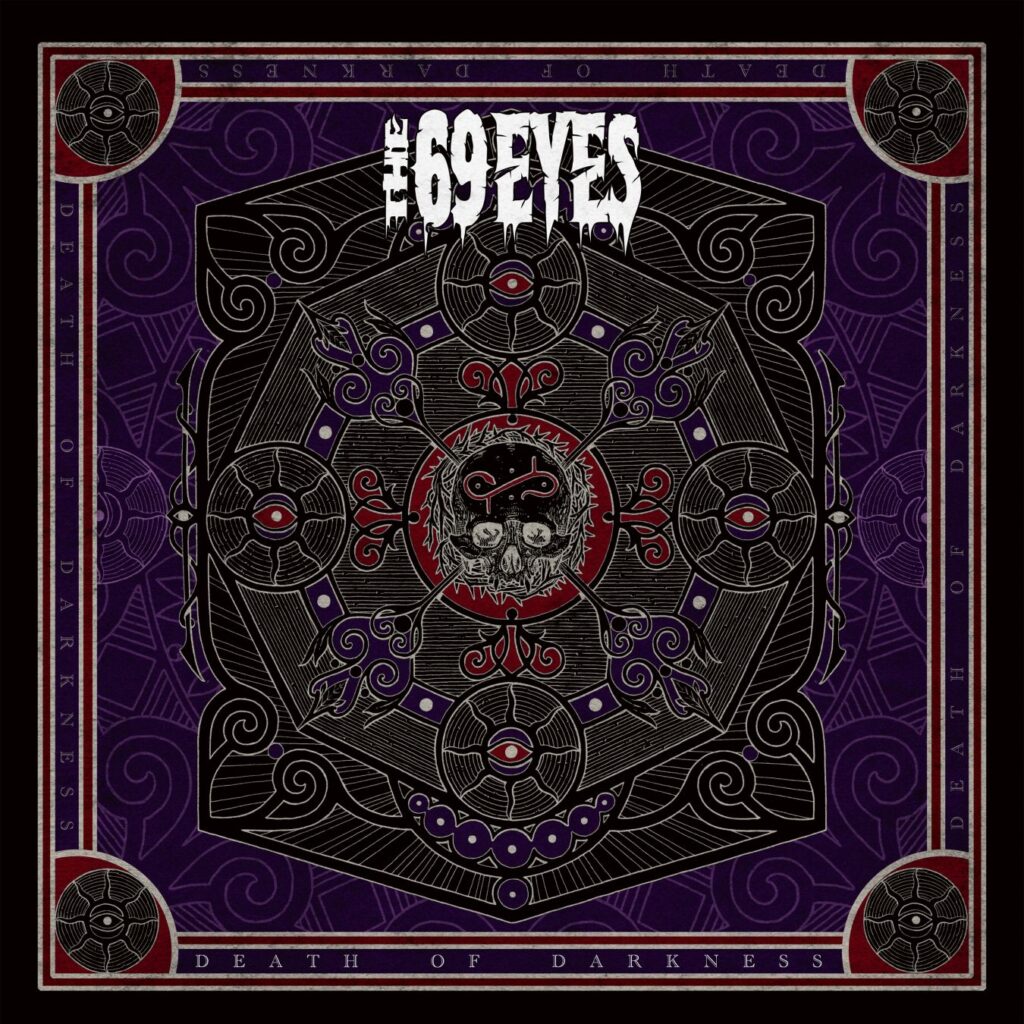 'Death Of Darkness' track listing reads as follows:
 
1. Death of Darkness
2. Drive
3. Gotta Rock
4. This Murder Takes Two feat. Kat Von D
5. California
6. Call Me Snake
7. Dying In The Night
8. Something Real
9. Sundown
10. Outlaws
 
Recently THE 69 EYES announced their upcoming tour dates in Europe and US.
 
»Gotta Rock« European Tour 2023
THE 69 EYES 
Support bands: Mister Misery * & The Other **
 
07.03.2023 DE Frankfurt – Das Bett [tickets] *
08.03.2023 DE Augsburg – Spectrum Club [tickets] *
09.03.2023 IT Trezzo sull'Adda (MI) – Live Club [tickets] *
10.03.2023 CH Pratteln – Konzertfabrik Z7 [tickets] *
11.03.2023 DE Karlsruhe – Substage [tickets] *
13.03.2023 DE Nuremberg – Der Hirsch [tickets] *
14.03.2023 AT Vienna – Szene [tickets] *
15.03.2023 HU Budapest – Barba Negra [tickets] *
17.03.2023 DE Stuttgart – Im Wizemann (Halle) [tickets] *
18.03.2023 DE Leipzig – Hellraiser [tickets] *
19.03.2023 CZ Prague – Rock Café [tickets] *
21.03.2023 DE Bochum – Zeche [tickets] **
22.03.2023 DE Cologne – Essigfabrik [tickets] **
23.03.2023 DE Trier – Mergener Hof [tickets] **
24.03.2023 DE Munich – Backstage (Halle) [tickets] **
26.03.2023 DE Berlin – Columbia Theater [tickets] **
27.03.2023 DE Hamburg – Markthalle [tickets] **

Presented by Bottom Row, Sonic Seducer, metal.de, musix & Atomic Fire Records

 
»Gotta Rock« US Tour 2023
THE 69 EYES w/ PRETTY BOY FLOYD:
5/05/2023 The Nile Theater – Phoenix, AZ [tickets]
5/06/2023 The Whisky – Los Angeles, CA [tickets] *
5/07/2023 Brick By Brick – San Diego, CA [tickets]
5/09/2023 Chain Reaction – Anaheim, CA [tickets]
5/10/2023 Goldfield Trading Post – Roseville, CA [tickets]
5/12/2023 The Ranch House – Reno, NV [tickets]
5/13/2023 Sick New World Fest – Las Vegas, NV [tickets]
* No Pretty Boy Floyd
 
More THE 69 EYES live dates:
»Gotta Rock« – Spring Tour 2023
Presented by RedBerg Agency & Vallila Music House Live
10.02.2023 FI Jämsä – Himos Areena
11.02.2023 FI Kankaanpää – Siili
18.02.2023 FI Uusikaupunki – Hotelli Aquarius
24.02.2023 FI Kemi – Corner Inn
25.02.2023 FI Lapua – Latosaari
31.03.2023 FI Oulu – Basso Club
01.04.2023 FI Jyväskylä – Lutakko
06.04.2023 FI Tampere – Tullikamari-klubi
07.04.2023 FI Helsinki – Tavastia-klubi
08.04.2023 FI Kuusankoski – Pato-klubi
14.04.2023 FI Järvenpää – Eikan Pub
15.04.2023 FI Keuruu – Rock Bike
21.04.2023 FI Joensuu – Kerubi
22.04.2023 FI Naantali – Naantalin kylpylä
28.04.2023 FI Kajaani – Rock House Kulma
29.04.2023 FI Jämsä – Pikis
30.04.2023 FI Rautalampi – Nuapuri
 
Summer Festivals
13.05. US Las Vegas, NV – Sick New World *SOLD OUT*
09.06. FI Hyvinkää – Rockfest
13. – 16.07. PL Bolków – Castle Party Festival
27. – 29.07. FI Kuopio – Kuopiorock
28./29.07. FI Oulu – Qstock
12./13.08. DE Hildesheim-Drispenstedt – M'era Luna
 
Goth 'n' Roll pioneers THE 69 EYES have been haunting stages all over the world for 34 years and seem to be a truly immortal part of the dark rock/metal scene. Widely known as the Helsinki Vampires, the quintet gained several platinum albums with »Blessed Be« and »Paris Kills« and not only reached #1 of the single and album charts in their home country of Finland, but also plunged the world into a sinful cosmos of love, death and melancholy, while outliving any other band emerging from the goth hype of the early 2000s. By developing their sound further into sleaze rock on »Devils« (2004) and »Angels« (2007) and not shying away from pitch black Elvis allusions in singer Jyrki 69's dark voice and unique onstage dance moves, the band has established a worldwide following. Over the course of over three decades, the band has toured relentlessly throughout Europe, America, Asia and Australia and released 12 full-length studio albums.
 
THE 69 EYES are:
Jyrki 69 | lead vocals
Bazie | lead guitar & backing vocals
Timo Timo | guitar
Archzie | bass & backing vocals
Jussi 69 | drums
 
THE 69 EYES online:
www.69eyes.com
www.facebook.com/the69eyes
https://www.instagram.com/the69eyesofficial/
https://label.atomicfire-records.com/project/the-69-eyes/