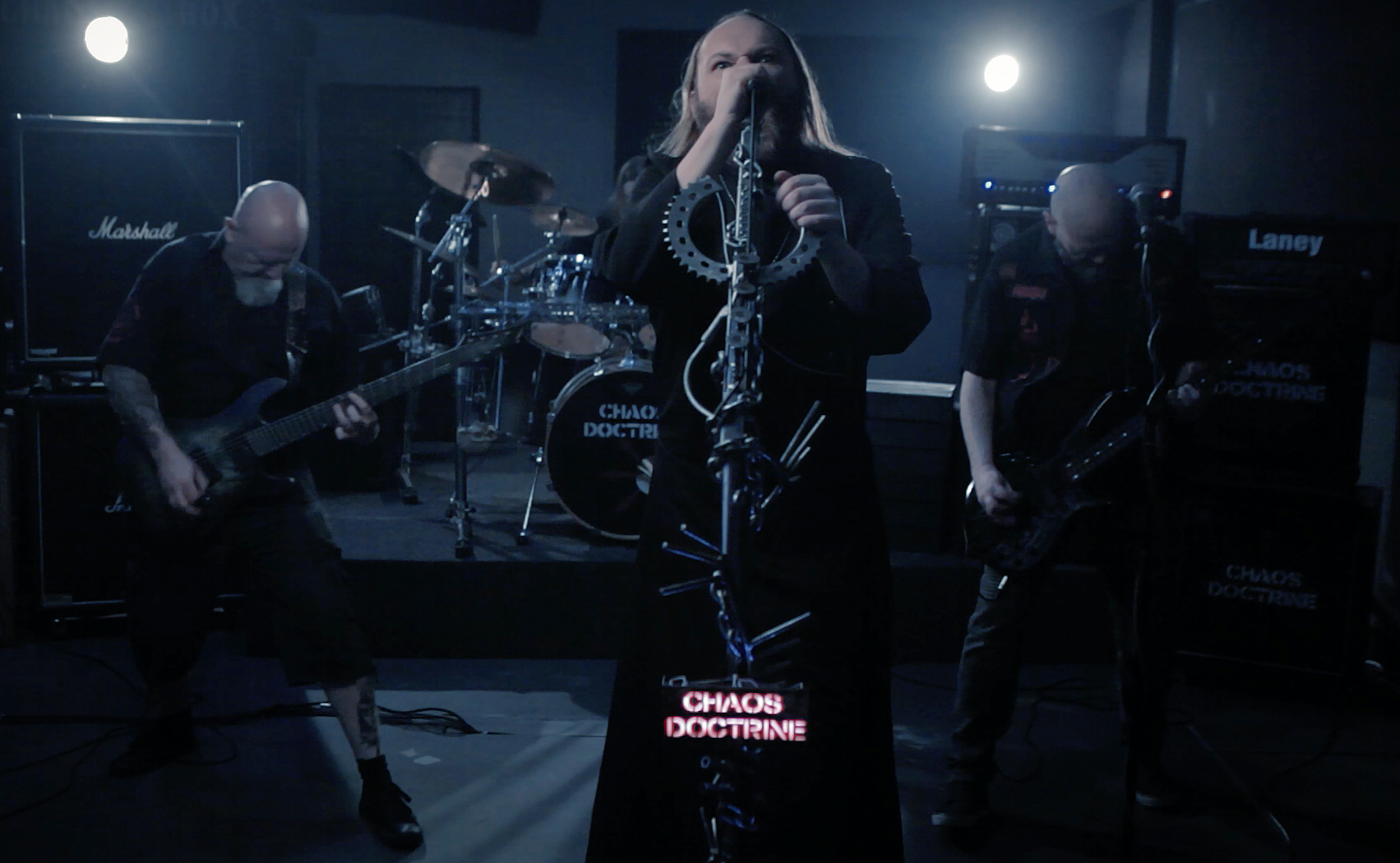 SOUTH AFRICAN BAND CHAOS DOCTRINE
Release music video for ,,Father Grigori''
+++OFFICIAL PRESS RELEASE BY DEVOGRAPHIC MUSIC MEDIA, PR, EVENTS & ARTIST MANAGEMENT+++
SOUTH AFRICAN INDUSTRIAL METAL MACHINE CHAOS DOCTRINE RELEASE OFFICIAL MUSIC VIDEO FOR ,,FATHER GRIGORI"
Following closely from the releases of the ,,Father Grigori'' single in both English and Russian (via the collaboration with Demether Grail), the South African Industrial Machine Chaos Doctrine brings you the blistering Official Music Video for ,,Father Grigori'' (Produced & Directed by Pierre Smith and filmed on location at Gemini AD, the Recording Studio and home of Chaos Doctrine),

Guitarist Alec Surridge shares that "having one of the best videographers in the country spend a day with you putting a metal video together is an awesome experience. Pierre took a look at the room and took some of our ideas and just rolled with it. Nothing fancy, but with a precision only a seasoned pro could push out so quickly. We had fun and although, possibly very generic of the genre, it looks really cool and works for what we wanted for this track."

Vocalist Daniel Burger (Dr D) adds, that "the Father Grigori video was both an honour and a pleasure to make. Firstly, we have known Pierre Smith for years and we have been talking about doing a video together for almost as long. He does movies and videos for a living and is an international award winner – so we were really psyched to see what he would do. At the same time, he was excited to work with a metal band for the first time. We planned to do the shoot much earlier, so we could coincide the single release with the video release. COVID obviously messed that plan up for us – but the first chance we had, we took it! This was also the first video shoot we did in our awesome studio. Pierre's eye turned Gemini AD into an amazing film set. Finally, this is the first video we shoot with our new line up, having done a few with our 2013 configuration (Cult, FTG, and The Genocide Number, all of which are on YouTube).
We could not be happier with how the video came out. It is a perfect close to this song for us before releasing the next single from our forthcoming sophomore album. The single released great reviews, as did the Russian version we threw into the world a month or so ago. Pierre perfectly captured the aggression, the darkness and the dread encapsulated in the song and the lyrics – bringing it to life with awesome camera work, lighting, colouring and editing. From intro to outro, it screams Chaos Doctrine, and it screams Grigori Rasputin. We hope our fans love it as much as we do!"

WATCH ,,FATHER GRIGORI" HERE:
ABOUT CHAOS DOCTRINE
Chaos Doctrine is an Industrial Metal band from Johannesburg (South Africa) and the brainchild of vocalist Dr D (Bedlam, Malachi, DedX) and guitarist Ray (Malachi, Stone The Free, DedX), who wanted to create a unique blend of Classic Thrash and Death with newer waves of Metal and Industrial. Formed in 2010 with bassist Phil (DedX) and drummer Ralph (Sacrifist, Tyburn, Misericord), the band had a few member changes before enrolling guitarist Alec (Sacraphyx, The Warinsane) in 2013. Mid 2019, Ray and Ralph left Chaos Doctrine. Early in 2020, the drum throne was taken by Rory Townes (Forsaking Fate).
For Chaos Doctrine, Metal is aggression. Everything they produce conveys this! Their sound is the result of combining the power of Classic Metal with a modern edge and raw Industrial sound. Their lyrical content explores the shadow of the human condition; hatred, brutality, decay. Their approach is unrelenting, fuelled by rage and void apology …

This is aggression, this is Chaos Doctrine!
—