ALCATRAZ METAL FESTIVAL Edition XII
Kortrijk [BE]-Lange Munte-9-10-11 August 2019
I have said it more than once; Alcatraz Metal Festival is one of the cosiest, nicest and most friendly metal festivals in Europe, as always decorated in a fun and cool looking prison style. This year's XII edition is no different. It is well organized and every edition shows improvement; the festival crew is super friendly and helpful, the food and drinks are of a good quality and at the Prison Stage and Swamp Stage feature 48 bands [some have played here before] that cover a variety of sub genres. It gives you the opportunity to discover new bands or have a blast from the past. Alcatraz has a campsite with enough hygiene facilities, you can also rent a tent, shop on a metal market [which is not that big actually], fans can meet their idols during several meet and greets [Avatar has by far the longest line], if you bought a VIP ticket you have great view at the VIP deck and the indoor bar El Presidio is the place to get away from it all to have a drink and chill.
New this year though is the addition of a 3rd stage: La Morgue; a small circus tent, very intimate and underground vibe, featuring 15 "smaller" but interesting bands this weekend. Because of press duties and social moments, or simply time to crash, I haven't seen all bands, but actually it doesn't matter. Alcatraz is about the total experience; enjoy live music, having a good time with your friends, meet new people and above all, simply celebrate our favourite music for 3 days.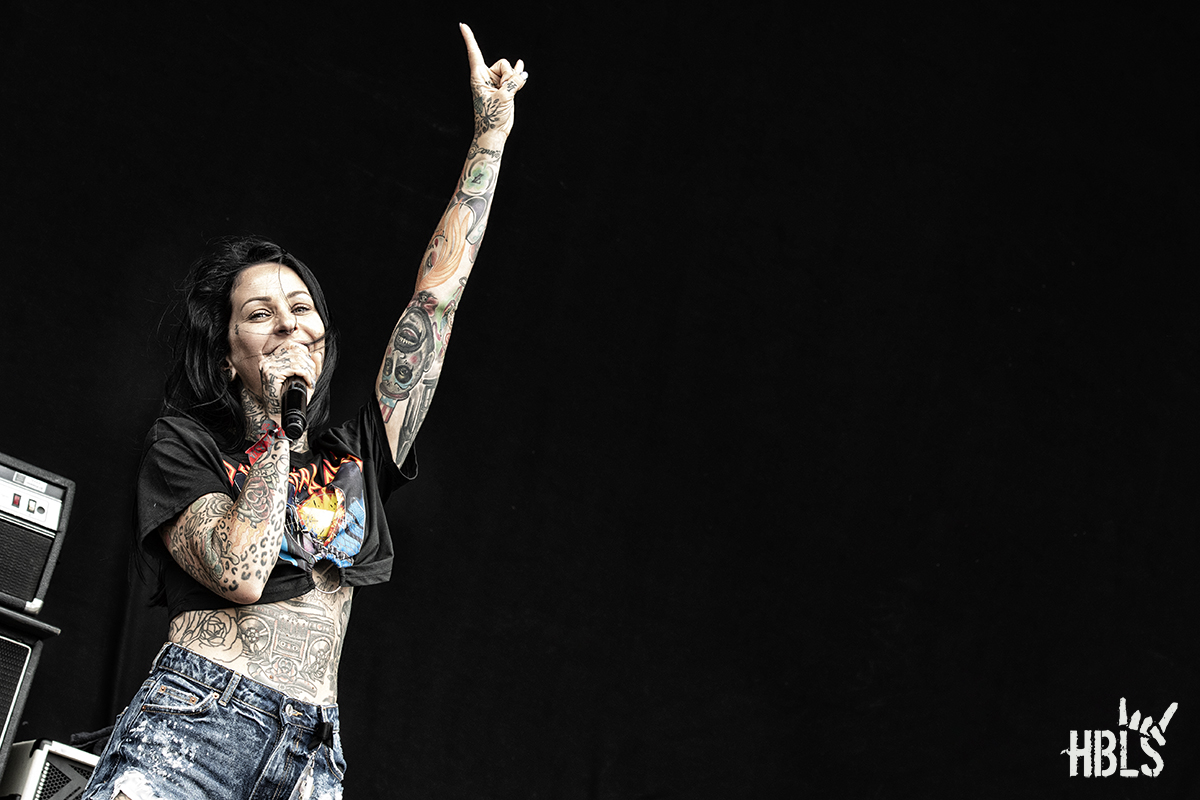 Tattoo model Femke Fatale, the lovely host of Alcatraz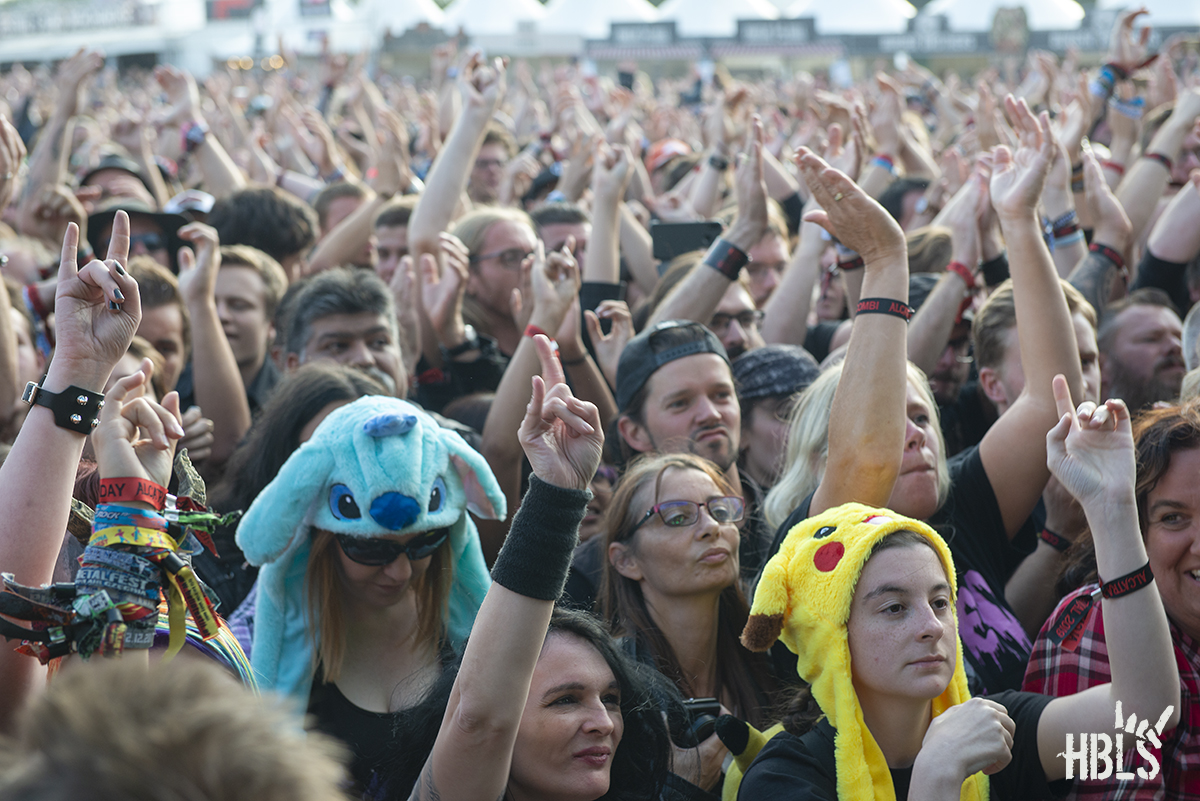 #DAY 1-Friday-August 9
When arriving, Officer Nice and his lady squad are welcoming the visitors. Unfortunately heavy rain showers are terrorizing this first day of Alcatraz [although we have dry and sunny moments later on] and it isn't very crowded yet, but it doesn't stop CROBOT from opening the festival at the Prison Stage [11:30] with a kick ass, 70s influenced rock performance. "I feel like I got a little wet with you'", gags lead singer Brandon Yeagley. Yeah, this #beardo knows how to sell his persona on stage, dressed up in a bling-bling silver jacket, show off with extravaganza and a cool rock 'n roll attitude, but the dude is a fantastic, versatile rock singer as well. The Pennsylvania quartet is about to release its magnificent new album `Motherbrain' [release date August 23] and clearly fired up to take the band's career to the next level. We get a 40-minute trip of dirty groove rock infused with loads of swing and stoner, some funk, a hint of psychedelica, grunge and a few vocal moments even remind me of Jeff Buckley. Keep an eye on this band folks and if you ask me Crobot deserve a more prominent spot on the bill next time.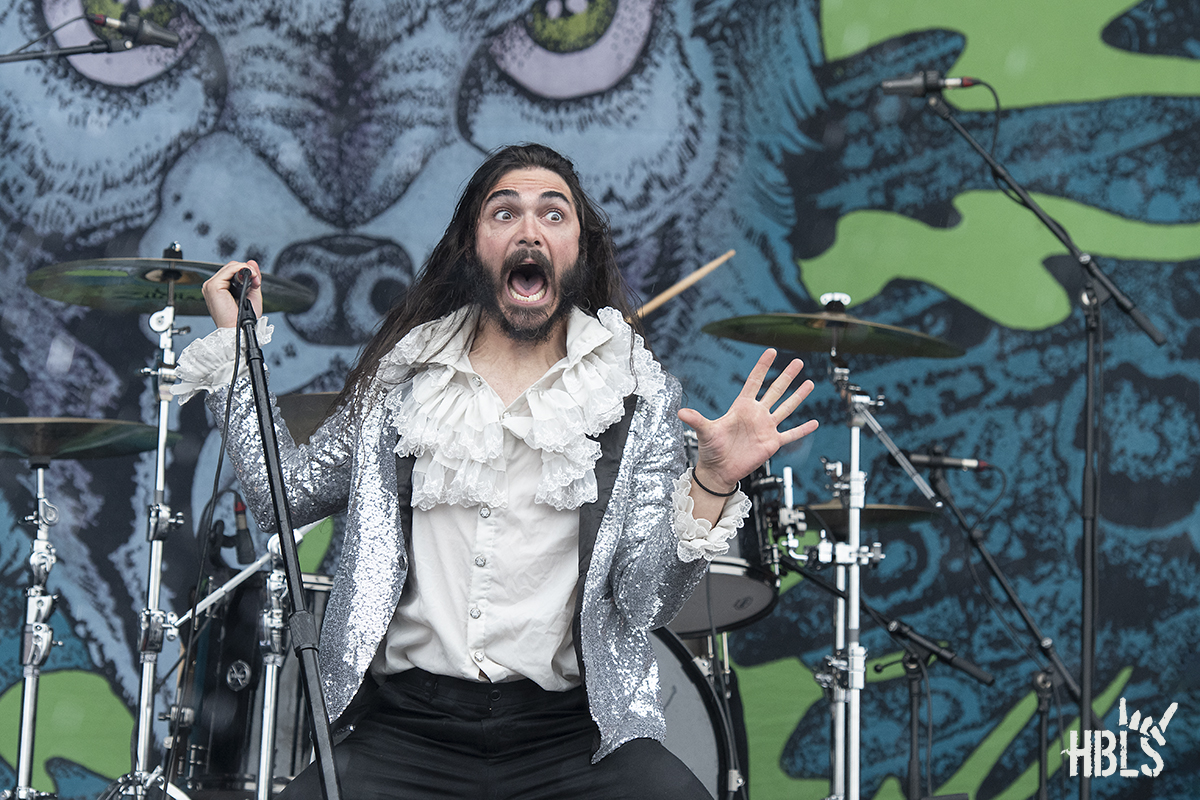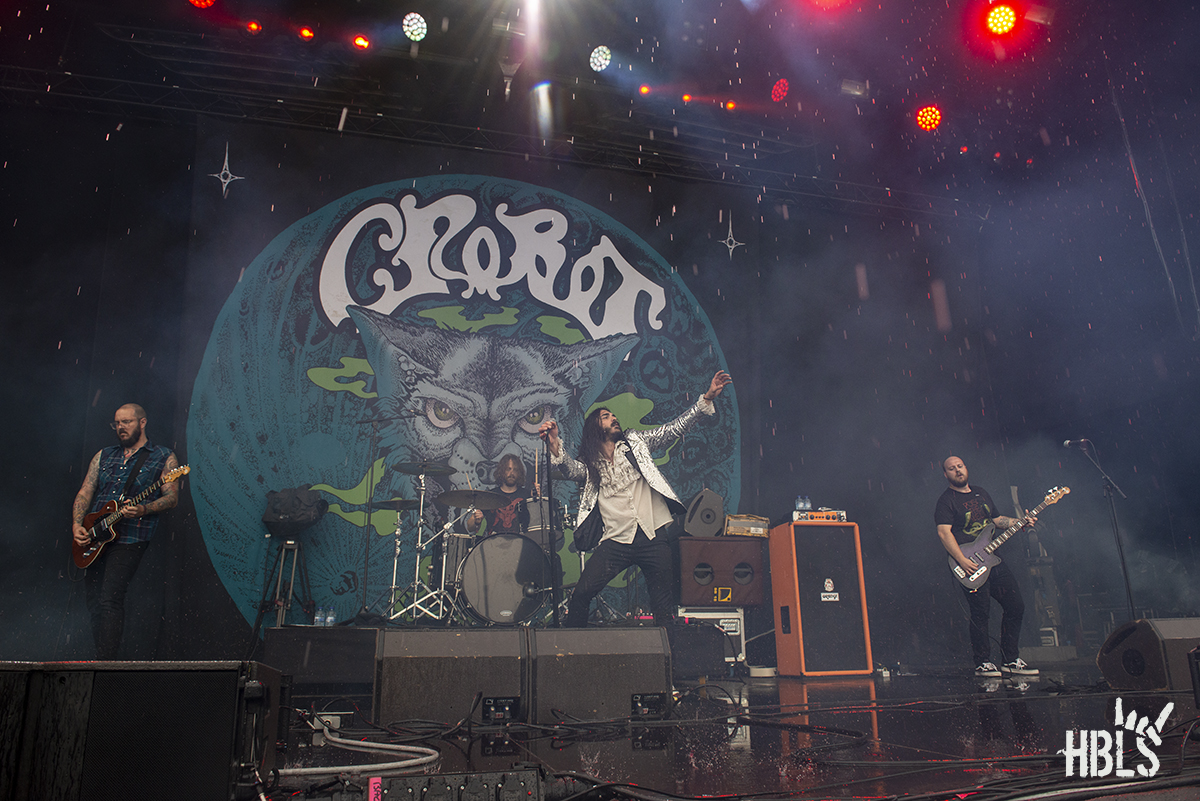 Crobot

Right after NERVOSA crank up the decibels to the max in the Swamp pulverizing our ears to bleed with grinding, brutal thrash and death metal. Who says girls can't play extreme metal? These three cool chicks from Brazil are a punch in the face, a wake-up call if you will. The [naughty] facial expressions of grunter/bass player Fernanda Lira are priceless. No clue what she is singing about, but her grunts, screams and growls are absolutely complimenting the raw and mean sounding songs. Nervosa like it fast, loud and furious, slays the crowd with anthems like ,,Raise Your Fist!'', ,,Masked Betrayer'' and ,,Into The Moshpit'', and you know what? Like many witnesses, I loved every minute of it.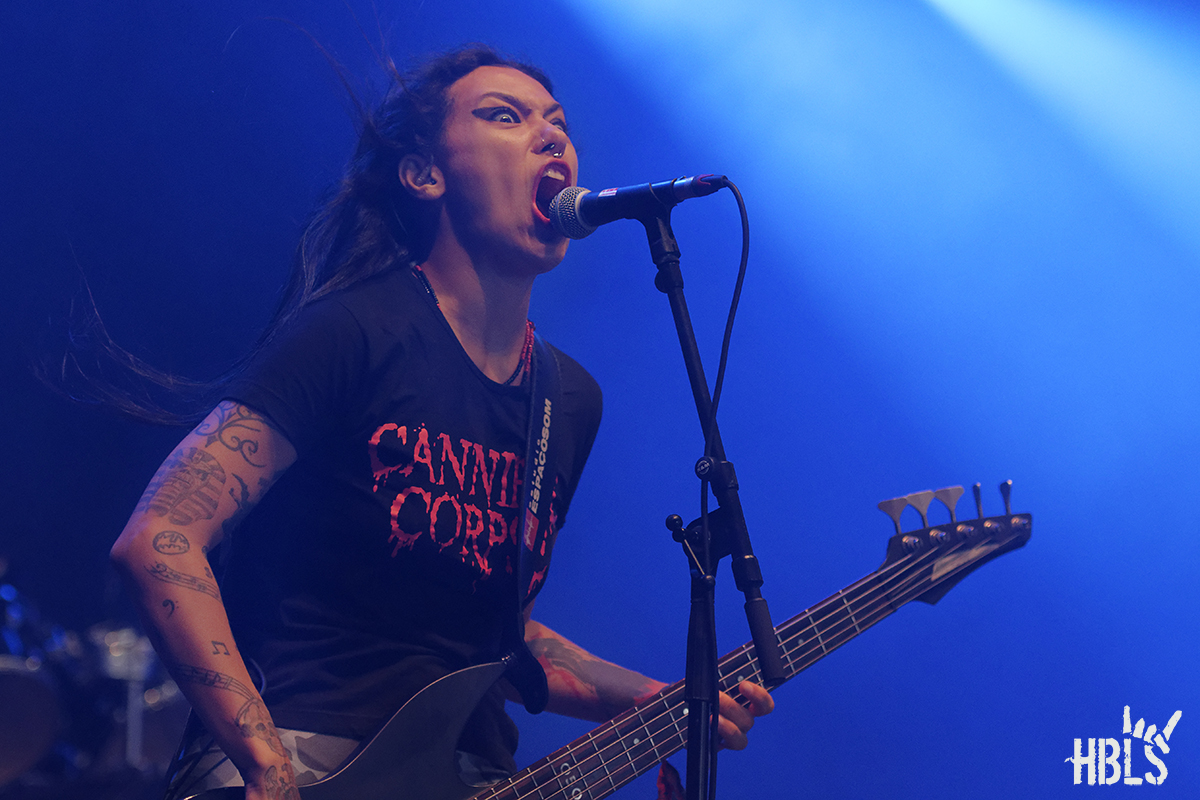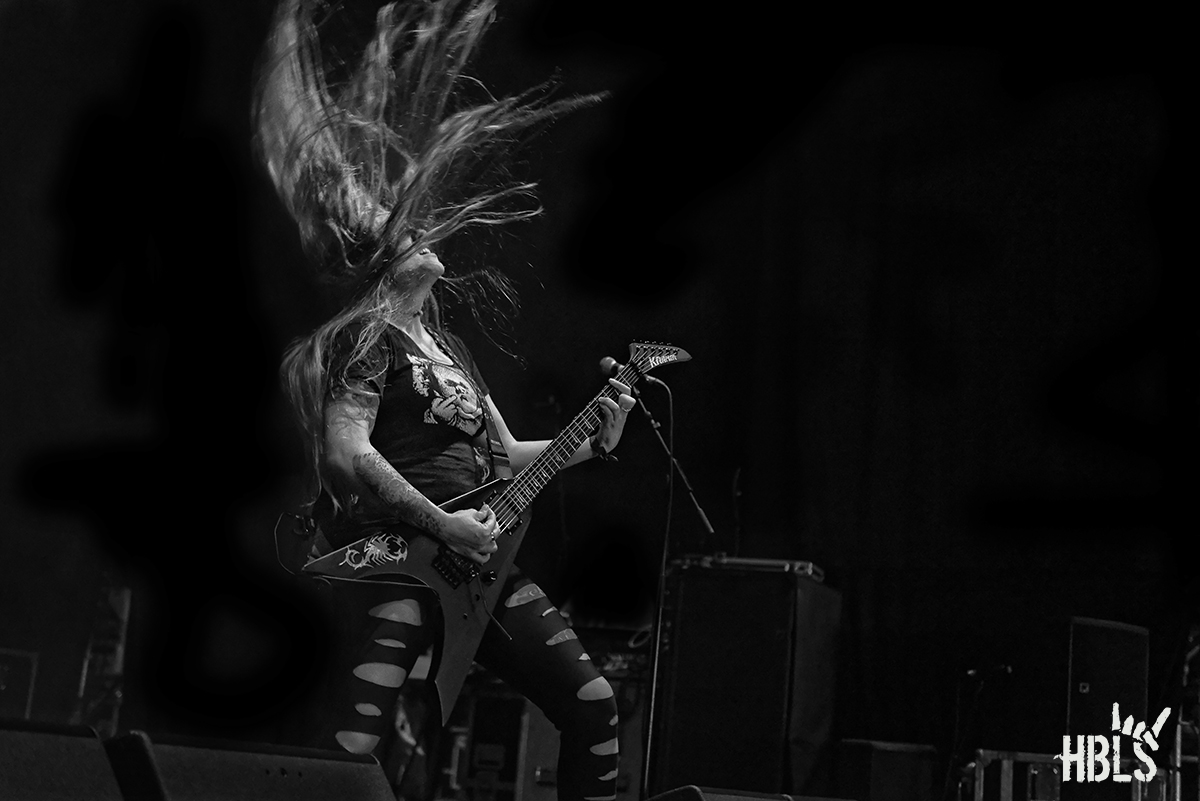 Nervosa

It's time to cool down, get myself a drink and chill for a minute. British rock formation WAYWARD SONS offer the right tunes to do that, playing 80s and 90s influenced rock. Nice, laid back rock music that blends well in today's line-up.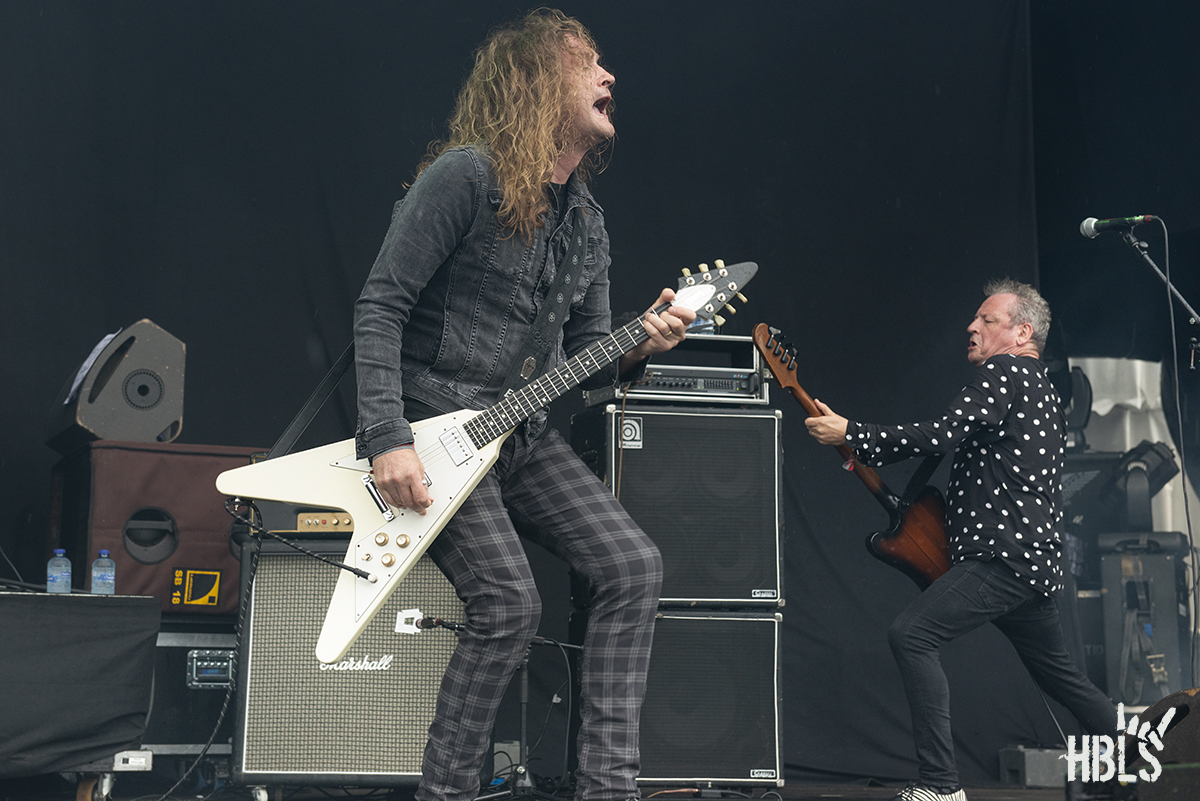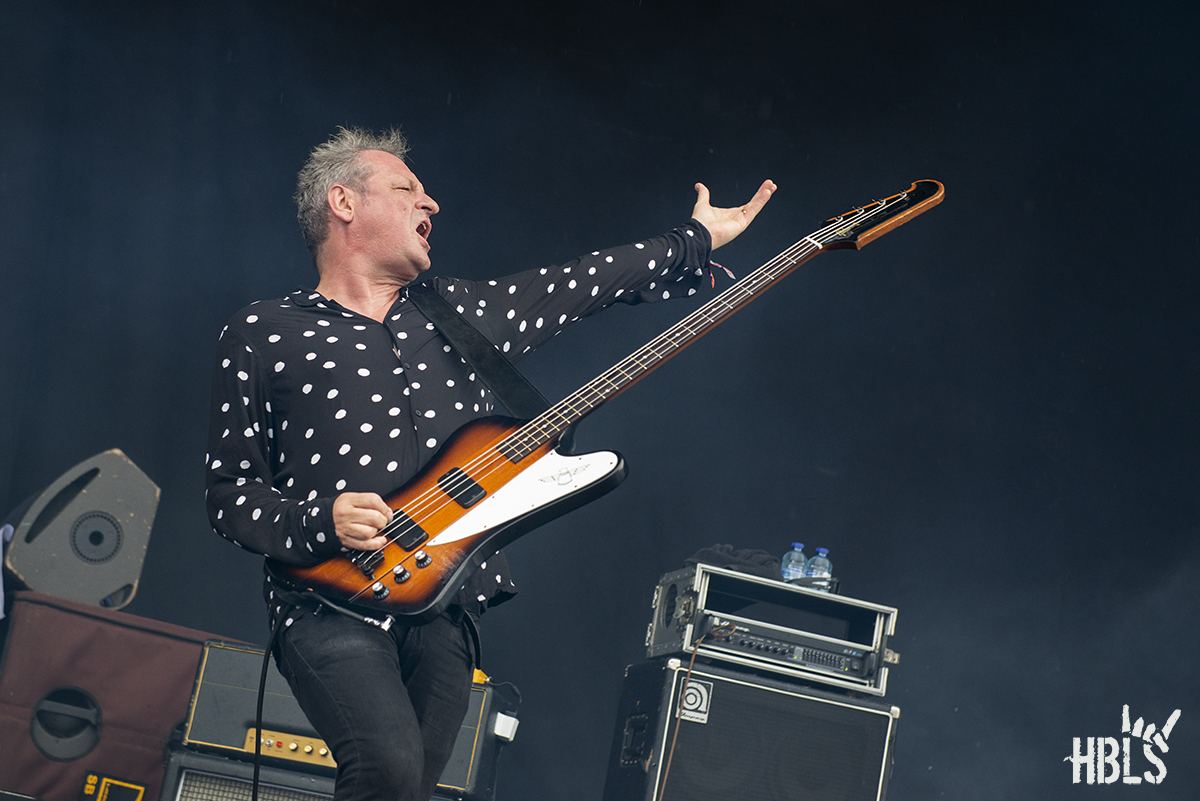 Wayward Sons

Japanese metal core sensation CRYSTAL LAKE is the talk of the town, so I am heading back to the Swamp to see what the fuzz is all about. Hordes of metal heads are with me, ready for take off. WOW, this five-piece use every inch of the stage to perform high maintenance jumping and whatever street style sporty movements that comes to mind. It is an invitation for crowd surfing, circle and mosh pits. But not only the physical performance, also the songs are a discharge of pure energy and devotion. It all sounds brutal but far from simple, there are even some surprising prog and spherical Japanese elements in the music, the technical and live performing skills are impressive and even the screams and grunts have accessibility. Crystal Lake is a powerful force that can't be denied today and I am sure they will find their way into the European and American market.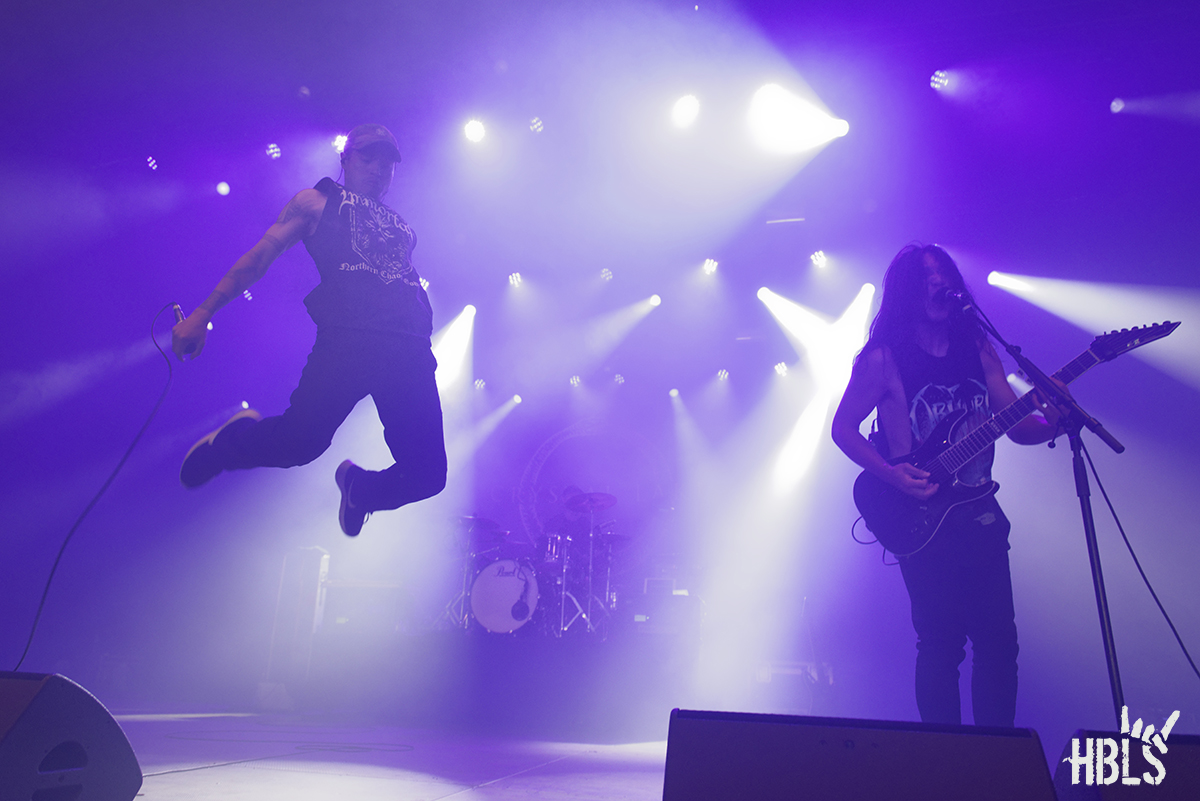 Crystal Lake

A band that disappoint in my book is American power metal band HELSTAR, who tries to relive power metal music from the 80s at the Prison Stage. I miss the real sparkle and to be honest my main obstacle is the performance of frontman James Rivera, who has a few moments here, but overall, is not in the best vocal condition.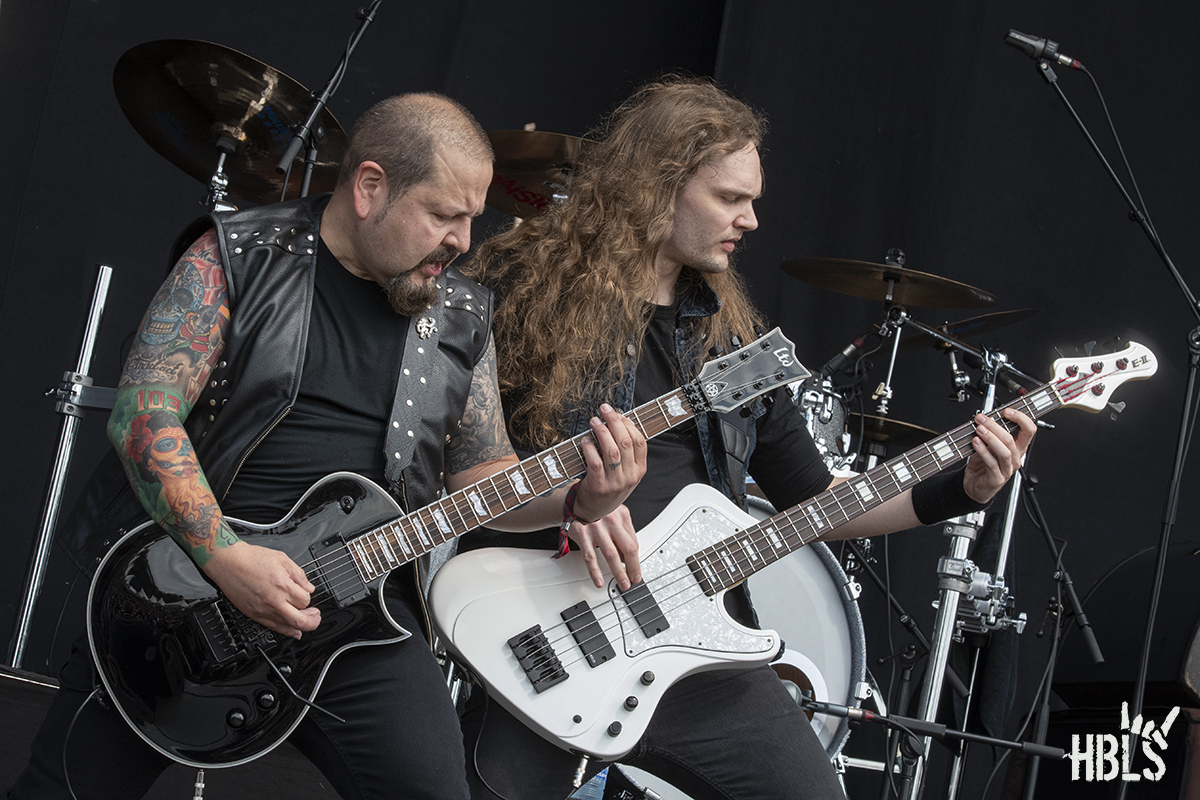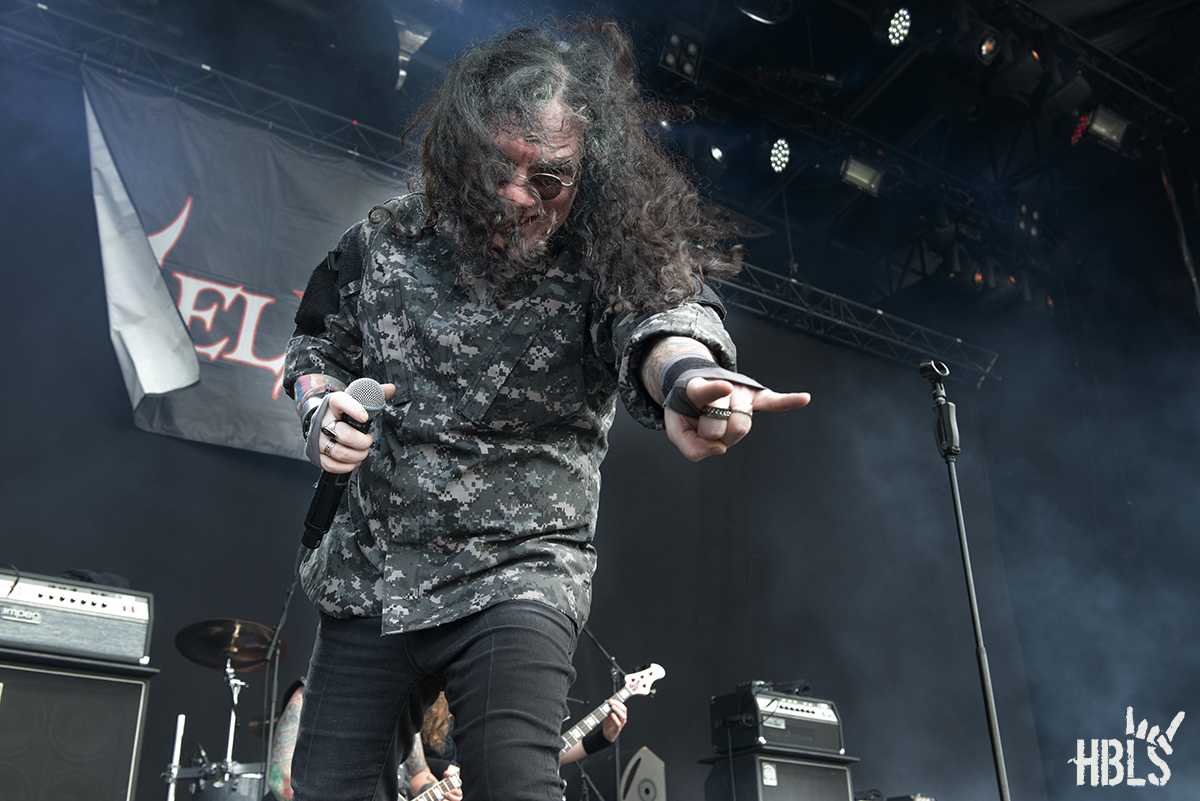 Helstar

It is time to get chopped again, this time by DEMOLITION HAMMER's death thrash. These guys are no teenage youngsters but an old pack of grey-haired (or bald) aging, angry m*f*, especially singer/bass player Steve Reynolds is the most angry bird I have seen on stage this weekend. These are tough cookies from The Bronx, New York, hammering down raw and aggressive tunes that feature on their cult classics `Tortured Existence' [1990] and `Epidemic Of Violence' [1992]. The band delivers loud and clear and the crowd loves it.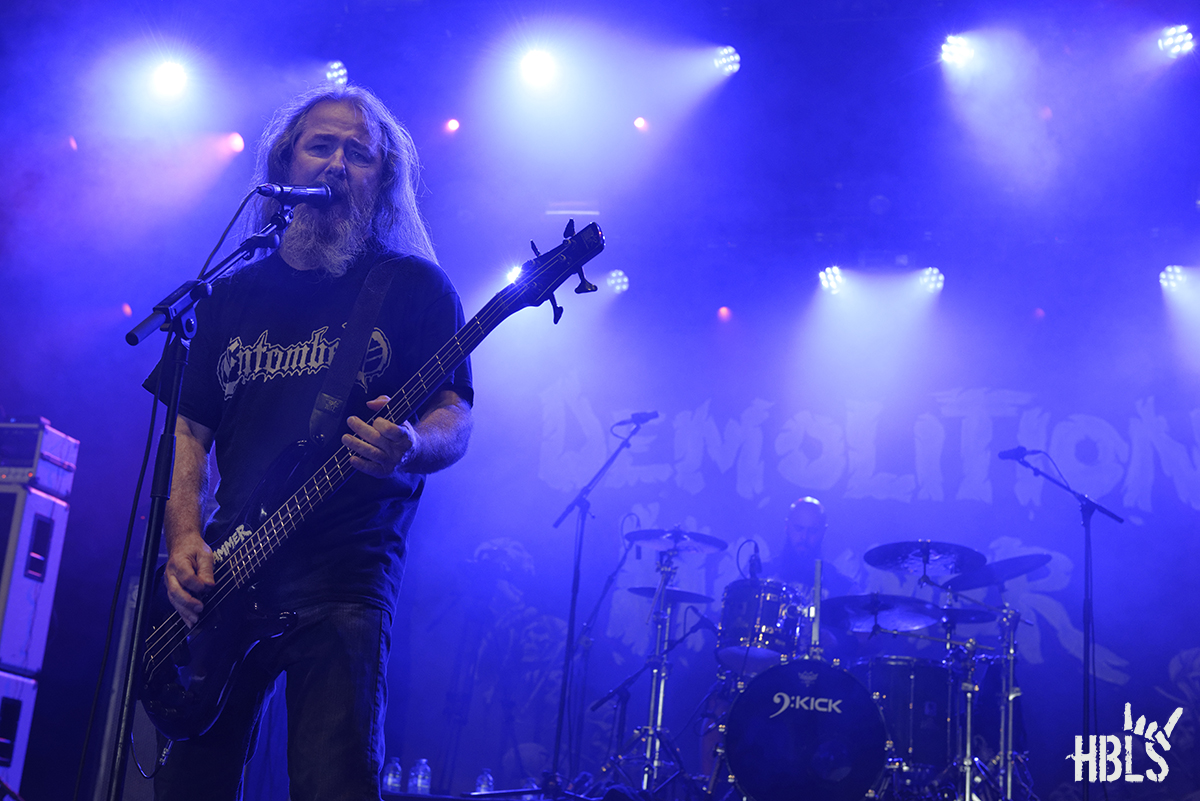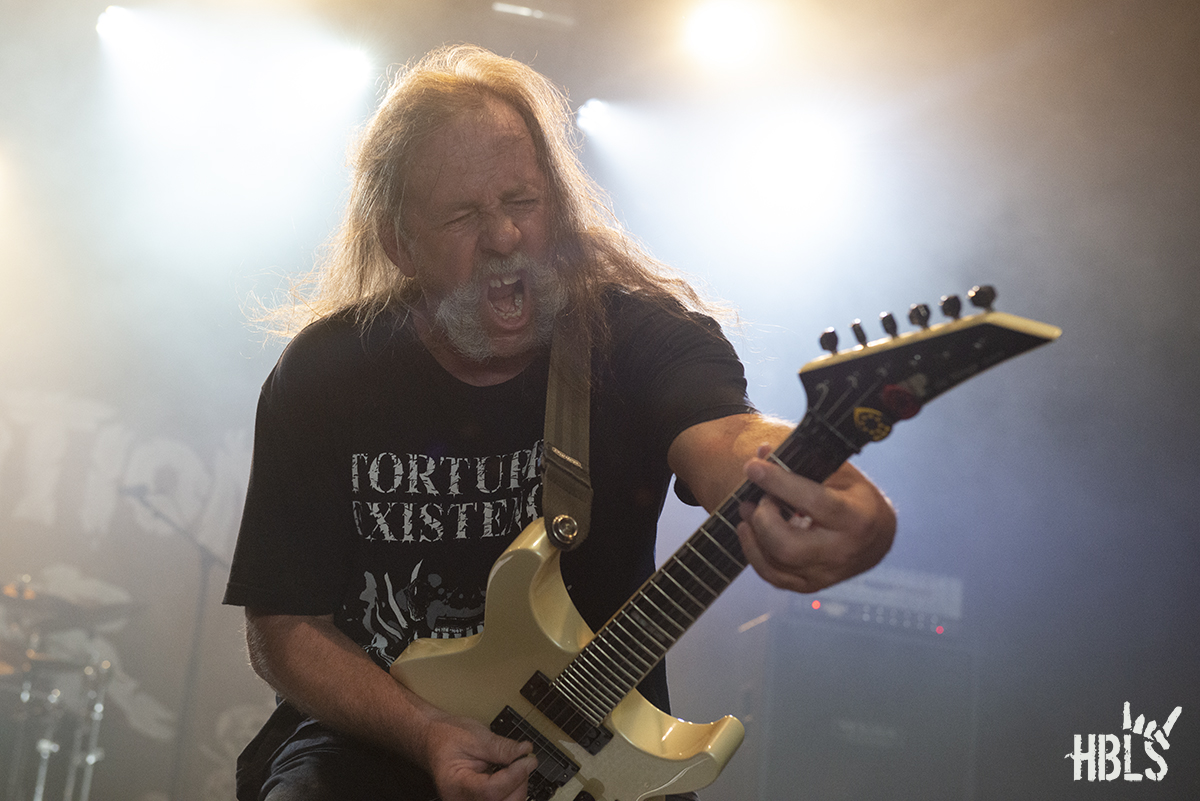 Demolition Hammer

While peeking into the new marquee `La Morgue', Dutch band AN EVENING WITH KNIVES leaves quite an impression, playing atmospheric, emotional rock music, which reminds me somehow of Anathema. Unfortunately I didn't manage to return to this new third stage after all, but I think it is a very cool idea that Alcatraz gives 15 smaller bands (many hailing from Belgium) a "runner up" stage.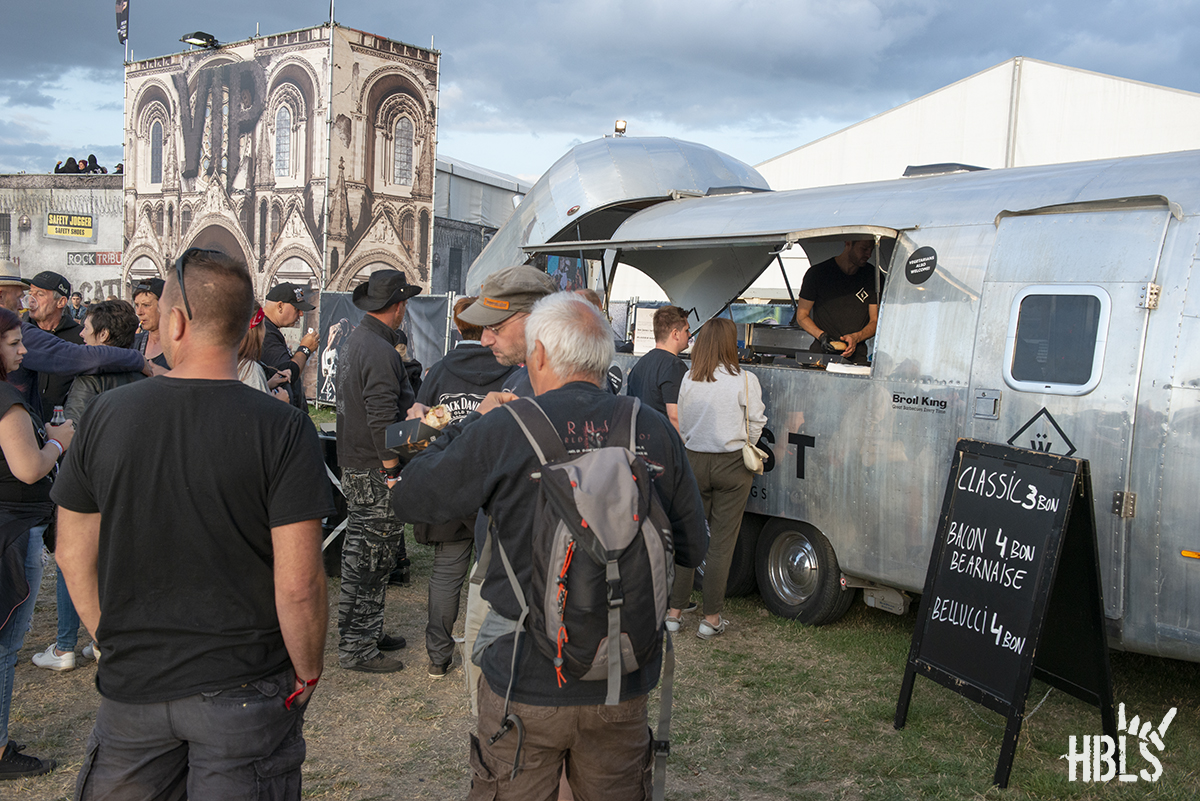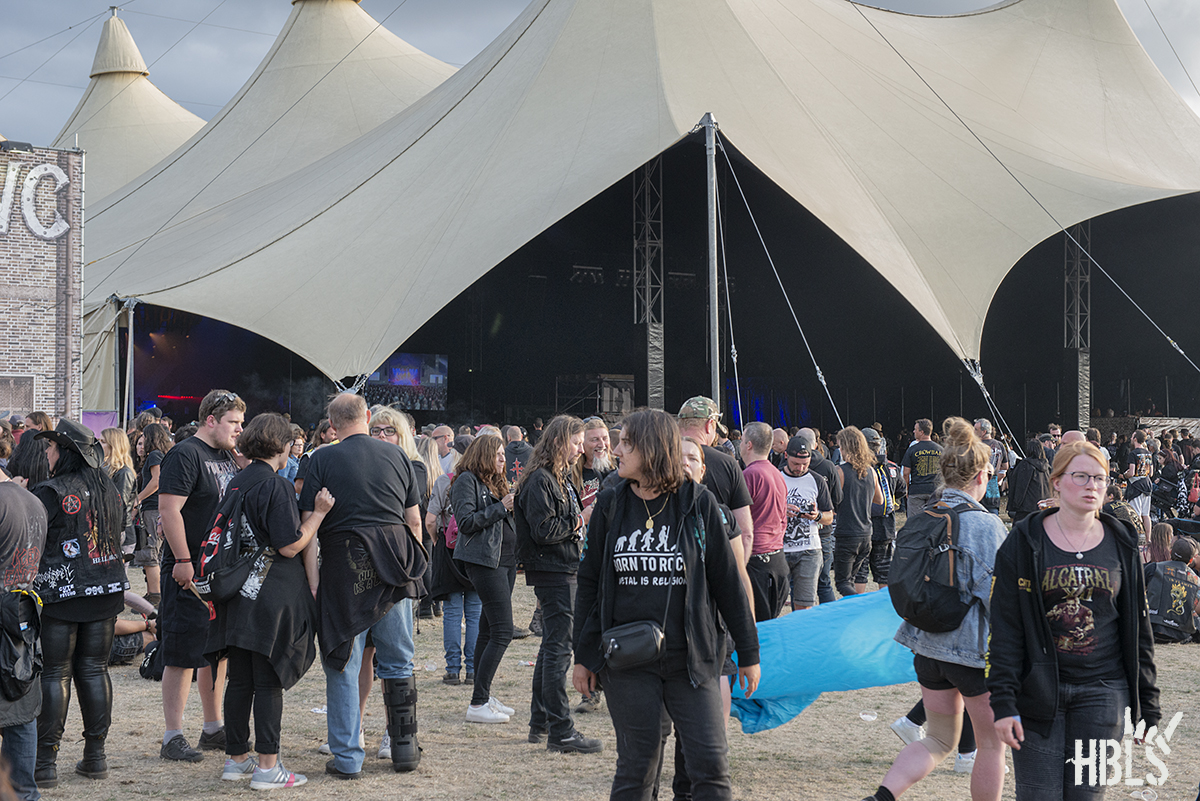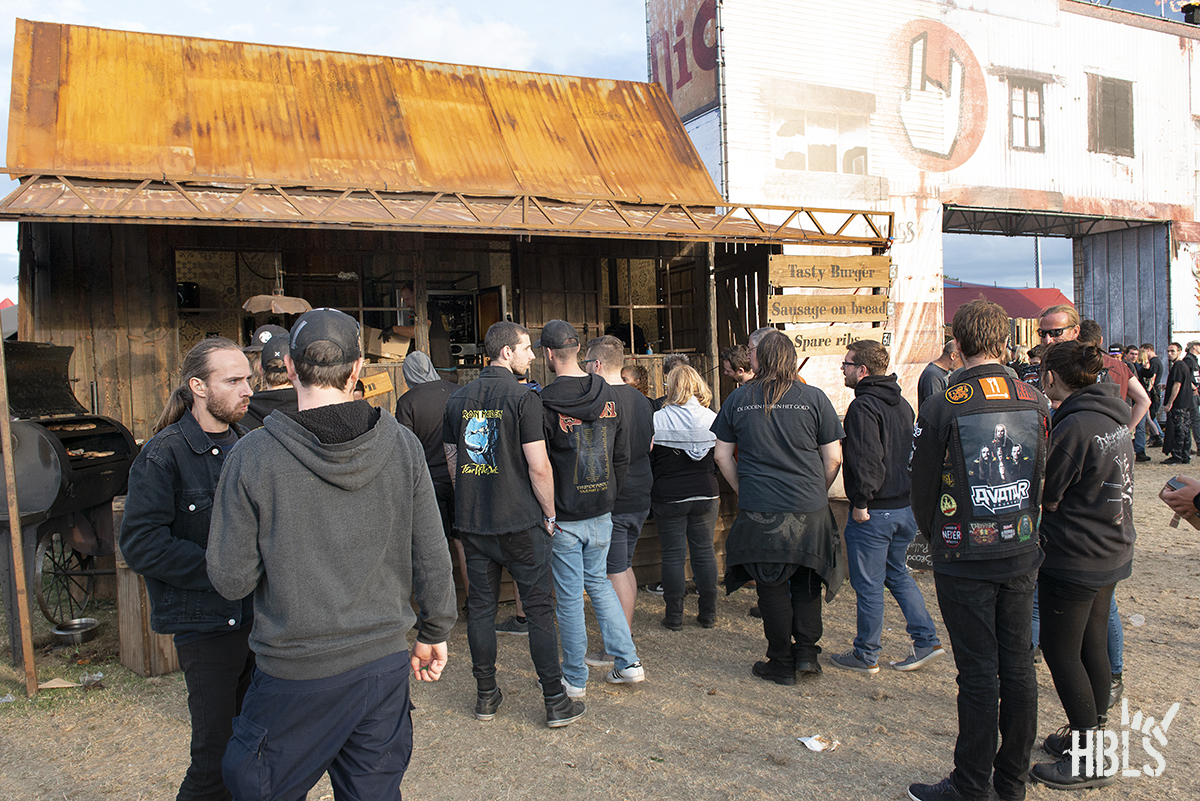 Another success is Greek melodic power metal band FIREWIND [Prison Stage], who is currently on tour with Queensrÿche. They have the skills, the songs and the confidence as a live band. The fast and thundering guitar solos of star guitarist Gus G. are impressive and definitely also credits for singer Henning Basse. And how can we not love their excellent version of ,,Maniac'' [Michael Sembello].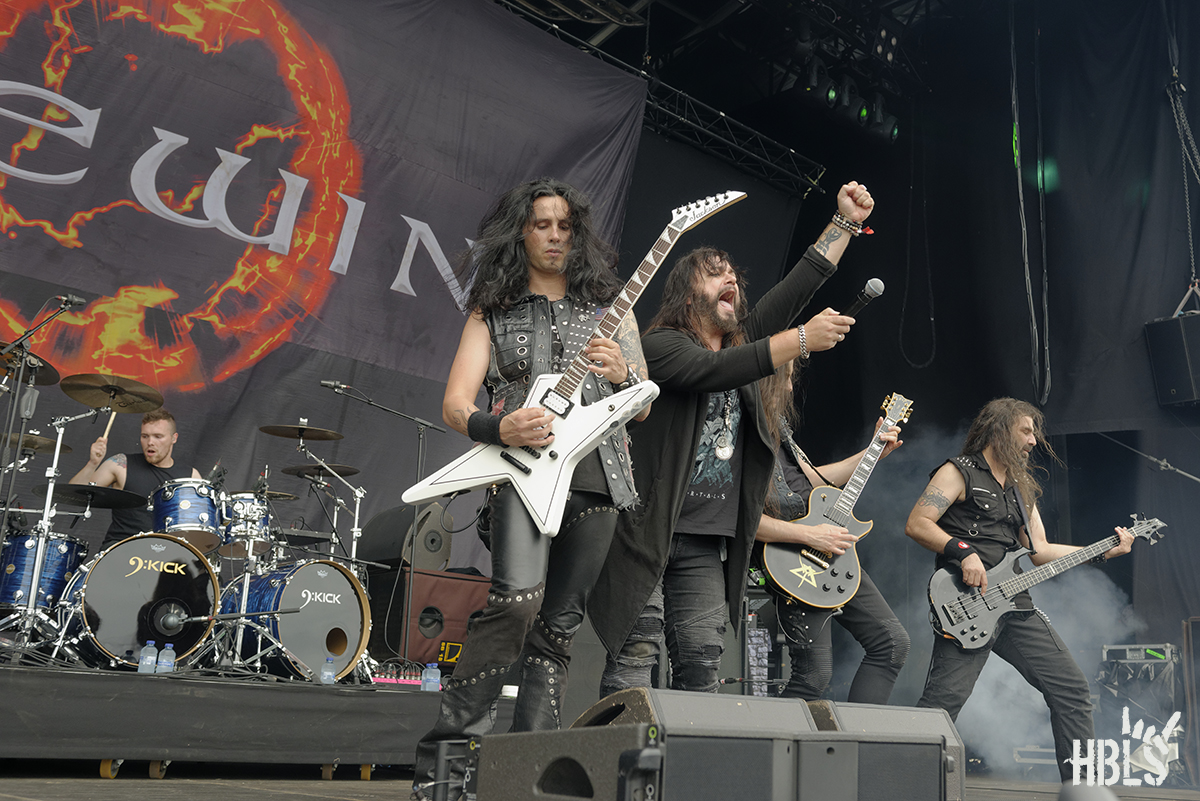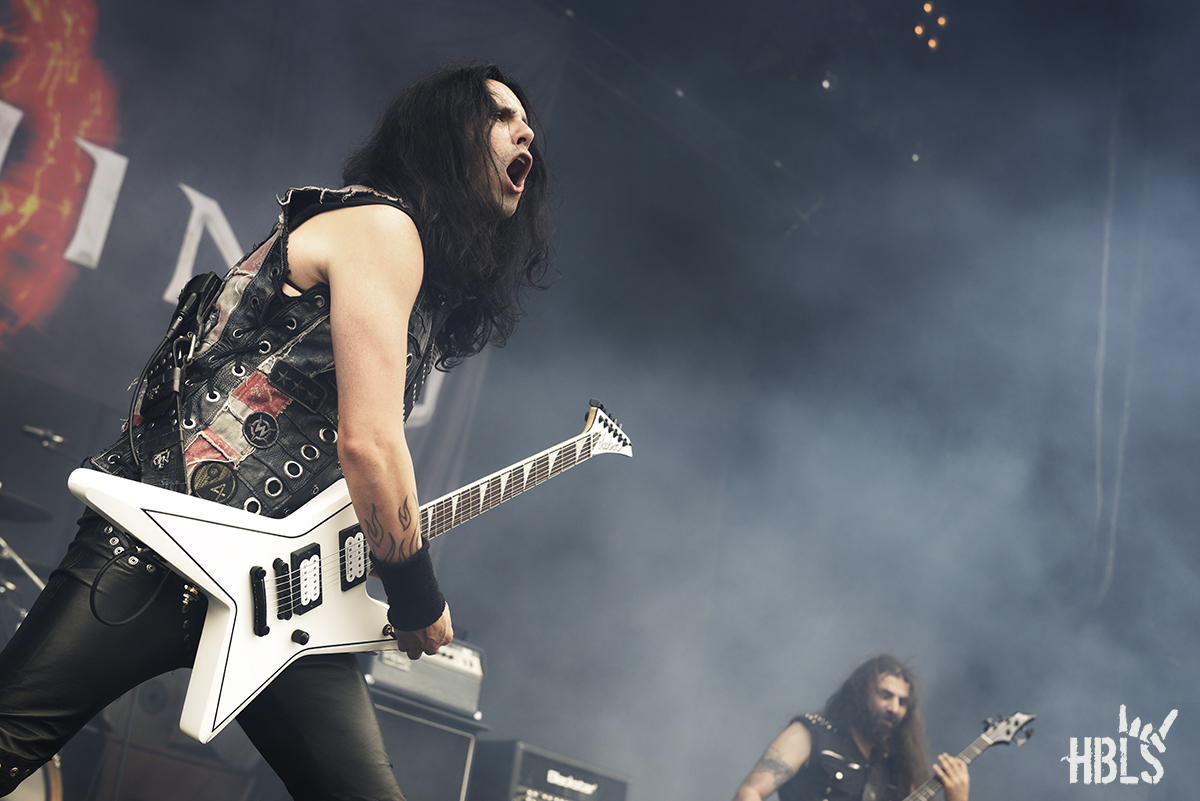 Firewind

After the radiant music of Firewind, it becomes a total eclipse in the Swamp when black, death metal outfit VLTIMAS takes the stage and crush the sound barrier to the core. Ex-Mayhem guitarist Rune Eriksen, drummer Flo Mounier [Cryptopsy] and sinister looking and sounding frontman David Vincent [Morbid Angel] have bonded very well in this devil's pack and with some "hired guns" they claim to become a cult act.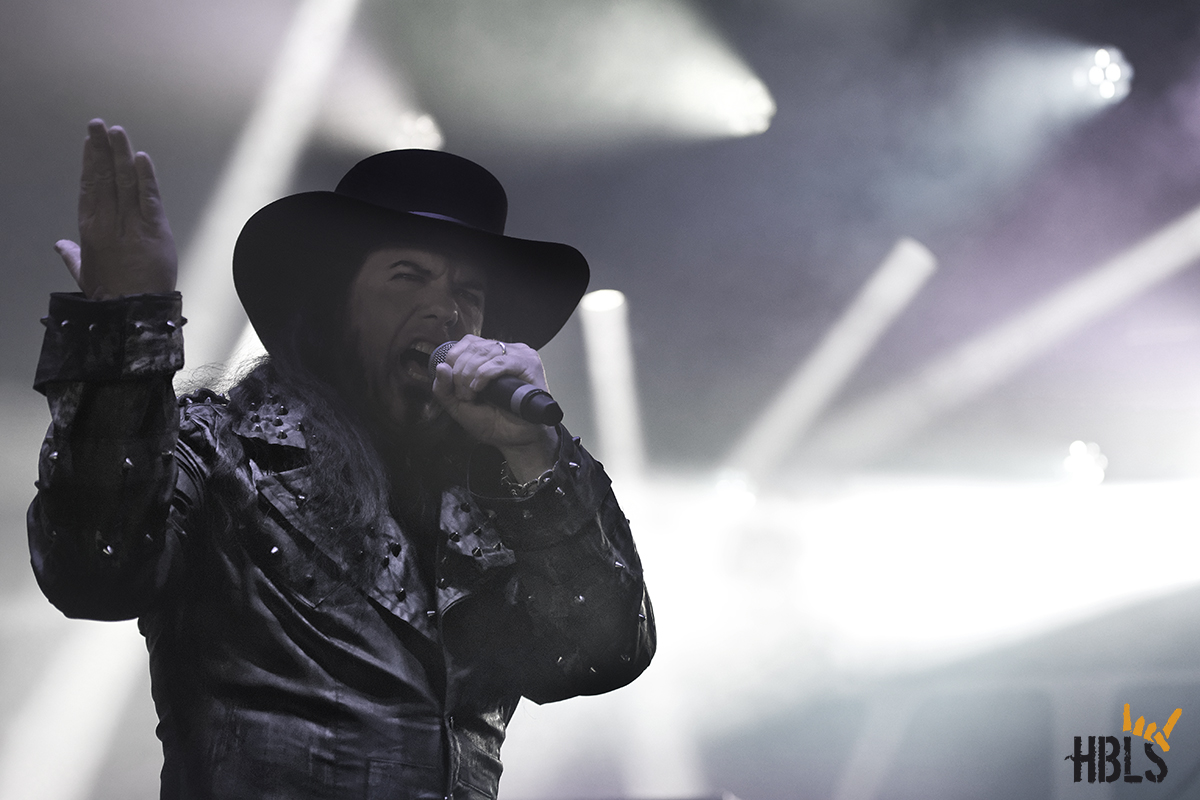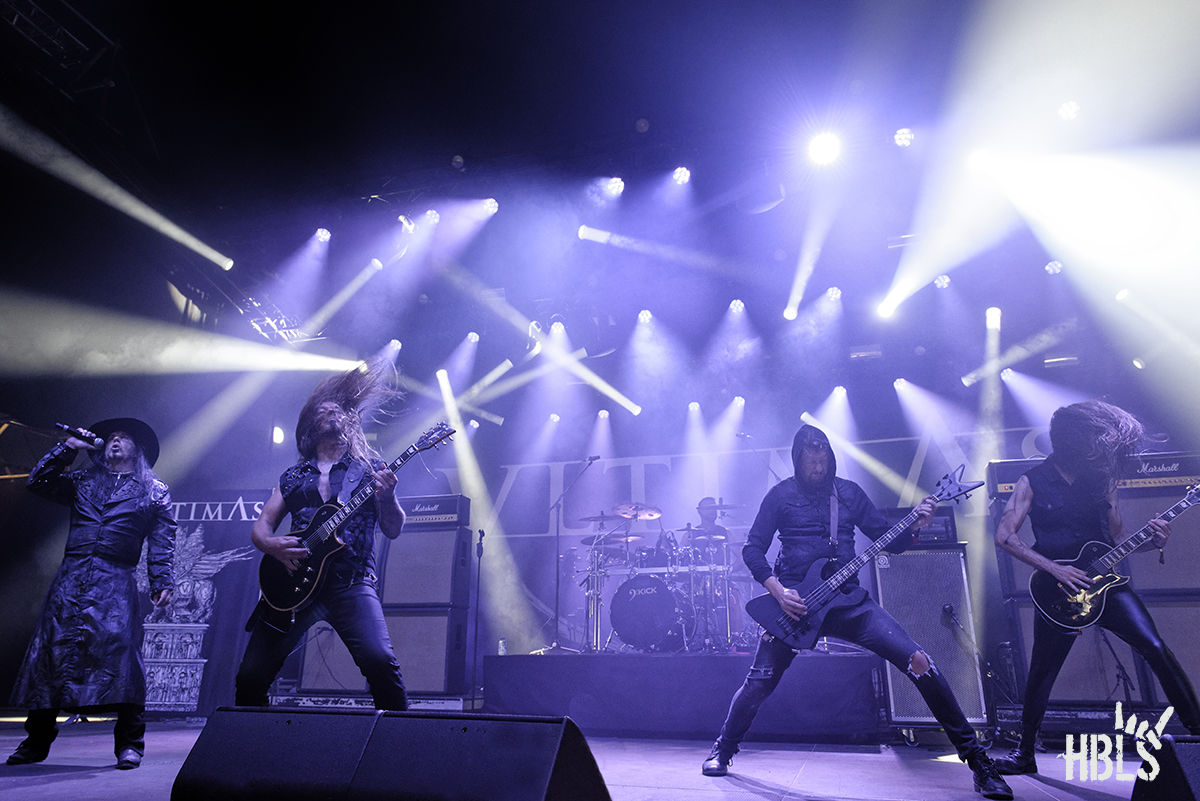 Vltimas

Because of my press duties I skip Thy Art Is Murder and Napalm Death [and later on Sodom], but I'm back in time for QUEENSRŸCHE. Although they released a good new album [`The Verdict'] recently, they do the smartest thing: focussing on a hell of an old school, fan favourite set-list, a celebration of 40 years Queensrÿche. Hitting the nail on its head with classics like ,,Queen Of The Reich'', ,,Take Hold Of The Flame'', ,,NM 156'', ,,Walk In The Shadows'' and ,,Operation: Mindcrime'', this is an awesome trip down to memory lane. Well performed.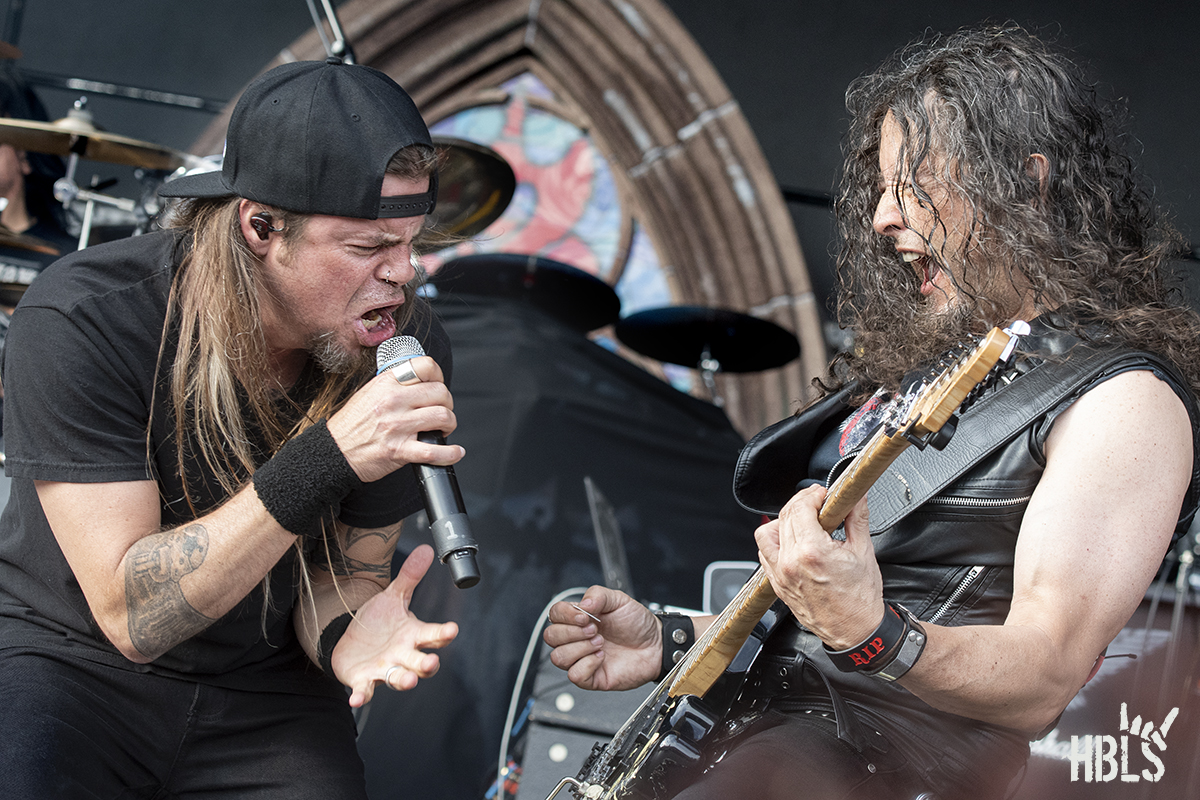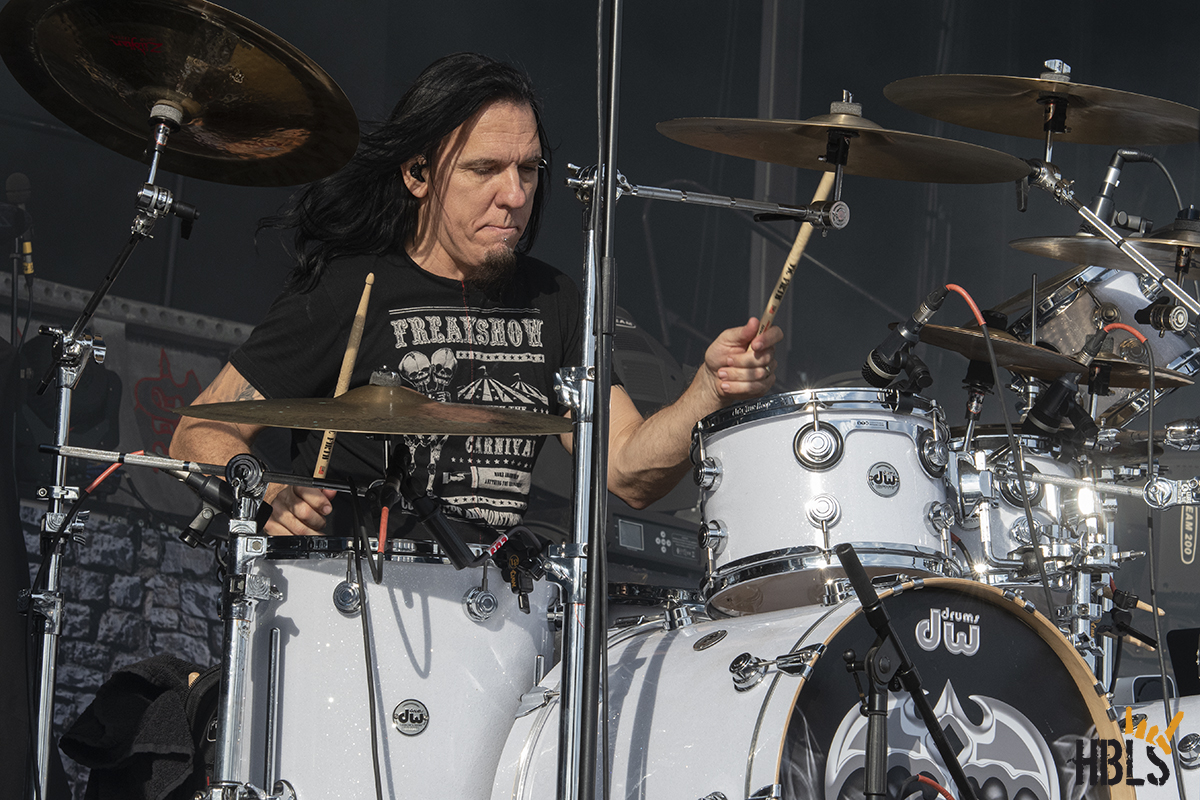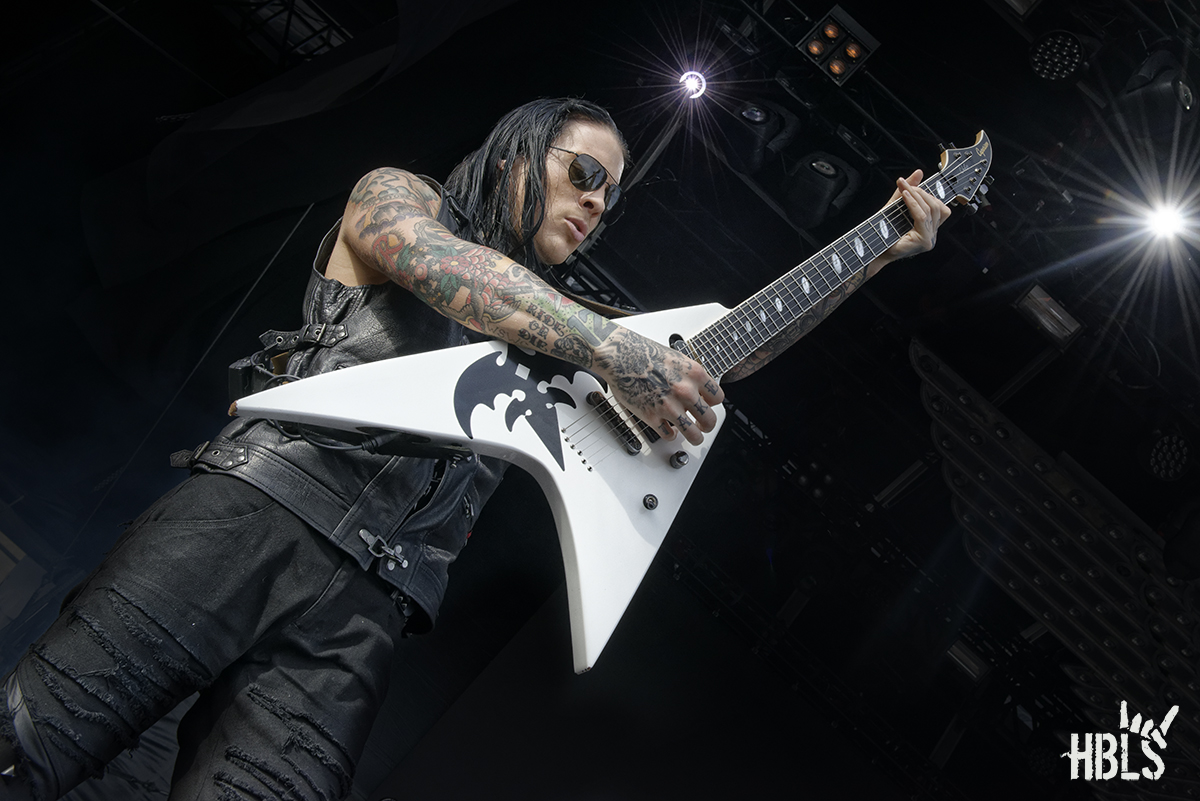 Queensrÿche

URIAH HEEP [Prison Stage] is a true mother ship today. It is such a joy to see these veterans having all the fun in the world while they play their well-known classic anthems such as ,,Gypsy'', ,,Look At Yourself'', ,,Lady In Black'' and ,,Easy Living''. Sure, this is a well-oiled machine but the band still sounds fresh and spontaneous and these musicians enjoy themselves as if they are forever 21.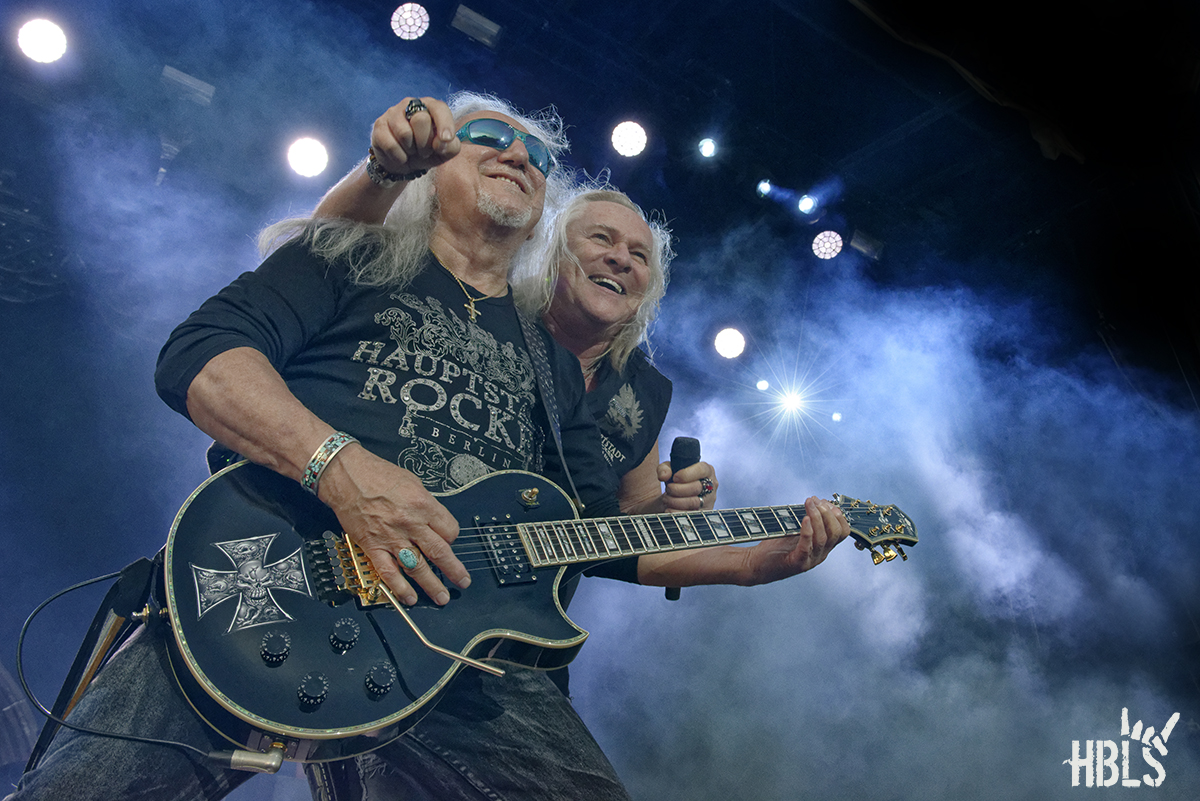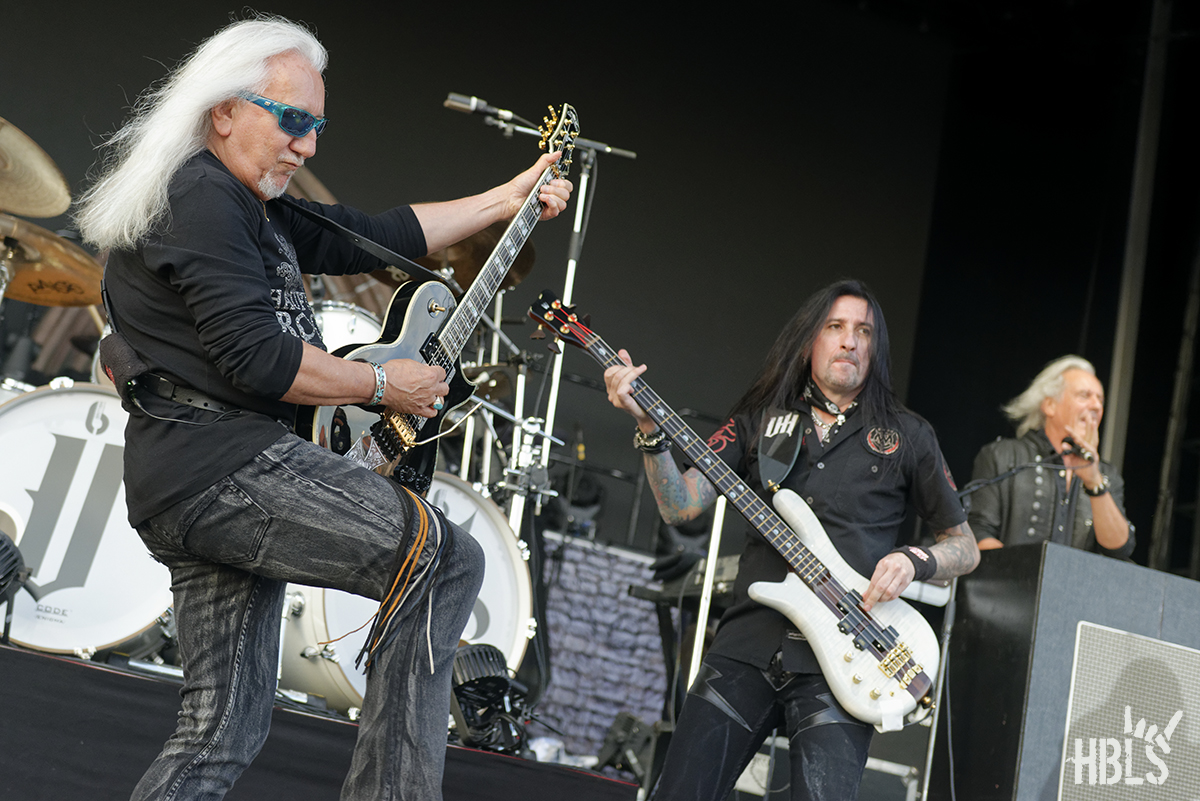 Uriah Heep

Today VIO-LENCE play for the very first time on European soil ever and have every reason to celebrate their return to the stage after a decade. These cult Bay Area kings are craving for some serious mosh pits, flying limbs and stage aggression. "This is what we call a fuckin' good time'', points singer Sean Killian, who is back in the saddle after being seriously ill. Sean is a great and remarkable frontman who nurtures his audience and all-in all these thrashers leave an impression.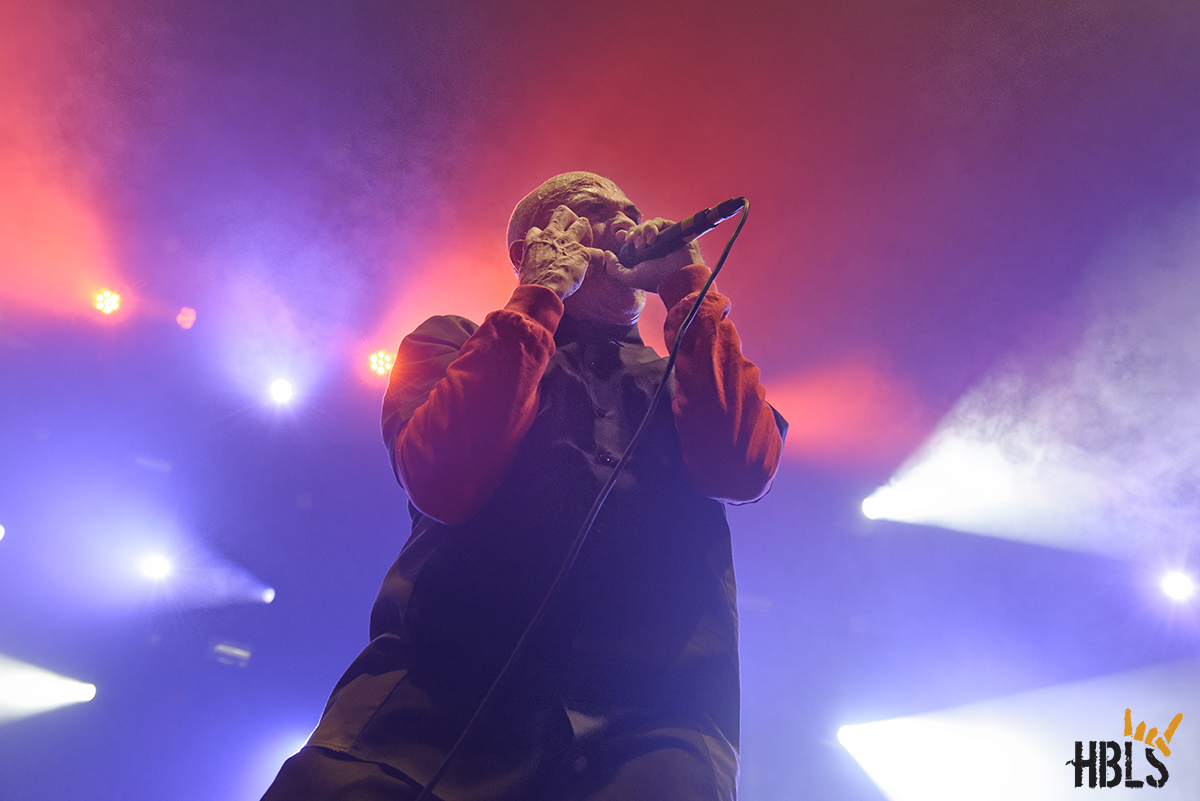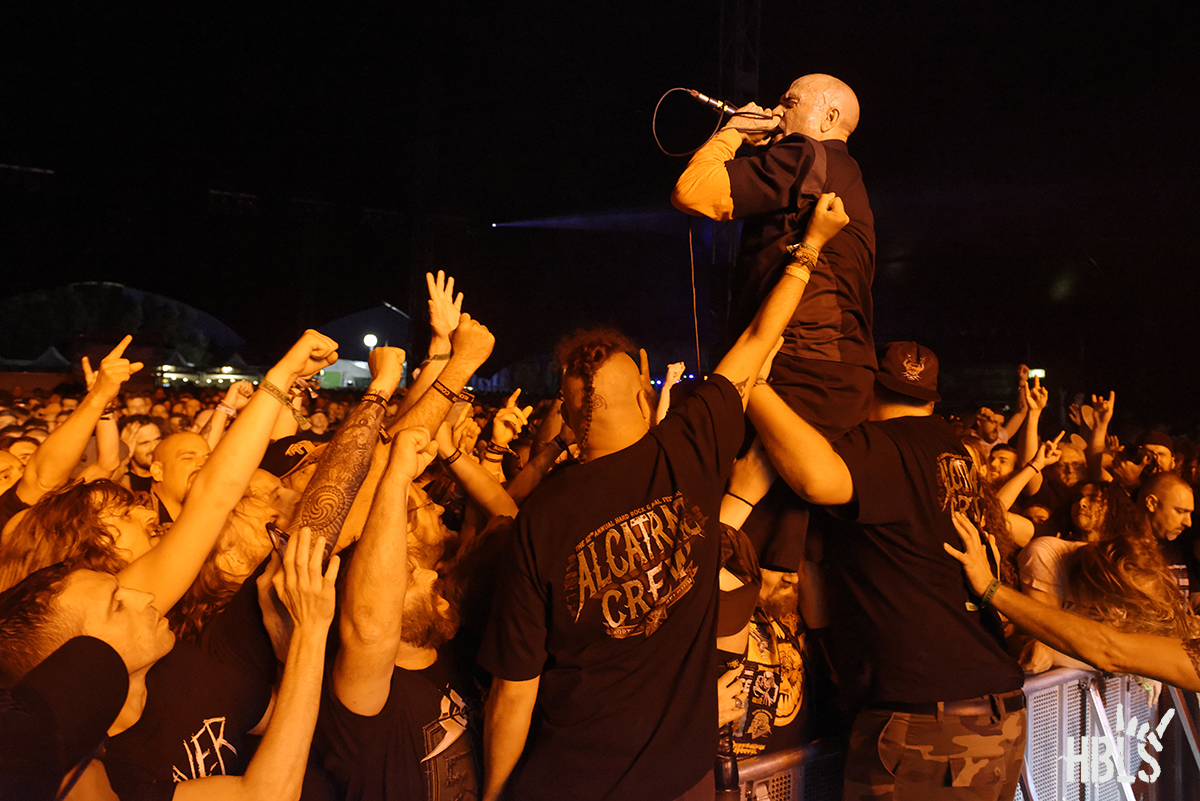 Vio-lence

NWOBHM heroes SAXON really steal the show tonight and are a justified headliner. Saxon wrote metal history with anthems like ,,Motorcycle Man'', ,,Wheels Of Steel'', ,,Strong Arm Of The Law'', ,,Denim And Leather'' and ,,Heavy Metal Thunder'', to name a few, and they all feature in tonight's set list. This ride back straight into the roaring 80s is more than a blast, it is a celebration of pure heavy metal and Saxon is in high gear to deliver to the max. The show contains projections from old photos and album covers, there is beautiful, colourful stage light, cool props and statures, a drum riser with stairs and an illuminated eagle. The sound and total performance is top-notch [as always]. Biff Byford's vocal chords are in excellent shape, he teaches us some Saxon history lessons and he doesn't hesitate to joke around as well. "We go back to 1979, to our first album, this is some early British thrash metal, ,,Backs To The Wall!''". Saxon is still a true metal warrior that not only rely on greatest hits here [,,The Eagle Has Landed'', ,,To Hell And Back Again'', ,,Power And The Glory'' ,,747 (Strangers In The Night)''], but prove with excellent "newbees" ,,Thunderbolt'', ,,Battering Ram'' and ,,They Played Rock and Roll" [an ode to Motörhead's Lemmy] the band never stopped writing metal history and above all, these veterans are still very passionate about what they do.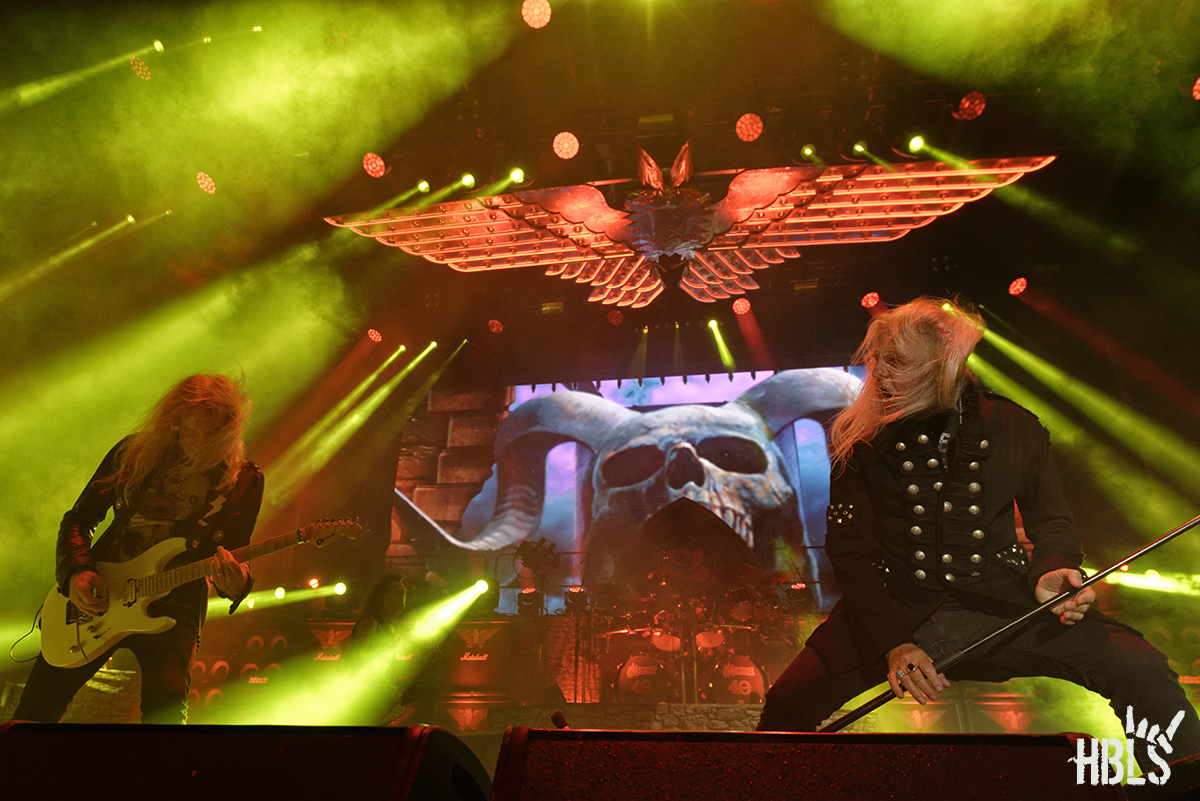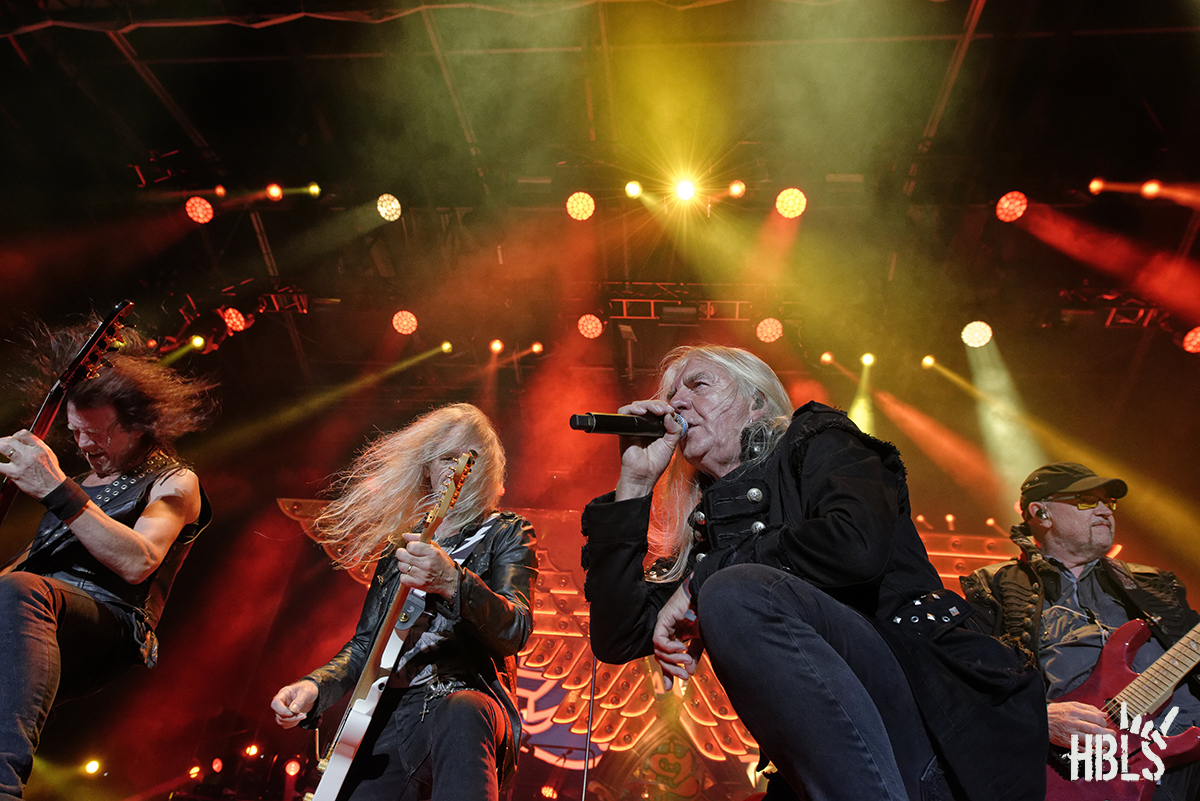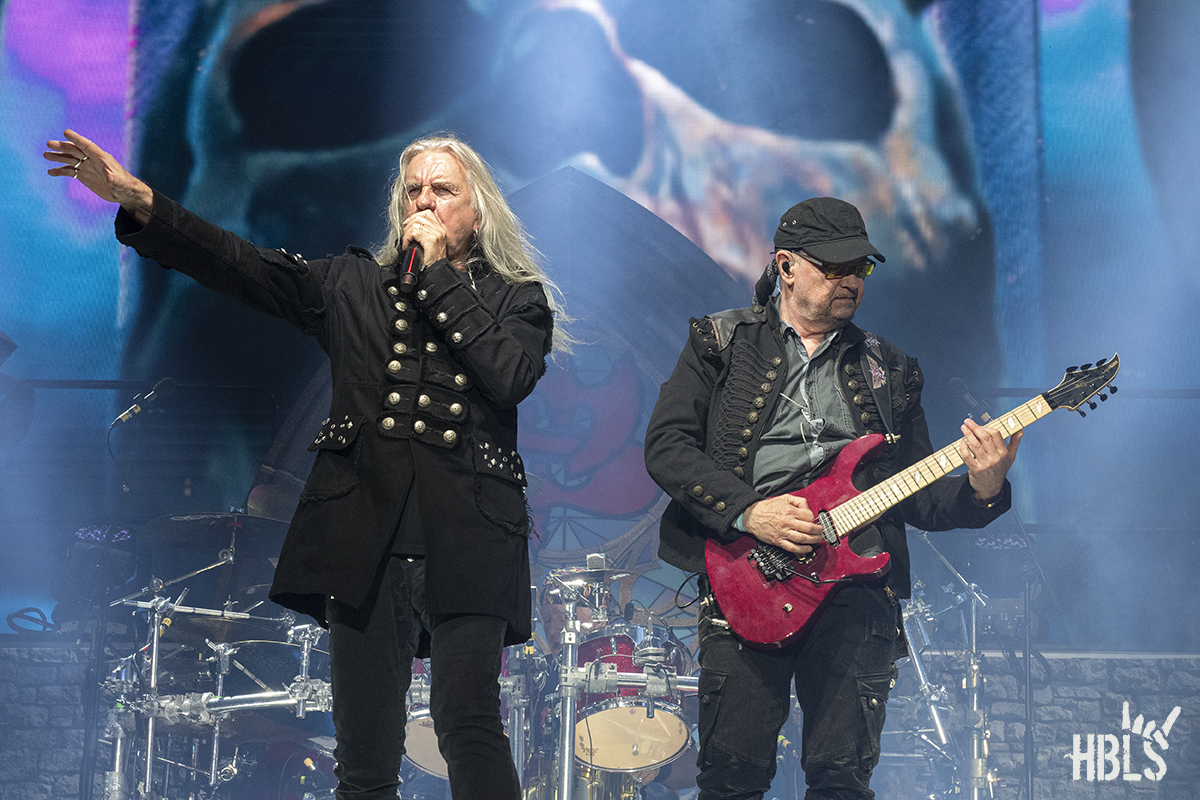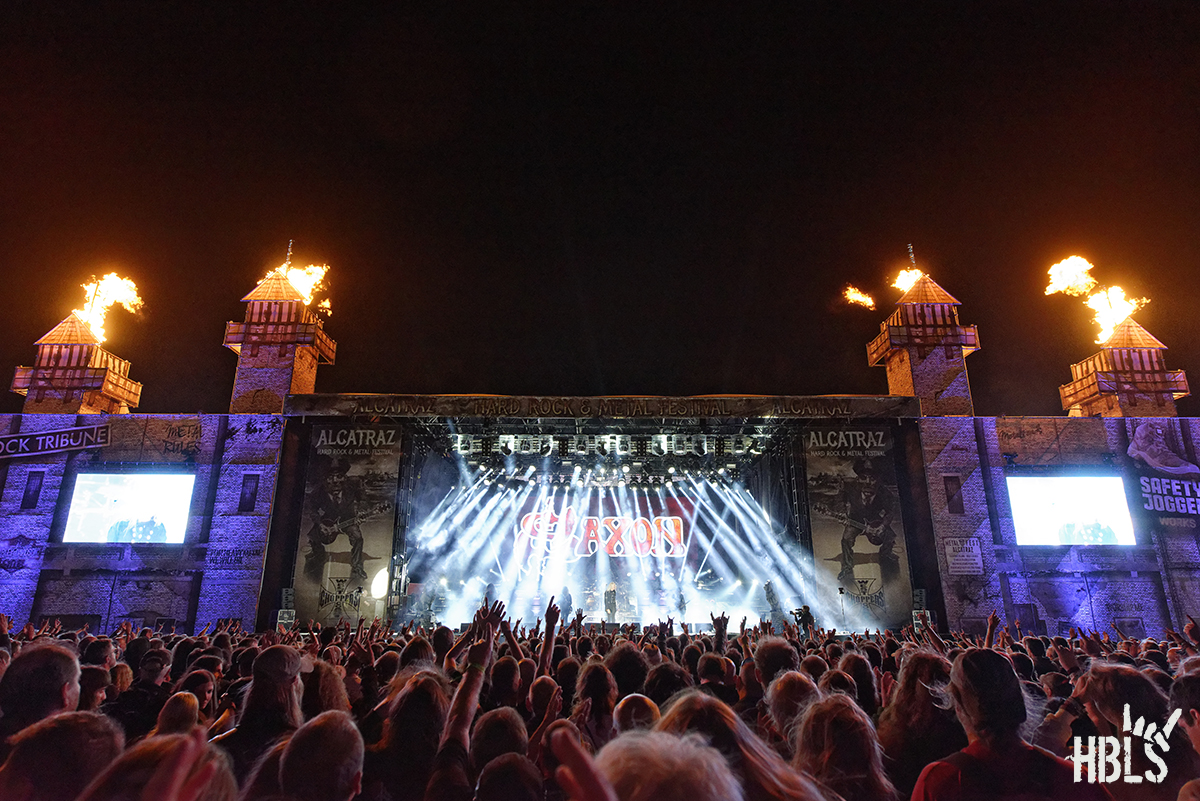 Saxon

It is far beyond midnight when highly respected Swedish band OPETH makes themselves at home in the Swamp to finish off this successful first day of Alcatraz, with cult classics such as ,,The Drapery Falls'' and ,,Ghost Of Perdition''. The atmospheric vibe of the music fits perfect in the Swamp. All night creatures that stay up late get rewarded. Tough I hit the sack soon and regret Opeth didn't play earlier today.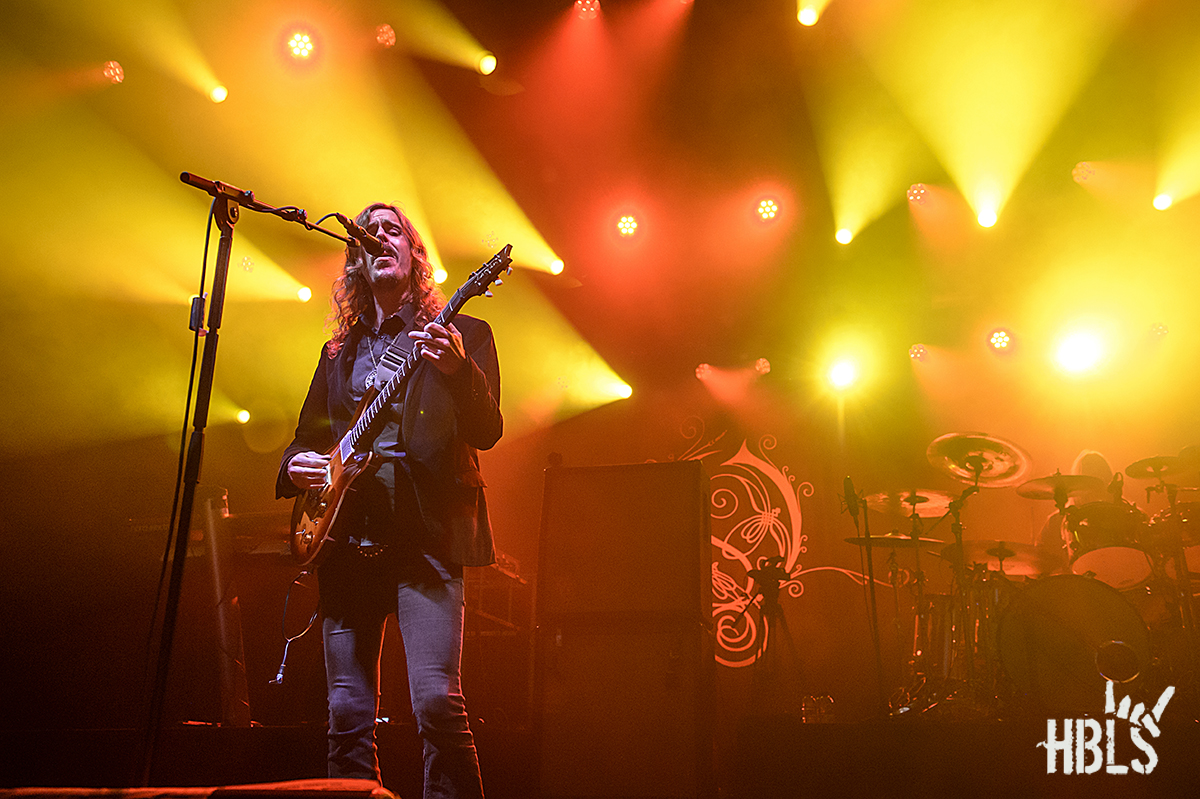 #DAY 2-Saturday-August 10
Due to extreme heavy wind and therefore safety issues, opening band Bury Tomorrow is rescheduled from Prison Stage to the Swamp Stage a bit later and therefore Carnation is rescheduled to Sunday. Also the VIP deck is closed for a while and all hands of the organisation are on deck to monitor the weather and everybody's safety, but gladly it doesn't turn out as bad as in The Netherlands [Into The Grave Festival].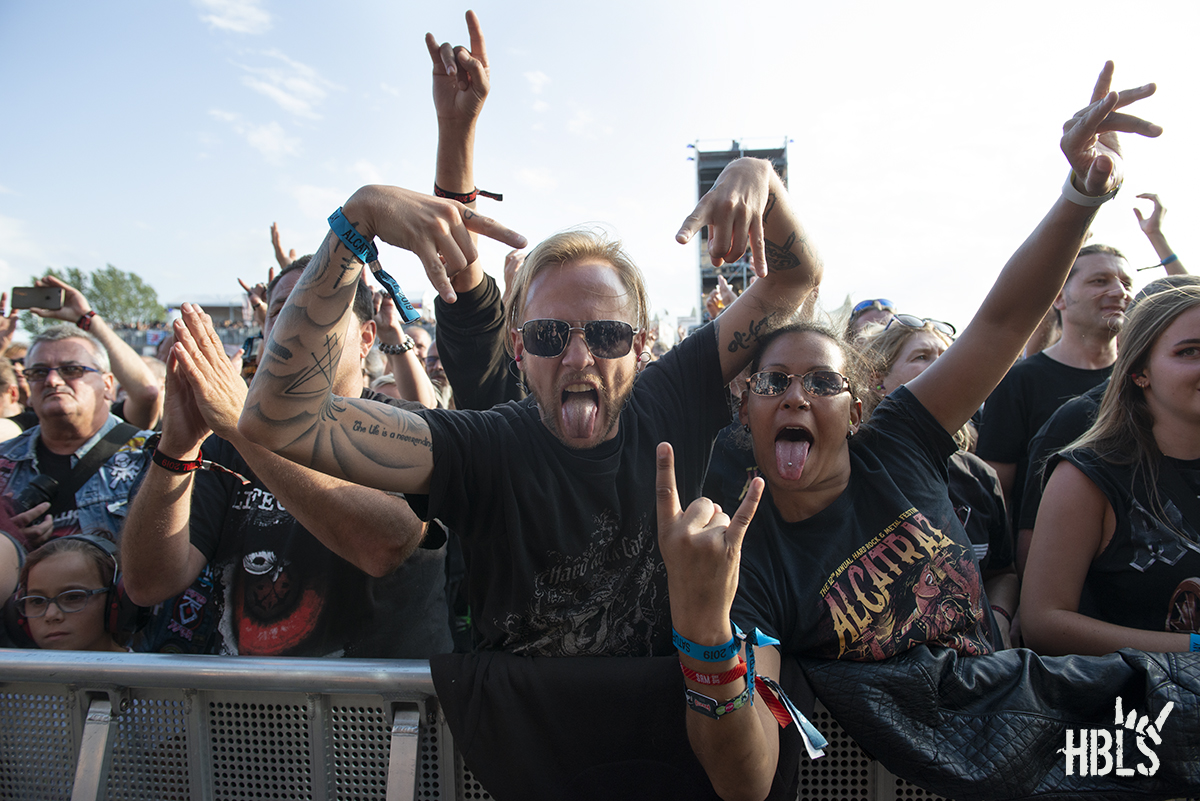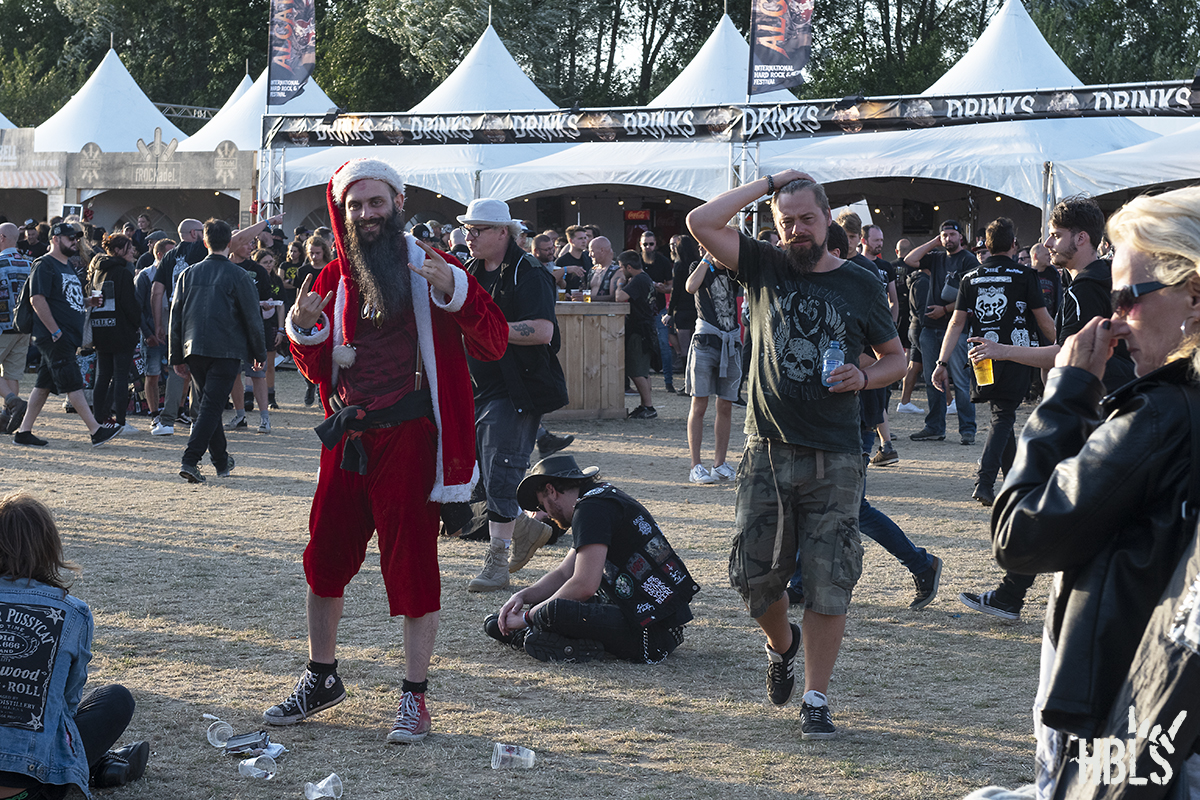 The first band that climbs on the Swamp Stage is HELL CITY, a talented band from Belgium who plays powerful, furious metal, led by striking female singer Michelle Nivelle. She puts a spell on the audience by singing fierce and soulful and shows Hell City is a promising band.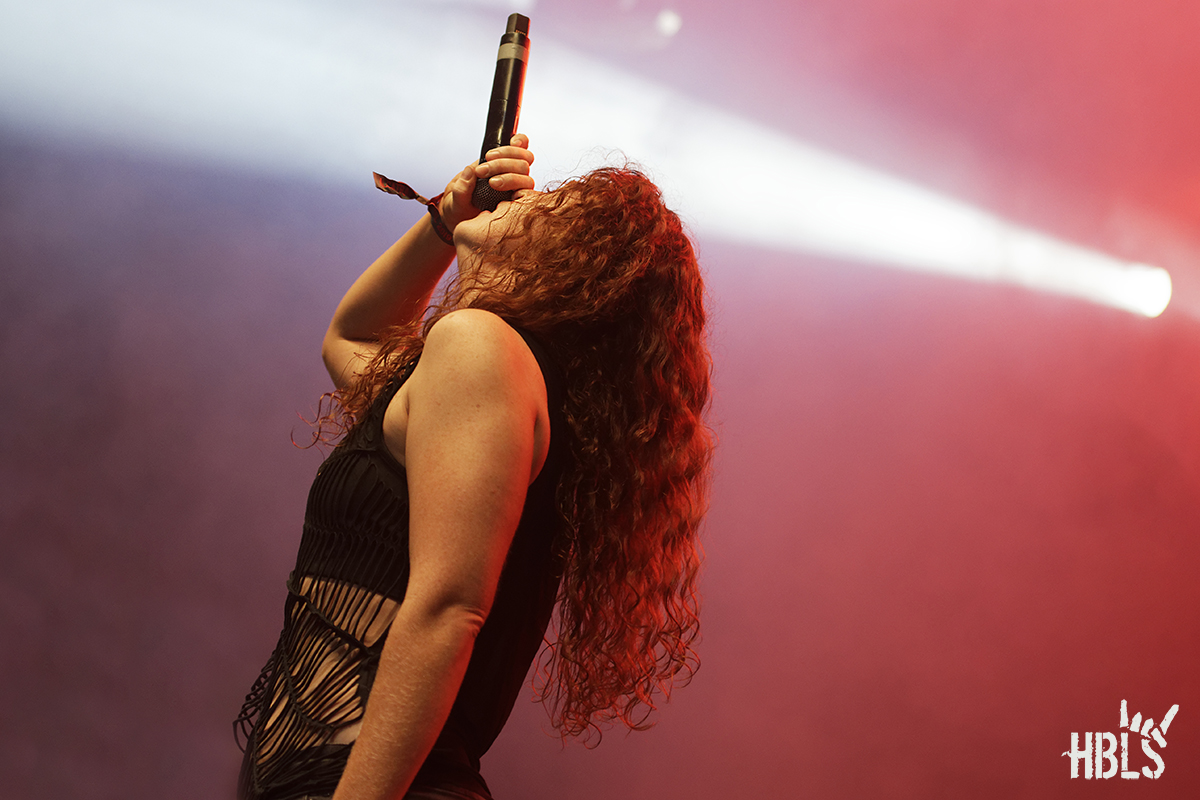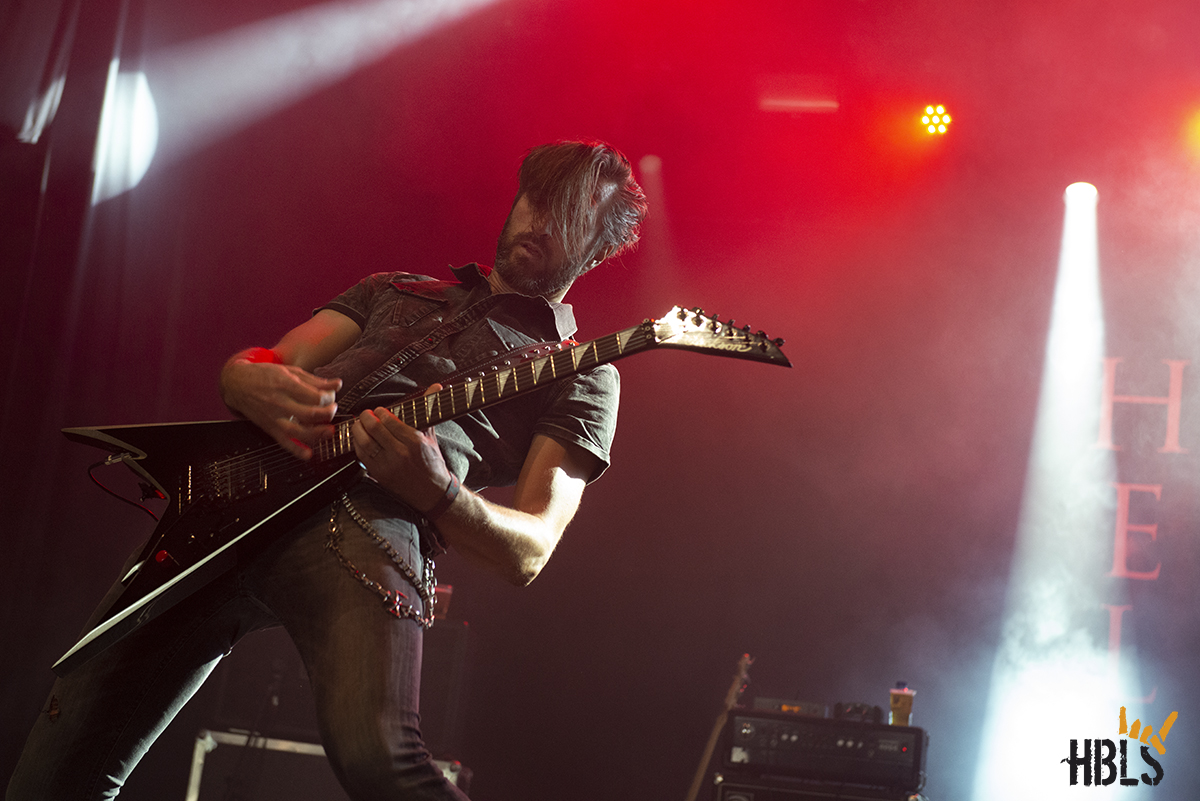 Hell City

The wind seems to lower down and OF MICE & MEN get a free pass to open a ,,Warzone'' at the Prison Stage. This is a band with a typical American attitude, playing the right heavy loaded metal core beats and hooks to keep the audience's attention.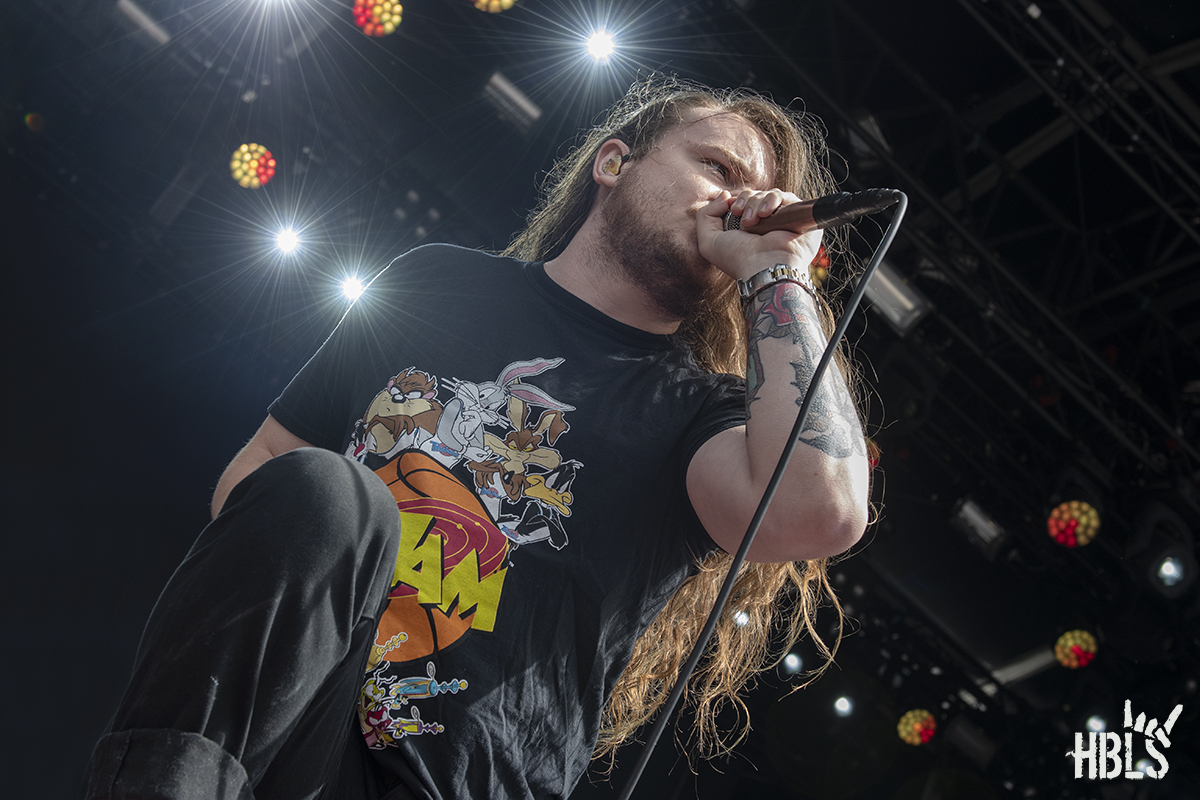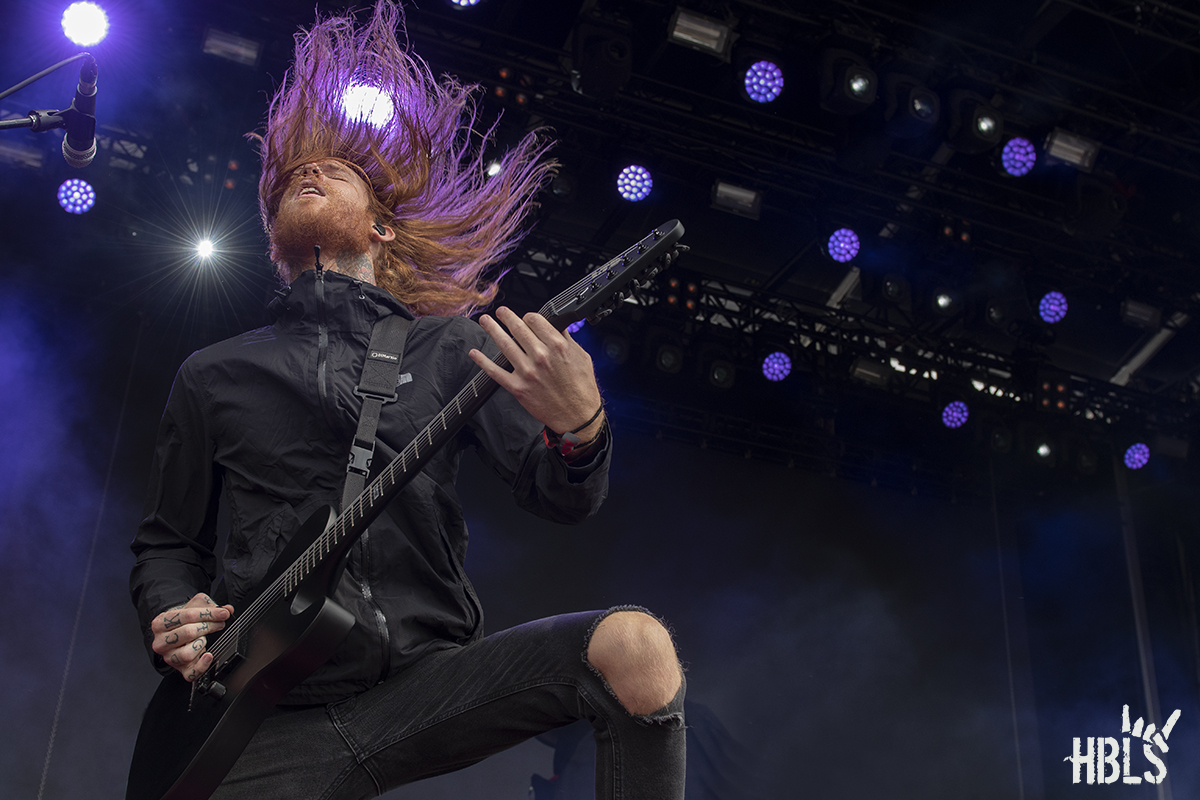 Of Mice & Men

UK band BURY TOMORROW [Swamp Stage] is absolutely a winner, having such a great chemistry and connection with the audience. ,,I don't give a fuck if you just shake your hips, as long as you move'', demands singer and cool frontman Daniel Winter Bates, and later continues: ,,We are not take it for granted we play music for a living, It's all because of you so thank you!''. A very motivated band that plays high quality and energetic metal core, with great hooks and a professional stage presentation.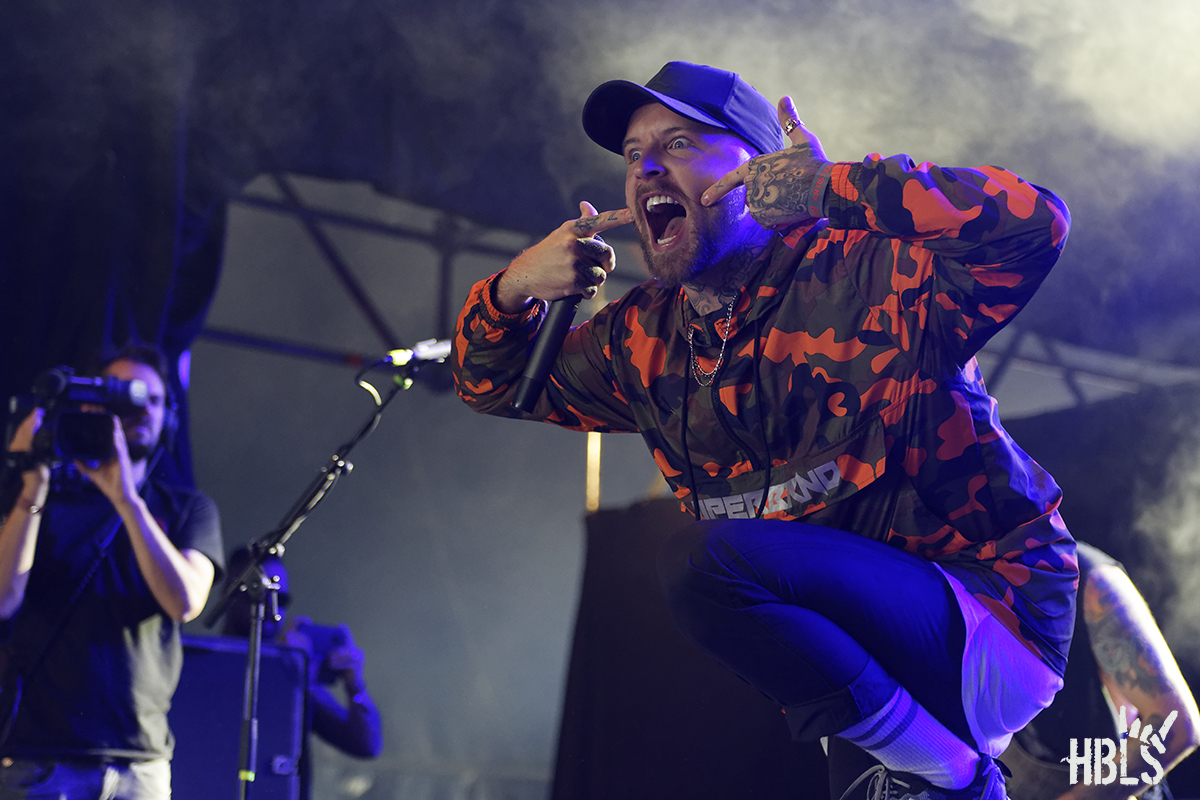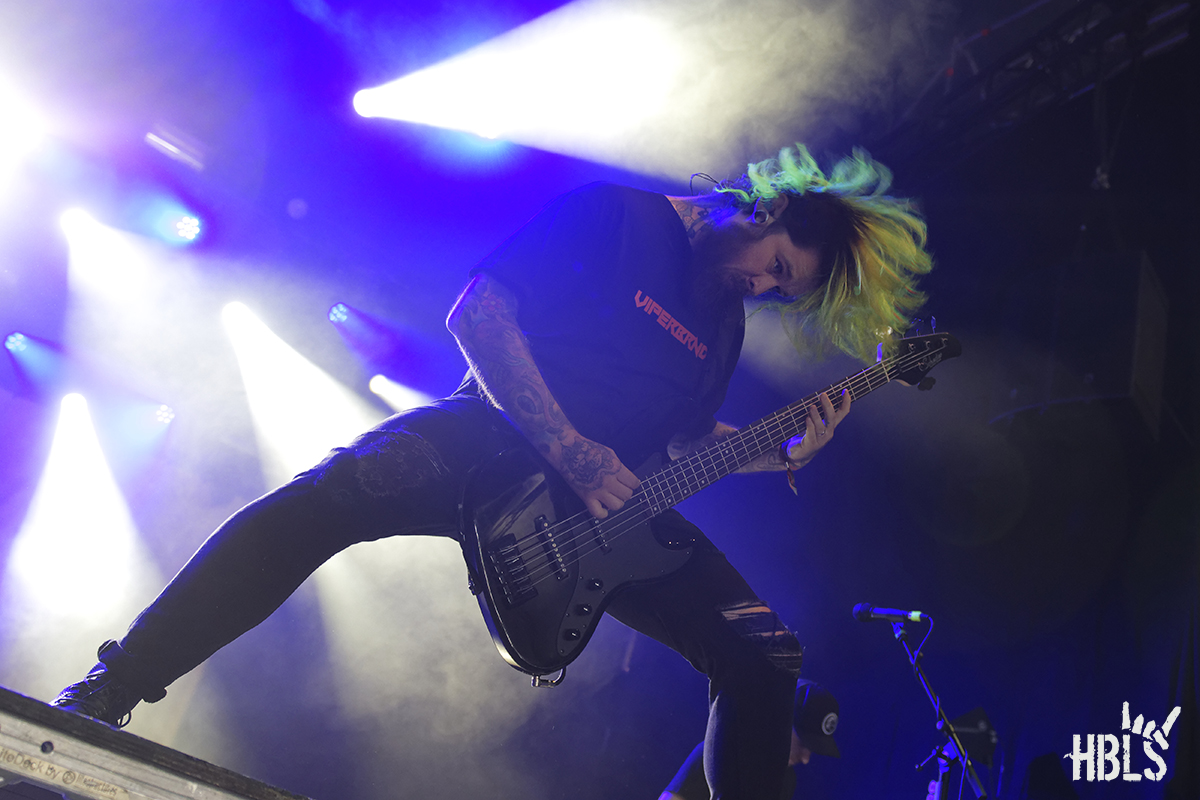 Bury Tomorrow

I must admit it feels weird to see SANCTUARY [Prison Stage] perform without Warrel Dane [R.I.P.]. Joseph Michael [Witherfall] does a nice job as the new singer, but to me the true charisma of Sanctuary is gone.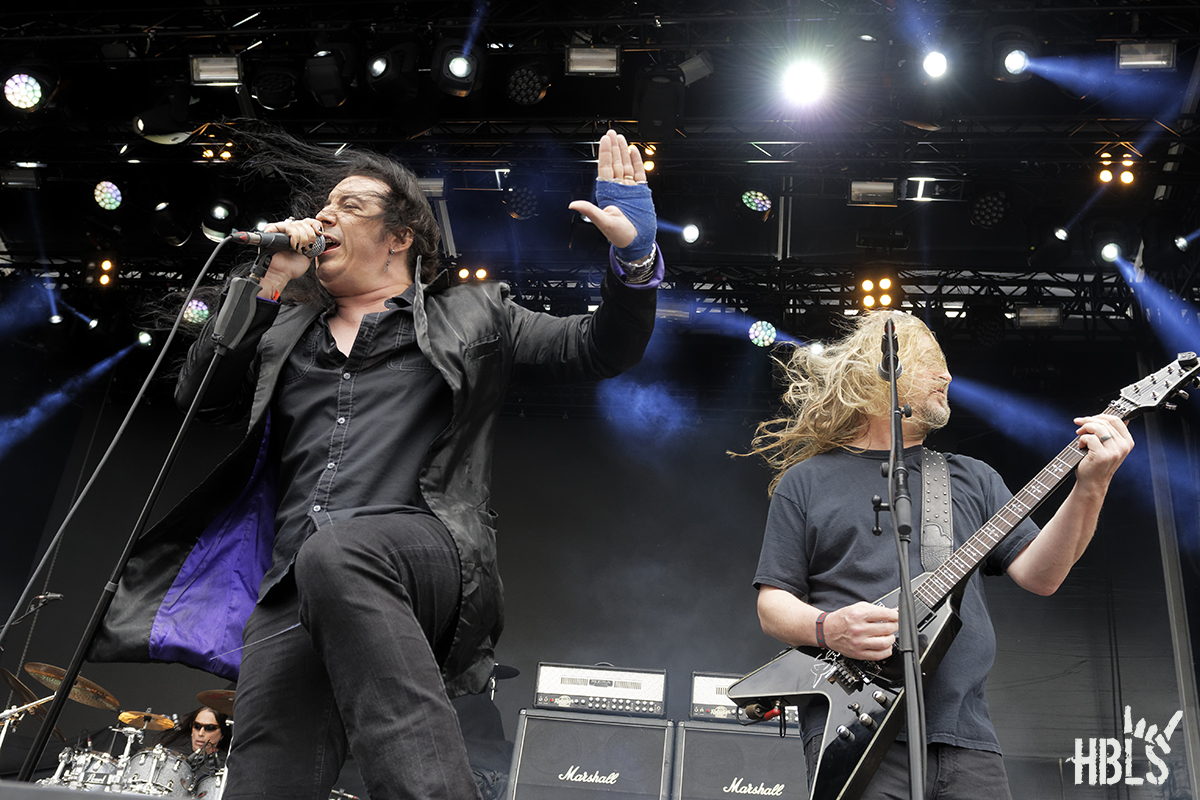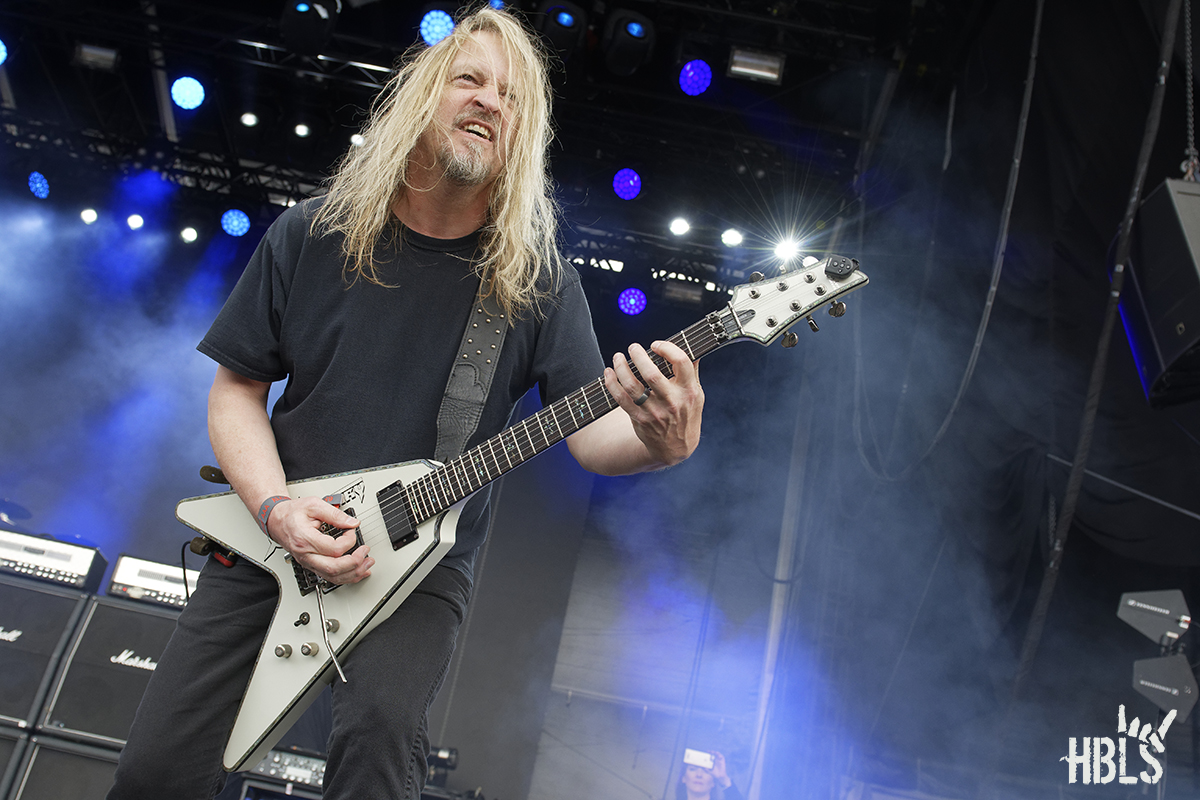 Sanctuary

Like Sanctuary, also FIFTH ANGEL hails from Seattle and reunited after years of absence. With the long-awaited third album `The Third Secret' [2018] and several European festival shows, the band confirms to be back in business. Brand new singer Steve Carlson is definitely the right captain on the ship and also new guitar talent Ethan Brosh assures that Fifth Angel is a strong outfit on stage.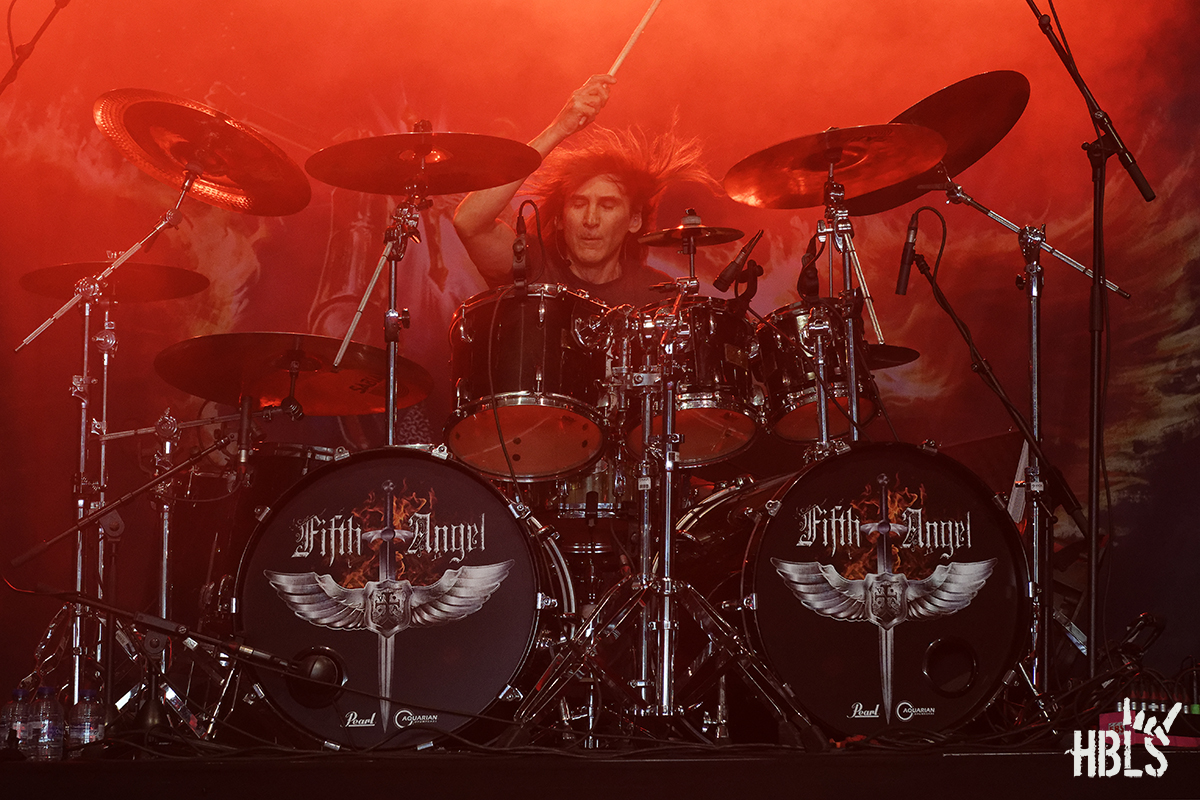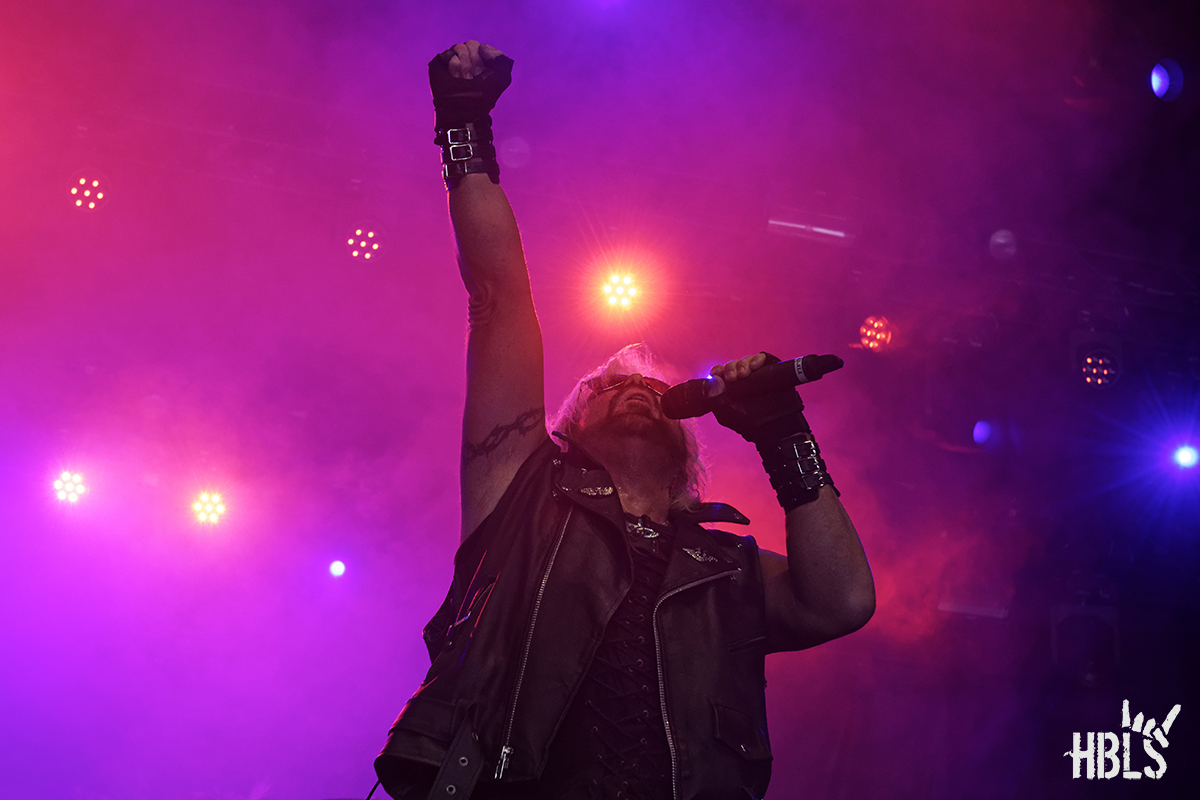 Fifth Angel

Together with Crystal Lake, CROSSFAITH is dominating the metal scene in their home country Japan and it seems they are triumphing in Europe as well. What a fantastic live sensation these youngsters are and the explosive presentation is gagging tha house. Their blend of brutal metal core with industrial and electronic elements make Crossfaith definitely stand out today [Prison Stage].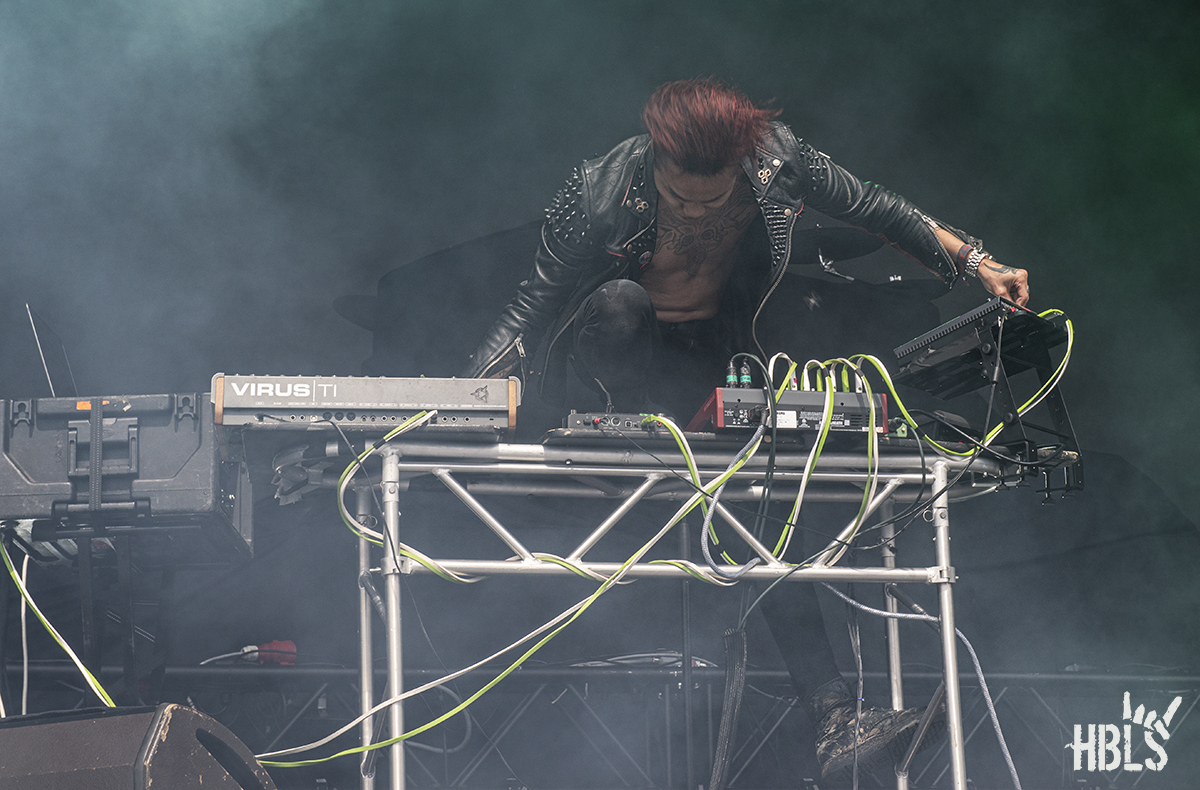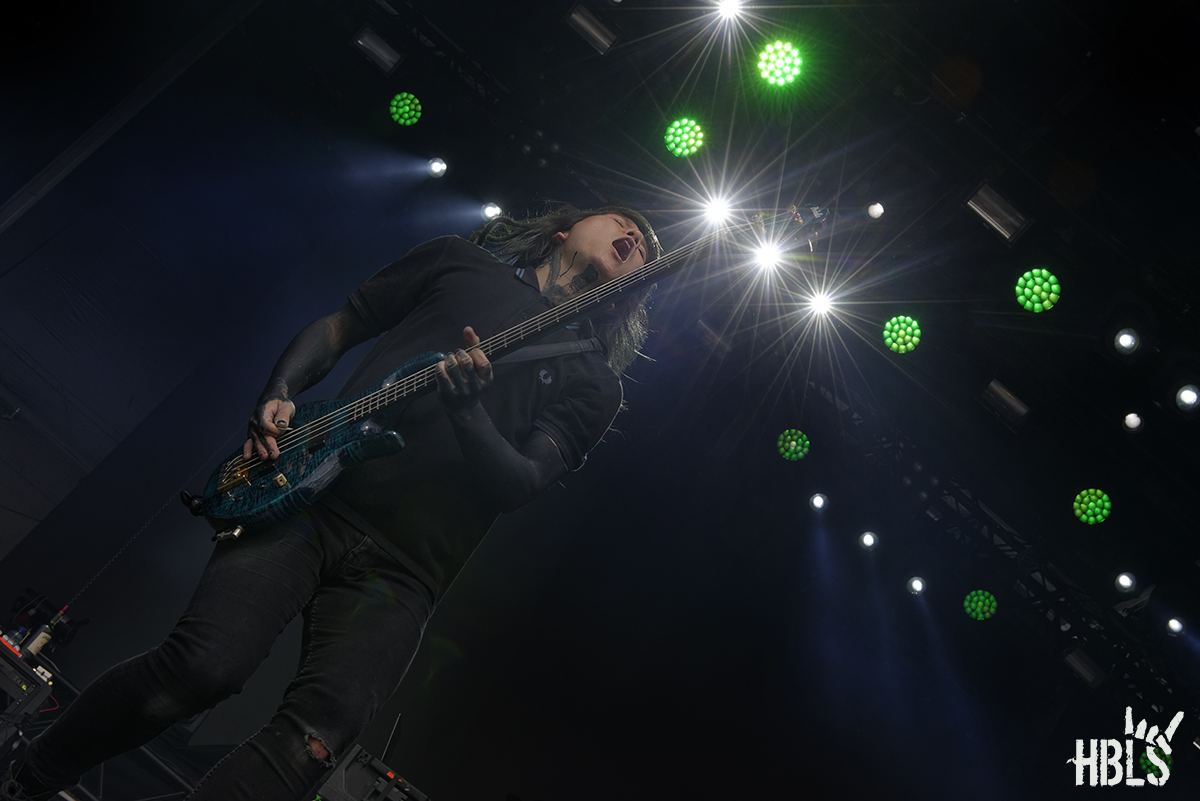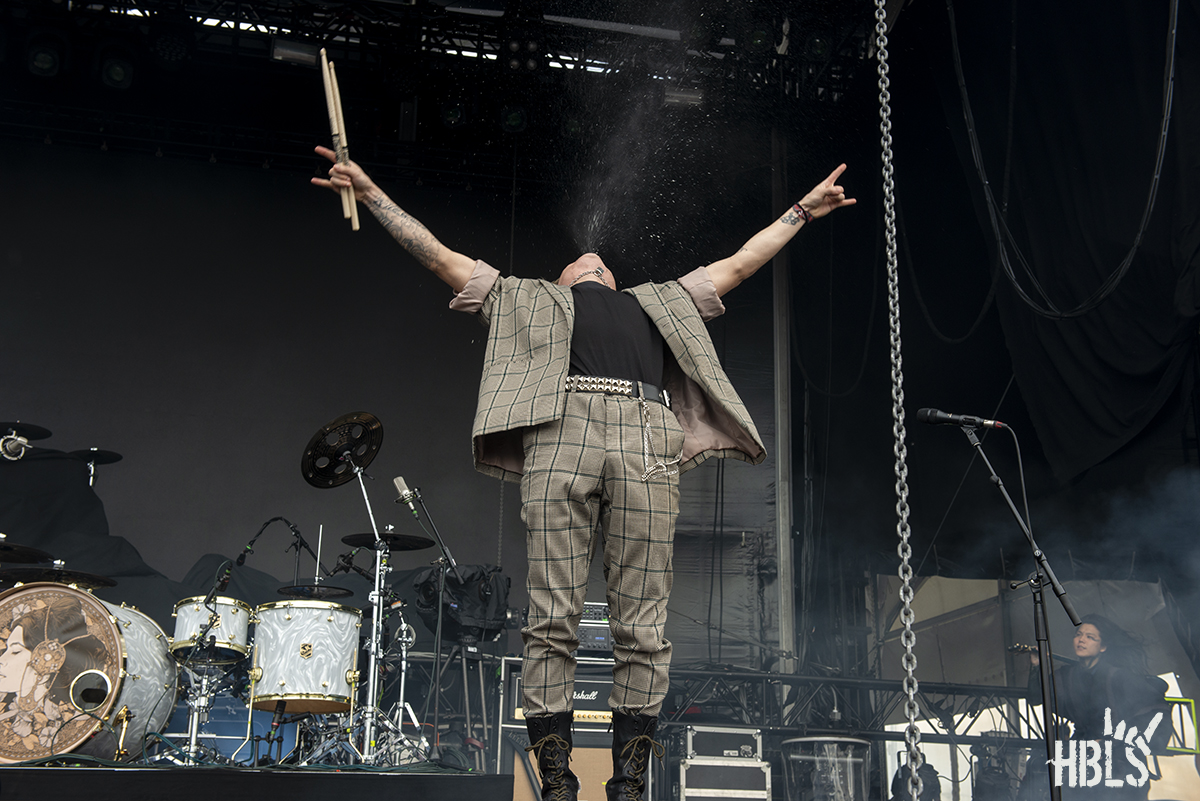 Crossfaith

Swedish melodic death metal band SOILWORK is no stranger in the scene and as always they treat the audience with a solid performance [Swamp Stage].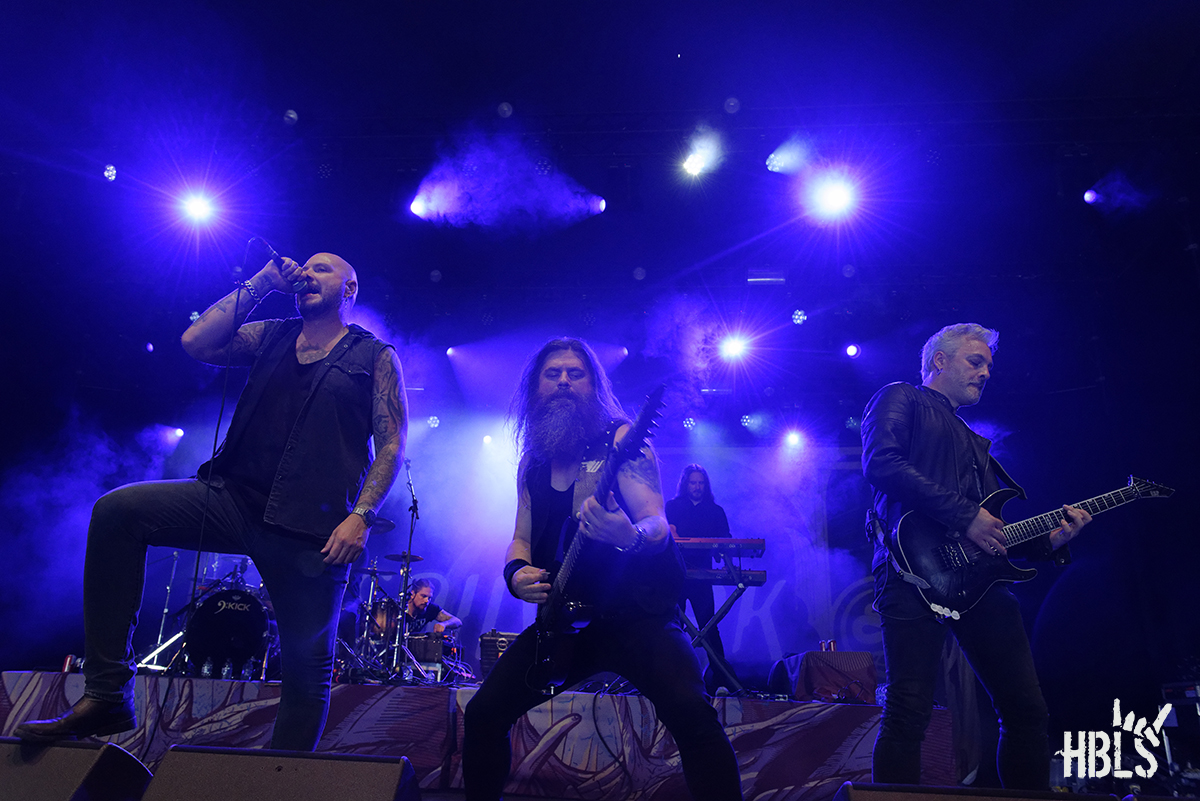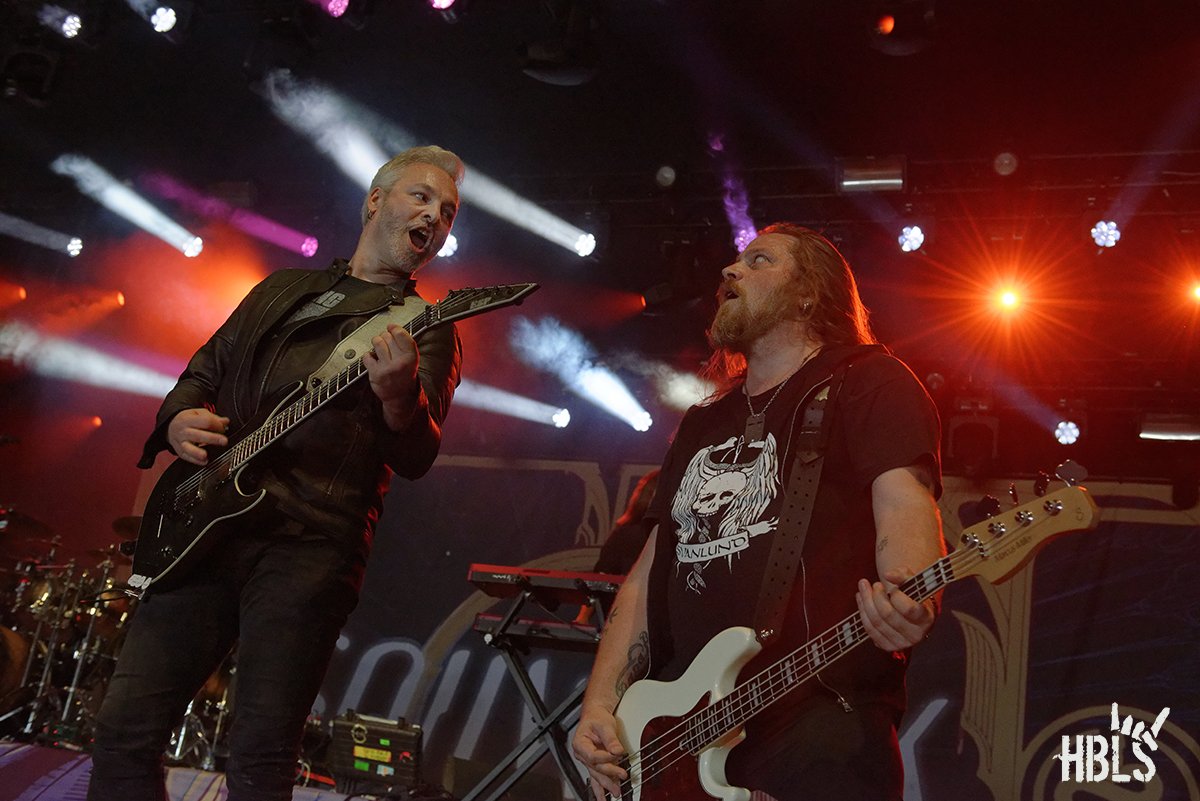 Soilwork

Today I miss out on Prong, Flotsam And Jetsam, Hypocrisy because of press duties, but speaking of an oiled machine, U.D.O. make sure to be relevant in 2019. The old dog has surrounded himself with a relative young pack and as a steamroller U.D.O. cruses Alcatraz with big, fat metal tunes like ,,Tongue Reaper'', ,,Make The Move'', ,,24/7'' and ,,Independence Day''. Good show, good performance, like to be expected from Udo Dirkschneider and his band.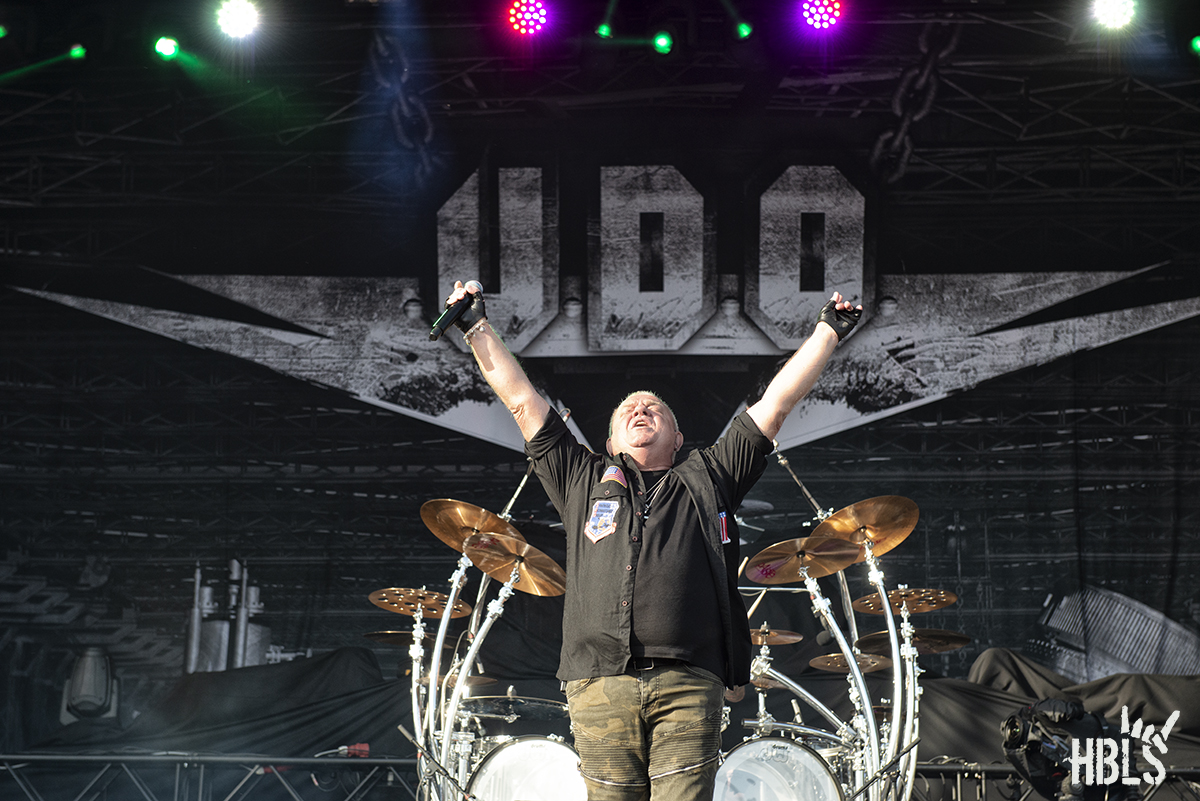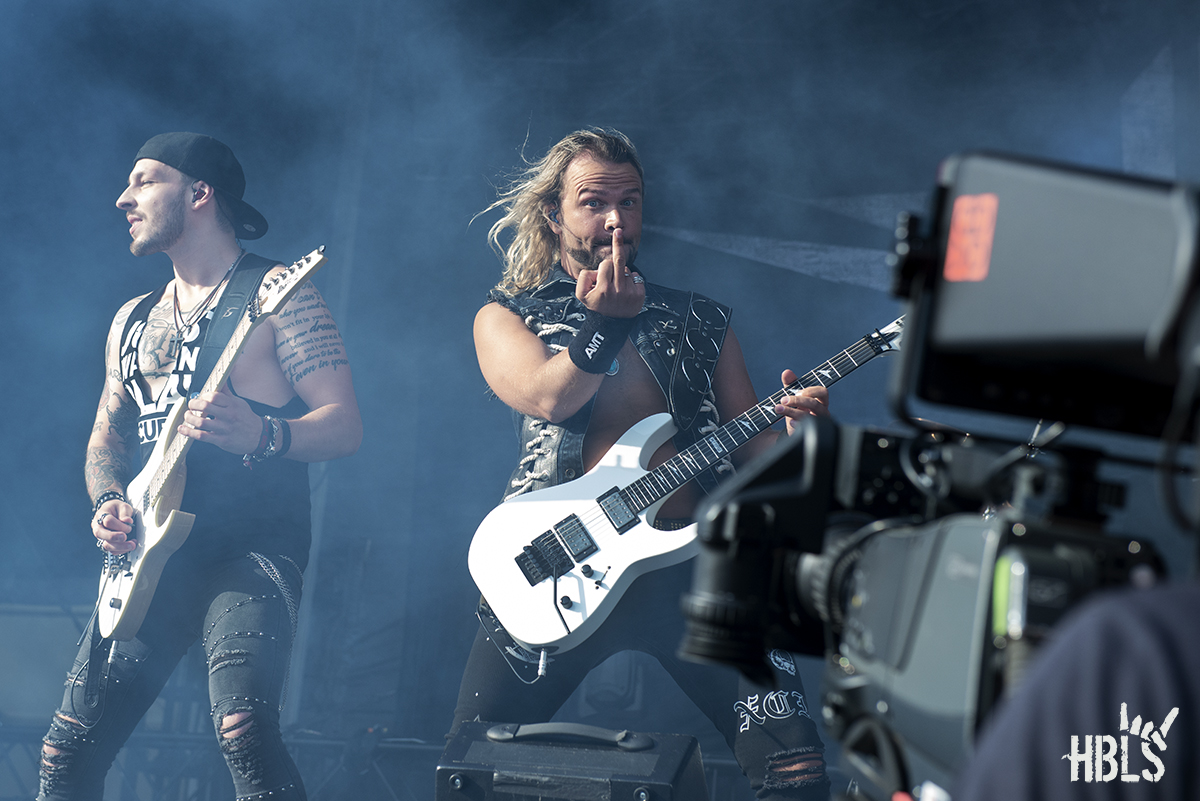 U.D.O.

Isn't it rather strange that Black Star Riders is about to release a new CD [`Another State Of Grace'] but going out on the road as THIN LIZZY again? I'm not mad about it because who doesn't want to relive ,,Jailbreak'', ,,Cold Sweat'', ,,Emerald'', ,,The Boys Are Back In Town'', ,,Whiskey In The Jar'' and all the other timeless classics. There is nothing wrong with the performance and frontman Ricky Warwick does his ultimate best to live up to the expectations. Well, as long as the only (closest to) original member, guitarist Scott Gorham has the spirit to keep this train rolling, I can only say respect and enjoy while you can!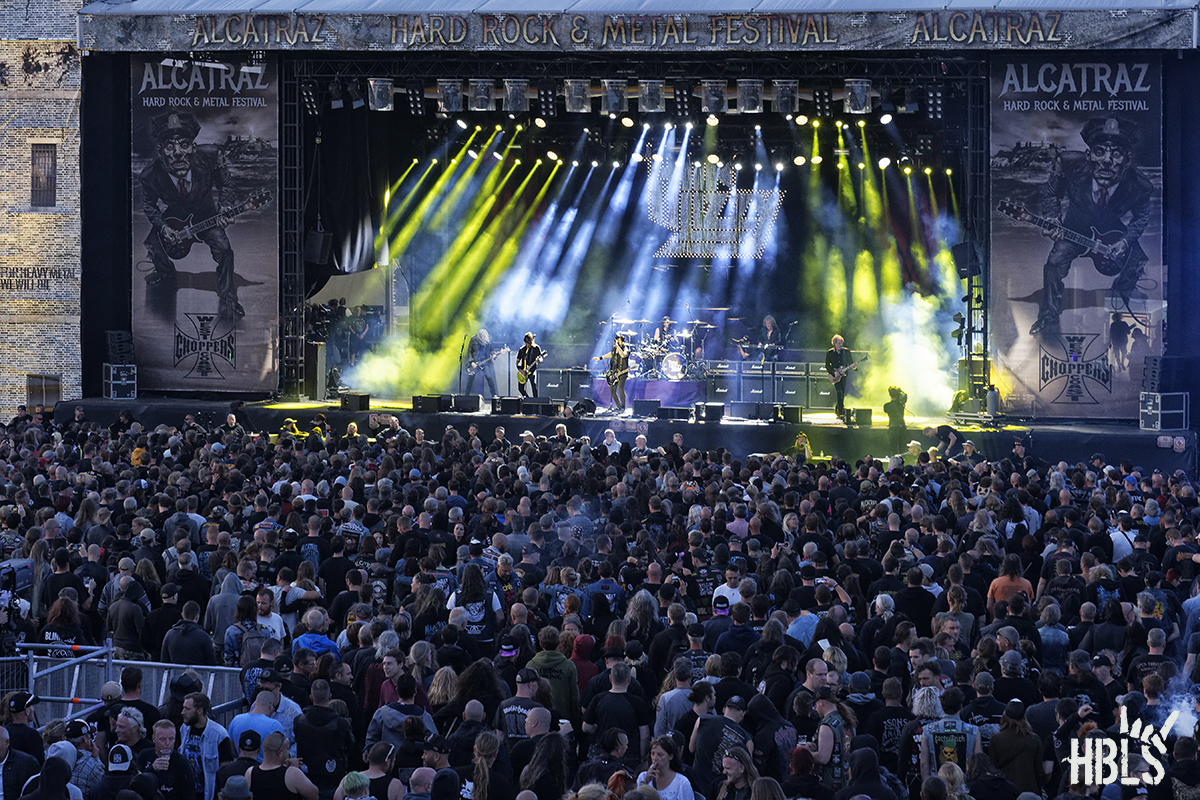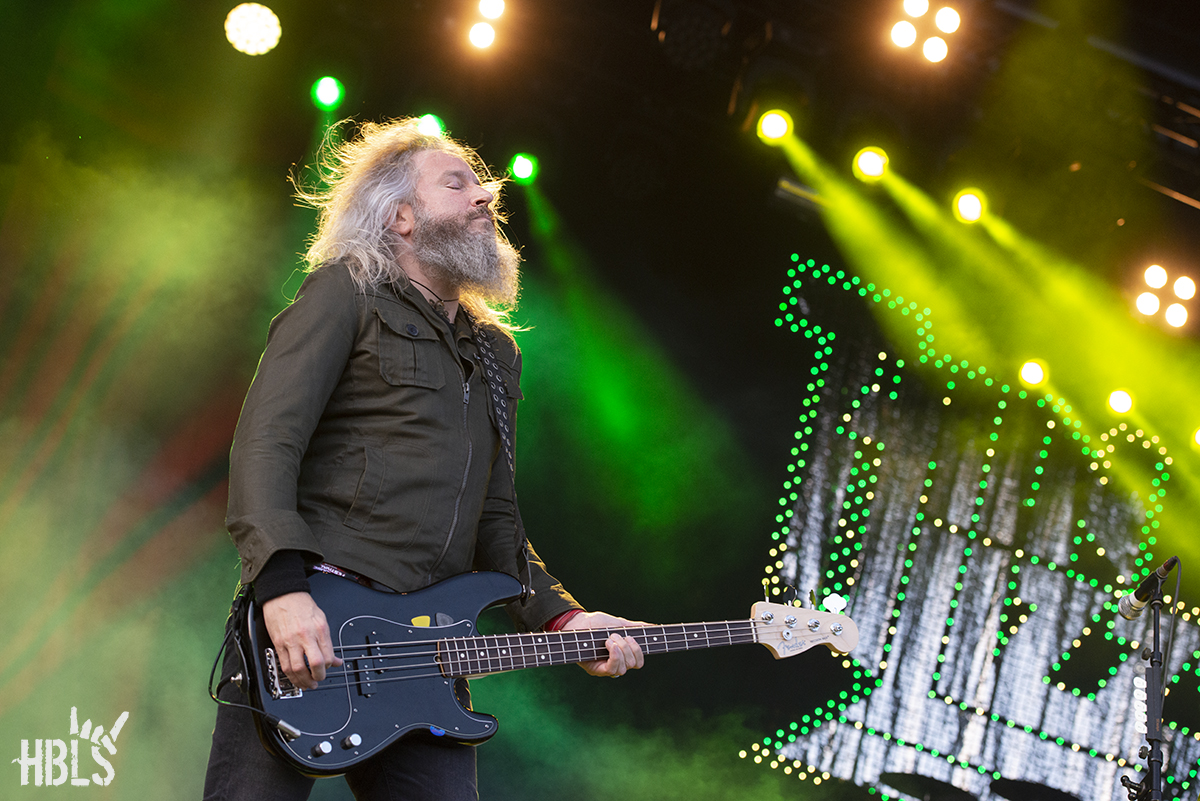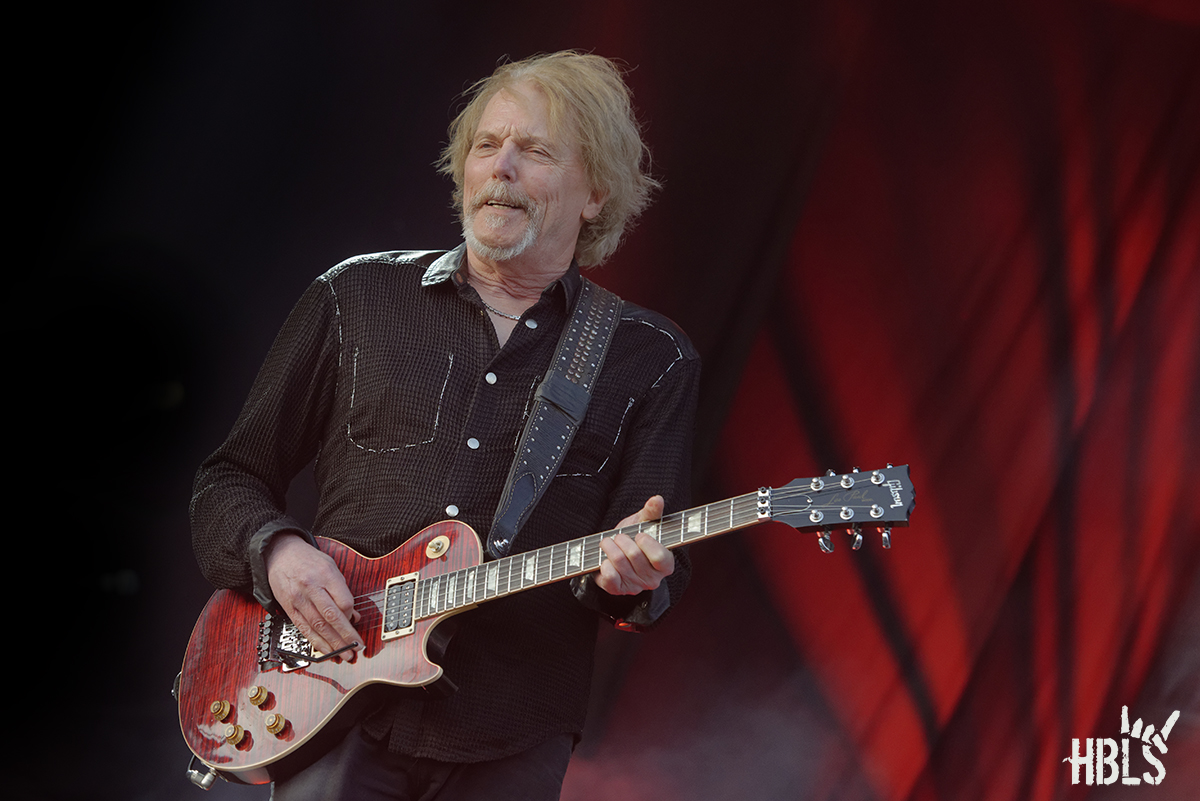 Thin Lizzy

Not every true black metal fan agrees with the restart of Norwegian black metal legend MAYHEM, having only bass player Necrobutcher left as one of the remaining founders. We all know the controversy, violent and tragic past of this group and I guess the recent release of the movie `Lords Of Chaos' about their story, has generated renewed interest in these pioneers. The band attracts definitely a lot of young metal heads as well, getting a huge welcome in the Swamp. A big bang of extreme, primitive black metal is poured over us, arising a prominent dark, obscure, almost oppressive vibe. This whole séance makes Ghost look like child's play. Front freak Void dwells in rituals and theatrics but the only thing that looks weird is that the band dresses up in cowls for a minute halfway through the show; why not right from the start? All in all an interesting and sinister experience.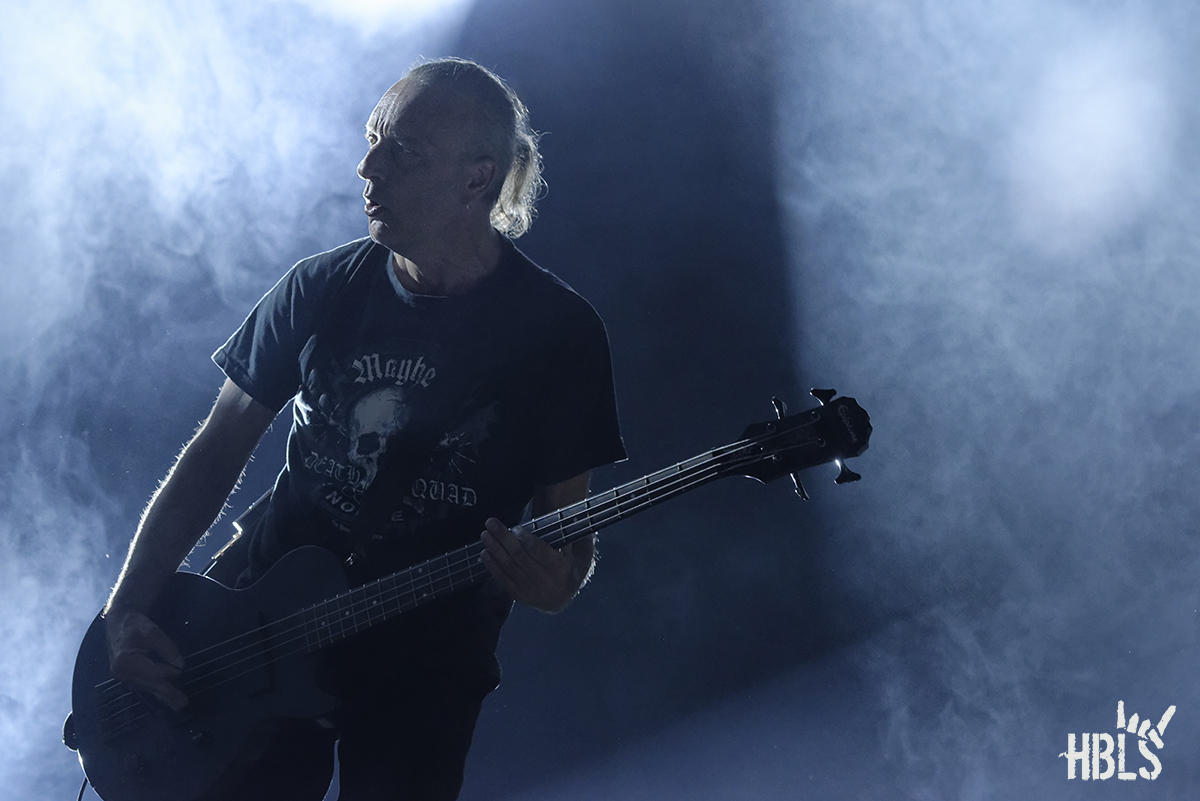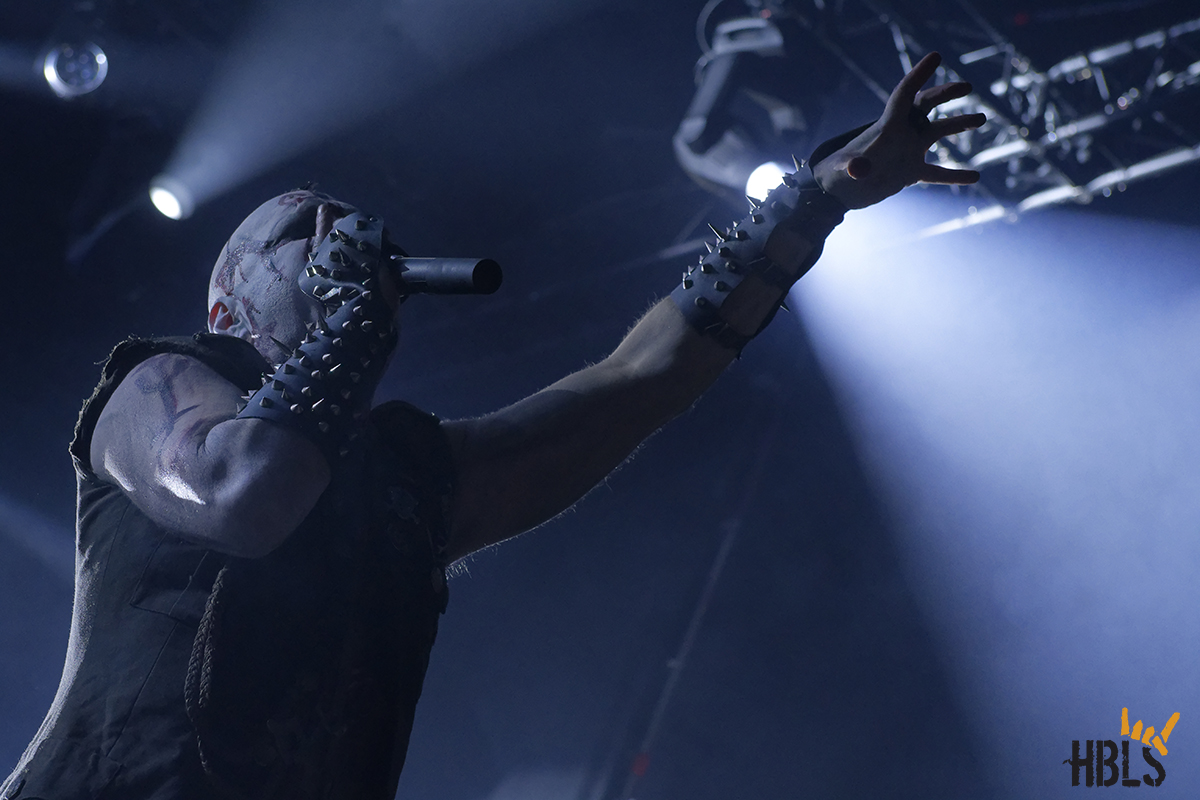 Mayhem

Headliner AVATAR has become extremely popular and therefore the Swedes can count on great support tonight, while doing a live recording [Prison Stage]. There are quite some look-alikes of singer Johannes Eckerström in the crowd, who is obviously the mad conductor and the director of this insane festivity. Avatar is all about entertainment, taking Alcatraz on a crazy circus ride. Well performed and amusing.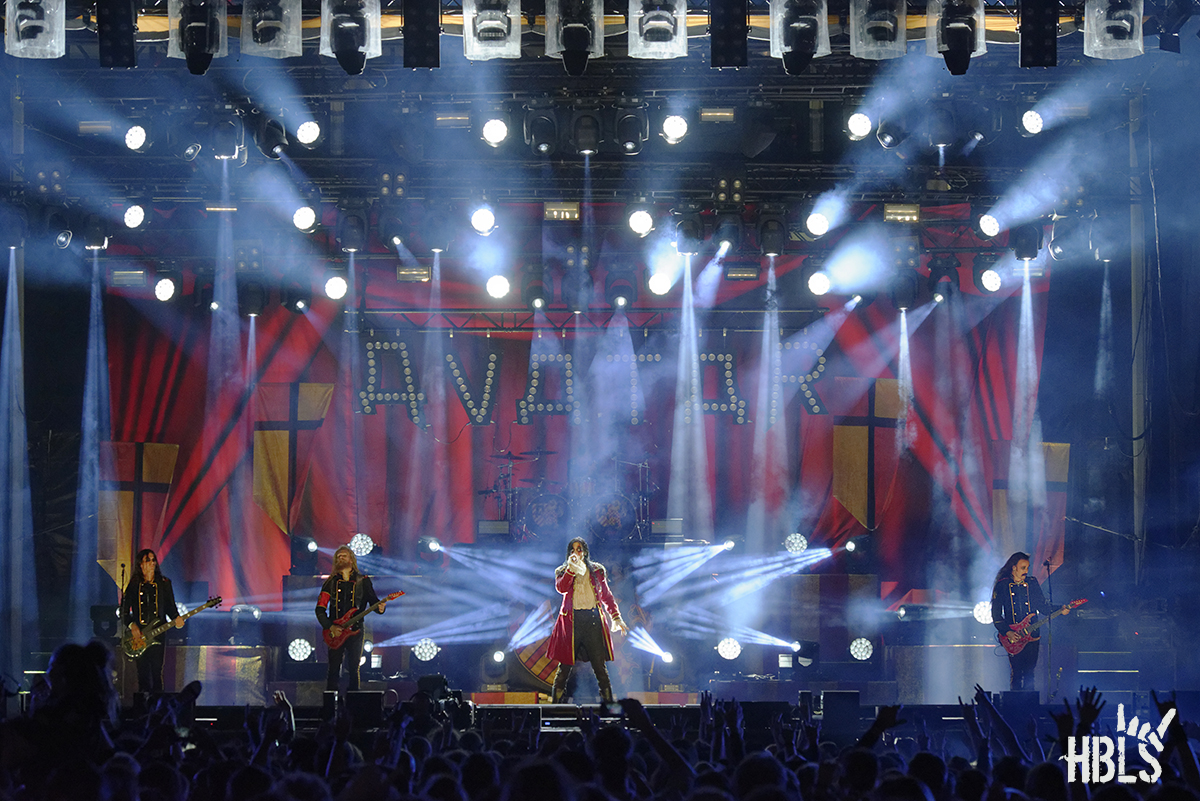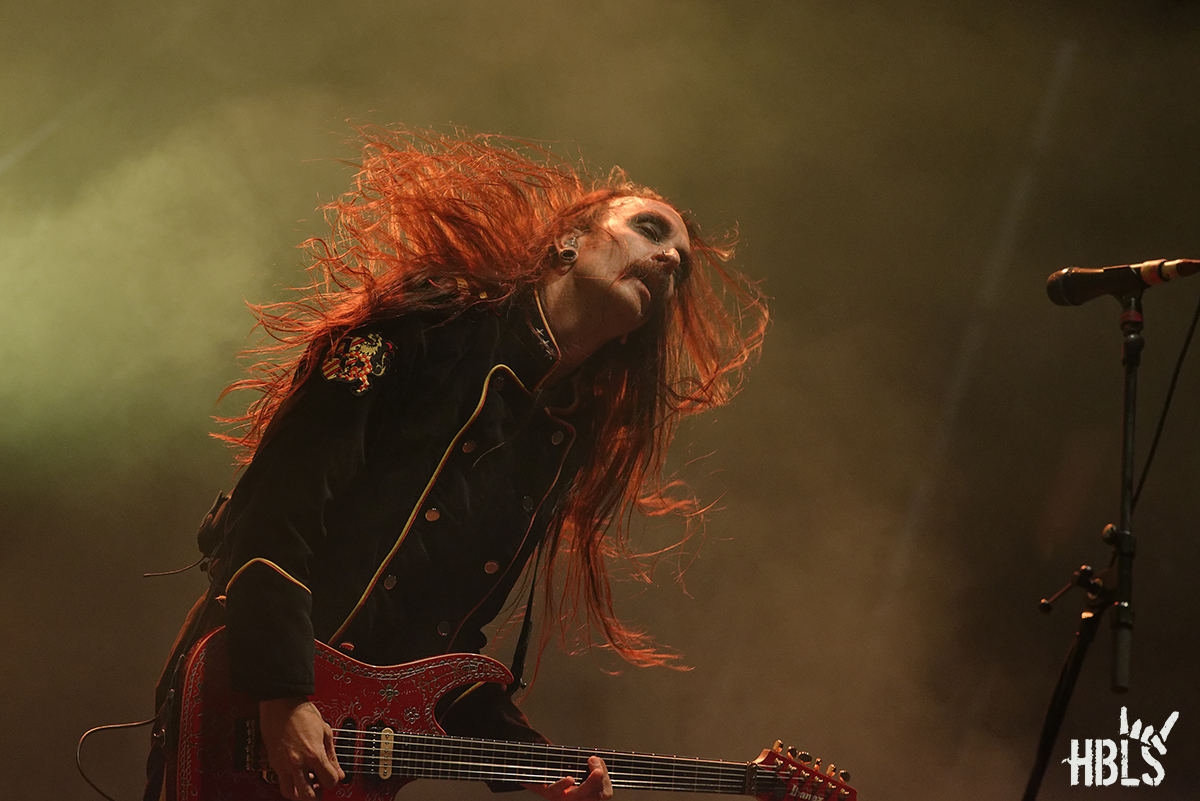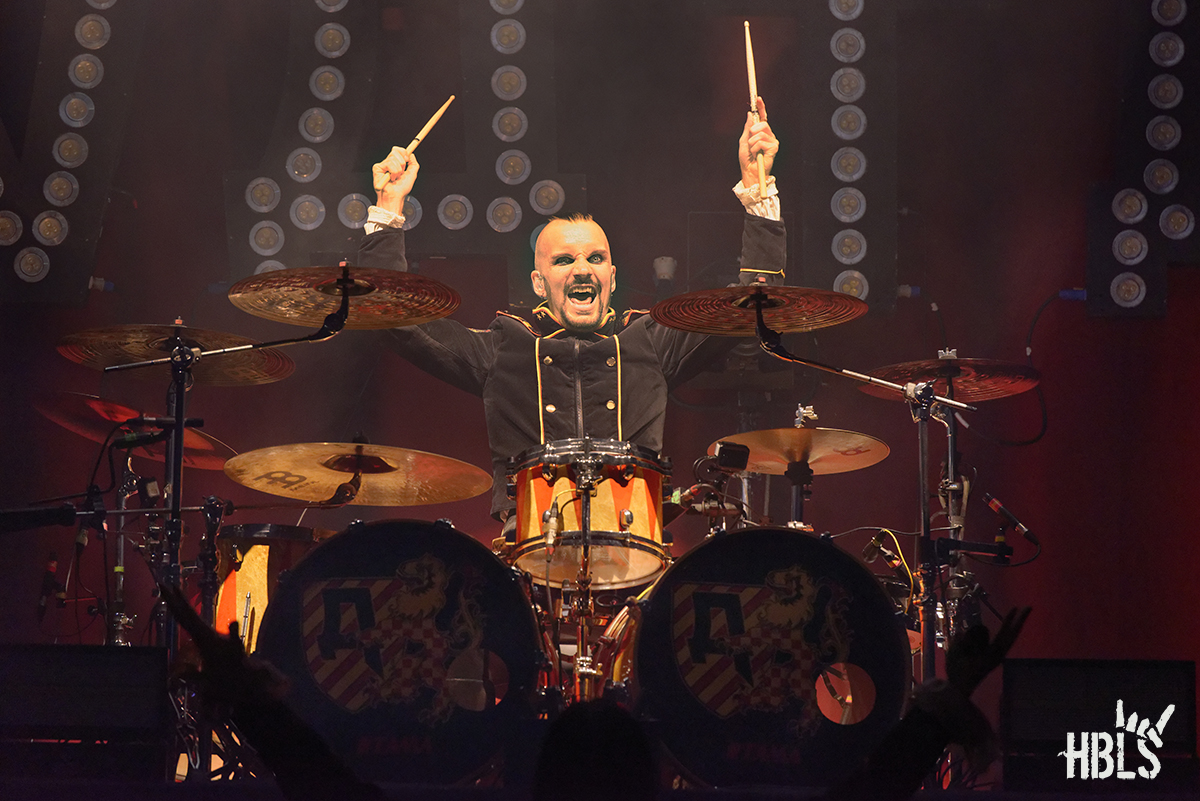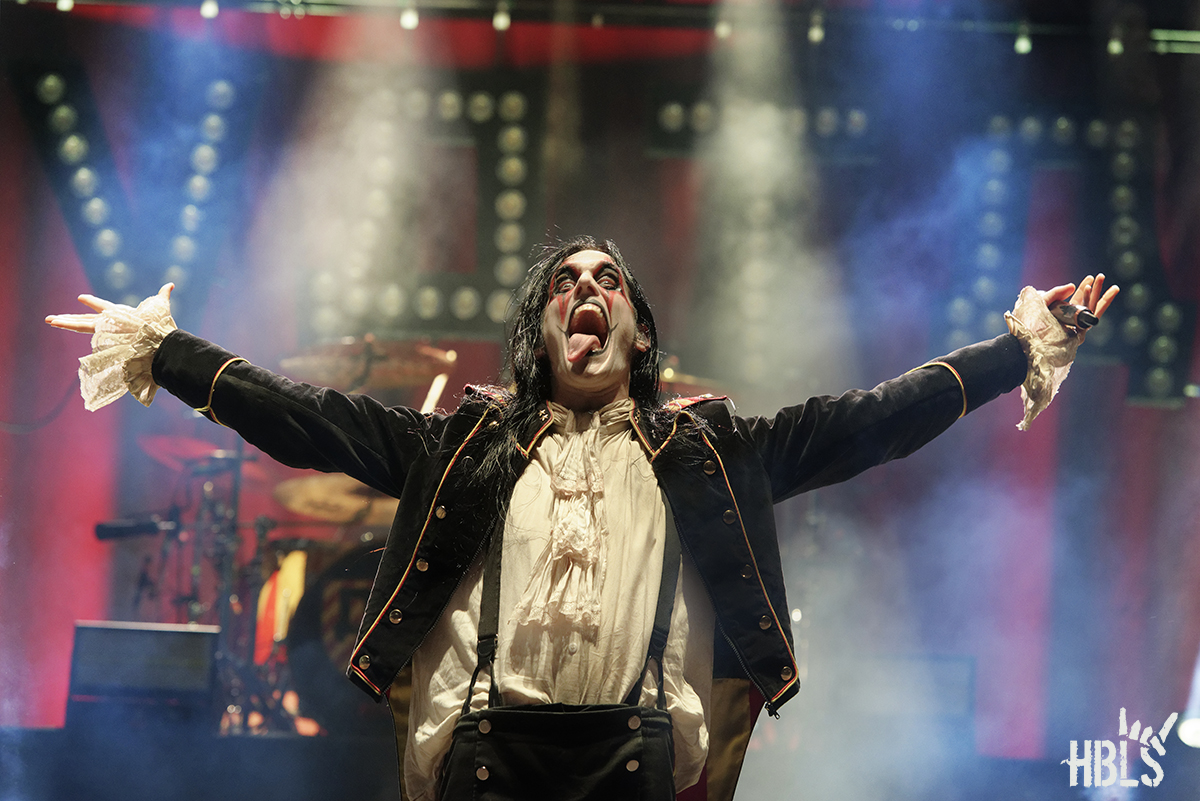 Avatar

Local doom/sludge rockers Amenra host the after party in the Swamp but it's time to hit the sack.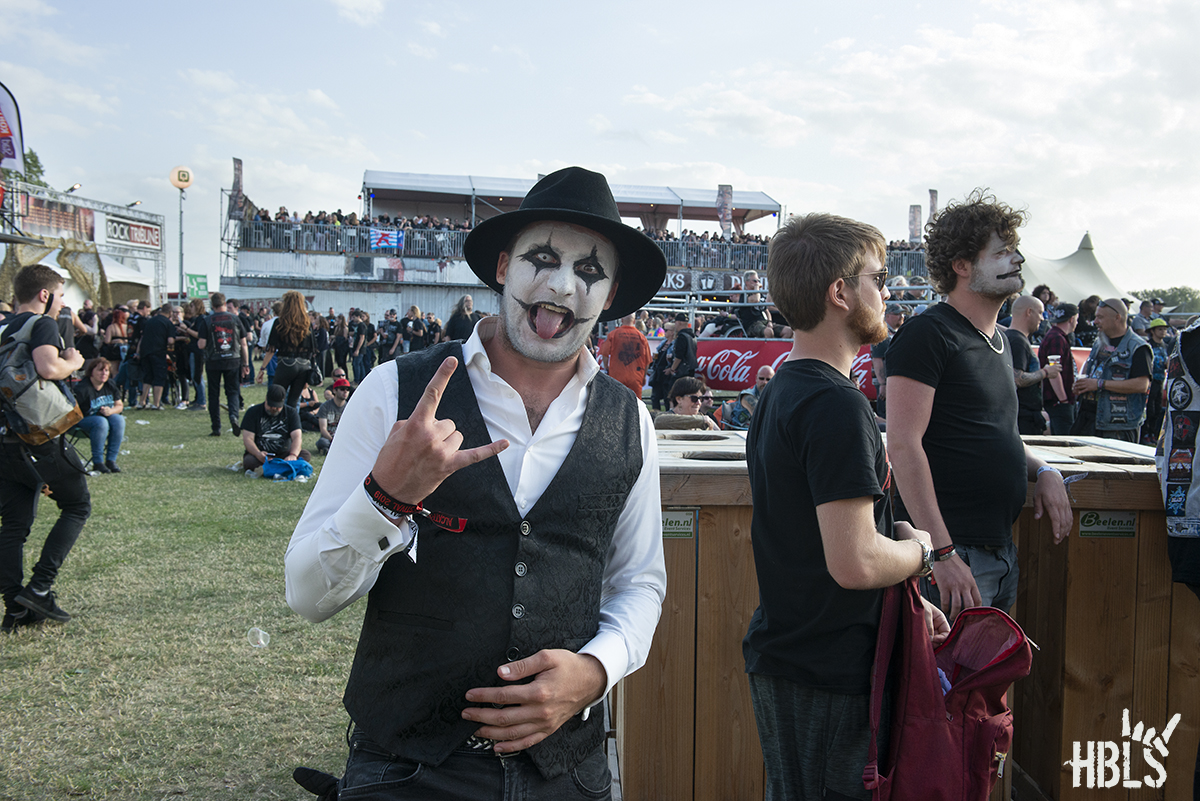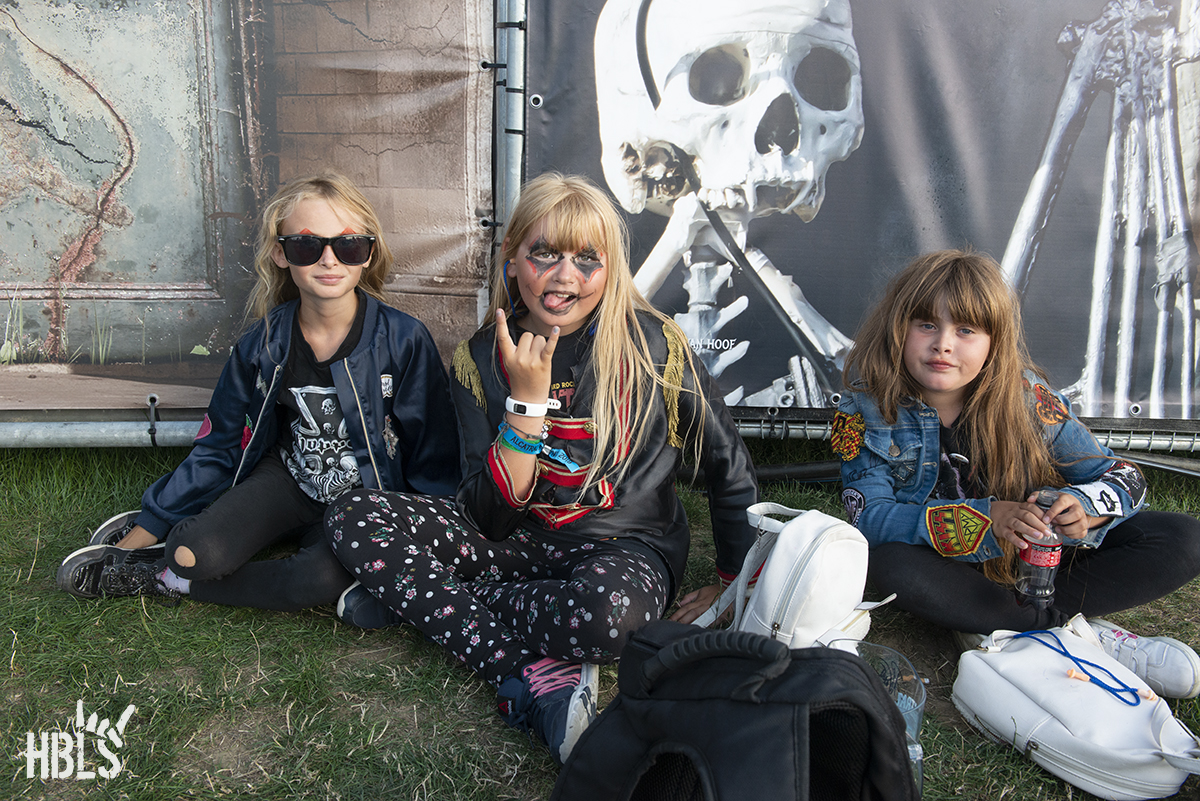 #DAY 3-Sunday-August 11
Today the weather conditions are so much better and the organisation can loosen up a bit. Starting off this third day, it is a pleasure to get to know the opening band at the Prison Stage, ALIEN WEAPONRY from New Zeeland. These three moody teenagers introduce themselves with aggressive, groovy, thrash metal kind of war songs, giving it a unique twist by singing several songs in the native Maori language.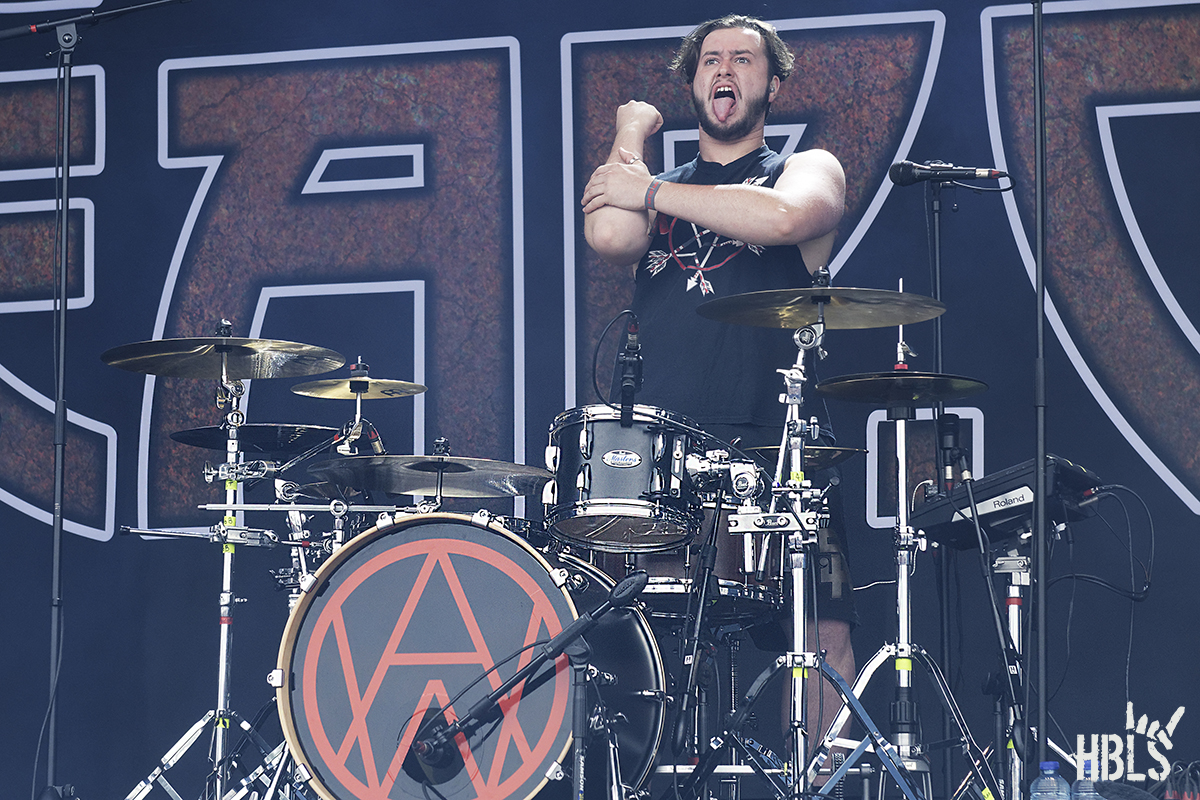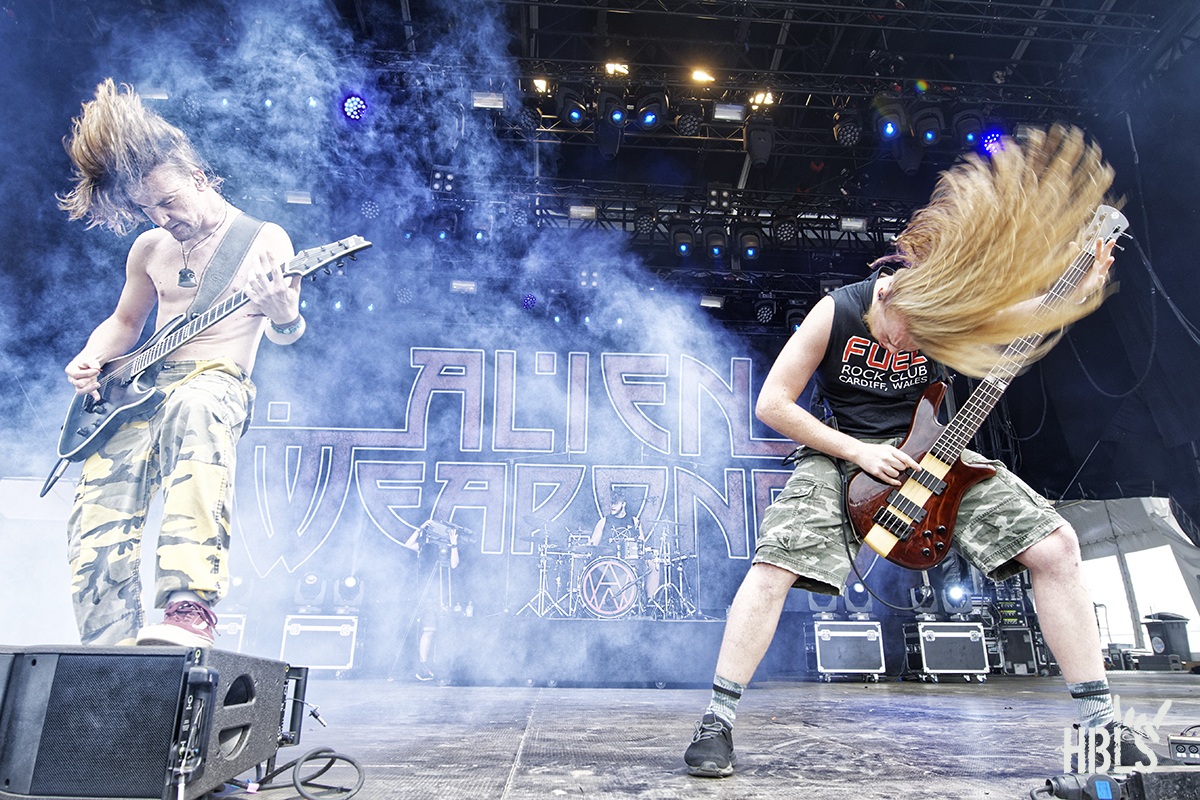 Alien Weaponry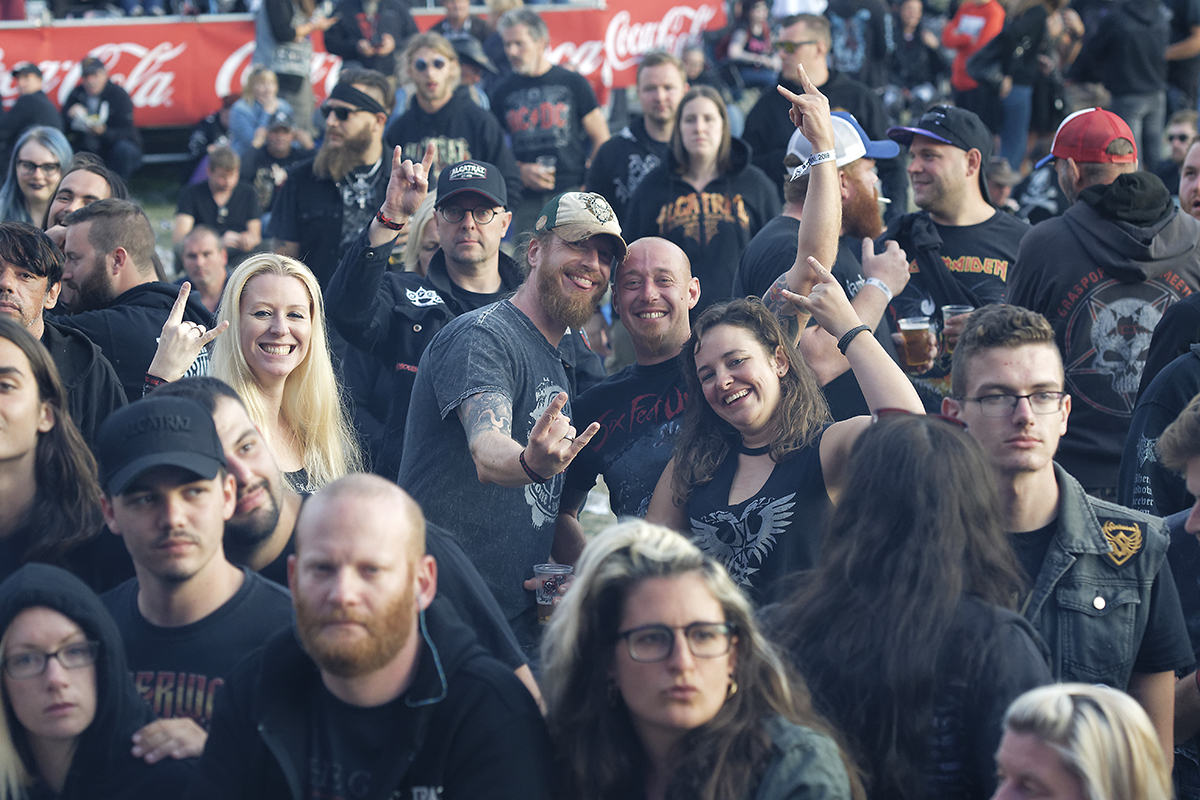 Guess who?

Belgium death metal band CARNATION proves to be a professional, good sounding live band [Swamp Stage]. Their cool mix of death and doom metal, great musicianship and [bloody] stage performance of singer Simon Duson, makes them an international promising band.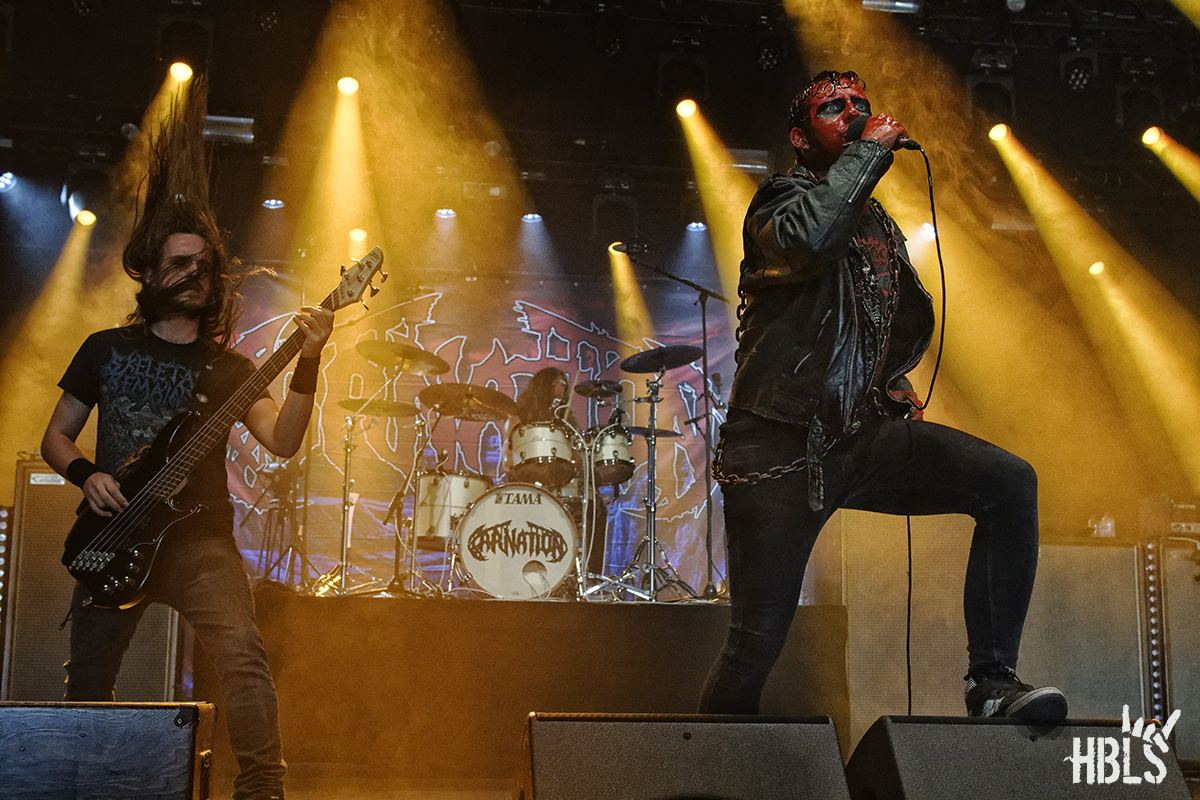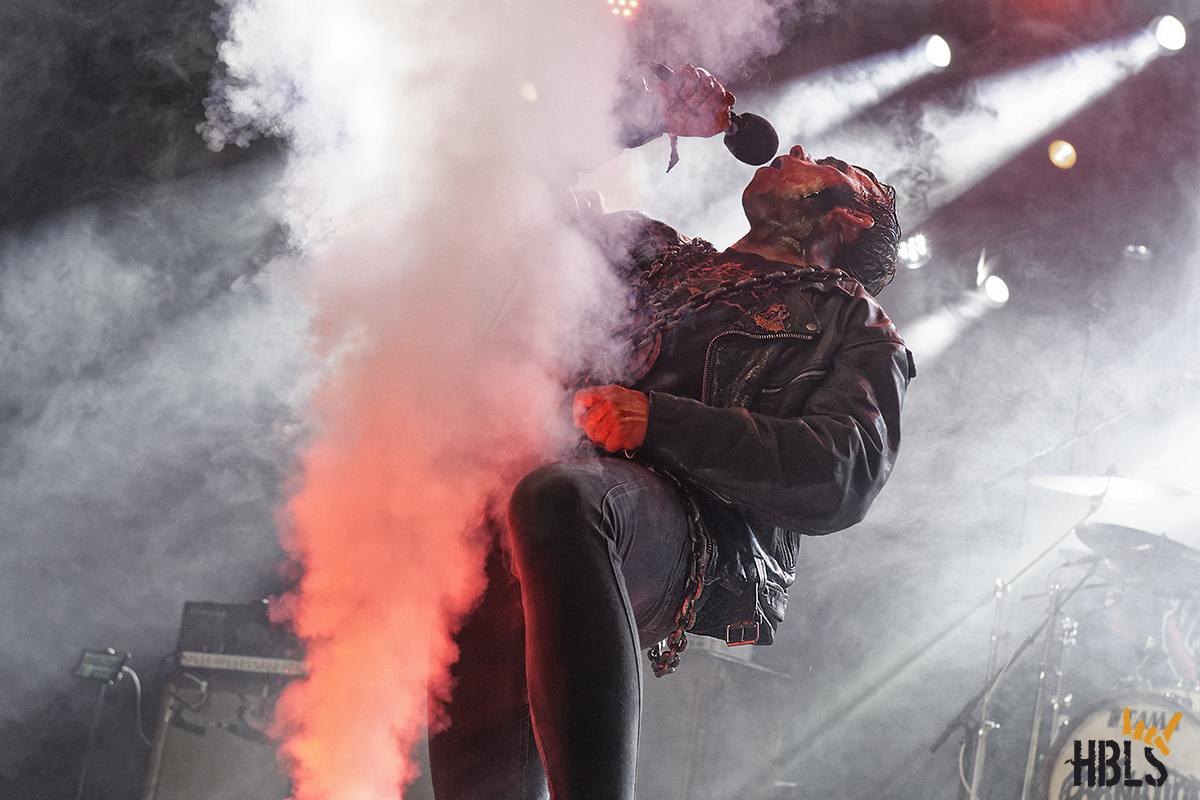 Carnation

ANVIL will always be Anvil and playing the Prison Stage is something the Canadian speed/thrash legend deserves. Although musically it is not the best band of the festival, the old school vibe is a perfect fit. Frontman "Lips" stays in character with his well-known facial expressions. He jokes about bald and grey guys in the audience, while pointing out his own balding spots on the back of his head and in the meantime take us through the set list with tongue-in-cheek.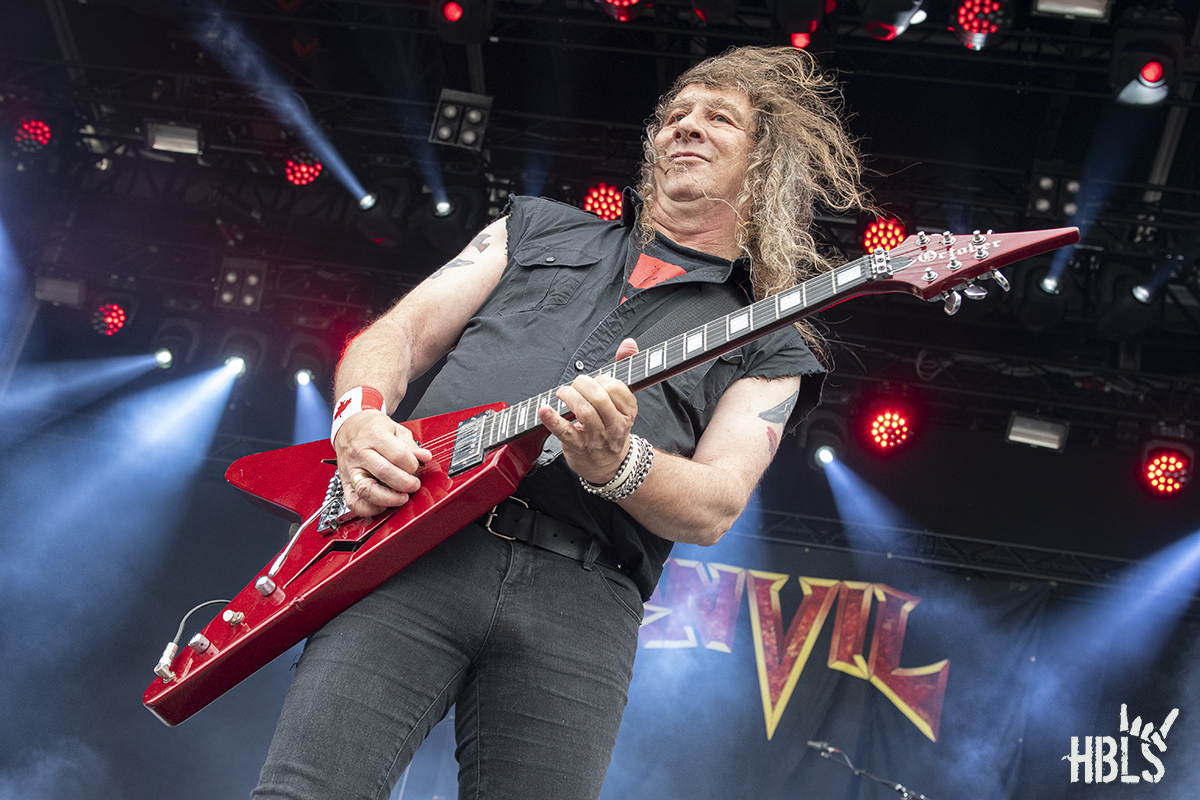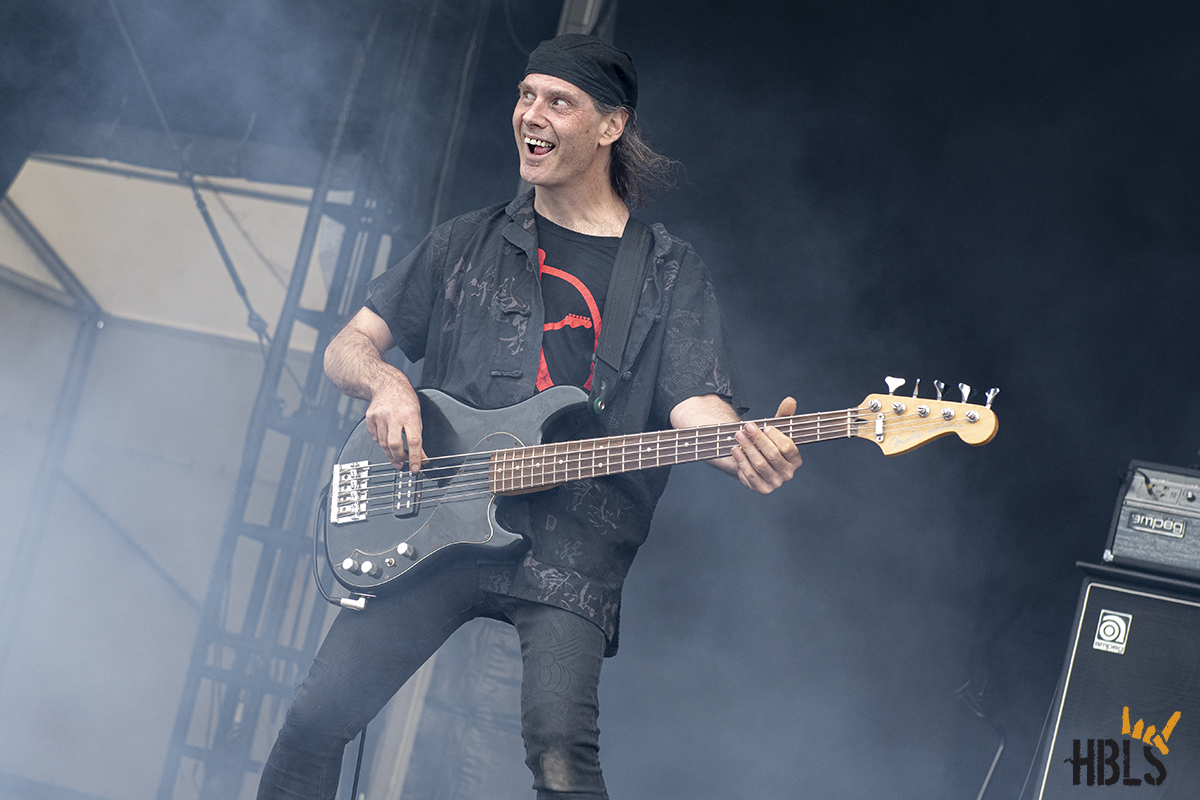 Anvil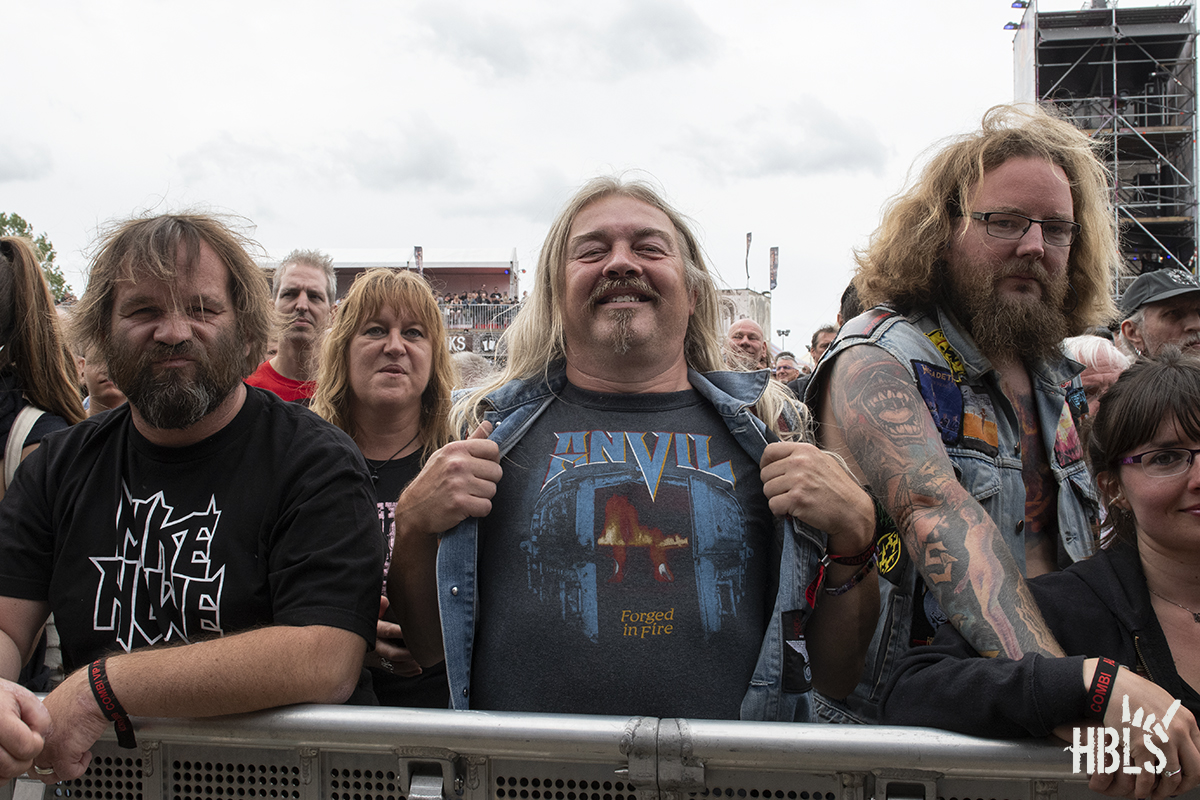 METAL CHURCH [Prison Stage] has a true Spinal Tap moment with the tiniest backdrop ever and starting off being hilarious about it. They move on with a good and solid show that keeps the metal heads busy head banging and sing-along. ,,Damned If You Do'' and ,,By The Numbers'' are the perfect examples of Metal Church being able to write new, strong tracks, but of course nostalgic feelings can't be suppressed when ,,Beyond The Black'', ,,Start The Fire'', ,,Badlands'' and ,,Fake Healer'' blow out of the speakers. Mike Howe sings fantastic and is really great with the fans.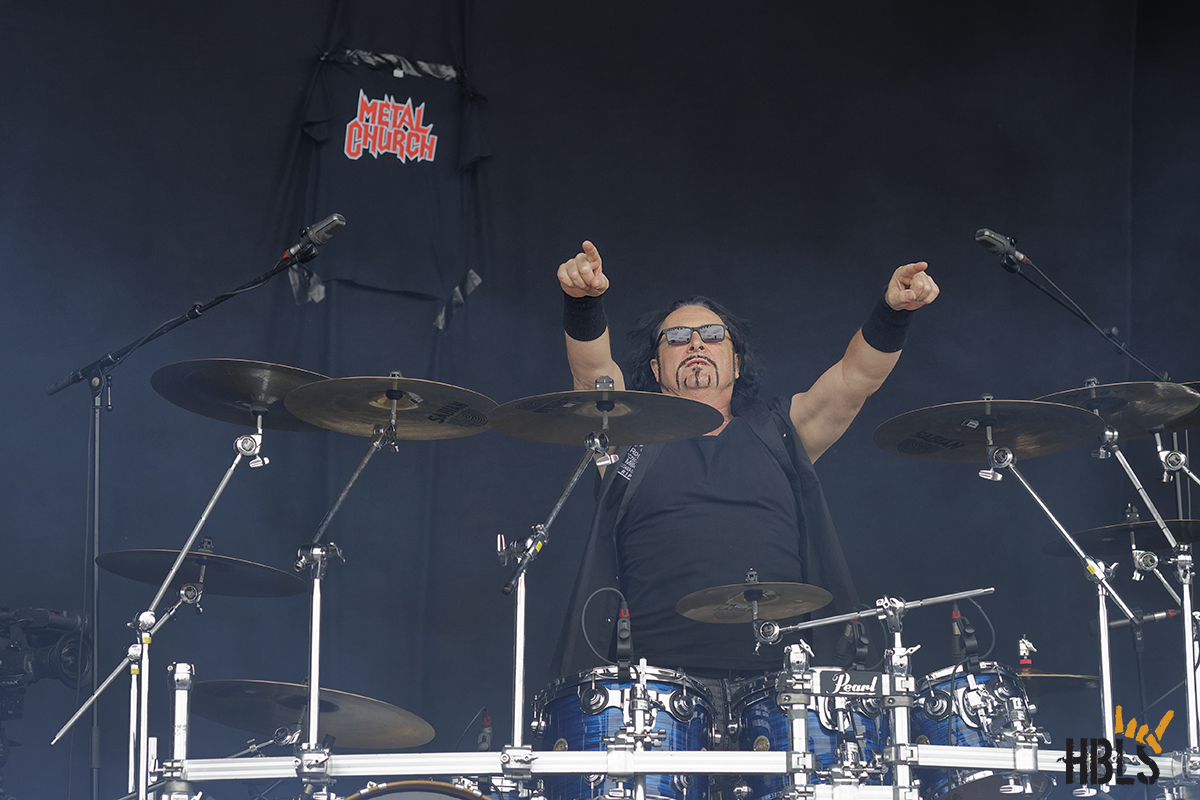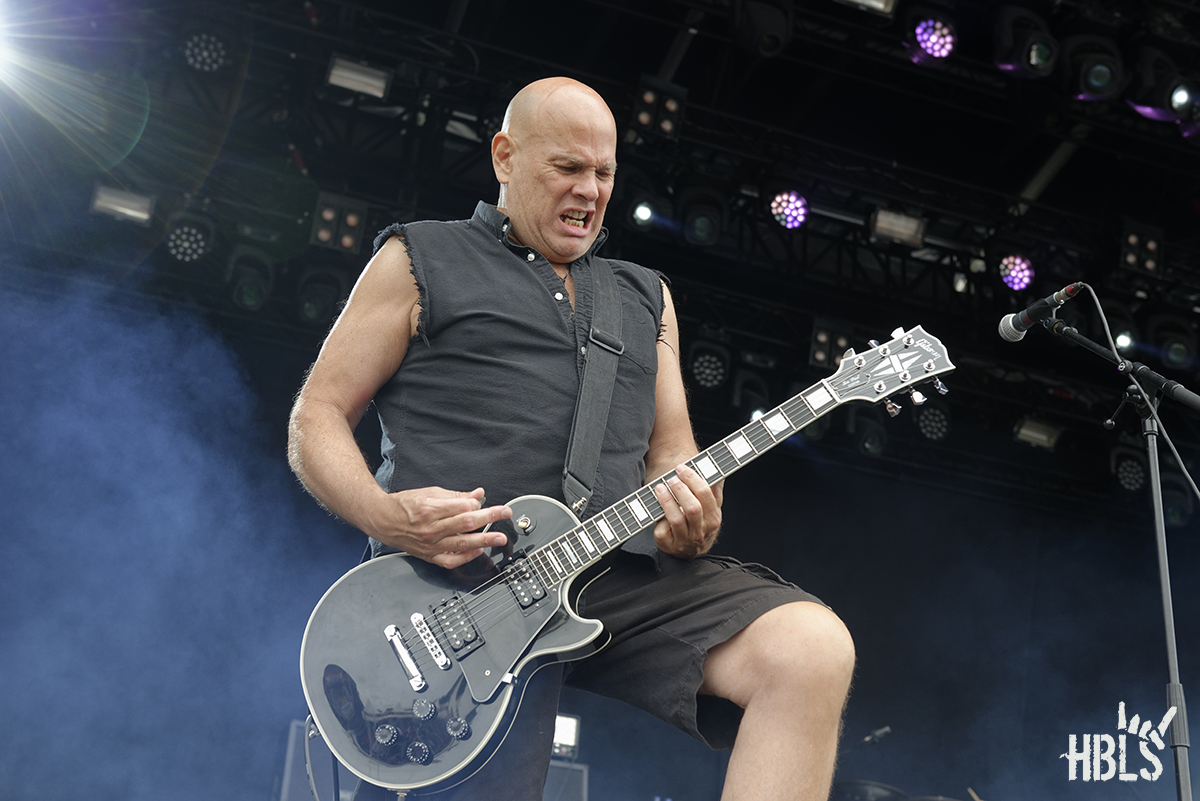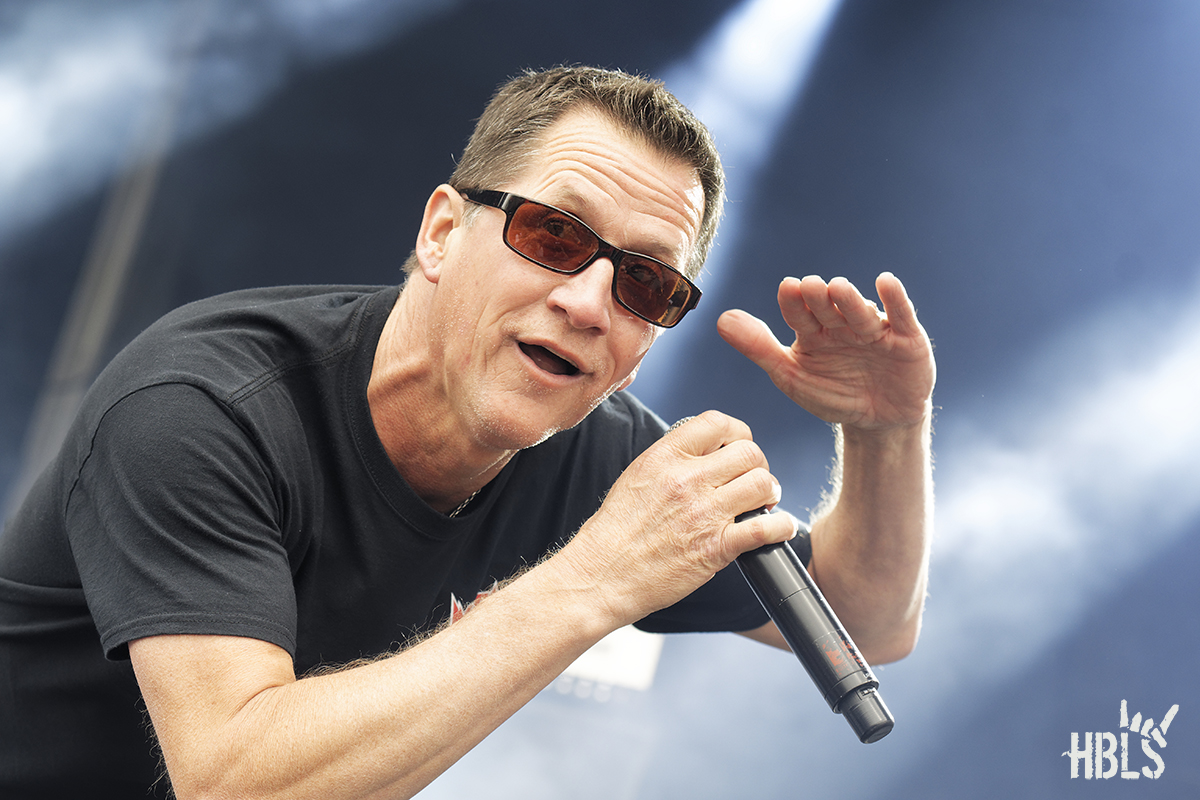 Metal Church

In the Swamp Canadian cult band VOIVOD lay down their own typical interpretation of speed, prog and thrash metal [with some old school punk attitude], being inspired and amused doing so. The band is a magnet for many fanatic and enthusiastic old school metal fans. Guitar solos are outstanding and singer "Snake" is an entertaining host who makes the show an extra fun ride.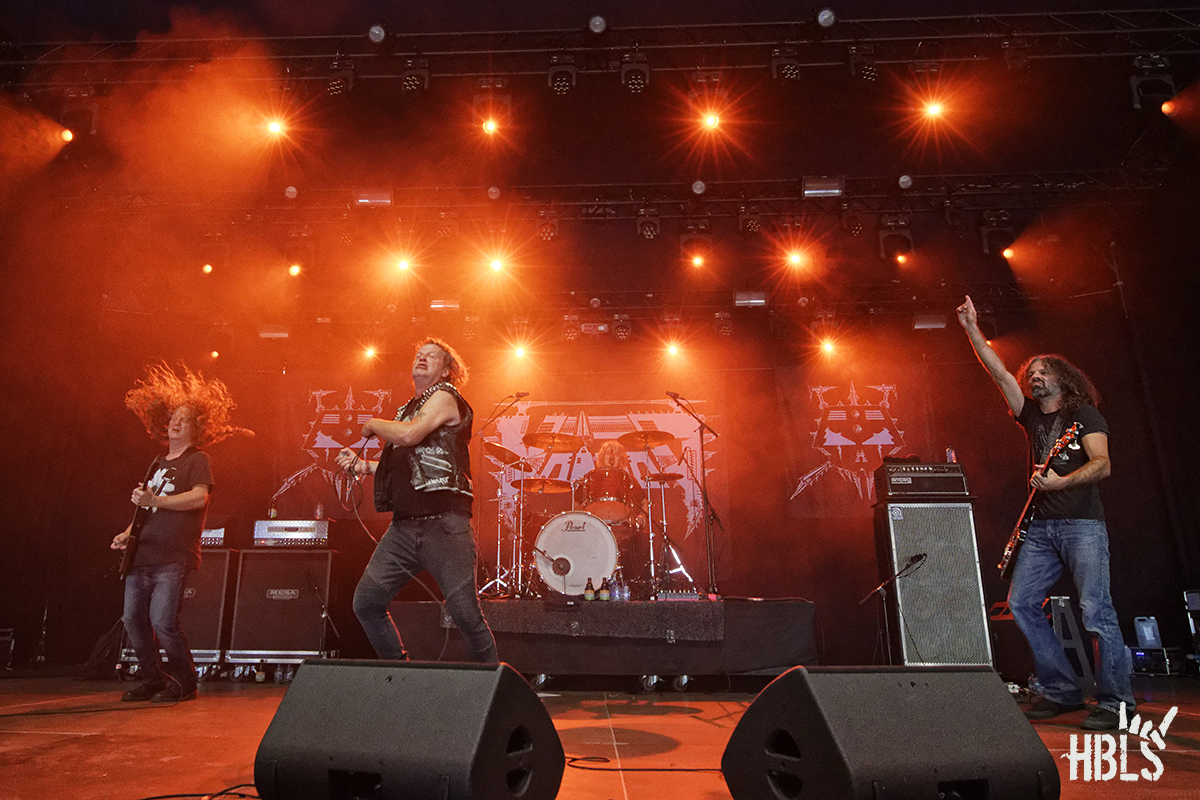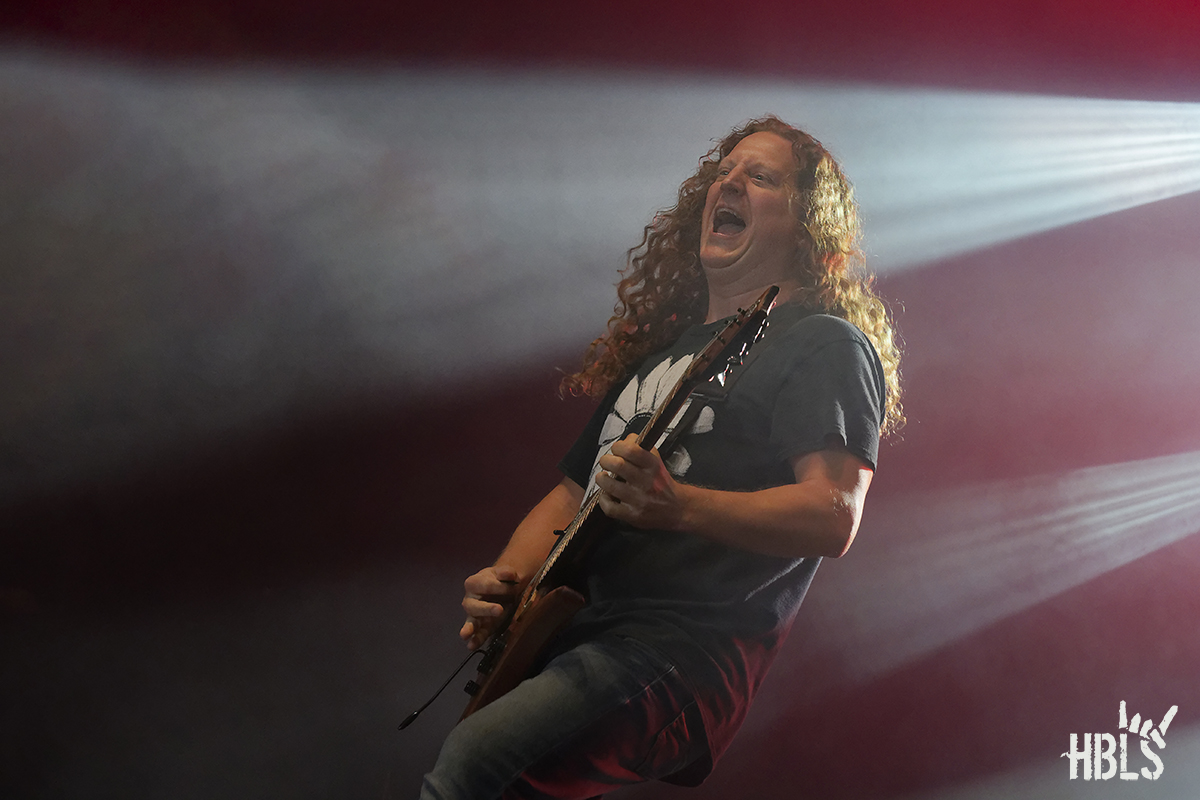 Voivod

Tons of old metal bands have plugged in their amps again to tour and write new music, with success. Also old school American thrashers SACRED REICH [Prison Stage] claim their position and can count on great support today. I got to say ,,Who's To Blame'' is still my old time favourite SR track. Sacred Reich celebrates with the fans and singer/bass player Phil Rind puts it this way: ,,Alcatraz is such a great festival, tolerant and friendly and it doesn't matter how you look like. I really wish it would be the same outside this festival. Metal music unites!'' And he is damn right about that.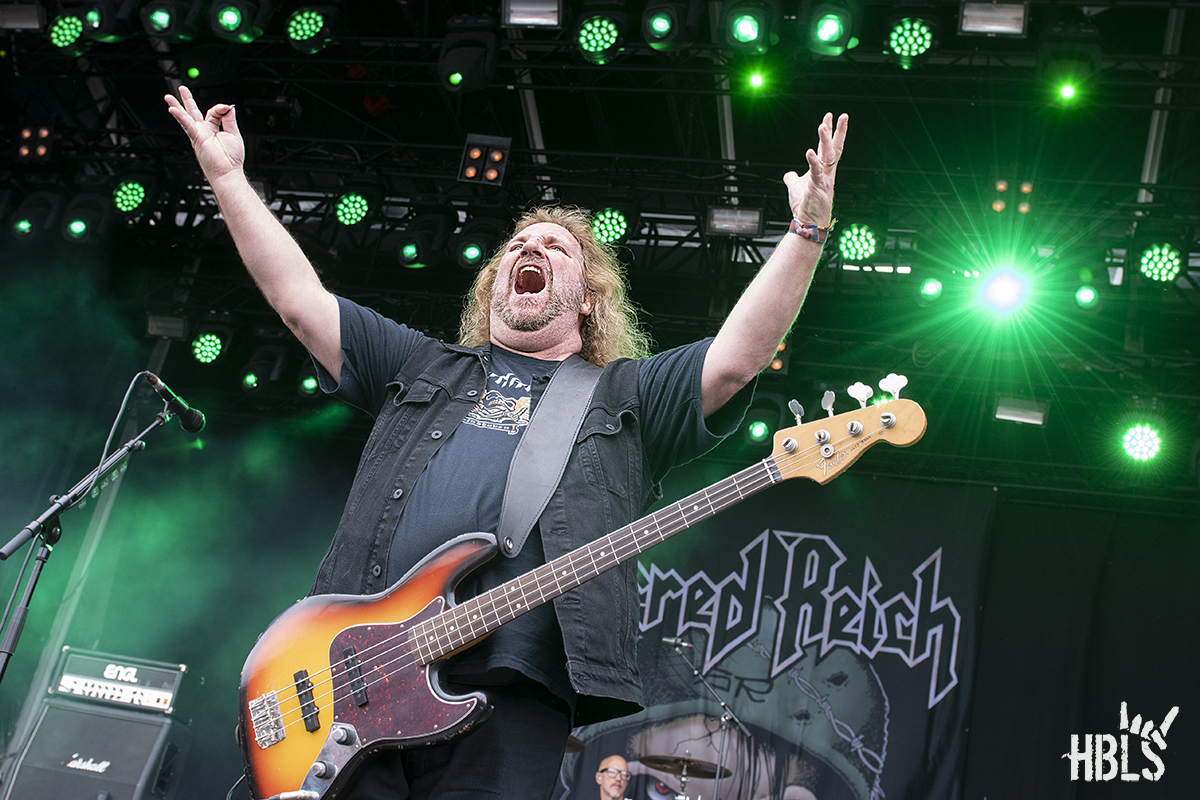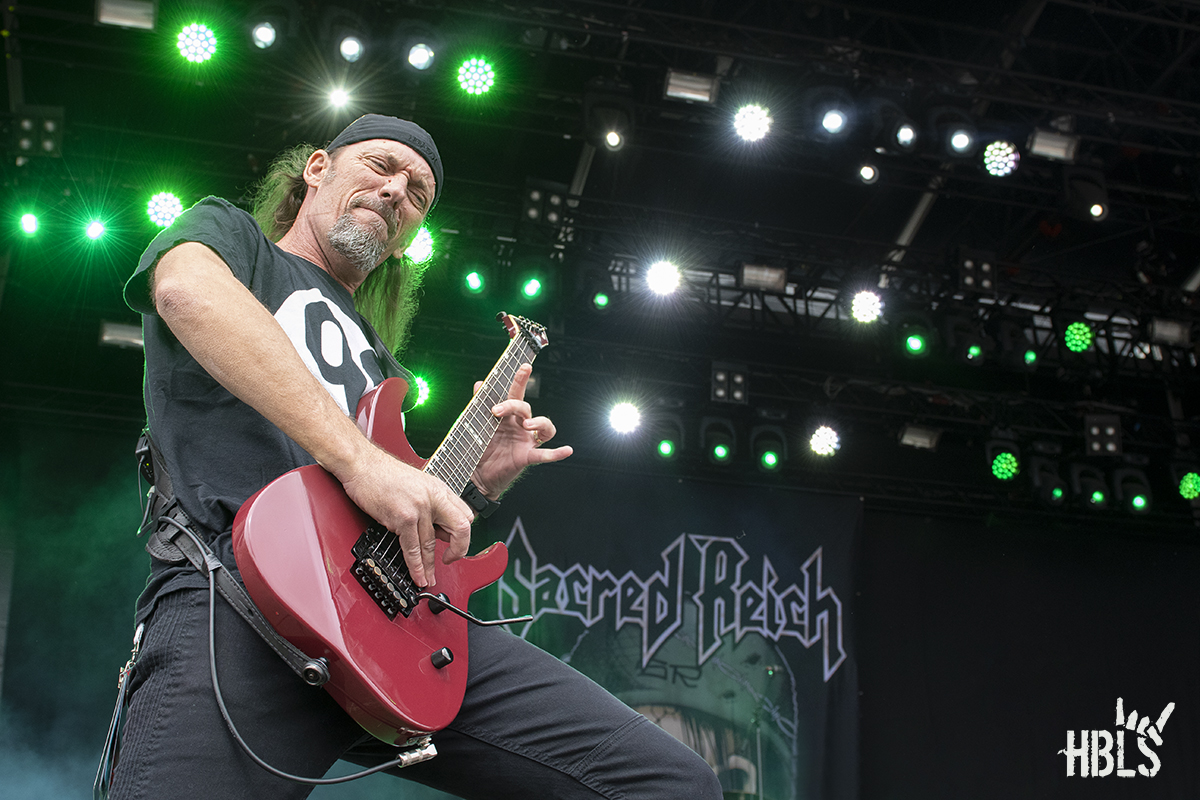 Sacred Reich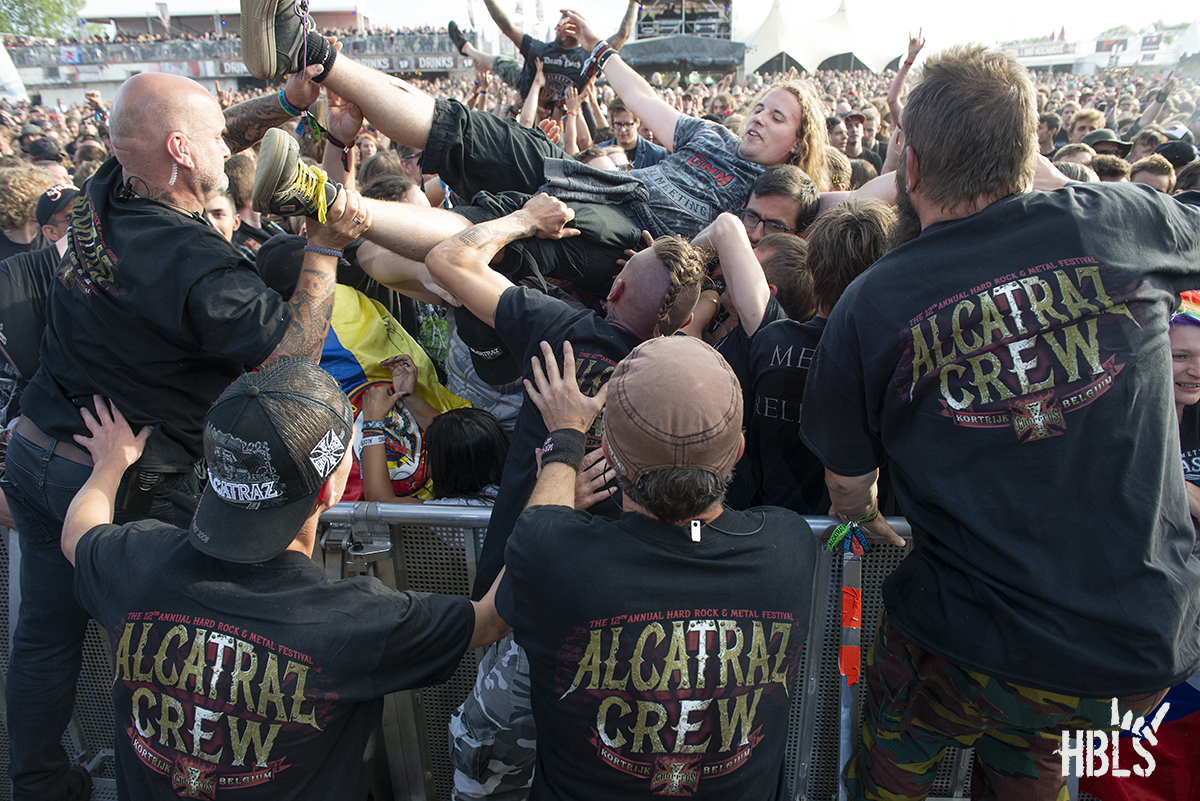 Like Avatar, also POWERWOLF from Germany comes with huge stage theatrics, costumes, make-up and they have bonded with legions of young metal heads because of that. These young wolves play with fire and devotion and are on a hunt to expend their territory. They succeed with furious metal sing-alongs such as ,,Blessed & Possessed'' and ,,Fire And Forgive''. Never a dull moment with these guys, that's for sure and I wouldn't be surprised if Powerwolf ends up as a festival headliner one day.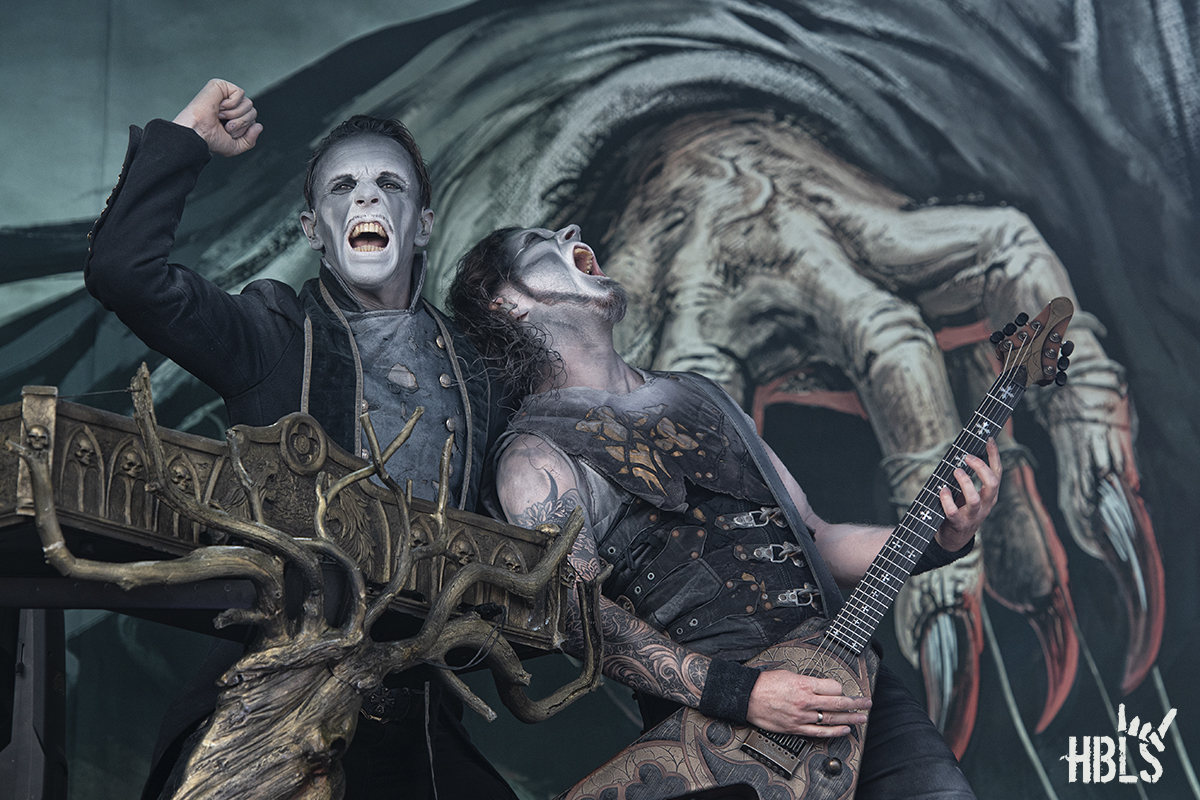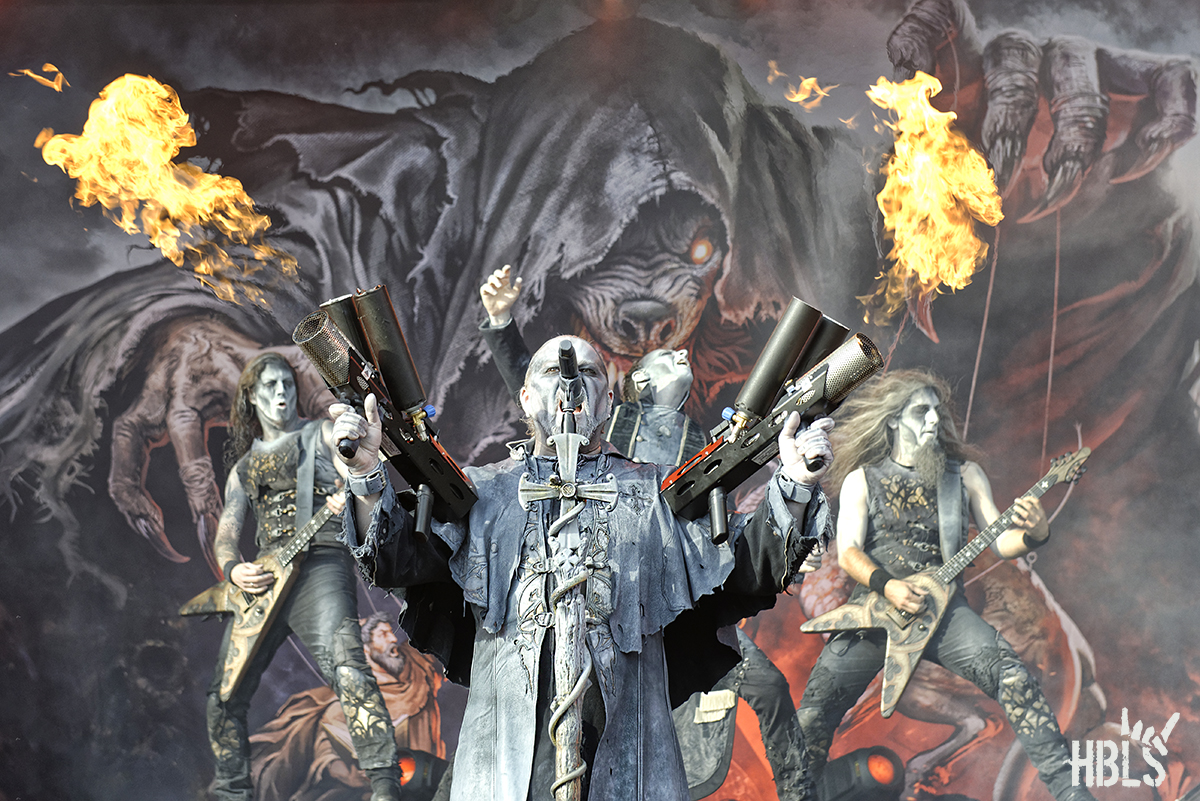 Powerwolf

TESSERACT display an outstanding maze of notes, beautiful melodies and complex rhythms and energy in the Swamp. The UK band travels throughout Europe for a while now and they are for sure a tight and energetic playing live act. Tesseract offer something different with their heavy progressive metal, Djent style, and the audience is up for this challenge. Daniel Tompkins is a fantastic frontman and his clean vocals are mesmerizing, sometimes almost fragile, while the music is heavy, precise and overwhelming. But there are also harsh vocals on the menu, in which also suburb bass player Amos Williams is involved. Great show and to me this is one of the highlights of today's line-up!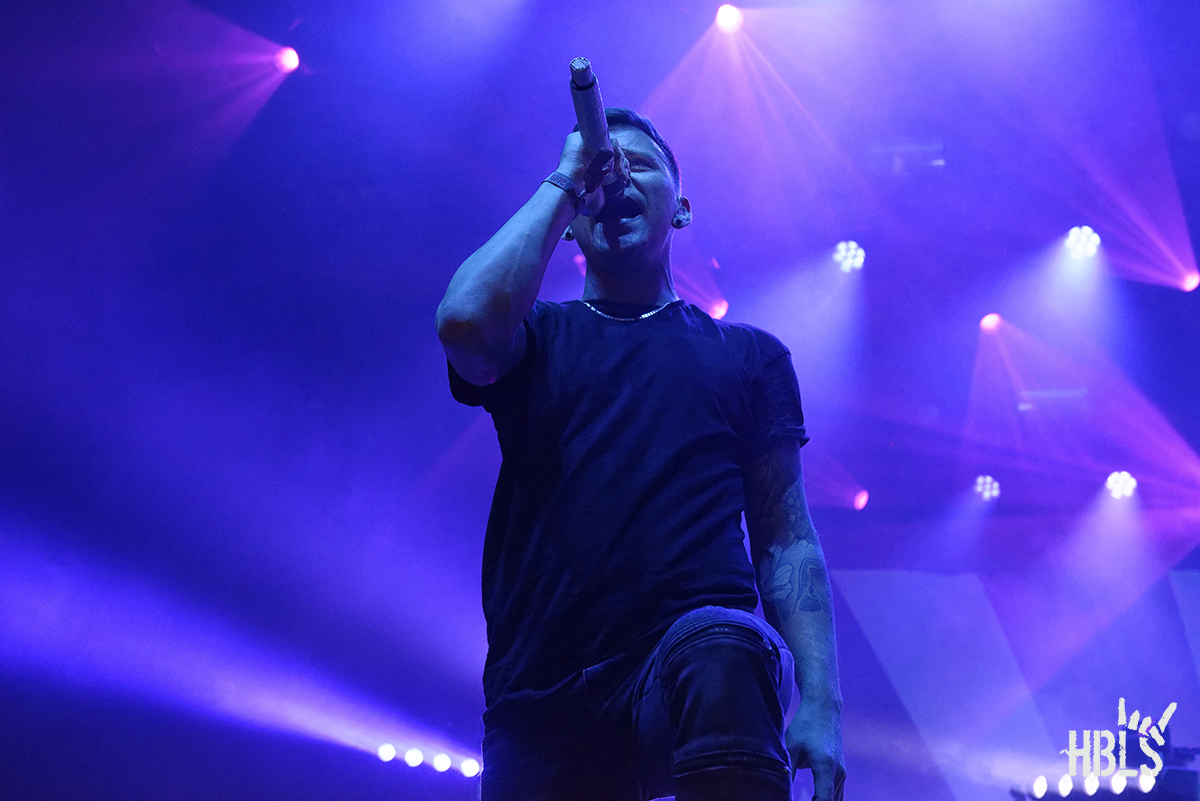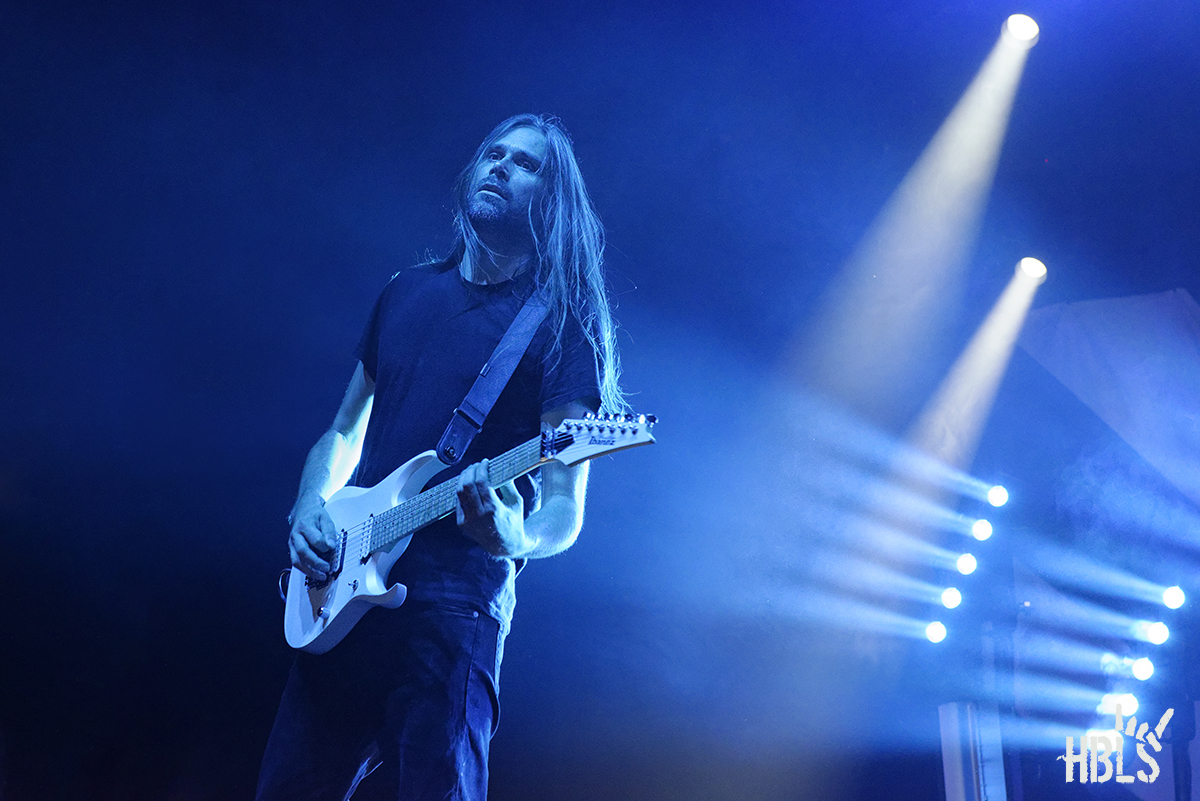 Tesseract

MESHUGGAH continues with the mathematic metal, Djent style at the Prison Stage, it is a tight and professional performance, but somehow it feels a bit clinical and distant.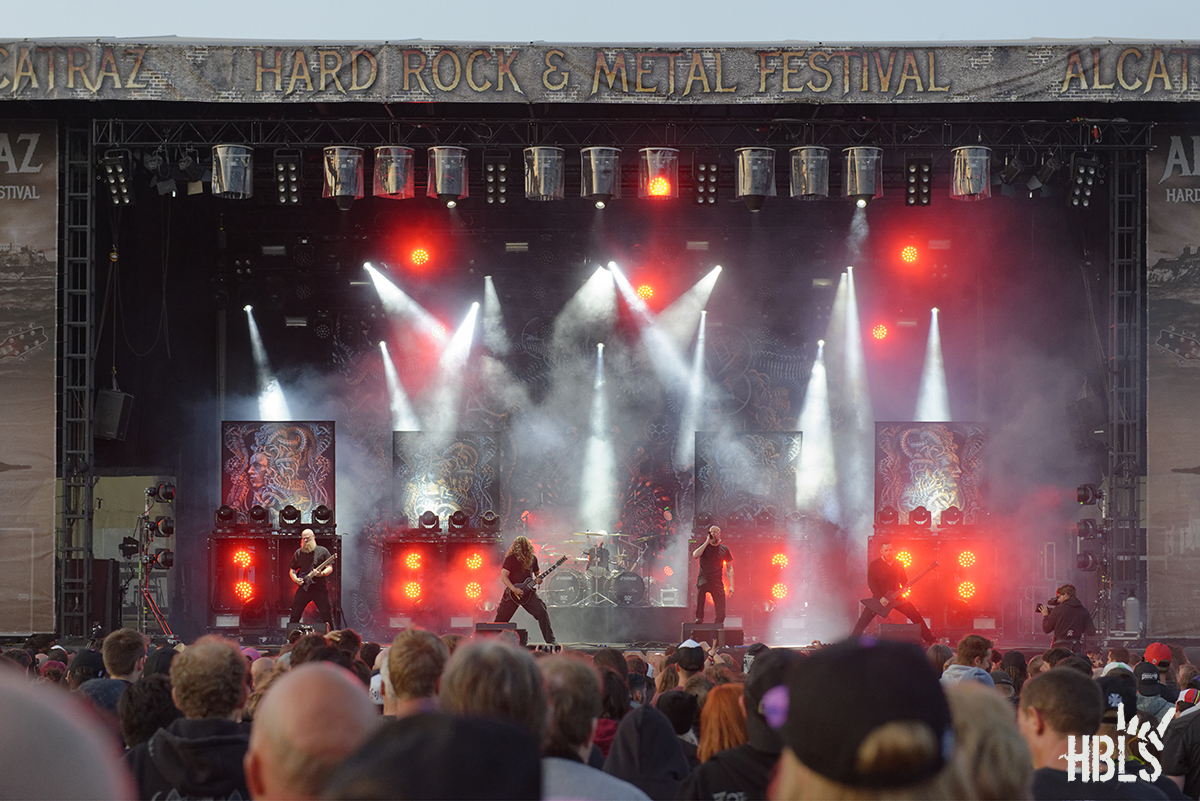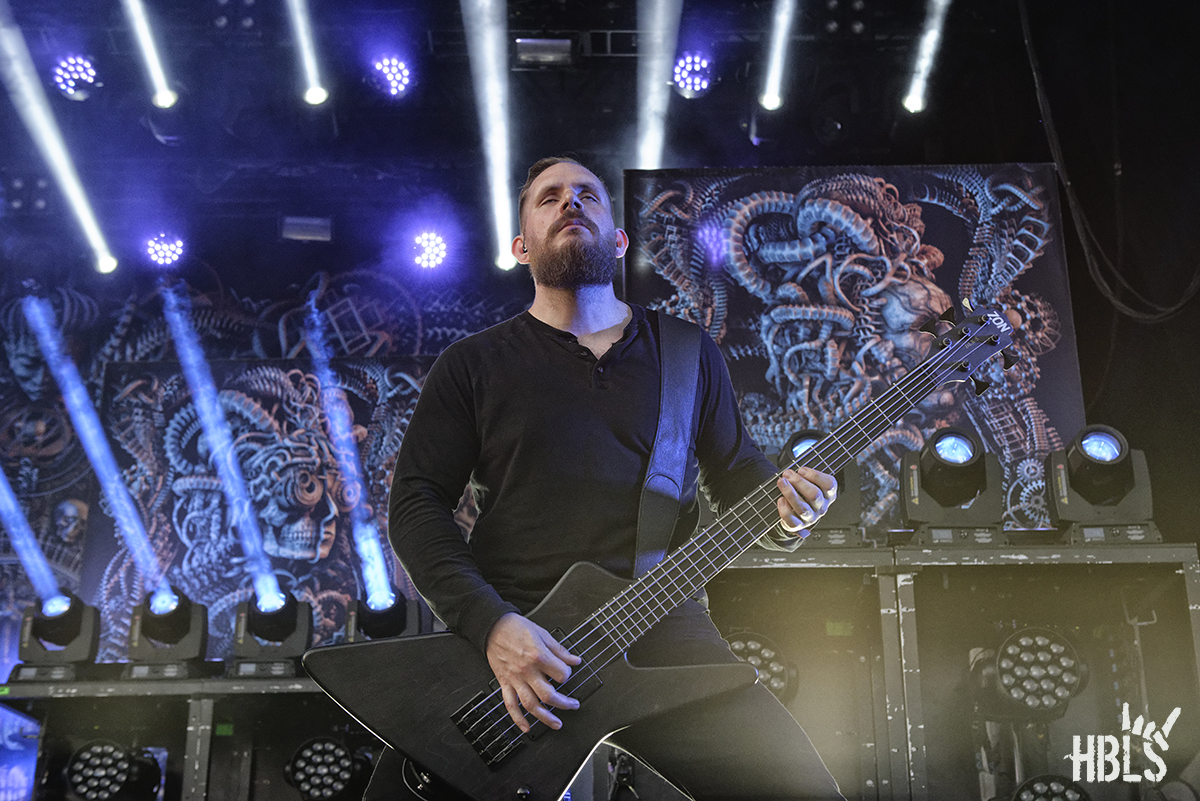 Meshuggah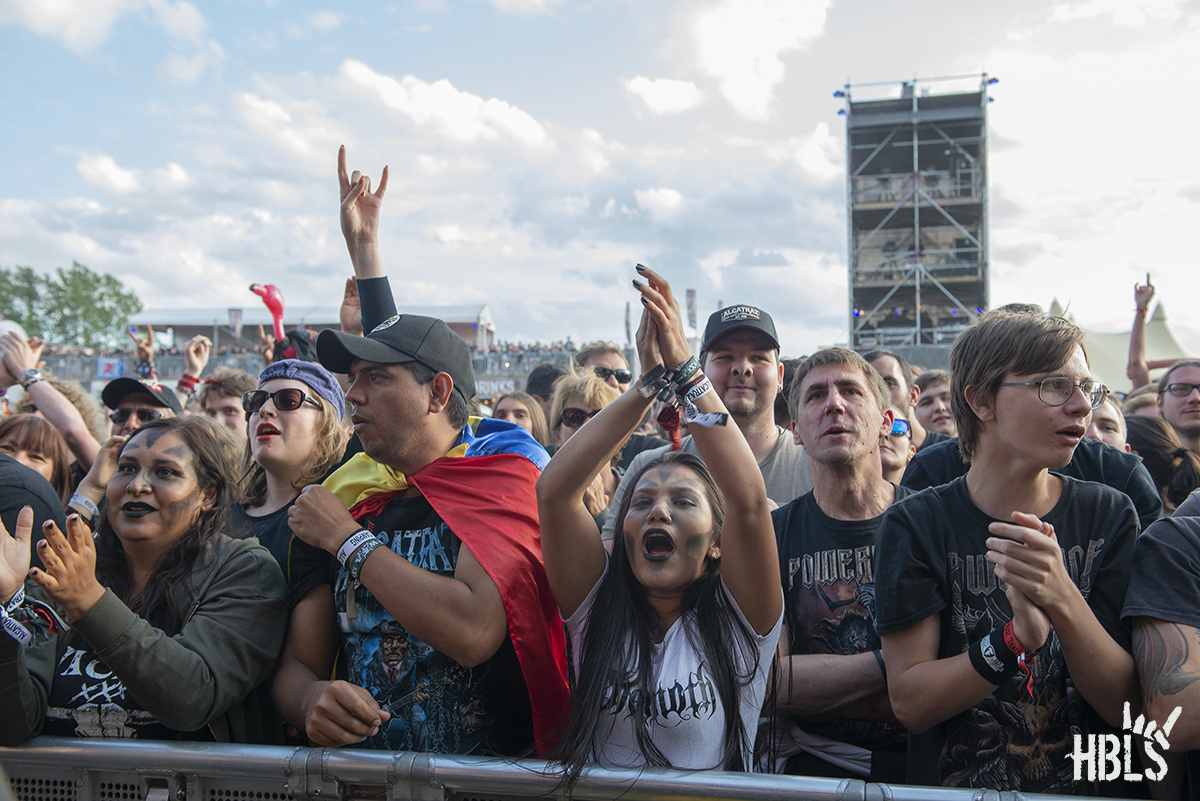 Next up is Greek black metal formation ROTTING CHRIST [Swamp Stage], which is led by the charismatic singer/guitarist Sakis Tolis and HOLY HELL, what a stunning and tight playing live band. The ink black, occult sound, the dark goth like vibe, and crafted performance, it all blows my mind. The Swamp is packed; fists are constant up in the air, fans are chanting, while the band deeply connects with the crowd. It is very overwhelming and impressive and in a blink of an eye I see a slight smile curling around Saki's lips. Rotting Christ is by far the most impressive black metal band this weekend.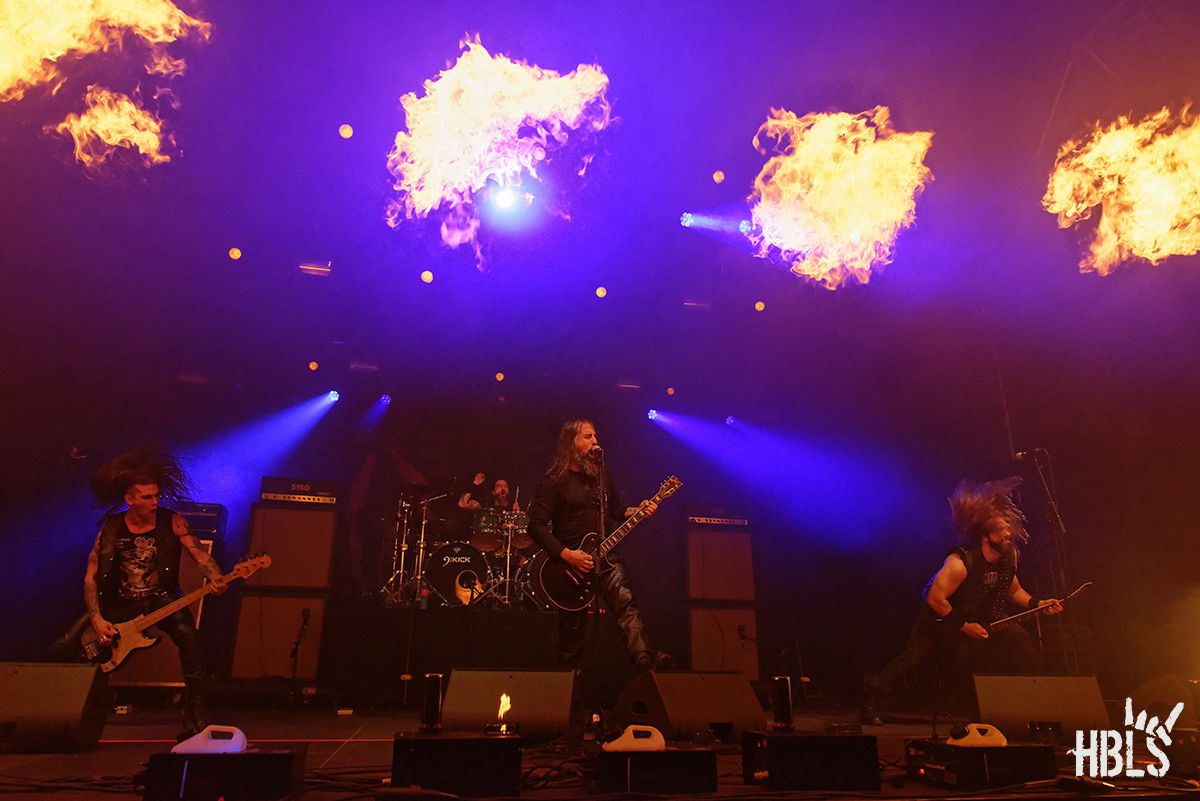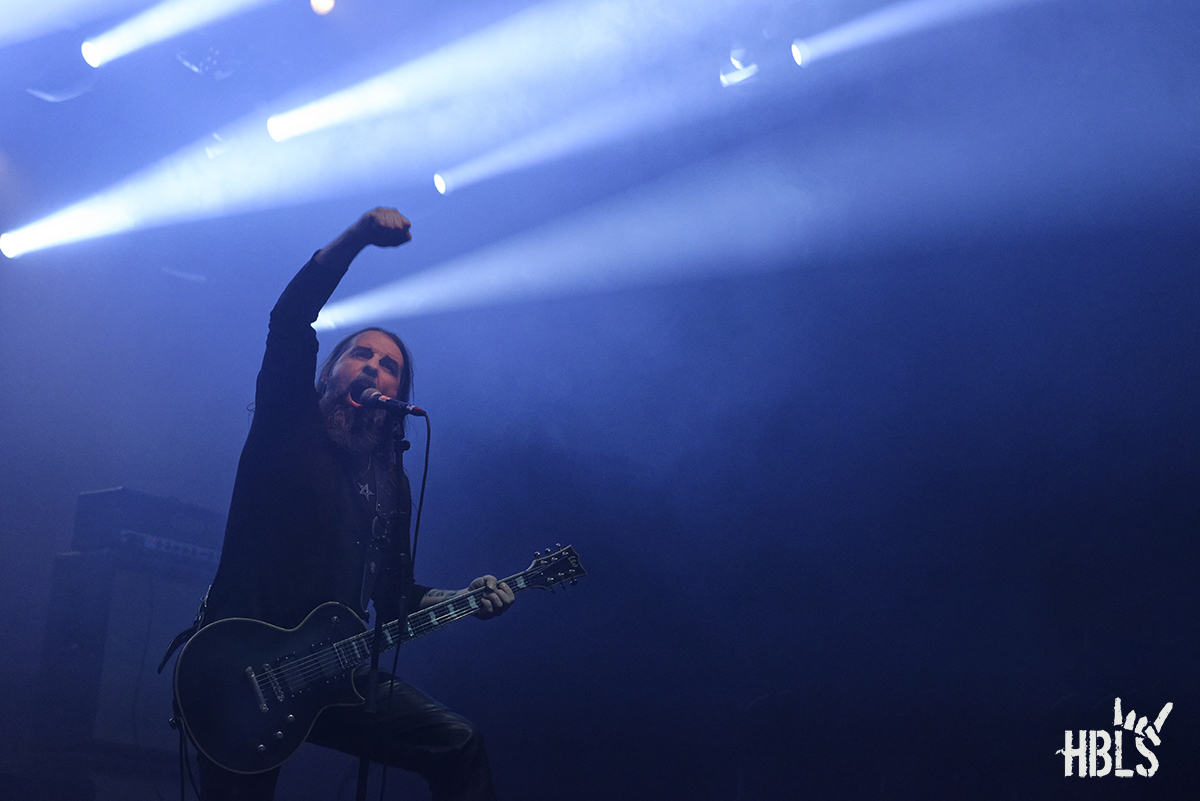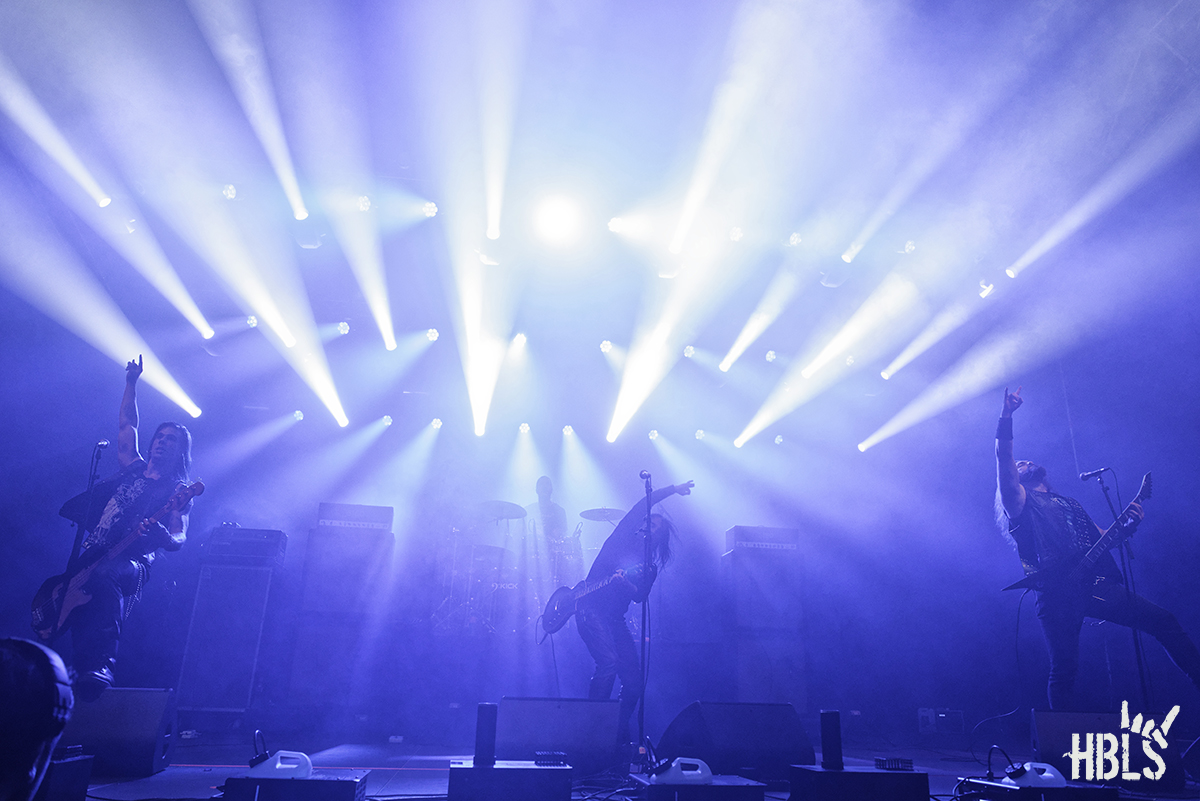 Rotting Christ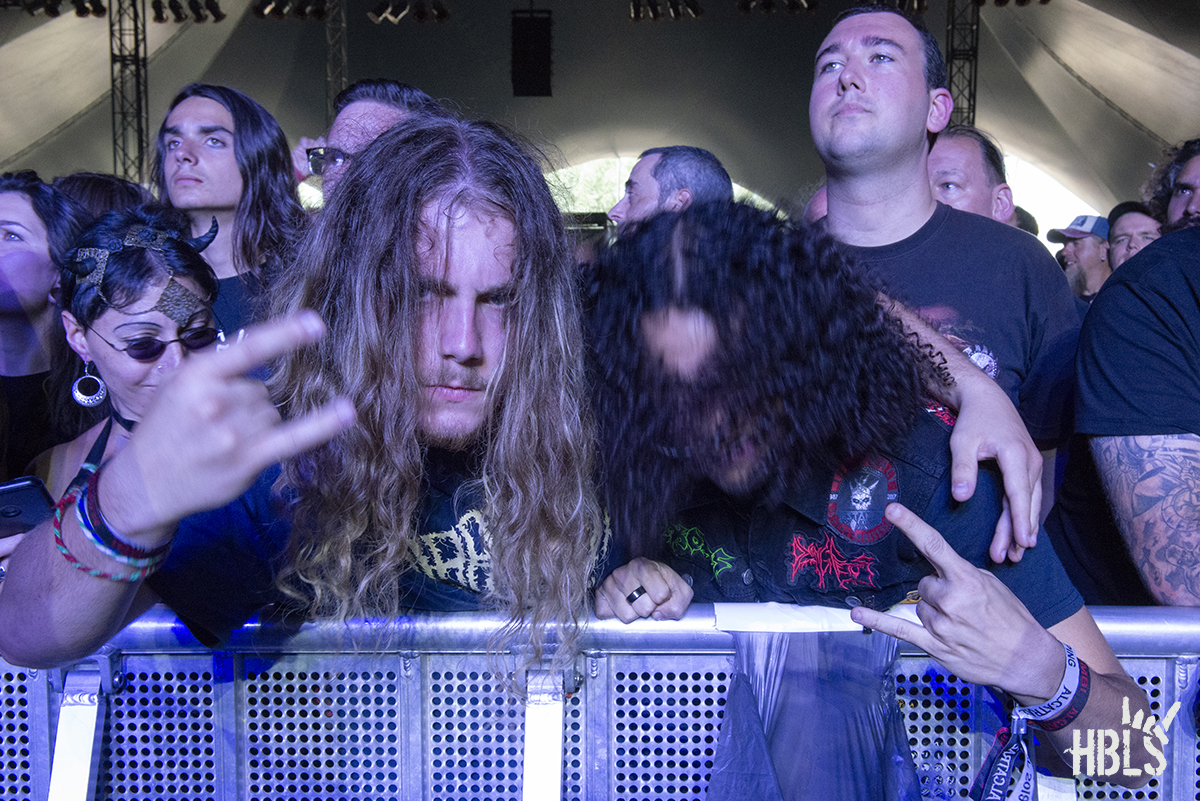 TOBIAS SAMMET'S AVANTASIA is a fantastic rock opera spectacle that closes this year's edition of Alcatraz Festival with grandeur and style. It is a long run for those who stay till the end and in the meantime SOULFLY finish their show in the Swamp. Because I have a 3-hour ride back home ahead, I don't stay until the end.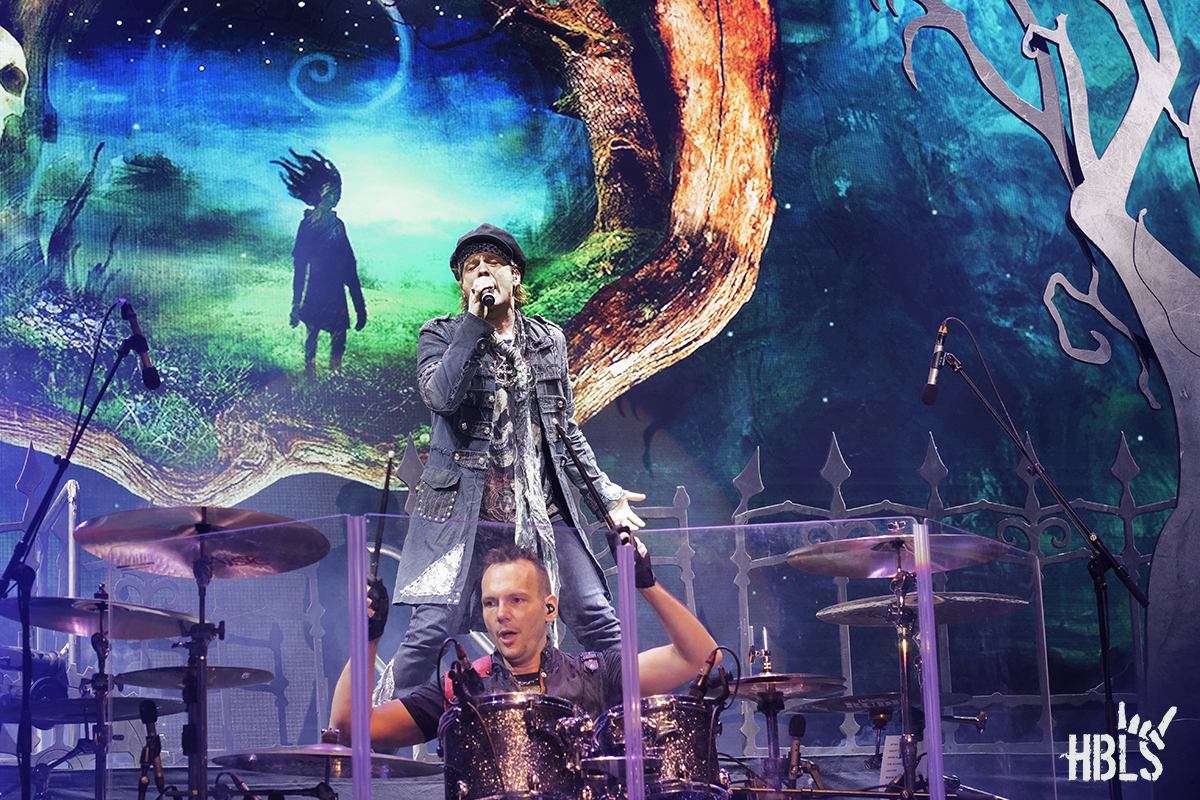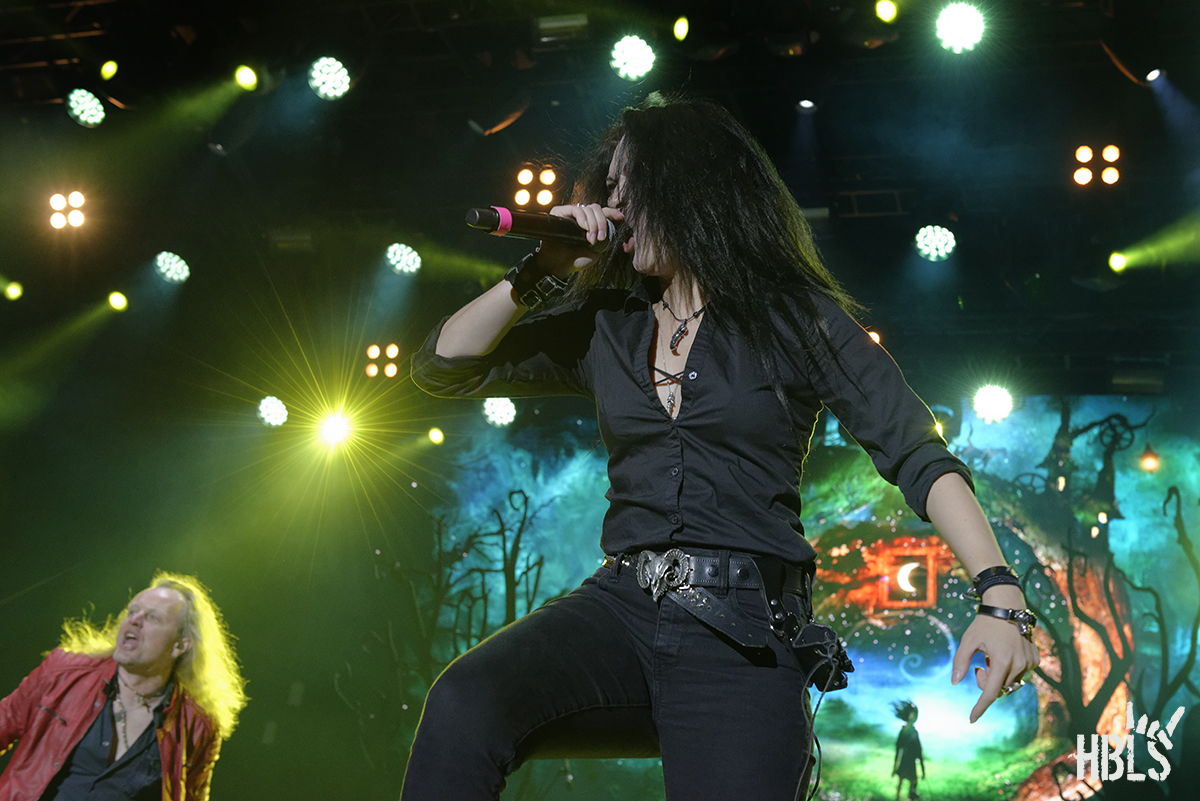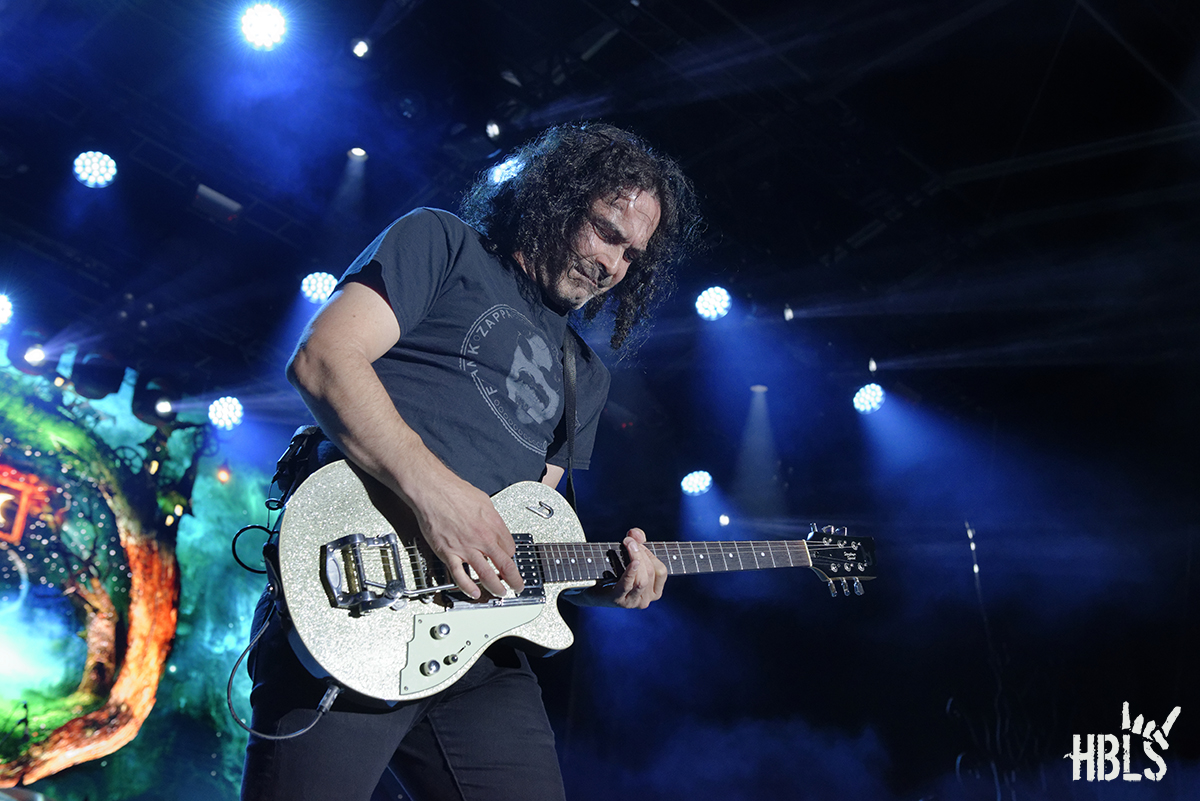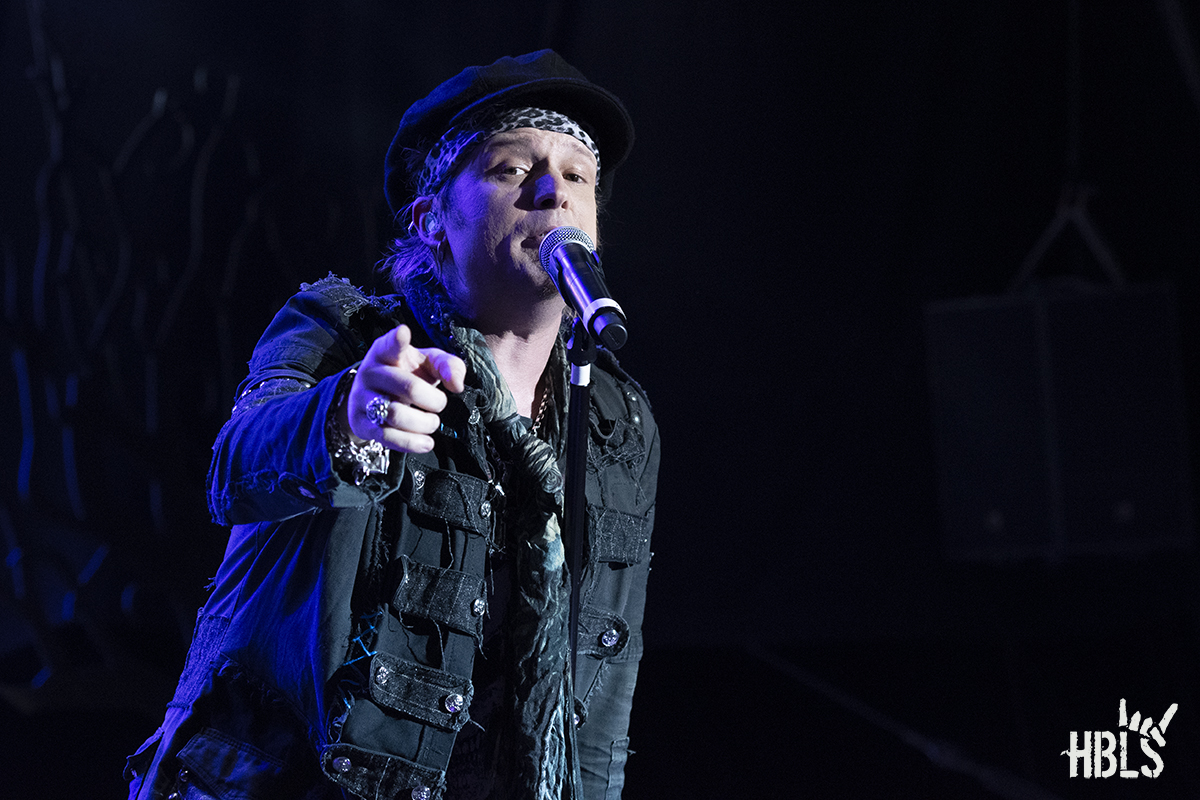 Avantasia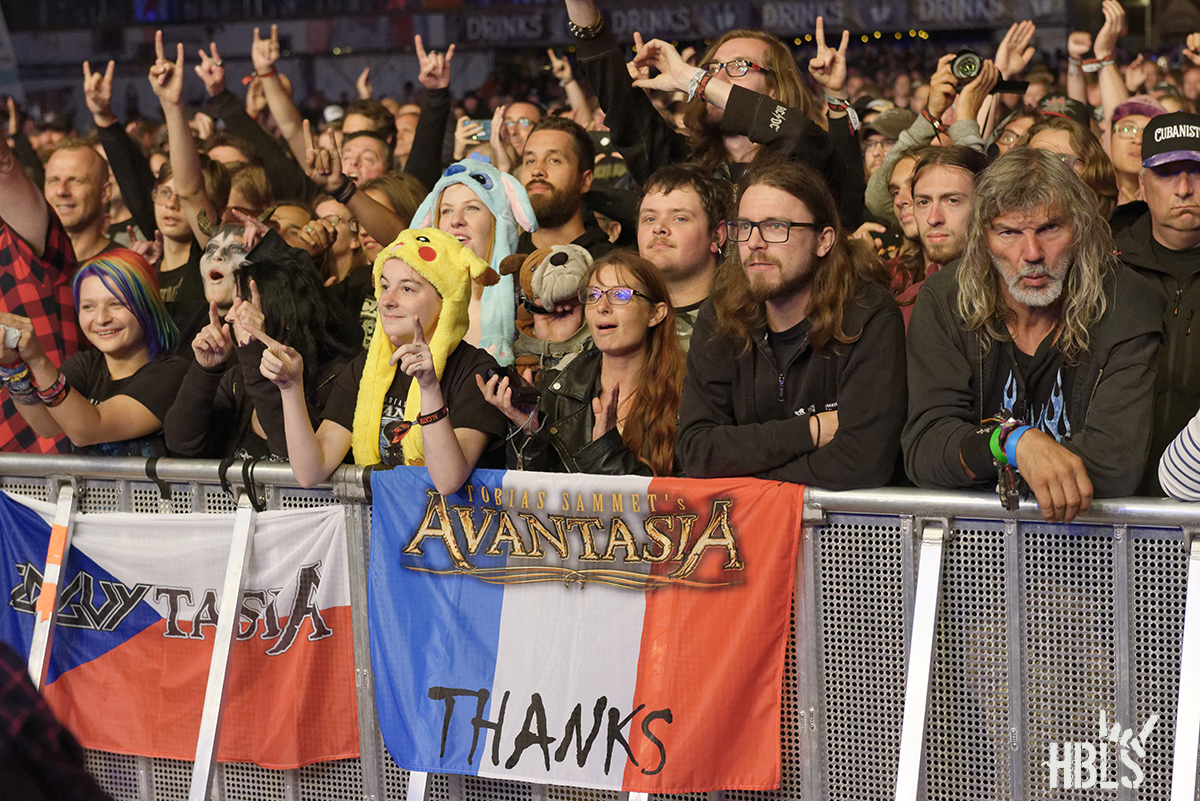 Although I missed a few bands today as well because of press duties [Off The Cross, Unleashed, Decapitated Rose Tattoo and Deicide], all in all this weekend was a blast and I can only conclude: edition XII was a success! Again horns up for everybody involved to make Alcatraz Metal Festival 2019 a pleasure and great fun to be at.

SEE YOU ALL NEXT YEAR [August-7-8-9, 2020]!

All photos by Dirk van den Heuvel of DCH Photography
—
Keep updated for next year's edition of Alcatraz festival here
Subscribe to our YouTube channel here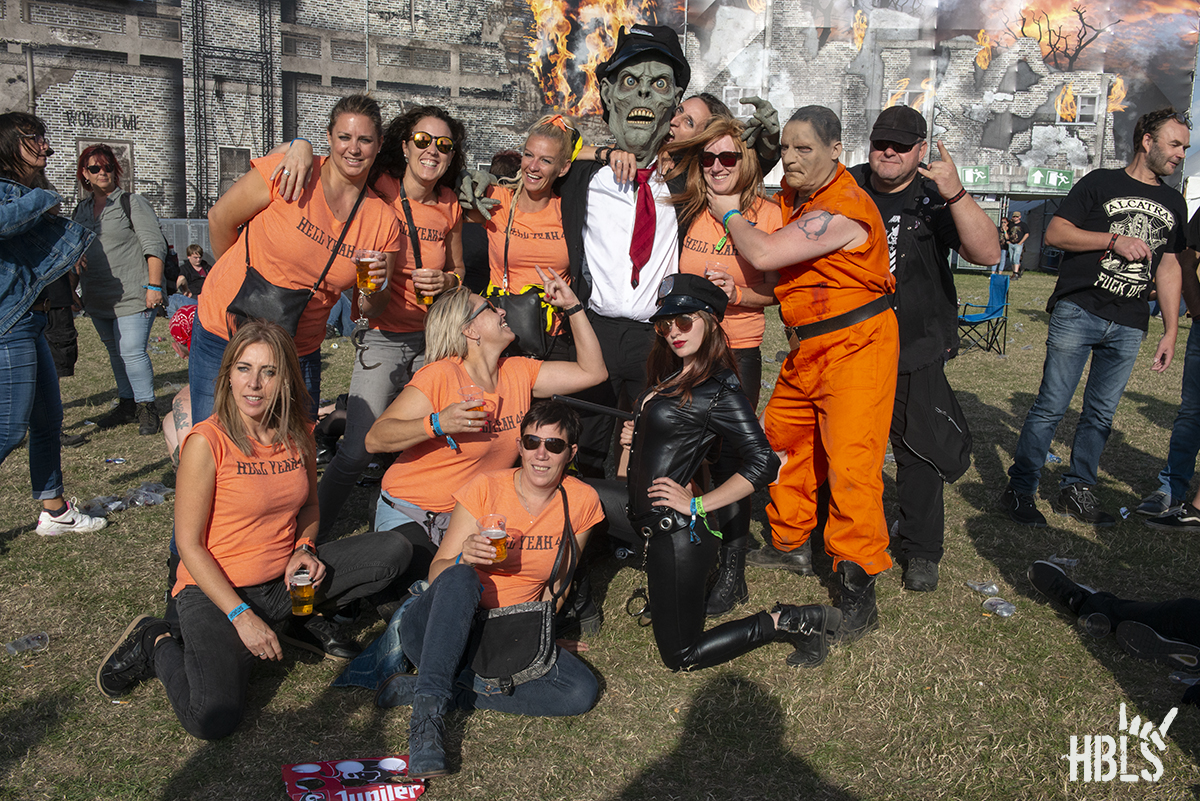 Officer Nice

#alcatrazfestival2019 #alcatraz #festival #headbangerslifstyle #hbls #awayoflife #lilorocks