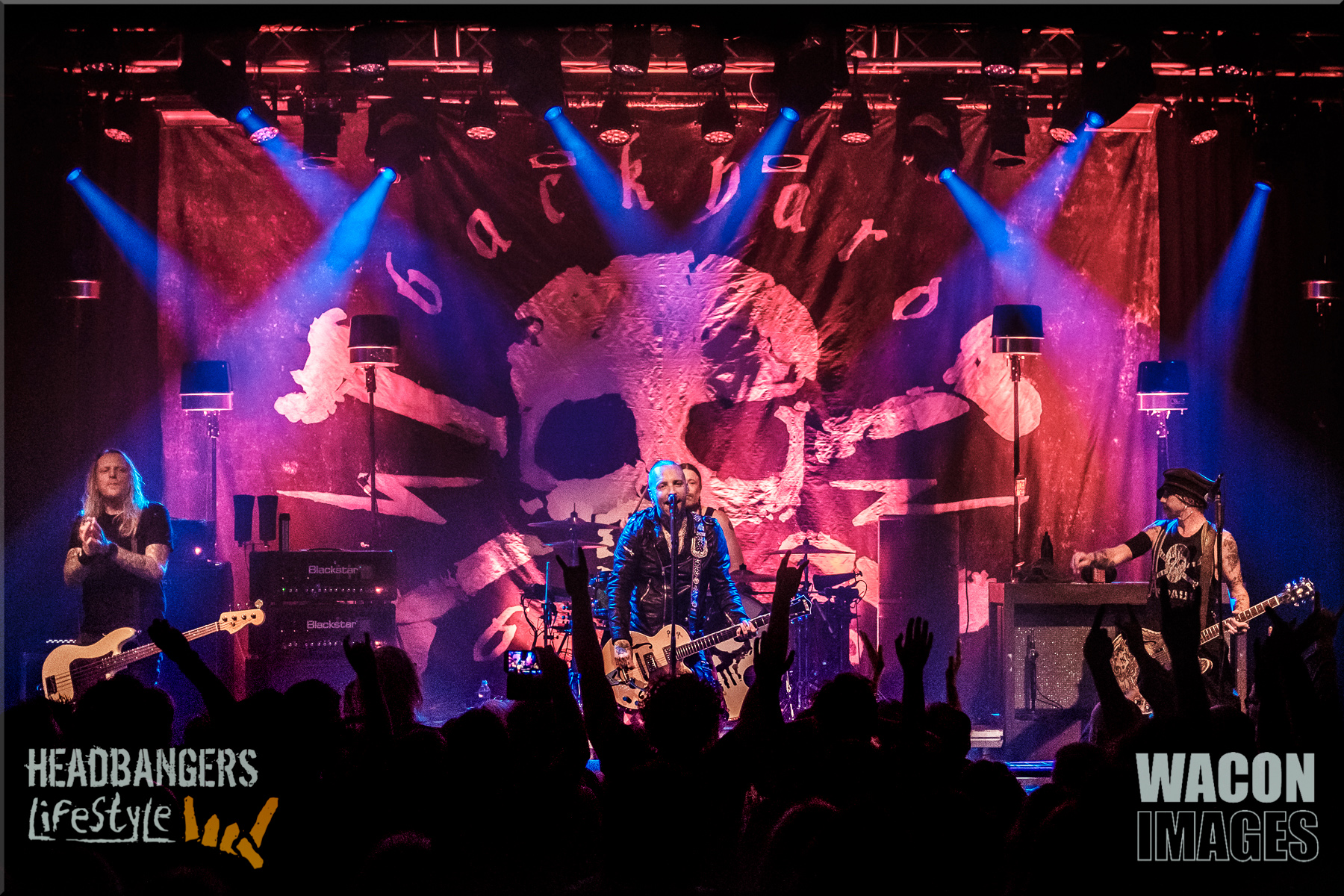 BACKYARD BABIES (& Thundermother)
Utrecht (NL)-Tivoli-De Helling-May 4th 2019
The Nordic Noir Tour 2019-Rolling Over Europe has almost come to an end since tonight is the last stop of this rock 'n roll pact. Although Tivoli-De Helling isn't sold out tonight, the venue is pretty full though.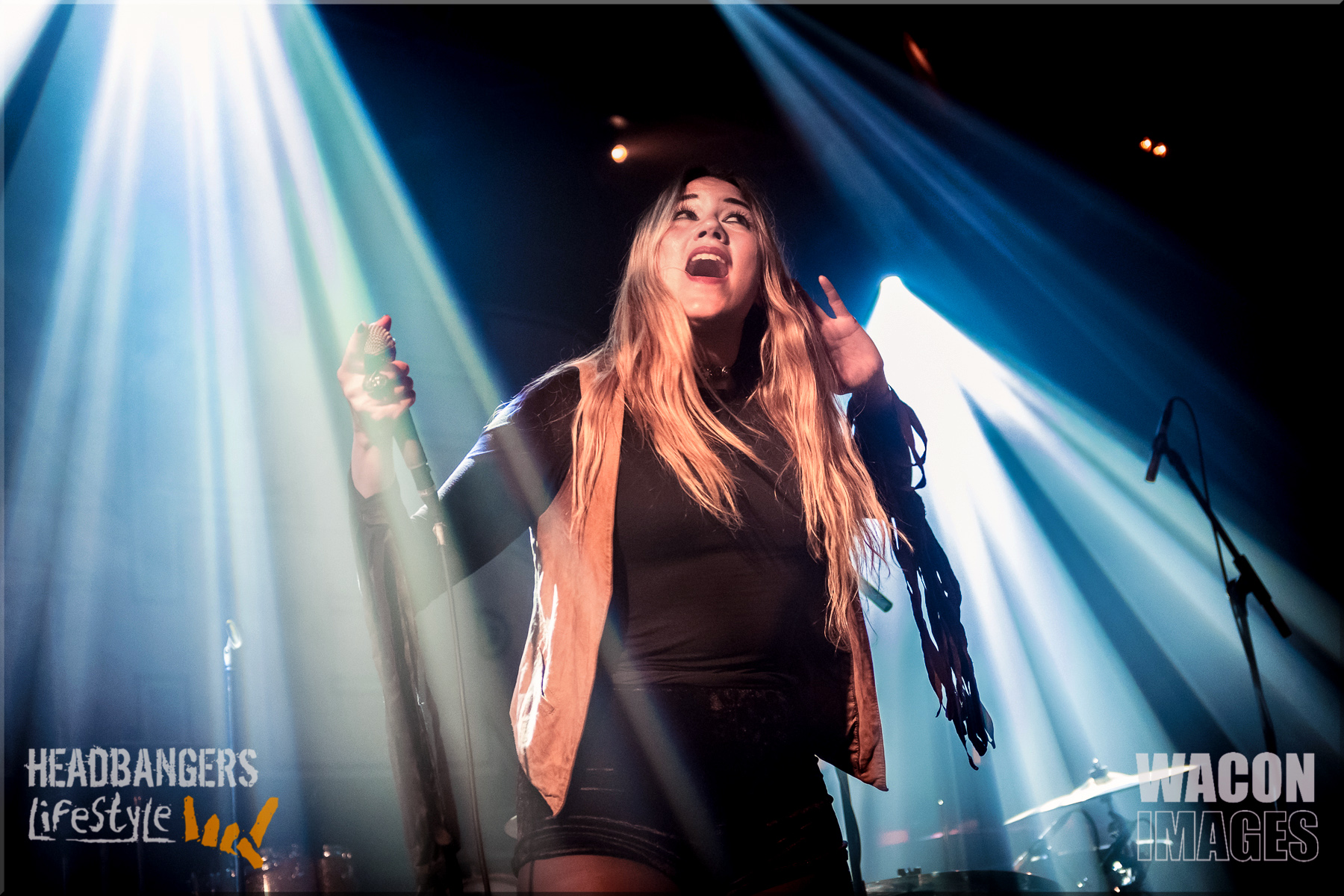 Guernica Mancini

"This evening is special in so many ways. There were more bands on this tour, no idea what happened, but there is one left, give it up for the greatest rock 'n roll band of Sweden, THUNDERMOTHER!'', as Backyard Babies singer/guitarist Nicke Borg puts it later that evening. And Thundermother sure knows how to rock 'n roll, they have a remarkable good sound and although their territory on stage isn't spacious, these four rock chicks grab it by the balls and make their 45 minute performance definitely worthwhile. At one point singer Guernica Mancini is a little distracted because of a sudden small injury on her hand but the show must go on and it goes on. Mancini has a great, soulful voice, with a cool rough edge, that blends strong with the sticky tunes.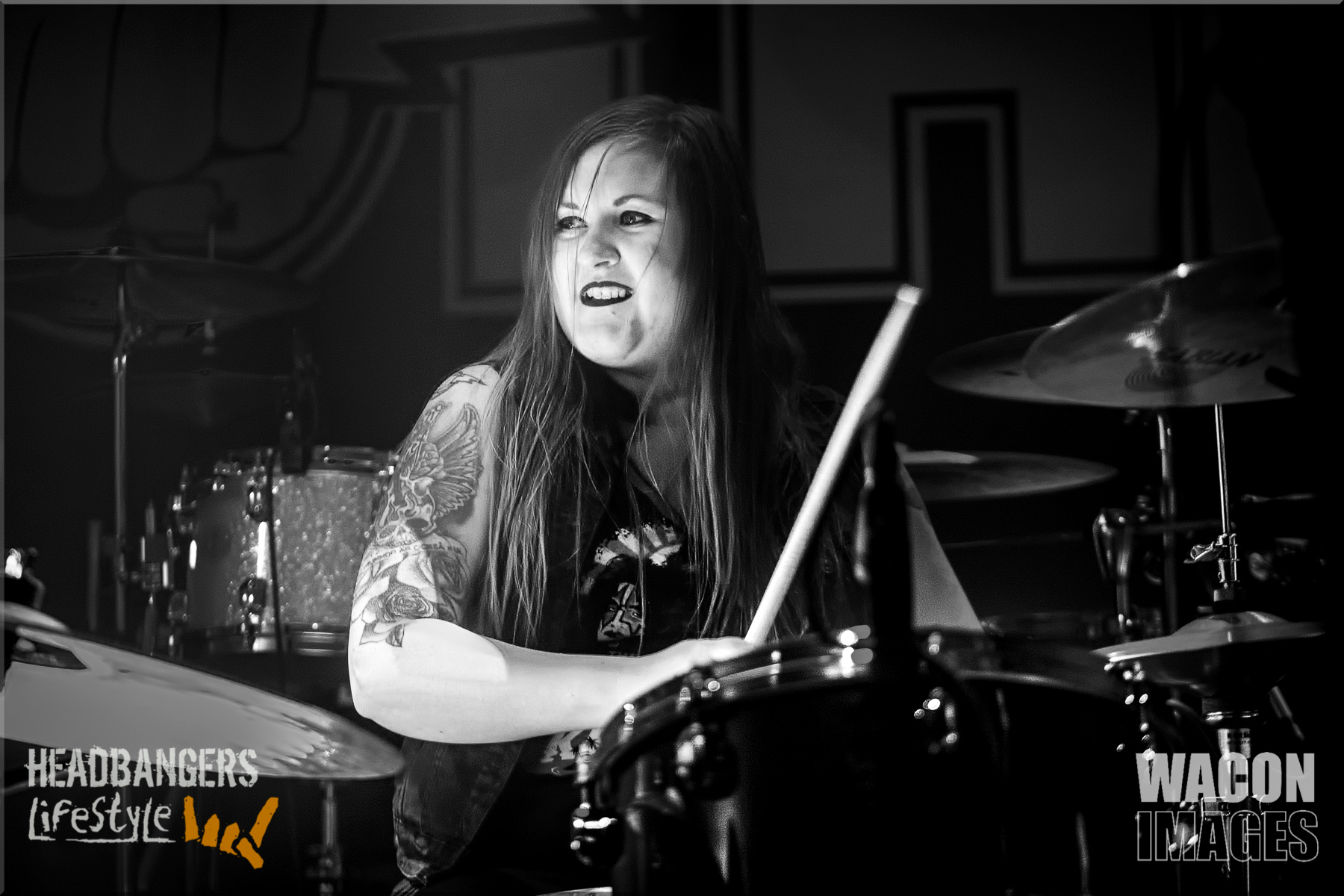 Emlee Johansson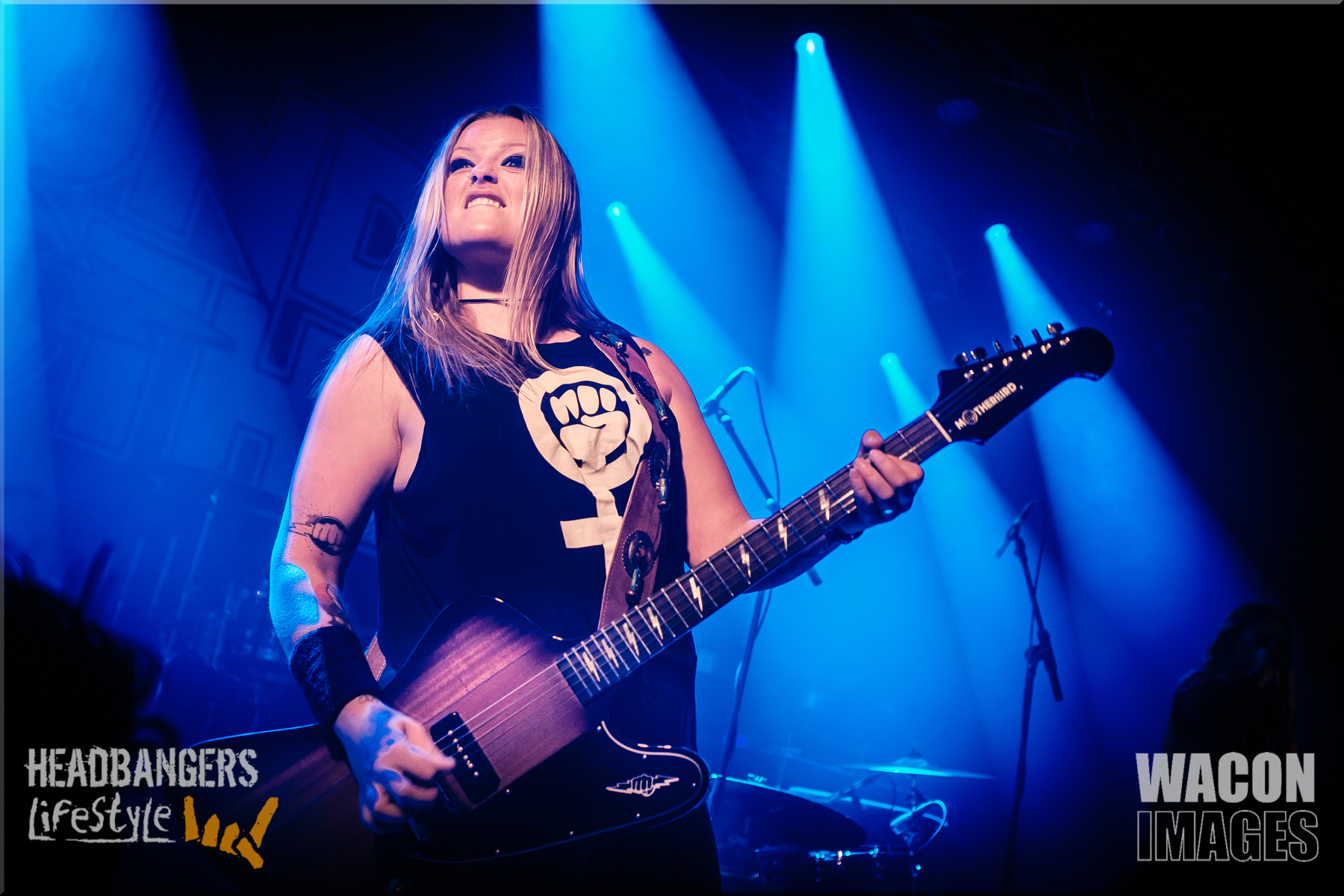 Filippa Nässil

Guitarist/backup singer Filippa Nässil, who is also the band founder and the only original band member left, reminds me somehow a lot of Lita Ford. Filippa is an unstoppable force, butchering her guitar like a maniac during riffing and soloing, running around like Angus Young, and even sit on a guy's shoulder while he walks through the audience during the up tempo rocker ,,Racing On Mainstreet''. Thundermother drops raw, old school, straight in your face hard rock and rock 'n roll with some groove and it is all about beer and having a good time. They honour Lemmy Kilmister (R.I.P.) with the fast rock 'n roller ,,Deal With The Devil''. To me the ballad ,,Fire In The Rain'' feels like a little dip but right after the party is saved by the roaring tracks ,,Give Me Some Lights'' and ,,Thunderous''. The last song of the setlist says it all: ,,We Fight For Rock 'N' Roll'' and that's exactly what Thundermother did tonight.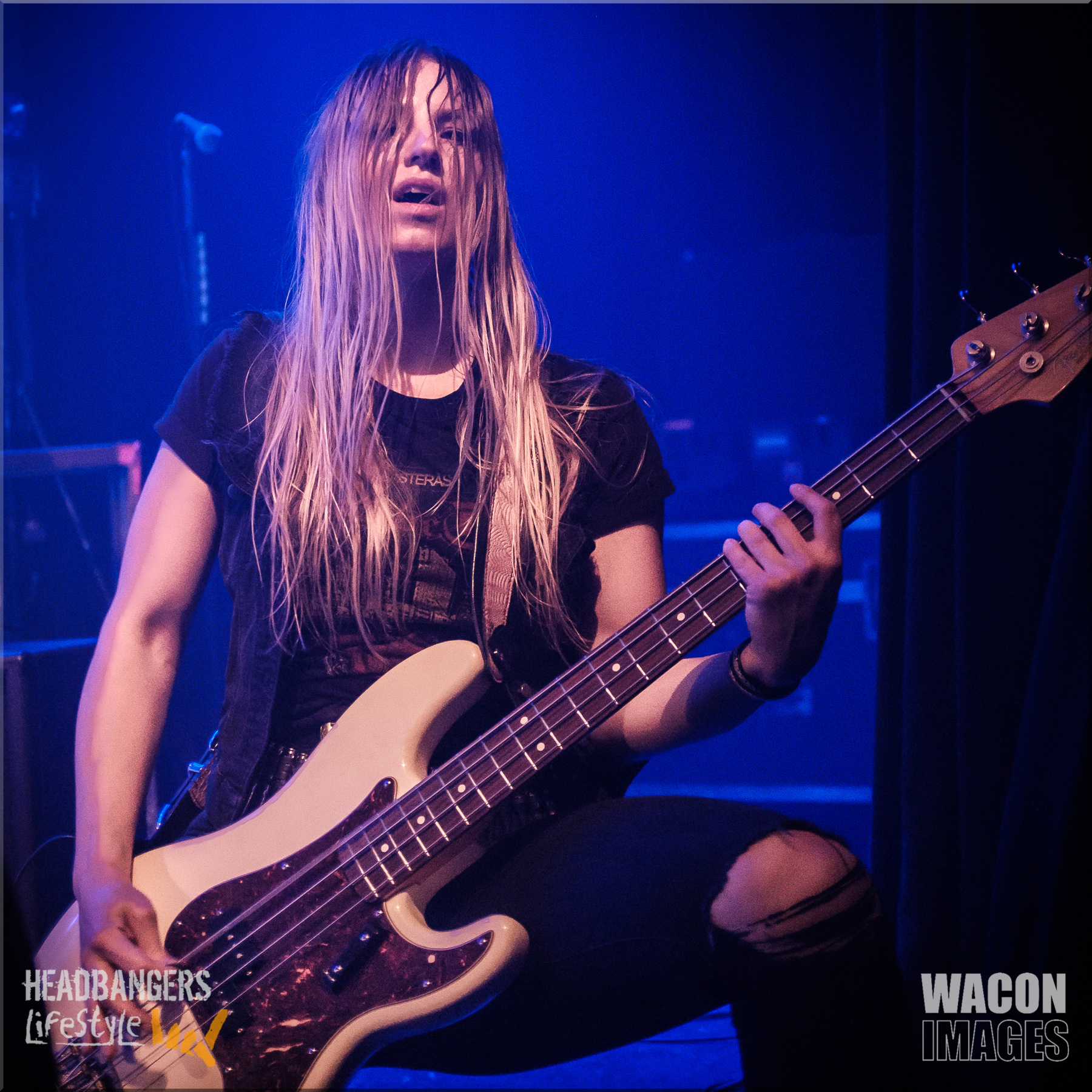 Majsan Lindberg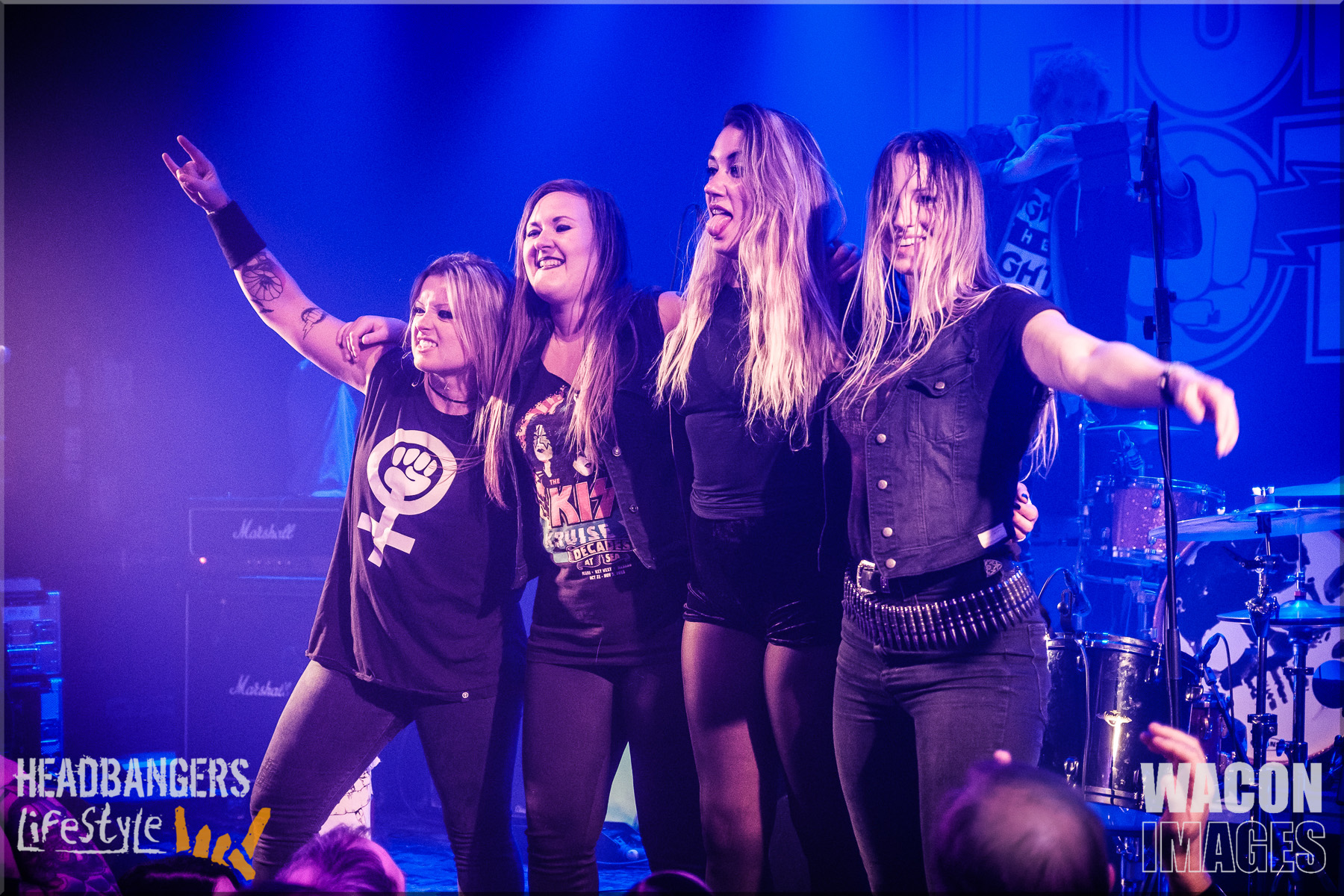 When the king of Swedish sleaze and punk rock, BACKYARD BABIES take over the stage for a 2-hour show, the crowd is cranked up and very ready for the sleaze and the dirt. Also BB has a mission and one mission only: to entertain and simply to have a good time. Something these four guys have done for the last 30 years in the same original line up (!) which is quite unique, while challenging the boundaries of life, and now they celebrate this anniversary year with the release of the brand new studio album `Sliver & Gold'. Guitarist/singer Dregen, singer/guitarist Nicke Borg, bass player Johan Blomqvist and drummer Peder Carlsson are quite a bunch of characters on stage, all having their own thing going on but creating a very enjoyable vibe together at the same time and showing they still `dig' each others company and that it is still fun playing as BB.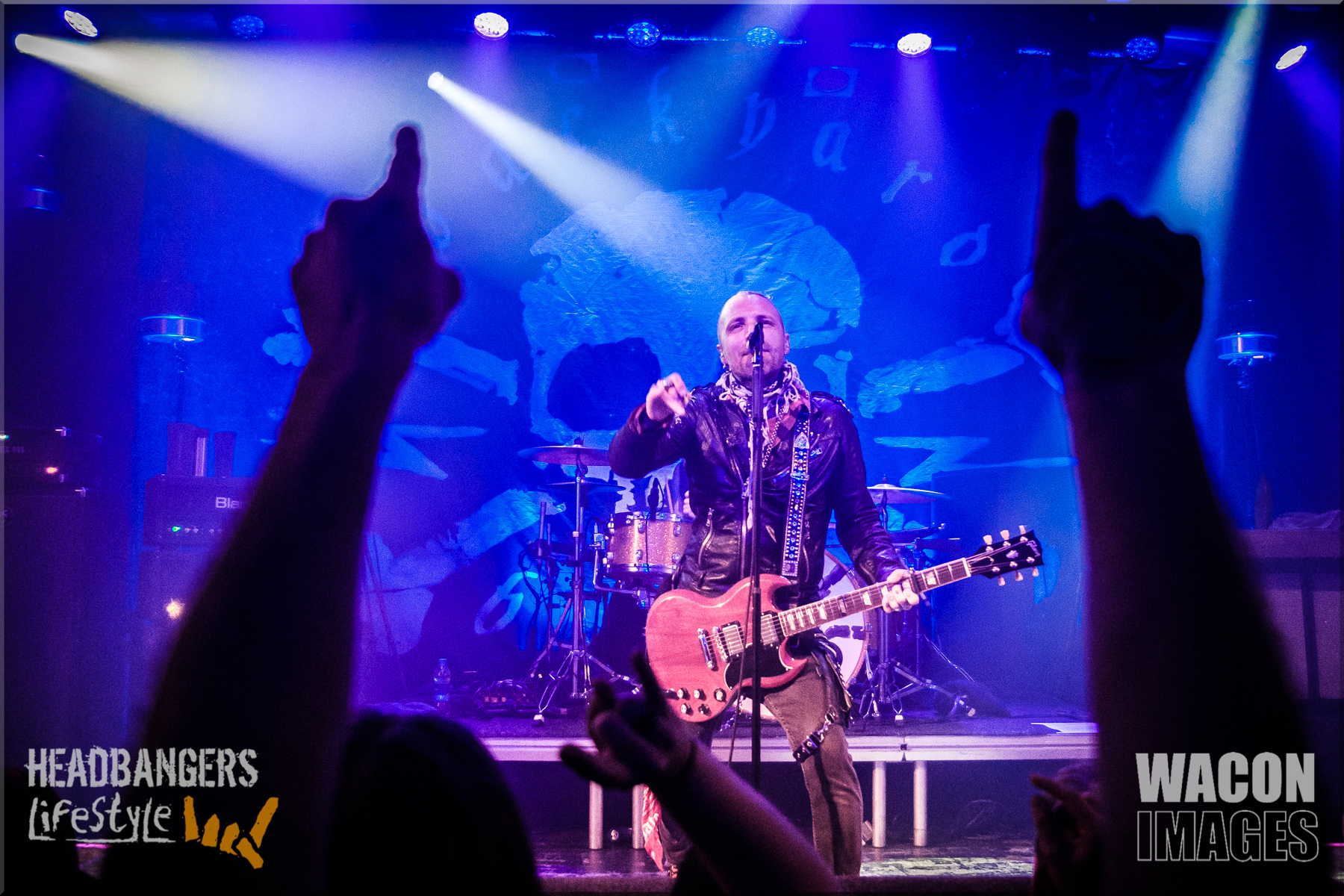 Nicke Borg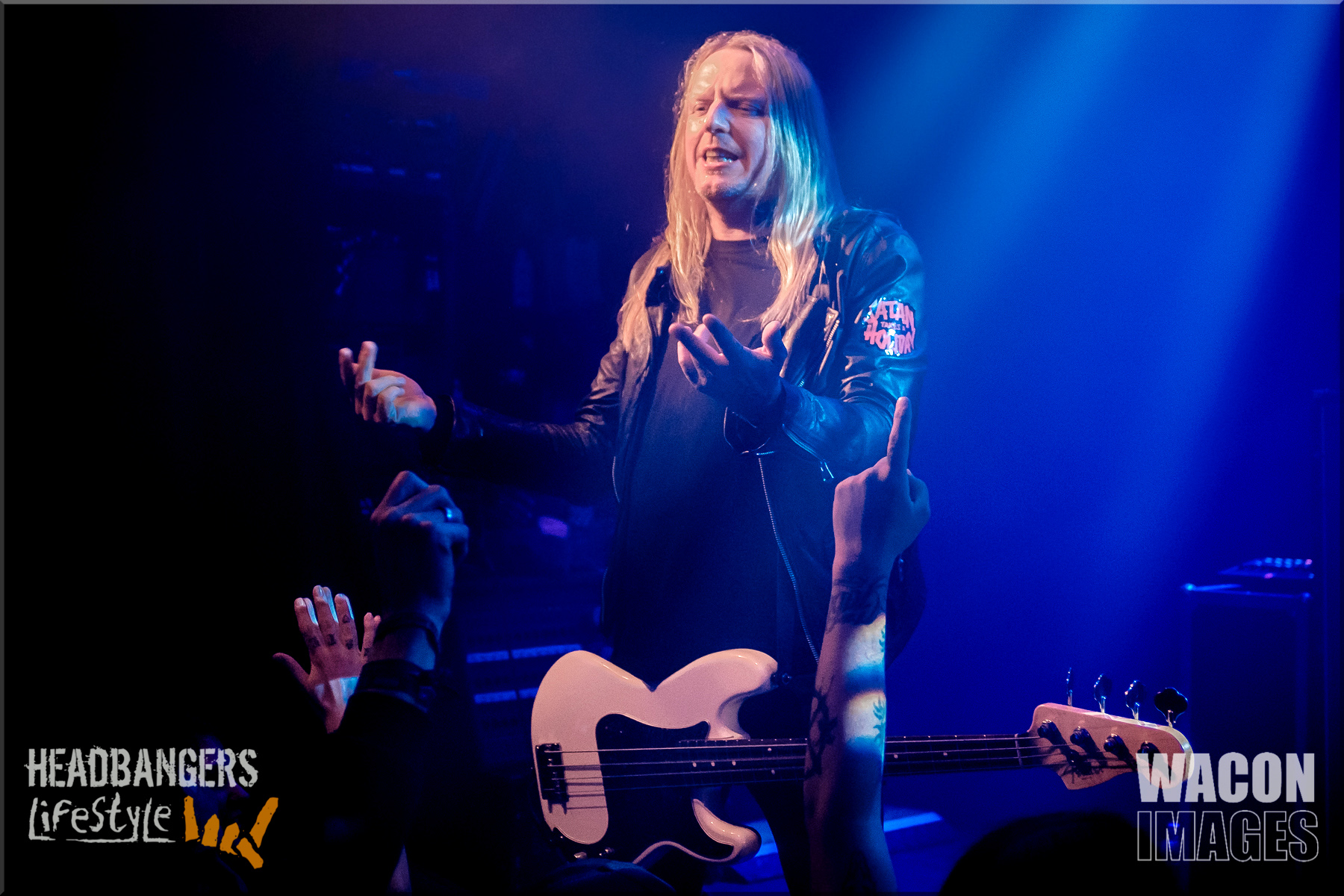 Johan Blomqvist

The BB skull on the huge backdrop is the silent supervisor of tonight's show, while the band members race around and jump on stage risers, and fans are dancing and hopping on the old school punk and rock 'n roll beats. We can drool over the various and stunning looking (and sounding) Gibson and Gretsch guitars that are frequently handed over to Nicke and Dregen by the stage crew. The stage light and smoke eruptions complement the live experience but it's especially the attitude of the musicians and their energetic performance that do the trick here. `Sliver & Gold' is very present in the setlist and the newest single ,,Shovin' Rocks'' is even vocally featured by Dregen.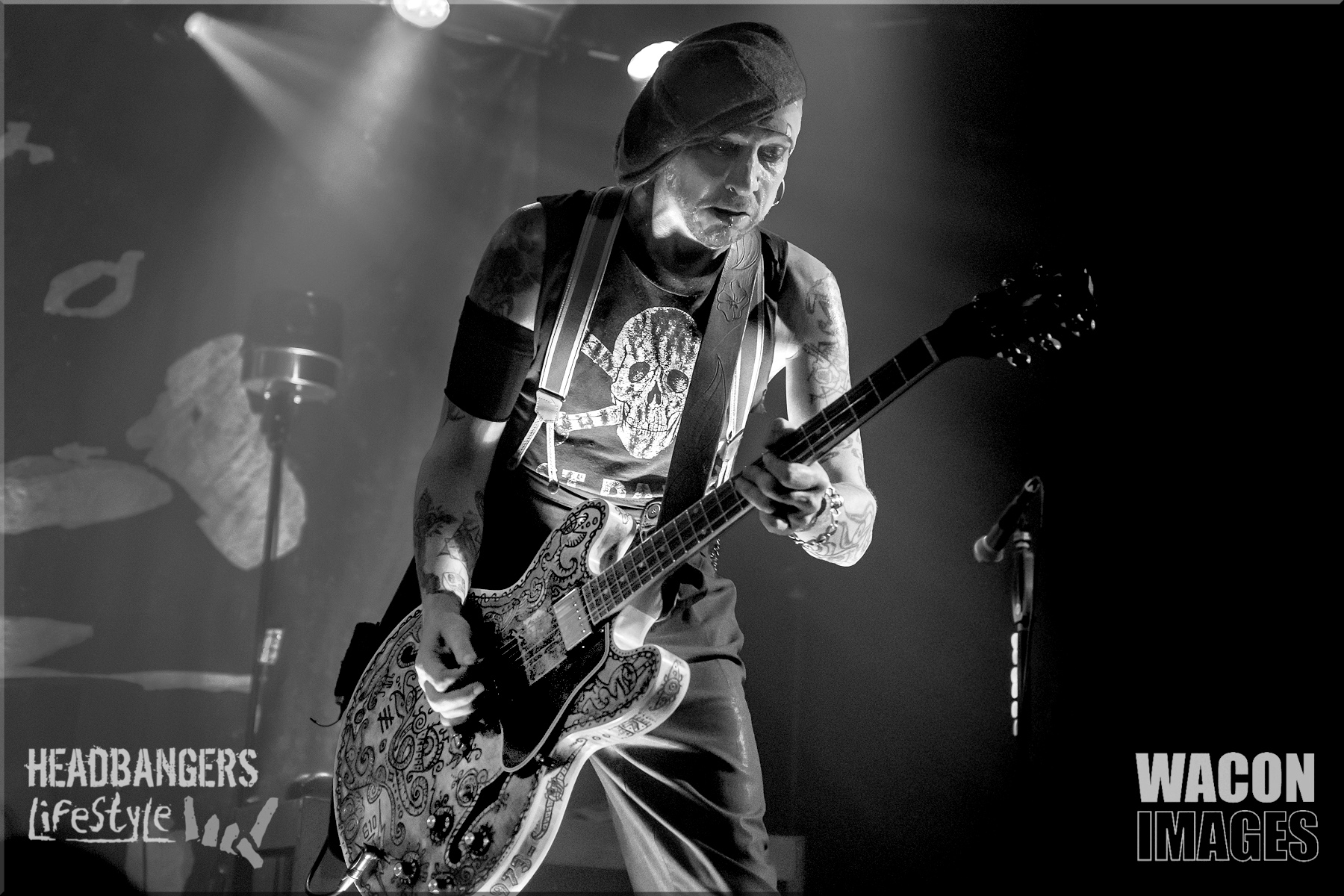 Dregen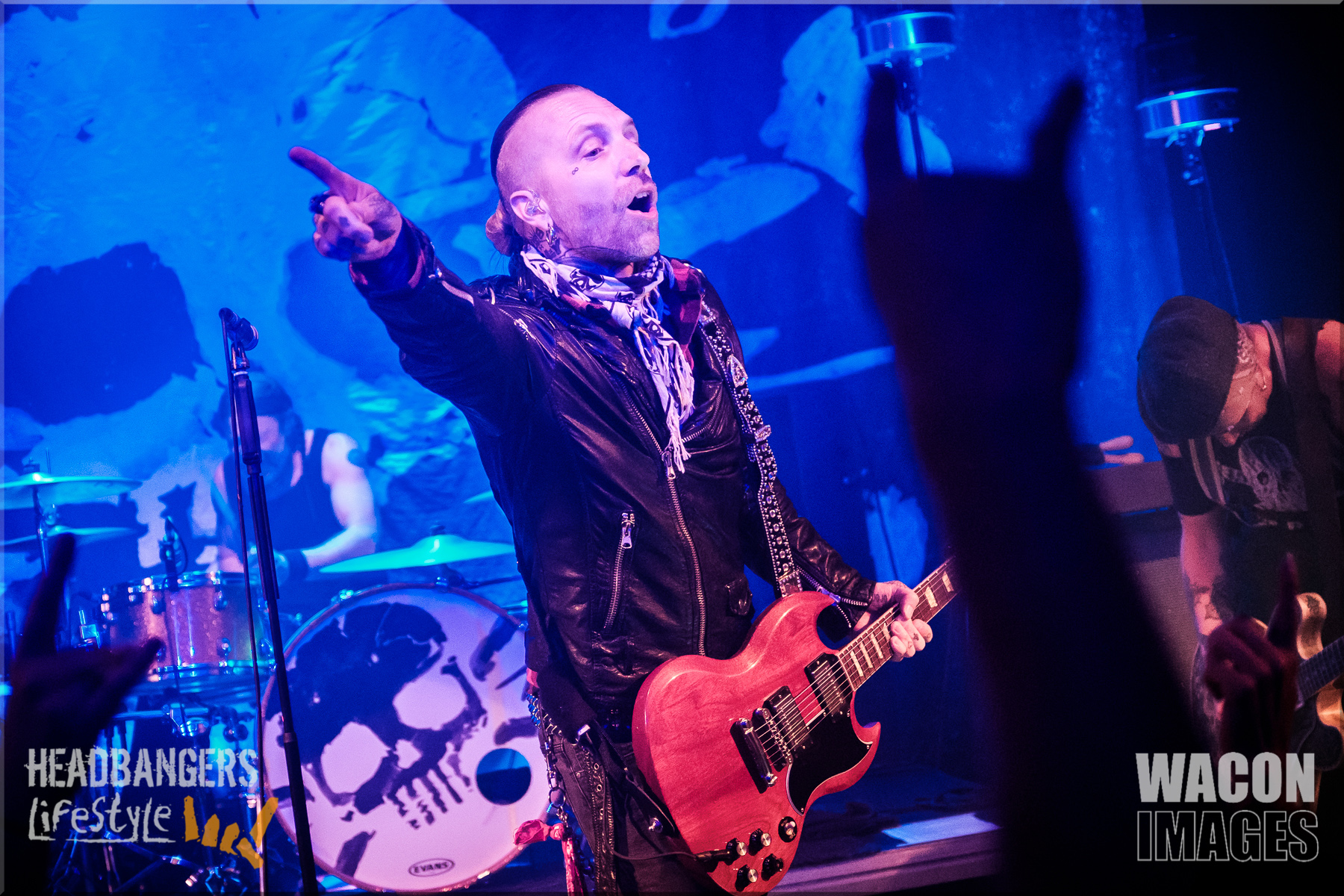 "Coming to Utrecht, we thought it would be 20 or 25 degrees, but no…. A lot of bicycles though, that I knew… So let's go to a place where the sun always shines", is how Nicke takes the crowd back to the classic BB track ,,Heaven 2.9''. Right after Nicke and Dregen have their moment together in the stripped down version of their anthem ,,A Song For The Outcast''. A great highlight and a true powerful swinger is ,,Th1rte3n Or Nothing'' and also ,,The Clash'' gets the fans in the grooving and moving modus. BB serves a strong setlist and therefor ,,Yes To All No'' also hits the bulls eye. All good things come to an end, also this European leg of The Nordic Noir Tour 2019 and the "Swedes" are closing down the show with the fast and furious rock 'n roller ,,People Like People Like People Like Us''.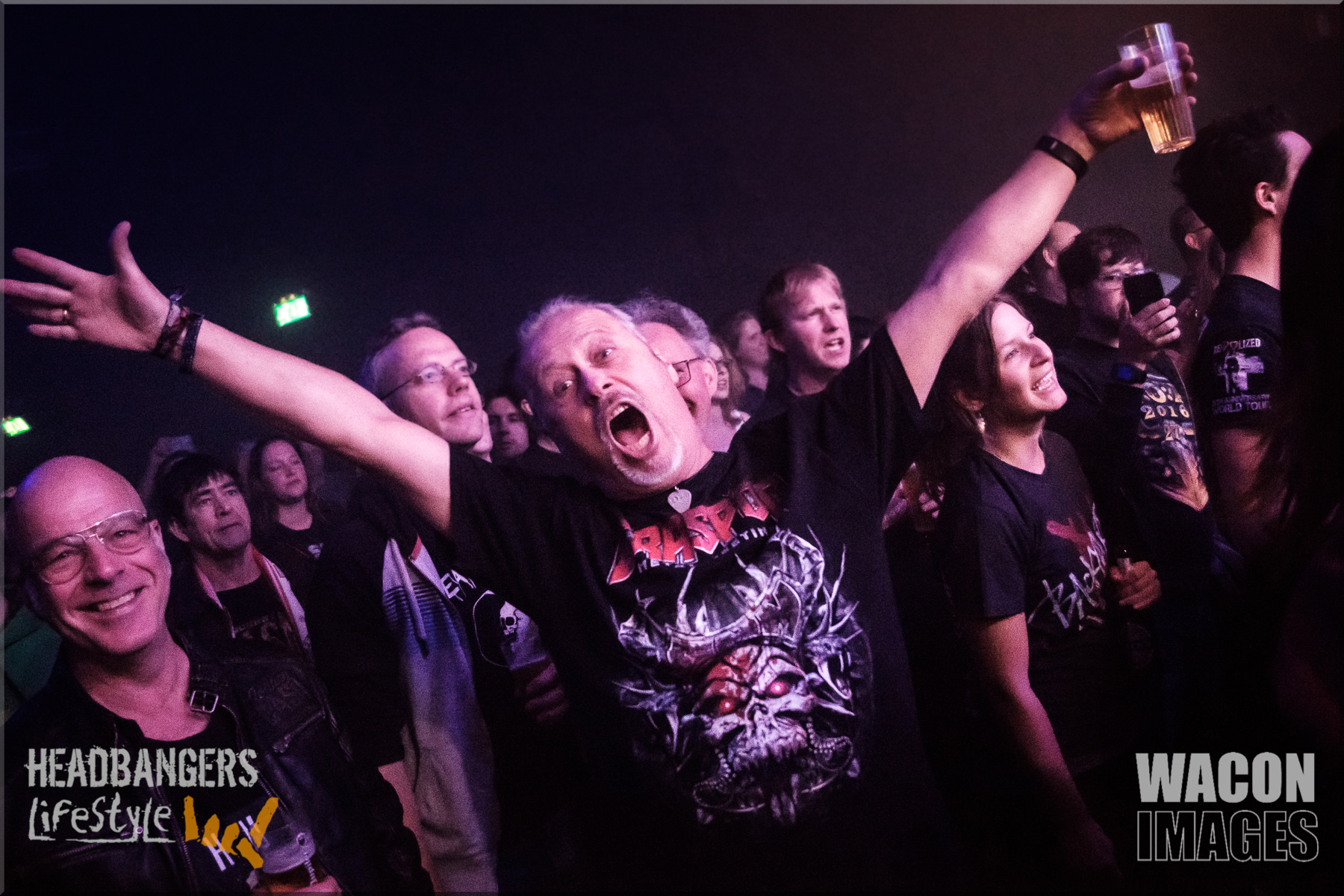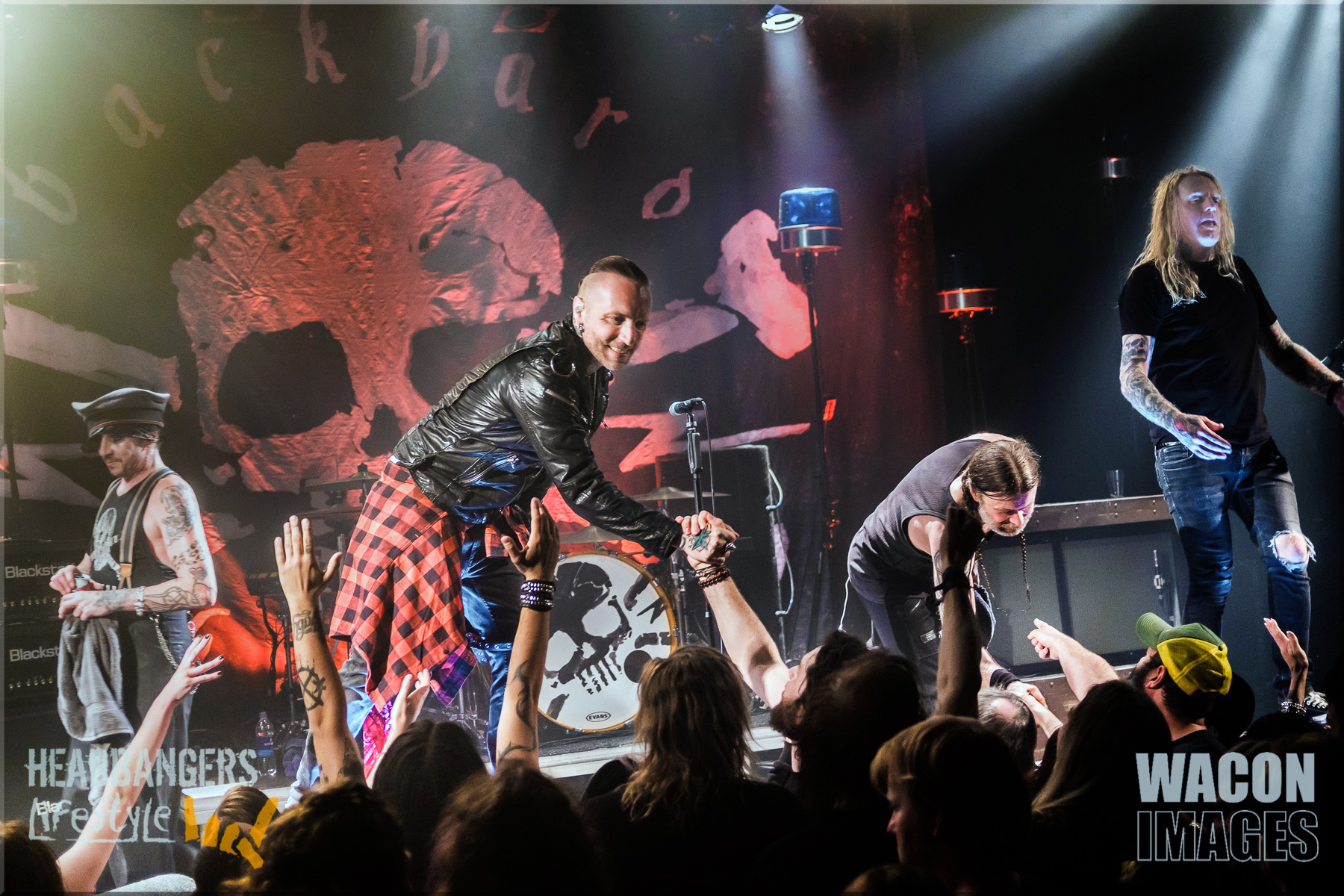 All photos by Ronald den Dekker of WACON-images

Latest interview with Dregen here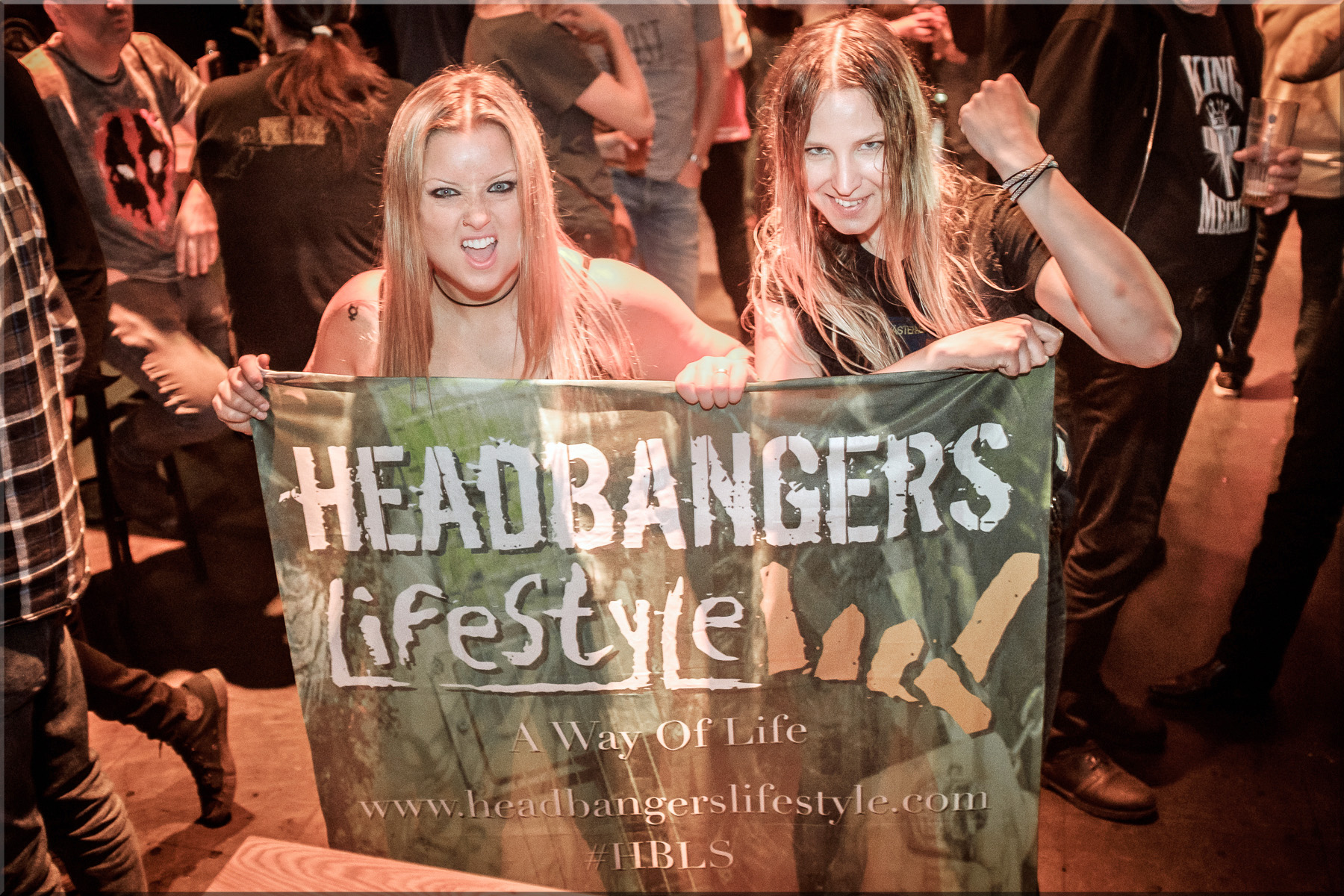 Filippa Nässil & Majsan Lindberg

#backyardbabies #thundermother #utrecht #headbangerslifestyle #hbls #awayoflife