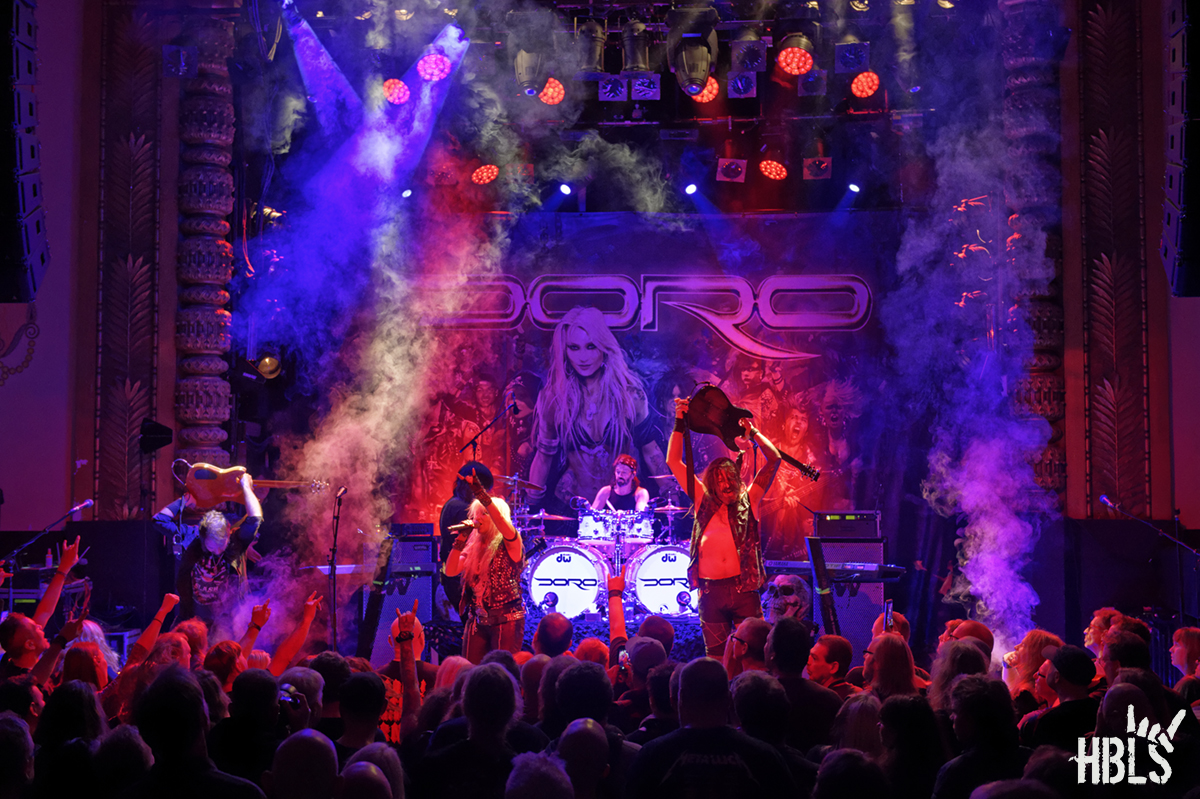 DORO [& King Creature]
Arnhem [NL]-Luxor Live-24 November 2019
If there is one female classic heavy metal singer who seems to be unbeatable and unstoppable and who definitely has inspired a younger generation, it is German metal veteran Doro Pesch. Last year Doro released her latest studio album `Forever Warriors, Forever United' and it is a no-brainer this album release took the dedicated metal warrior back on the road again. Tonight the Queen of Heavy Metal and her band mates play the Luxor Live in Arnhem, The Netherlands, which also happened to be the last show of this leg of the tour.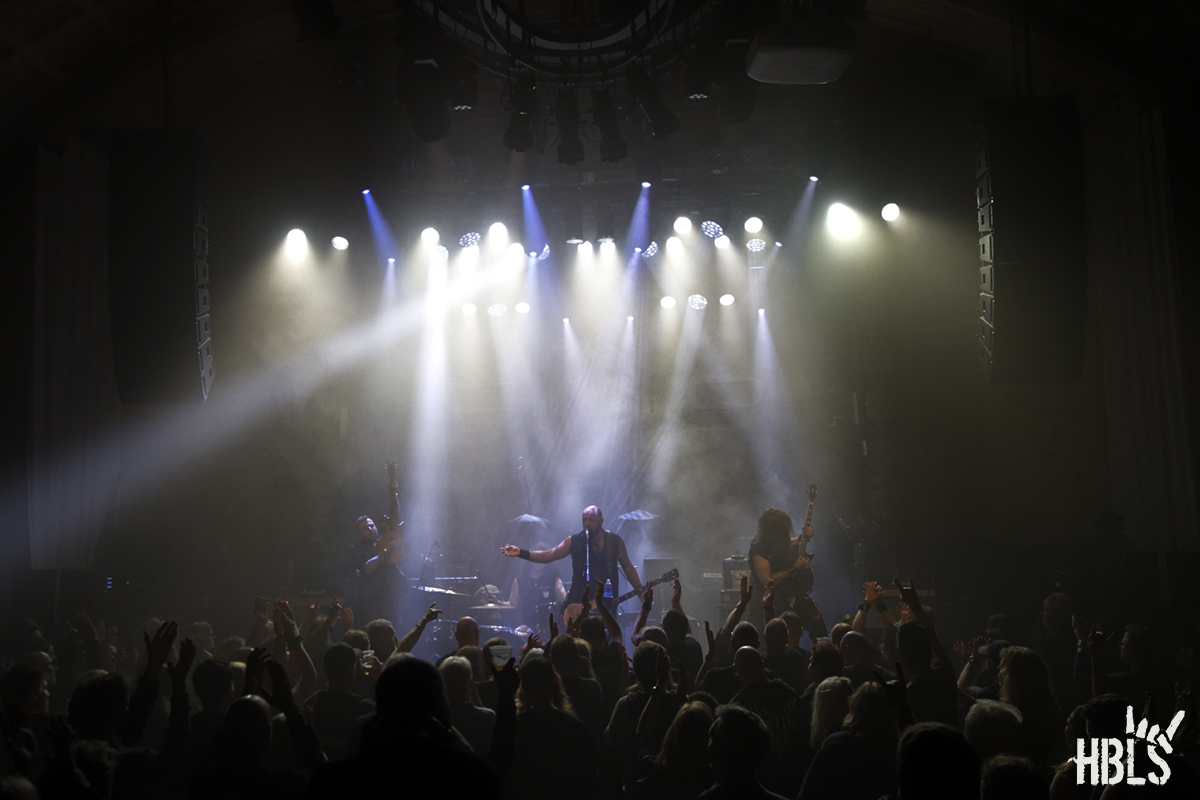 King Creature

But, first things first. English four-piece King Creature set foot on stage with the mission to get the crowd going on their own terms. It seems these youngsters have quite some fans present, because a big pile of the attendees sing-along, shout-along and physically express themselves on the heavy loaded metal tunes they get served in 45 minutes. The band already experienced tour life as opener for Motörhead, Megadeth, Hellyeah and Phil Campbell [and the Bastard Sons] and seem to have it all under control in this live setting. An obvious signature of their roaring songs is the frequent, highly melodic double lead vocals by bass player Dave Kellaway and guitarist Matt K Vincent, which creates some sort of a 90s grunge vibe. Though it is in a very pleasant contrast with the hard and heavy in your face music. Somehow it reminds me of Black Label Society, enhanced by the Zakk Wylde poses and playing style of guitarist Matt.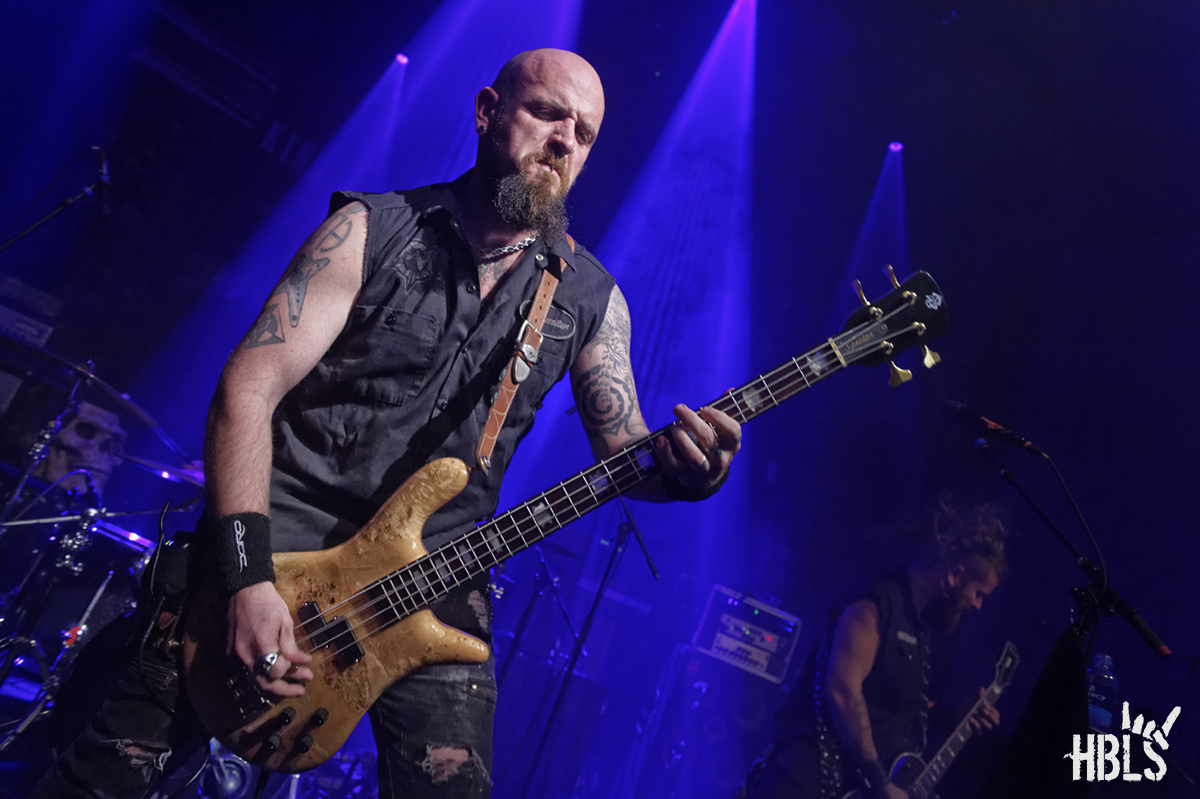 Dave Kellaway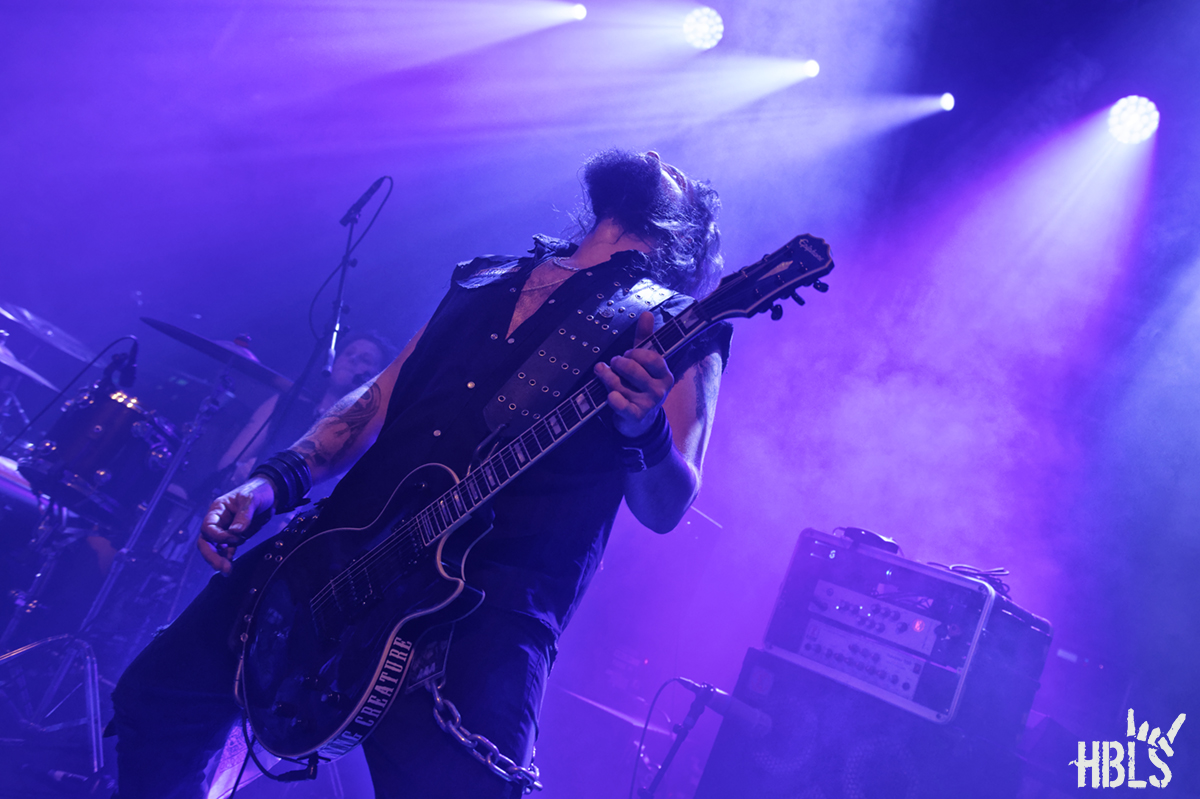 Matt K Vincent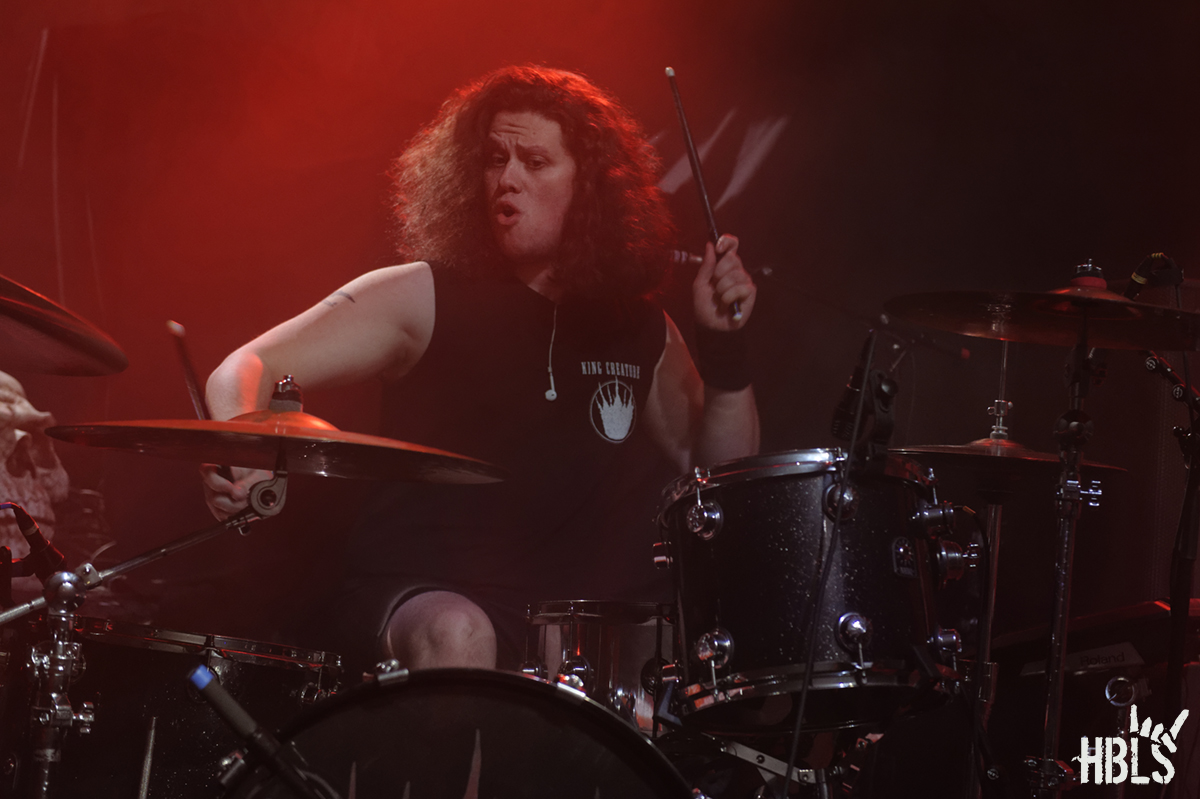 Jack Bassett

The songs show great dynamics and attitude and drummer Jack Bassett is a true mean machine behind his kit. His drive, swing and tight playing style is the perfect base for the other band members and it also gives guitarist Dave Evans a solid platform to shine with his screaming riffs and solos. When King Creature head towards the end of the show they got hilariously pranked by the crew, who are dressed up like chicks, moving around with an ironing board, iron, talcum powder, dishcloth and other household items. King Creature is like a steamroller that won't be stopped anytime soon.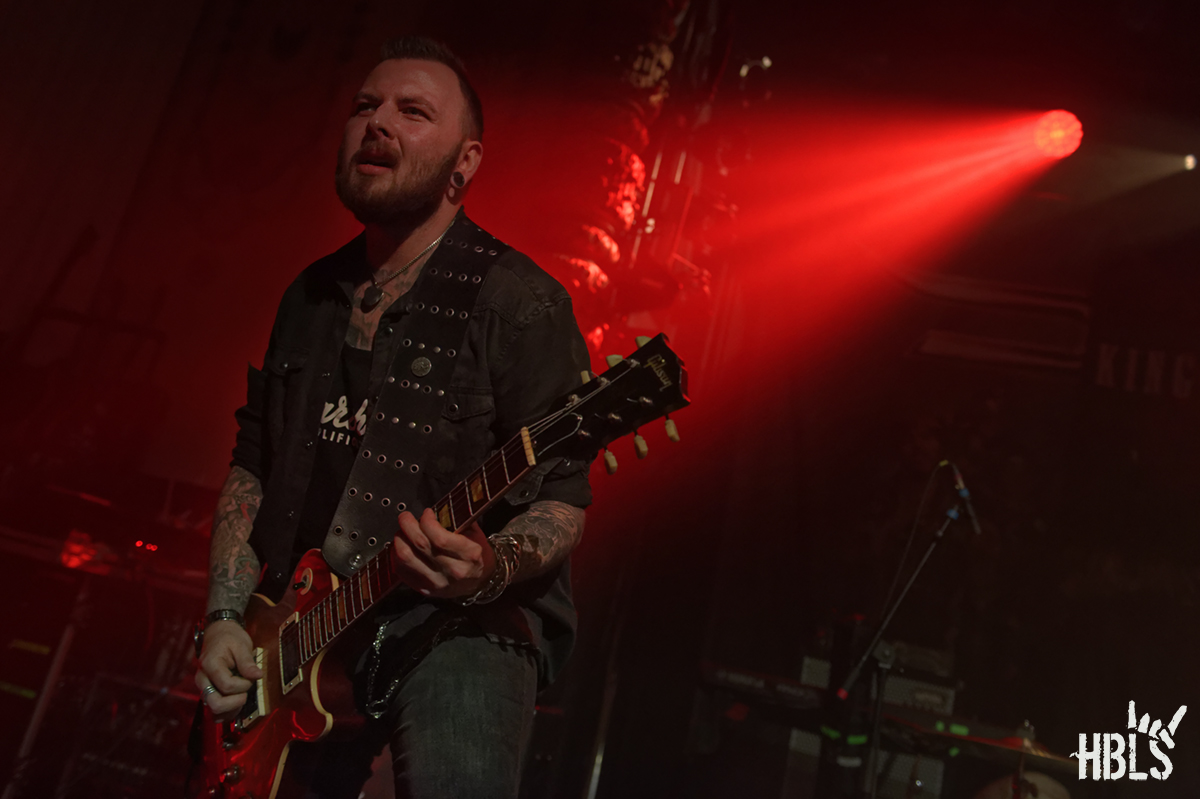 Dave Evans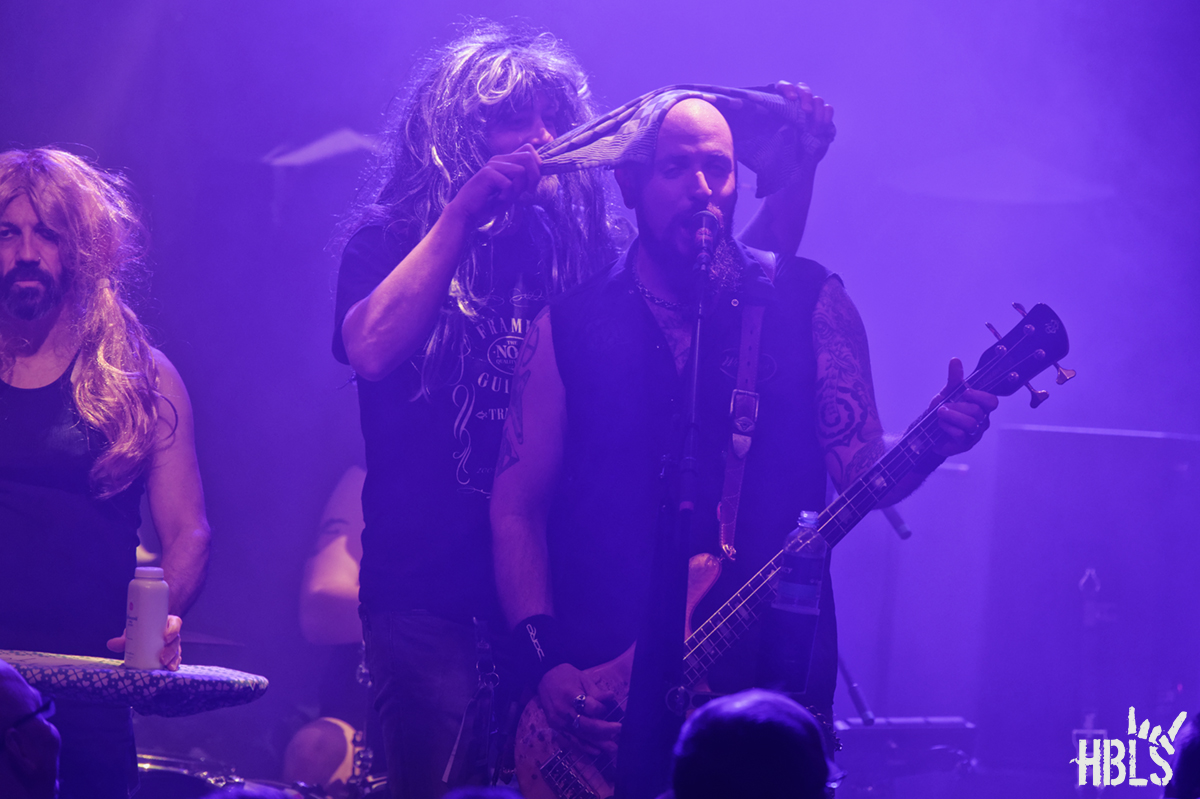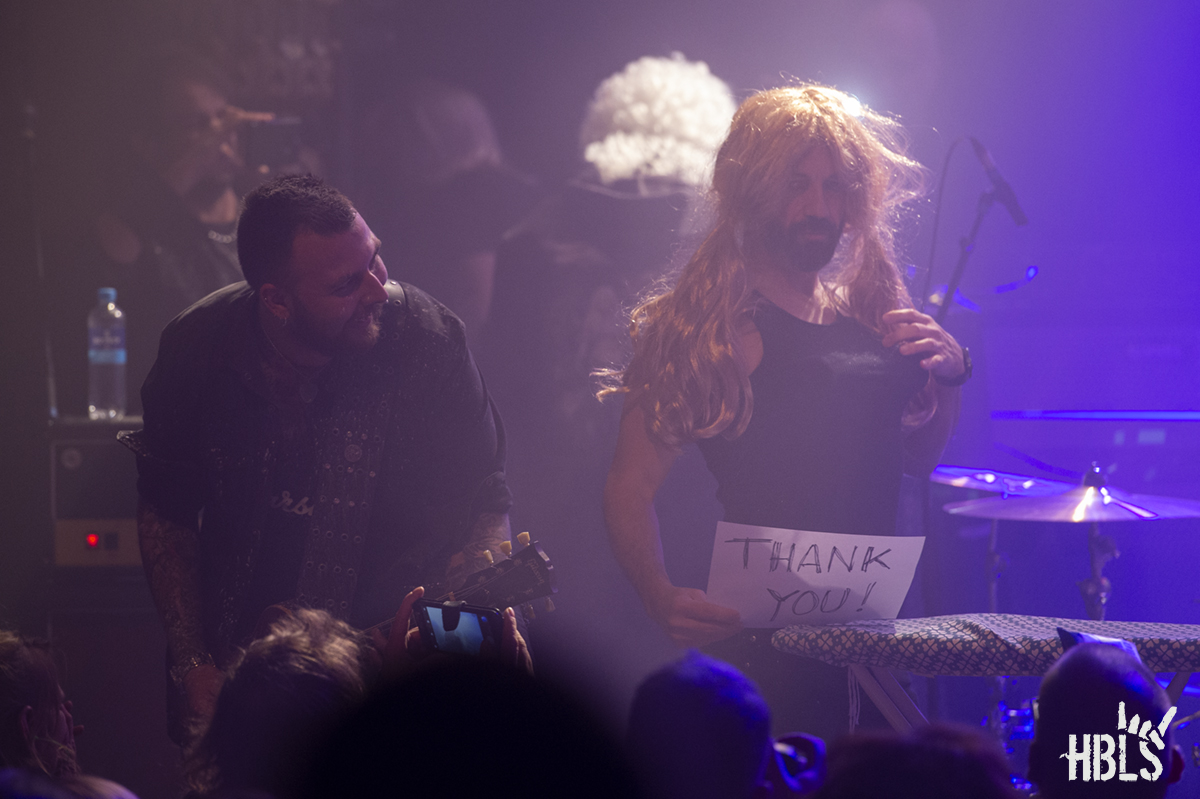 Pranked

Then reality hits in and all King Creature band members have to clean up their own shit, while the audience is watching, to make way for the Queen Of Heavy Metal and her band DORO. Within 30 minutes stage and fans are more than ready for take off to the glorious days of classic heavy metal. A stirring intro and having all spotlights on the immense backdrop featuring a sexy, youthful and tough-drawn Doro Pesch [the front cover of her newest album], is the starting point of a mainly greatest hits show. After the band got in position and start with Warlock classic ,,Earthshaker Rock'', Doro runs on stage and simply owns the place right away. There is no doubt she truly loves her fans, being very at home on stage and being extremely happy the way things are. The singer performs with a constant smile on her face and shows appreciation, almost in a very humble way, the entire gig. Doro tries to be as close to her fans as she can be by moving around in the frontline all the time, hanging above and actually almost in the audience, sharing her microphone more than once and encourage everybody to shout-along full force with her.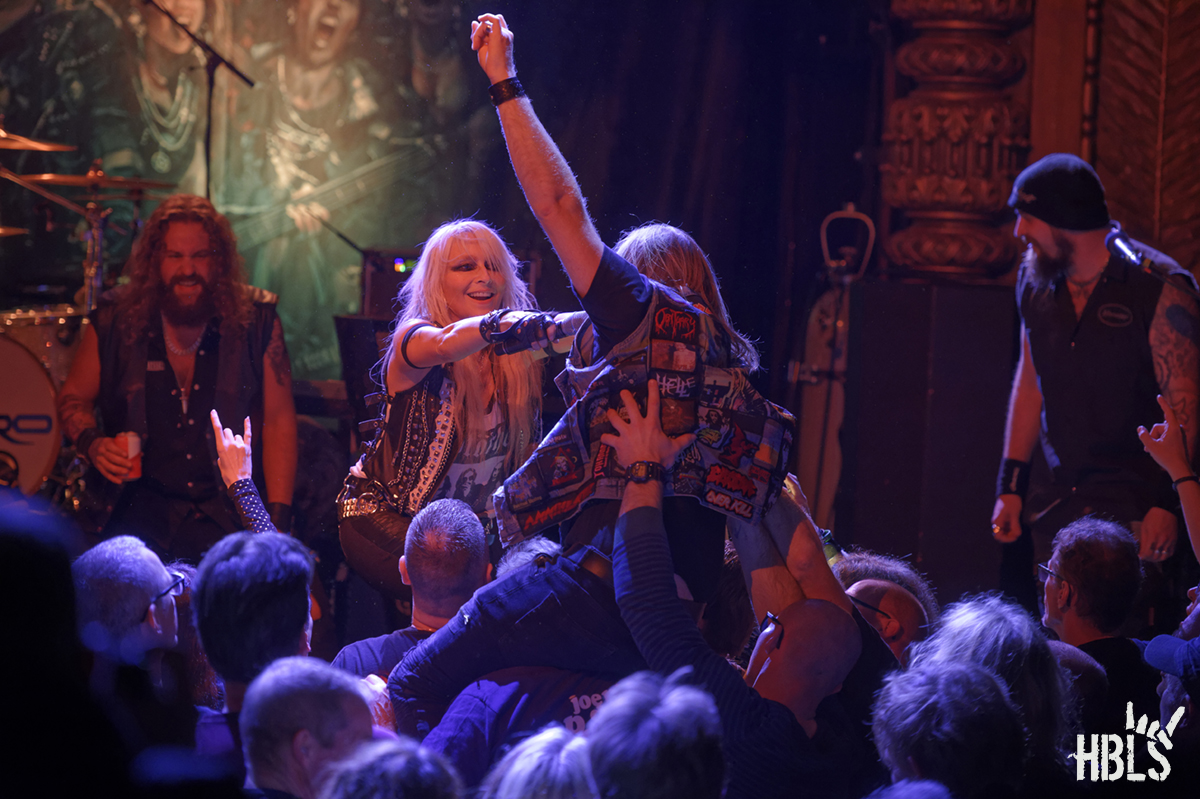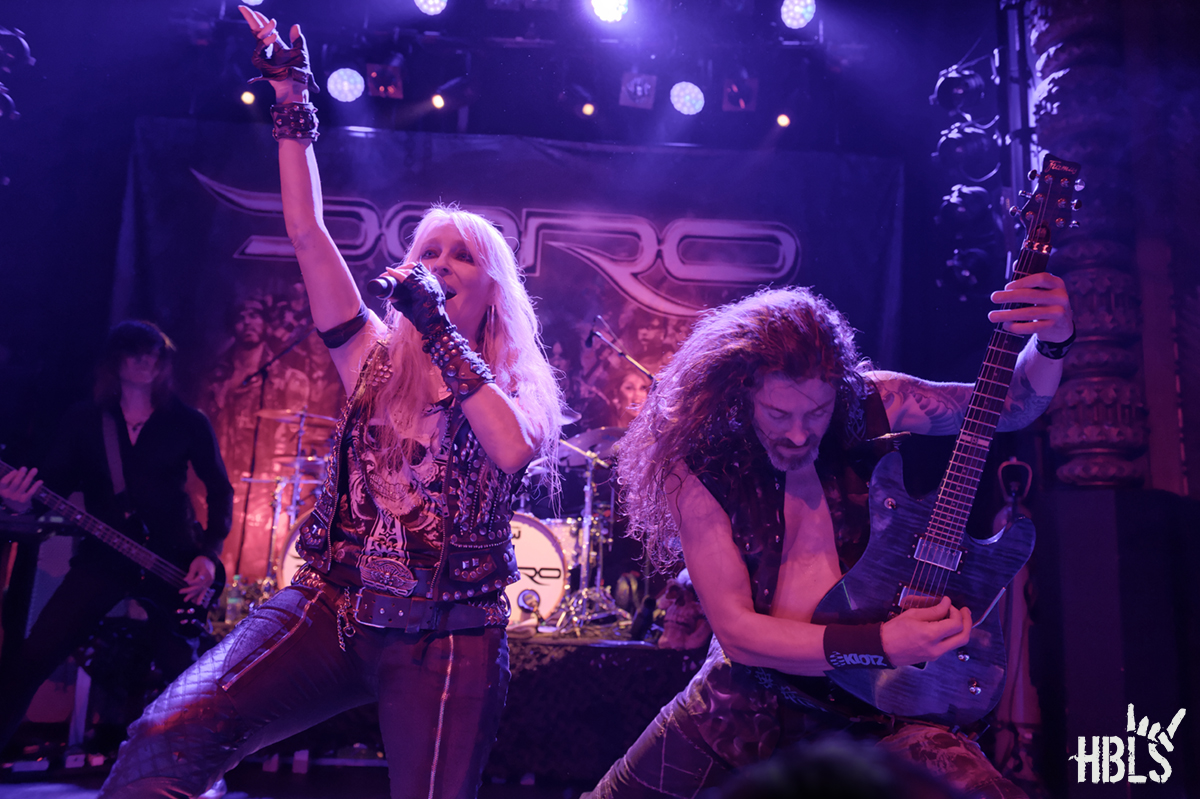 Tonight we all unite, celebrate and commit ourselves to true heavy metal for about 105 minutes long and seeing DORO playing in this beautiful theatre like, cosy and atmospheric venue, it feels all very intimate, old school and exciting. Like I said, the set list contains a lot of golden oldies, such as Warlock old time fan favourites ,,I Rule The Ruins'', ,,Burning The Witches', ,,Fight For Rock'' and ,,Hellbound''. During ,,The Night Of The Warlock'' a roadie dressed up as the "evil warlock" runs around on stage as visual effect. I am glad to hear Doro doesn't deny her latest release because there are some cool tracks on it, like heavy pounding ,,Bastardos'', in which she also steers a steam thrower above the audience to fire up the heat. Then an admirer thanks her by giving a package of cookies, which makes Doro jokes: "Danke! We are getting fat here, hahaha.'' Also newbee ,,Blood, Sweat and Rock 'N' Roll'' blends in very well, in which Doro takes the opportunity to thank support band King Creature.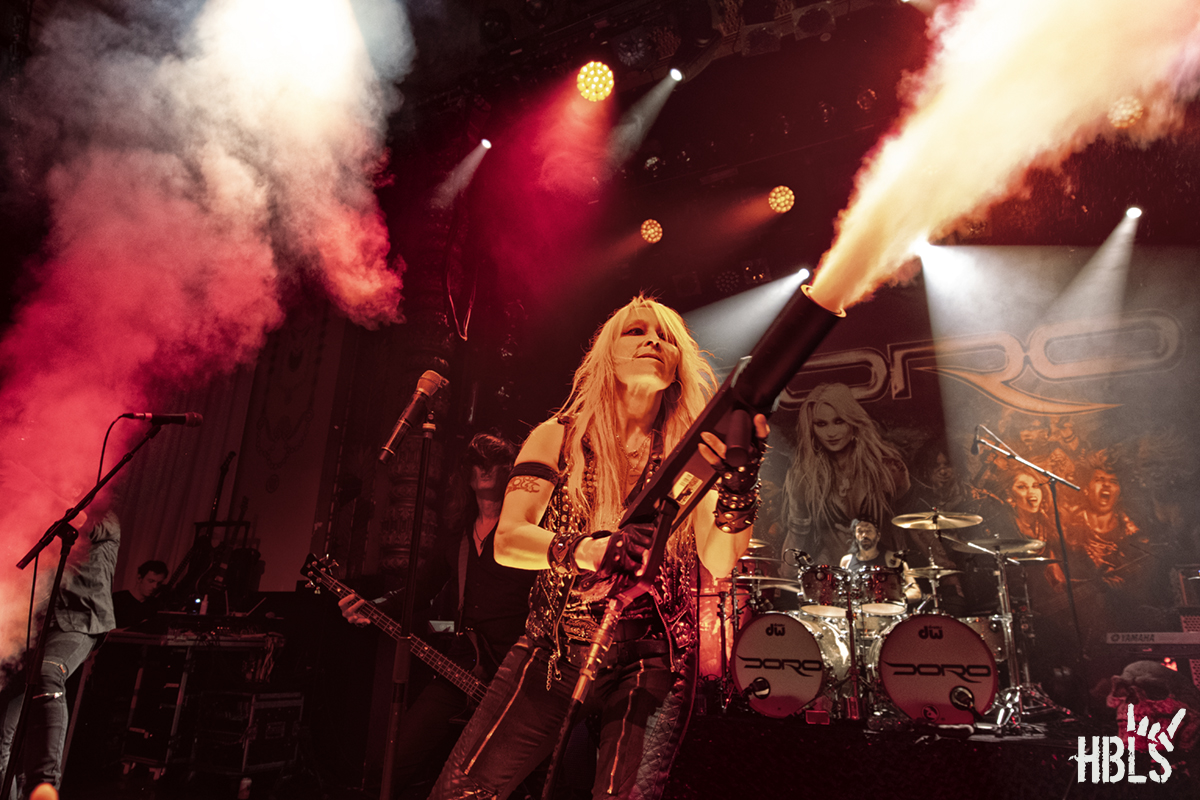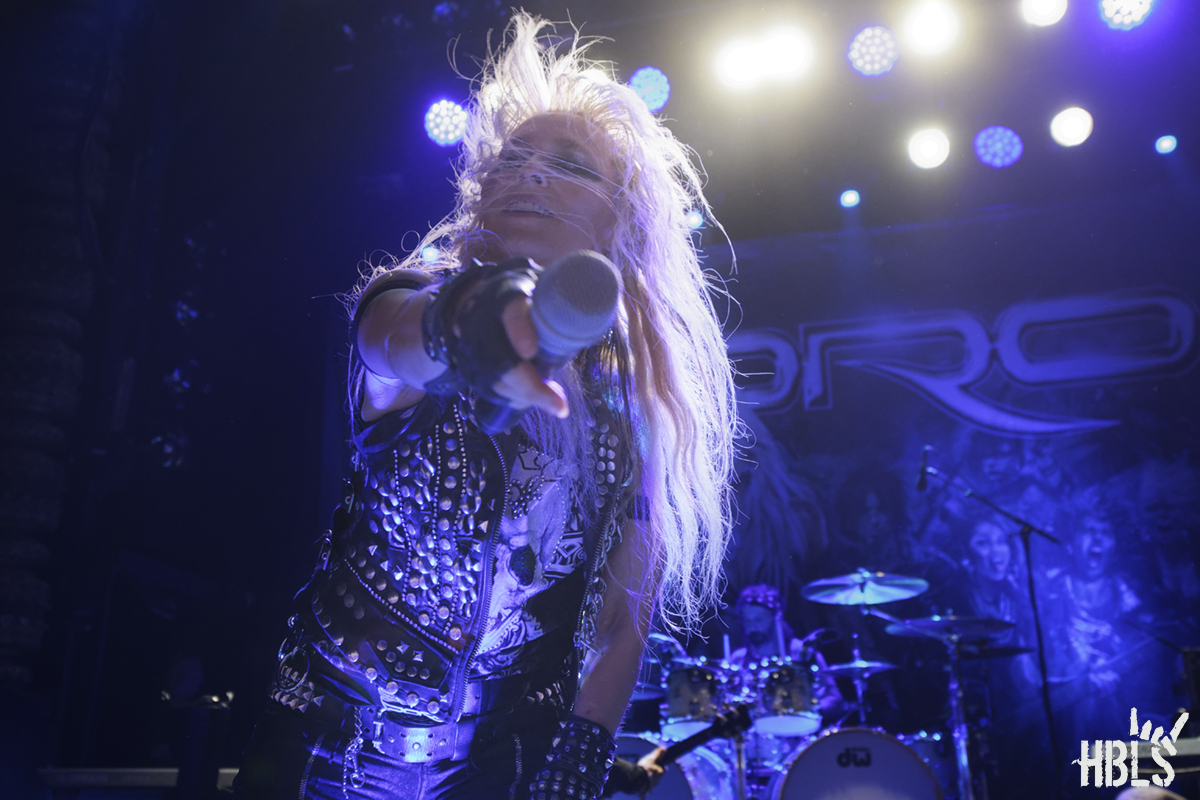 After her career with Warlock, Doro released many of her own classic anthems over the years and they are not missing in tonight's metal stampede: ,,Raise Your Fist In The Air'' for example definitely makes our metal heart beat faster and I also want to mention this lady is in a very good vocal and physical shape and above all she still looks great. But also her band serves a high-energy and professional, well-oiled performance and show they really enjoy what they are doing.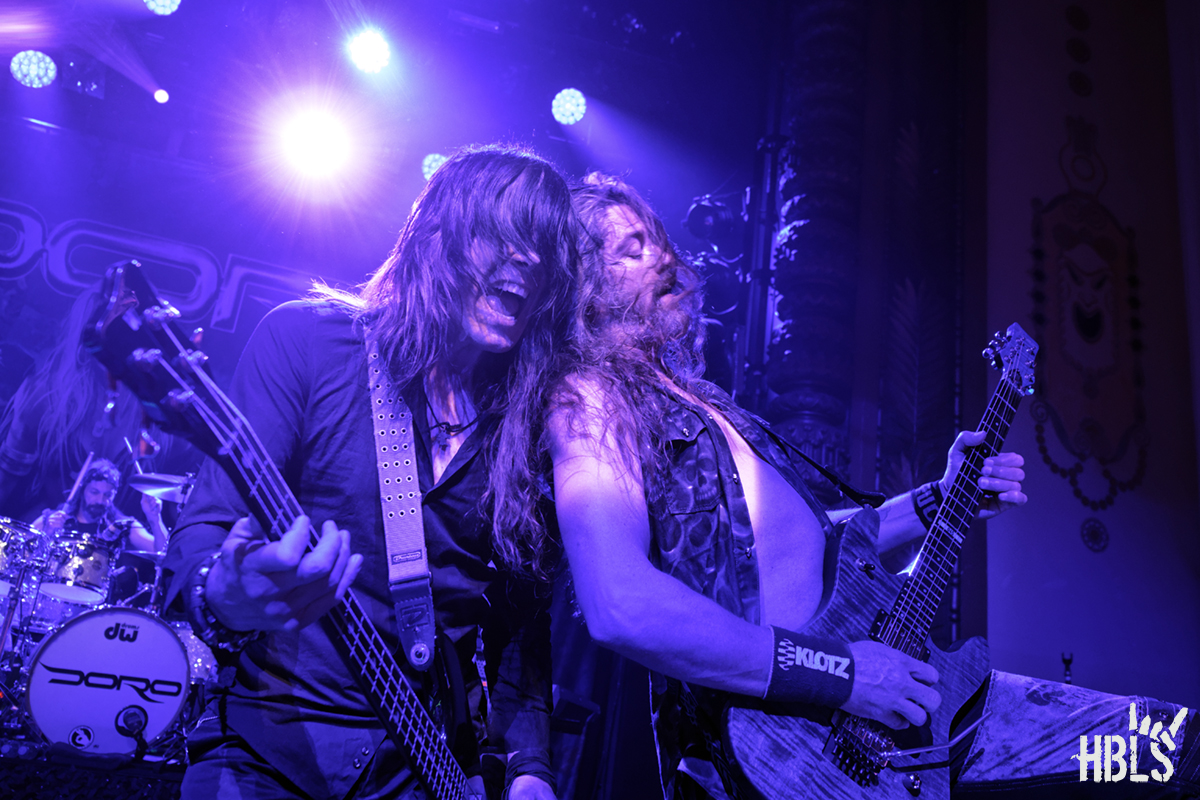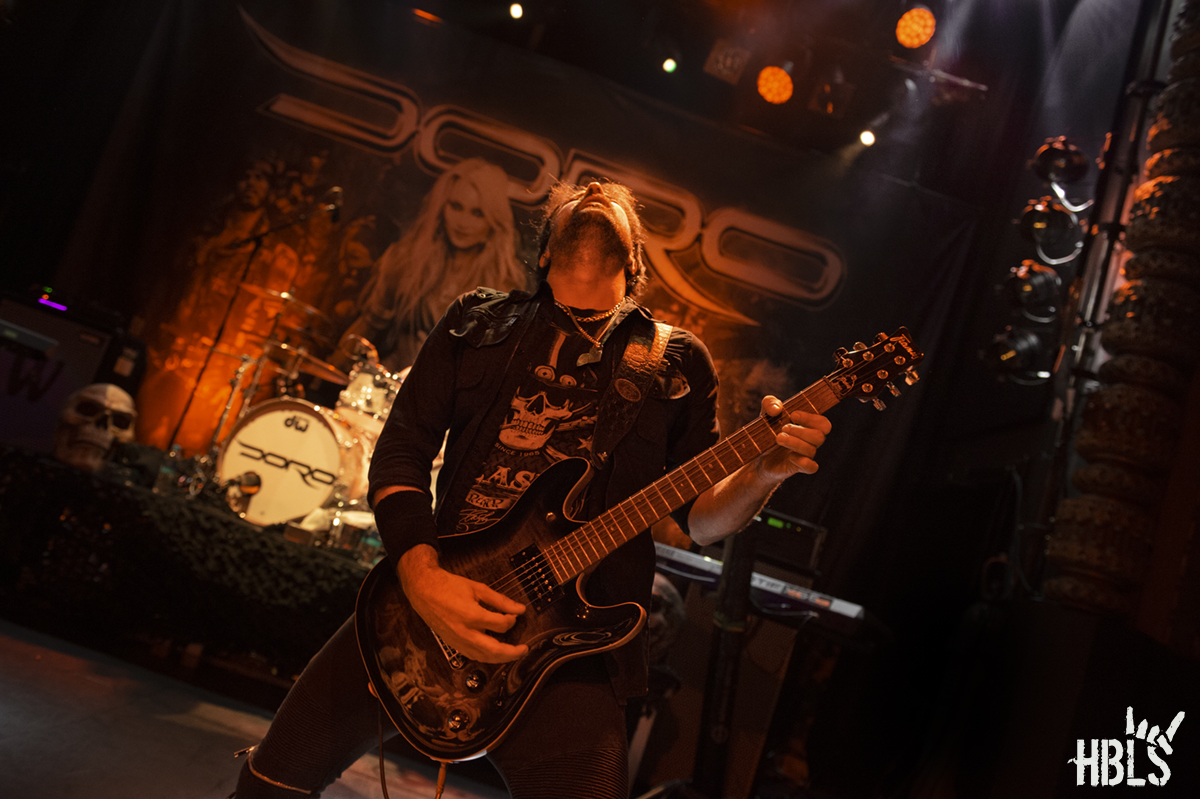 In between all the feel good heavy metal party crackers there are a few serious moments, like the power ballad ,,Rare Diamond'', from the second self titled solo album [co-produced by Gene Simmons], this evening dedicated to Eric Carr and Freddie Mercury. An absolute highlight [hello goosebumps] is Warlock anthem ,,Für Immer''.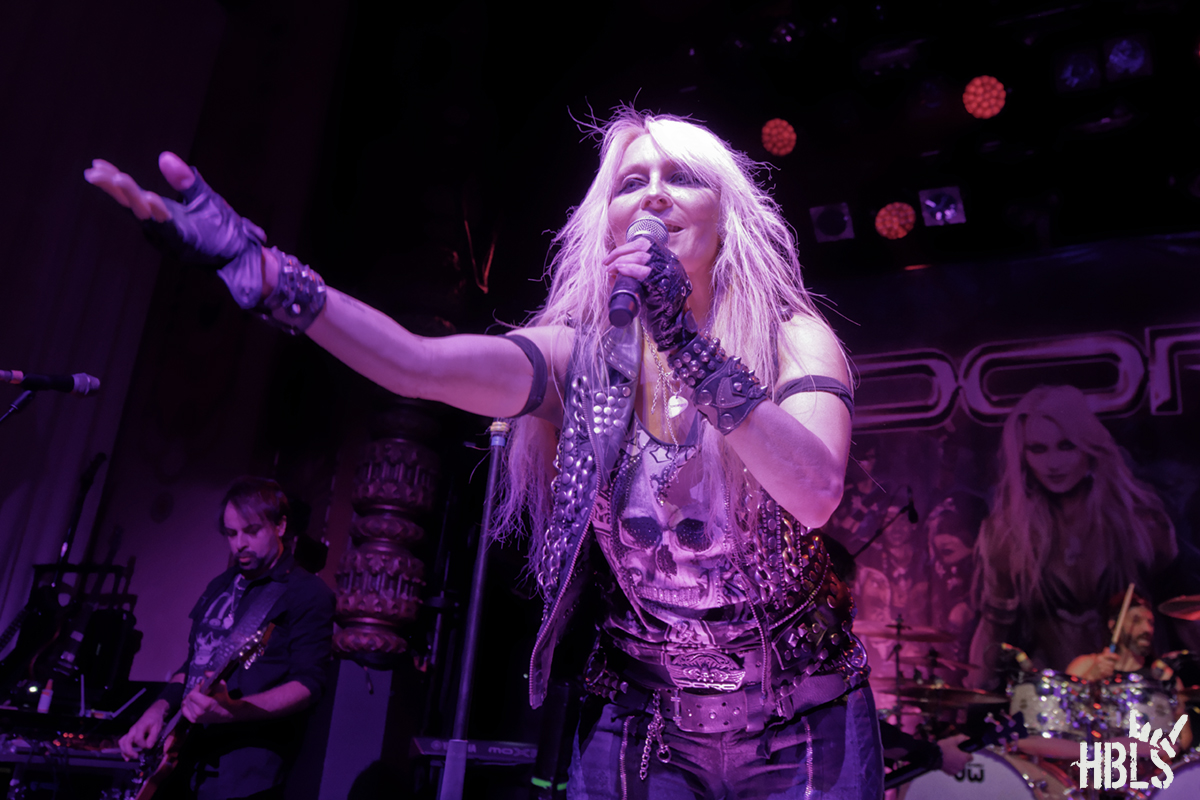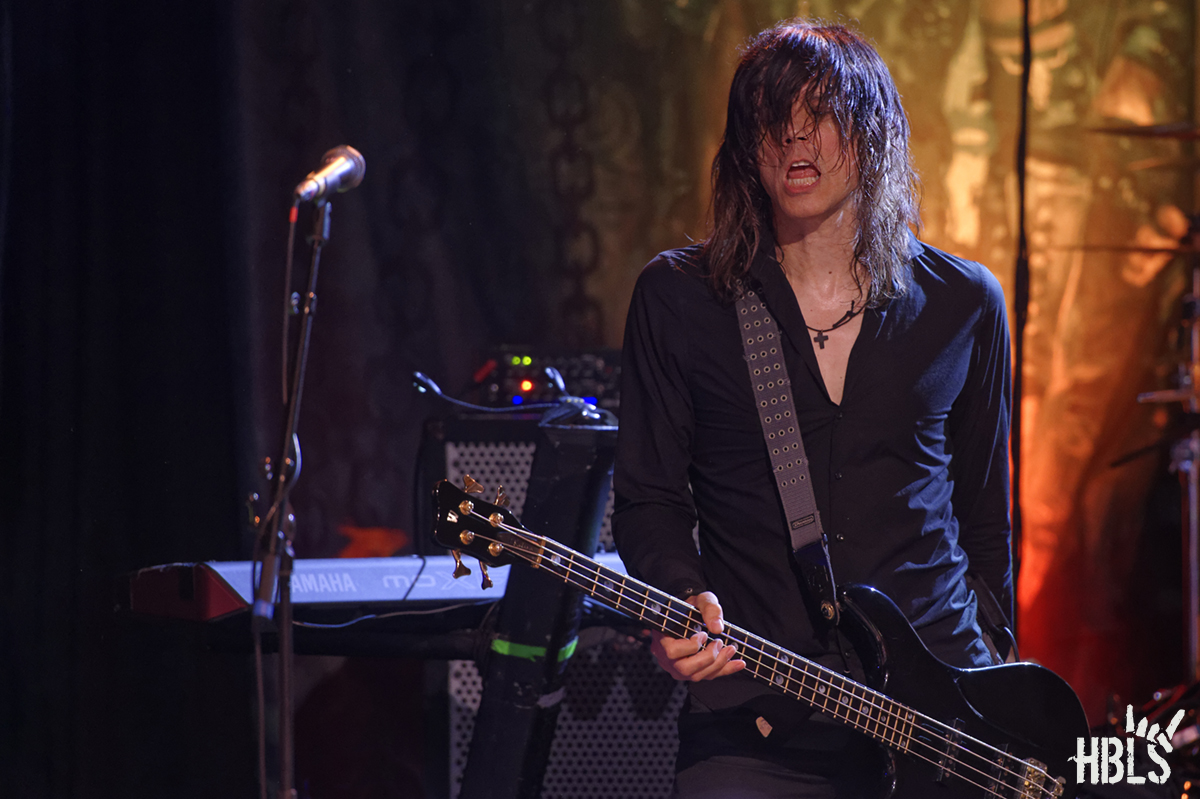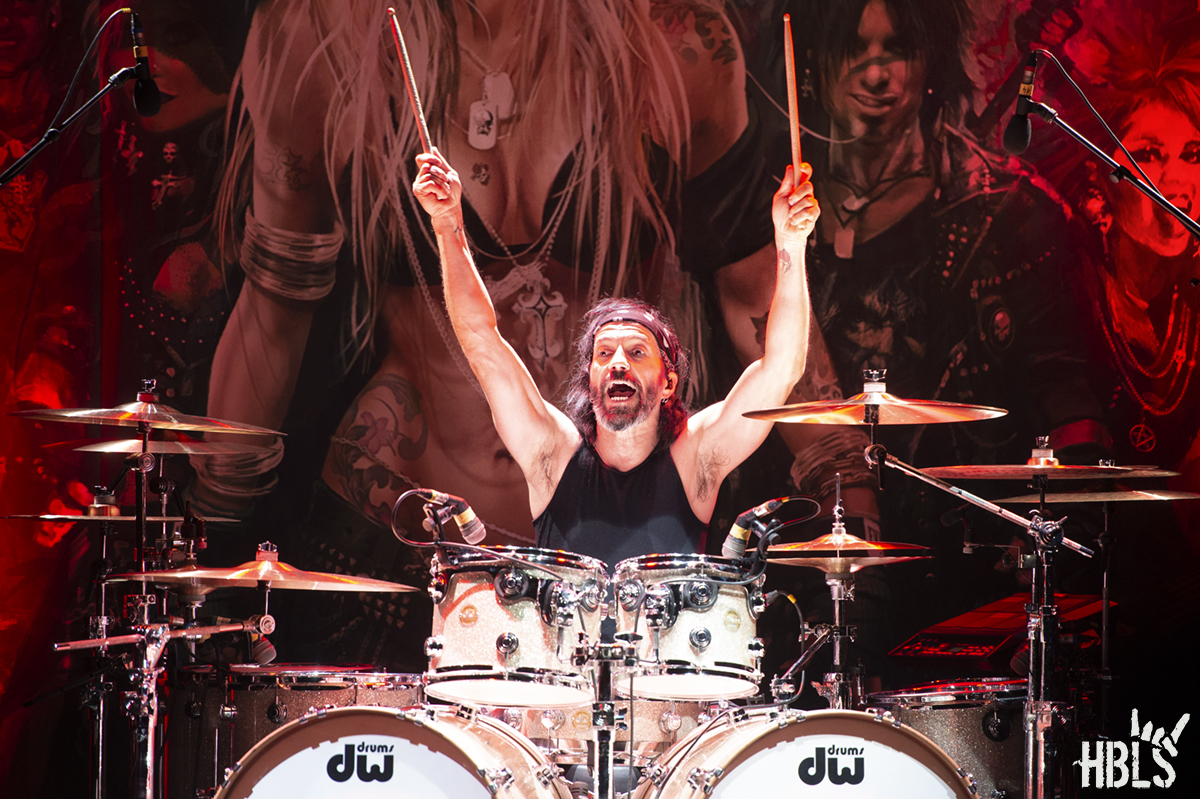 I have to admit I am not too crazy about drum solos but in the tradition of heavy metal I have to accept that Johnny Dee gets his moment during the show. Of course he pulls it off and halfway he thanks everybody for coming out on a Sunday night, buying a ticket to support live shows. He has a great point. When the rest of the band return on stage Doro takes the opportunity to thank all her band members for being by her side for so many years. Doro herself is in the business for 36 years and it seems she has no reason to retire any time soon. Despite of the curfew the show is stretched till the max with Judas Priest cover ,,Breaking The Law'', ,,All We Are'' [Warlock], kick-ass track ,,Revenge'' and ,,All For Metal''.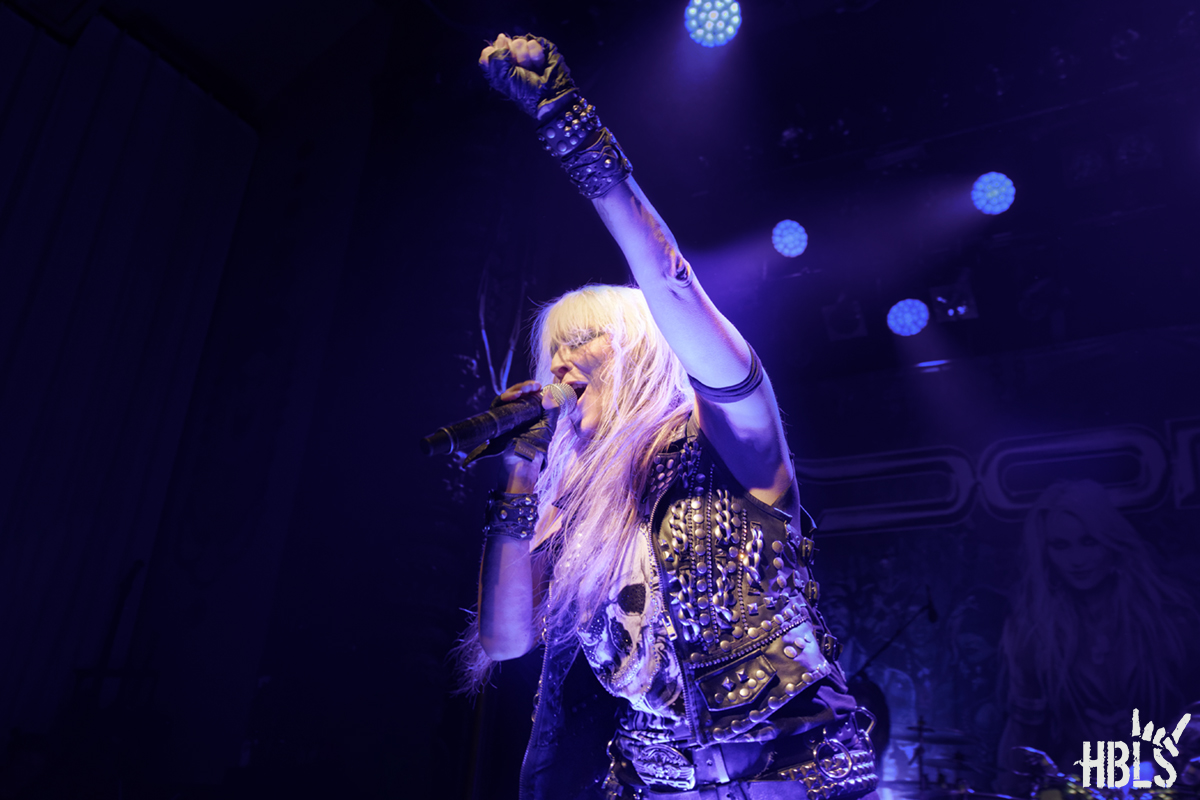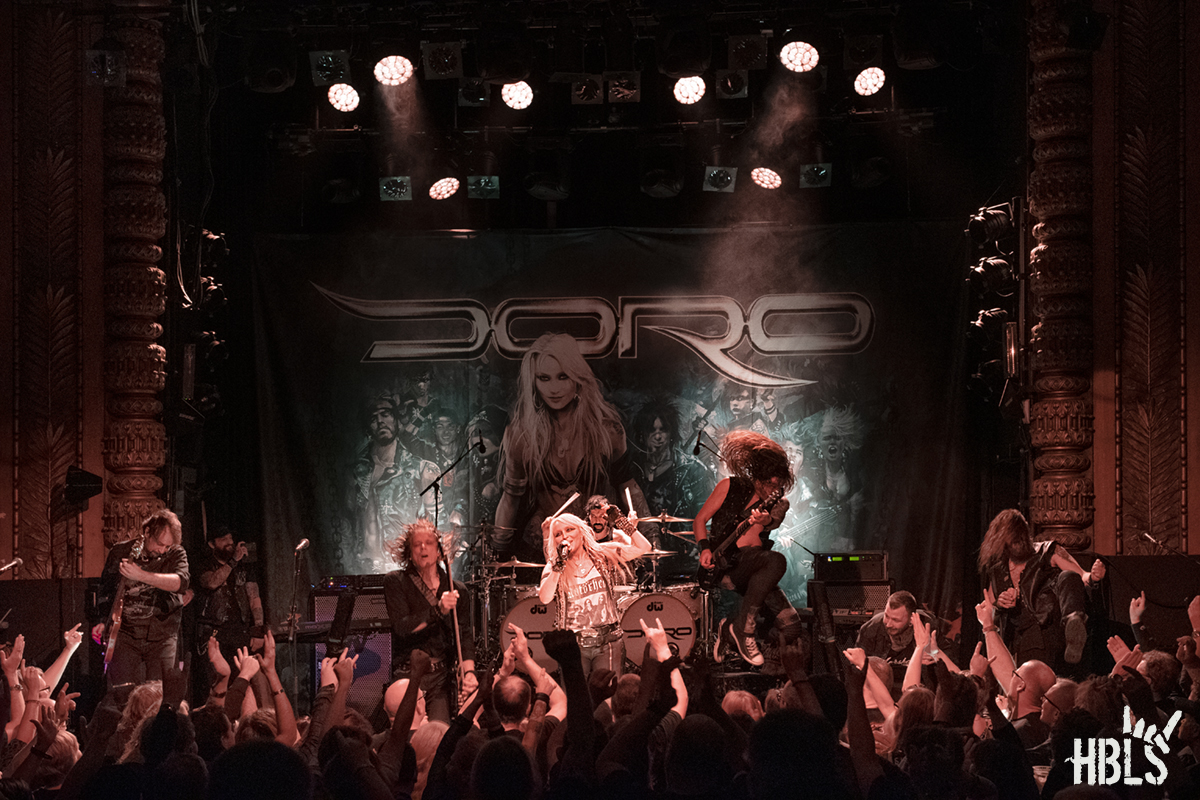 Respect and hail to the Queen Of Heavy Metal!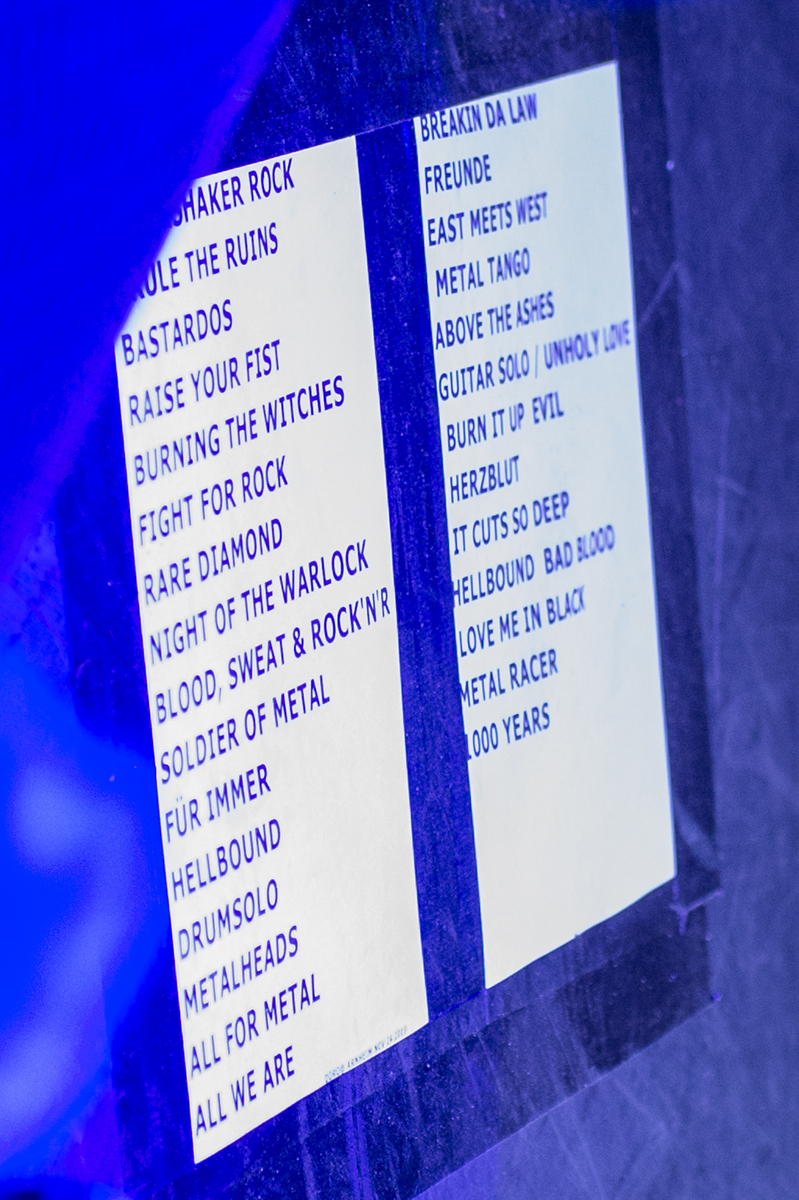 All photos by Dirk van den Heuvel of DCH Photography