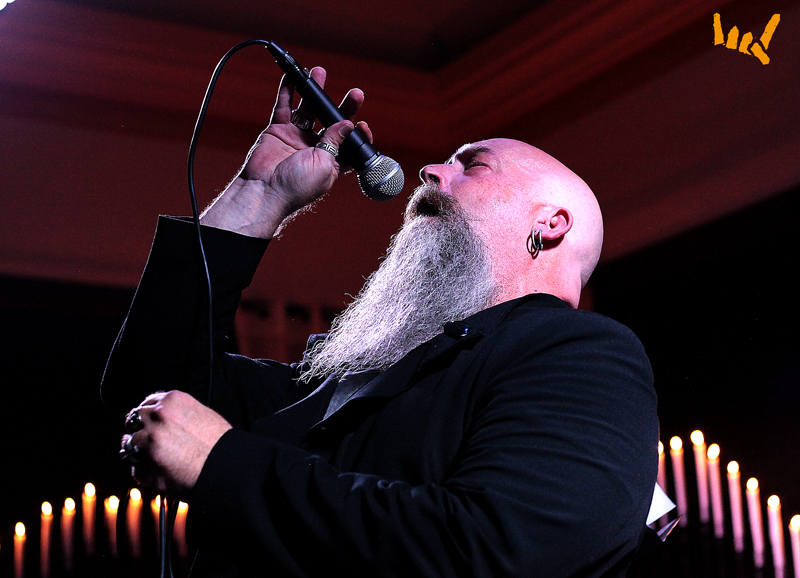 ERIC CLAYTON-A Thousand Scars
The Official Album Release Party-An Exclusive Live Streaming Event Hosted By Eric Clayton
Dramatically the charismatic vocalist falls to the ground. On his knees, eyes wide open facing the higher powers, his arm raised above him with agony in his eyes. "After all is lost and all is taken. All the scars are mine, once forsaken" he calls out to chant in agony; "By my own design" …. And repeats whispering… "… by my own design". His eyes shut, arm to his chest he continues to visualize his pains of the past "Cut into a thousand pieces… of Christ".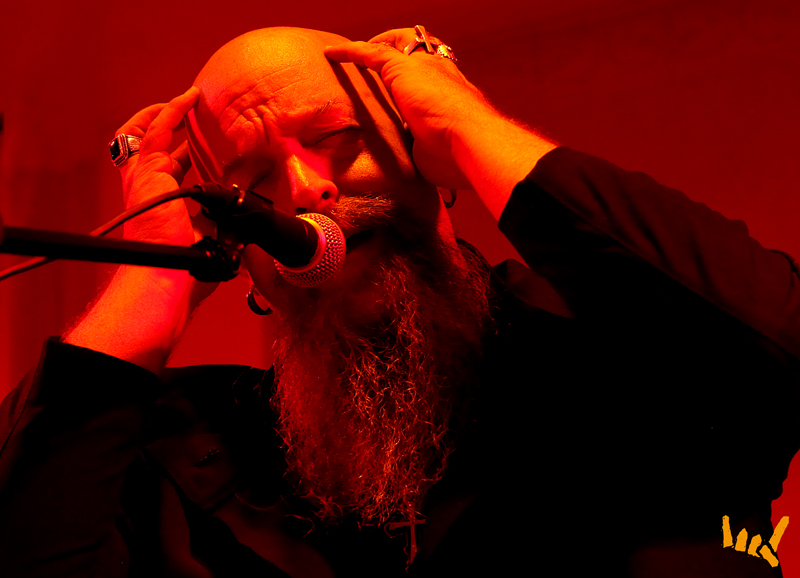 It is one of the dramatic moments emphasizing the personal struggles and battles when performing his epic masterpiece `A Thousand Scars'. His voice vibrantly echoing with power, but little sobs in his voice are notable. Especially when he refrains from direct interaction frequently when performing the heavy on the heart passages. `A Thousand Scars' has its live debut tonight and it is an impressive performance with his band The Nine in low profile. But never ever does Eric Clayton make this his own accomplishment. While addressing songs he ensures proper credits are handed down to his co-writers and co-composers. He shares credits.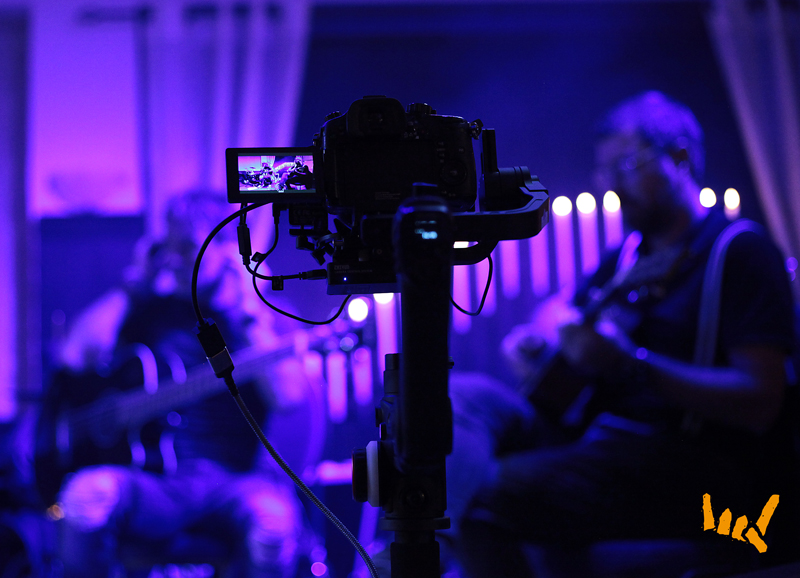 It is Saturday September 12 at the secret location in the hills of Germany. Guests start pouring in from all over the world for this unique event, hosted by Eric Clayton himself. There's a buzz, a vibe….
With Eric personally welcoming his invitees, cameras are rolling capturing the event. Warm welcomes and hugs. It is personal, in line with his album. Personal touches Eric also put in for his devoted fans watching the 3-hour event at home. Streaming worldwide it bridges the gap of absence between artist and fans. A short speech to welcome everybody is the kick off to a Q&A with his guests. Reflecting on the long-term relationship with many present Eric takes the opportunity to introduce his guests as well as giving some insight in their connection and in the record itself. It is open, honest and personal. From management and supporters to his long-time friends and journalists.
Counting down for the performance friends and family unable to attend tonight's event address Eric and his new album. Fans from Greece to Brazil and the USA share personal memories and how much Eric and his music has touched them, especially with the new album `A Thousand Scars'. There are special sections with heart-warming comments from his producer Devon Graves (originally invited as very special guest) and from his long-time close friend reverend David Hart as well as his parents. That message and that of his parents both add the personal note stretching deeper. Behind us Eric's baritone voice acknowledges and thanks every one of them. He radiates love and oozes comfort.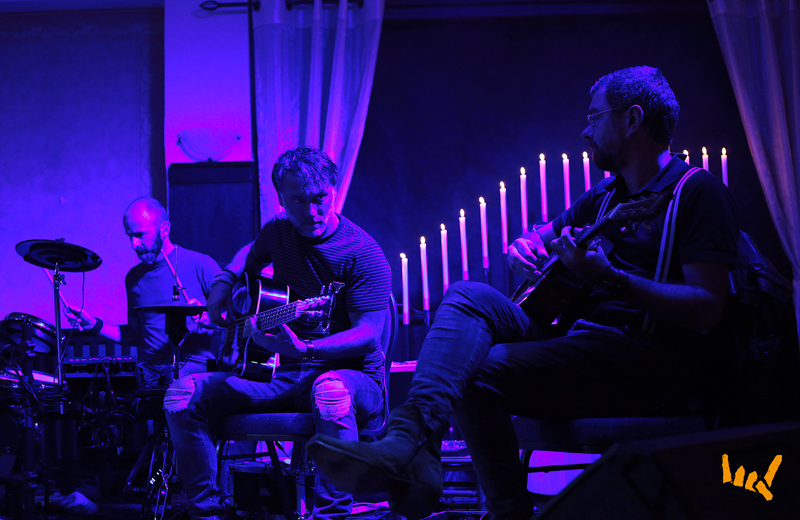 Candles are lit and The Nine tune their instruments. It is time for the main event with Clayton addressing his fans tuned in at home before he gets comfortable. His black long coat, the black hat over his twinkling lit eyes. "Only 11 tracks from the record, 4 simply don't fit the acoustic format…. We tried, relentlessly", he lifts the veil of tonight. His deep baritone voice echoes over Jeroen Geerts' Ebow. It is atmospheric and psychedelic introducing the opening track ,,The Space Between Us". Lush acoustic instrumentation with perfect interaction between Geerts and Bas Albersen on guitars, while Rob Dokter (bass) and Twan Bakker (drums) lay down a dynamic multi layered and solid foundation. Especially Bakker's drumming is versatile and radiant, spotlight worthy in this intimate setting. He frequently switches from basic drums to polyrhythms and vivid percussion. With Ludo Caenen enhancing the songs with his tasteful keyboards and piano works, The Nine perfectly add the needed depth to tonight's performance. Lamenting like in his prime Eric Clayton colours the songs with narration and, whispers and powerful hollow bass voice. Sitting down he touches the heart and soul of his listener with captivating performance. Embracing his microphone with power, using the stand as support. Even when his microphone drops out in the mix his powerful vocals are comfortably present and stand tall over the P.A. The powerful words are emphasized by his mimic and hand gestures telling his life story with drama and melancholic touches.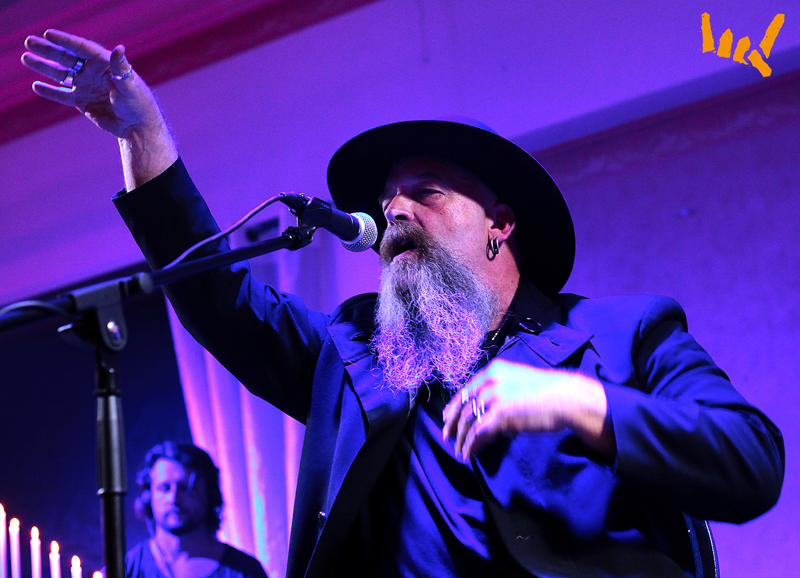 At times Clayton comes across vulnerable and frail, to delve deeper and bring out the anguish and agony with bursts of lamenting power. ,,The Space Between Us" proves its strong eluding appeal with the melody cringingly vibrant. Short one-liners and notes to address his co-composers and fellow songwriters, praise them for the input. Adam Peterson and his brother Jeff are mentioned frequently, as are his current band members of The Nine. "Where It Starts" is gripping. Piano and drums are dominating over the acoustic guitars. "Loving you completely, loving you is all I have to give…." Eric outpours with trembling yet powerful voice. He switches registers, switches in tone. Folding his hands, his (cross) ring reflecting the spotlight and reflecting his faith as his story starts unravelling. At this moment everyone is already lured into the concept of the record and the lyrics start to grip into the souls of the listeners.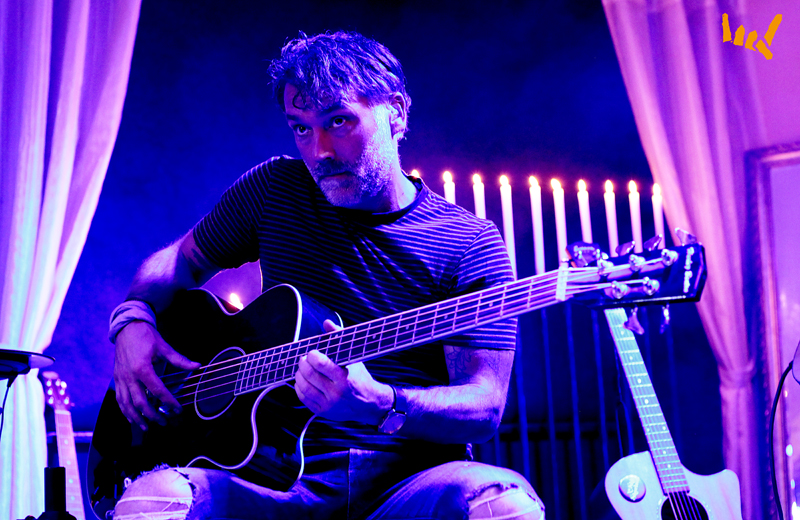 With one eye on the Internet stream and comments you cannot discard the impact of the performance. Fans tuned in share their sincerest feelings as Clayton bleeds in front of us. I'm overwhelmed. Switching to the ominous ,,In The Lines" (my personal favourite), Eric Clayton and The Nine prove to be a captivating and dominant tribe performing. The interaction is beyond excellent, the arrangements suiting acoustic performances. Keenly crafted with eye for detail. And the band seems to enjoy backing their vocalist on this journey. When needed there's a quirky remark to ensure Eric doesn't get carried into his gripping story and performance too much. It is interaction that is key. With the pain and agony welling from the lyrics we frequently see Eric affected by his own poetic words. Growling about the madness and sadness in his heart he has to touch with his deepest being. It opens to one of the highlights of the evening performing the magnificent and touching ,,A Man's Heart", the tribute to his father "who is possibly not watching now…". It is heart-warming and emotional with Eric's welling vocals in fine form. He raises and stands tall to belt out the lyrics over the vivid timid piano of Caenen. Impressive. Bakker's dynamic subtle drumming and Dokter's low-end bass add a warm undertone making the song slowly gain momentum. Weeping with heartfelt love the song nests deep. Its fine melody, the intriguing orchestration. It all adds up.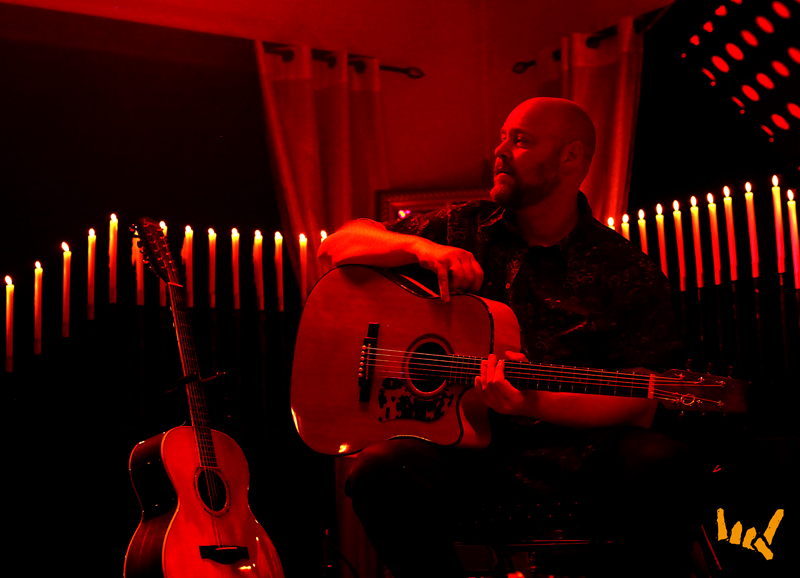 On a heavier note Eric and The Nine go "all metal" with the Clayton brothers' composition ,,The Cages", again well (re-)arranged for tonight's timid acoustic setting. Propelled by exquisite drums and solid guitar interaction the song packs tremendous power. Eric empowers his words with his typical hand gestures and more than ones gets up from his chair to add extra appeal. From the 'corners of the mind' Eric enrols the song as a passion play in a musical performance; gripping, touching and with sublime power. ,,Lacerations" is announced as another one of Pederson's tracks to originally be featured on the next Saviour Machine record, and it displays The Nine's abilities to bring the spirit of the band to the stages. Much like they did on their previous (debuting) tour however, they also manage to retain the spirit of the songs like Saviour Machine did during their acoustic gigs 8 years ago. An accomplishment underlining Clayton's choice picking The Nine to record and perform. Breath into life by piano and percussion Eric whispers the song to its peaking turmoil. Stepping back for the piano ballad ,,Chasing Monsters", the band allows Caenen and Clayton to lay down one of the most bone chilling performances I have heard in my career. Eric retaking direction on his live slowly, he displays his most vulnerable character in the song's lyrics. His voice sends shivers up and down your spine and when he proclaims his fright the hairs on my arms stand up straight. ,,Chasing Monsters" also proves the perfect interaction with Caenen as co-writer painting the perfect picture musically.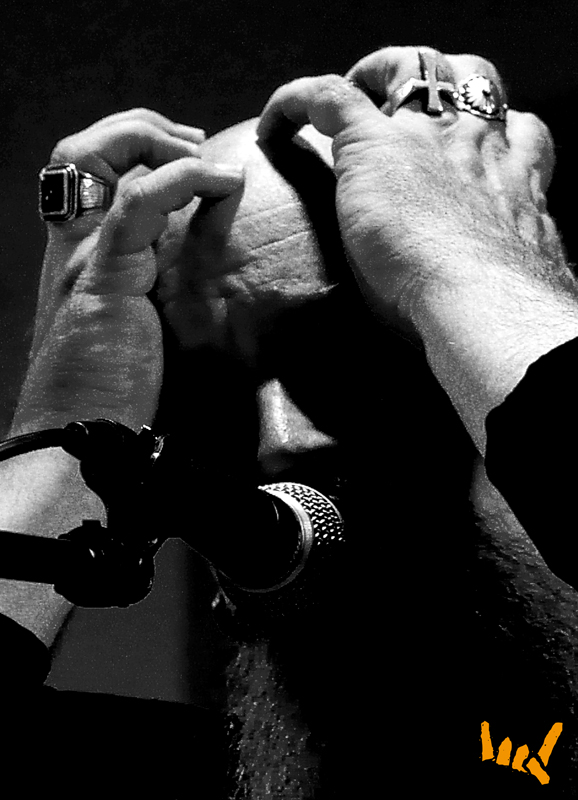 ,,American Whore" is another Jeff Clayton tune that packs the SM power of the past. Eric picks up power and agility with his voice bursting out in anger frequently addressing his addiction to medication cluttering his vision and straying from his personal being. Strayed from life, Eric drops to his knees tapping his veins over and over again while he blames those responsible. Crying out to his saviour he belts a tremendously powerful vocal performance full of agony and withheld anger; "She's got me, she's got me…. Begging for more", and more dramatic he stretches his arms to heaven "I'm displaced, it seems… I'm lost in the American Dream" as a firm statement to idiocy of pharmacists ruling his former homeland. It is the heaviest and most robust section of the night, which from that moment on will elude in the less heavy-on-the-heart and more glorious trilogy that also concludes the album.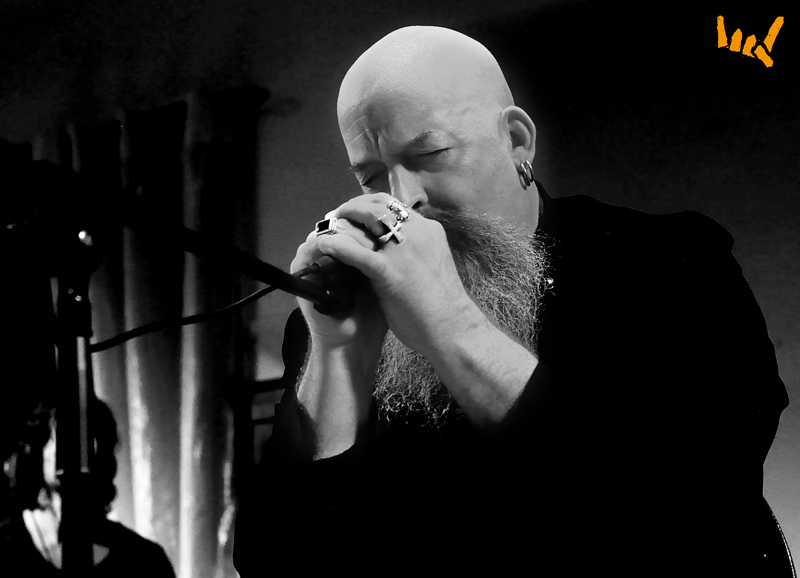 Drummer Twan Bakker composed the following ,,New Man" which was modelled to Eric's idol David Bowie's classic 70s music. ,,New Man" is the first of the trilogy towards his glorious 'resurrection'. Gripping lyrical content with slow paced percussions and piano slowly take it afloat like on the album. Frailer, subtler, more intimate. The candles flicker as if the revelation is heard. Dokter's bass picks up alongside the piano tingles and slowly the song starts to well with melody and power when Geerts and Albersen add the acoustic guitars and Ebow. Standing straight Eric blows life into the lyrics like only he can, addressing himself turning the page and leaving the darkness behind.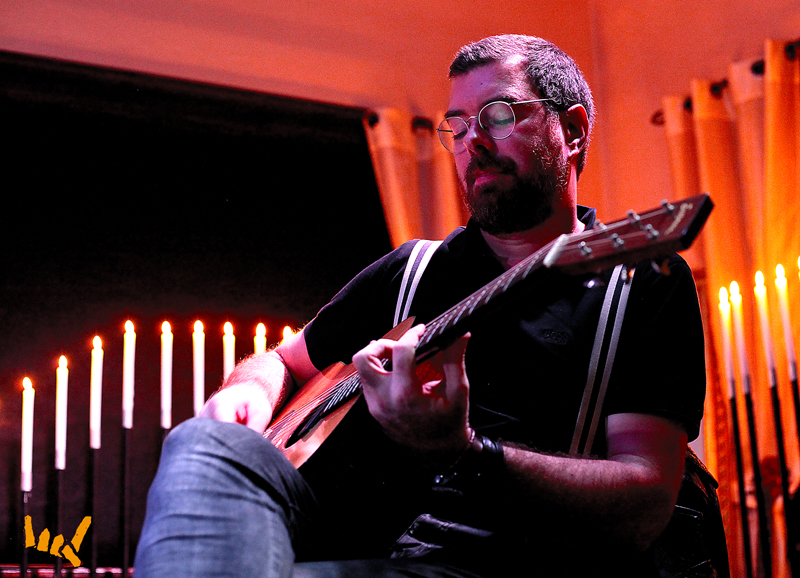 The title track opens with acoustic guitars. Subtle and sophisticated, with Eric's voice in fragile low asking repetitively the numerous questions of life, his life. Revealing himself as 'the man behind the mask' seeking redemption. It is powerful and charismatic how Clayton as a stand-alone force makes us forget the gospel choir so dominantly present on the original track. Pouring out his heart in front of us he laments his many questions. It is the repetitiveness of asking that gives the track enormous power, addressing Him and his faith foremost. The melody of ,,A Thousand Scars" is nesting and performed live it holds up as a powerful chant with glorious elements even over this stripped-down orchestration. It is the song introducing the final song ,,The Greatest Of These", thanking his audience at home as well as those present. Asking to sing along even though the words still haven't nested with most of the crowd, Eric starts to flourish.
"Love… love is a whisper… not a shout". "Hear… hear in my voice, as it rejoices in the sound".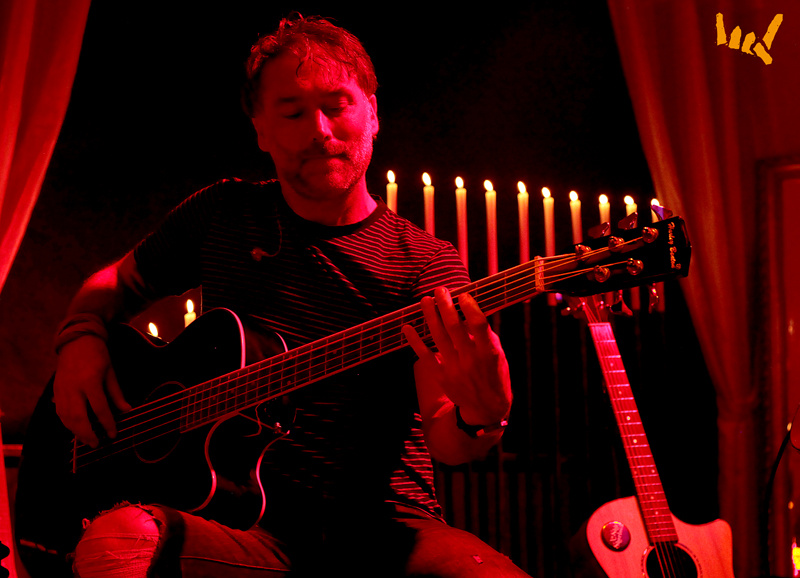 Pleasantly surprised we're sitting stage right where Eric's wife Kristin sings along in to the lyrics as second voice, empowering the glorious moment of both, music and words. Pitch perfect she adds another dimension to the performance and it boggles me why she wasn't on stage. It is sheer bliss. The interaction of Clayton with his wife.
Eric powers up during his performance and the song clearly is one of the strongest tracks performed live. A centrepiece of the coming shows, an instant classic. It just wells with emotion and instantly goes underneath one's skin, touching your heart. The perfect closer of an impressive performance…. Eric thanking his audience and devoted fans all over the world. The audience stands up applauding, knowing they witnessed a performance of enormous magnitude tonight.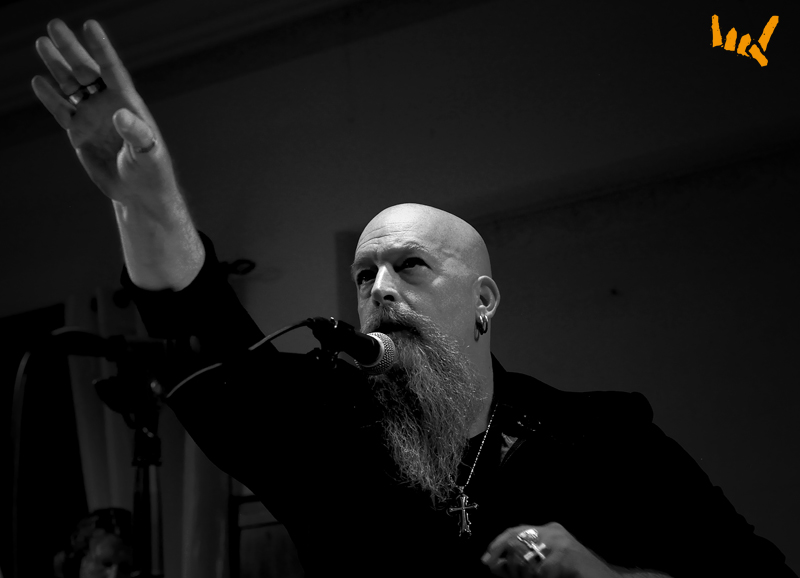 With the live stream discontinuing, it is time for Eric Clayton and the Nine to celebrate the impressive release and ditto performance. The raffle winners are put online and it is time for everyone to mingle and raise their glasses.
"Yes, it was very emotional at times…. My closest friends present. But it wasn't as hard as I expected", Eric answers asking him about how tough it was to perform this emotional rollercoaster of an album for the first time on stage. The kind gentleman has spoken, admitting he made a few mistakes with the lyrics, signing off with a load thunderous laugh.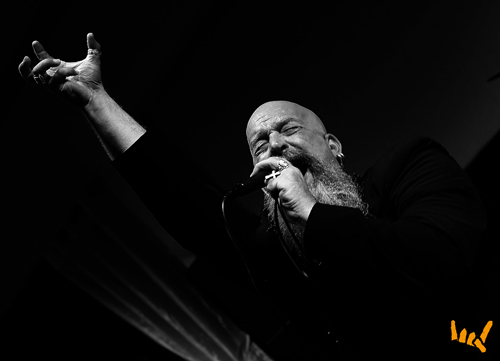 `A Thousand Scars' is an epic album telling the story of Eric's journey, a story many of us can refer to. The depths, the challenges, the agony and pain…. The path to redemption and the glorious resurrection.
And what a resurrection this was….
—
All photos by Edwin van Hoof

KEEP UPDATED:
Eric Clayton And The Nine Facebook here
Eric Clayton And The Nine Website here

HBLS review of `A Thousand Scars' here
HBLS interview with Eric Clayton here
HBLS live review ECATN here
HBLS stream announcement here


#ericclayton #thenine #livestream #scars #headbangerslifestyle #hbls #awayoflife