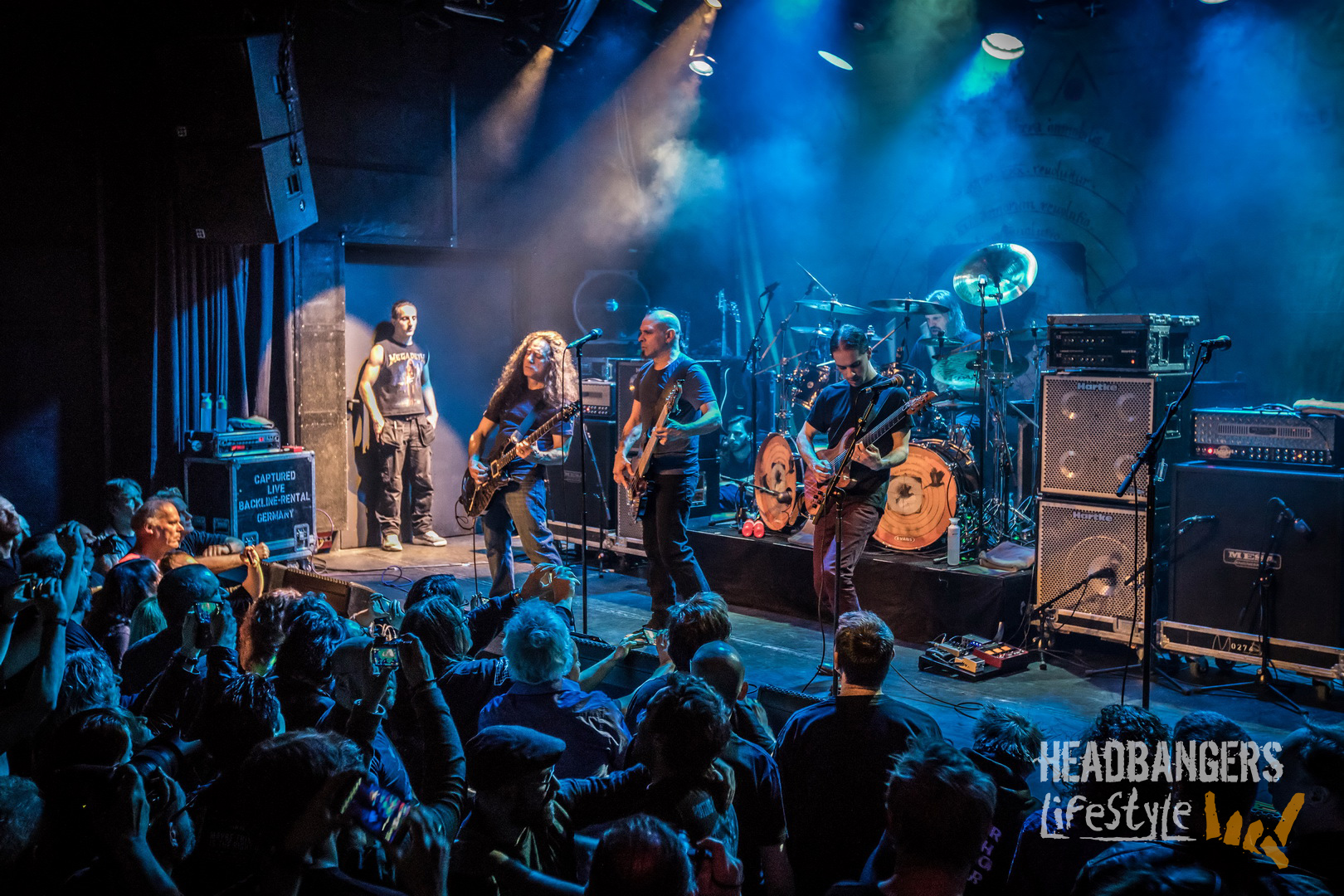 FATES WARNING & Armored Dawn & Fallen Arise
Haarlem (NL)-Patronaat-29 januari 2017
Fates Warning released with 'Theories Of Flight' one of their finest albums since 1997's `A Pleasant Shade Of Gray' and (in my humble opinion) one of the best albums that was released last year within the progressive metal scene. Enough reasons for me to be extremely excited to see Fates Warning perform in the beautiful Patronaat venue in Haarlem (NL).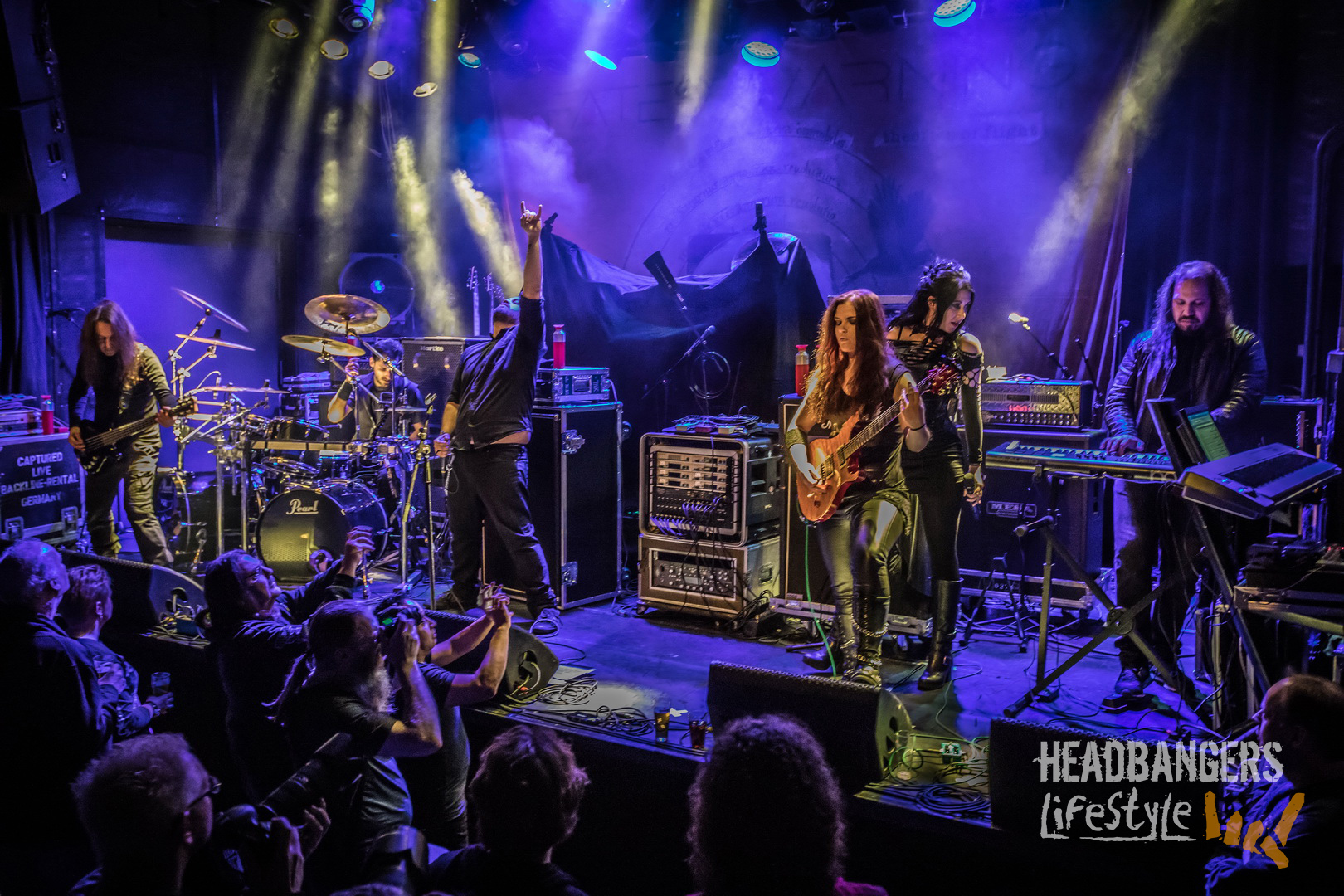 Fallen Arise

But first we had to deal with two obligatory support acts and it kind of struck me as a surprise how poor those bands were chosen for this particular leg of the tour. The relatively unknown (in this part of the world, that is) Fallen Arise and Armored Dawn had the dubious honour to show their musical craftsmanship to a somewhat unprepared audience. Fallen Arise from Greece can best be described as a 'dime a dozen' gothic band who lacks any unique identity. Vocal duties were shared between 'Vlasis Katsaounis' and the UK-based 'Fiona Creaby' and although that Fallen Arise played their collected asses off during their seven-song-set they simply failed to convince me with their song material.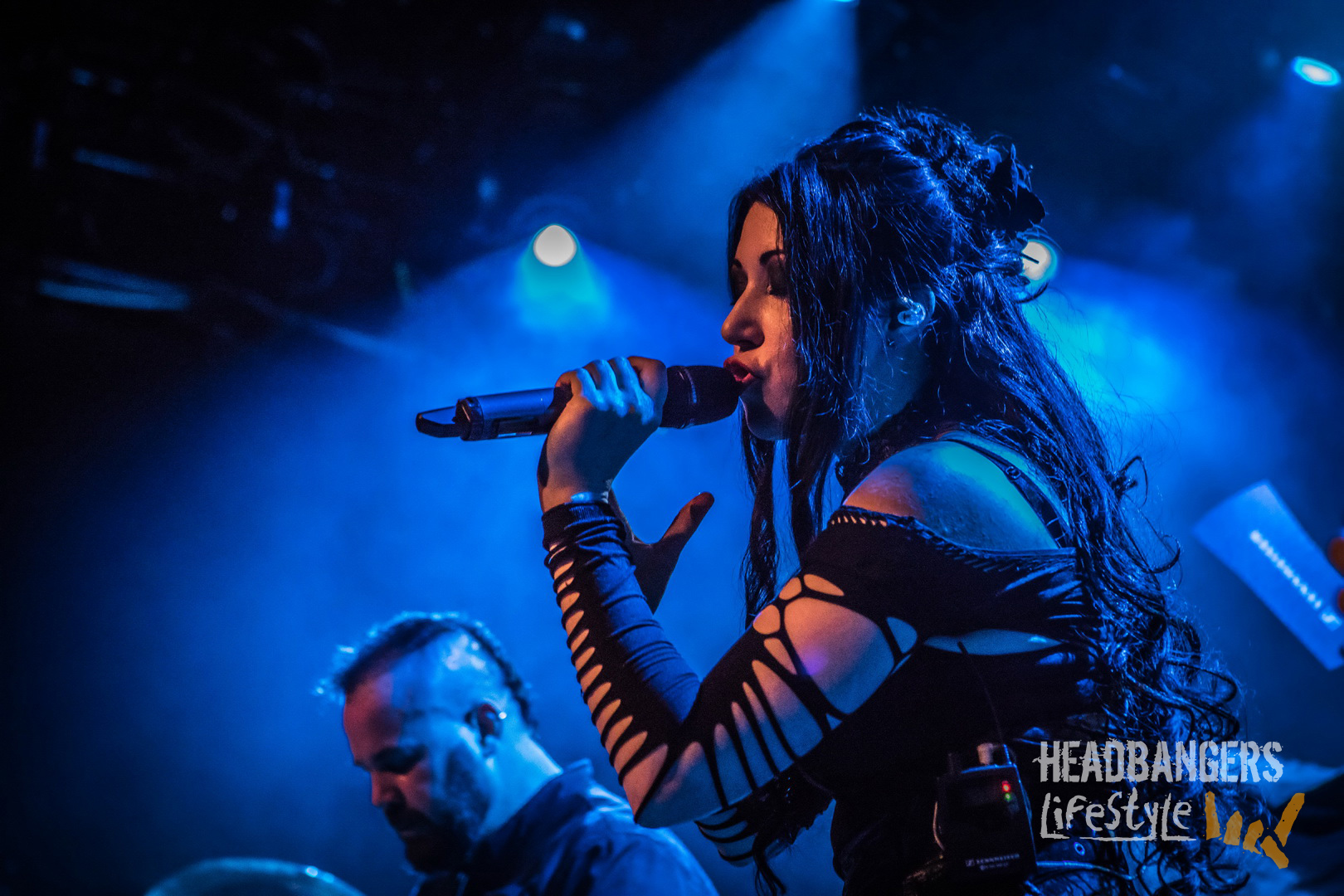 Fallen Arise

The same can be said about the Brazilian band Armored Dawn, whose musical style can be categorized under the neoclassical power metal-banner (including childish 'war paint' and obligatory 'sword and shield-attributes' to underline the stereotype clichéd image of this genre). To put it mildly, both bands certainly weren't my 'cup of tea' and it may come as no surprise that Fates Warning had nothing to fear of their predecessors.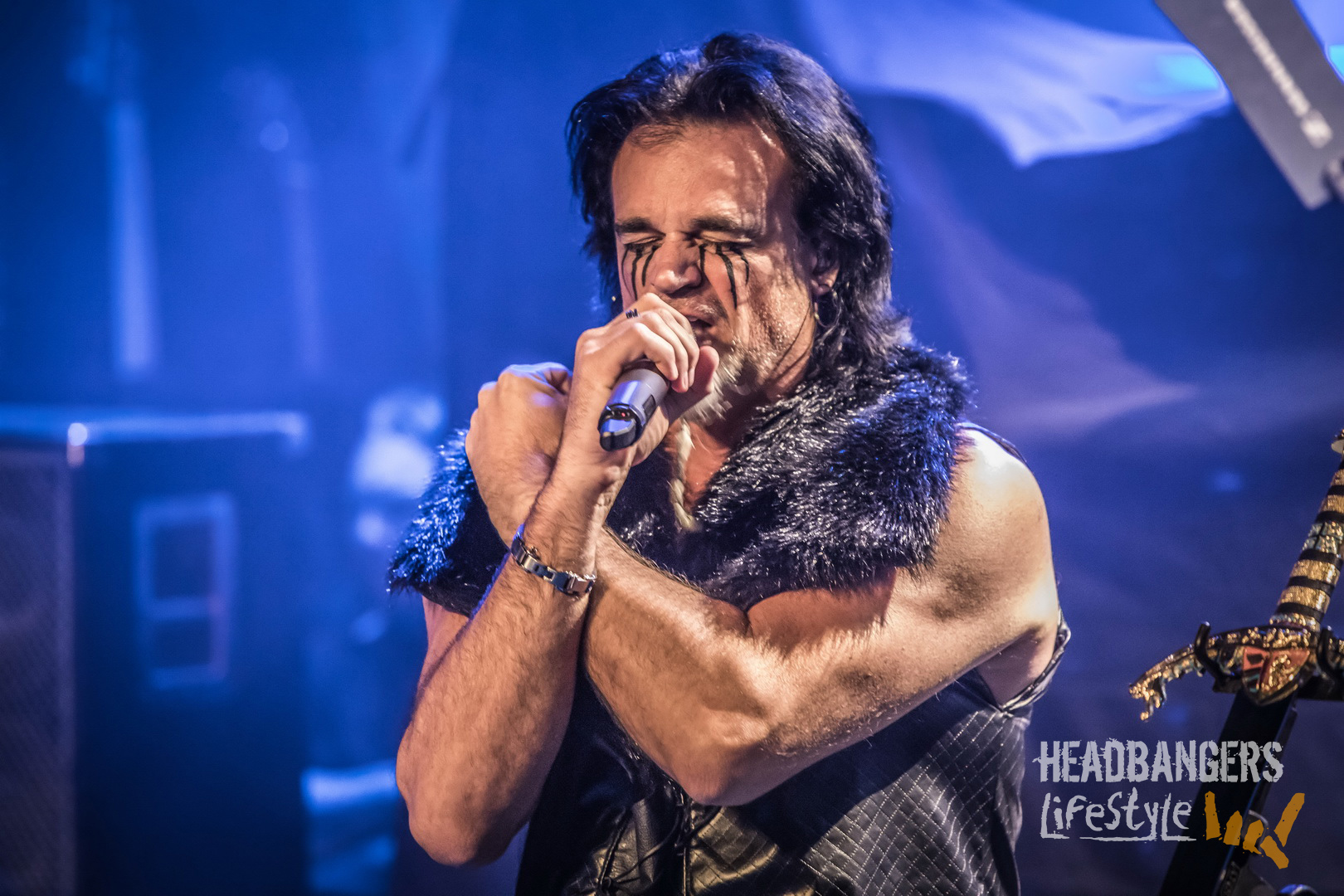 Armored Dawn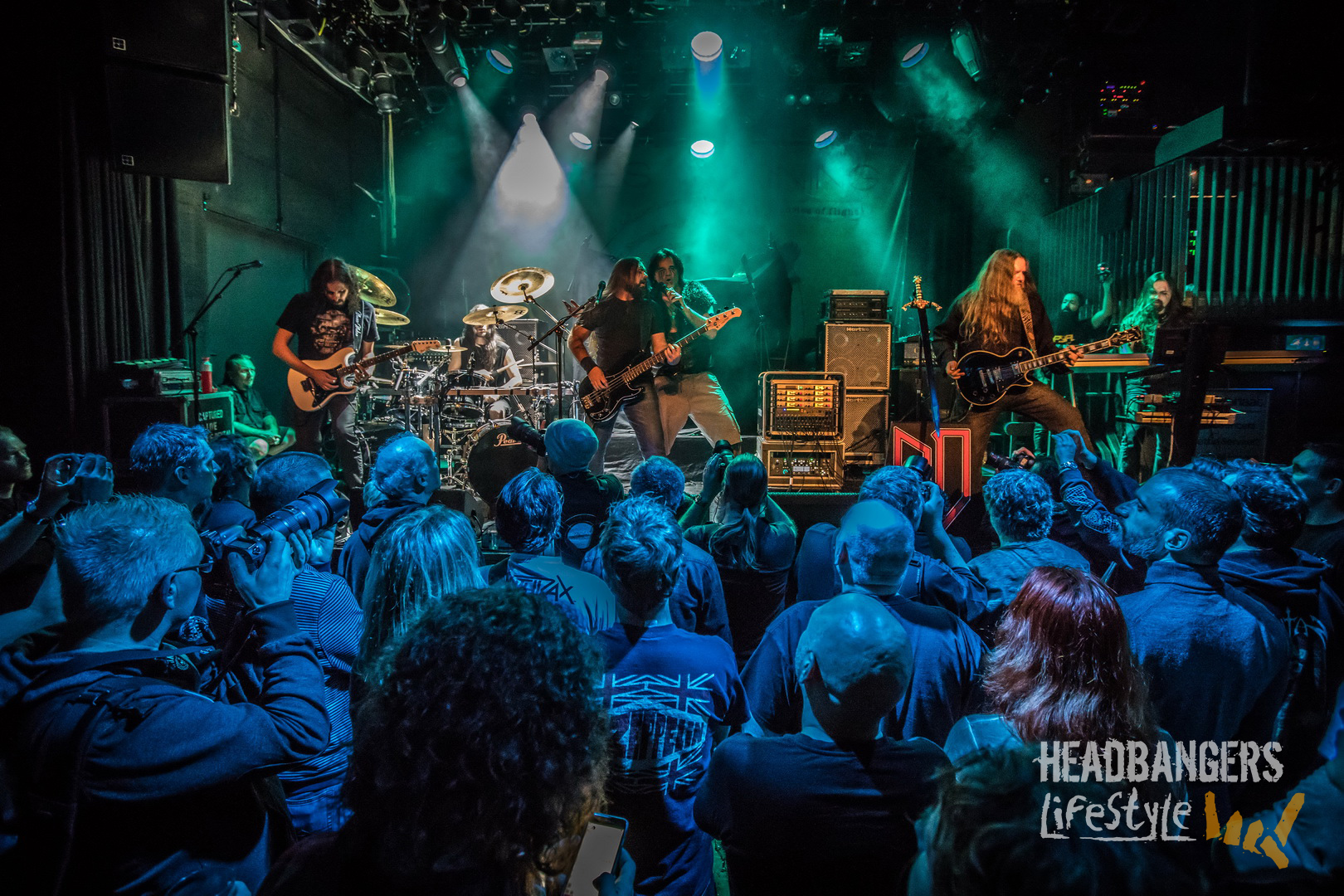 Armored Dawn

It's no easy task for a band as Fates Warning to please every single fan in their audience, especially with a back catalogue as vast and impressive as the career of them. Which songs are being sacrificed in favour of the new album and which 'golden oldies' are being revived to please the long time fans?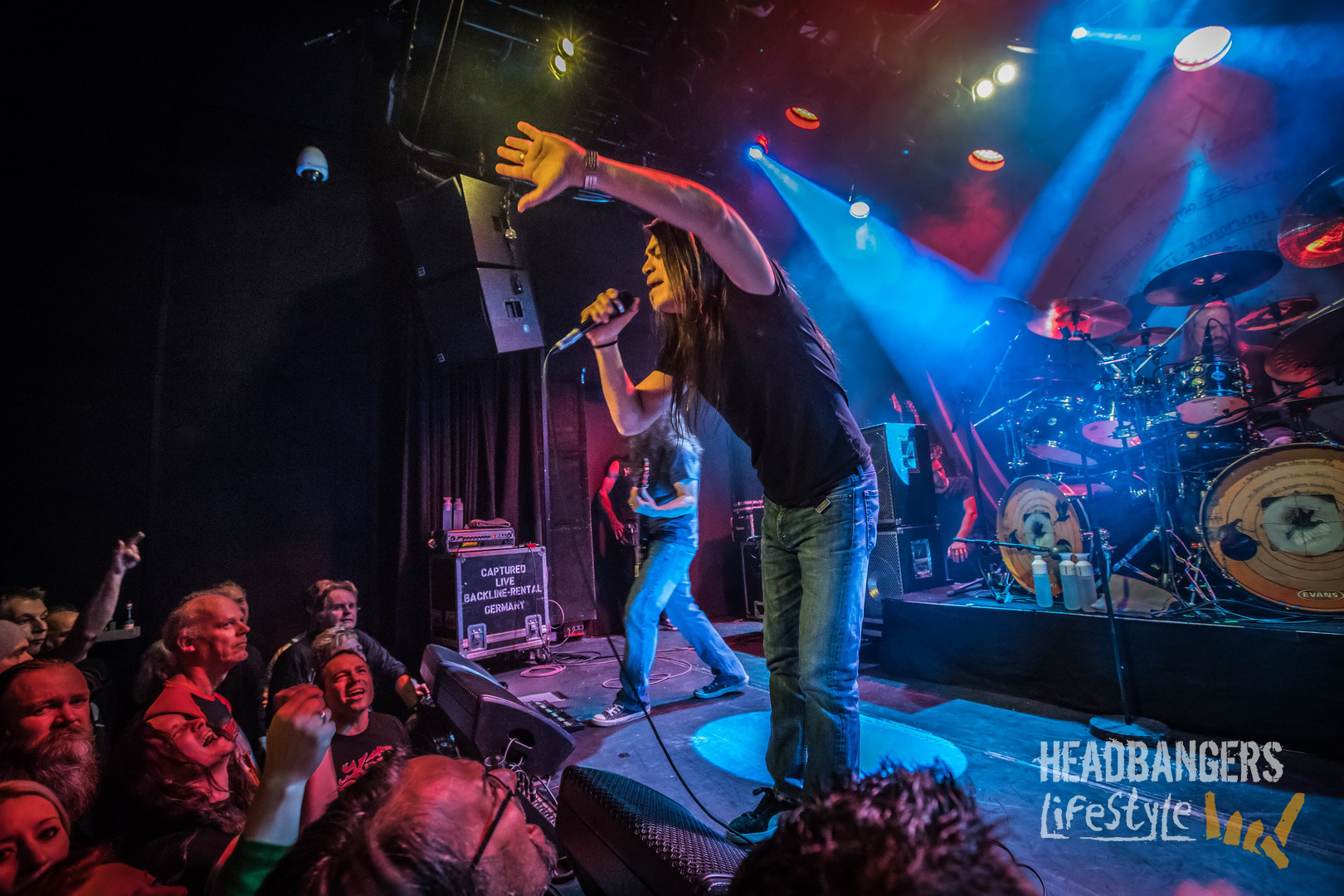 Ray Alder

Yet, as it turns out, Fates Warning managed to put together a set list that left very little to complain about. The show in Haarlem began with the stunningly executed ,,From The Rooftops'' (as expected since this song also opens their latest studio effort `Theories of Flight'). The beautiful new single ,,Seven Stars'' and the 10-minute magnum opus ,,The Light And Shade Of Things'' were also showcased during the course of the evening to promote their most recent album `Theories Of Flight'. ,,Life In Still Water'' from the `Parallels'-album followed ,,From The Rooftops'' and by then it was bluntly clear that Fates Warning were in excellent shape.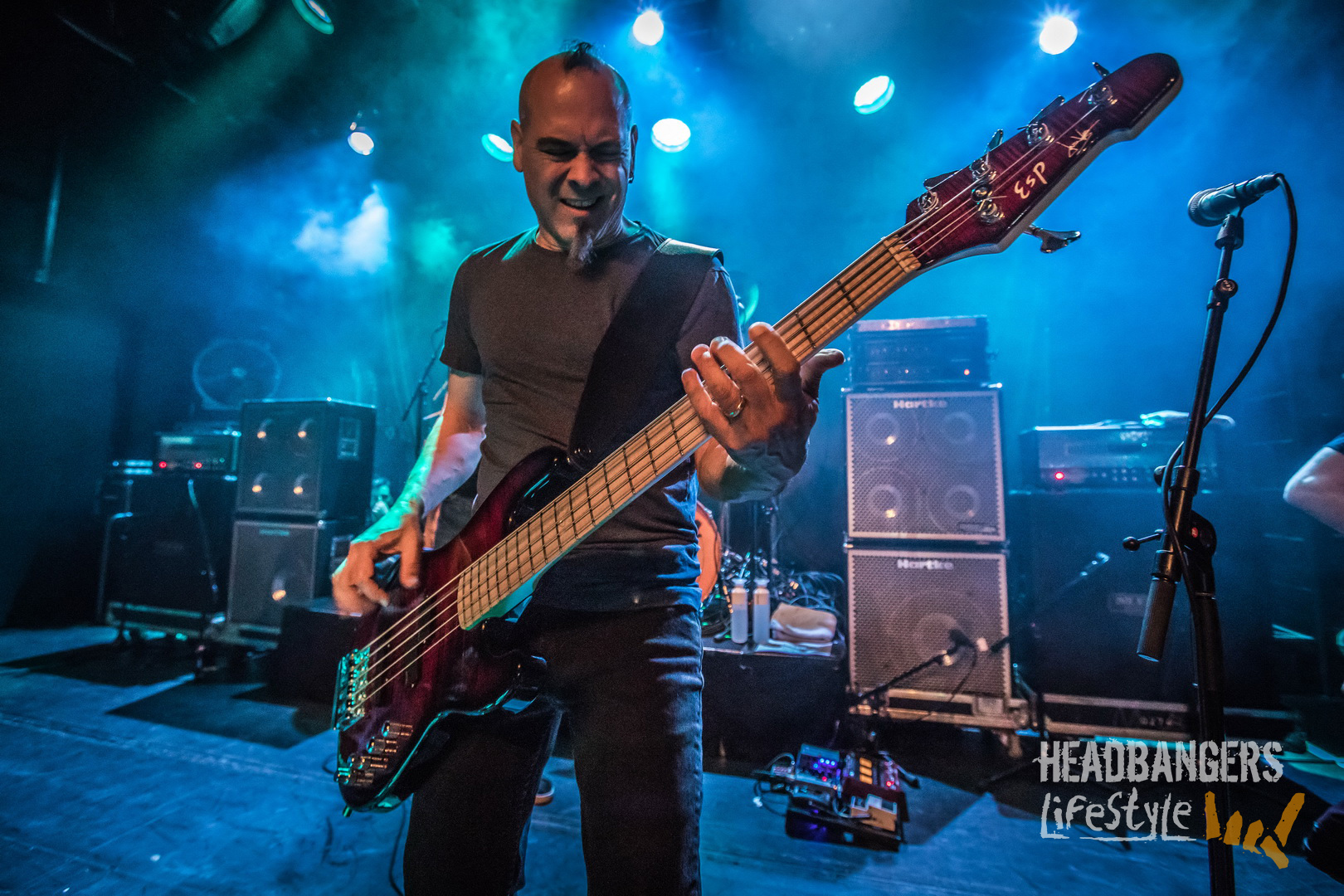 Joey Vera

Bassist Joey Vera and drummer Bobby Jarzombek both laid down a tight fit, deadly precise rhythm section on which founding member Jim Matheos and "newcomer" Michael Abdow could add their ingenious and beautifully structured guitar-riffs and solos to. Also worth mentioning was the crystal clear and superb sound during the entire show. The guy behind the mixing desk really did the delicate sound of Fates Warning justice! Hats off to him! ,,One'' from the album `Disconnected' proved that Ray Alder is still a singer to be reckoned with and as a matter of fact, I personally think that Ray Alder's voice and certainly his performance have immensely improved in recent years!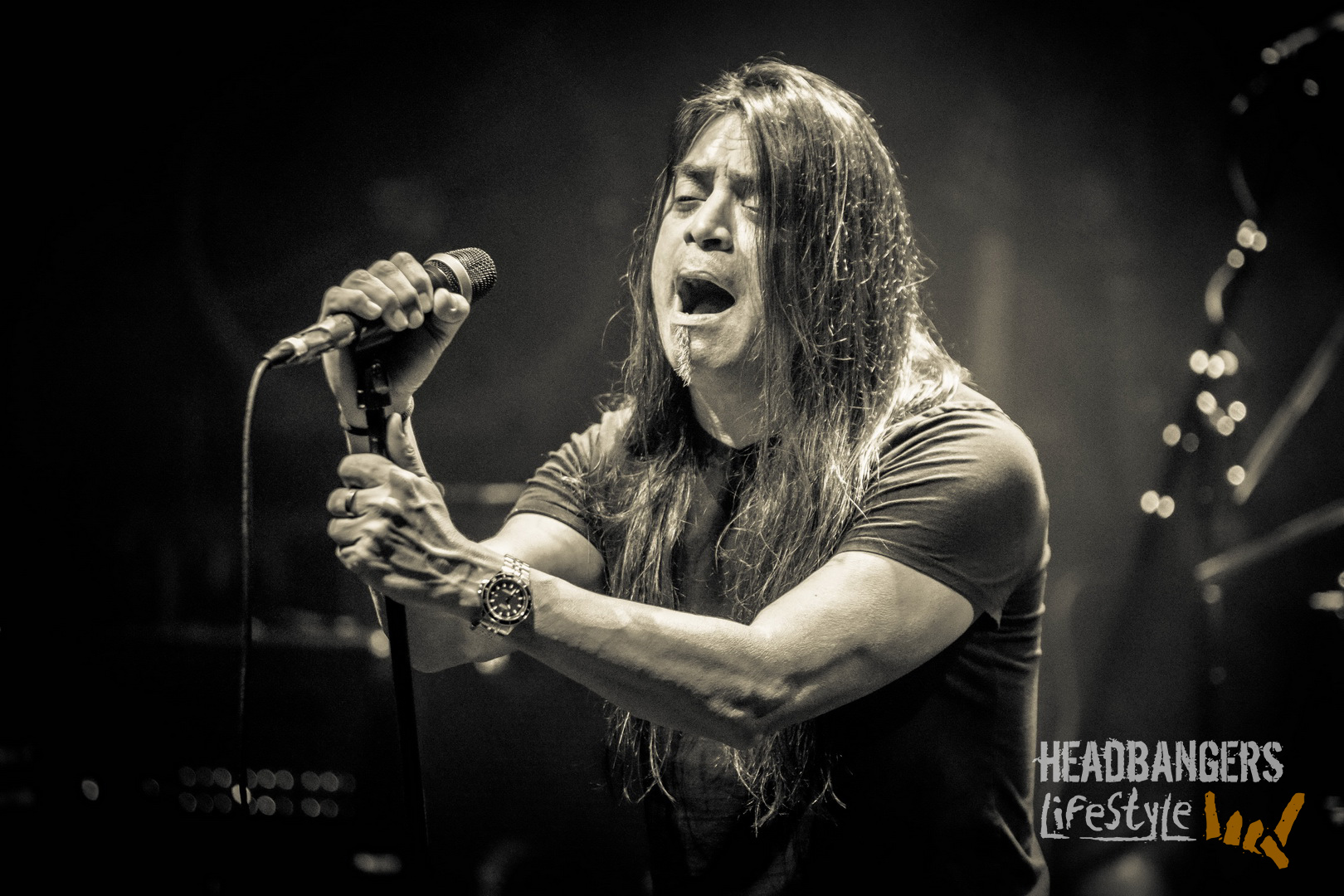 A Fates Warning show wouldn't be complete without at least 1 or 2 songs from `A Pleasant Shade Of Gray', an album that is regarded by most fans as Fates Warning's absolute pièce de résistance. So, much to everyone's delight Fates Warning dug up ,,Part III'', the beautiful ,,Part IX'' and ,,Part XI'' of 'A Pleasant Shade Of Gray' and to cater to the fans of the `No-Exit'-album, Fates Warning even tagged ,,The Ivory Gate Of Dreams'' (,,VII. Acquiescence'') at the end of ,,A Pleasant Shade Of Gray, Part XI''! Amazing to ascertain that Ray Alder is still able to hit those high notes! ,,One Thousand Fires'' and ,,Firefly'' represented Fates Warning's previous studio album `Darkness In a Different Light' and both songs have the qualities and class to become a regular staple in future set list.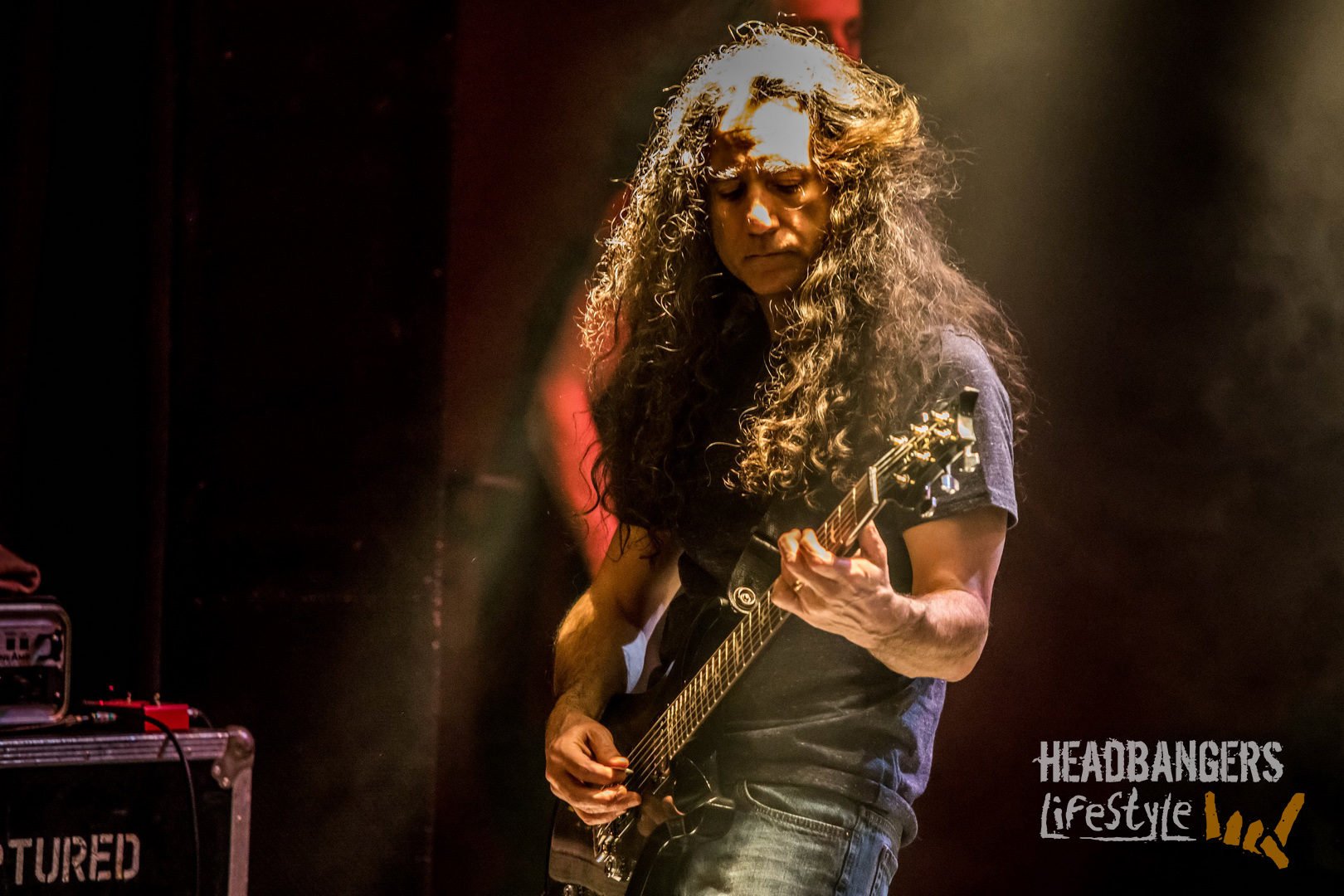 Jim Matheos

The regular set was closed with ,,The Eleventh Hour'' and ,,Point Of View'', both songs from the highly regarded album `Parallels'. Two encores (,,Through Different Eyes'' and ,,Monument'') were absolutely necessary to satisfy the audience's appetite for more Fates Warning and ended one of the best shows I've ever seen of this truly unique and phenomenal band.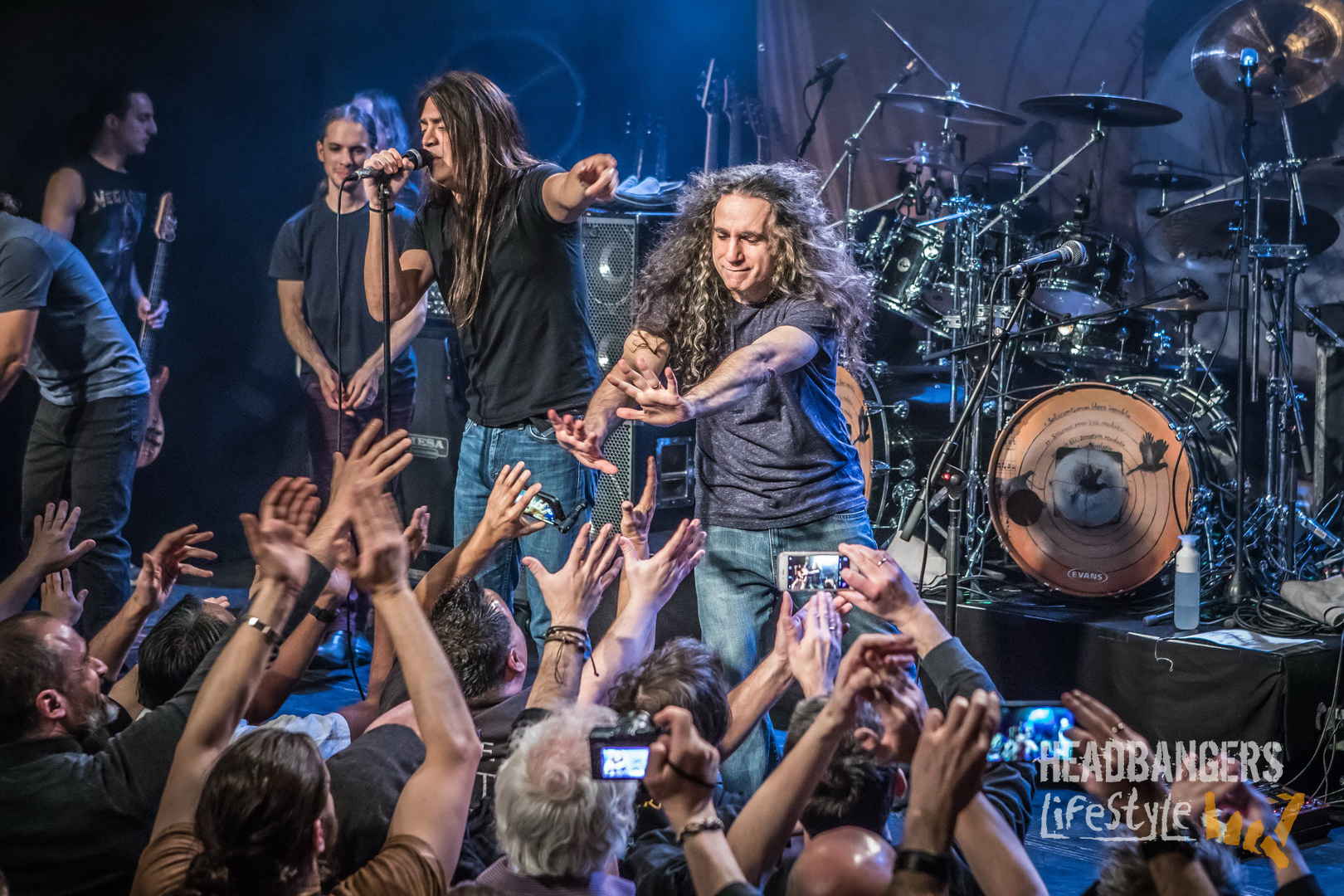 Setlist Fates Warning

1. From the Rooftops
2. Life in Still Water
3. One
4. A Pleasant Shade of Gray, Part III
5. One Thousand Fires
6. Seven Stars
7. A Handful of Doubt
8. Firefly
9. The Light and Shade of Things
10. A Pleasant Shade of Gray, Part IX
11. A Pleasant Shade of Gray, Part XI
12. The Ivory Gate of Dreams: VII. Acquiescence
13. The Eleventh Hour
14. Point of View
15. Through Different Eyes
16. Monument

All photos by Rob van Dalen.