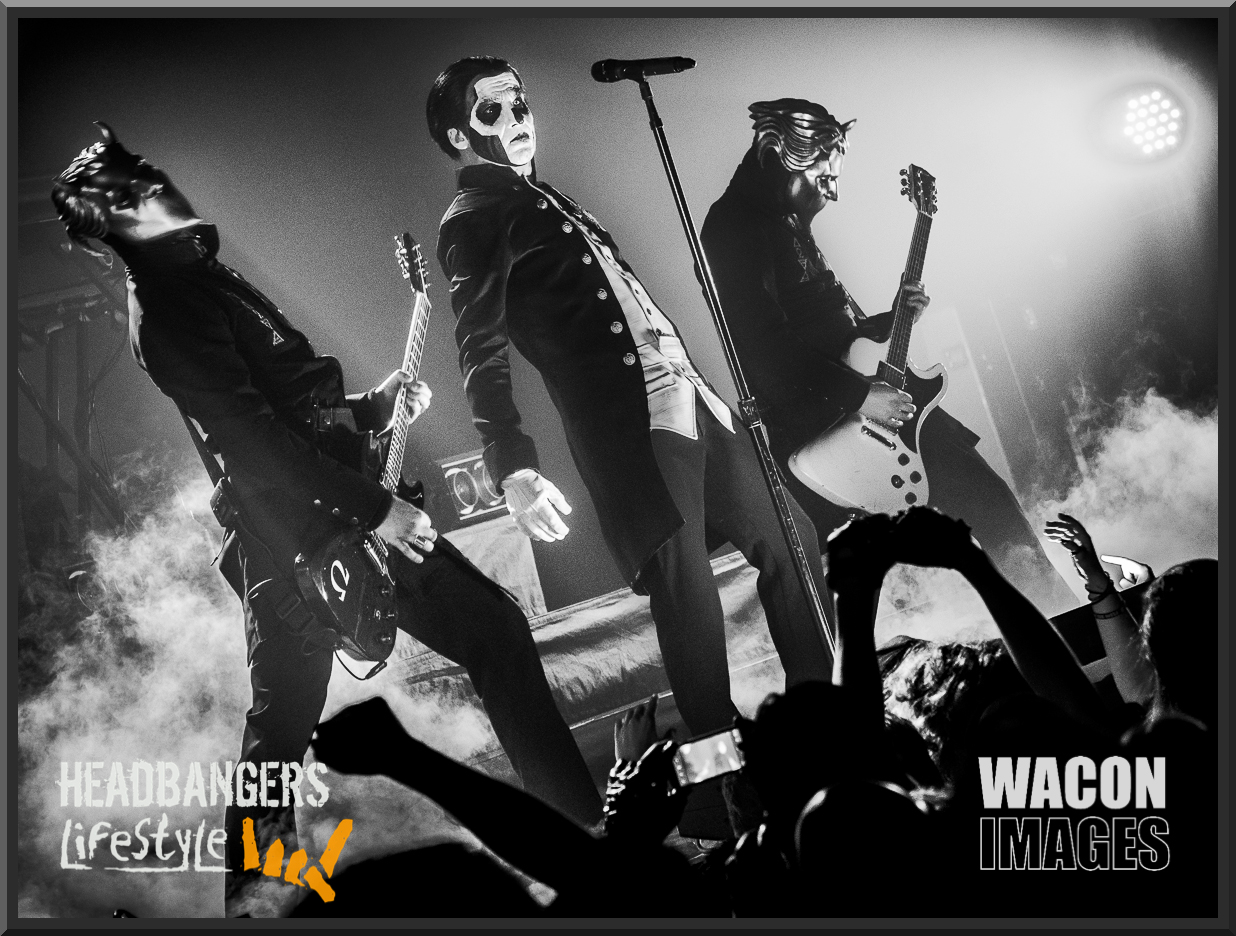 GHOST
Utrecht (NL)-TivoliVredenburg-5th December 2015
Ghost is big. The tour is doing great and a lot of shows are sold out like this one in TivoliVredenburg in Utrecht. December 5th is also the evening that `Sinterklaas' is celebrated. An old Dutch tradition especially meant for children who will get presents and candy. Coincidence or not, Sinterklaas is wearing a mitre, just like Ghost singer Papa Emeritus III. The concert announcement poster is probably only possible in The Netherlands, where people are used to sometimes confronting satirical humour. Papa Emeritus III (challenger) and Sinterklaas (champion) side-by-side on the poster as if they would fight each other in a boxing match. The poster was shared many times on social media.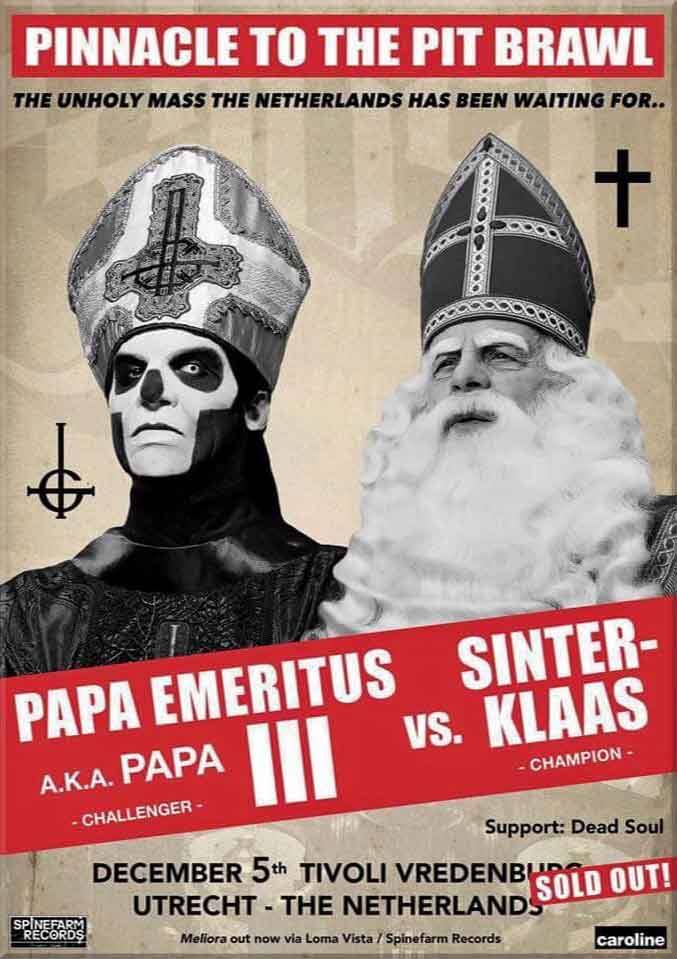 From a photographer's point of view, a band like Ghost is surely interesting because of their image and stage act. Because of the half circle shape of the venue the 2000 people have a good view on the stage wherever they are standing. My visit to this Ghost show was a last-minute decision so I didn't have a photopass or front stage access like photographers usually have. Lucky for me there was no front stage at all.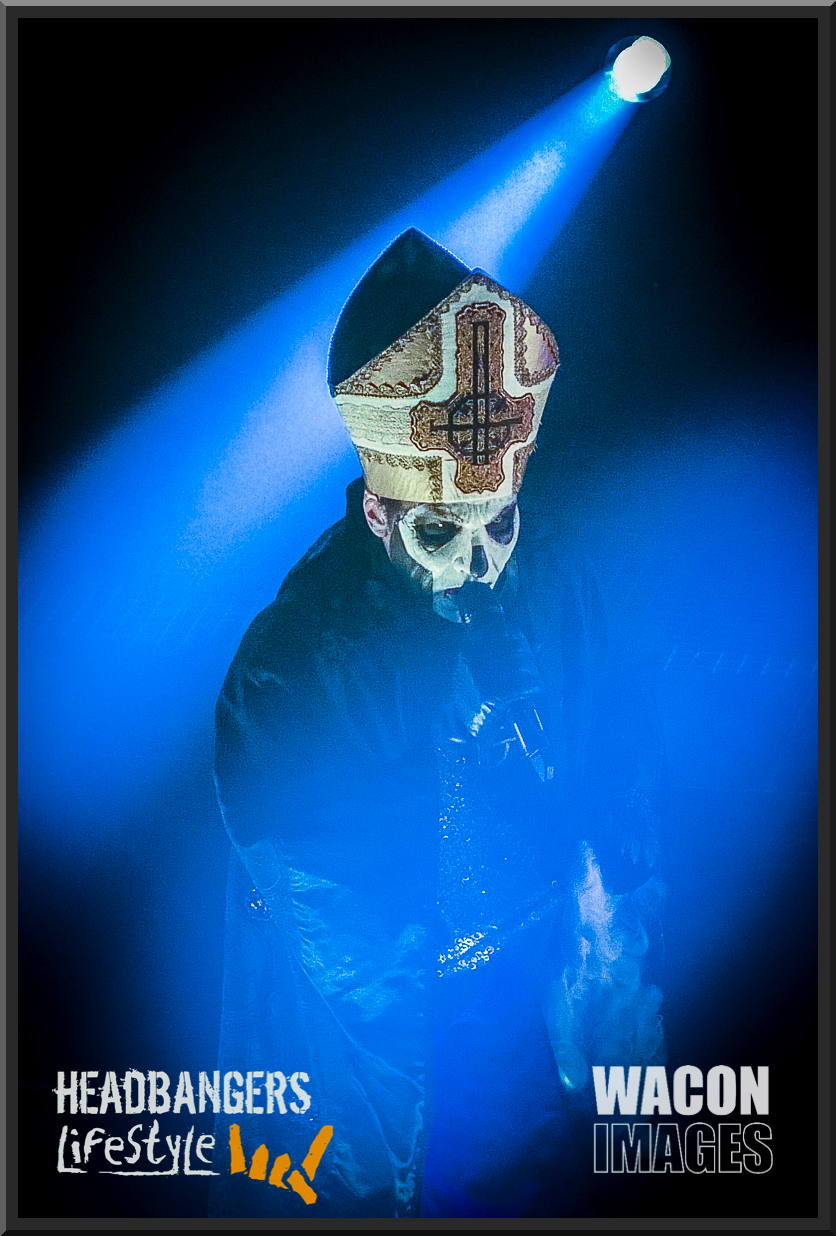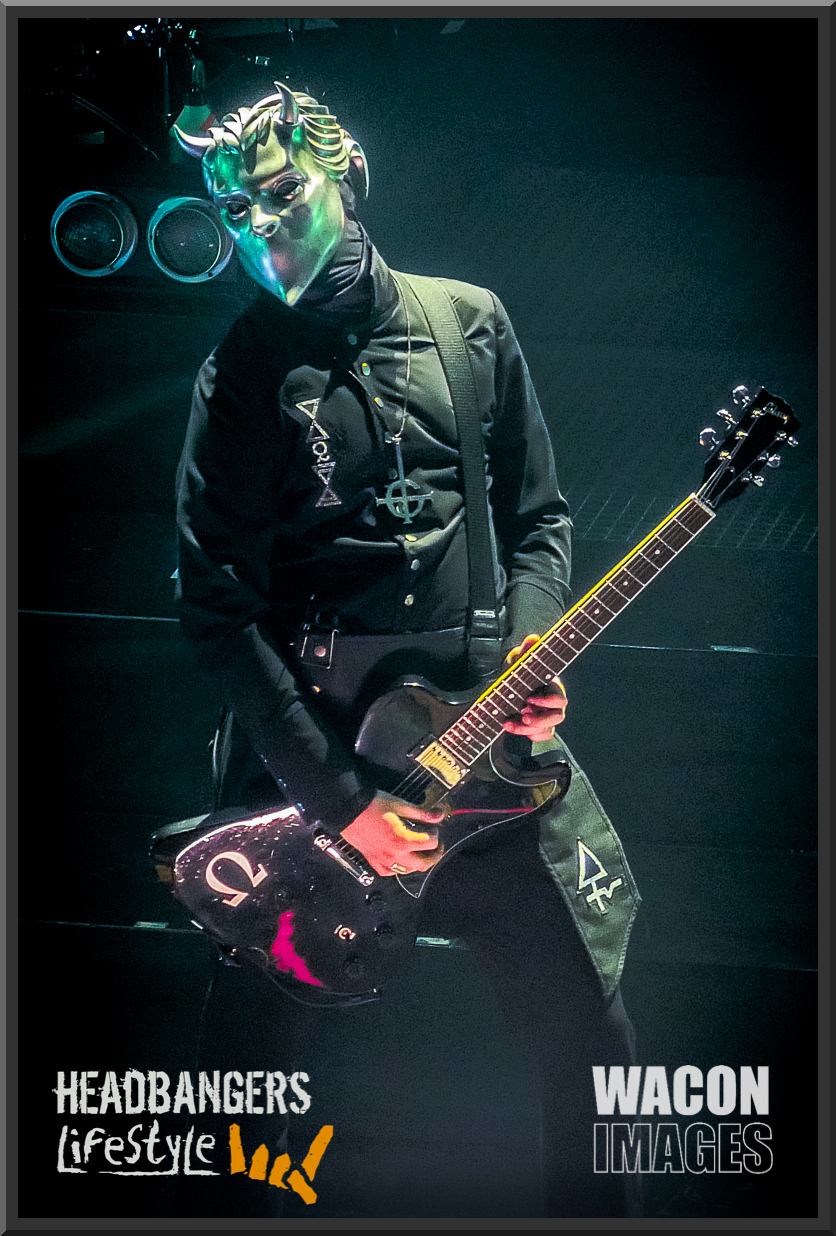 When at work you are often so busy and concentrated to do the job well within the time frame of 'allowed to take photos first 3 songs only', you forget to enjoy the show. This time, being a regular visitor, I mingled with the audience, meeting friends, having a drink, enjoying and looking at the band. With the small camera I had with me I was still able to catch some nice moments anyway. You miss moments because you cannot move around front stage, but on the other hand, you get pictures from a different angle which are also interesting. I kind of had forgotten how nice it is to be able to enjoy a whole show.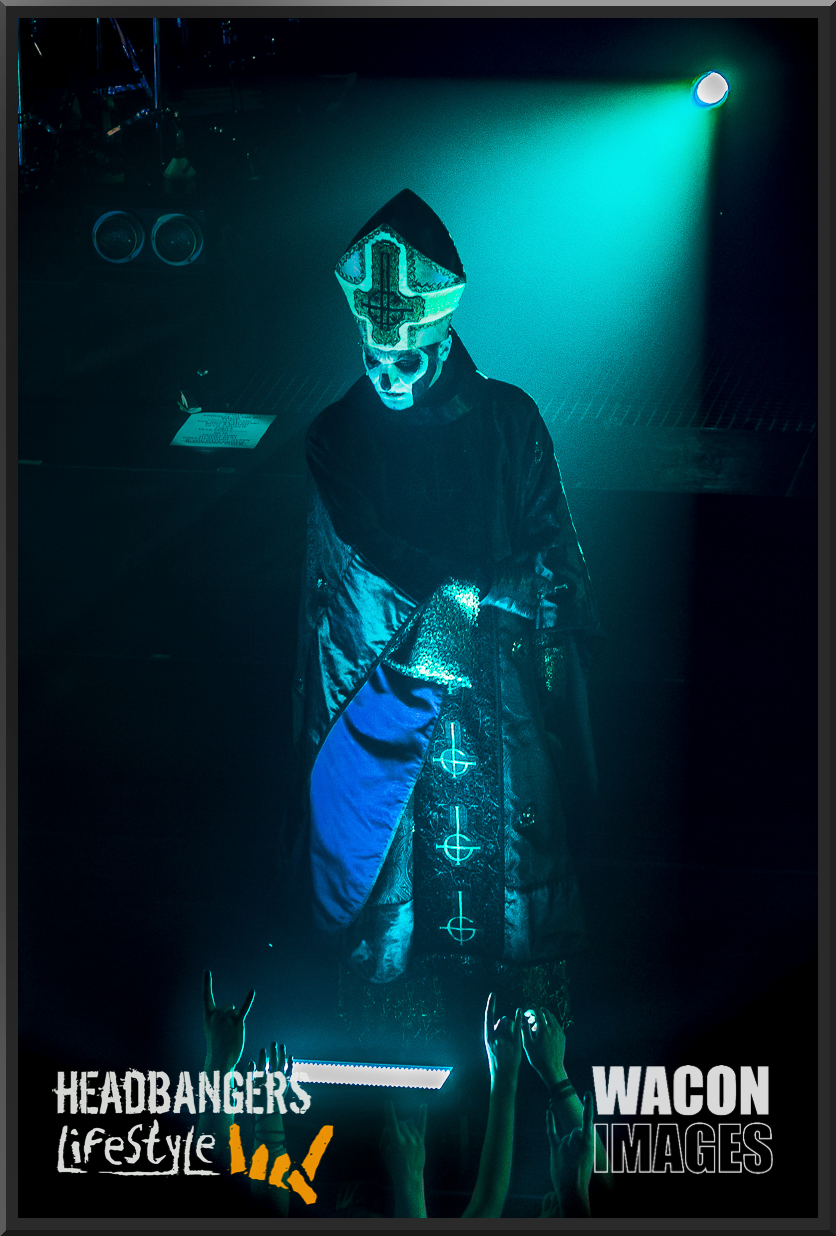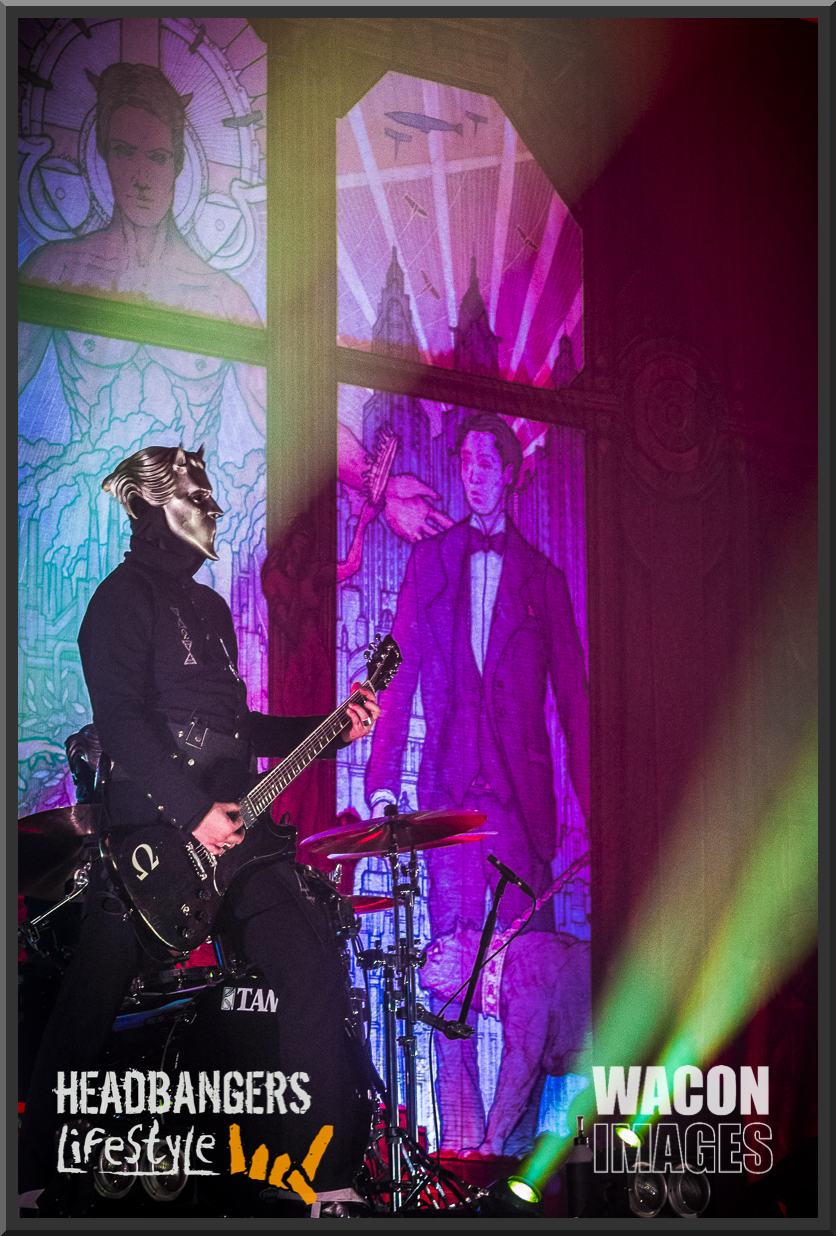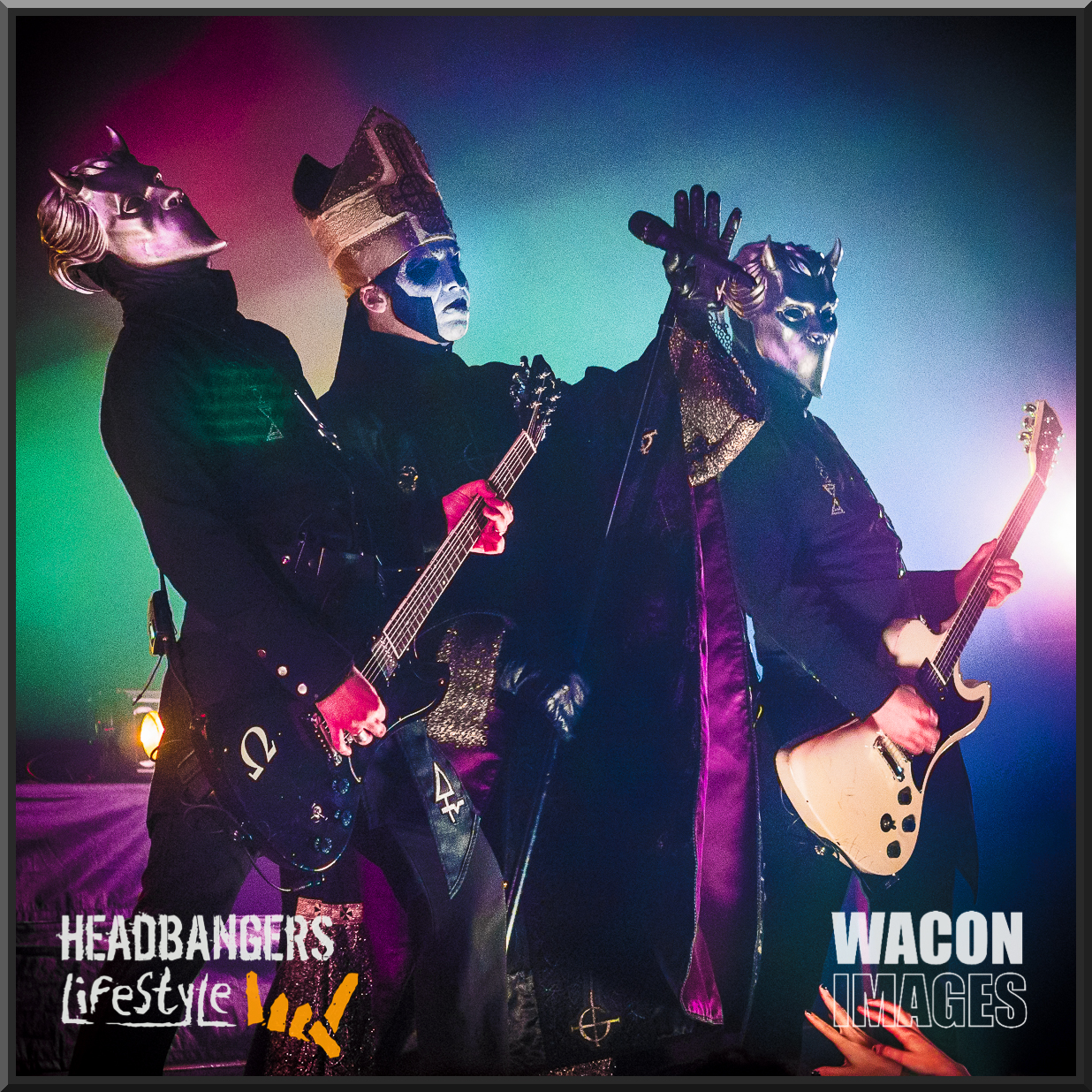 All of a sudden Papa was onstage, like a real ghost, coming out of nowhere starting with ,,Spirit'' followed by ,,Pinnacle To The Pit''. The song that introduced most people to Ghost is ,,Ritual'' and instead of saving that for the encore it was played at the beginning of the set. An added show element were two nuns who came on stage during ,,Body & Blood''. There was a lot of interaction between Papa Emiritus and the audience. New this tour is that Papa half way the show takes off his mitre and cape. A new direction the band seems to take. The Nameless Ghouls outfits were very stylish. A mixture of different styles, a military look but also something that could come from a future Science Fiction movie. Papa was wearing an outfit in which he looked a bit like a conductor of an orchestra from the past, but also as the officer of his own SciFi army. The highlight of the show was ,,He Is'', which is dedicated to Selim Lemouchi from Dutch occult rockband The Devil's Blood, who passed away last year. The band was focused and the audience sang along. What a great moment! We were also treated on a powerful version of ,,Ghuleh/Zombie Queen'' and at the end of the regular set, ,,If You Have Ghosts'', a cover song originally by psychedelic rock pioneer Roky Erickson that Ghost made their own. With a song about the female orgasm (,,Monstrance Clock'') the service came to an end, leaving the challenge between Papa Emiritus III and Sinterklaas undecided.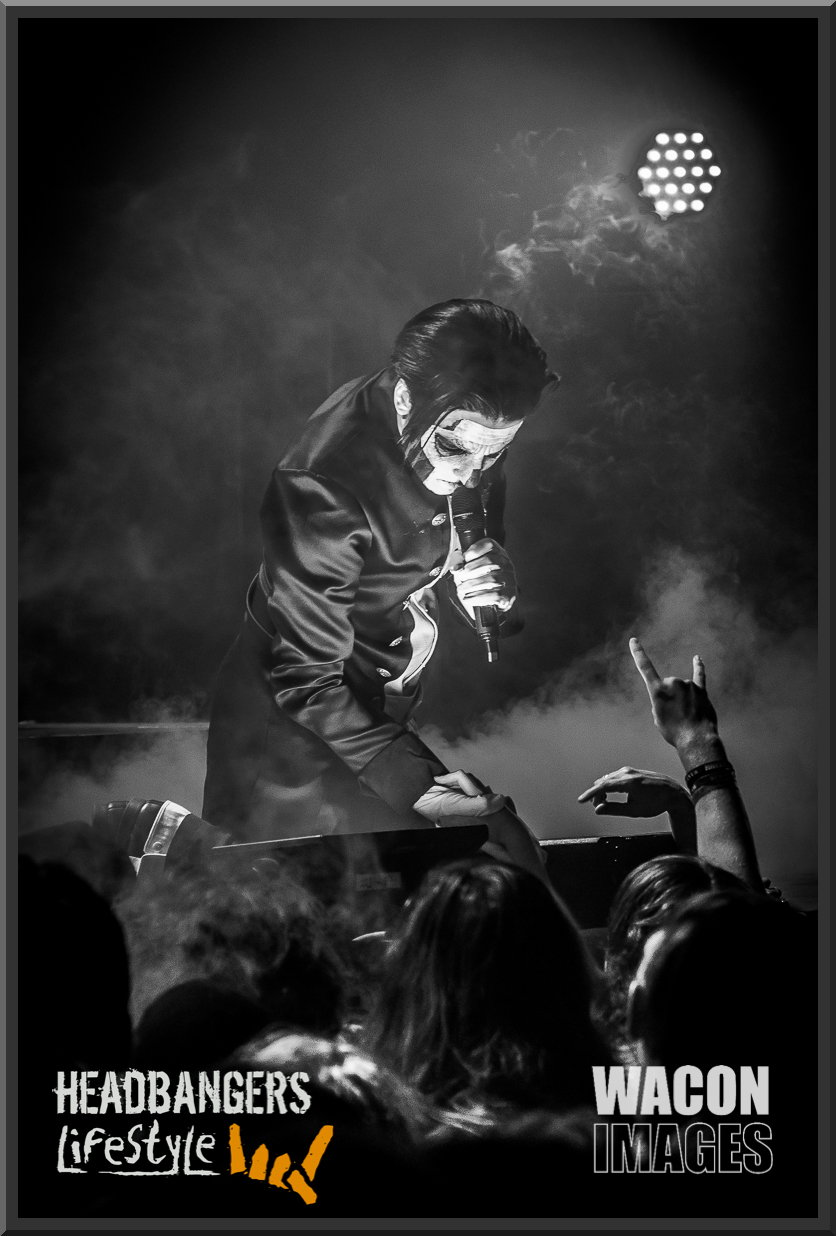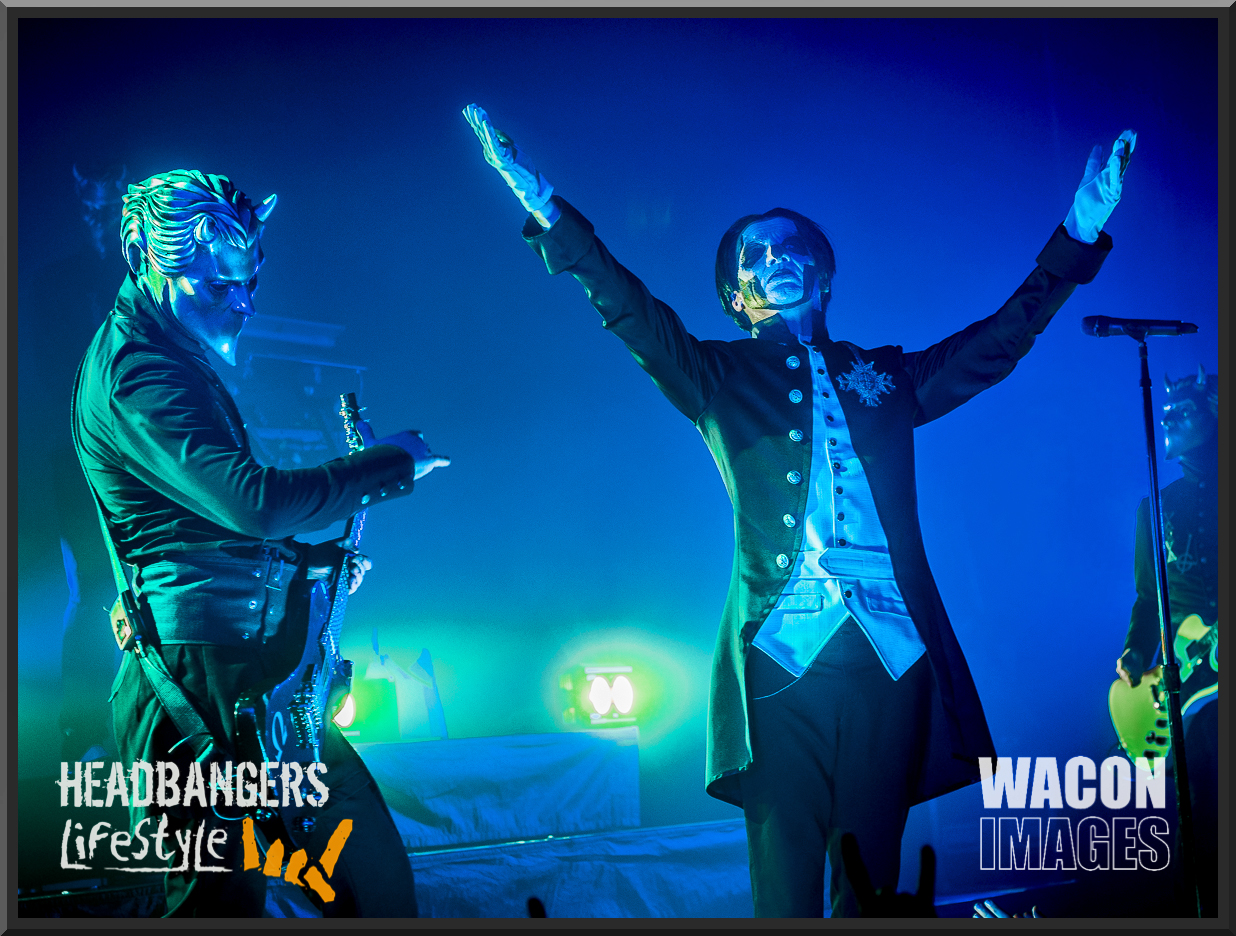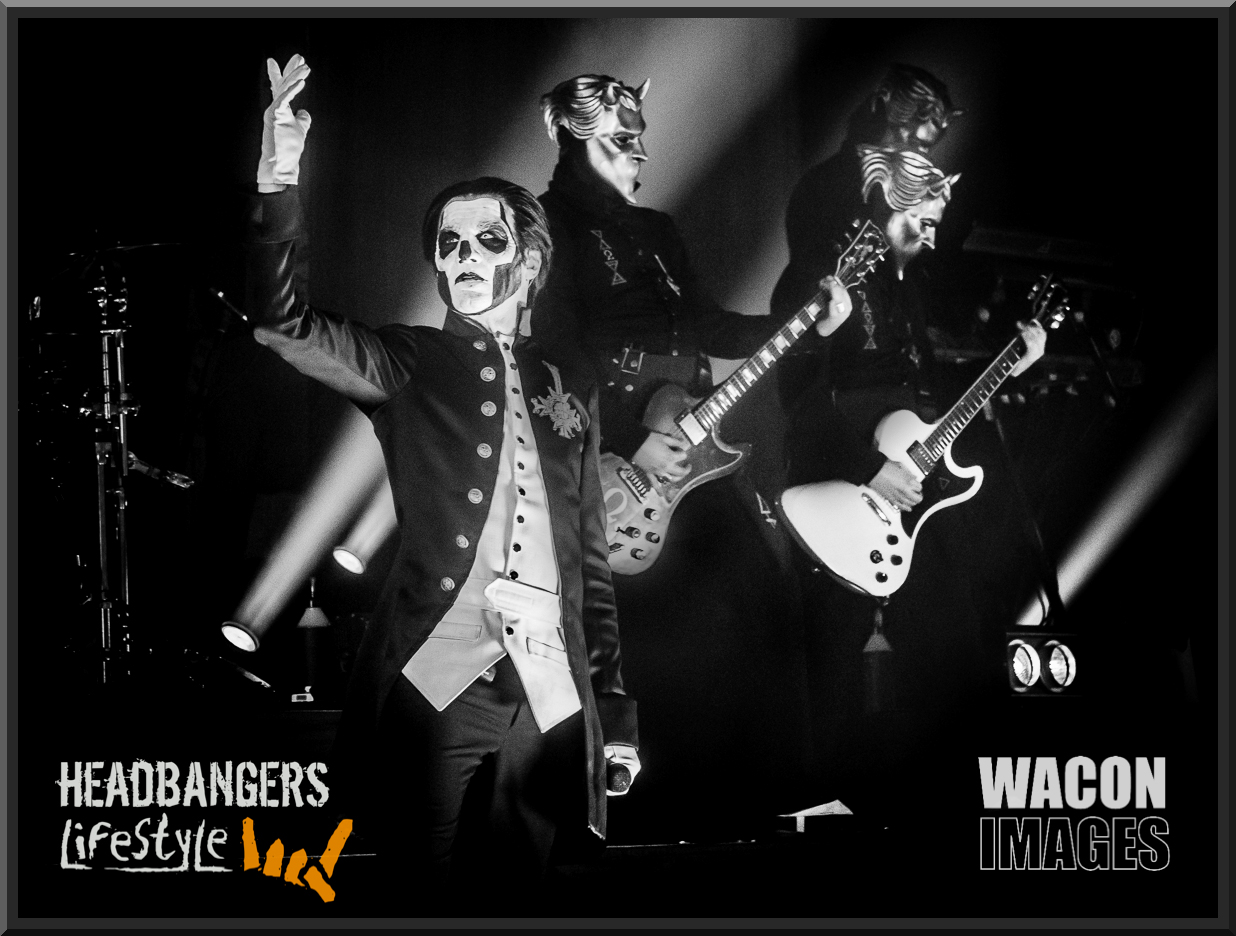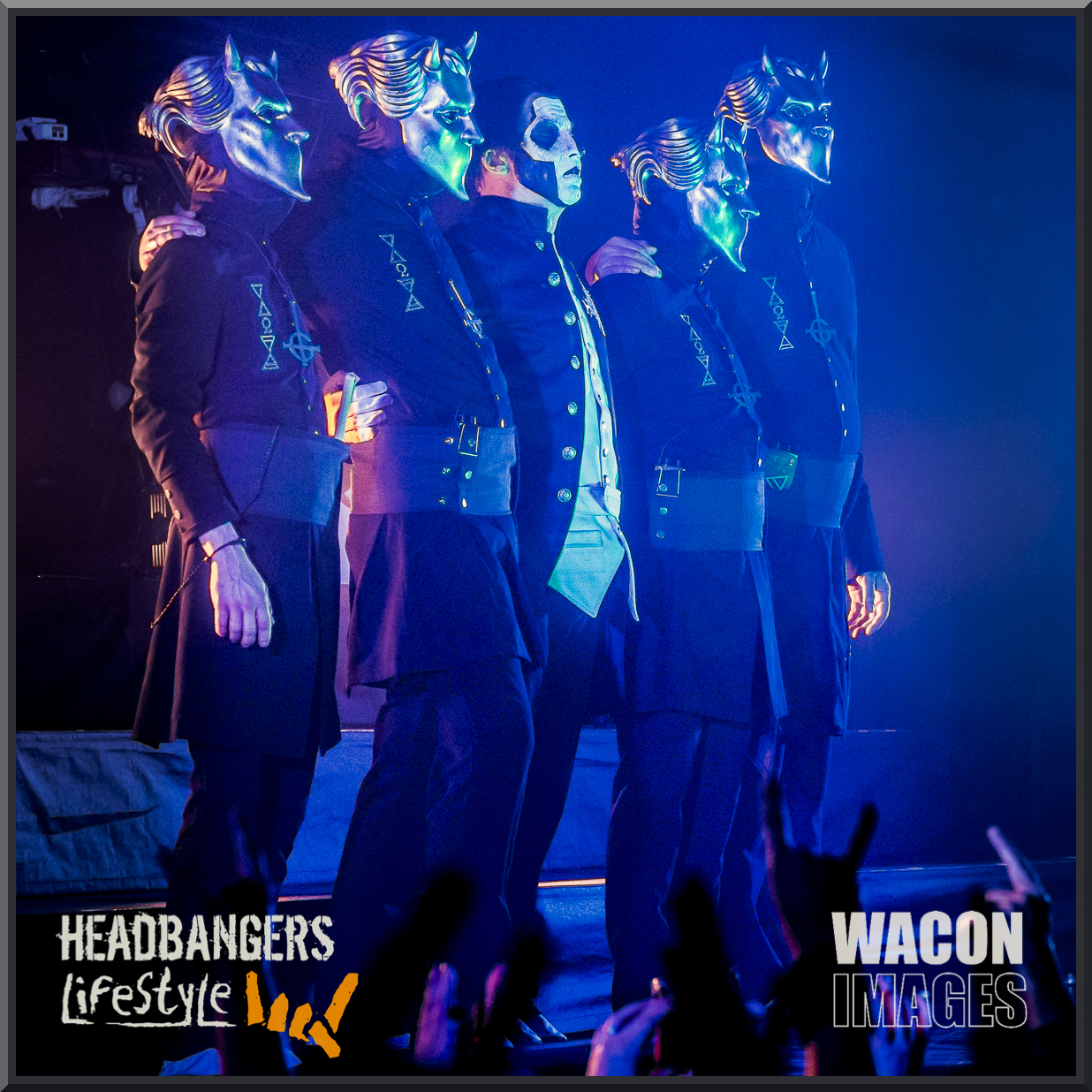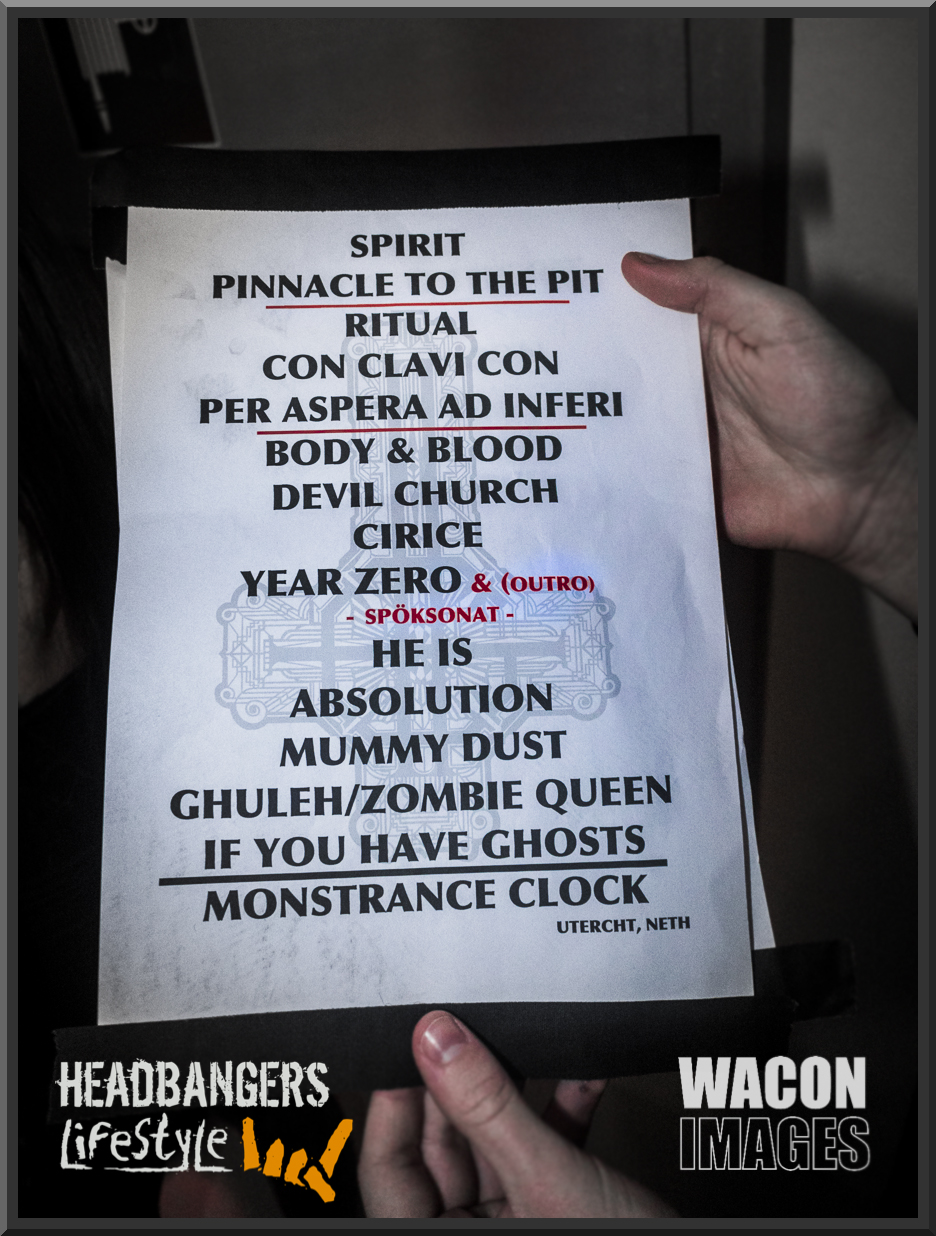 GHOST fans dressed for the occasion