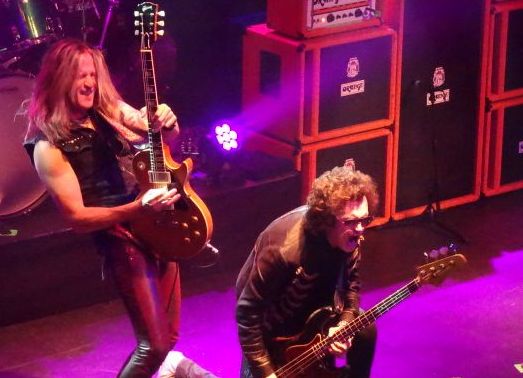 GLENN HUGHES ft DOUG ALDRICH (& supportact Jared James Nichols)
Zoetermeer (NL)-Boerderij-25 September 2015
Hailing from Wisconsin blues isn't the first musical style that comes to mind when you hear the name Jared James Nichols. However the man released an album earlier this year 'Old Glory And The Wild Revival'that sounds as if the guy was born and raised in the Mississippi Delta. Powerful blues, catchy tunes that really comes to live thanks to Nichols raw vocals. Tonight he and his Swedish born bandmates (Eriik Sandin on bass and Dennis Holm on drums) play like there's no tomorrow and the mixture of own material (,,Blackfoot'', ,,Haywire'', ,,Playing For Keeps'') and coversongs (Rick Derringer's ,,Rock & Roll Hoochie Koo'', Robert Johnson's ,,Come On In My Kitchen'') can count on approval of the audience. Right after he finished his set with the Mountain song ,,Mississippi Queen'' he jumps off the stage, walks through the audience directly towards the merch stand where he can be found the rest of the evening.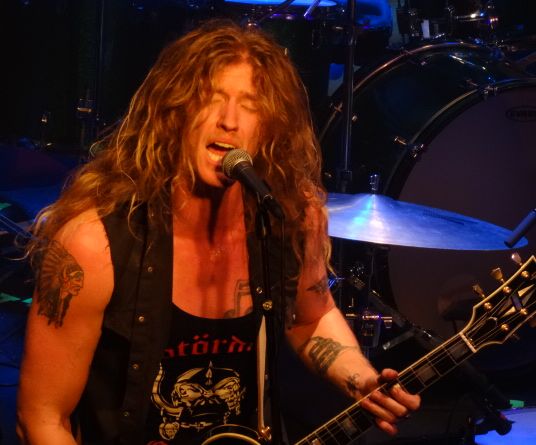 Jared James Nichols (Photo by Jasja den Heijer)

After a short break it's Glenn Hughes time in the sold out Boerderij and going through the backcatalogue you realize how impressive his career is. The powertrio, completed by Pontus Engborg, his drummer for eight years and new bandmate Doug Aldrich, which he took away from Whitesnake with Coverdale's blessing as he modestly tells the audience, starts the two hour set with Deep Purple's ,,Stormbringer'' , followed by ,,Orion'' from his solo cd 'Soul Mover'. He remembers and honours the late Mel Galley with two Trapeze songs (,,Way Back To The Bone'' and ,,Touch My Life'' and in between there's room for Hughes/Thrall's ,,First Step Of Love''. After Whitesnake's ,,Sail Away'' Doug Aldrich gets his big introduction. First there's ,,Good To Be Bad'' followed by a guitarsolo I could have done without and the fantastic, although, because of his screams, a bit over the top rendition of Deep Purple's ,,Mistreated''. His solowork is limited to a minimum with ,,Can't Stop The Flood'' and the regular set closer ,,Soul Mover'' after Engborg's drumsolo and Black Country Communion's ,,One Last Soul''.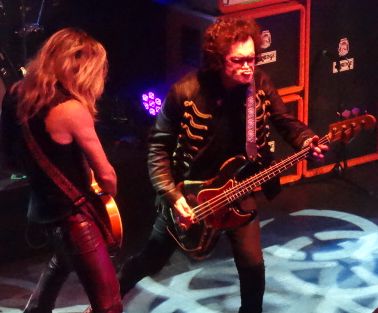 Doug Aldrich & Glenn Hughes (Photo by Jasja den Heijer)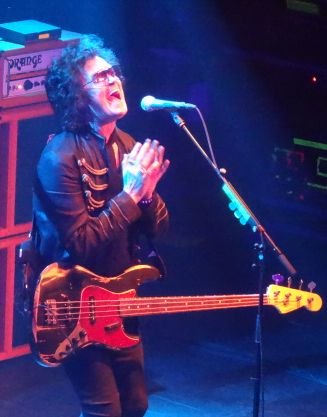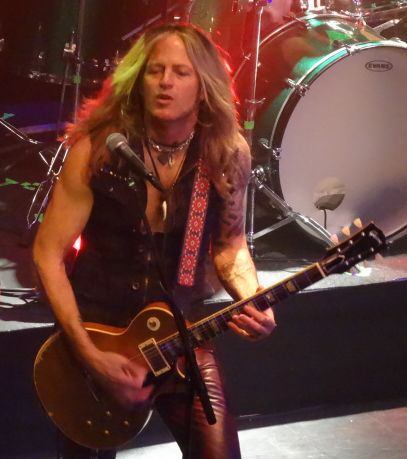 Glenn Hughes & Doug Aldrich (Photos by Jasja den Heijer)
Of course this isn't the end of the show so he returns for great versions of ,,Black Country'' and Deep Purple's ,,Burn'' in which Aldrich guitar sounds like a hammond organ and in which Hughes shows he still sounds as good as two hours earlier.
The man screams, shouts but also sounds very introvert when needed. His gestures, like his playing, are expressive and again he proves that besides still being one of the biggest voices in rock he is also a fantastic bassplayer. He keeps praising and thanking the audience for still supporting and believing in him and promises to come back next year. Let's hold him to that promise.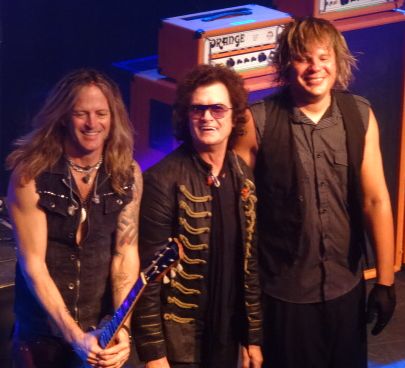 Aldrich- Hughes-Engborg: Three happy faces (Photo by Jasja den Heijer)