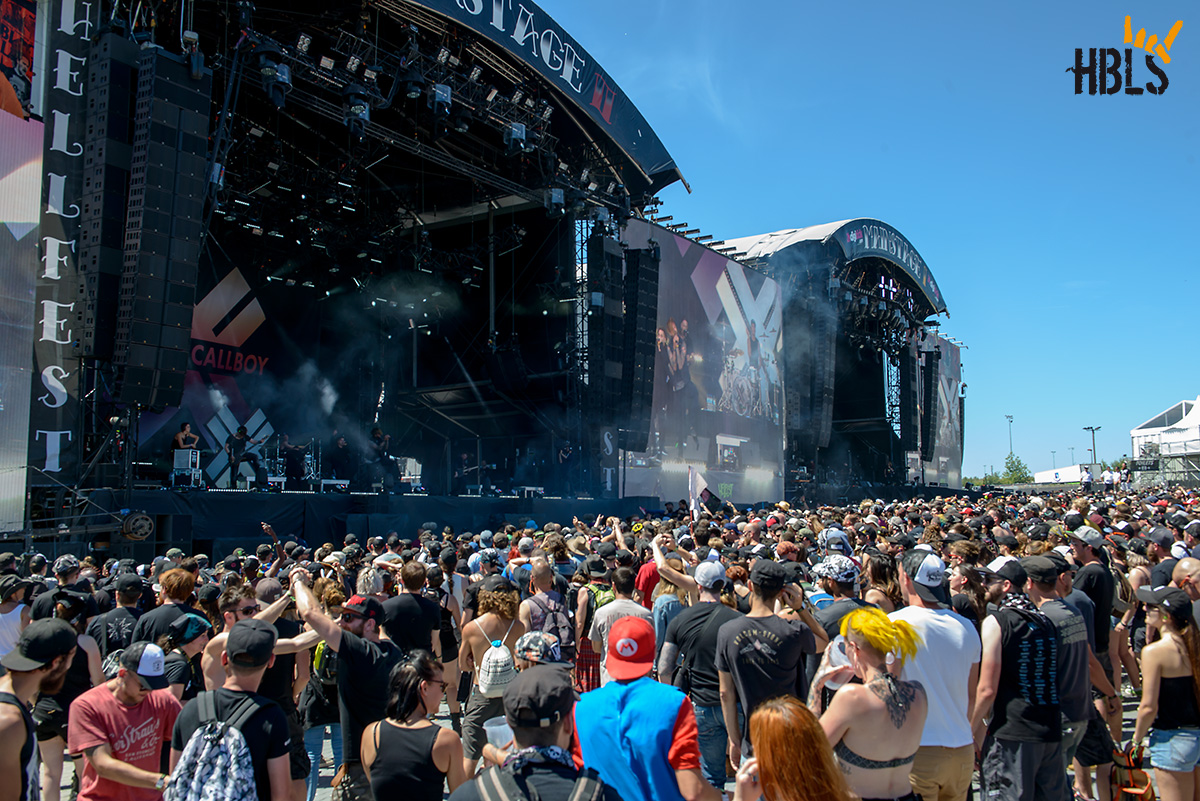 HELLFEST OPEN AIR 2018
Clisson [France]-22.23.24 June 2018
During 22, 23, 24 June it has been a real Metal Mayhem all over this little town called Clisson [near Nantes], France, because during this weekend Hellfest Open Air celebrated its 13th edition and with great success! Being sold out for months before the actual date, over the last few years Hellfest has become one of todays biggest, most important and popular festivals for extreme music in Europe. Hellfest is not just only a concert festival, it is also a lifestyle experience for those who love to be away from the `mainstream world' for a couple of days, having a great time in "Hell".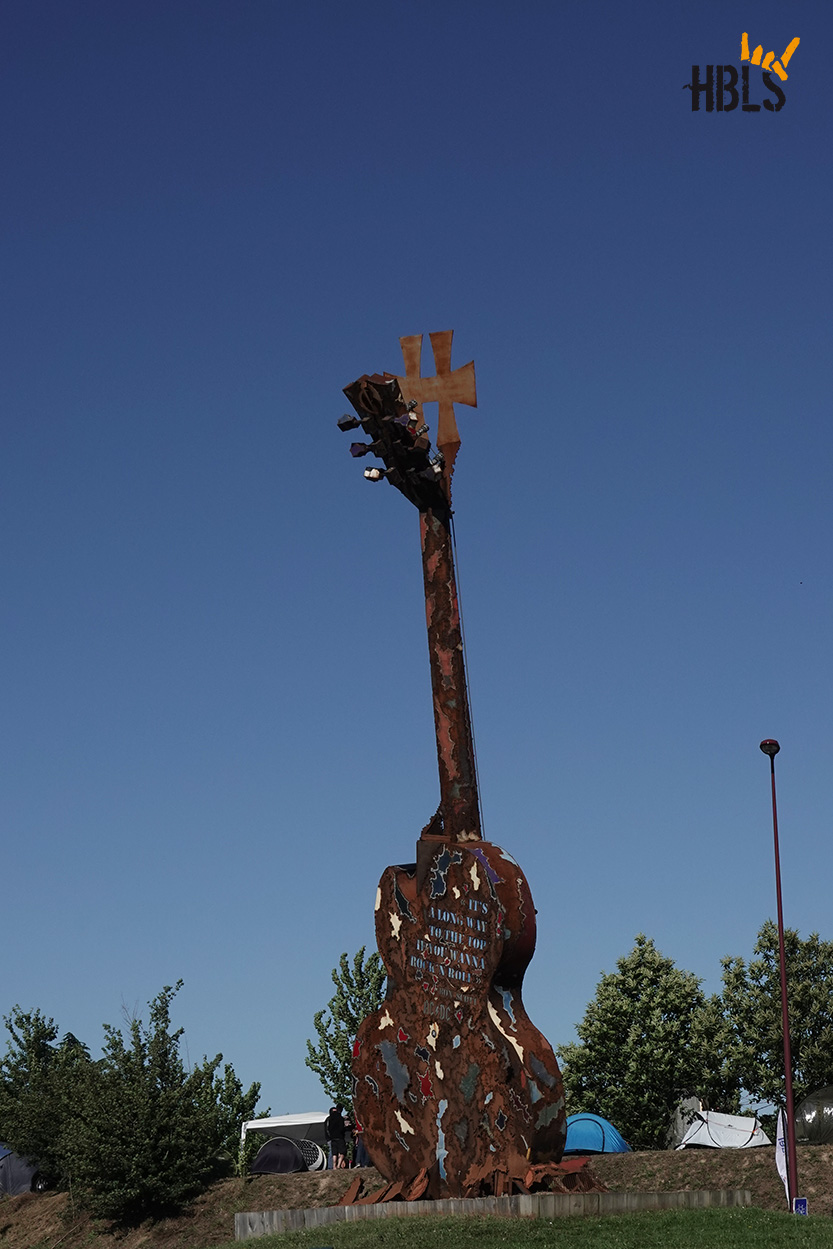 THE ARRIVAL
When almost arriving in Clisson by car, it is impossible not to notice the chaos that already starts on the motorway before the exit of Clisson, where cars and camper vans are parked along [and later on in the middle of] the road, while the small village itself is packed with all types of vehicles and tents on every square meter you can find. Also hordes of people are walking around, a scenery that looks like a pilgrimage to Lourdes. It's obvious, when you planned your pyjama party for the night outside of town, you have to be an early bird during these days to find yourself a decent parking spot to avoid an ultra long walk to the festival entrance. There is public transportation, train or shuttle bus, but count in some waiting.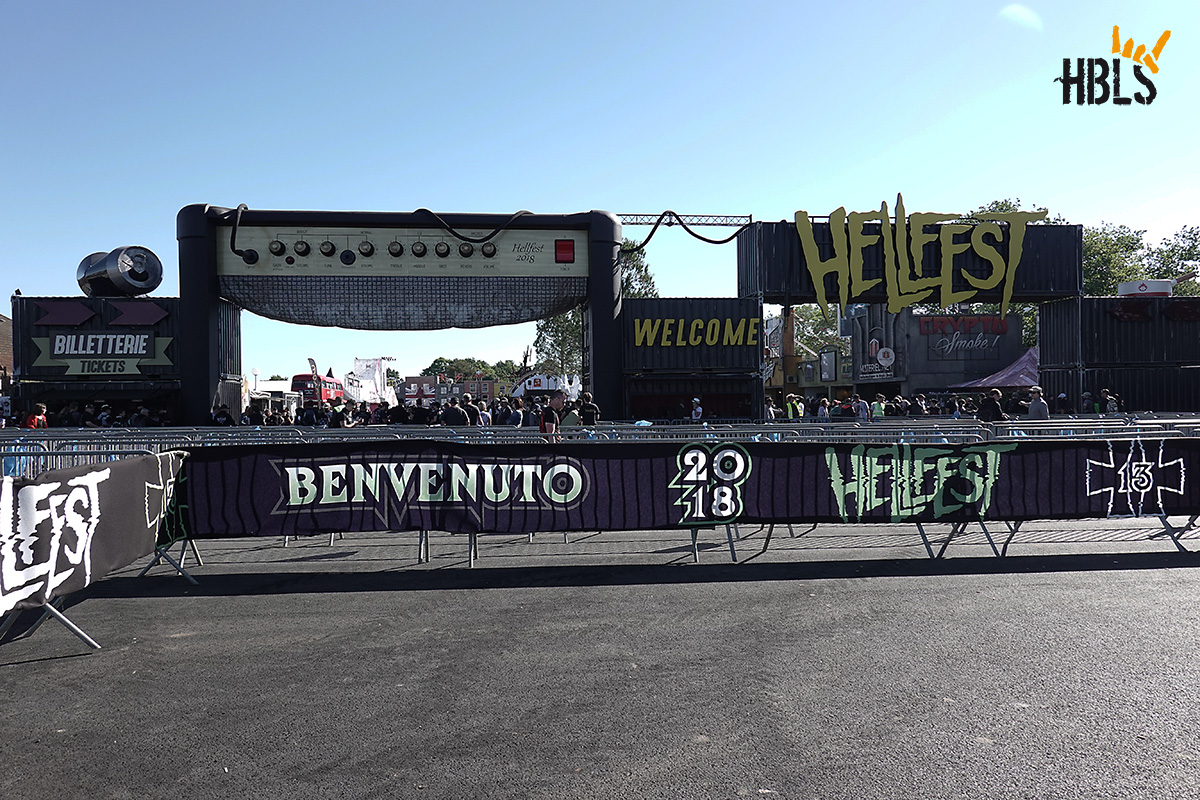 When arriving, things go smooth at the entrance and Hellfest seems to have a nice tolerance policy towards its visitors, because everybody is allowed to bring all types of professional cameras [but only if you have a photo pass you are allowed to enter the photo pit], fold chairs, food and bottles with water or other types of beverages, as long as you don't bring in alcohol, glass or metal containers. Security is super friendly, which also adds to the positive and relaxt vibe of Hellfest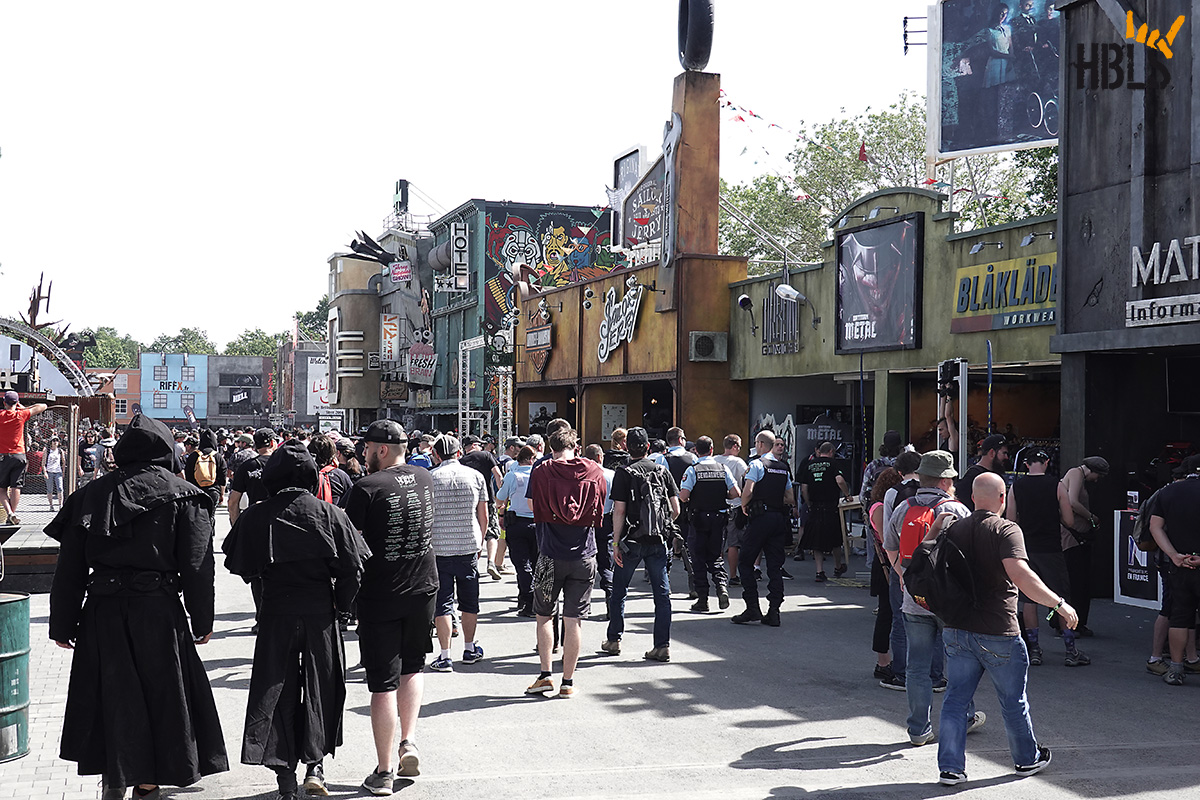 Before entering the festival field, you will pass Hellcity Square, where you can shop till you drop, hang out, play table football, test your muscles, drool at the Harley Davidson booth, check out some local bands on Hellstage, buy snacks and drinks, enjoy headbanging DJ chicks, get yourself tattooed or simply relax. The indoor Extreme Market is a very cool place to spend some of your money because you will find a large variety of merchandise, CD's and LP's, jewellery and fun objects [mid evil, steam punk, curiosa style], which are kind of different than the usual merch most other festivals present.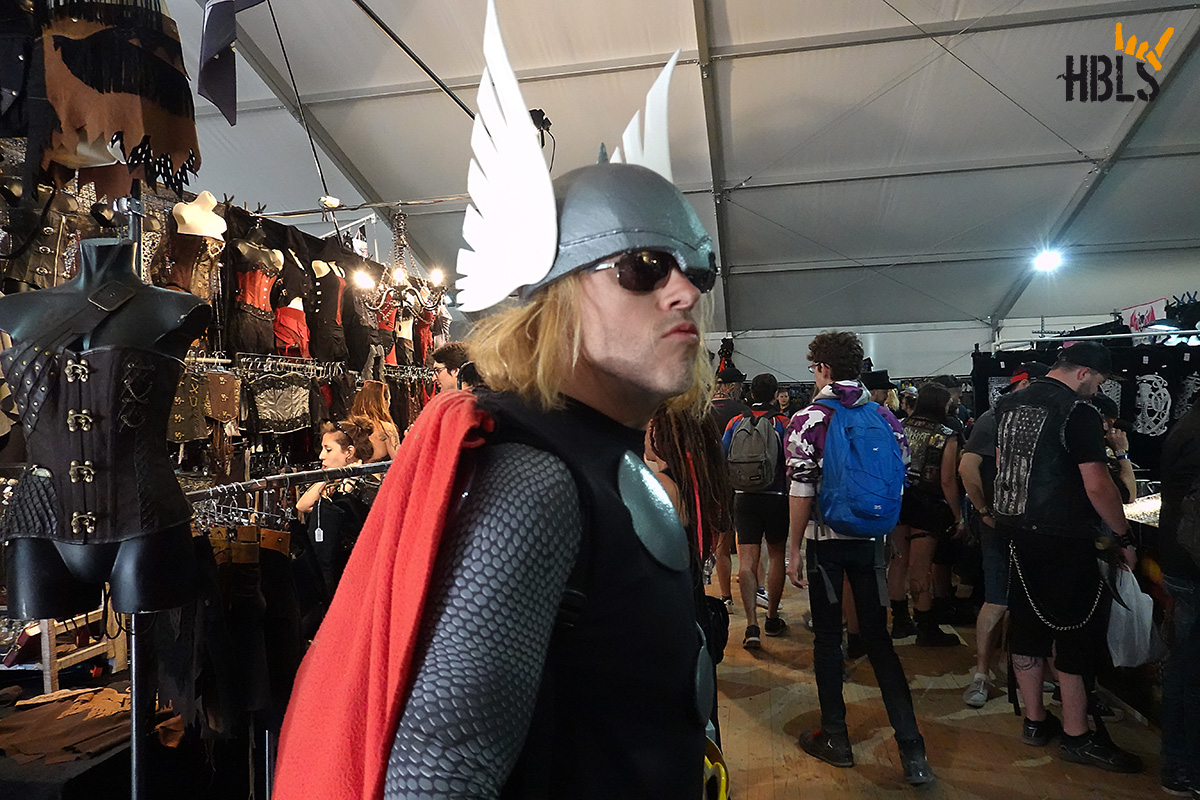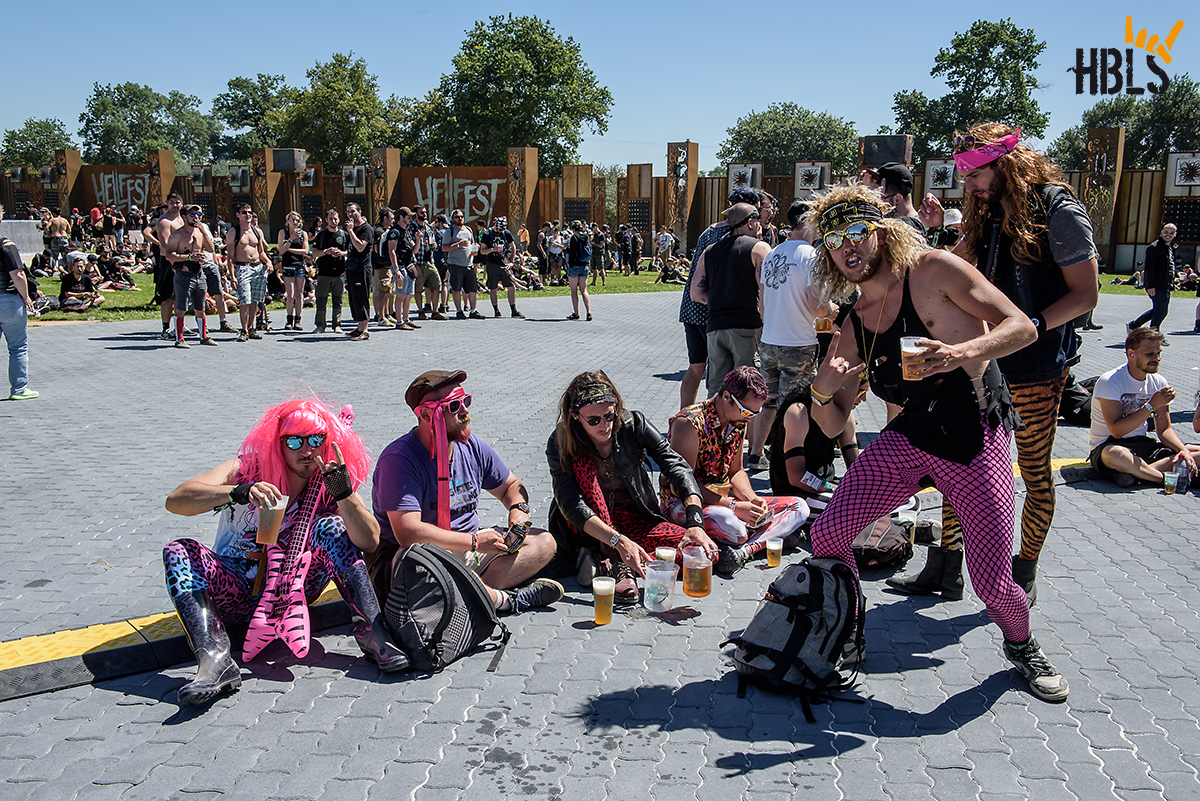 THE EXPERIENCE
The amazing architecture of Hellfest is art-like, with obscure and curiosa props, statues and decoration and the late night fire spectacle vibes up the experience of this "heavy metal wonderland". For those who paid extra to enter the VIP area can enjoy some real metal-glamour. The organization has done it all with a true vision, great passion and creativity, so yeah Hellfest can be classified as unique and almost of a royal level.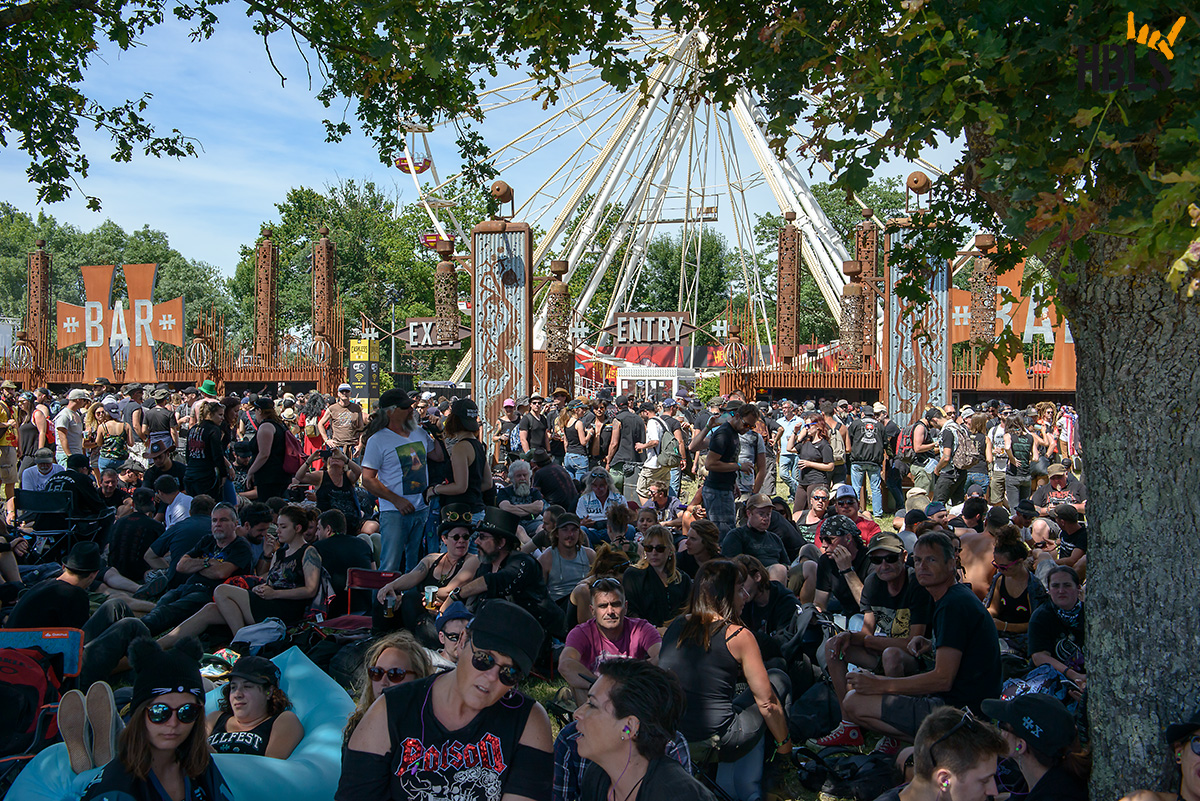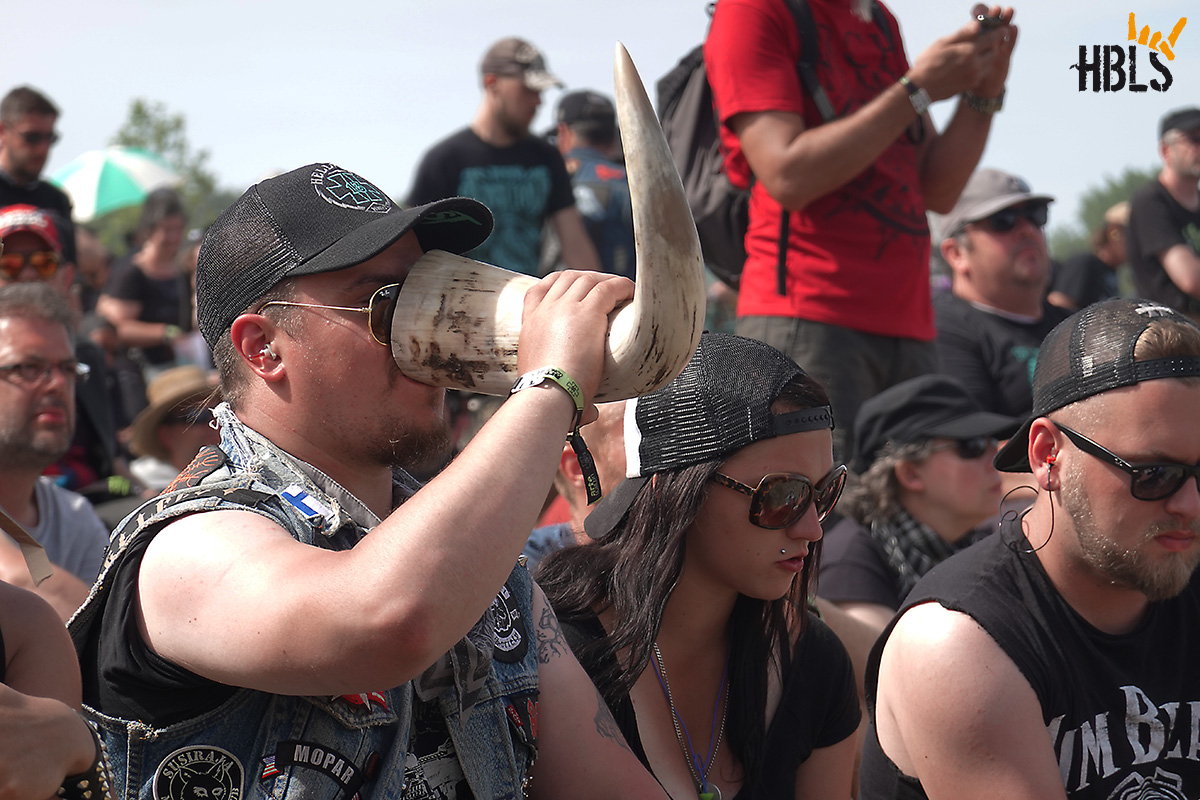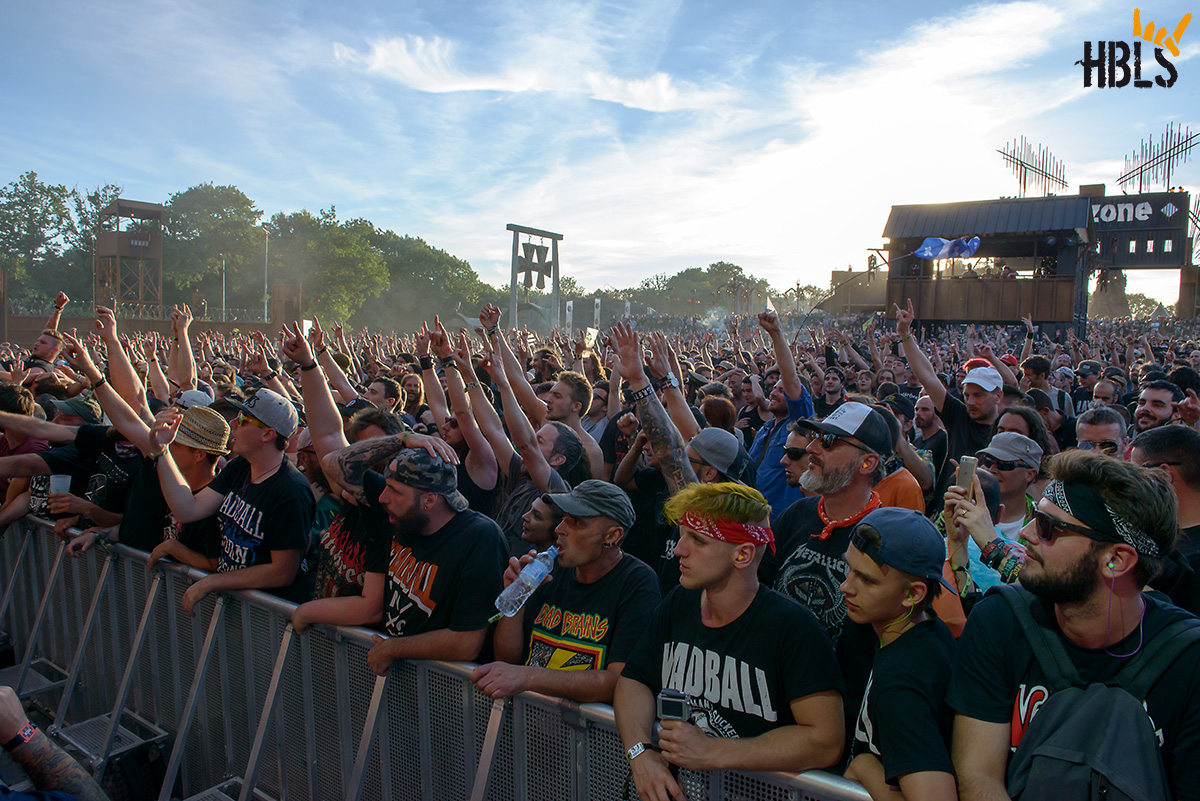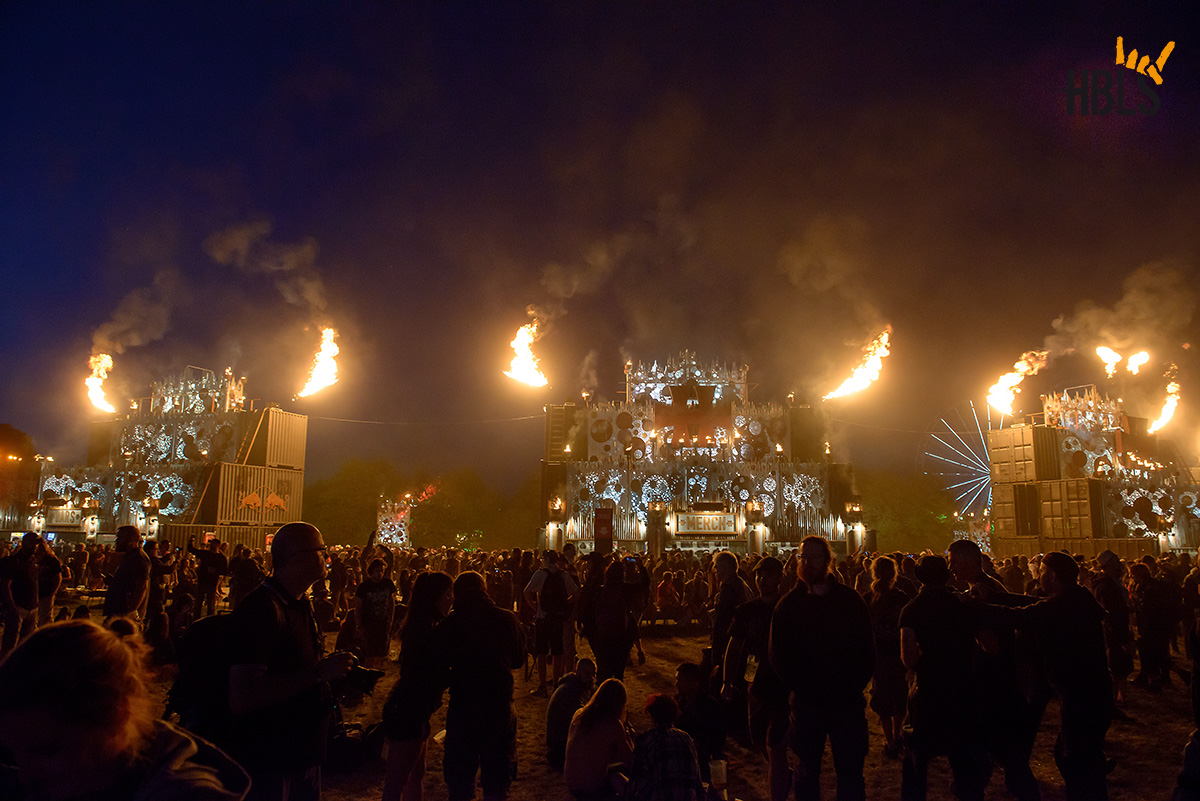 I'm also stunned how clean the area stays during these days and it seems an unwritten law you use the cool skull thrash cans at all times instead of throwing your waste on the ground. I guess it is helpful you have to buy a hard plastic Hellfest cup first, which you use the whole weekend, to get yourself a drink. Speaking of food and drinks, there is no need to starve or dehydrate here because there are enough bar spots and there is a huge food court where you can sit down with your friends and have a nice meal, vegies and vegan options included for okay prizes. For example a regular beer of 28 cl cost you 2,80 euro, 60 cl costs 5,50 euro and a pitcher jug 150 cl is 14,50 euro. Sodas like cola, Orangina and ice tea are 2,50 euro for 28 cl. For instance a complete pizza will cost you 9,50 euro [a half or a slice is of course much cheaper], a big burger cost you 8 euro, while the vegie version is 6 euro. Sandwiches are around 7 euro, a crêpe is 3 euro and tagines & couscous, depending on the meat you choose, is around 9,50 euro. But you can only pay with the `Cashless' system, which is new this year. This electronic wallet that works with a microchip as a wristband works easy, also credit your chip goes fast by stopping at the Cashless Bank or use the mobile Hellfest app. The Hellfest app provides you the most update info all the time during these days as well.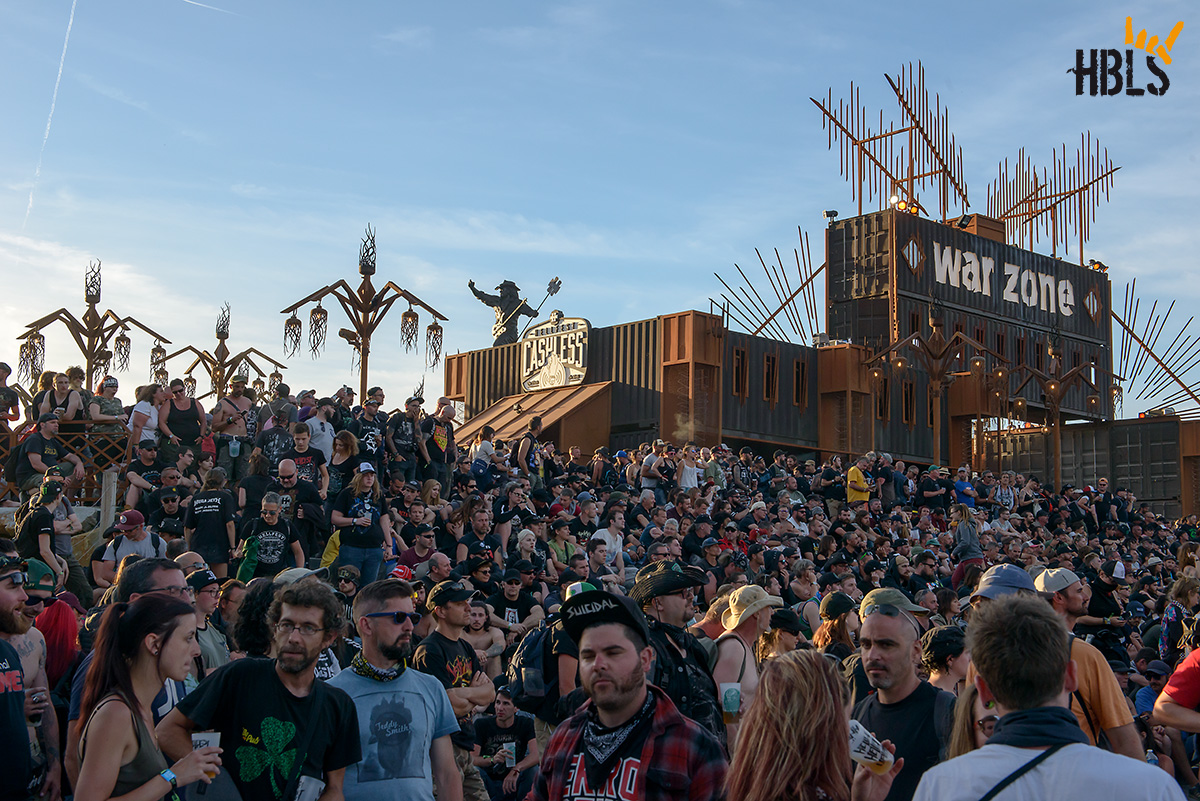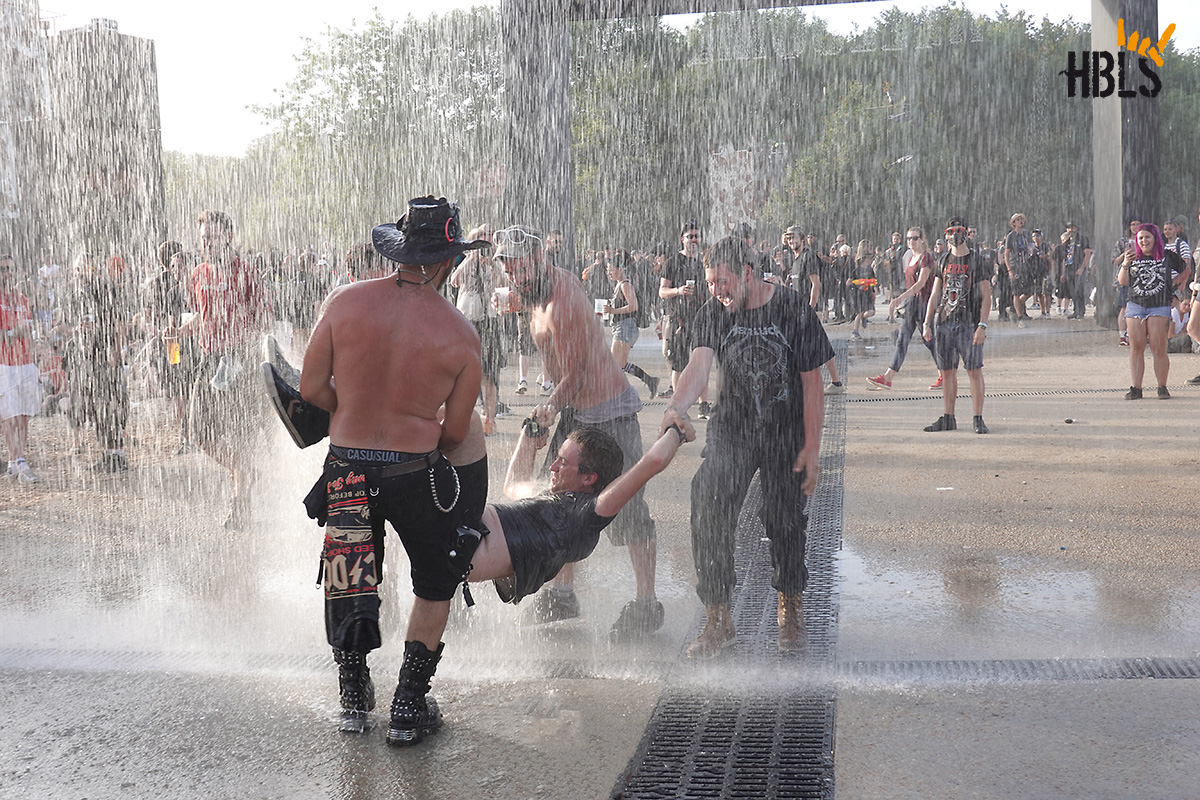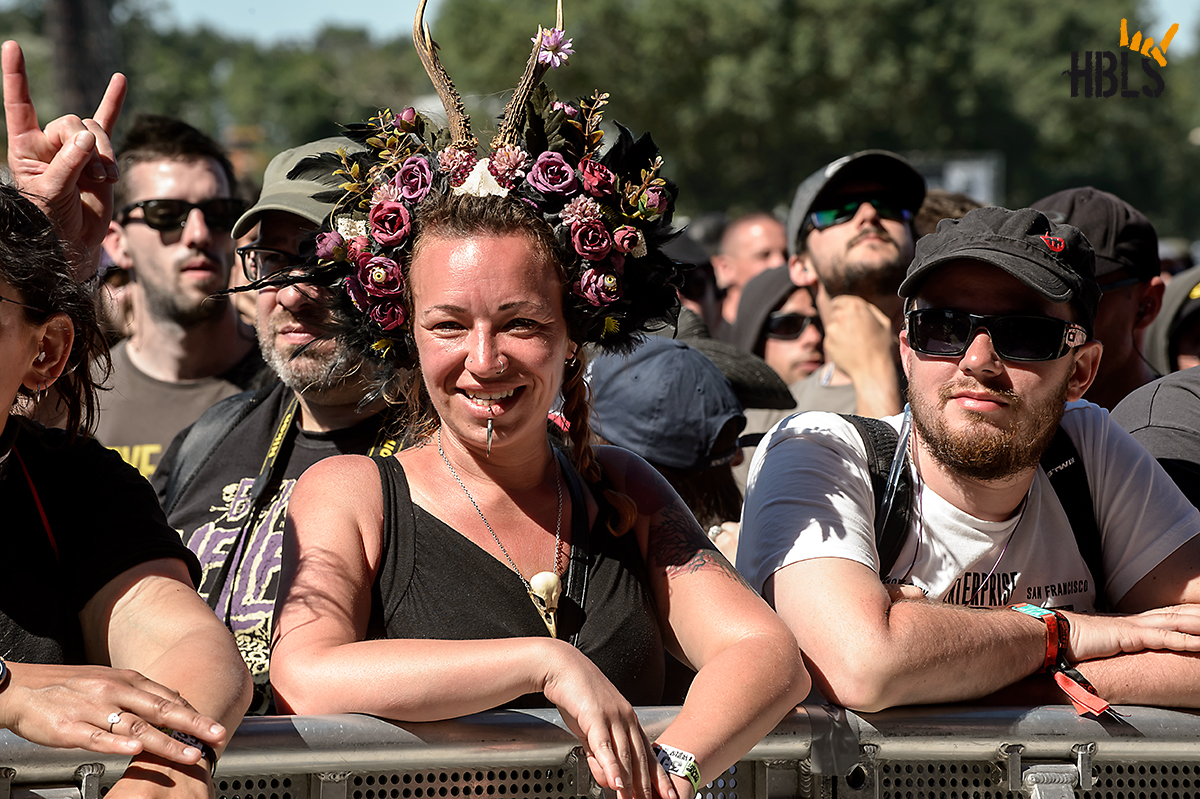 THE PEOPLE
The visitors seem to have a great respect for this festival. The atmosphere is friendly; everybody seems to enjoy whatever band is playing and simply having a great time with friends. Circle pits and wall of deaths are done with respect for each other. I guess Hellfest is also an opportunity for many to dress up. So the dress code is not only traditional heavy metal jackets, band tees, leather jackets, jeans, spikes, goth like dresses, you name it, but you see weird and funny costumes, super heroes, masks, wigs, extreme make up, theme outfits or folks with hardly no skin covered at all.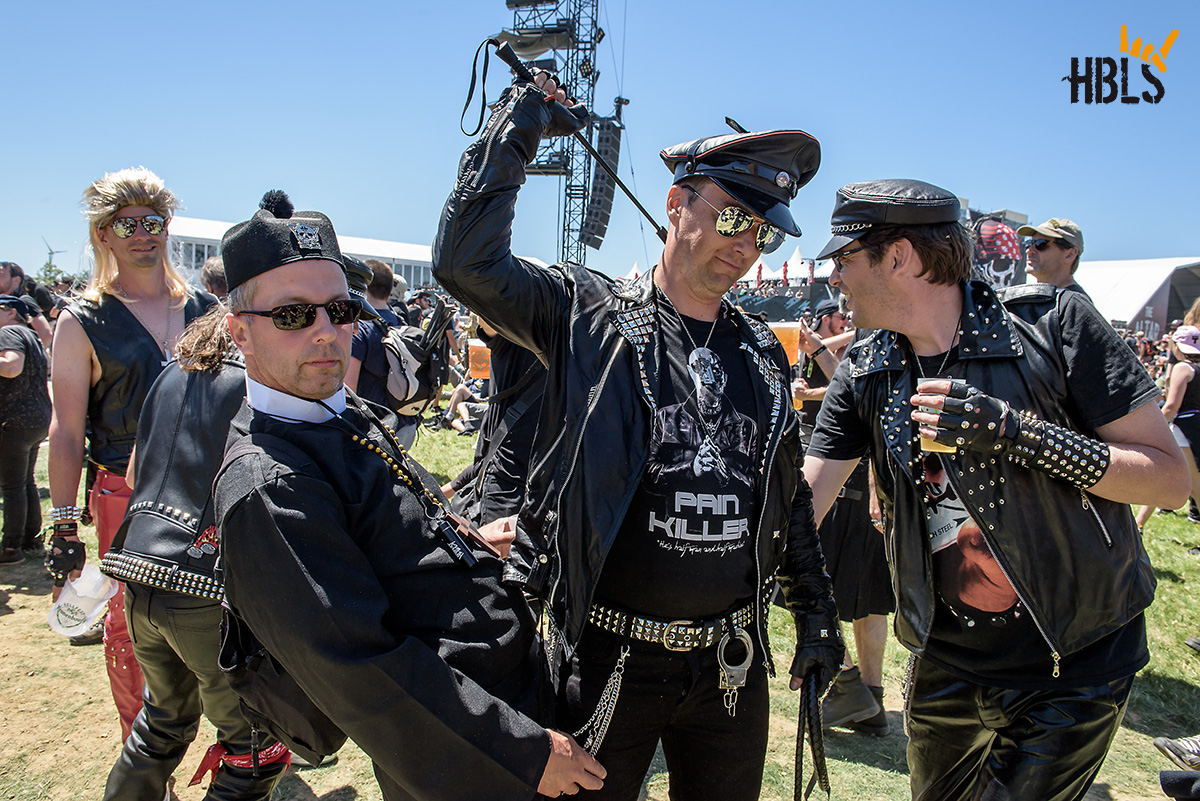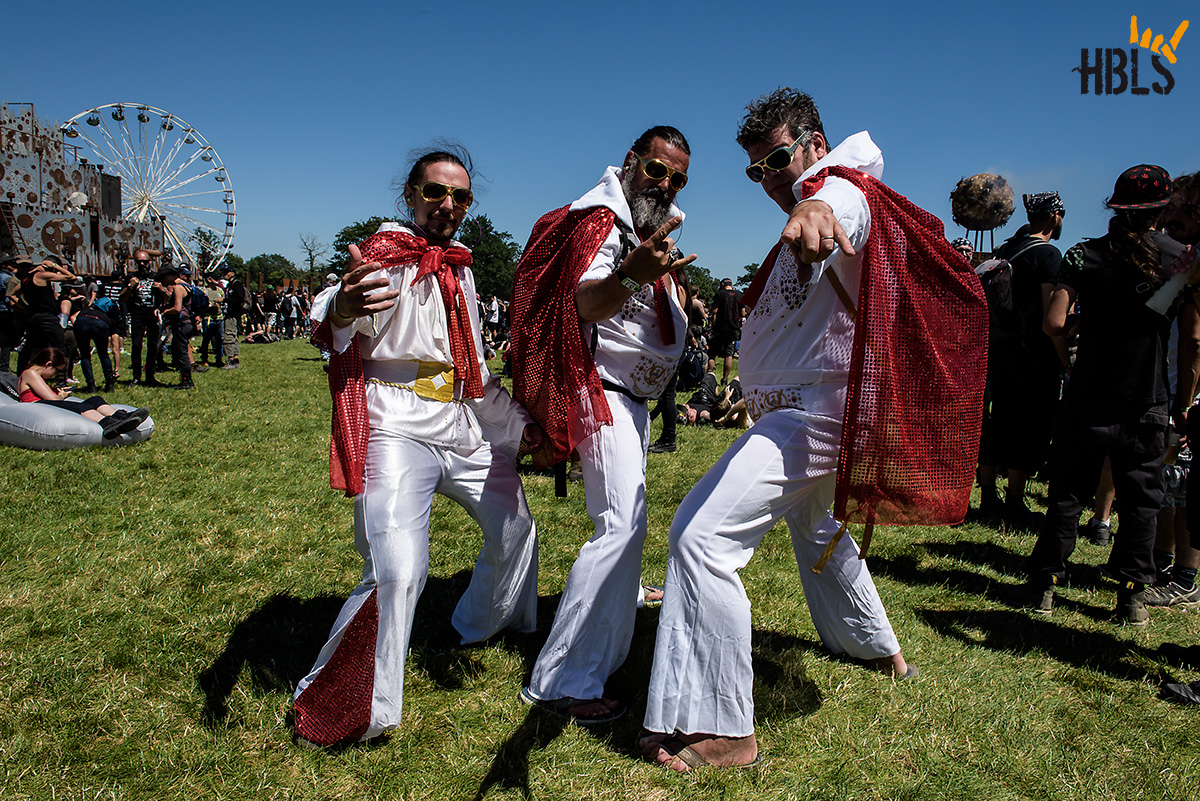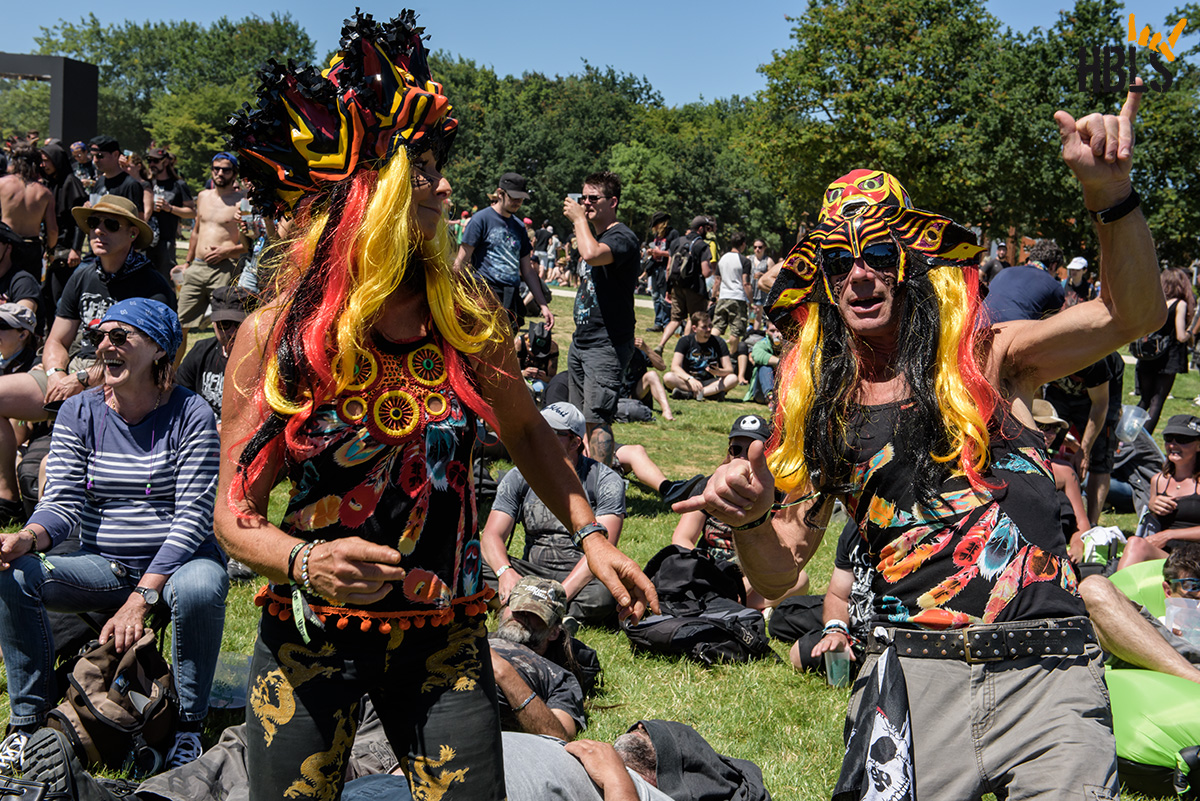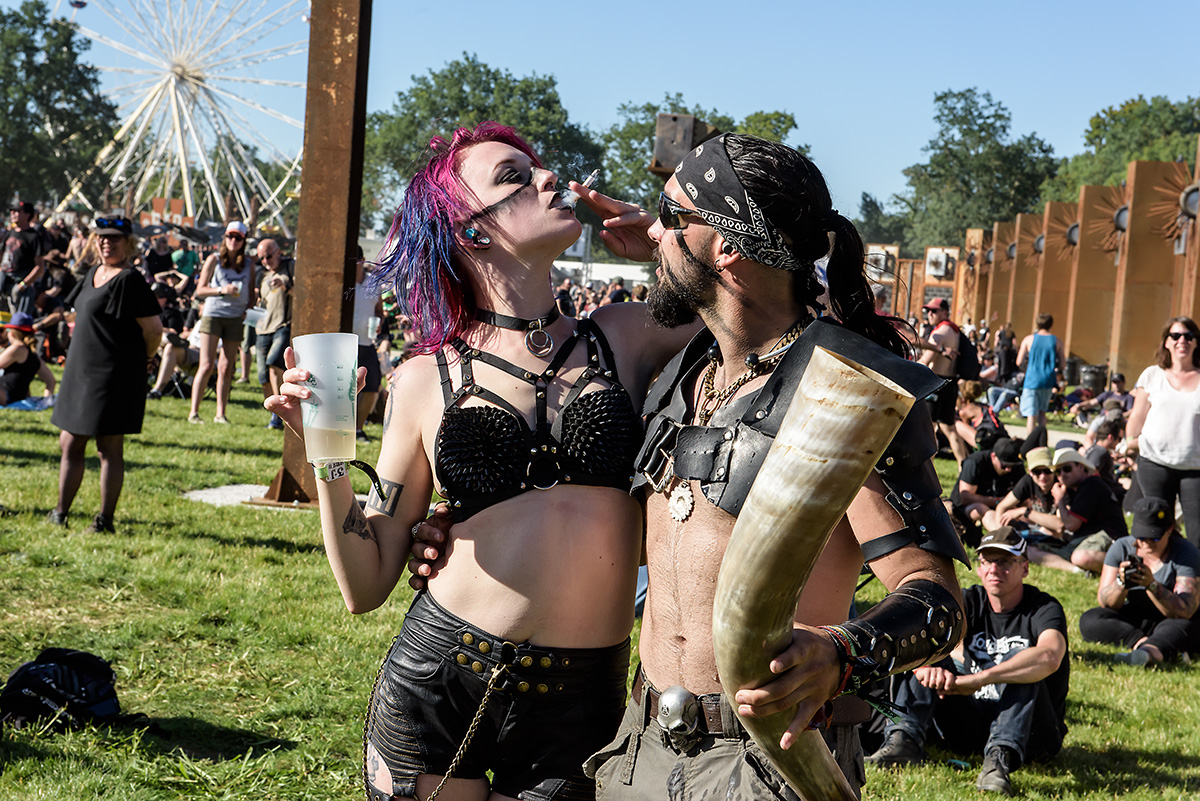 THE MUSIC
But, we are also here to enjoy some good music and Hellfest satisfies our craving for loud music by offering 159 bands, playing on 6 stages [53 bands per day, 2 main stages and 4 tents; The Temple, The Altar, Warzone and The Valley] and there are big video screens everywhere so you have a good view at all times. The line-up offers a great variety of subgenres [hard rock, heavy metal, thrash, doom, pagan metal, black metal, (melodic) death metal, grind, sludge, stoner and punk], which means there is a lot to discover too. I ran into a few great surprises, like Pensées Nocturnes that looked like a distorted version of Avatar, displaying Avant Gardistic black metal, melancholic chansons, supported by an accordion and a grunting and weird singing frontman who also plays trombone and trumpet, all leading to some sort of bizarre carnavalesque yet unique spooky encounter.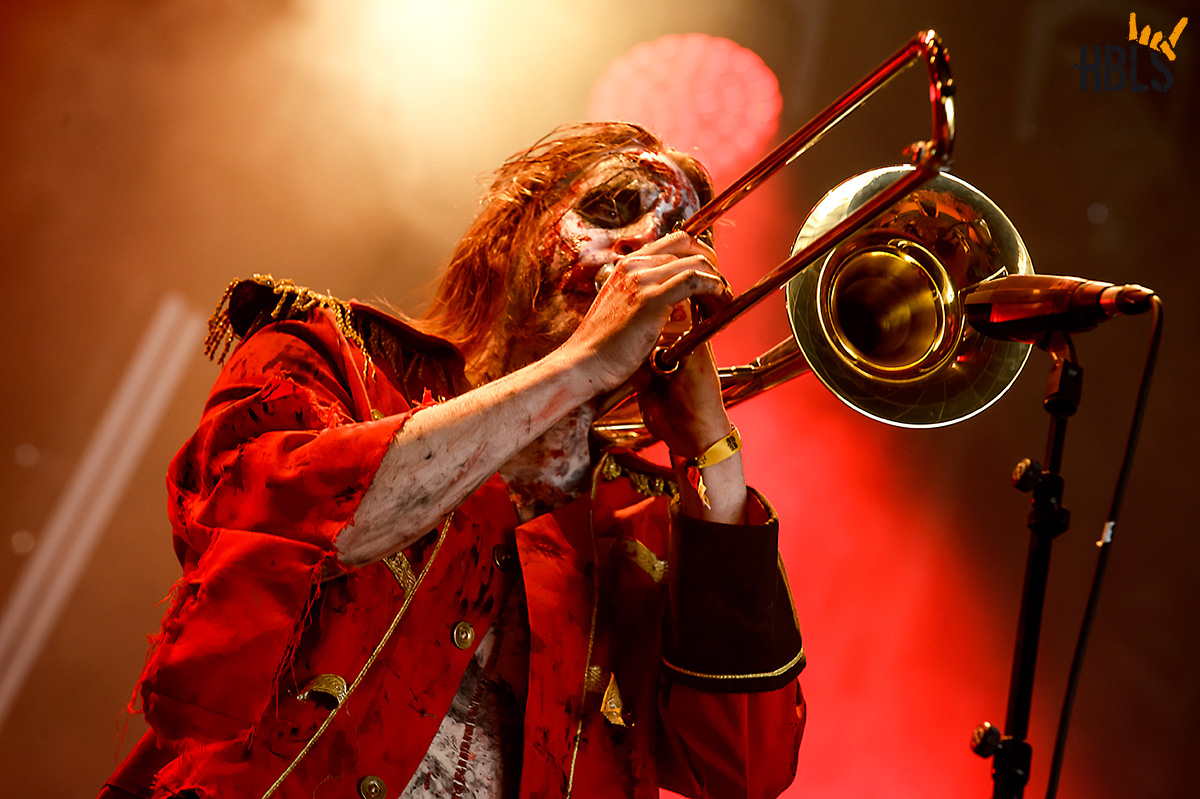 Pensées Nocturnes

Also the German `party-core' outfit Eskimo Callboy has my attention. They serve an appealing and well-performed, good sounding hybrid of haunting heavy riffs and danceable electronic beats. And having two singers who grunt, growl and doing melodic singing with a great energy seals the deal here. A band that also stand out is Rise of The Northstar, a bunch of angry mother fuckers, running around in Japanese warrior outfits, giving the audience the opportunity to go crazy and do circle pits on a loud, tight and infectious blend of New York hardcore, heavy, death and doom riffs with a rap vibe.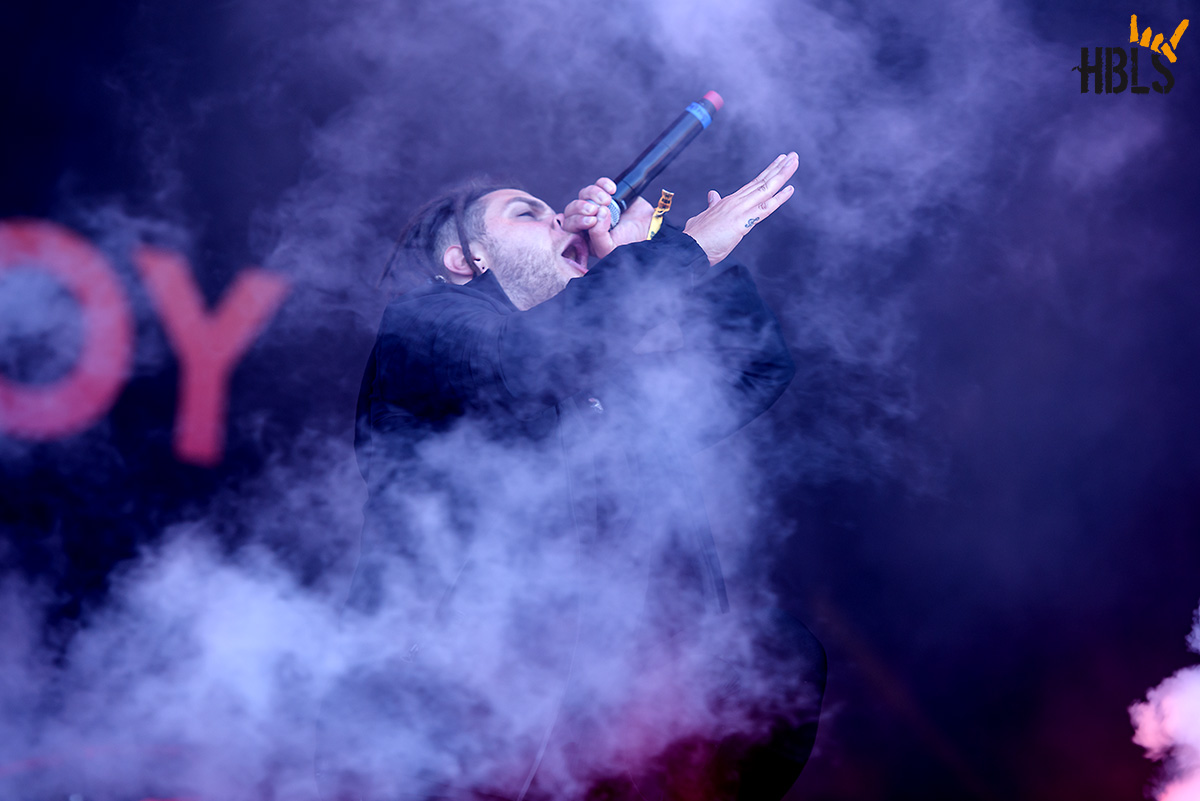 Eskimo Callboy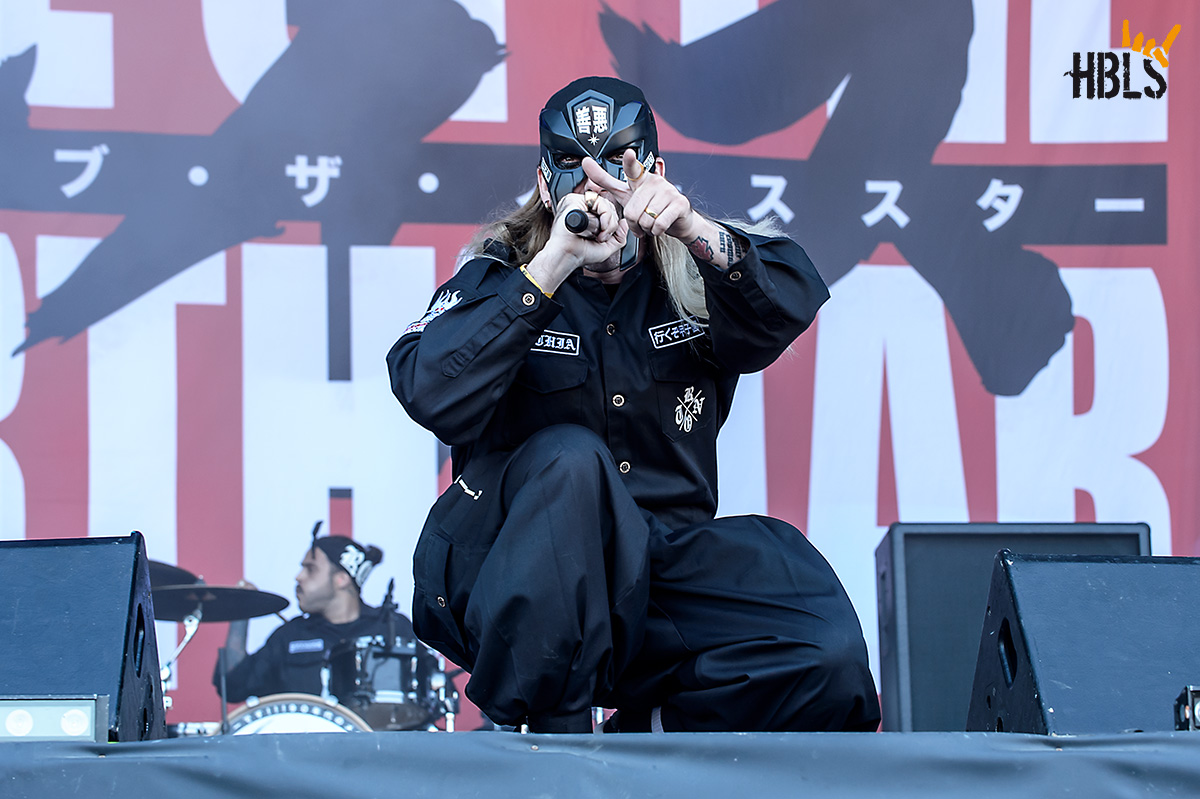 Rise of The Northstar

It is a blast that the line-up also features the real old school bands Judas Priest, Joan Jett & The Blackhearts, Rose Tattoo and Iron Maiden [what a fantastic show!], legends who paved the way for the new rock and metal generation, and still kick serious ass on stage this weekend. Also Europe provides us a rock solid performance featuring both well-known classic hits and new songs, while Joey Tempest, just like Bruce Dickinson of `The Beast', is in excellent vocal shape. It is impressive to witness how all these veterans still enjoy themselves so much on stage.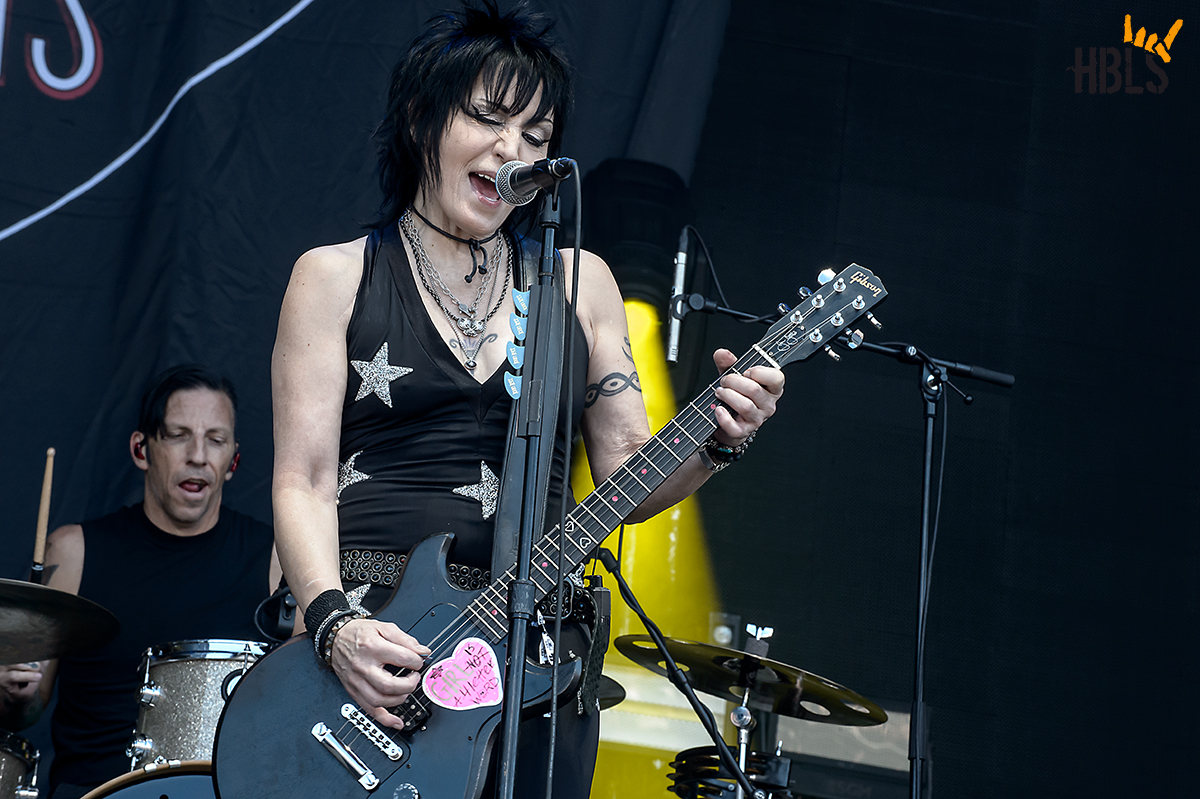 Joan Jett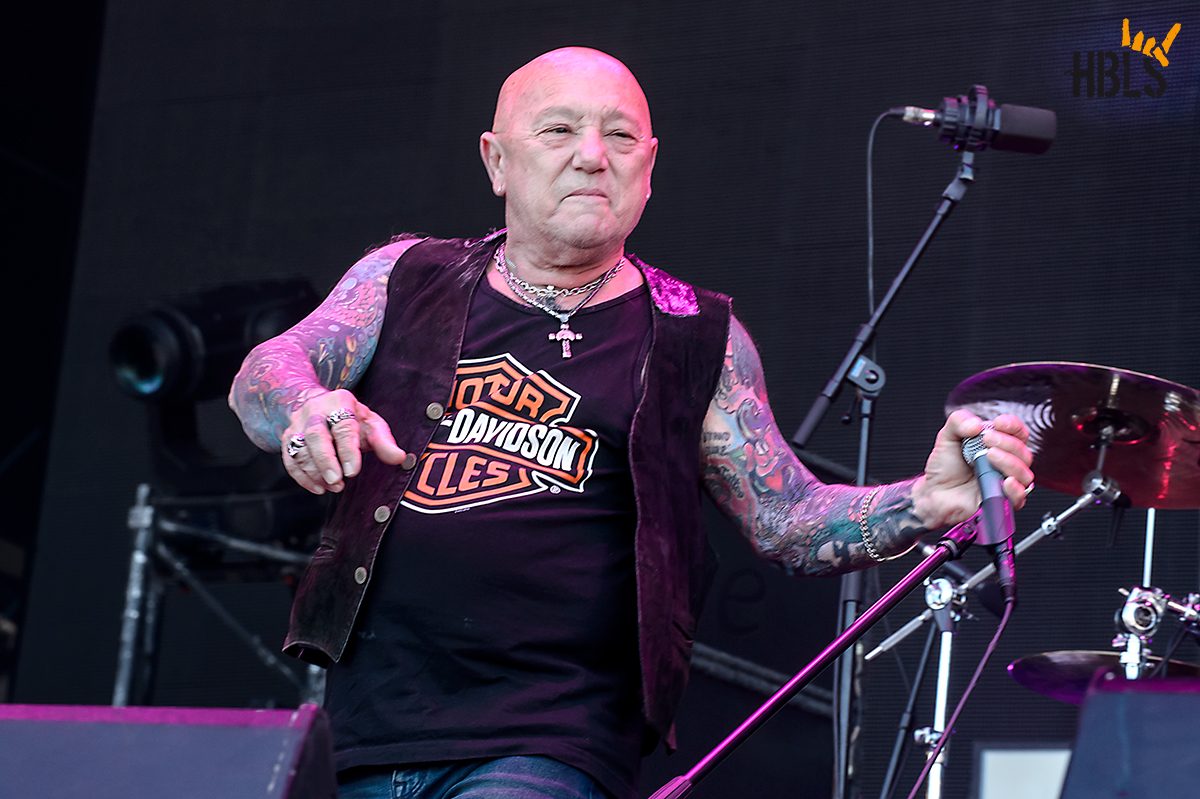 Rose Tattoo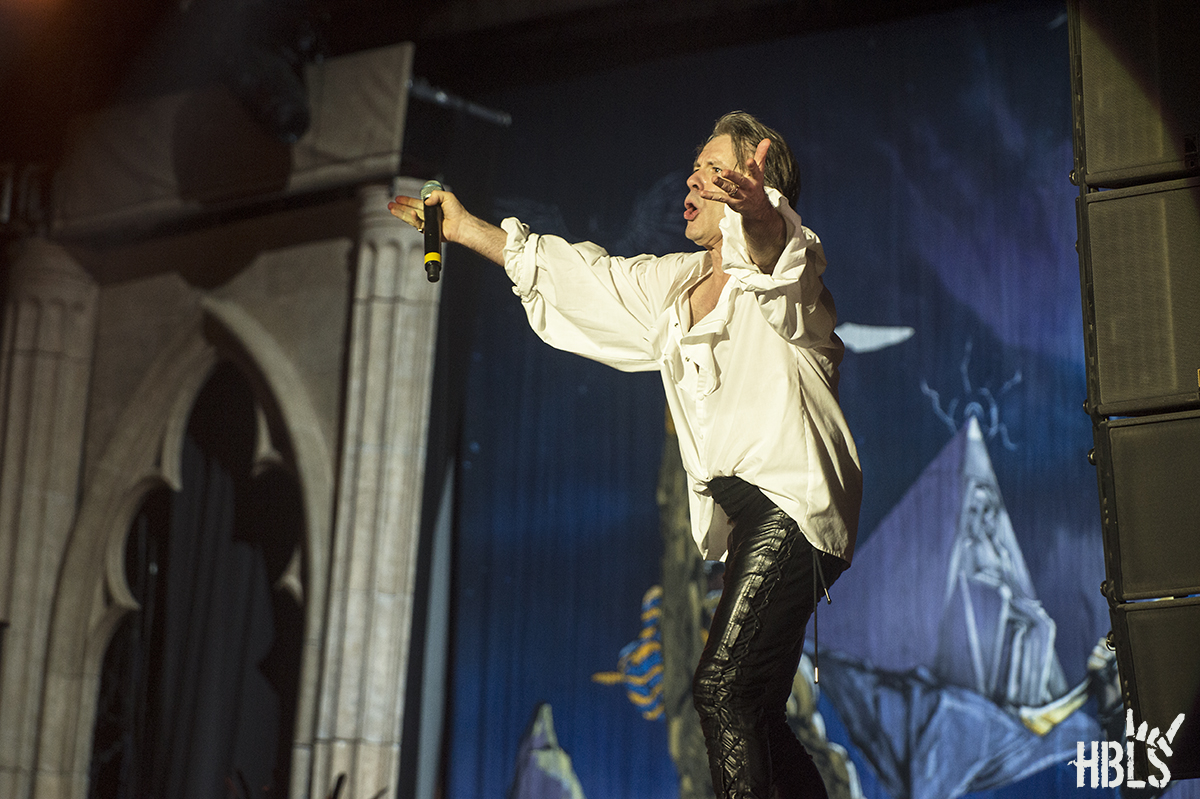 Iron Maiden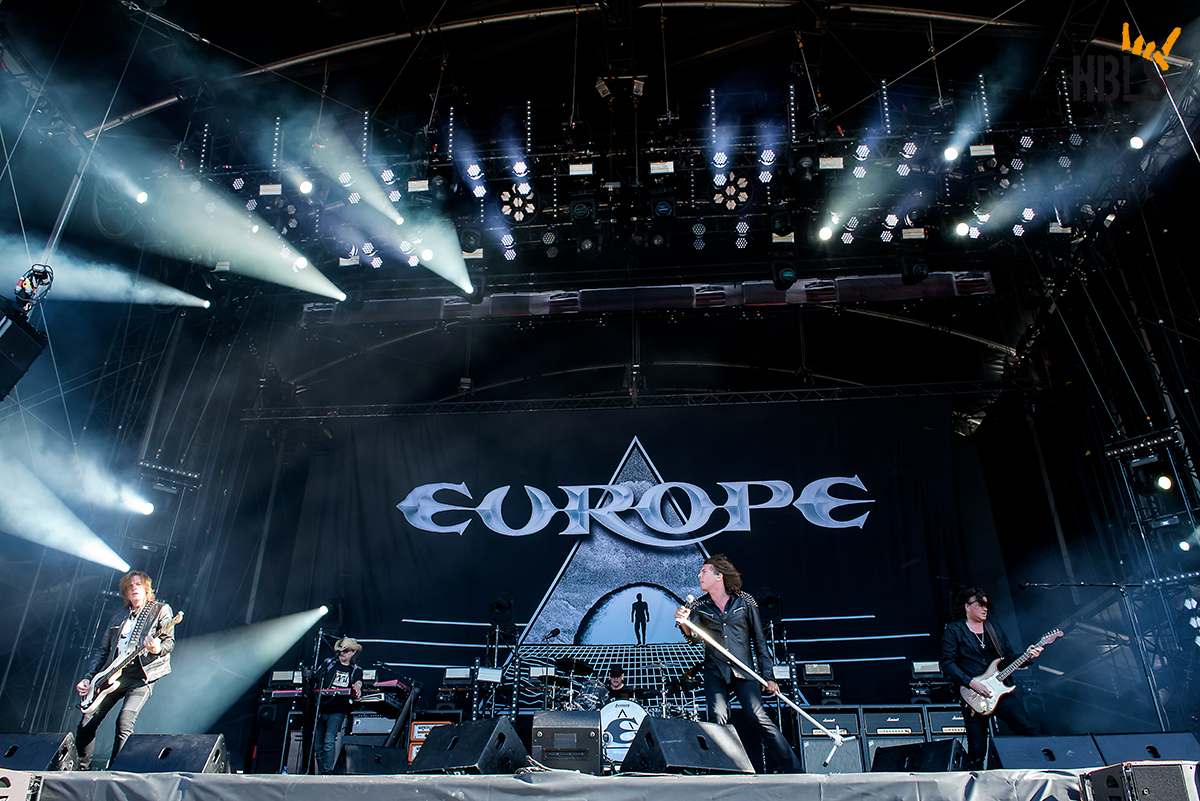 Europe

Also Accept and Primal Fear show why they deserve the main stage, playing with a true metal heart the hell out of their guts. The so-called super group Hollywood Vampires is on European soil for the first time and lures a huge attention and because of Alice Cooper, Joe Perry and Johnny Depp the expectations are high. Alice is in top form and Joe confirms his status as one of the greatest guitarists of all time. Johnny Depp has more of a supporting role, not being an outstanding guitarist and vocalist. Besides playing own material, `the vamps' honour some of their deceased rock star colleagues by playing swinging and rocking versions of ,,The Jack'' [AC/DC], ,,Five To One/Break On Through (To The Other Side)'' [The Doors], ,,Ace Of Spades'' [Motörhead], ,,Baba O'Riley'' [The Who] and ,,Heroes'' [David Bowie] and it is no surprise there are some Aerosmith and Alice Cooper tunes in the set list too. It is an amusing and entertaining show. Besides this tribute, various bands honour the very unexpected recent death of Pantera drummer Vincent Paul Abbott this weekend.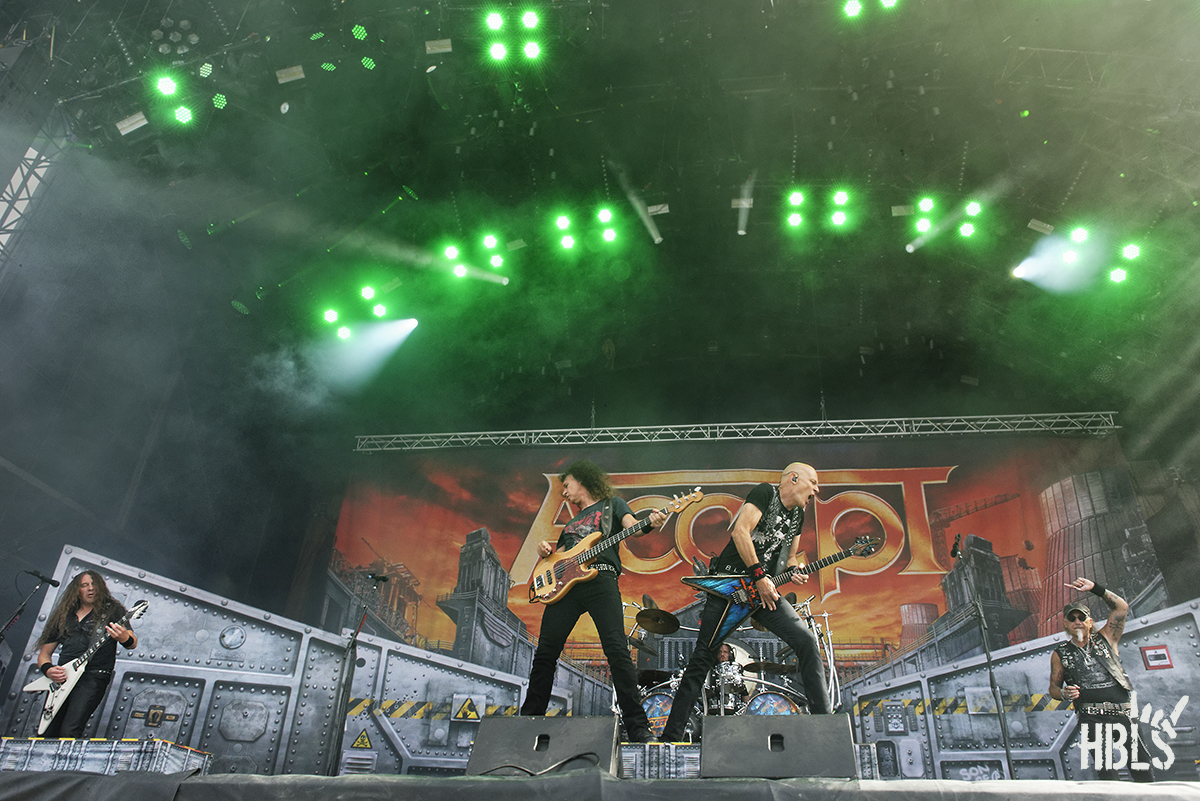 Accept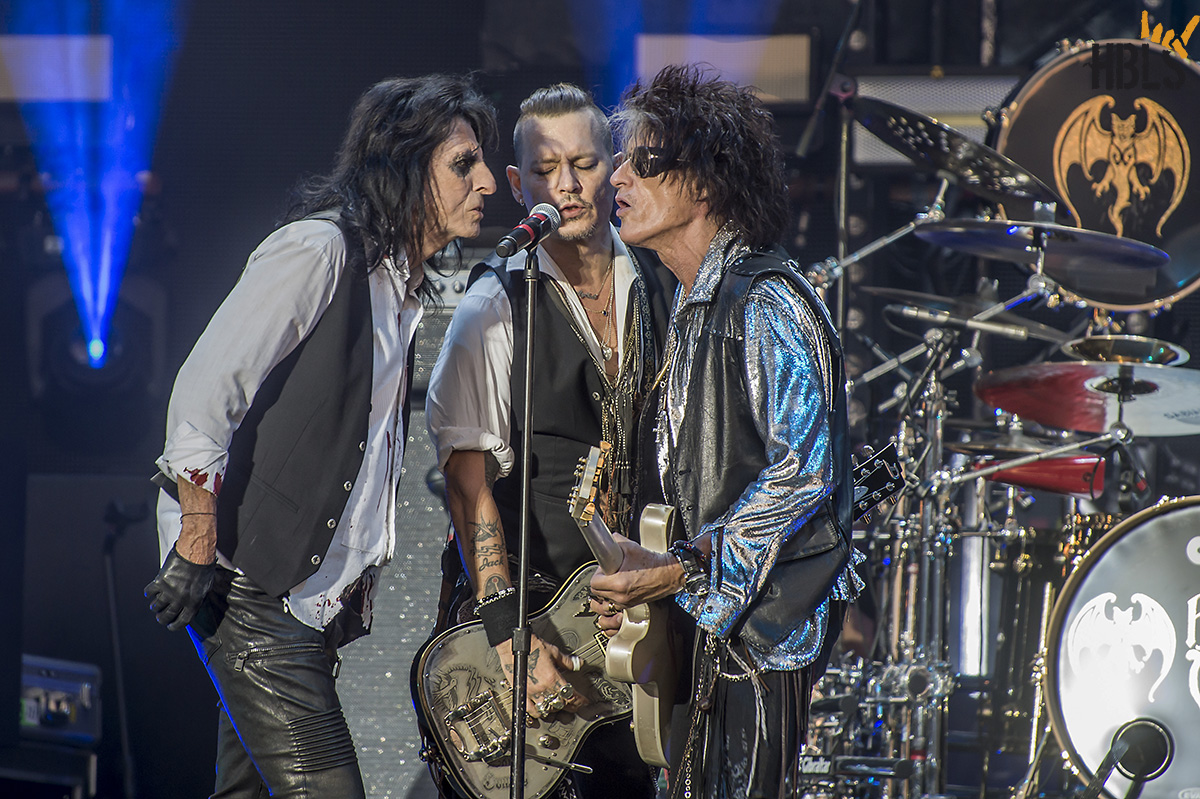 Hollywood Vampires

Another super group that does a good job is Sons Of Apollo featuring singer Jeff Scott Soto, who is an amazing vocalist and born to be on stage and drum giant Mike Portnoy who never seems to be out of energy. Bass player Billy Sheehan and guitarist Ron `Bumblefoot' Thal do incredible magic on their double neck instruments while keyboard wizard Derek Sherinian finds his own way in this impressive maze of soulful progressive metal. Technical and experimental skills, with a touch of groove are also well displayed by UK band Tesseract and the more heavy Killswitch Engage and Meshuggah. Shinedown has this typical American professional attitude, which benefits their catchy yet heavy repertoire and they show an intense connection with the audience. Also Stone Sour and Limp Bizkit show quite some overseas attitude.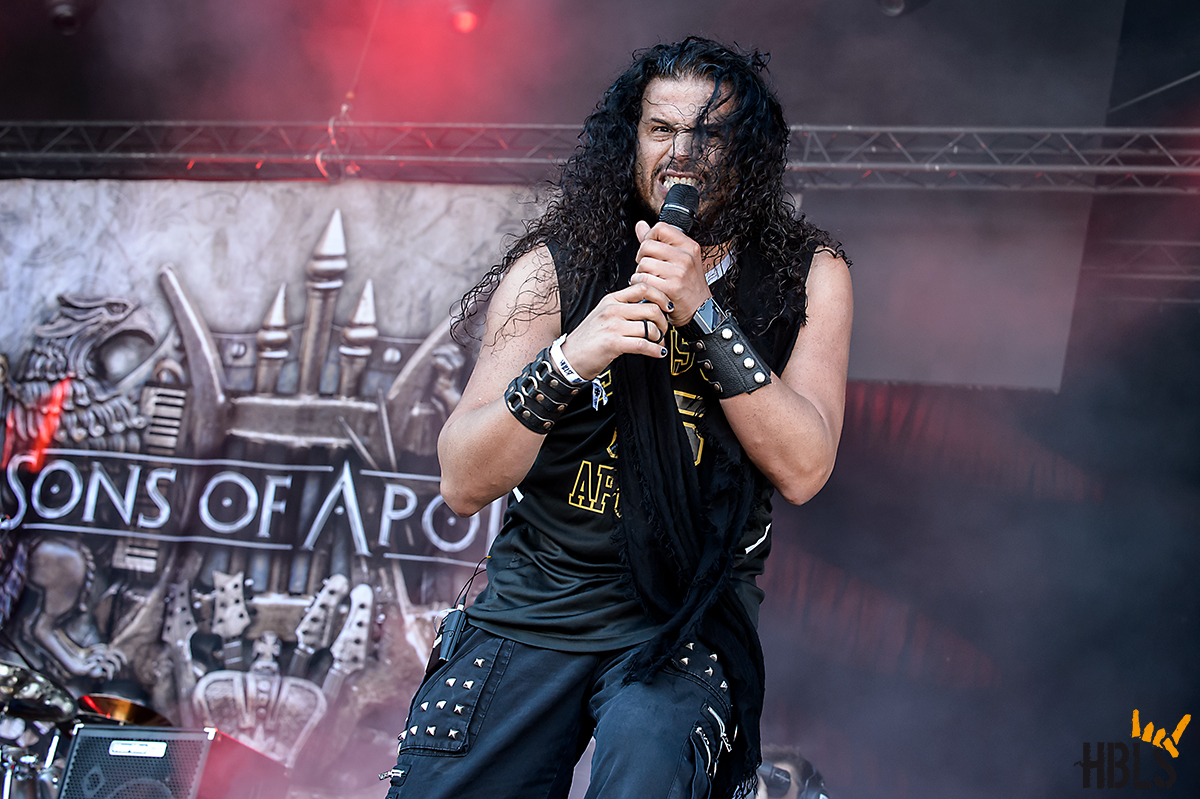 Sons Of Apollo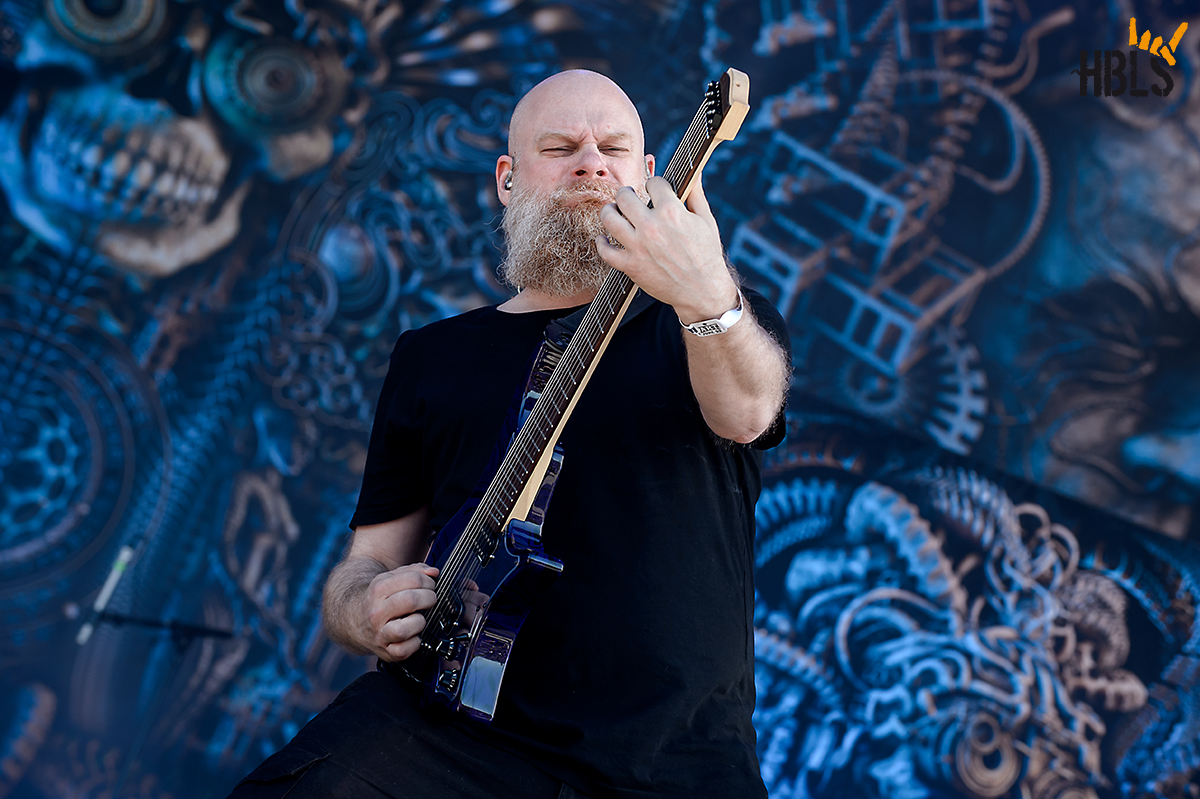 Meshuggah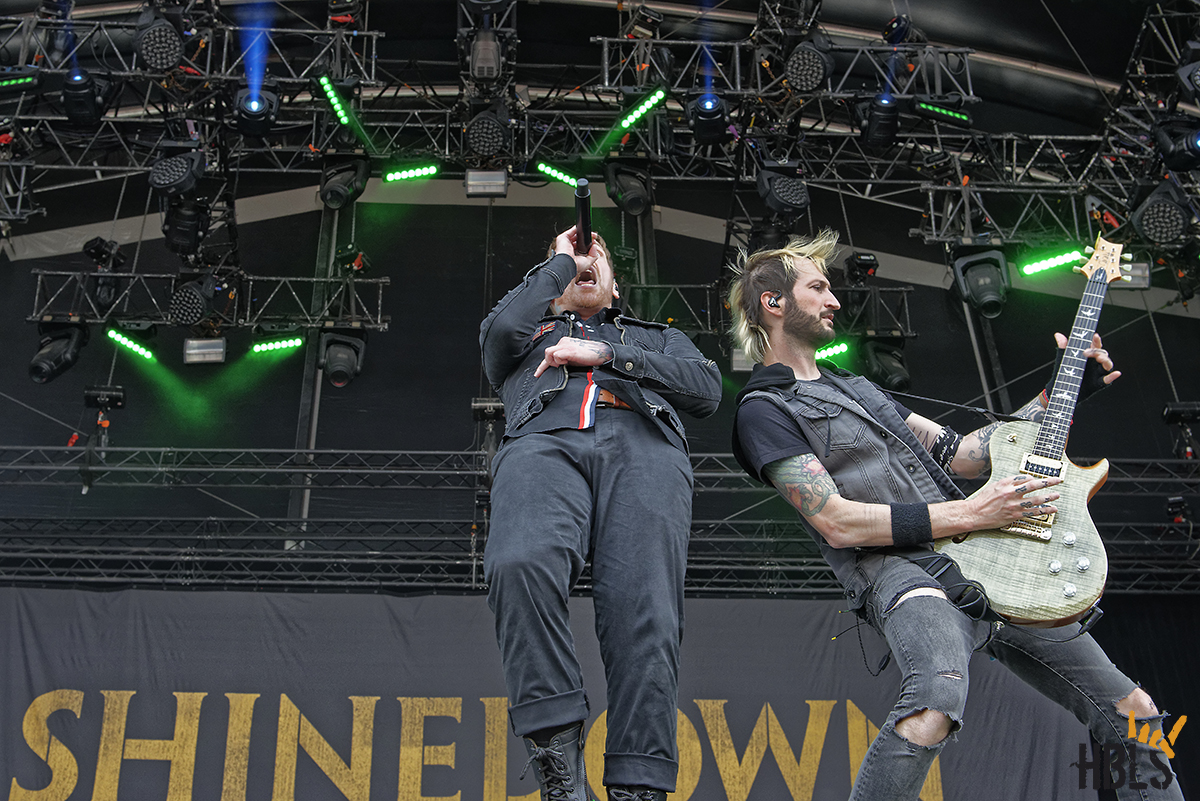 Shinedown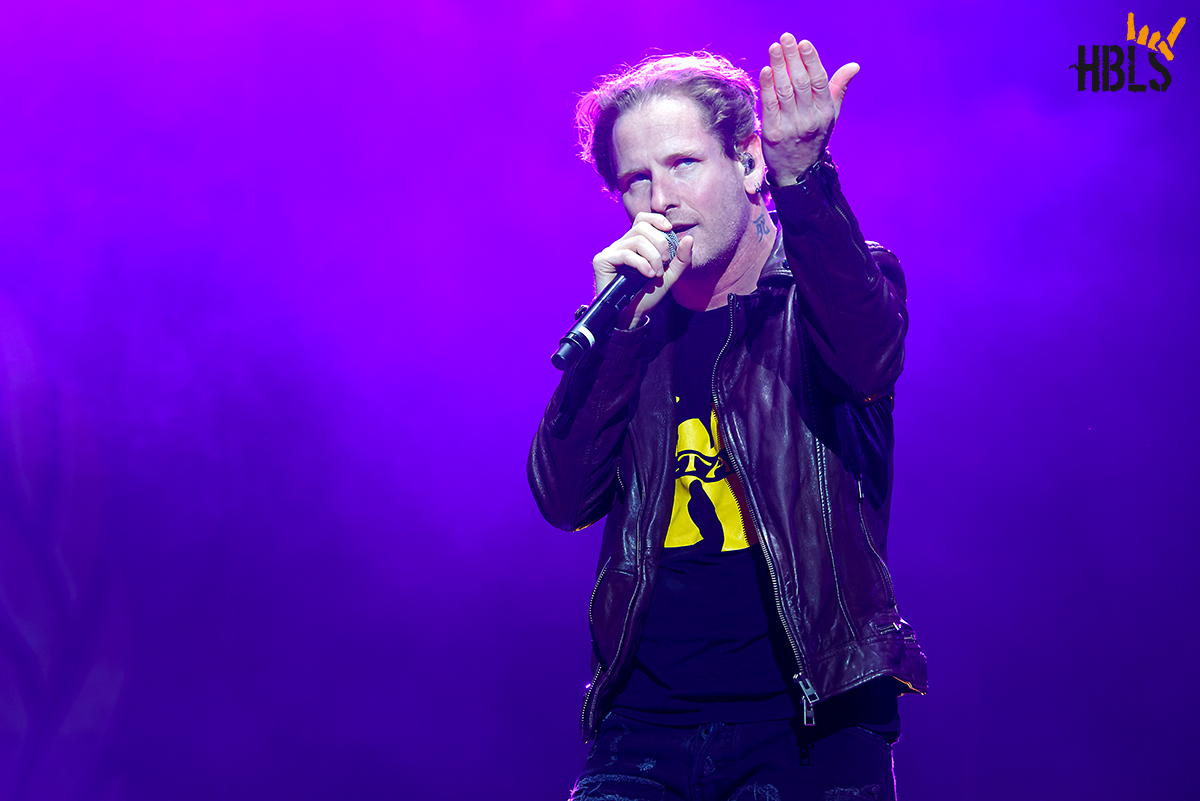 Stone Sour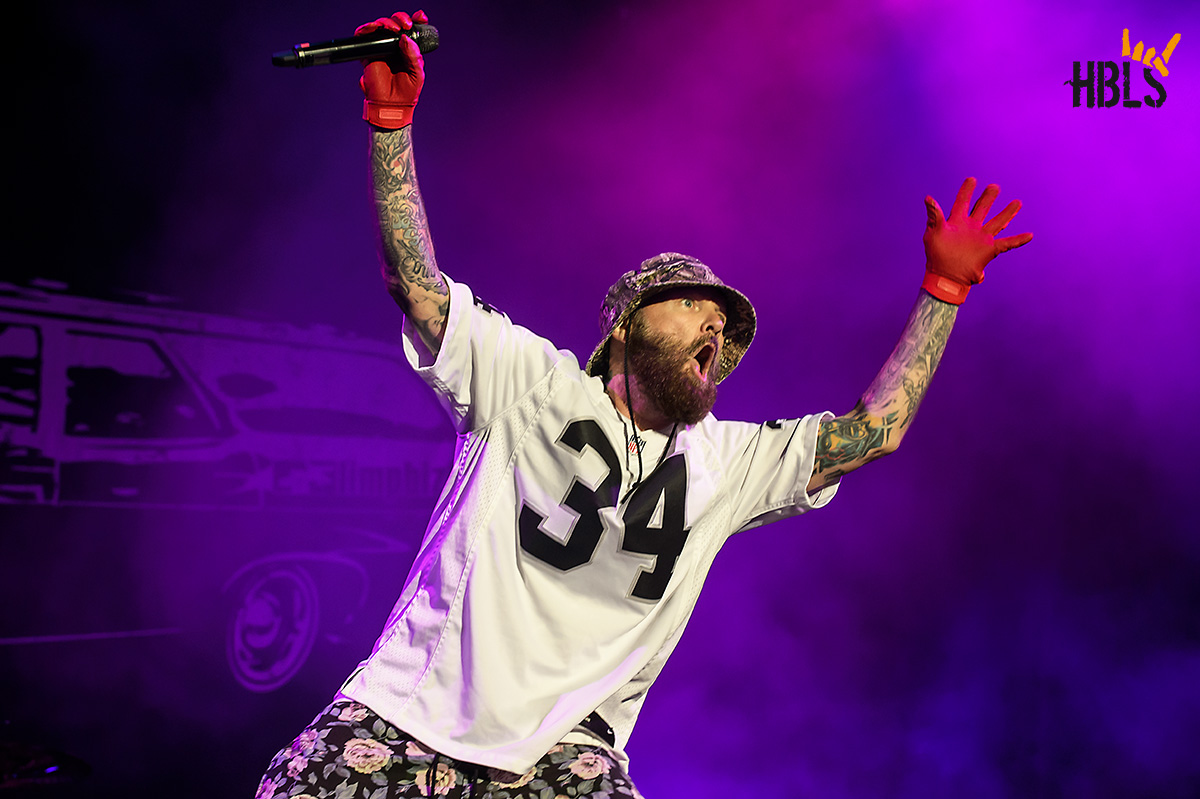 Limp Bizkit

The Nordic bands make a good impression too, like the Swedish corps painted black metal band Watain that transforms The Temple in a true hellhole. An impressive, obscure and entertaining performance! Enslaved from Norway displays an appealing balance between extreme metal and melodic, progressive metal, which keeps the attention of the audience. Children Of Bodom from Finland turns The Altar into a madhouse. The crowd didn't even fit in this tent and because of their popularity and great performance I think they deserved the main stage. Also Amorphis, hailing from Finland too, is a real crowd pleaser and sounds better than ever.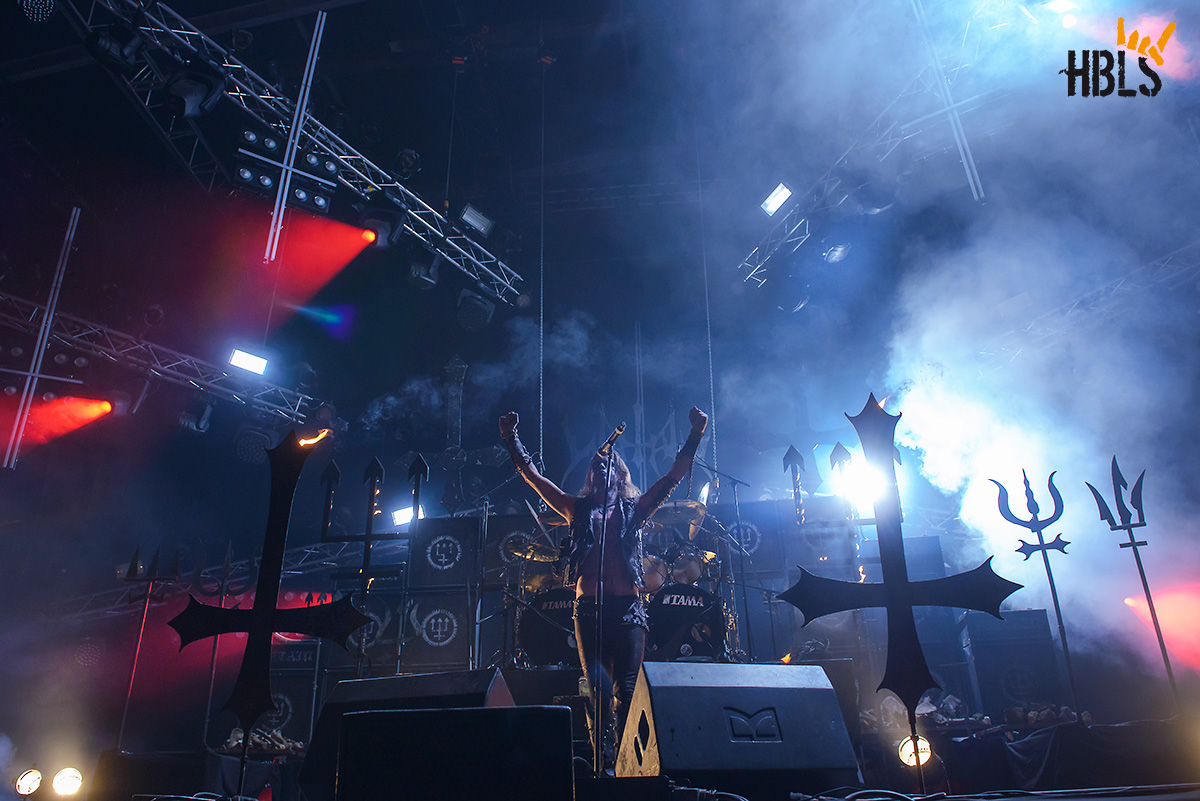 Watain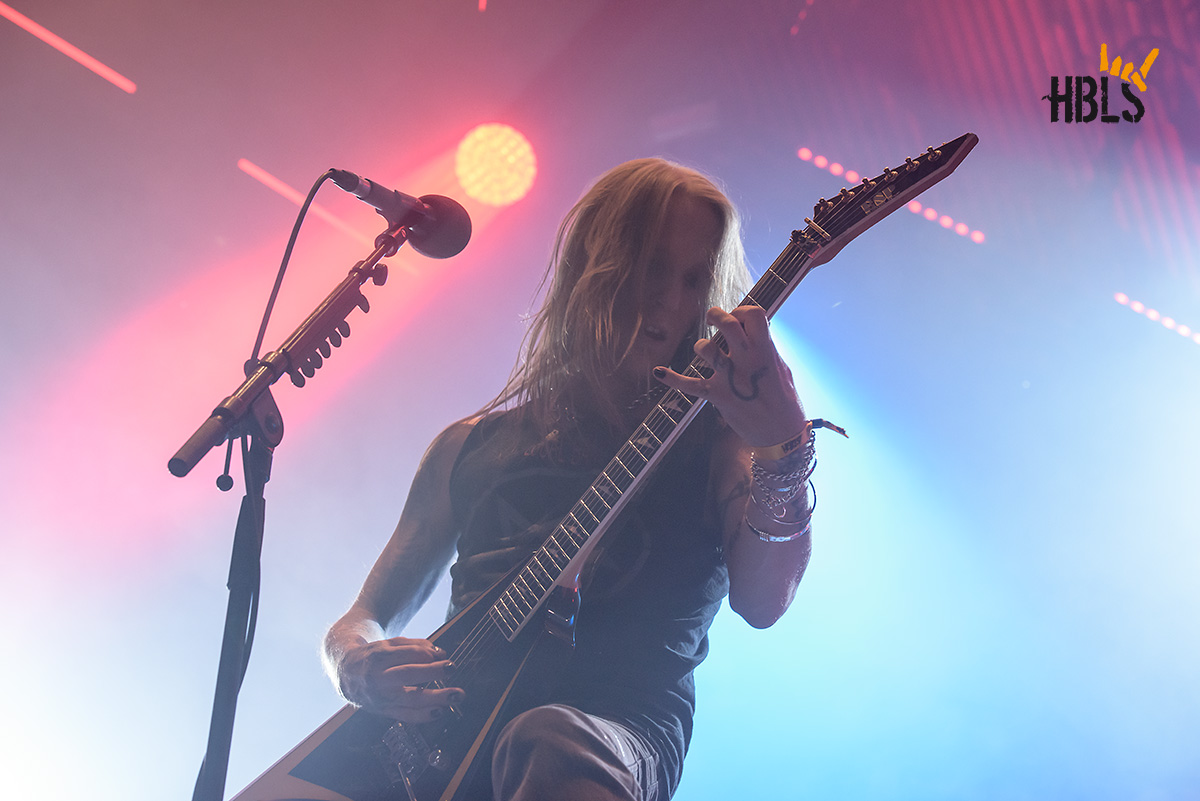 Children Of Bodom

The show of In This Moment, with the beautiful Maria Brink, is striking. Not only is she an extraordinary vocalist with a recognizable style, she also embraces the theatrics and drama in an original way, having cool props and décor on stage and a cool band, resulting in a very intriguing and outstanding performance.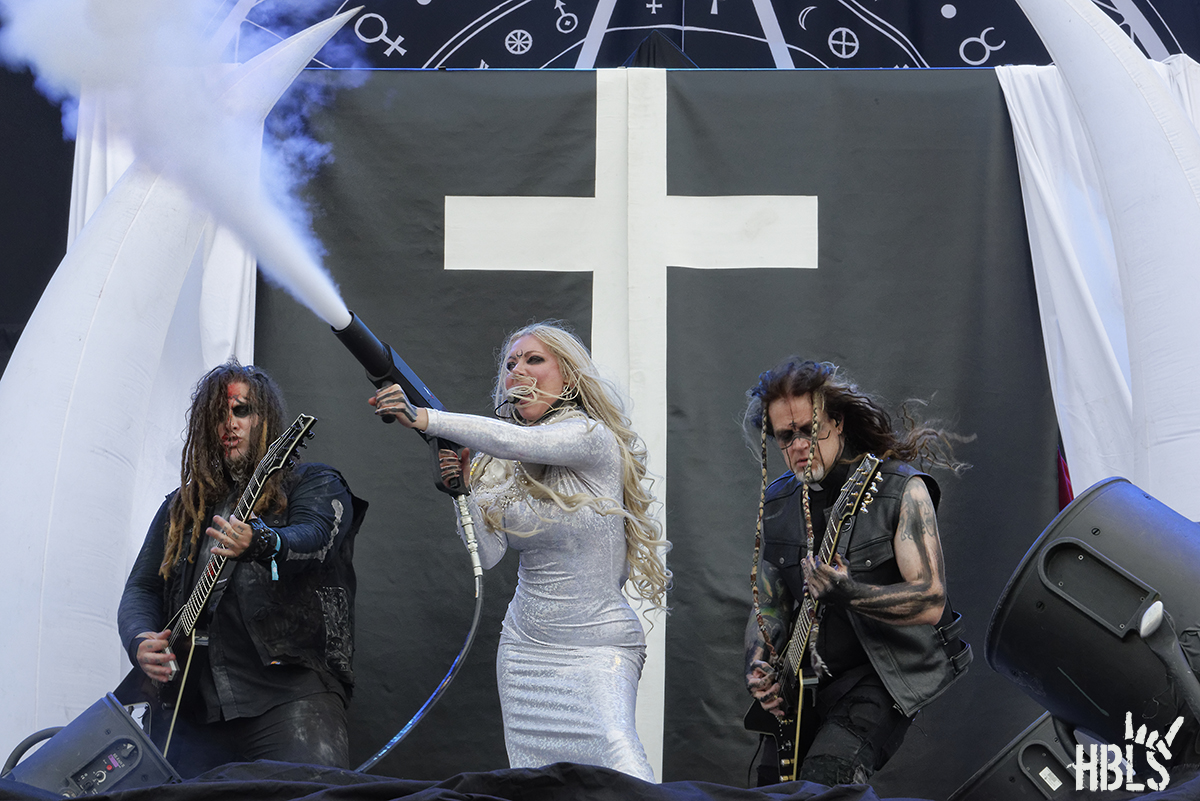 In This Moment

Another female singer that does things her own way is Alissa White-Gluz, who grunts and growls in the name of metal and together with her technical skilled band Arch Enemy she shows why the band's star is still rising. Thrash combo Tremonti and the Wales boys Bullet For My Valentine just do a decent job and Alice In Chains does bring back a lot of good memories of the 90s grunge era and especially William DuVall deserves a lot of credit for his amazing vocal performance.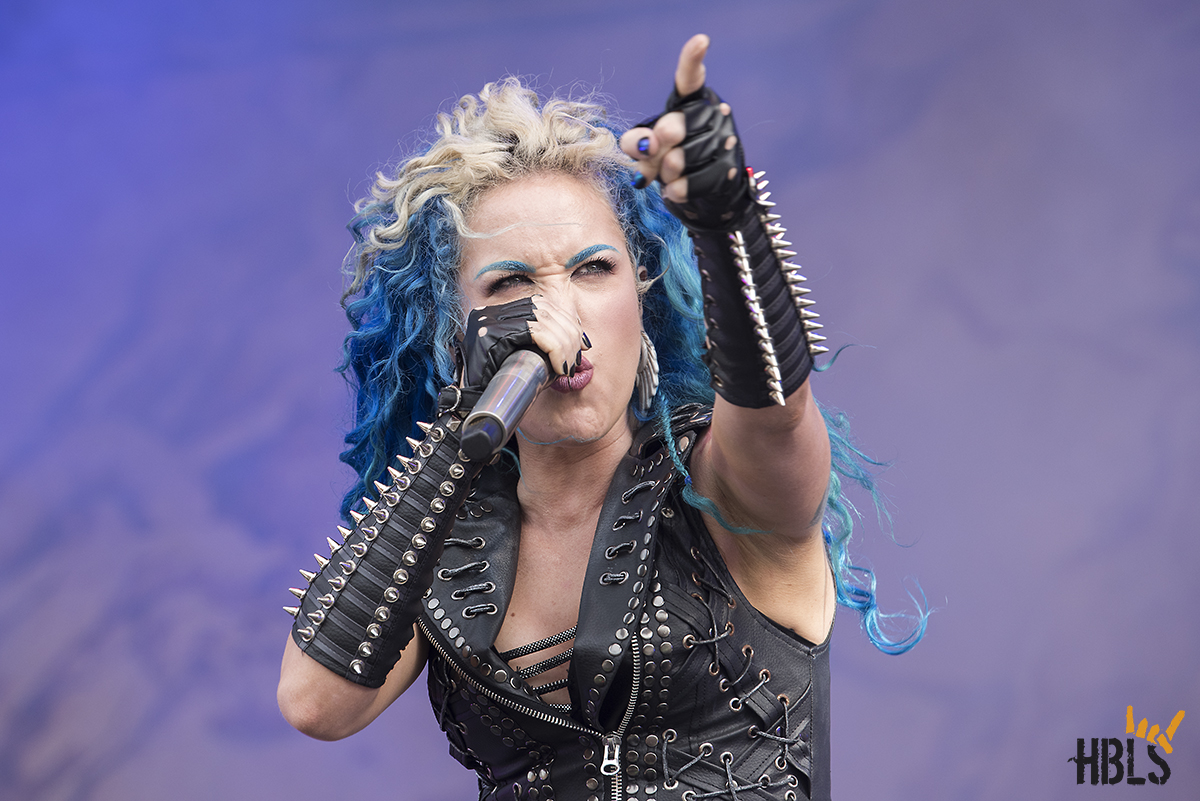 Arch Enemy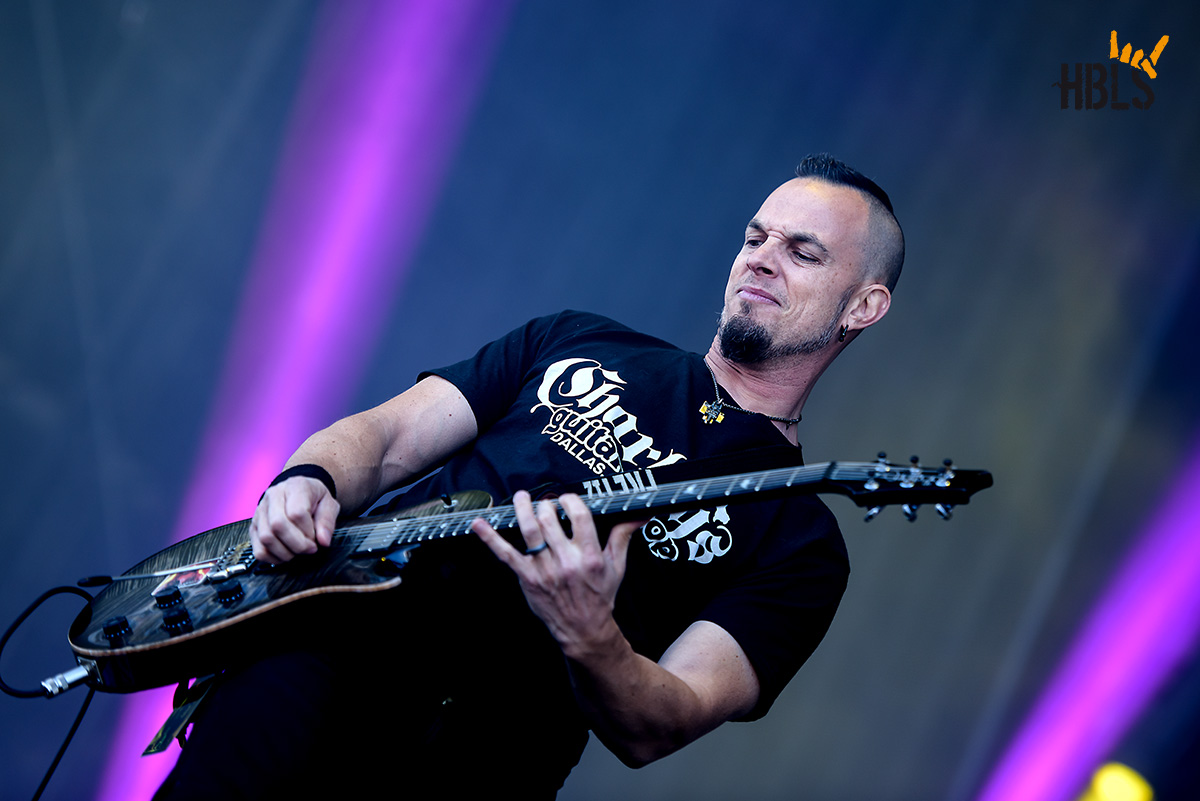 Tremonti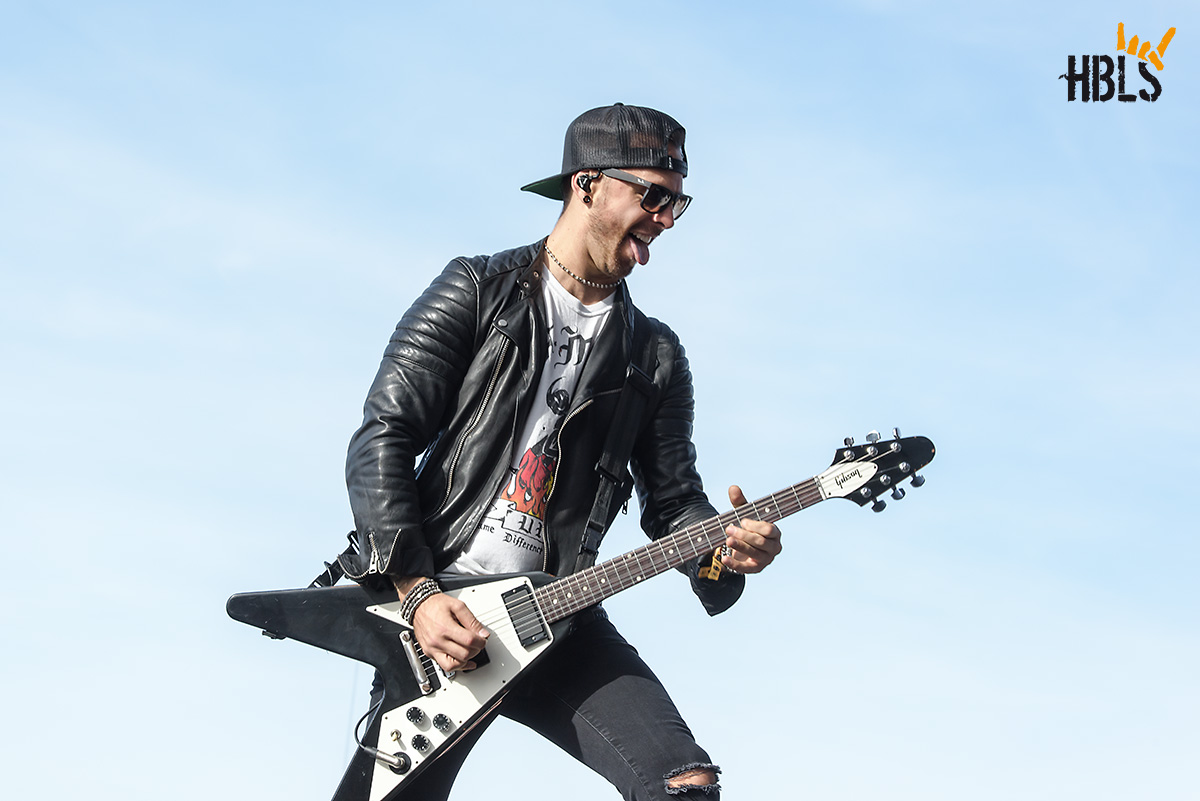 Bullet For My Valentine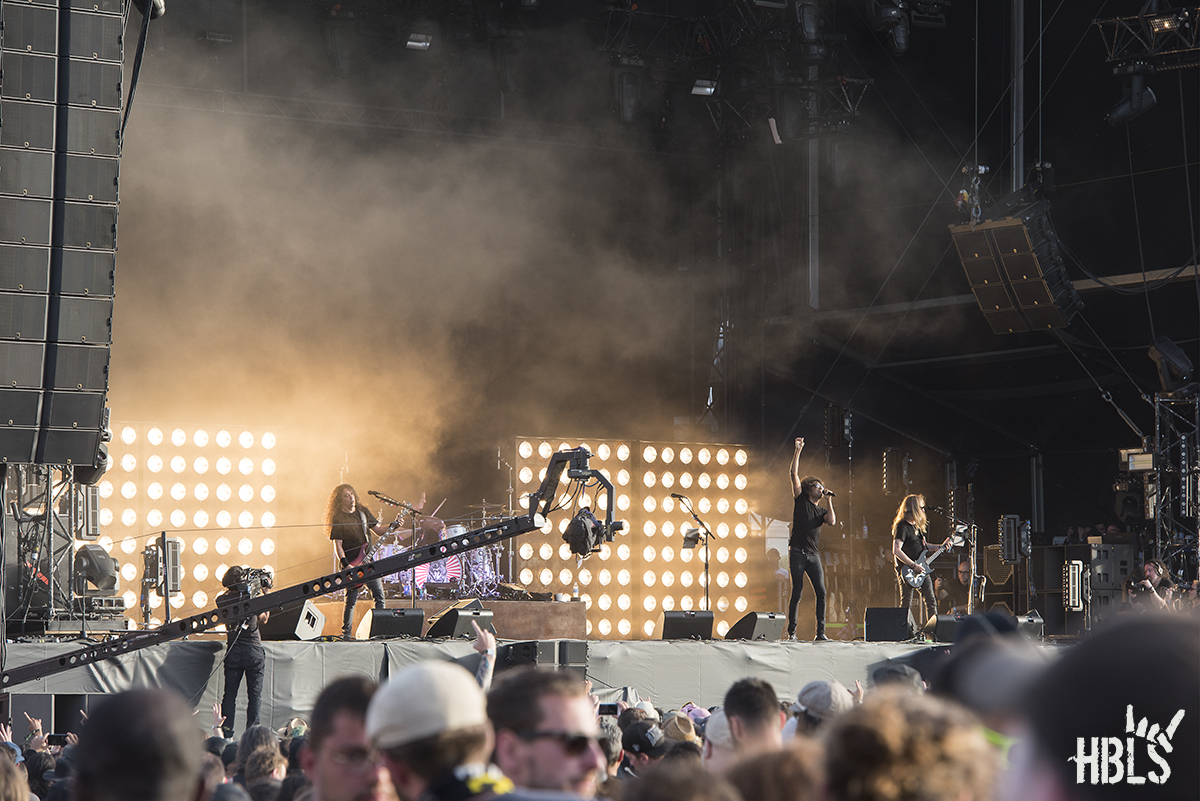 Alice In Chains

Having so many bands, also playing until very late at night, it is impossible to see them all, but in general the overall quality of the performances are of a high standard, all very professional and I guess it is more a matter of taste which bands are the best or the coolest. Though I felt there were a few disappointments among them, like the extremely poor performance of L.A. based garage/punk rock band L7. The band has been around since 1987 but their magic is long gone I guess. The ,,Let's blow some speakers, Hellfest!'' didn't exactly happen and playing on the main stage was way too ambitious. I also had more hopes for The Chris Slade Timeline [also main stage]. The band of current AC/DC drummer Chris Slade is in fact nothing more than a cover band mainly playing AC/DC hits, but the executions of ,,Dirty Deeds Done Dirt Cheap'', ,,Back In Black'', ,,Thunderstruck'', ,,Highway To Hell'' and also Pink Floyd's ,,Comfortably Numb'' are not that solid and well performed. It shows that Slade unfortunately doesn't surround himself with the best musicians for this occasion. And than there is hip-hop act Body Count with Mr. Ice T up front who seems to be in a whining and negative talking mood. Not a sparkling or fun show. Megadeth's Dave Mustain is unfortunately not in his best vocal state and Iced Earth doesn't release the spark they did in the past.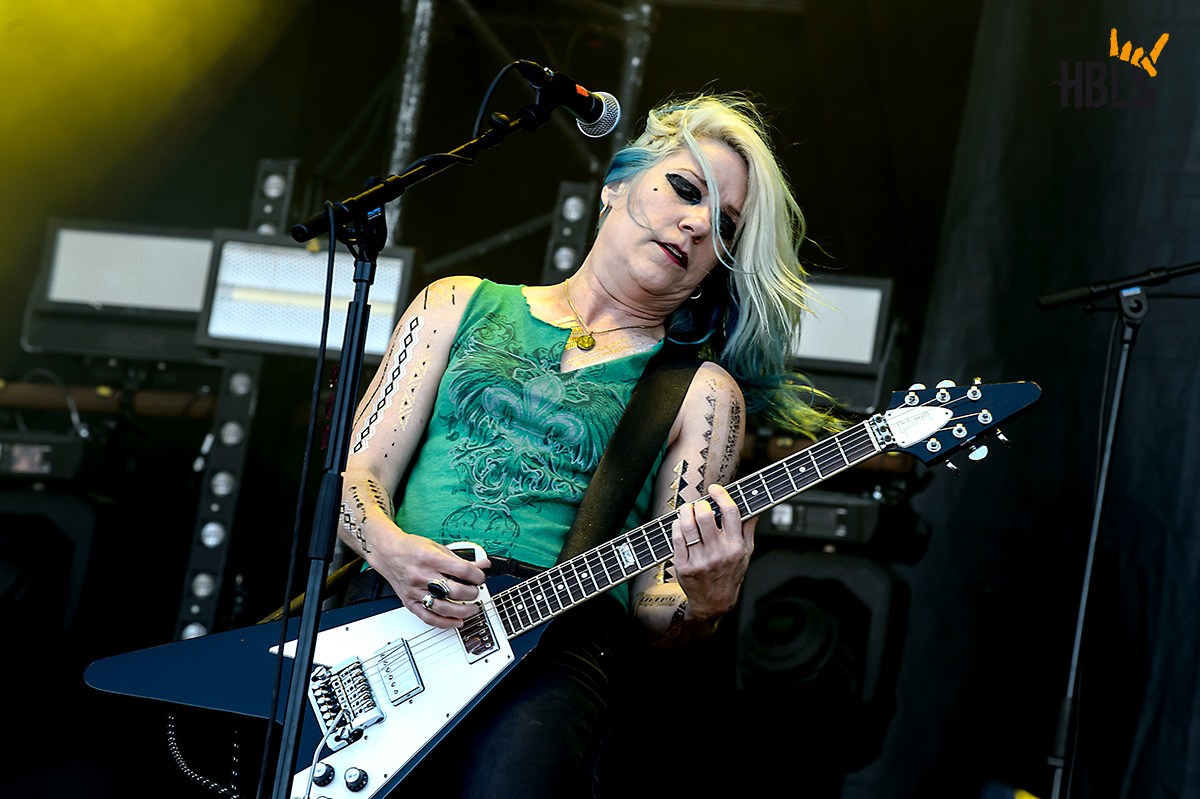 L7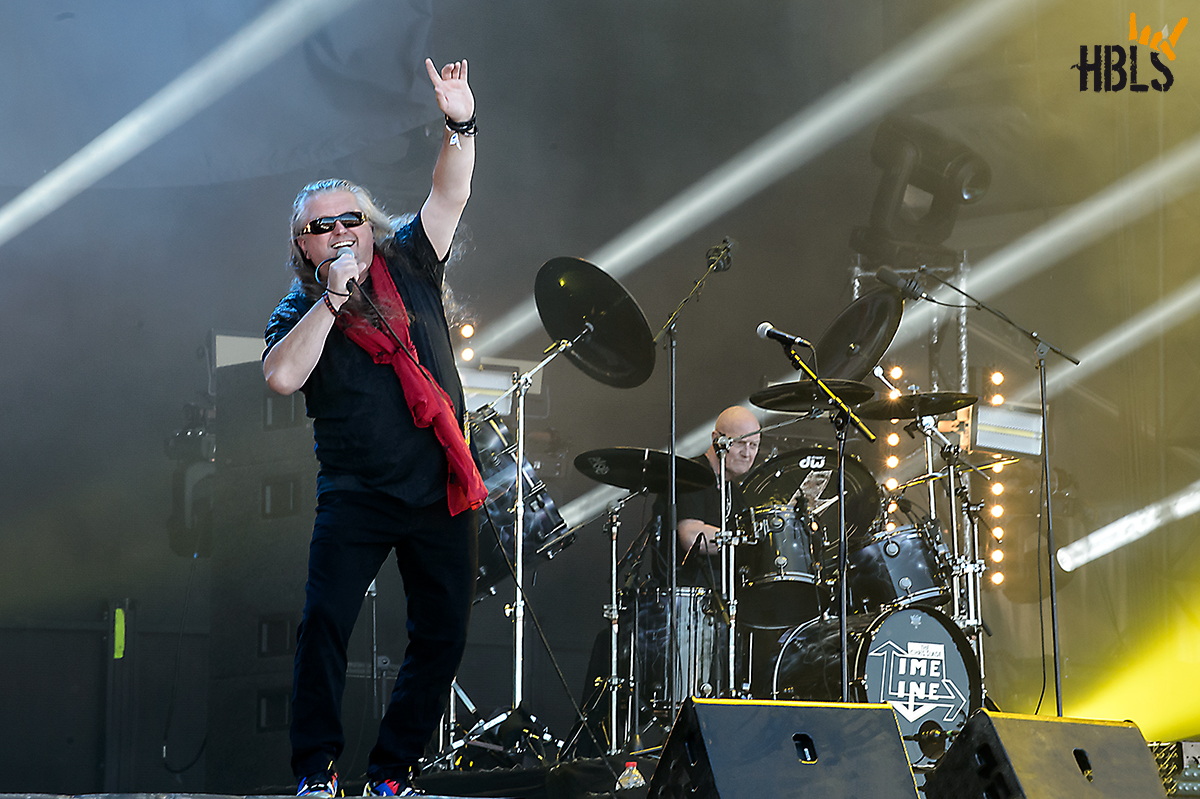 The Chris Slade Timeline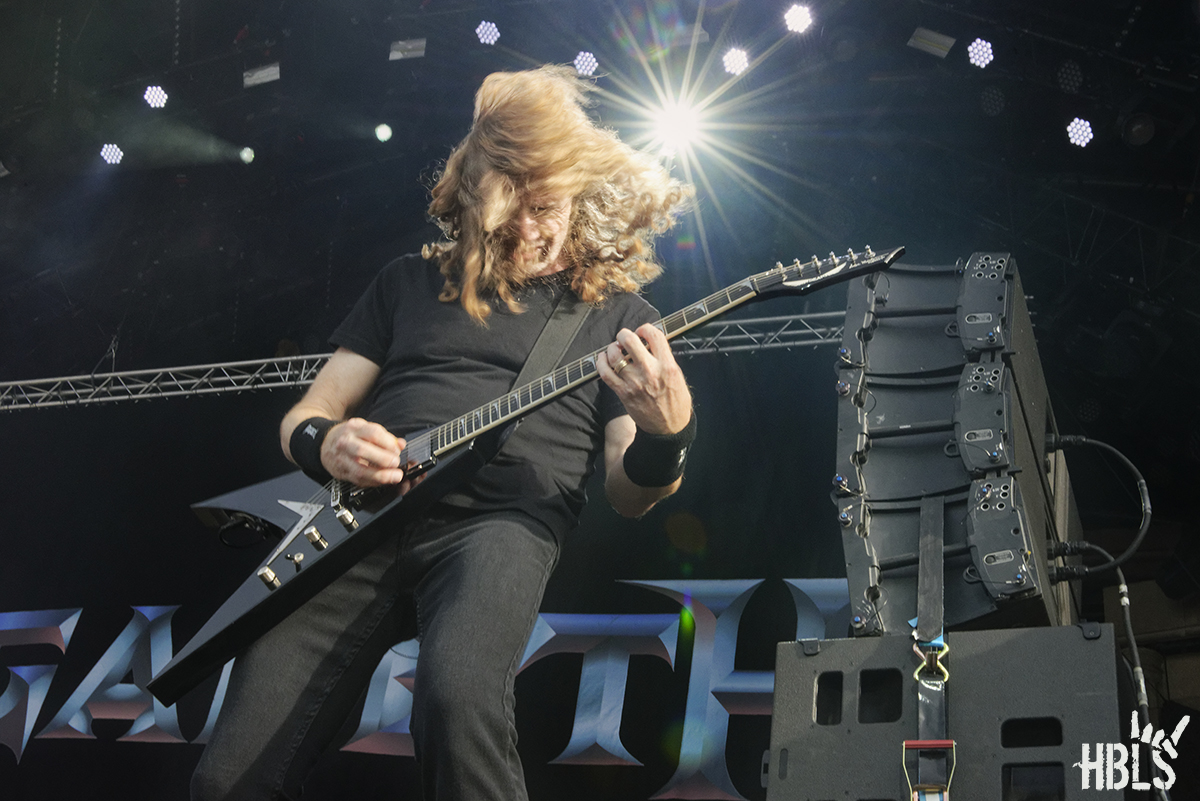 Megadeth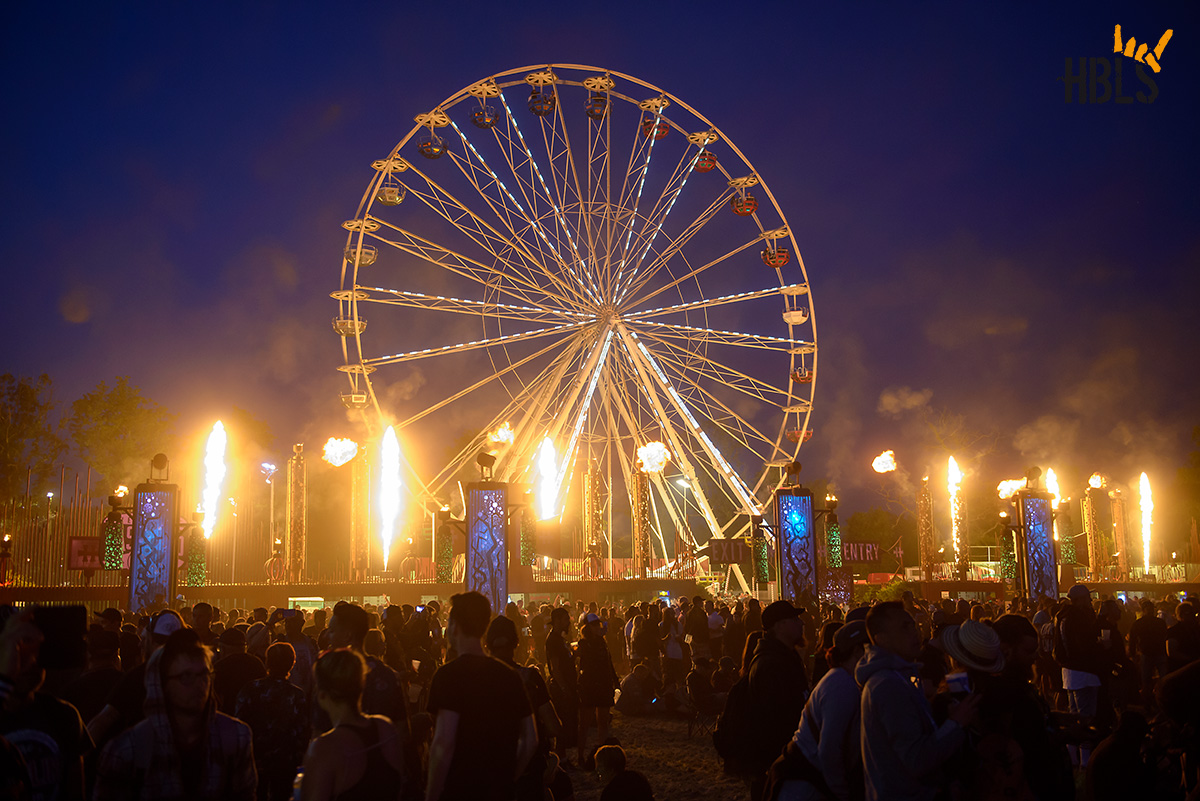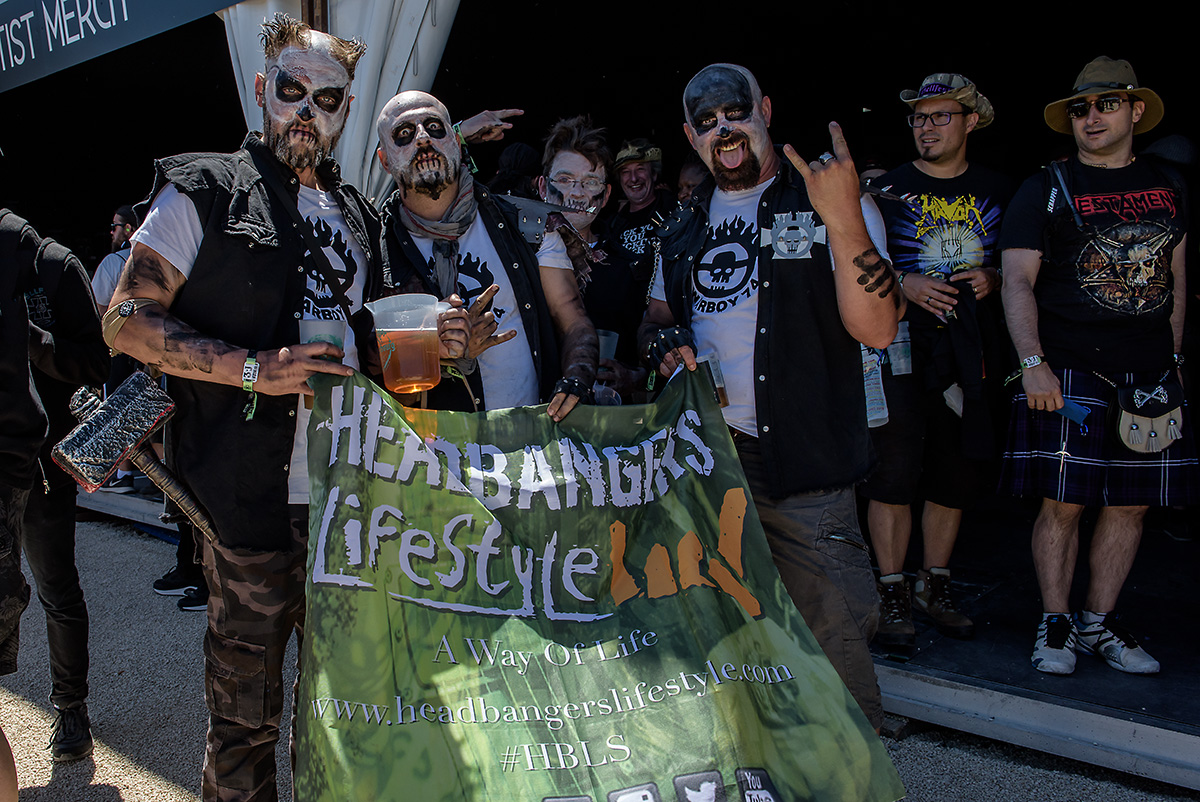 NEXT YEAR
Hellfest is awarded as the best French festival of 2017 and with this succeeded 2018 edition I'm sure they will keep that status. Hellfest is worth going and on the last evening a few bands are already revealed for 2019. Bass player Joey DeMajo climbs up stage to announce that Manowar will be on the bill of the 2019 edition. Also Slayer, Dropkick Murphys and Mass Hysteria are already confirmed and more names will be announced soon.

See you next year!
—
All photos by DCH Photography
Keep updated about the 2019 edition of Hellfest on Facebook and the Website.

Europe talks about Hellfest in this video:


MORE PHOTOS: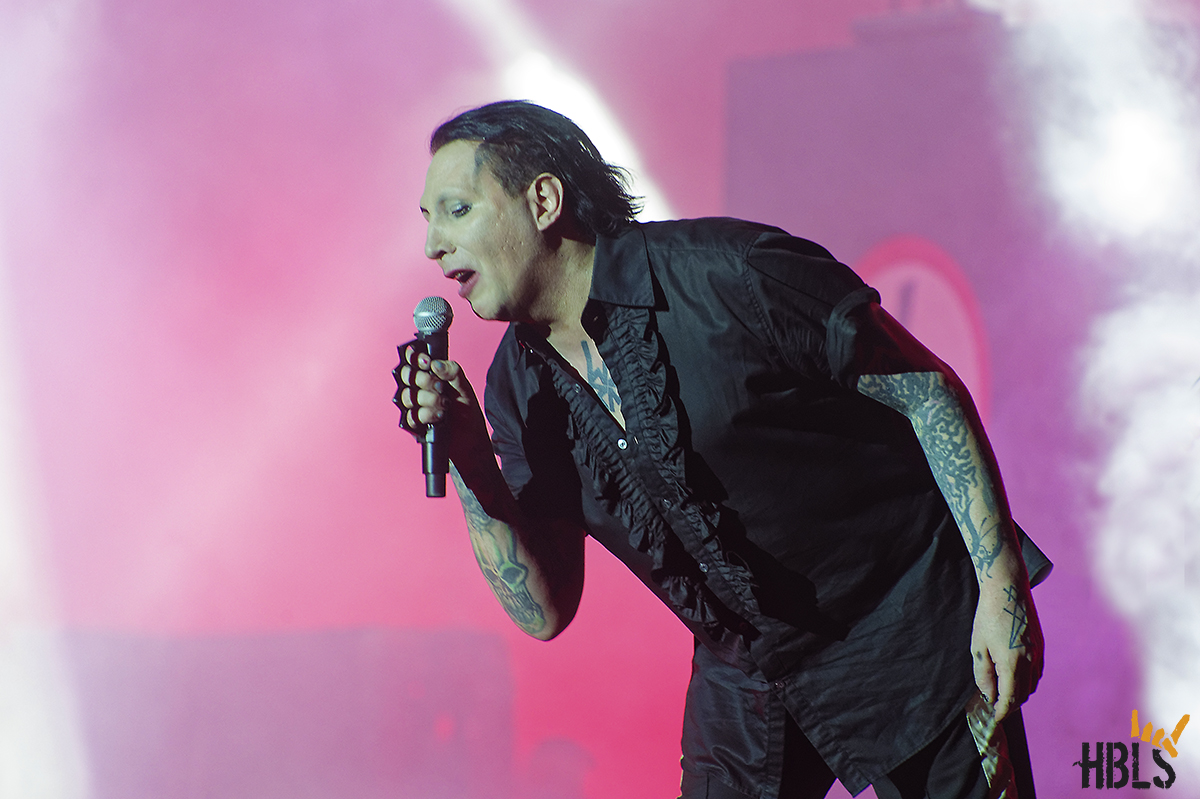 Marilyn Manson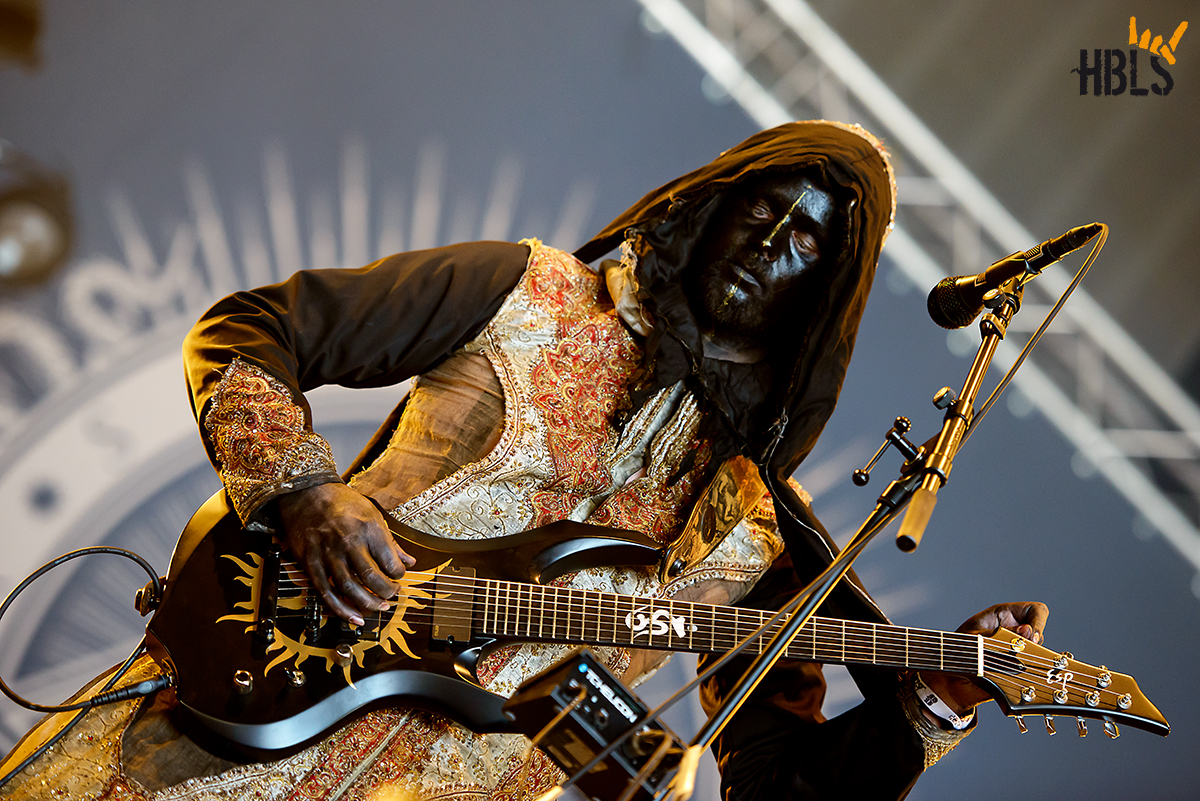 Schamasch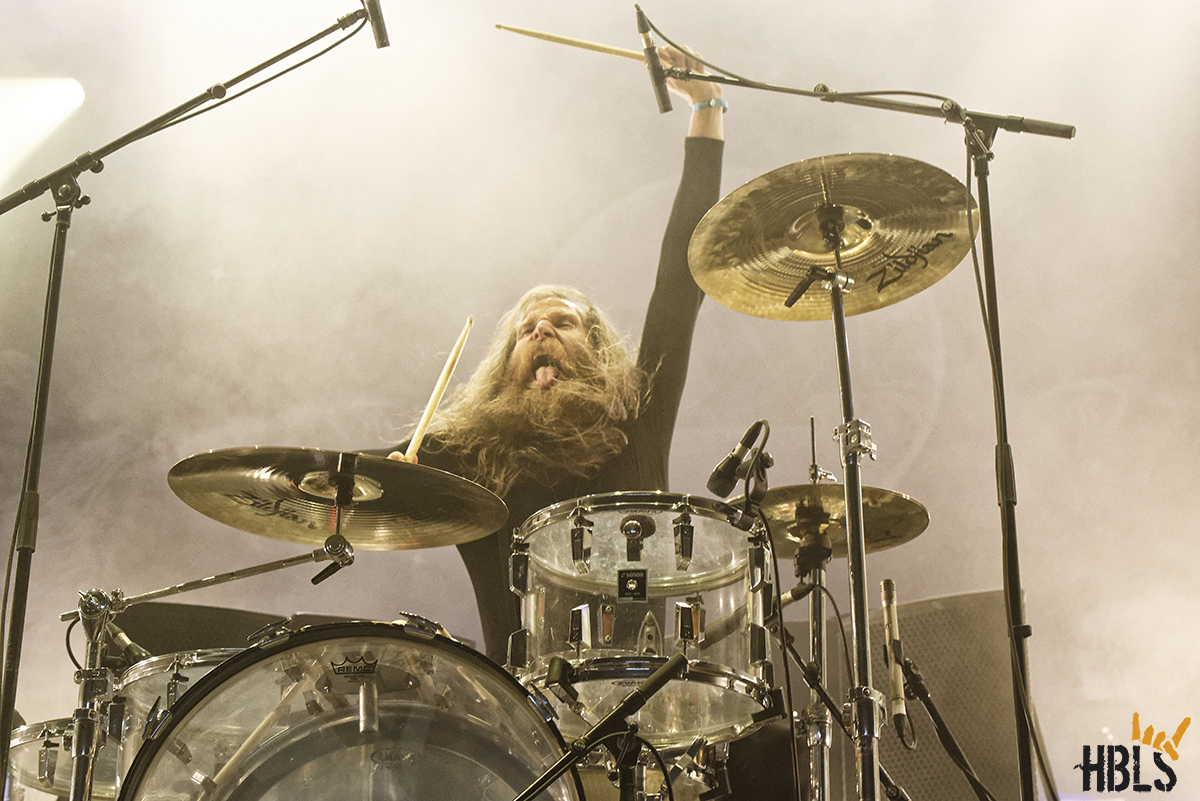 Kadavar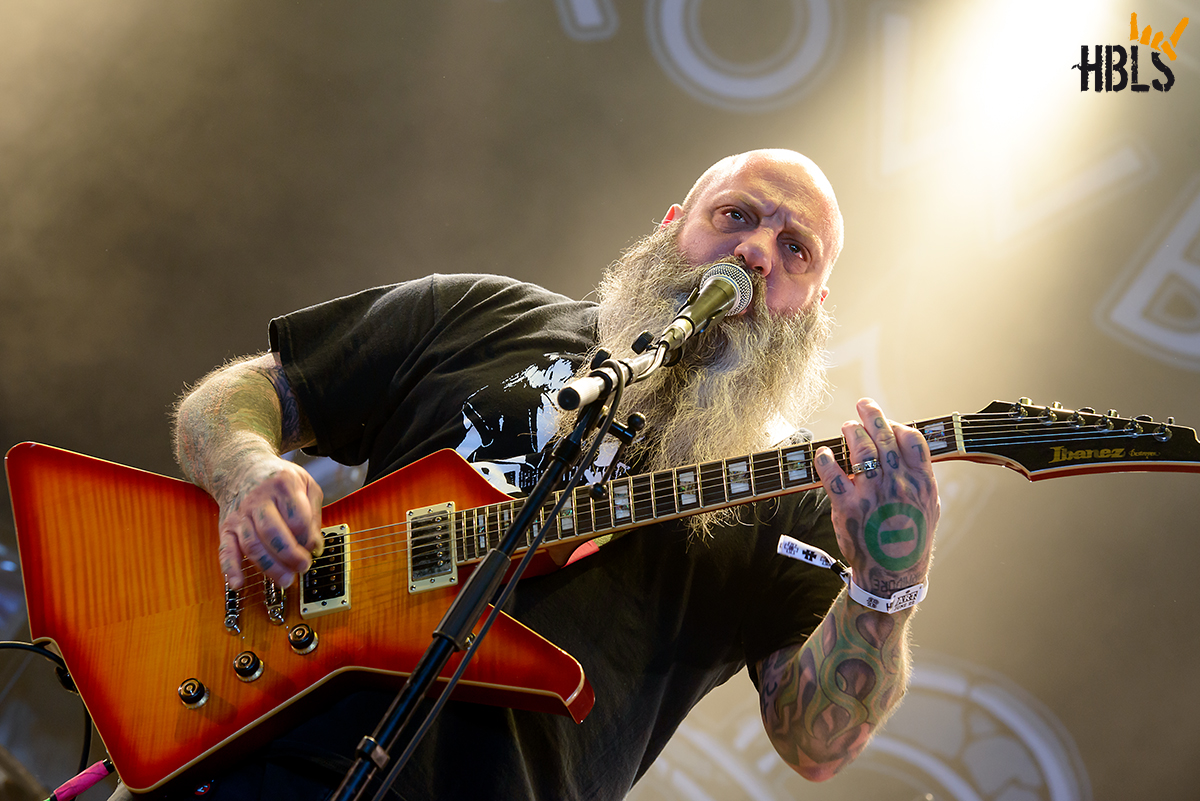 Crowbar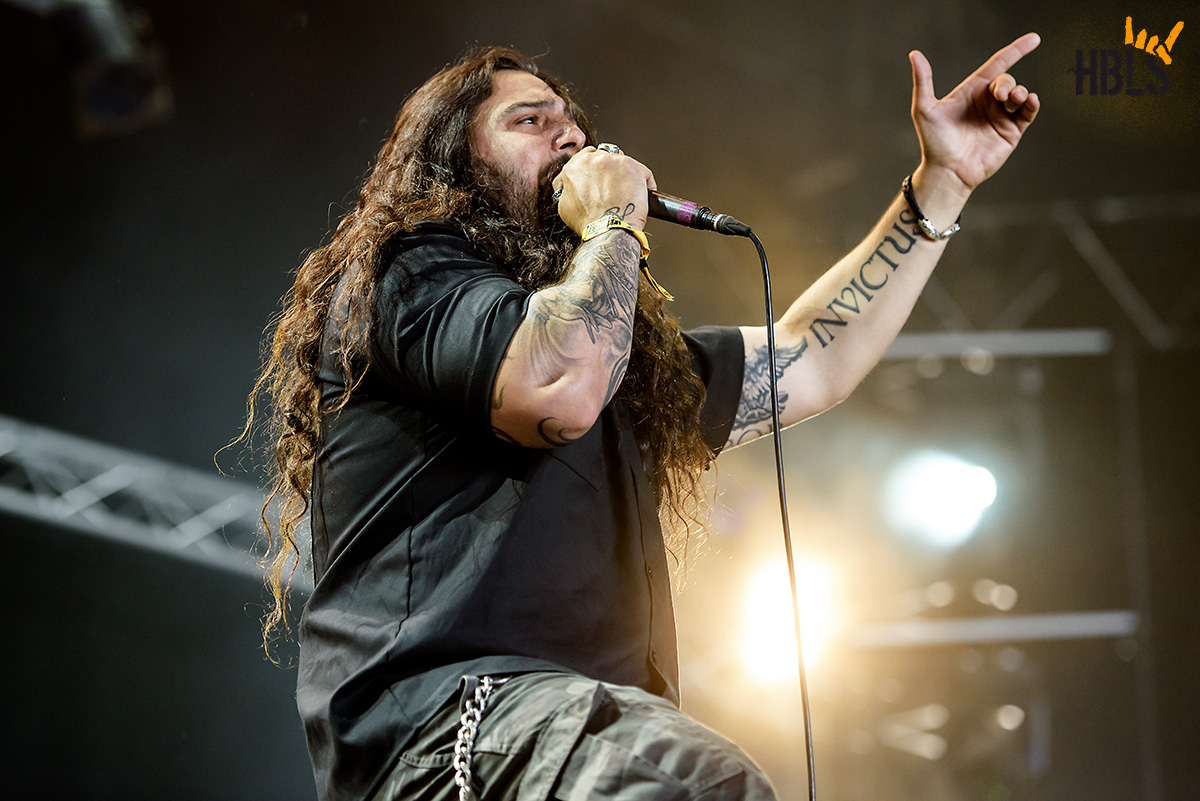 Katalys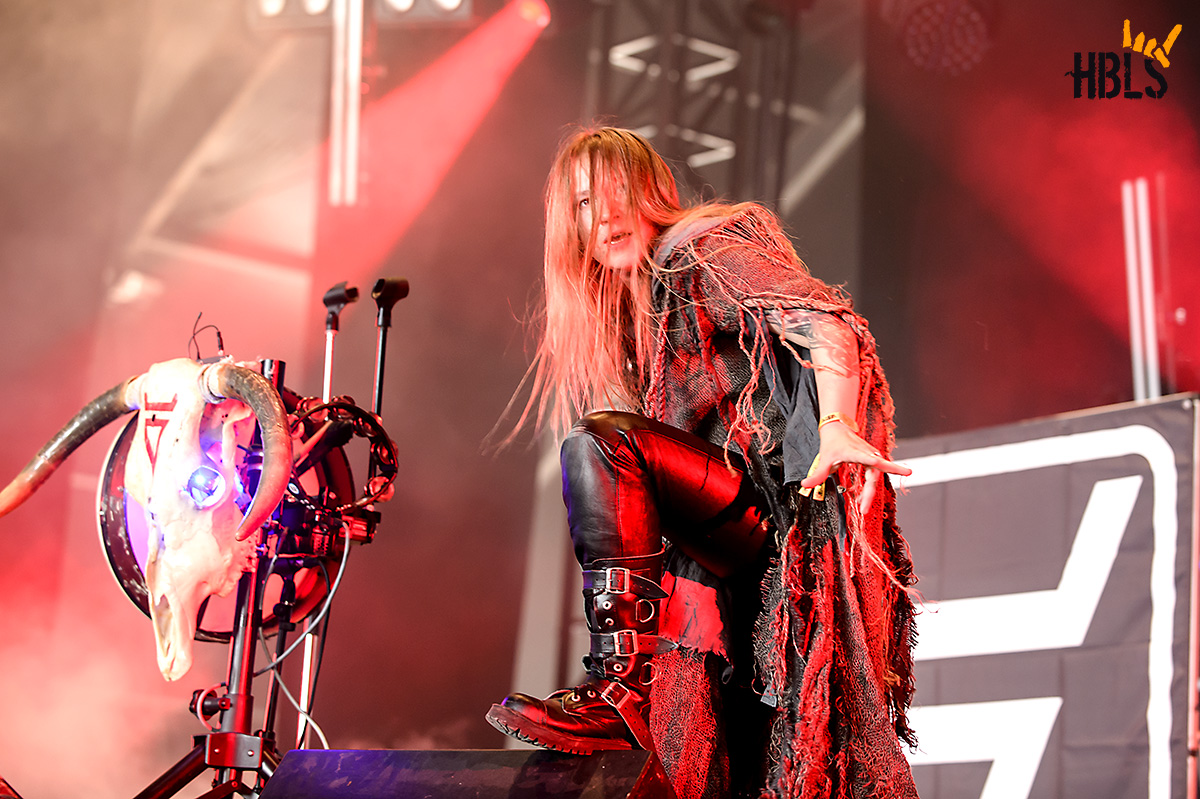 Arkona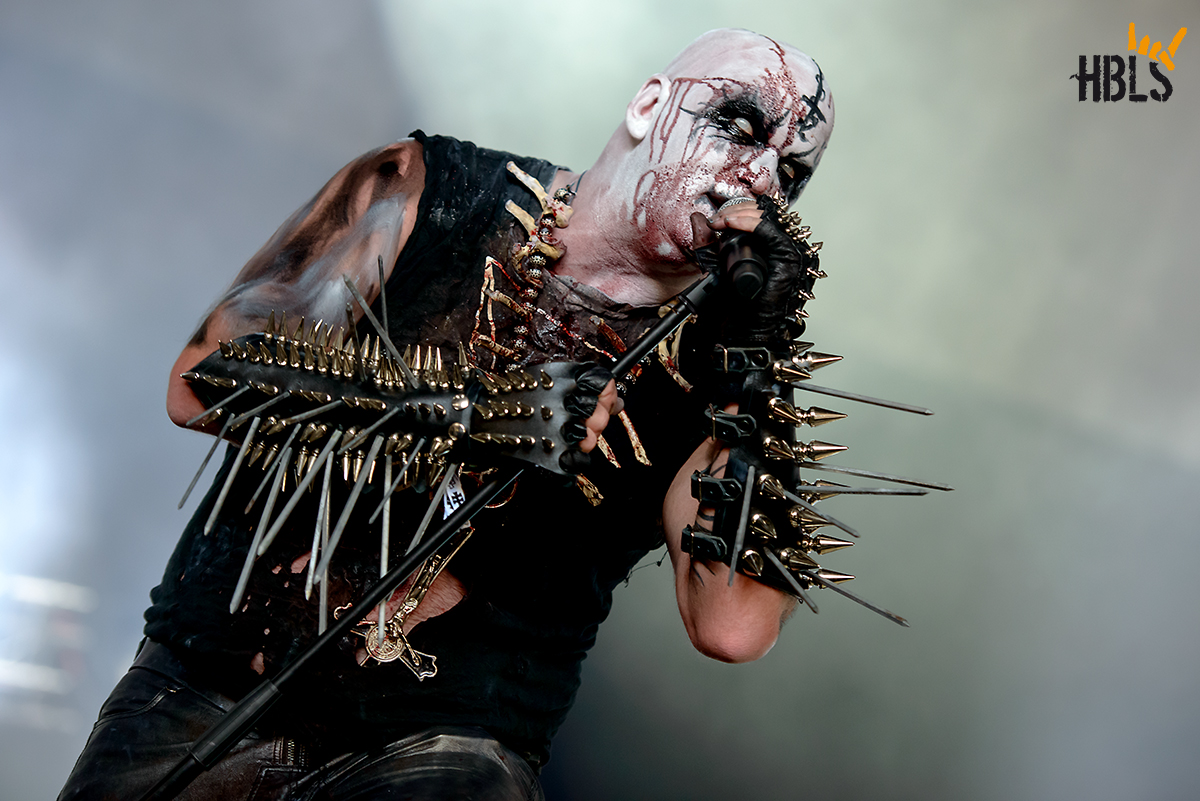 Nordjevel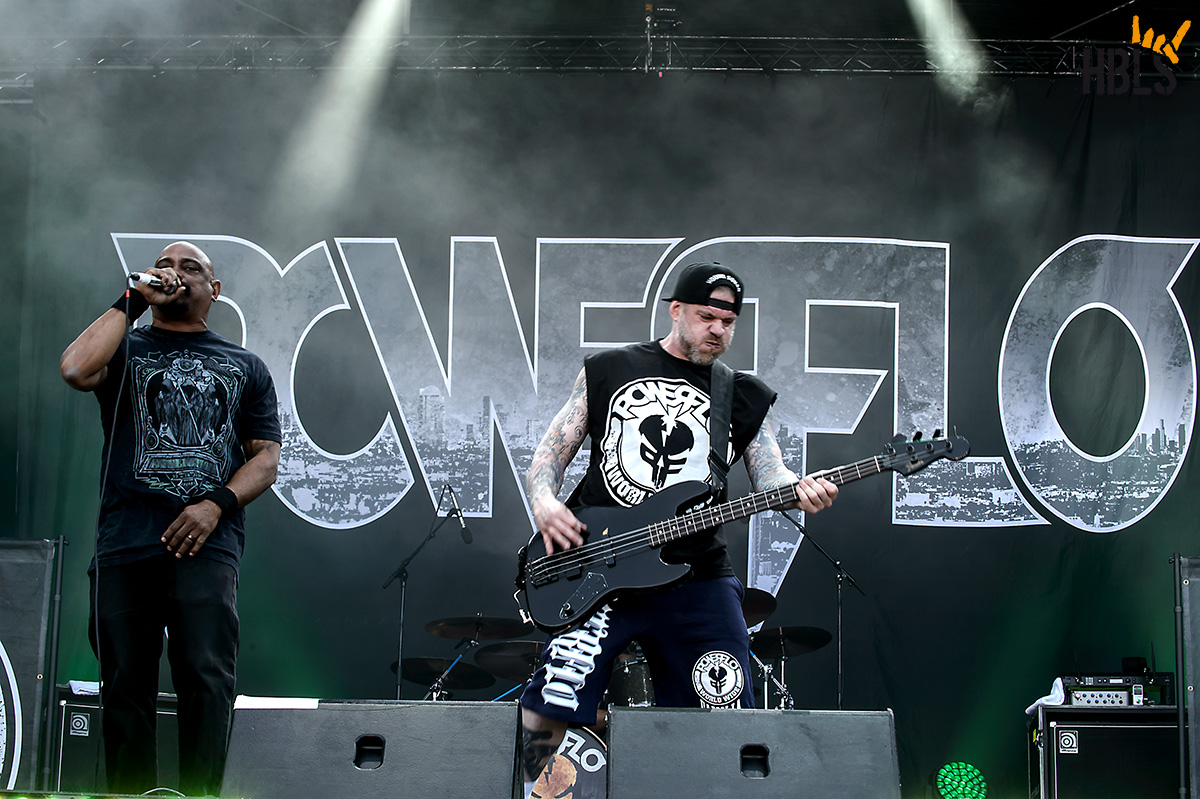 Powerflo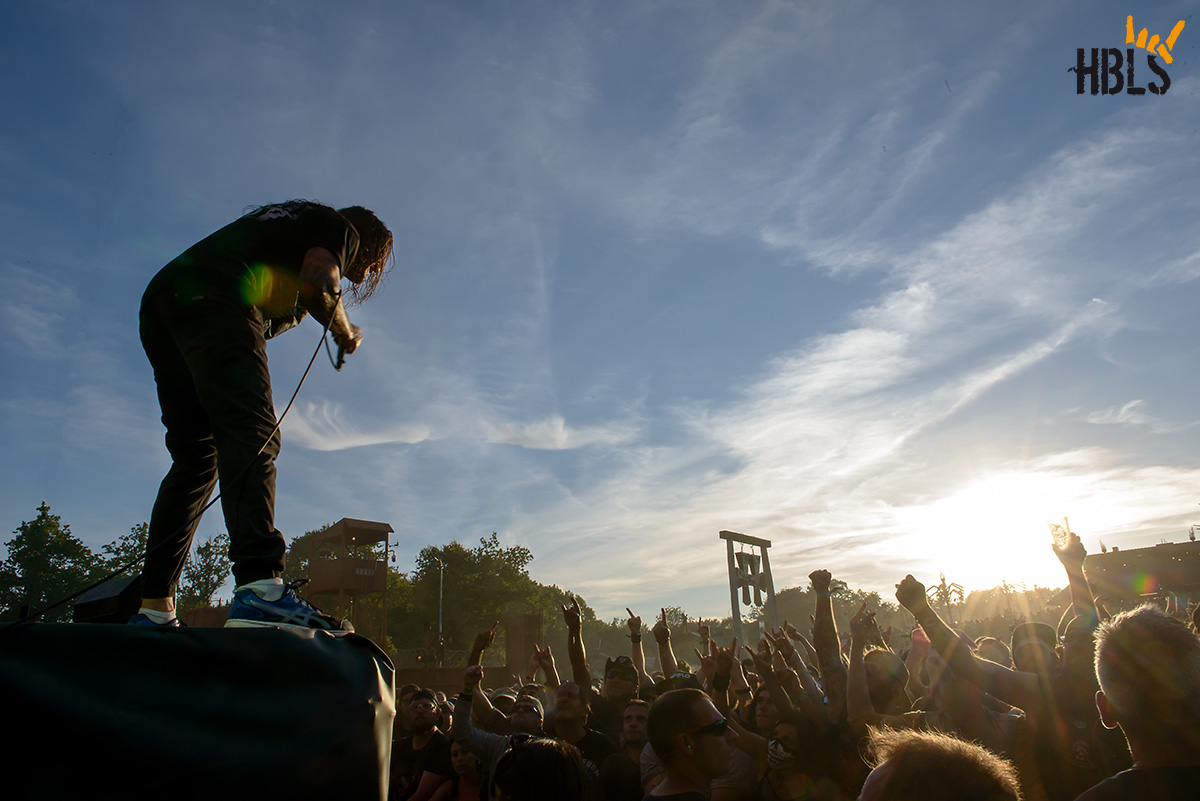 Madball