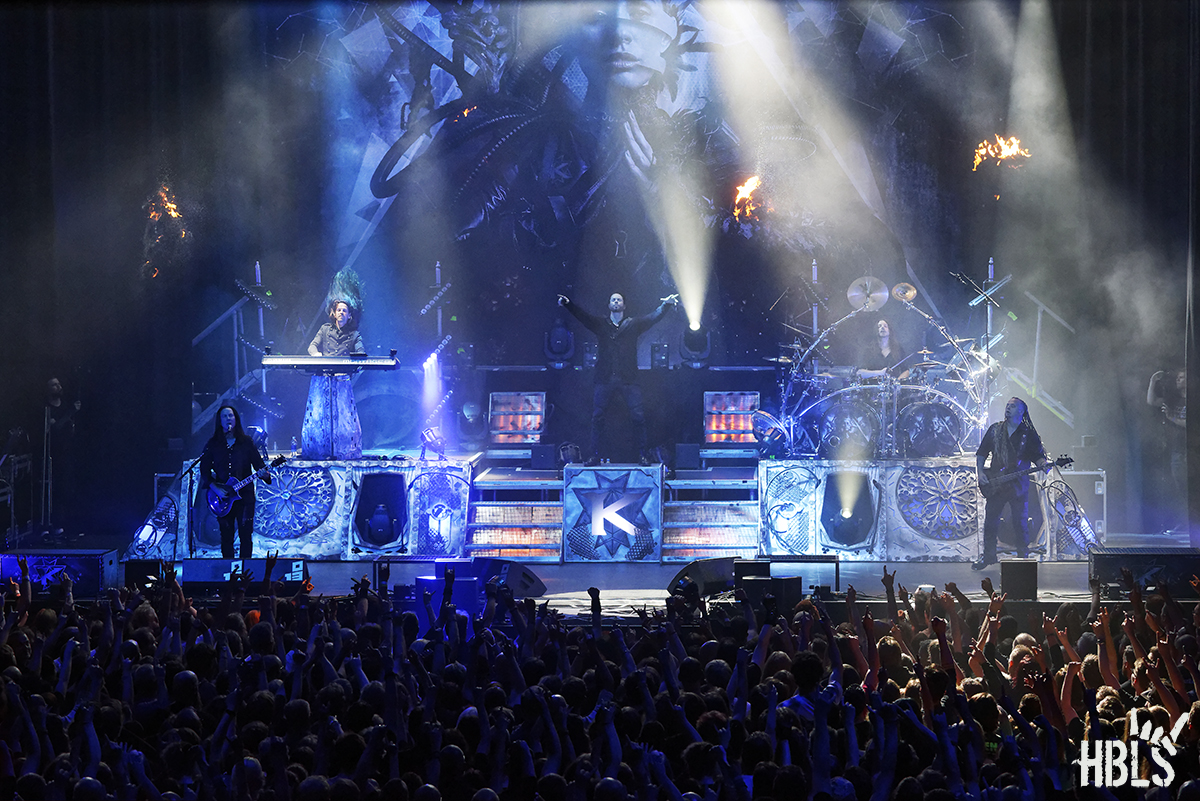 KAMELOT [& Leaves' Eyes & Maiden UniteD]
Tilburg [NL]-013-14 September 2018
When you go to see Kamelot live, you can always count on a good show, worth the money. First of all because Kamelot has an awesome sounding discography, featuring tons of fantastic symphonic and dynamic power metal anthems and beautiful ballads. Second of all the musicians never fail with their musical skills, the overall performance is always super professional and amusing and the show elements, stage props, light and sound are very well taken care of. A frequent bonus is they mostly have a guest or two appearing in their show.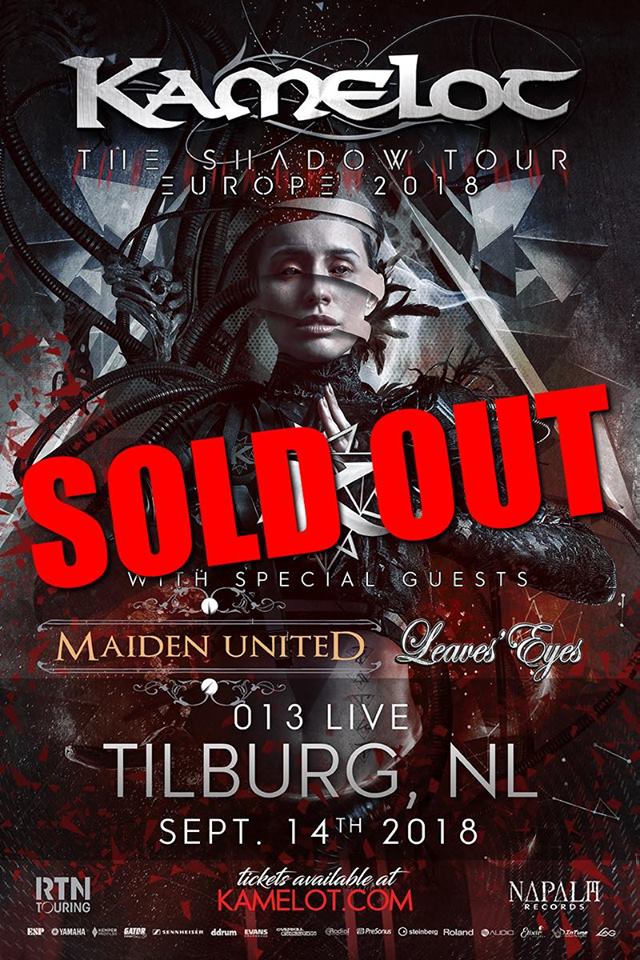 Last April Kamelot released its magnificent, 12th studio album `The Shadow Theory' with great success and since then the band is touring the world. Tonight Kamelot landed in The Netherlands for a very special show in 013 Poppodium in Tilburg [NL], to record a DVD-Blu-ray. I'm pretty sure fans are dying for a new DVD by now, since the last and only one [`One Cold Winter's Night'] saw the light of day in 2006, featuring an old line-up as well. I don't know if it is because people want to be part of the recordings, or simply because Kamelot has gotten even more popular with the latest album, but the place is packed and totally sold out with over 3000 people!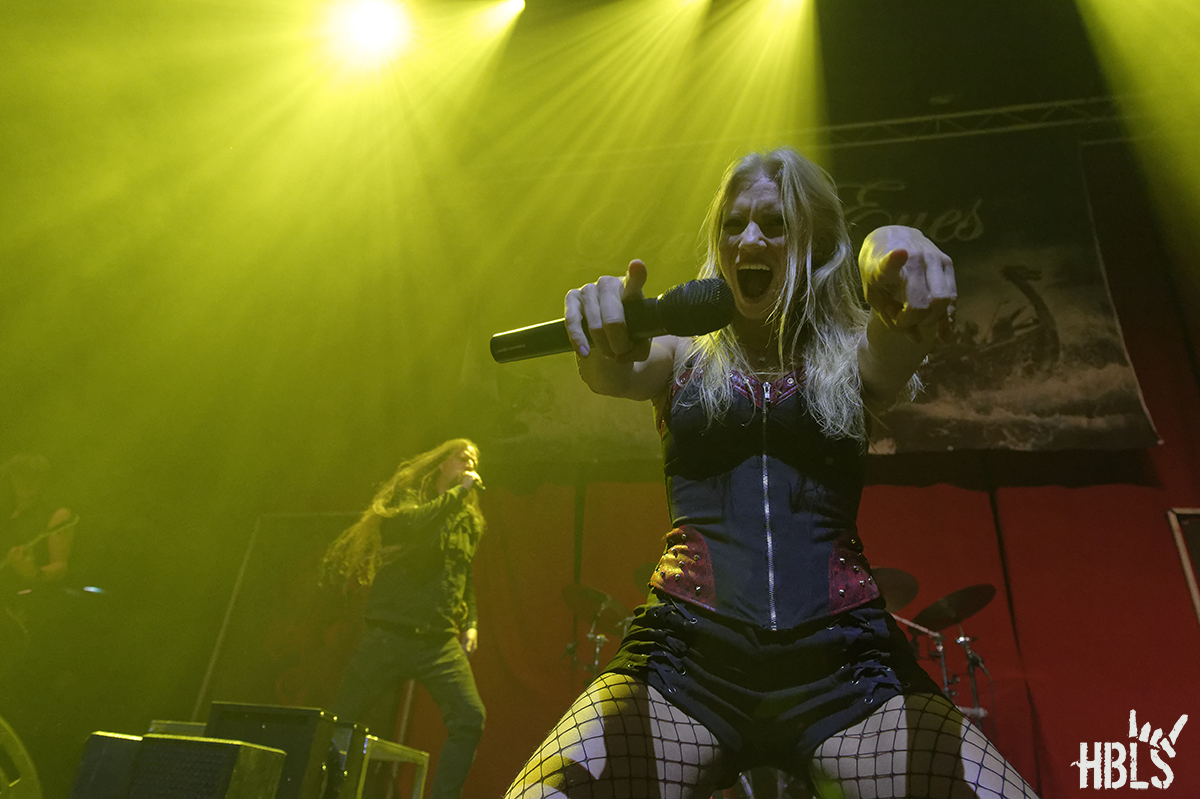 Elina Siirala of Leaves' Eyes

But before that special show started, German symphonic metal band Leaves' Eyes entered the stage after a troop of Vikings marked their position to announce a true Viking party. Leaves' Eyes didn't waste a second of their short playing time [25 minutes] and gave it all to get the audience crazy and sing along with their symphonic, Nordic tales and Celtic Folk tunes. Having a strong focus on last two albums `King Of Kings' (2015] and `Sign Of The Dragonhead' [2018] the band came to conquer and succeeded. Finnish soprano Elina Siirala displayed an impressive vocal range and stable vocal performance and she makes a good team with grunter and growler Alexander Krull. Together with the band they shared a positive vibe and exchanged enthusiastic energy with the audience, especially during the newest hits ,,Sign Of The Dragonhead'', ,,Across The Sea'', Riders On The Wind''.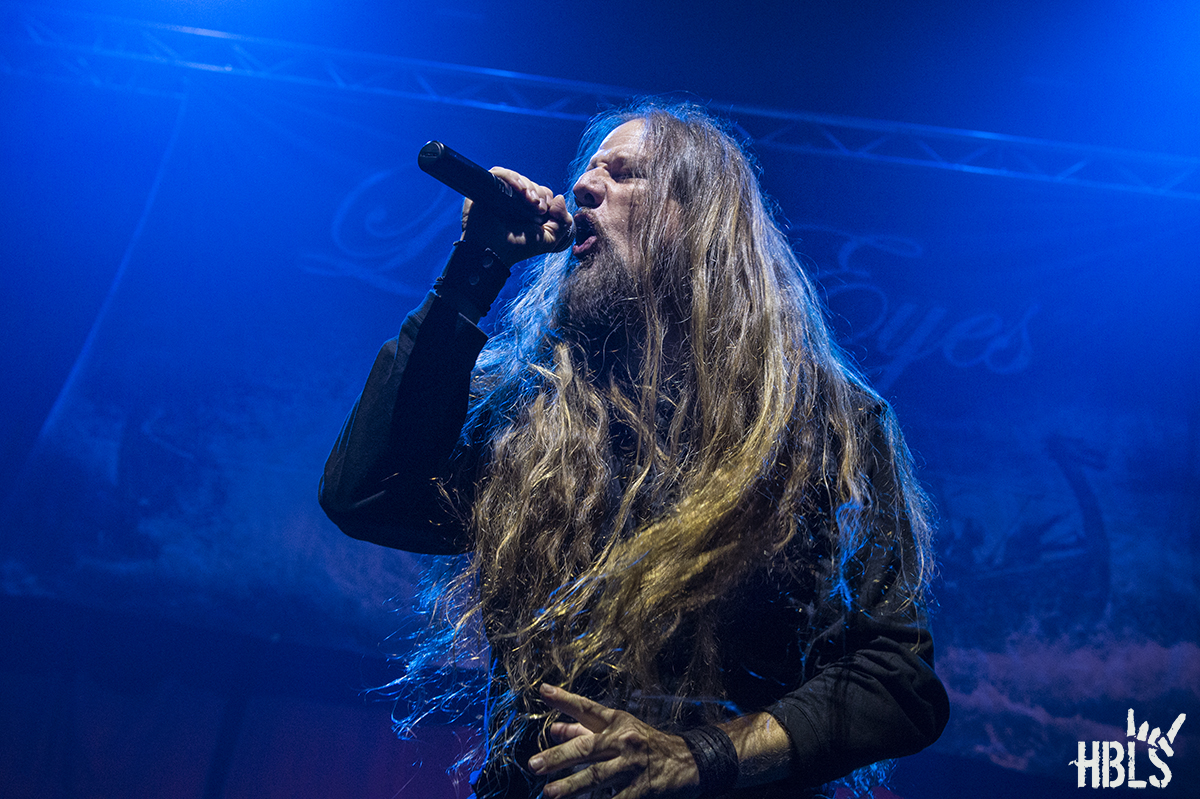 Alexander Krull of Leaves' Eyes

After a quick change over local band Maiden UniteD had about 50 minutes to keep the crowd moving and grooving, though this was a complete different experience than we just had witnessed, mainly because Maiden UniteD is about classic Iron Maiden songs in new acoustic arrangement. The music and mood was so much calmer and actually very intimate, especially during the first part of the set in which they presented their latest work `Empire Of The Clouds' in its entirety. Although Wudstik [For All We Know, Ayreon] is not a metal singer, he did a good job, being versatile, having a big and colourful vocal range and he knows how to tap deep into his emotions. The second part of the set was about classic favourite Iron Maiden tunes, still in an acoustic setting, gladly with more power. Logically the audience couldn't resist to sing along with ,,Aces High'' right away. During ,,Strange World'' and ,,The Trooper'' we got a change of vocal scenery because these songs were performed by guest singer Jos Severens [Up The Irons] and this guy sounded definitely more like original singer Damian Wilson. The very well playing musicians treated the songs with great respect and the audience gave its support. It was nice to see that Wudstik and Jos brotherly united as vocalists in the last song ,,Wasted Years''.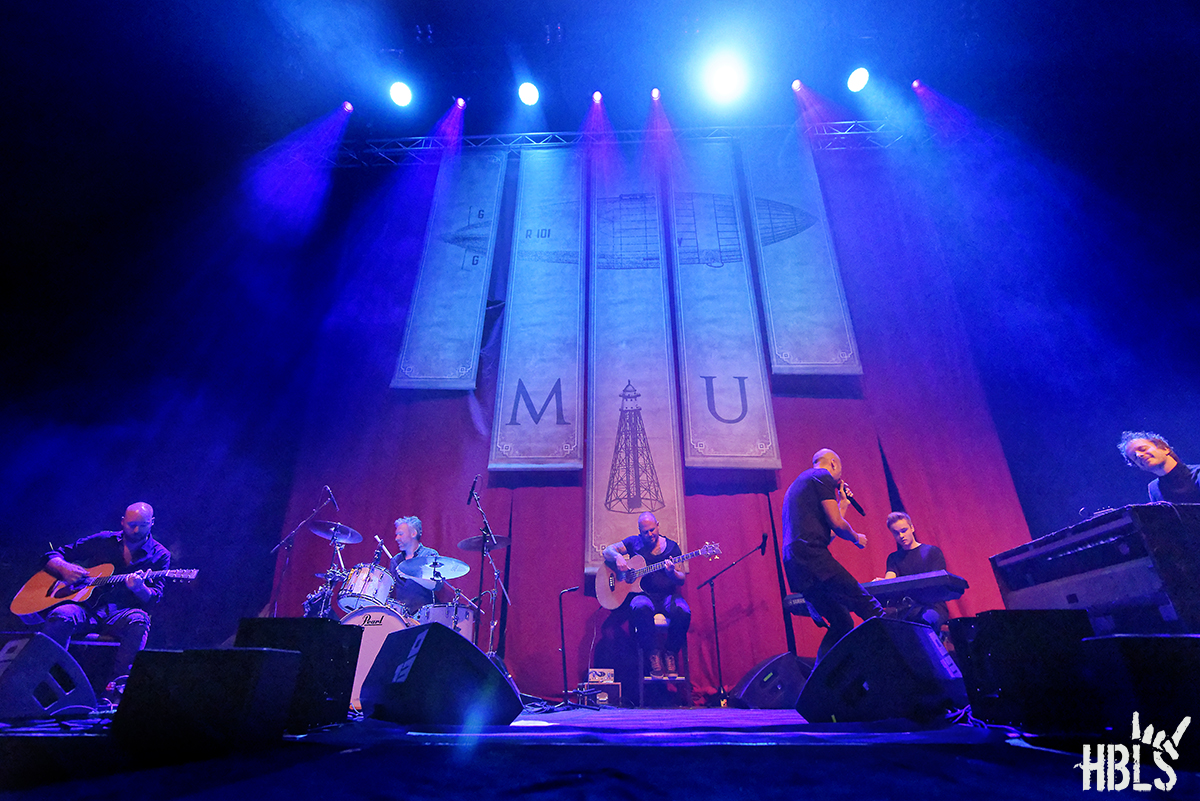 Maiden UniteD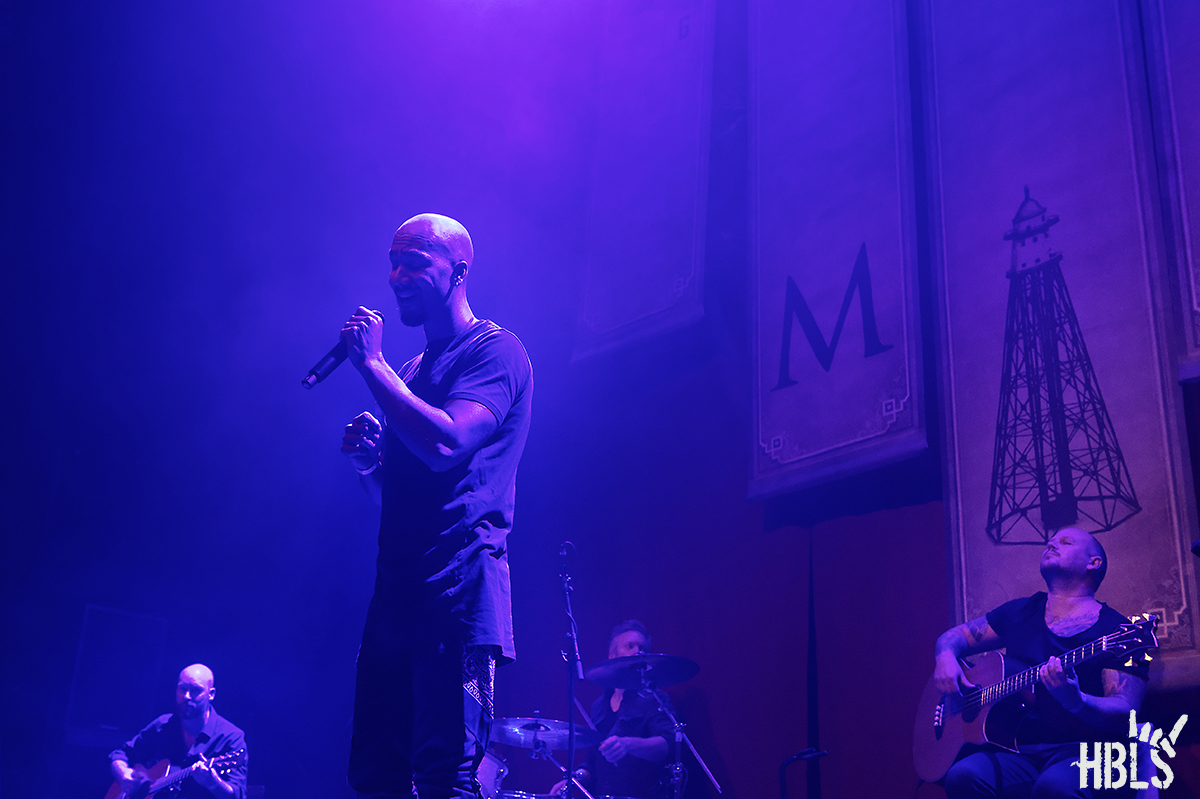 Wudstik of Maiden UniteD

Now the audience was more than ready to welcome Kamelot in 013 and as soon as the ,,Knight's March'' intro started everyone got in the position to hit it off with the first song ,,Phantom Divine (Shadow Empire)'', in which guest singer and grunter Lauren Hart [Once Human] did a cool job. It was the starting point of a special night indeed. The set list was a dream, filled with new crowd favourites, there was fire and steam spectacle and confetti and the lightshow was complementing the music. Not only did Kamelot prove to be one of todays best symphonic metal band, they also showed that special connection they have with their fans. No doubt the right energy was there for a DVD/Blu-ray recording.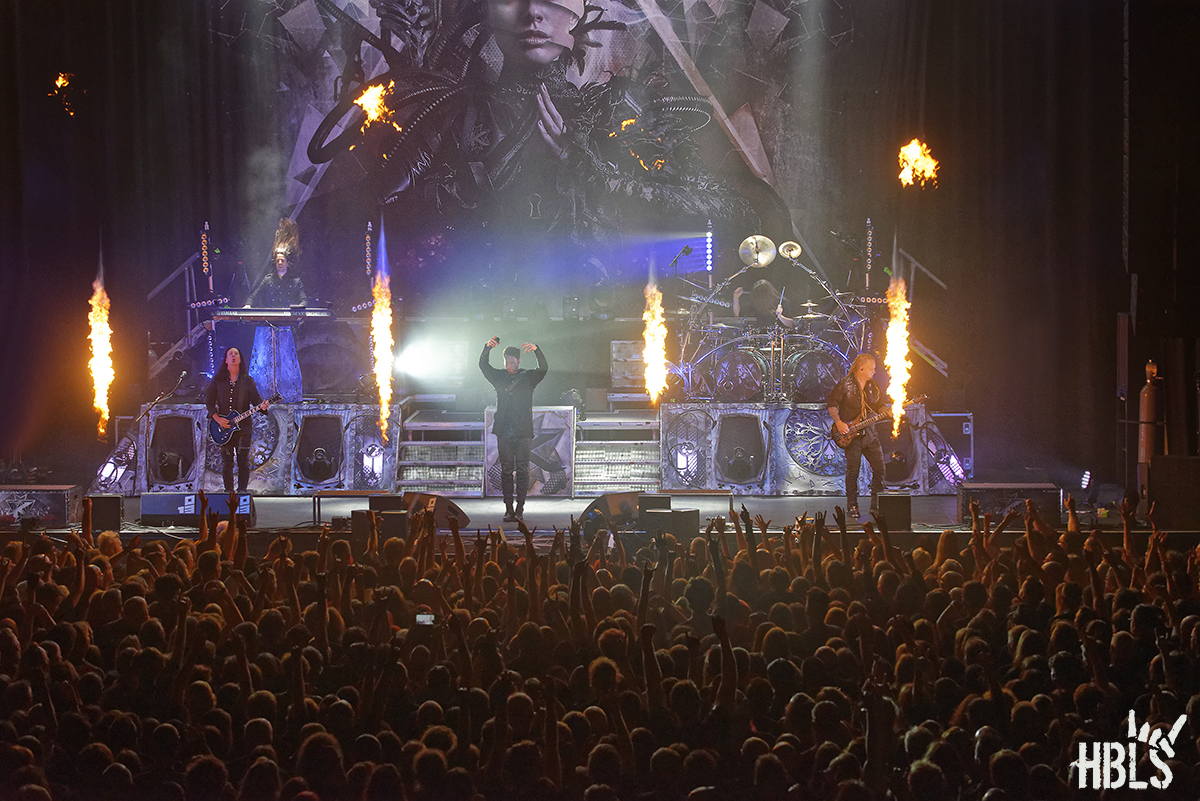 Kamelot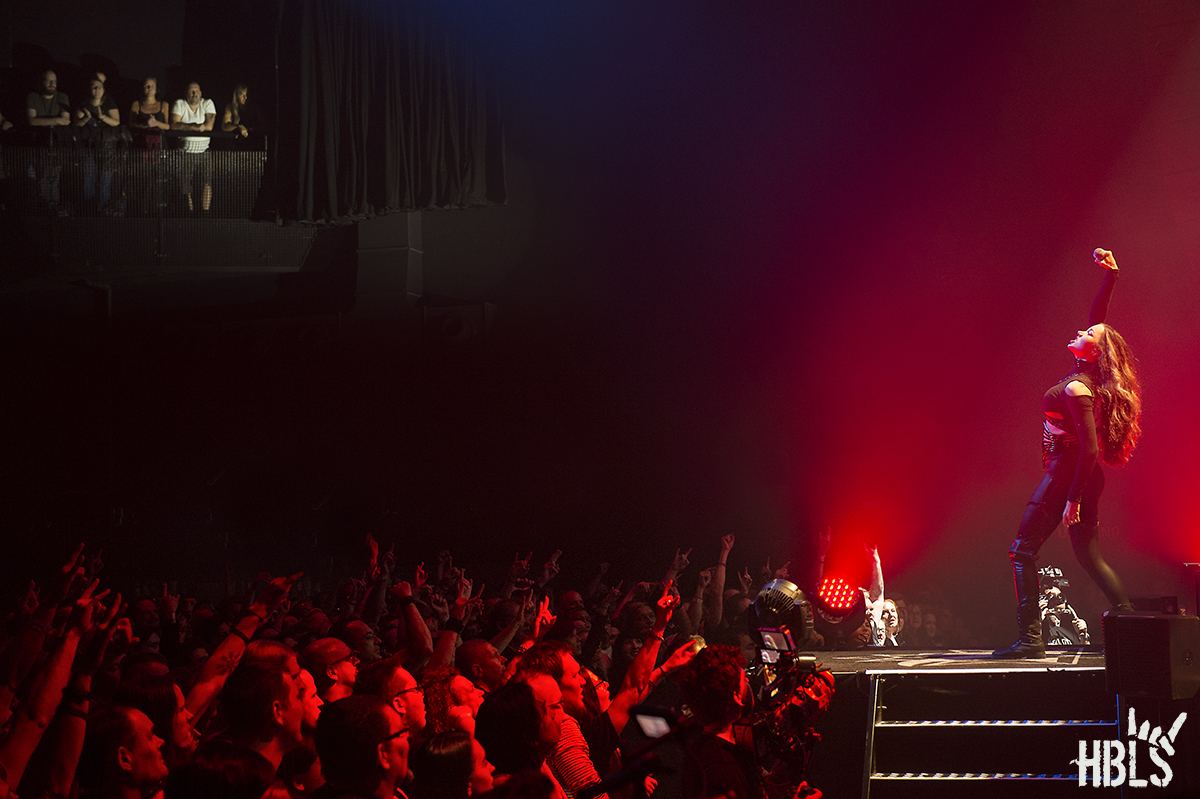 Lauren Hart

For the occasion more guests than normal were flown in [not only singers but also figurants], all wearing stunning costumes as well, to spice up the show. Dutch singer Charlotte Wessels [Delain] made a beautiful, fairy tale like appearance in the power ballad ,,Under Grey Skies'' and Kamelot's long-time producer Sascha Paeth got his well earned spotlight in ,,Ravenlight'', handling the extra guitar. The always sensational and powerful Alissa White-Gluz [Arch Enemy] blew us away with her harsh vocals in ,,March Of Mephisto''.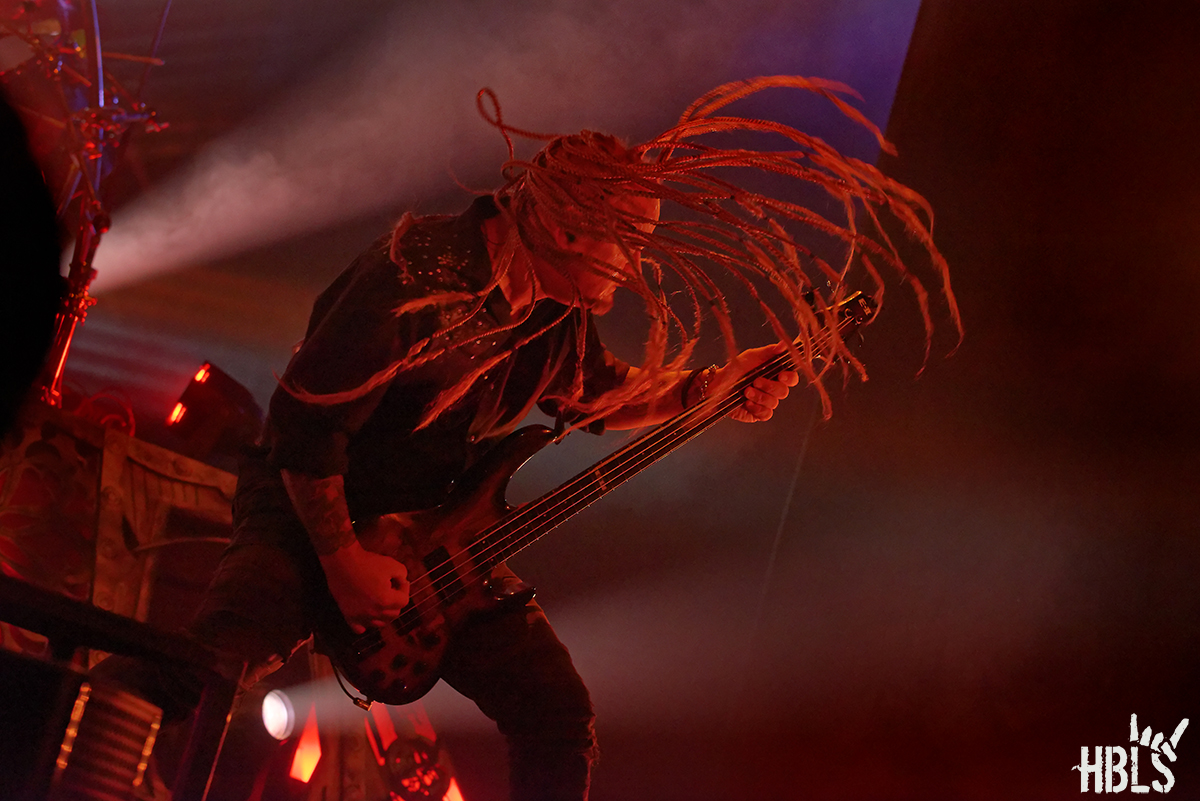 Sean Tibbetts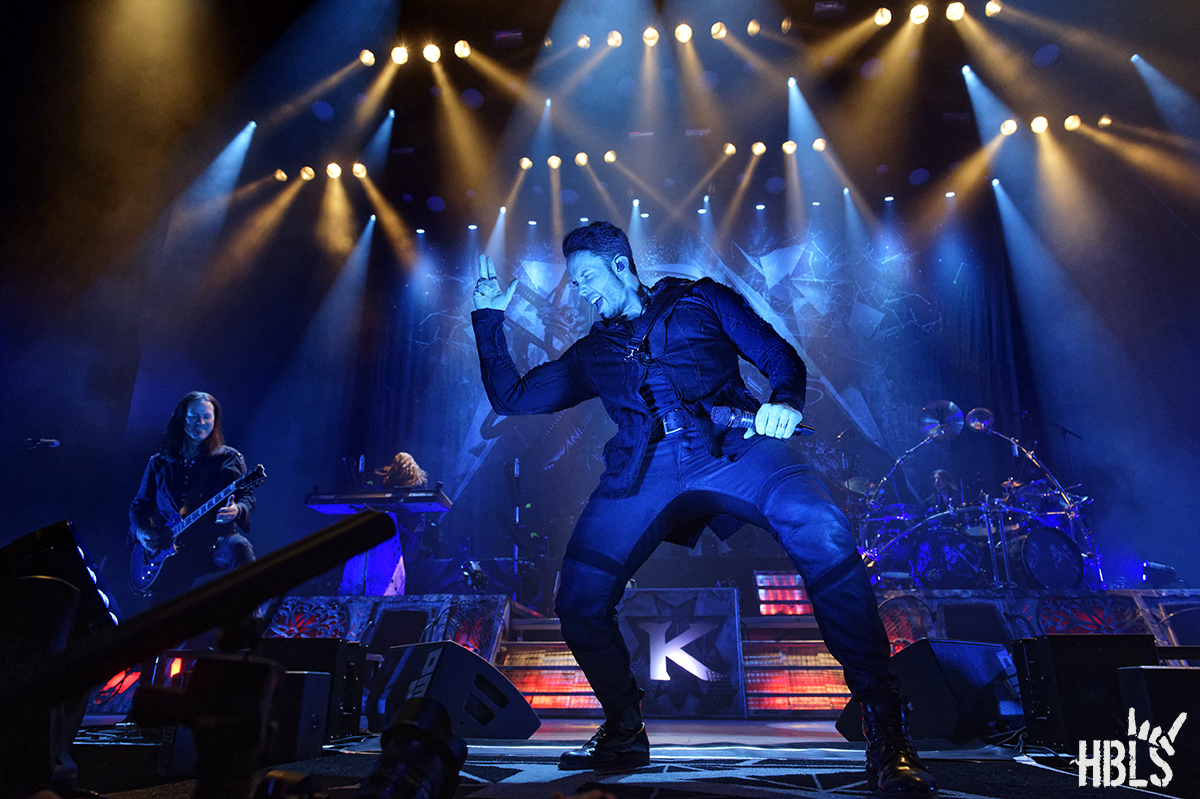 Tommy Karevik

Since many years Kamelot works with different, talented guest vocalists on the albums and also Elize Ryd of Amaranthe was one of them [featuring on the CD `Silverthorn']. Tonight Elize shined with her radiant voice and appearance in ,,Sacrimony (Angel Of Life)'', also having the grunting Alissa by her side and they made a fantastic vocal pair. Of course all these guest singers added their own high-class magic to this show, but it couldn't all happen without the excellent vocal skills of main frontman Tommy Karevik. This guy sings amazing, both on CD and on stage, and tonight he really transcended himself in many songs.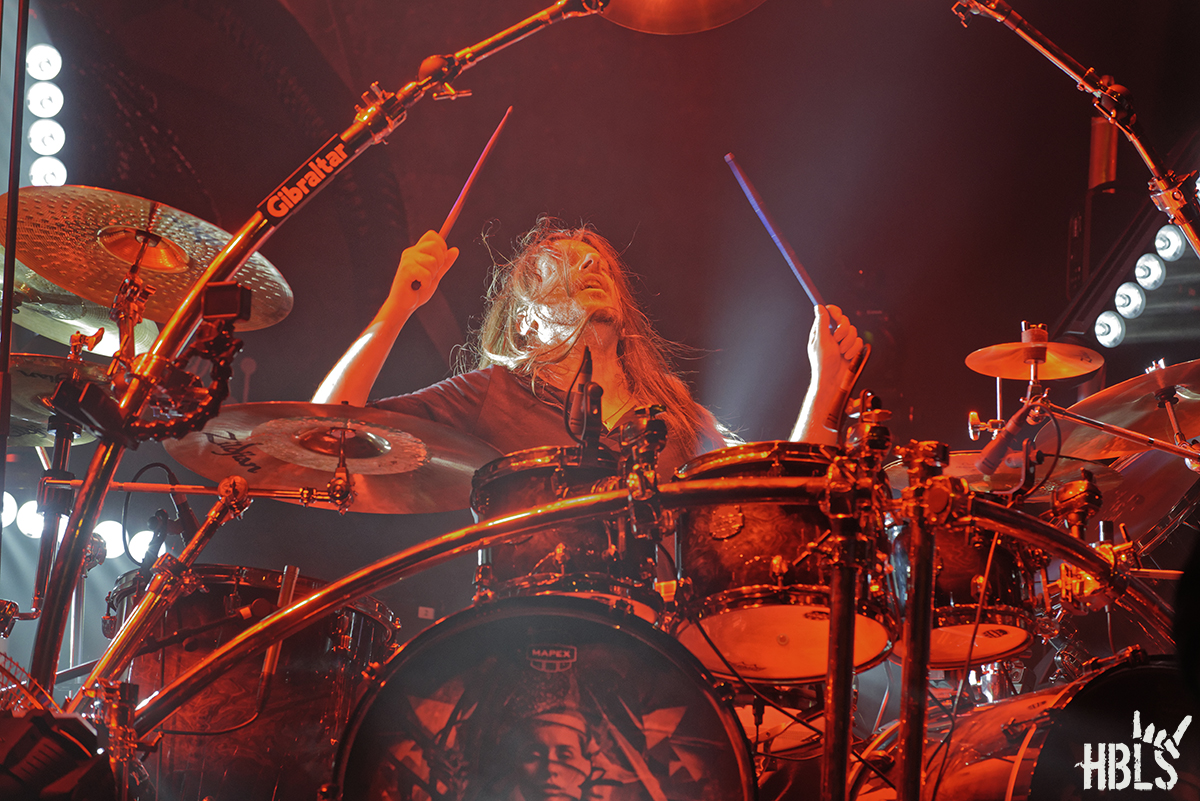 Alex Landenburg

Keyboard wizard Oliver Palotai and drummer Alex Landenburg [Cyhra and LT's Rhapsody] distracted the audience with an instrumental intermezzo, that bought Tommy time to move himself to the PA system platform in the middle of the room to sing the very sensitive track ,,Here's To The Fall''. While Tommy was surrounded by many light spots [mainly coming from the audience holding up their phones and lighters] that song turned into a special, beautiful and intimate moment. As soon as Tommy got back on stage the old classic sing-along ,,Forever'' restarted the high energy level and guitarist Thomas Youngblood smiled like a teen by seeing the audience going nuts.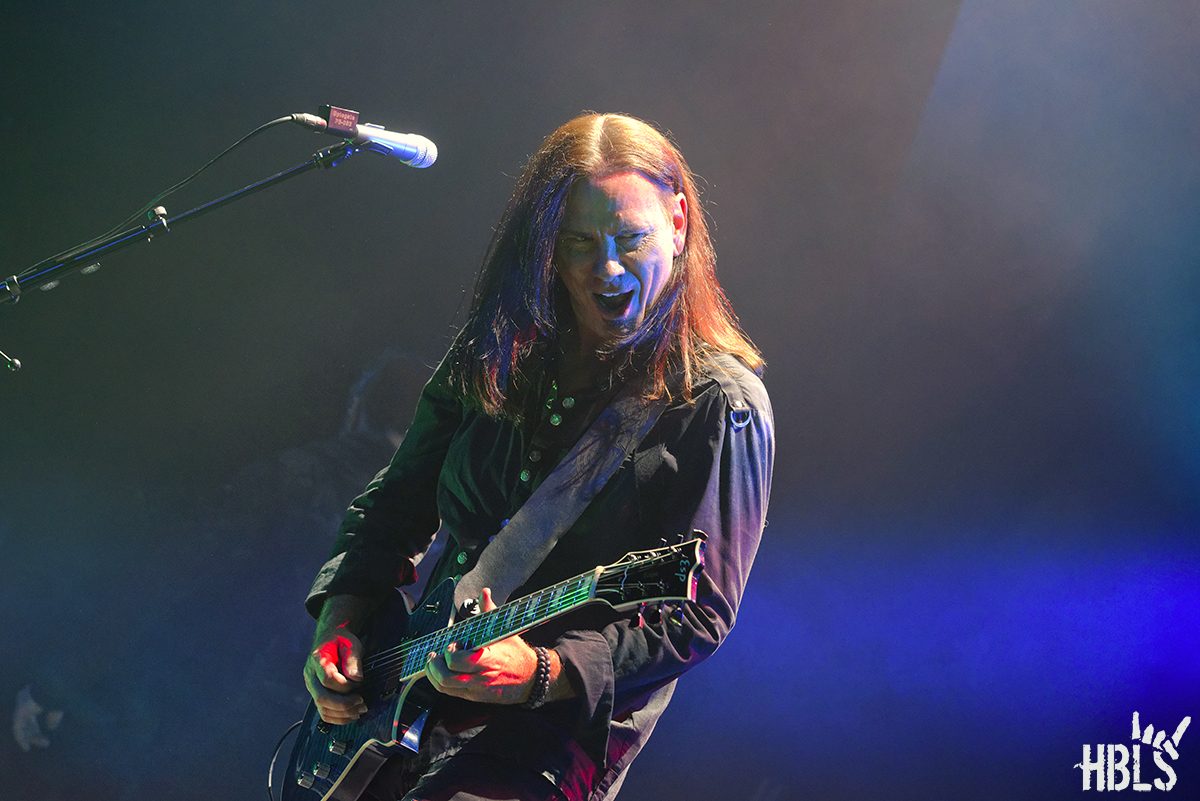 Thomas Youngblood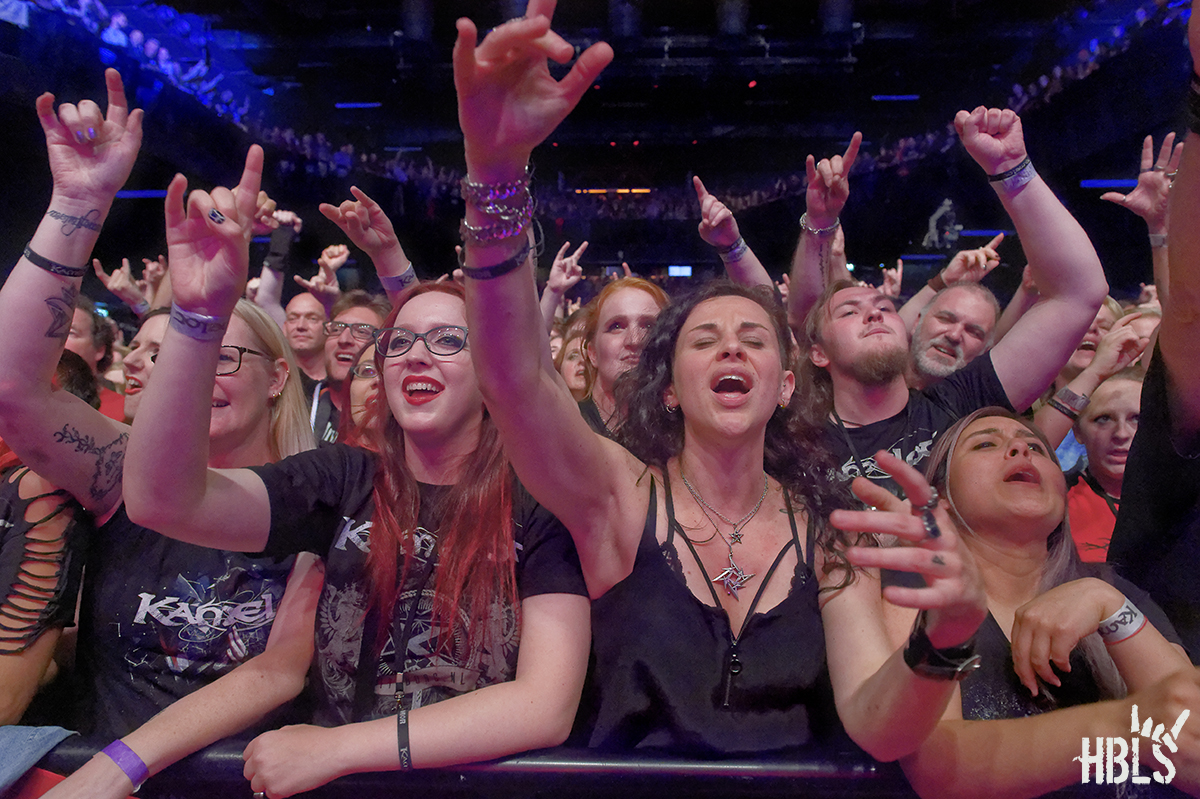 Time flew by but Kamelot had an ace left for the last song ,,Burning To Embrace'' in which a cute four piece children's choir, with Thomas's son singing upfront, entered the stage. It was a true finale. But of course the fans didn't want it to end and the demanding screams and yelling for more were heard and made Kamelot return, together with Alissa, to finish this night to remember with ,,Liar Liar (Wasteland Monarchy)''. All cast members returned to the stage to say goodbye with a bow. We can now only hope Kamelot will release the DVD/Blu-ray as soon as possible.
—
All photos by Dirk van den Heuvel of DCH Photography