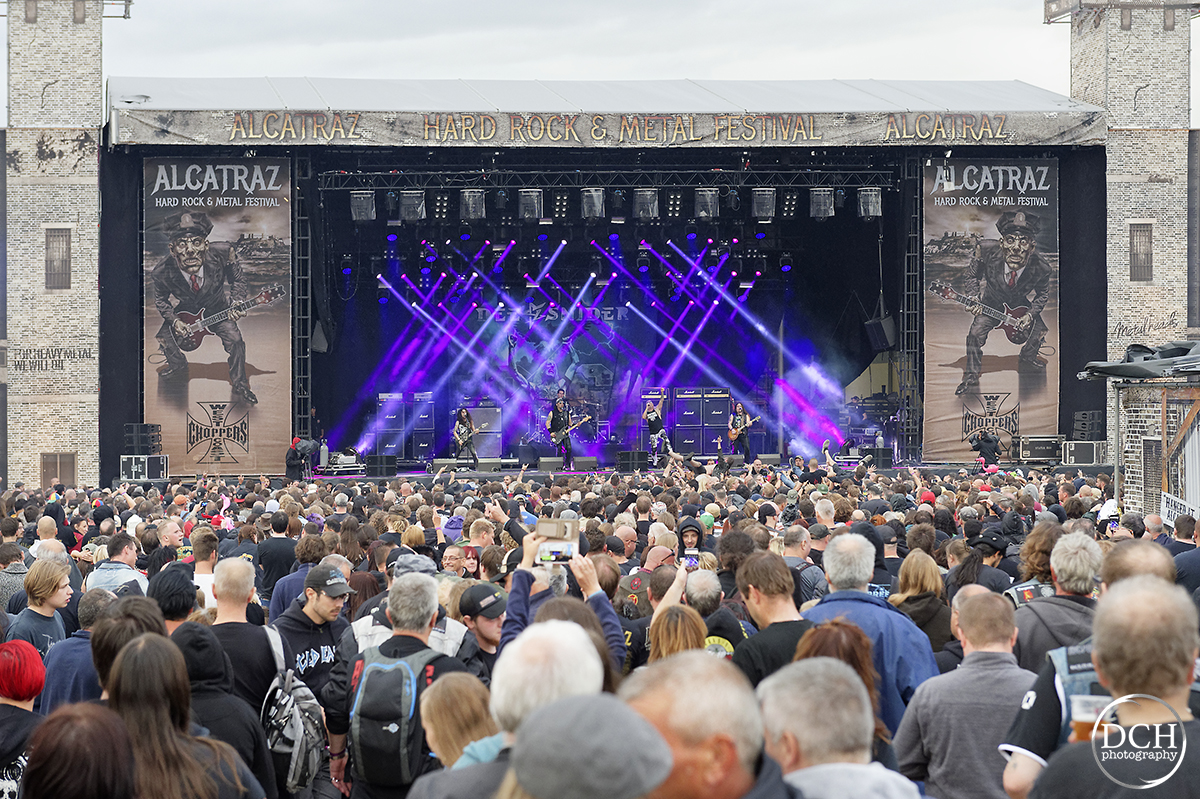 LILO'S BLOG XXXL
Alcatraz Festival 2018 [August 10-11-12, Kortrijk, Belgium]
For me one of the cosiest metal gatherings in Europe is Alcatraz Hard Rock & Metal Festival, in the village Kortijk in Belgium. It is a very professional and well-organized metal event but it still captures an intimate, old school hard rock and heavy metal vibe. The terrain is not ridiculously large, the access is easy and you don't loose that much time when you go from one stage to the other, find yourself a toilet, shop till you drop at the metal market or want to grab a drink or some sort of stomach filling in the food area. There are even vegan options, a BBQ stand for the first time and prices are doable. For instance: € 2,70 for a soda or a beer, € 4,05 for a big fries and € 8,10 euro for a good quality wrap or Pulled Pork. Everything is within reach, so no marathon during Alcatraz Festival, thank God!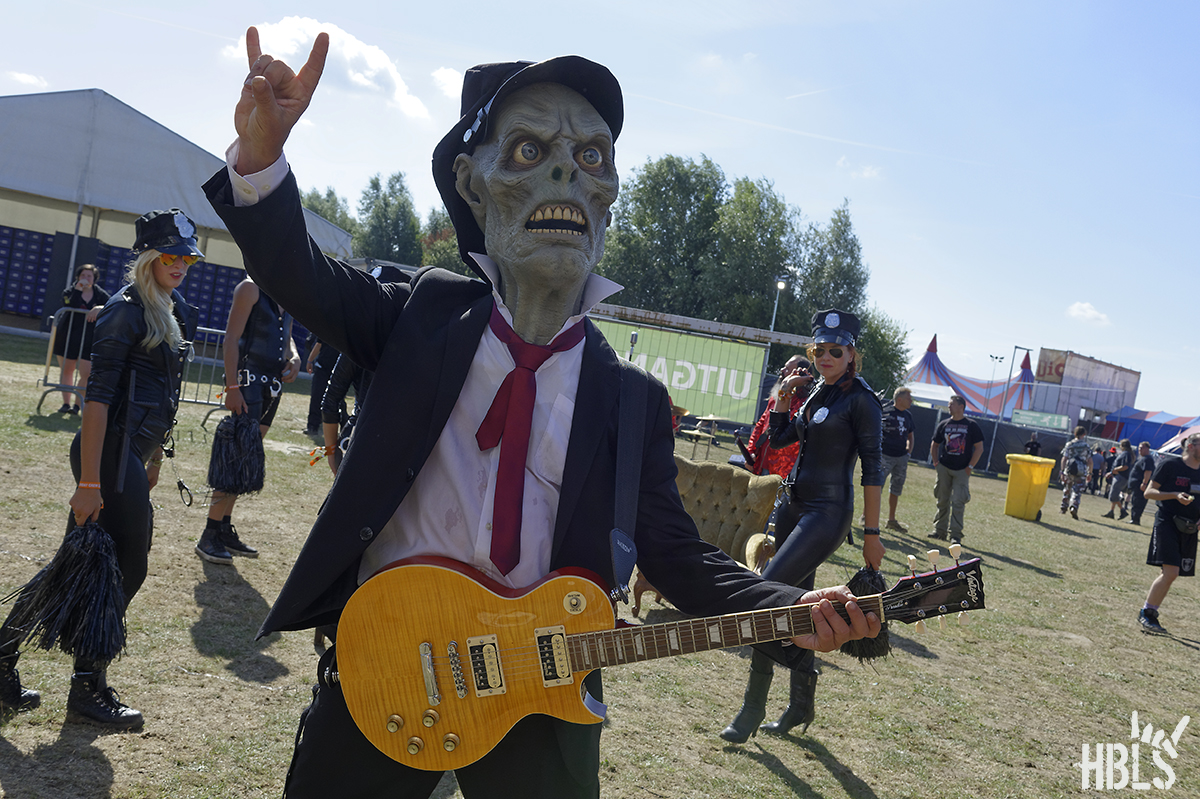 Officer Nice

Last year Alcatraz Festival celebrated its 10th anniversary.
For that occasion a second stage, called Swamp [a huge tent], was introduced, plus the festival took 3 days instead of the traditional 2 days. I guess 2 stages were a success because also this year the organisation used the combination of two stages to host 44 bands the entire weekend; Prison [outdoor main stage] and Swamp again. Just like last year the festival started already on Friday. There were a few changes in the set up of the terrain; the Prison stage is wider, the official merchandise booth and the Aardschok Magazine booth that were traditionally located next to the Prison stage were relocated, as well as the super cool indoor rock bar El Presidio [bigger in size this time]. It is actually one of the coolest bars on the planet, having 2 VJ's, playing old classic rock and metal music videos while folks just hang out, having a beer and a good laugh. And above that, on Saturday and Sunday El Presidio turned into a crazy Freak Show, twice a day. But, no matter where you hung out actually, the overall atmosphere and vibe was very friendly and relaxed and everybody had one common goal: enjoying good hard rock and heavy metal music, meeting friends and simply having a great time. Also thumbs up for all the volunteers who sweat their ass off as security, bartender, cashier, cleaner, stagehand, you name it, they all did a great job to capture this important spirit.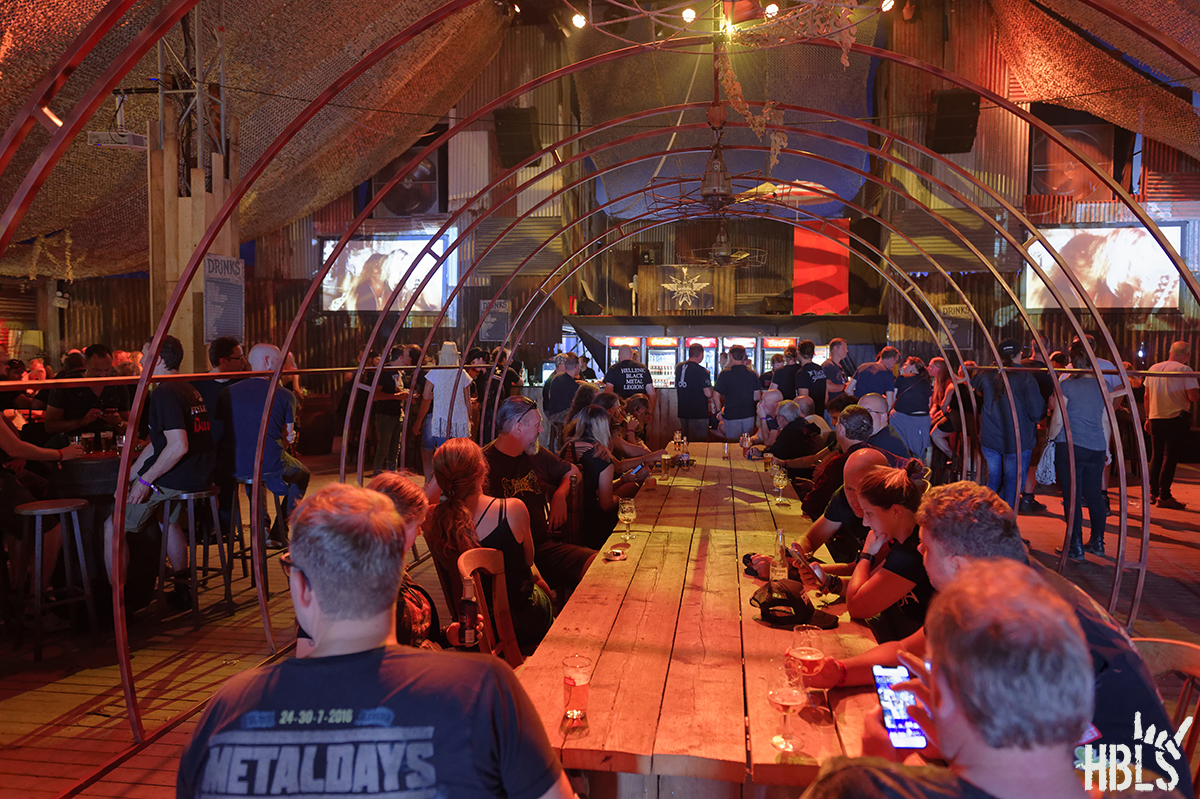 El Presidio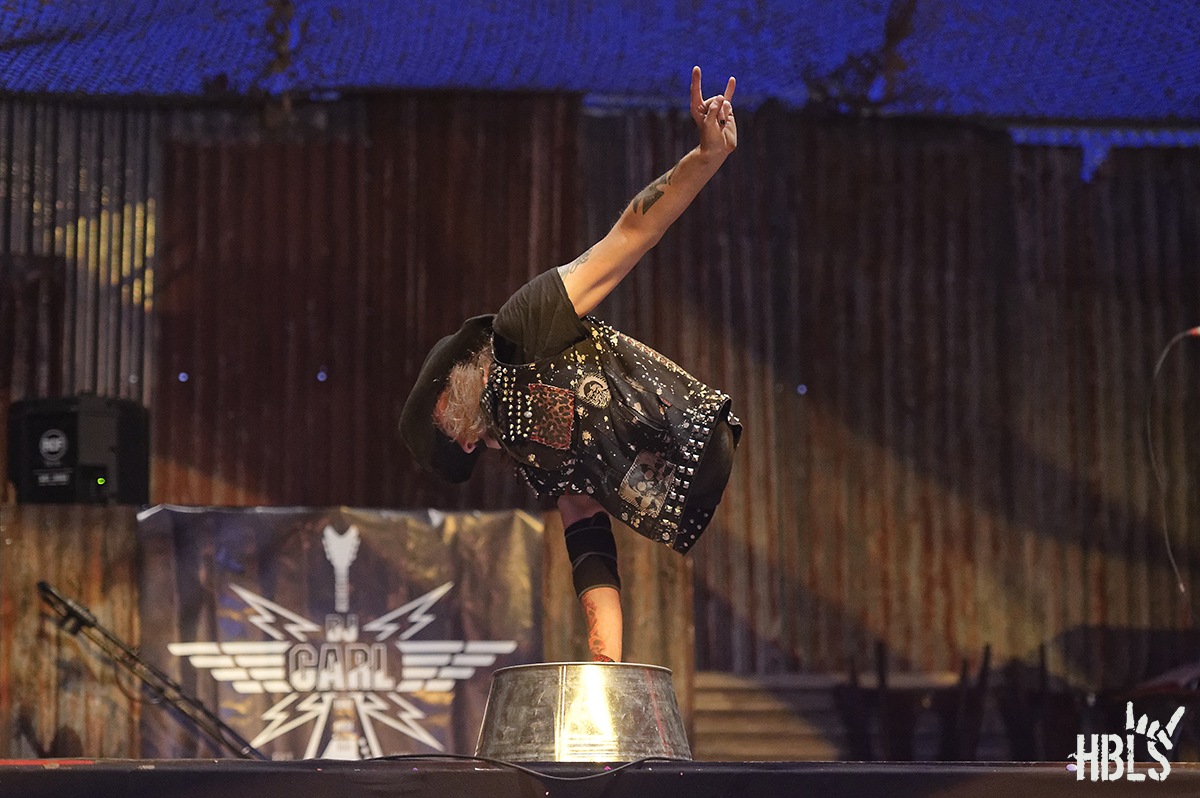 Freakshow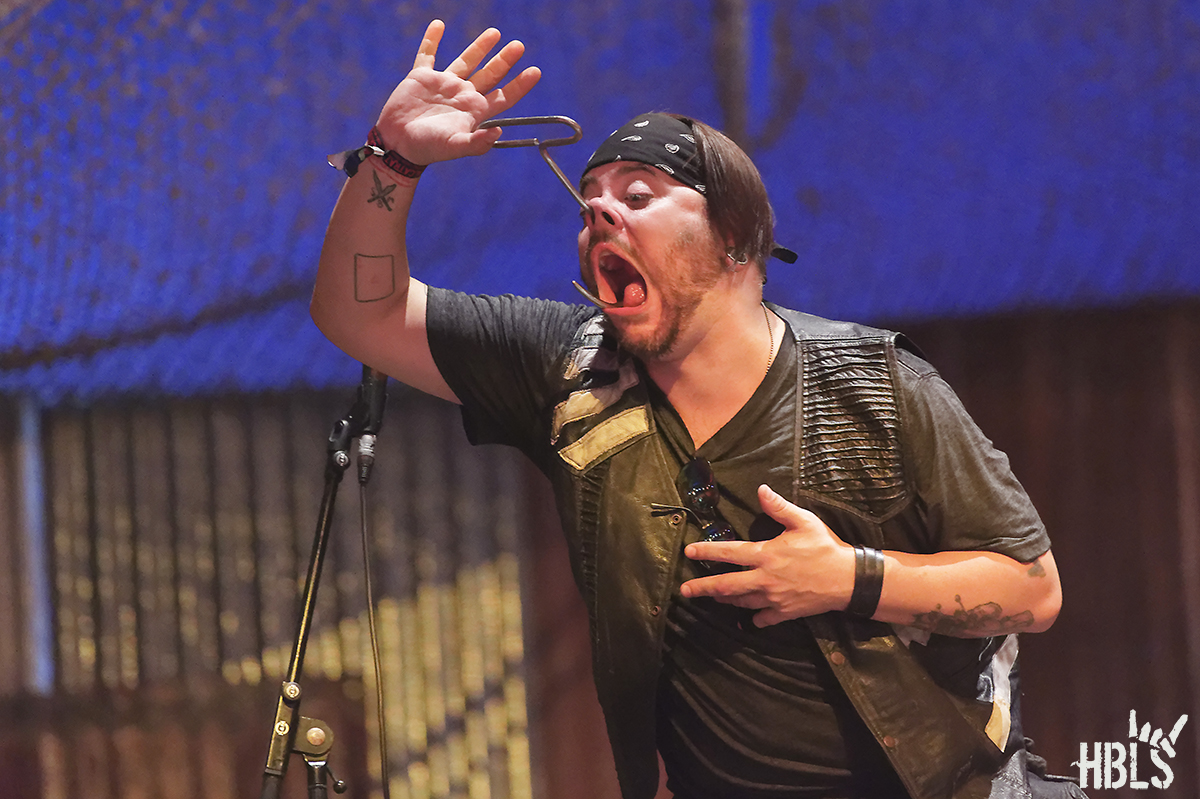 Freakshow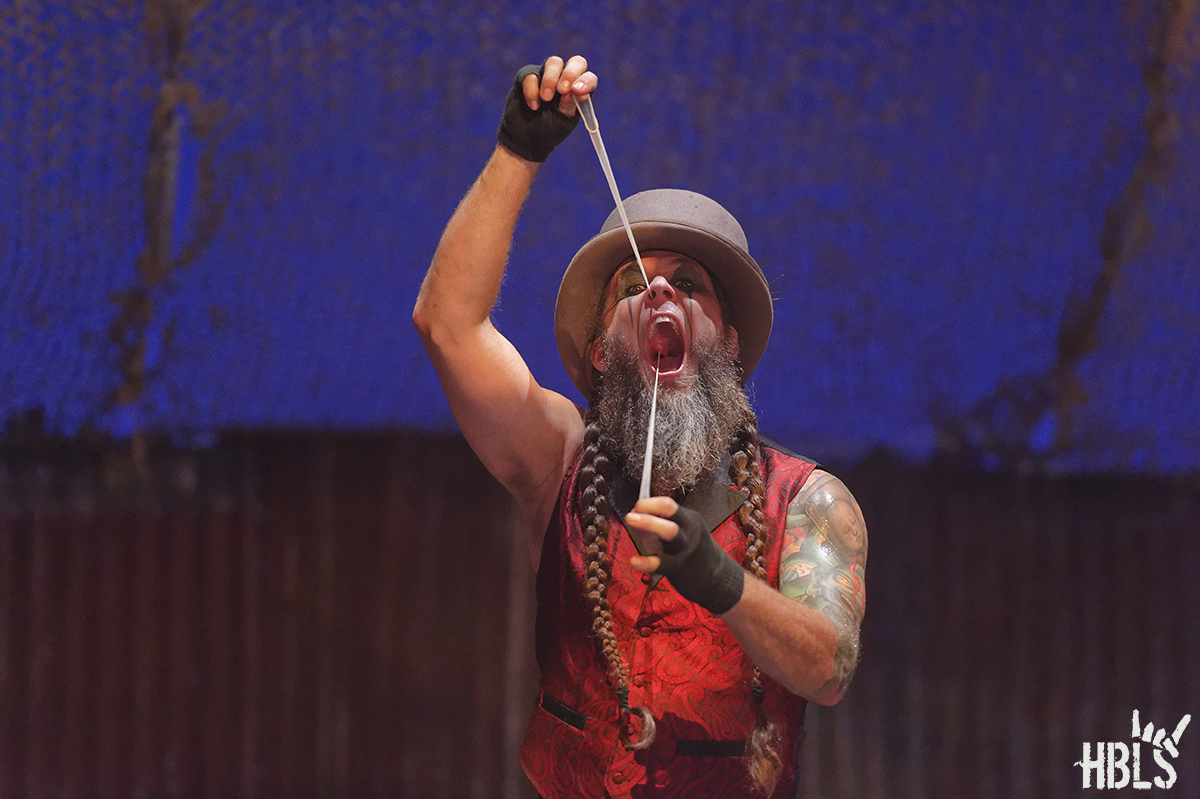 Freakshow
DAY ONE [Friday-August 10th 2018]
Like for most visitors, this was a travel day, check in at the hotel and pick up my wristband at the press booth. It all went smooth, as well as the security check at the entrance of the festival and I was happy to be in time to get an impression of the Belgium raw sounding band Bark who kicked off the festival on the Swamp stage around 13:50 hour. Although it was not super crowded yet, they got supportive feedback on their sizzling mix of thrash, hard core, heavy metal, stoner and punk. Swedish 4-piece The Quill had the honour to open the Prison stage. It was a pleasure to experience their 70s inspired classic hard rock, with obvious some Black Sabbath and Deep Purple influences in there. The Quill played a strong set and because the songs also have grunge, groove and swing, it made them blend in easy on a festival like this.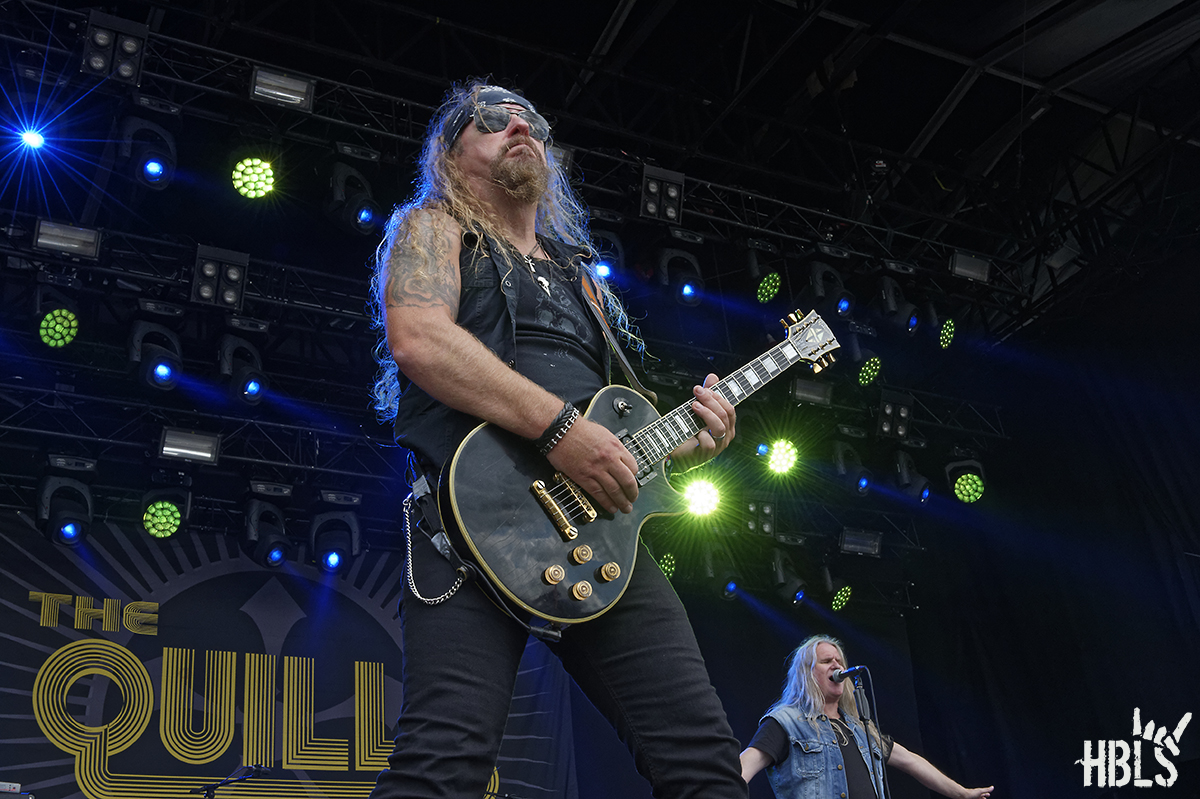 The Quill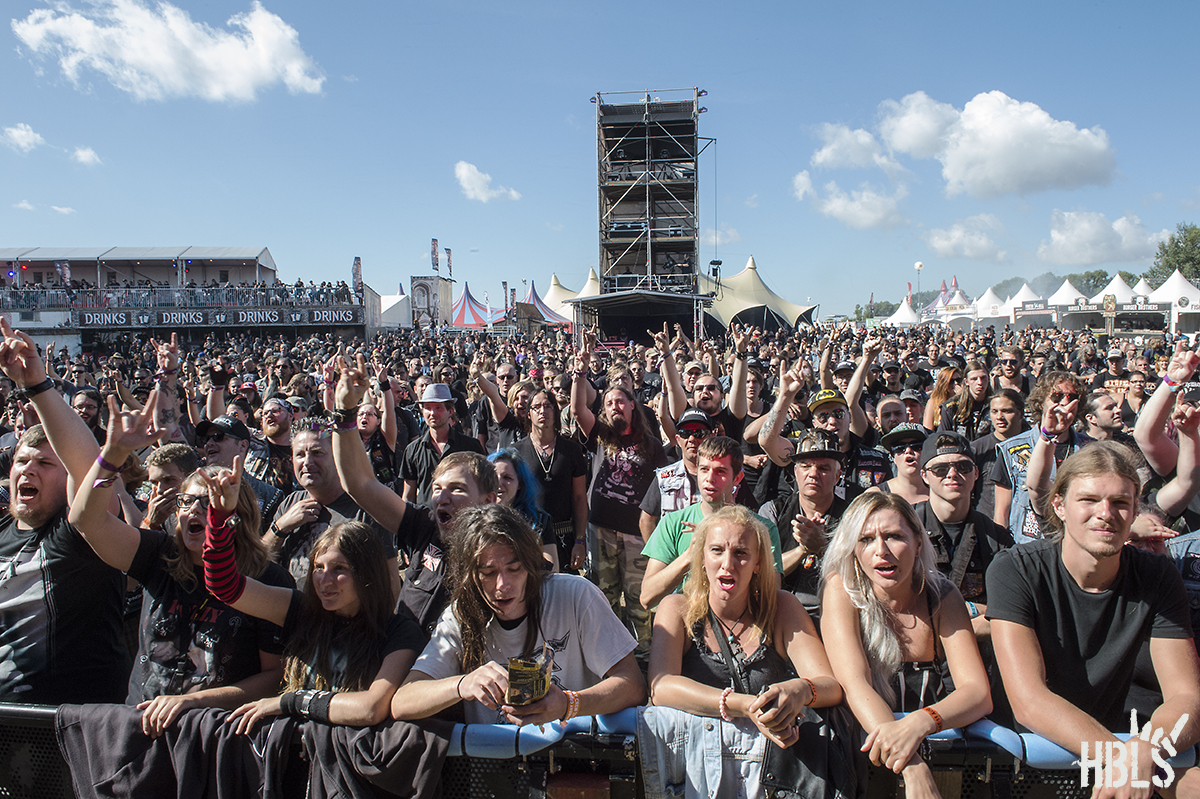 As a journalist I often get the opportunity to do press as well.
And since I indeed had a few backstage encounters scheduled during this weekend, I also had to pass on several shows, unfortunately. Friday afternoon I first went to the Dee Snider Official Press Conference. A small group of international media was invited, Dee was very friendly, open and personal to all the journalists and it was a success. Dee first made a clear statement about the making of his new solo record `For The Love Of Metal' and he was very excited about how he found his place in today's metal scene. Of course everybody had questions, and I am glad that I could squeeze in two of mine. It's now confirmed that Dee is not going to retire any time soon because a second album can be expected next year.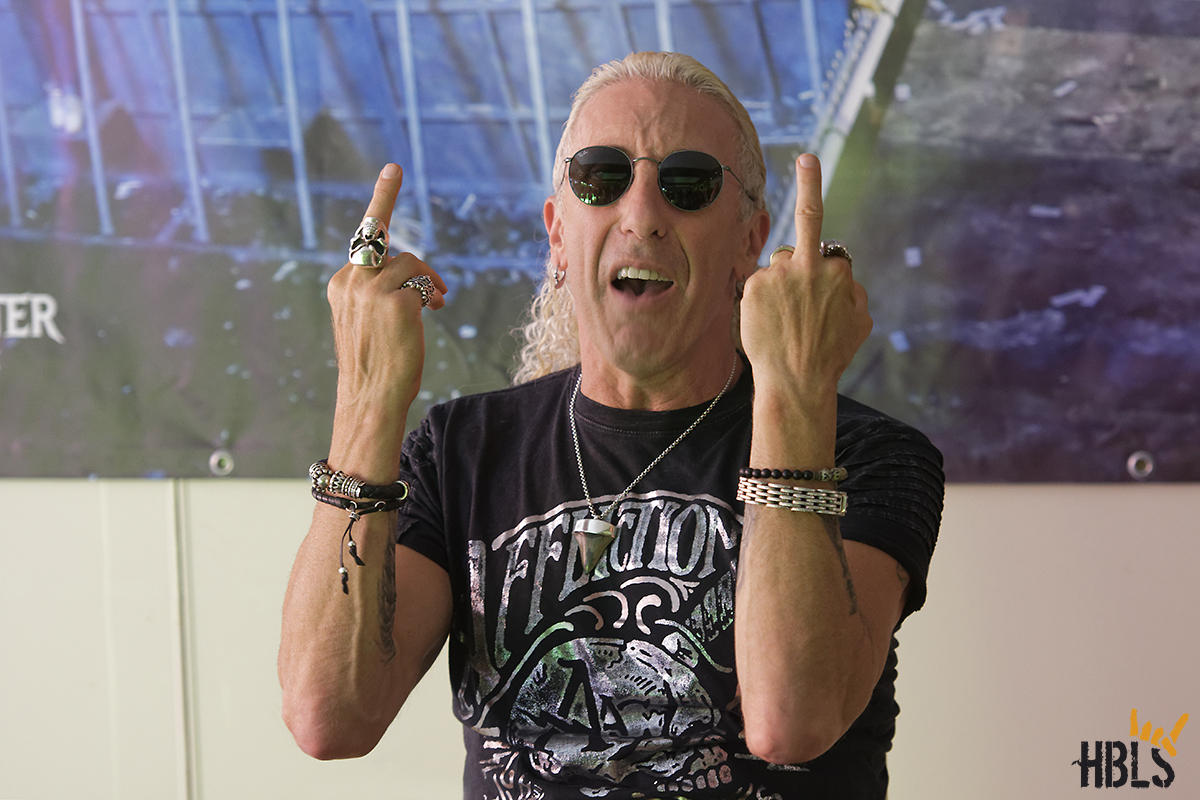 Dee Snider Press Conference
Then I had a little chat with Tony "Demolition Man" Dolan, bass player and singer of Venom Inc and right after that I met Nick, the guitarist of the Greek thrash metal band Suicidal Angels for some questions [both videos see below] and by the time I got back at the festival terrain, former Manowar guitarist Ross The Boss and his band were having a metal battle, featuring music from the new CD `By Blood Sworn' at the Prison stage. But the real trump cards in the set list were a bunch of well-known Manowar classics, although the overall vocal performance wasn't `tha bomb' for me.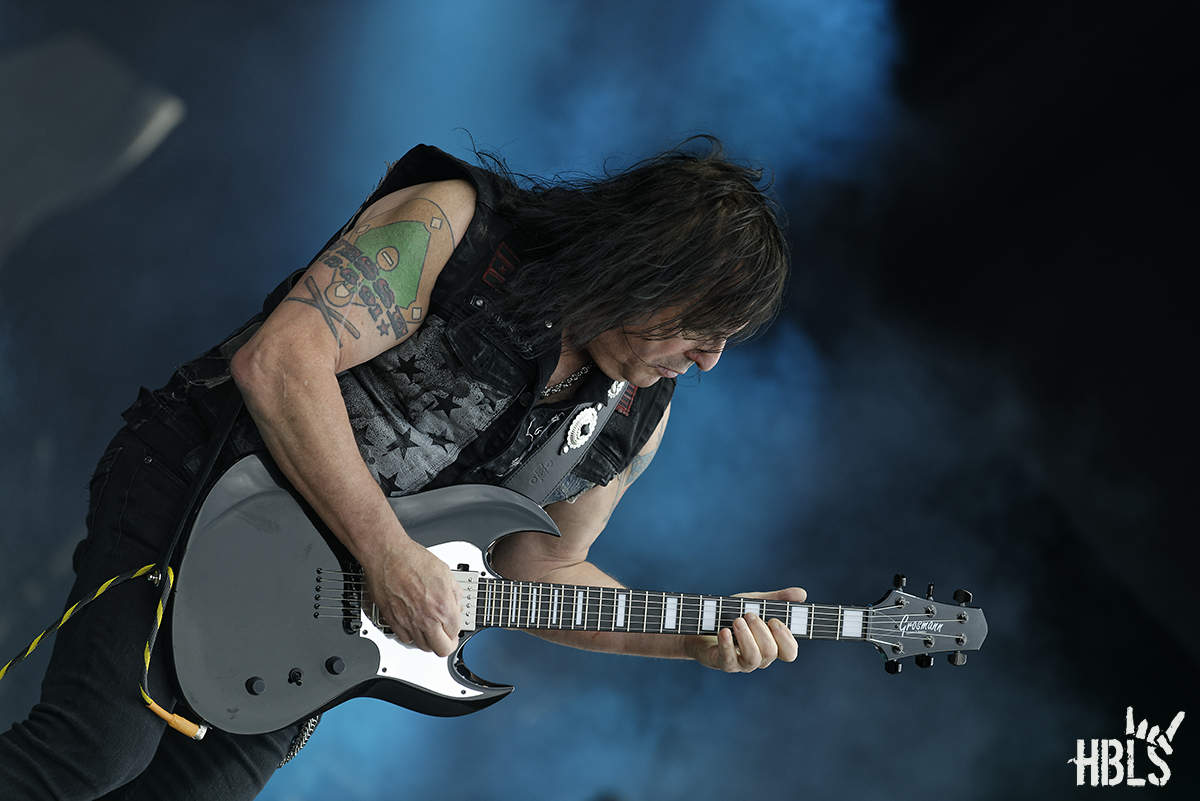 Ross The Boss
Suicidal Angels convinced the Swamp by thrashing the place with their straight- in the face, noisy songs and tough attitude. By the time Dee Snider entered the Prison stage you could feel something was about to happen. To me this was the best and most amusing show of day one. Dee managed to reinvent himself through his recent collaboration with Hatebreed singer Jamey Jasta on his new solo CD `For The Love Of Metal' and hell yeah this 63-year old veteran kicked some real ass on stage, taking himself to a whole new level, together with his fantastic and tight playing band. Dee's vocal chords are still in great shape, sounding heavy and mean, and the man always knows how to fire up an audience in a blink of an eye: ,,If you're willing to kick some ass for the love of heavy metal, I'm Dee Snider''. As promised Dee also played tons of Twisted Sister classics, he entertained but also expressed a serious topic: his dislike for bullies. Dee owned the stage tonight and not even the heavy rain that started could stop him from doing what he does best: ,,I'm Dee Snider and I still wanna rock!''.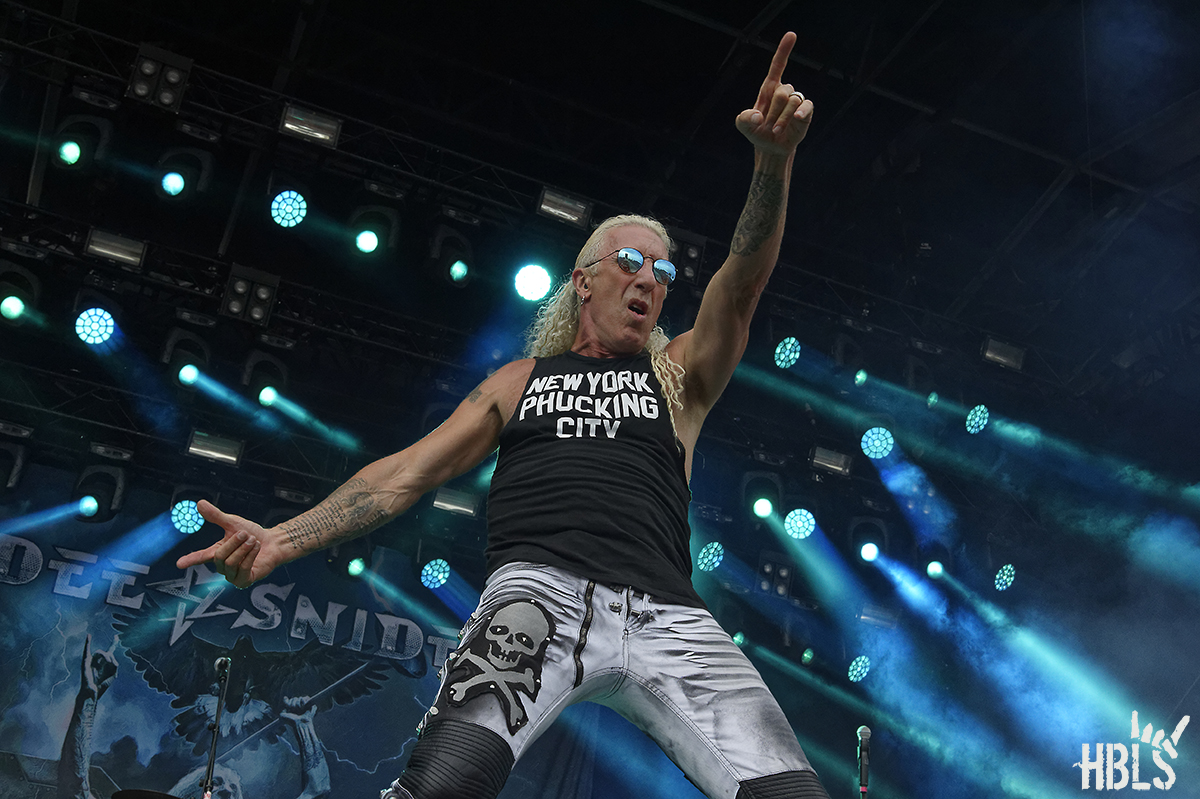 Dee Snider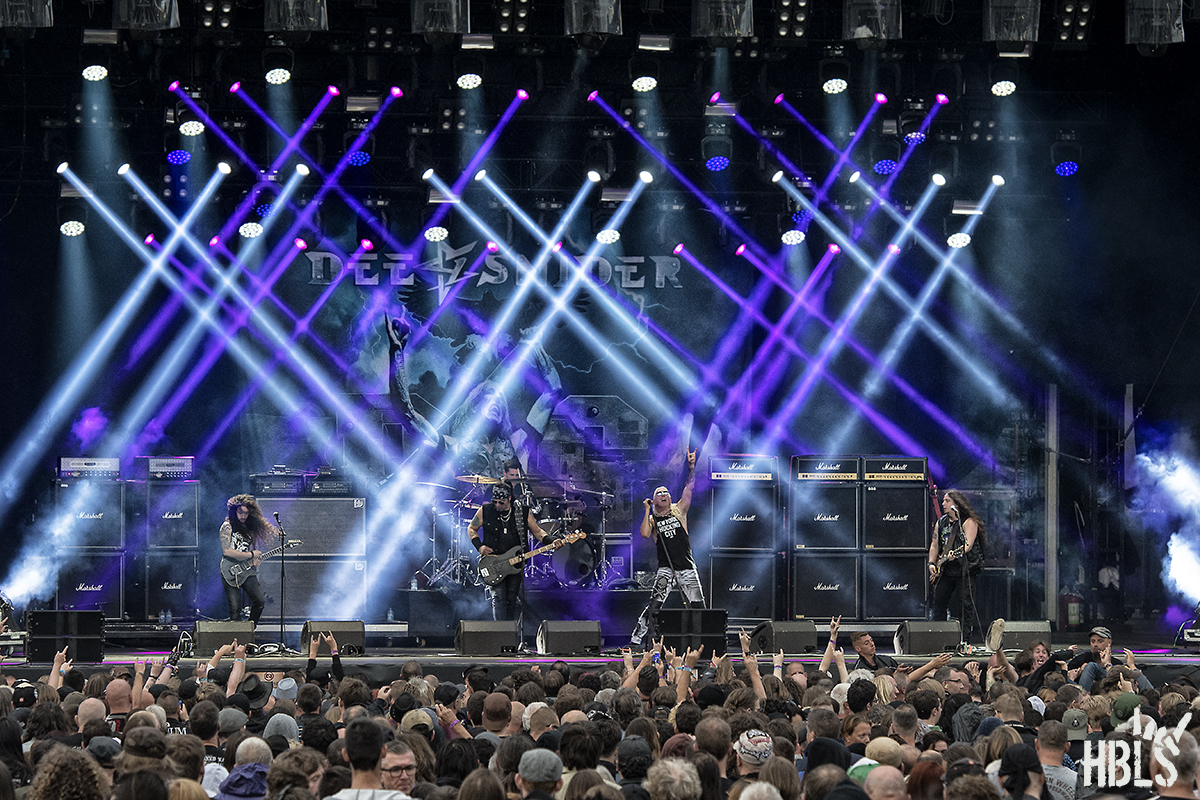 Dee Snider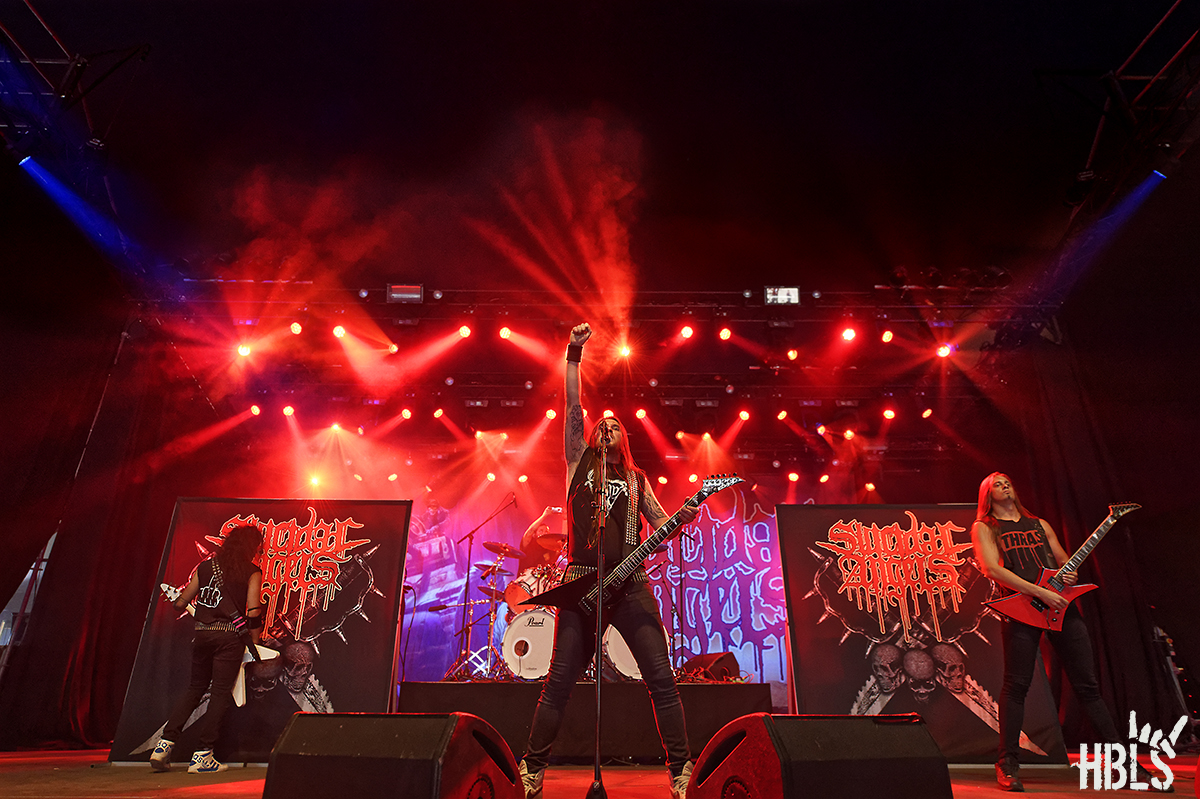 Suicidal Angels
Straight after, trio Venom Inc made hell breaks loose in the Swamp, by playing fast, old school black metal. They joked around about guitarist Mantas being back from the dead after his heart attack last April. ,,I have never played with a zombie before'', as bass player/vocalist "Demolition Man" put it. Well, Mantas looked shaped and fit again and they all seemed more than happy to be back on stage. The trio did what it take to please the willing crowd. The only question left is: Who is that drummer behind the drum kit, because that's not Abaddon!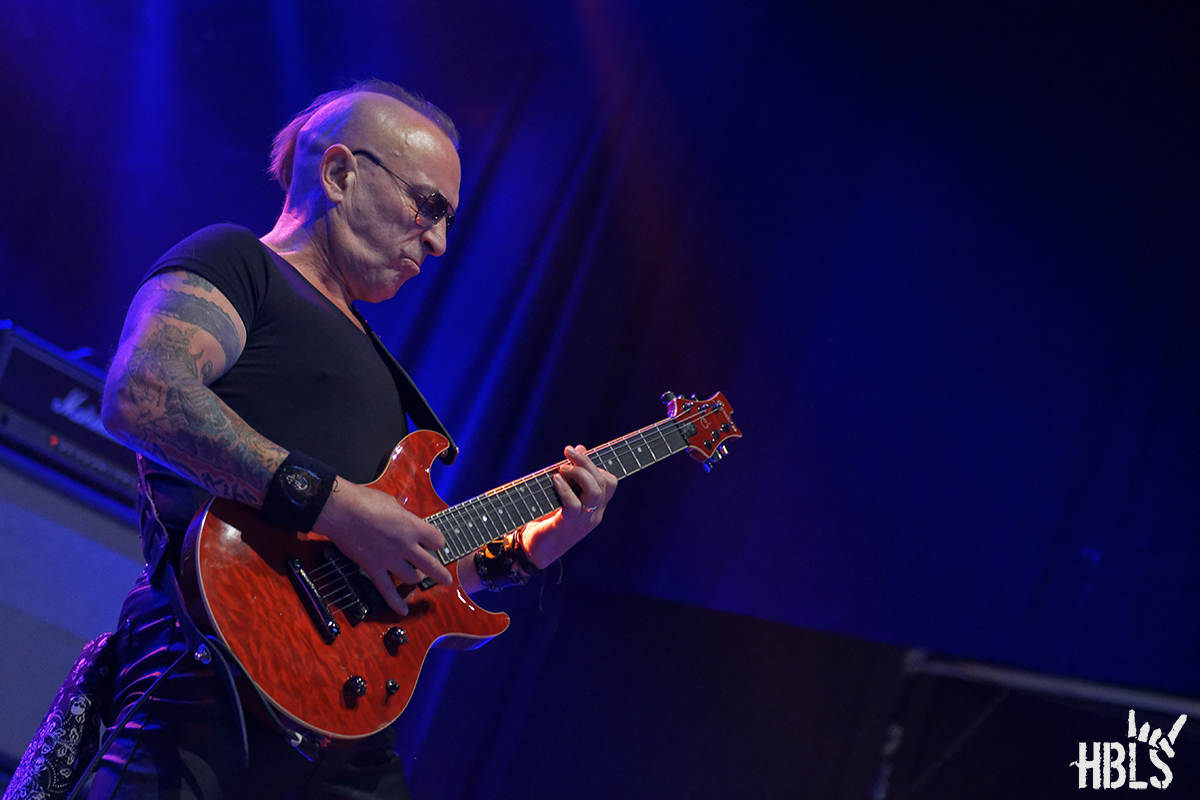 Venom Inc-Mantas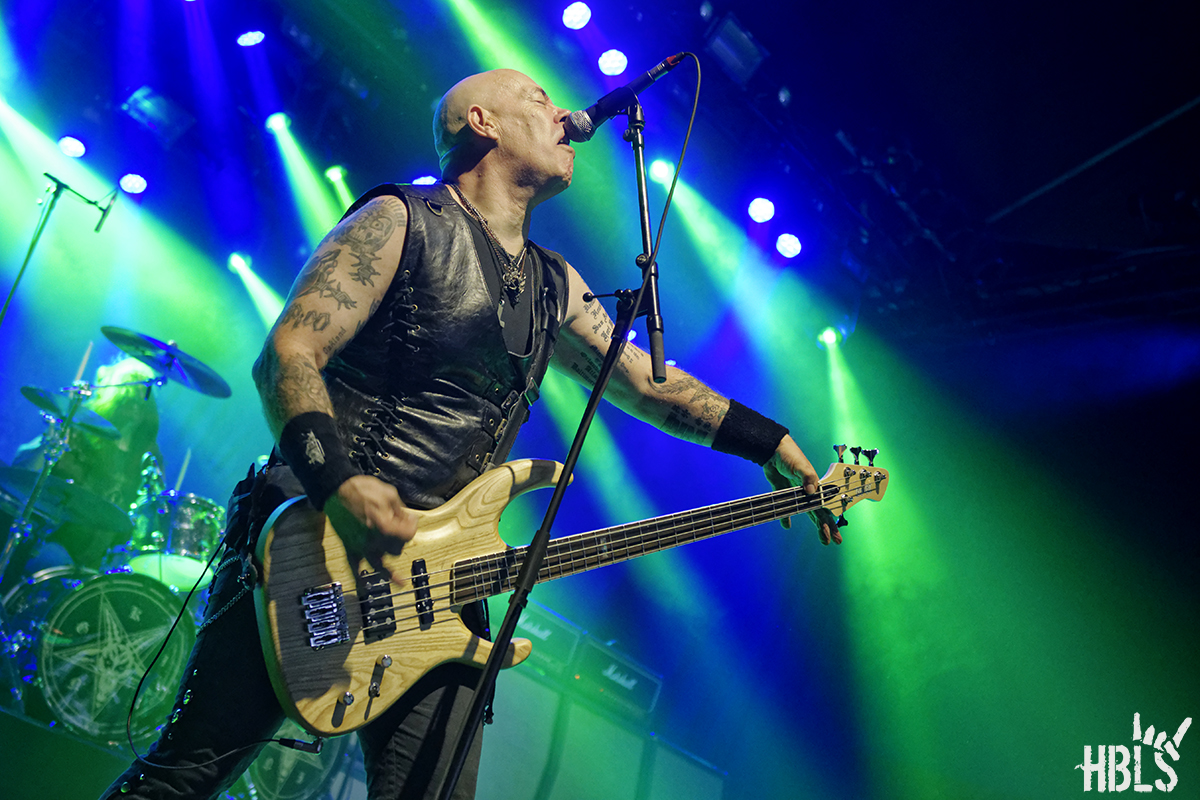 Venom Inc-"Demolition Man"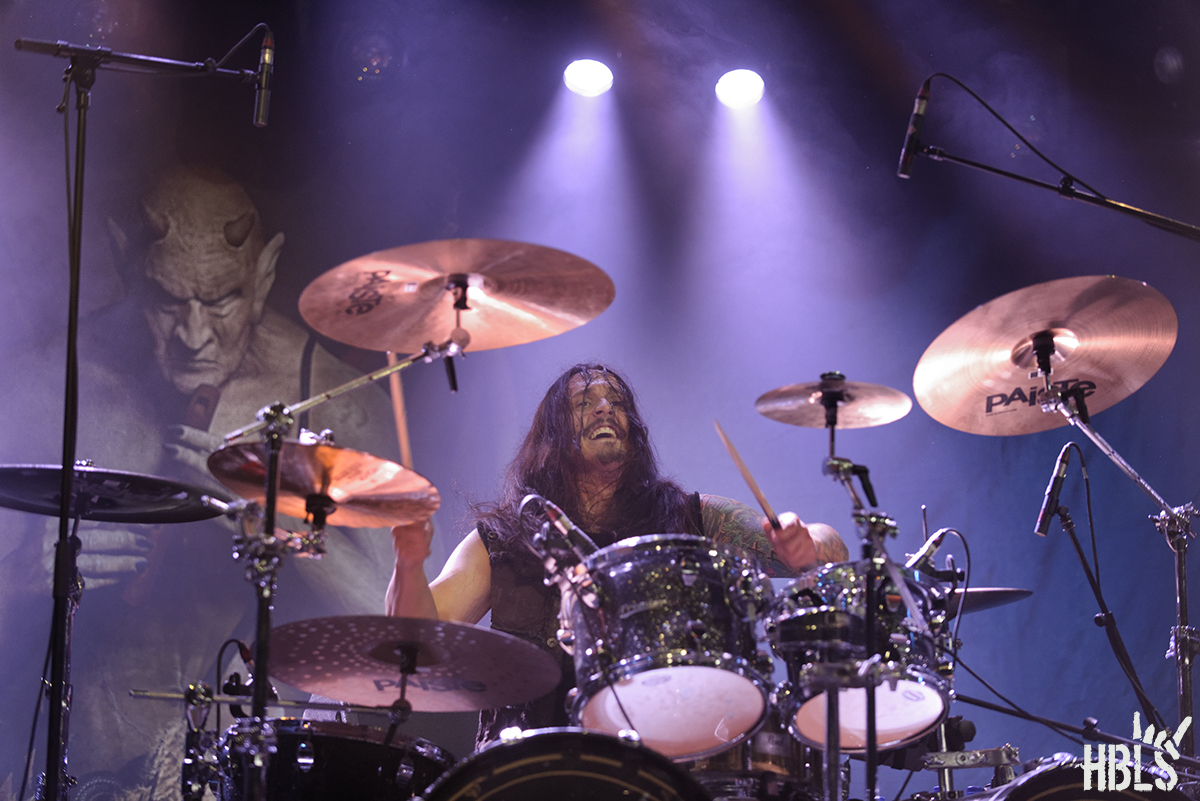 Who is the new Venom Inc drummer?

As soon as the gates of hell were closed, the spotlight moved back to the Prison stage where today's headliner Status Quo was ready to play their numerous of legendary sing-along hits. This UK rock dinosaur seemed to be an odd choice at first, but in all fairness, Status Quo is a very good live band and did a decent and steady job. Although this is not the original line-up anymore, Status Quo still know how to please an audience. But for those who fell asleep during the old school boogie rock tunes, Amorphis gladly cranked up the volume in the Swamp after that. Just like on their recent, epic sounding album `Queen Of Time', they sounded stronger than ever.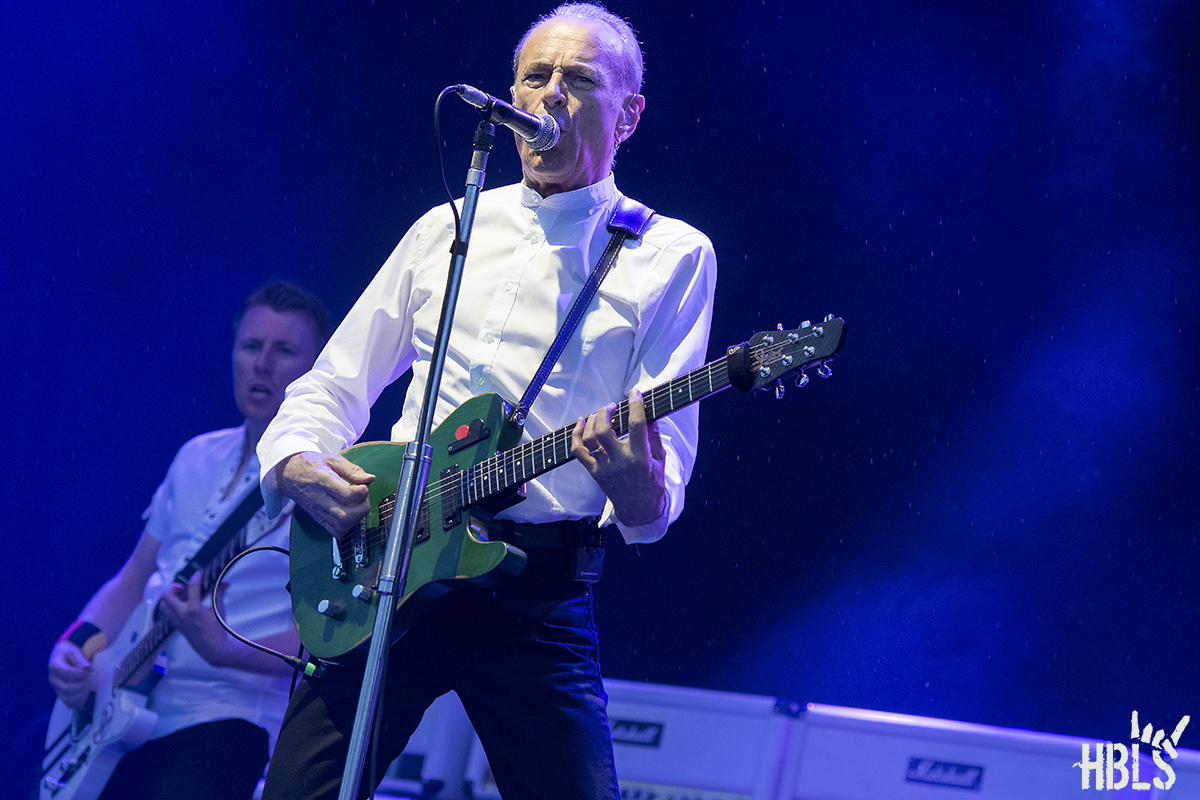 Status Quo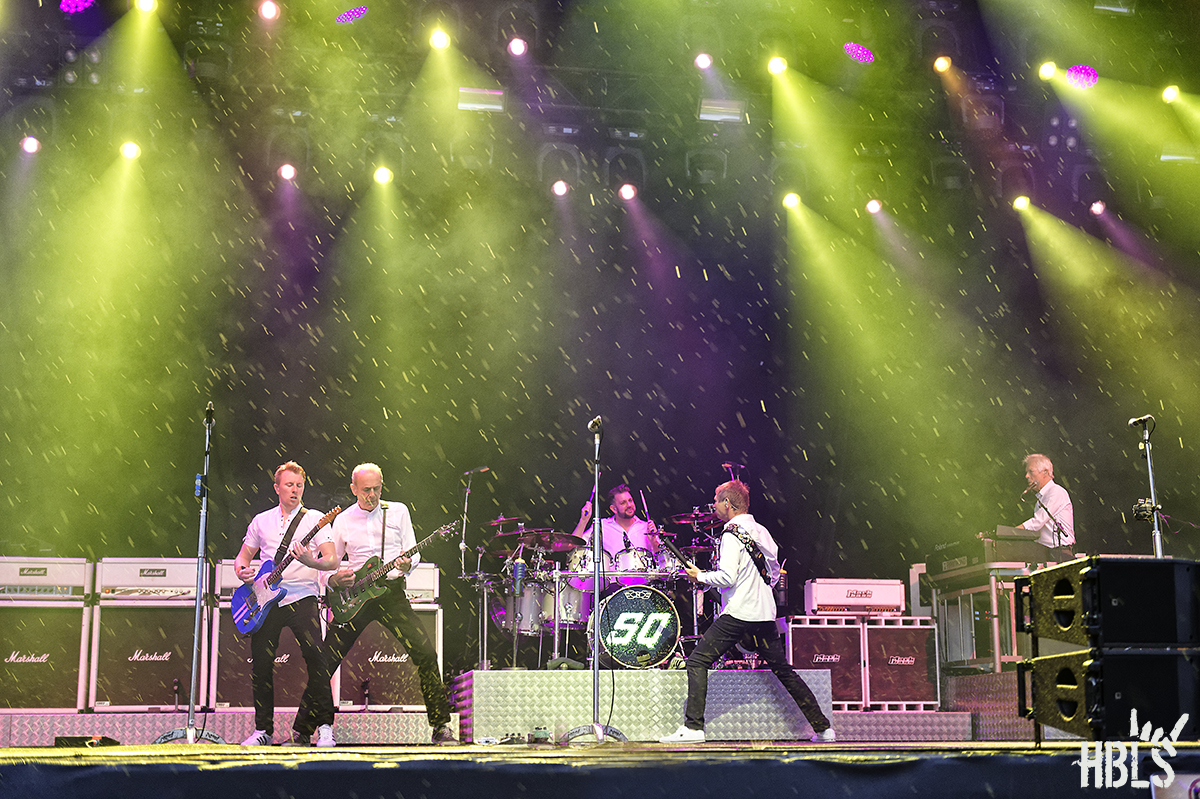 Status Quo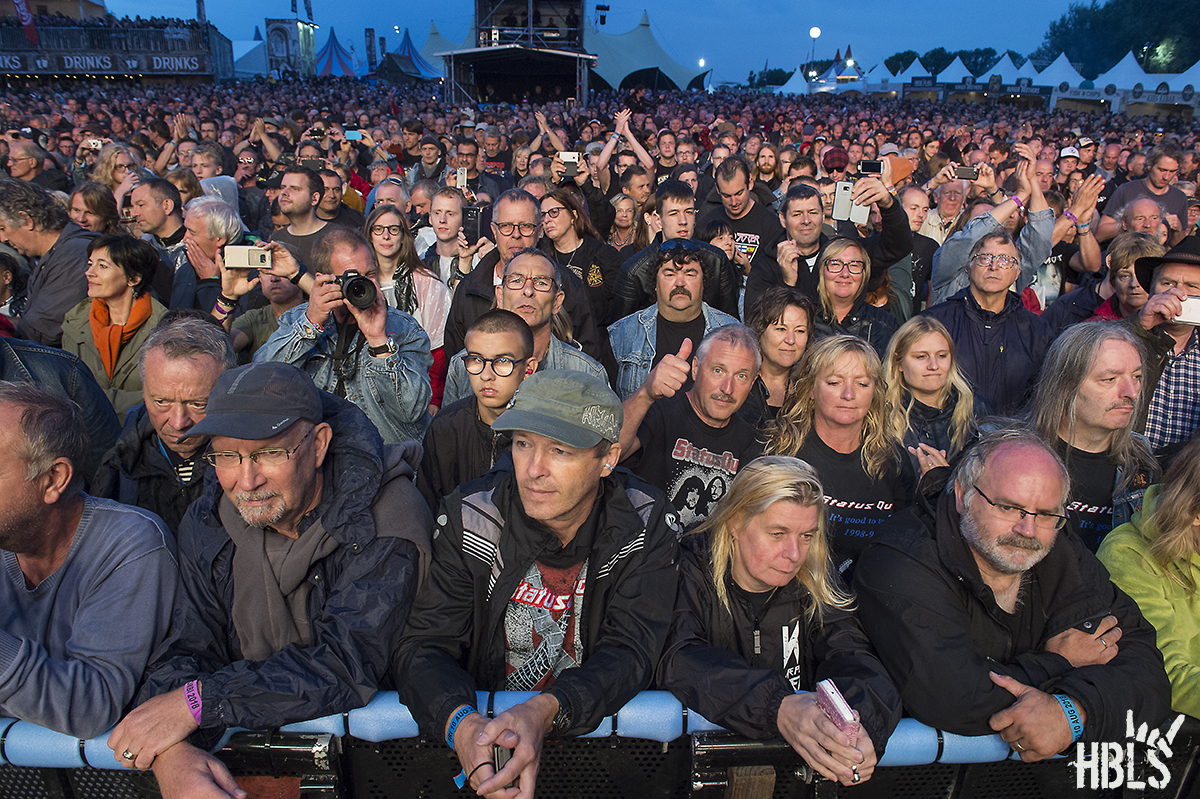 Status Quo Crowd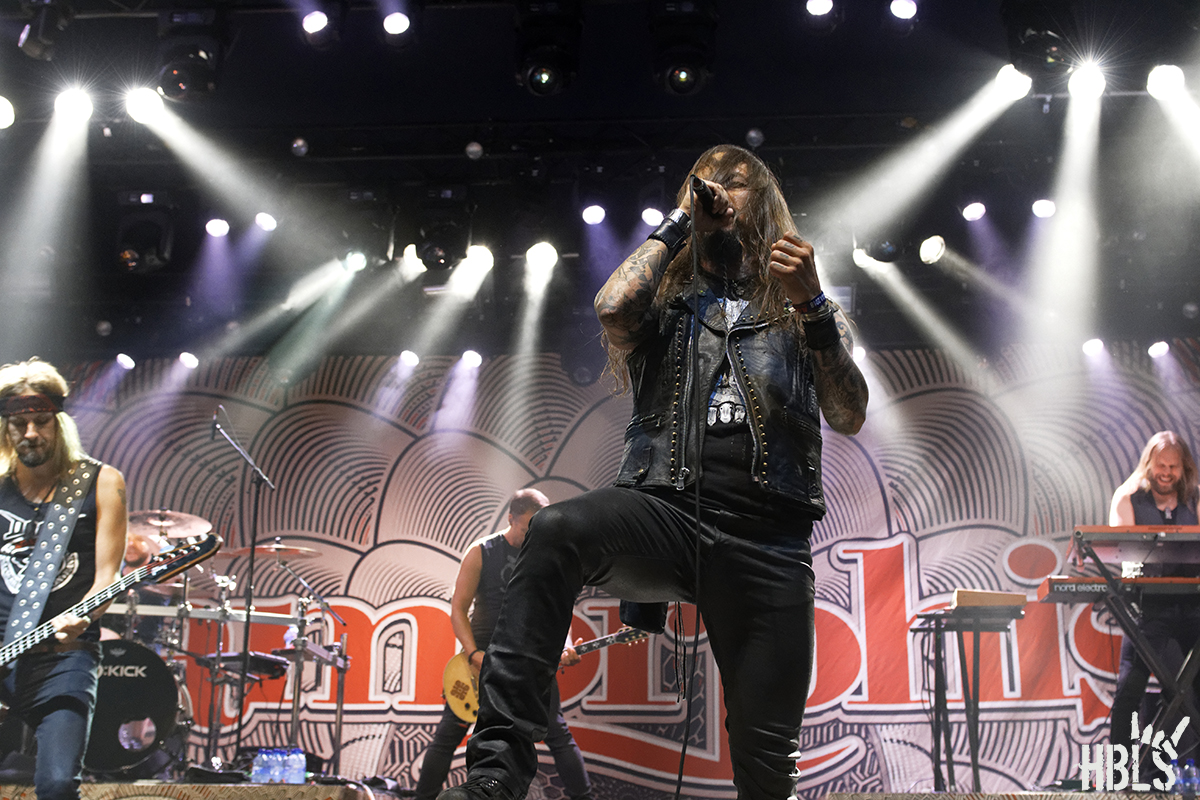 Amorphis

Brides Of Lucifer [Prison] were the talk of the town, and apparently a must see band from Belgium. The show, the lights, the stage props and set up, the whole entourage, clothing and accessories were impressive indeed and the musical concept of a female choir and a metal band uniting in rock and metal classics of the greatest, like Megadeth, Alice Cooper, Dio, Judas Priest, a.o., is an out of the box idea. During the first few songs I was under their spell but then things got boring because the choir sang every song in the same way and I missed vocal dynamics and variation. It was time to call it a night.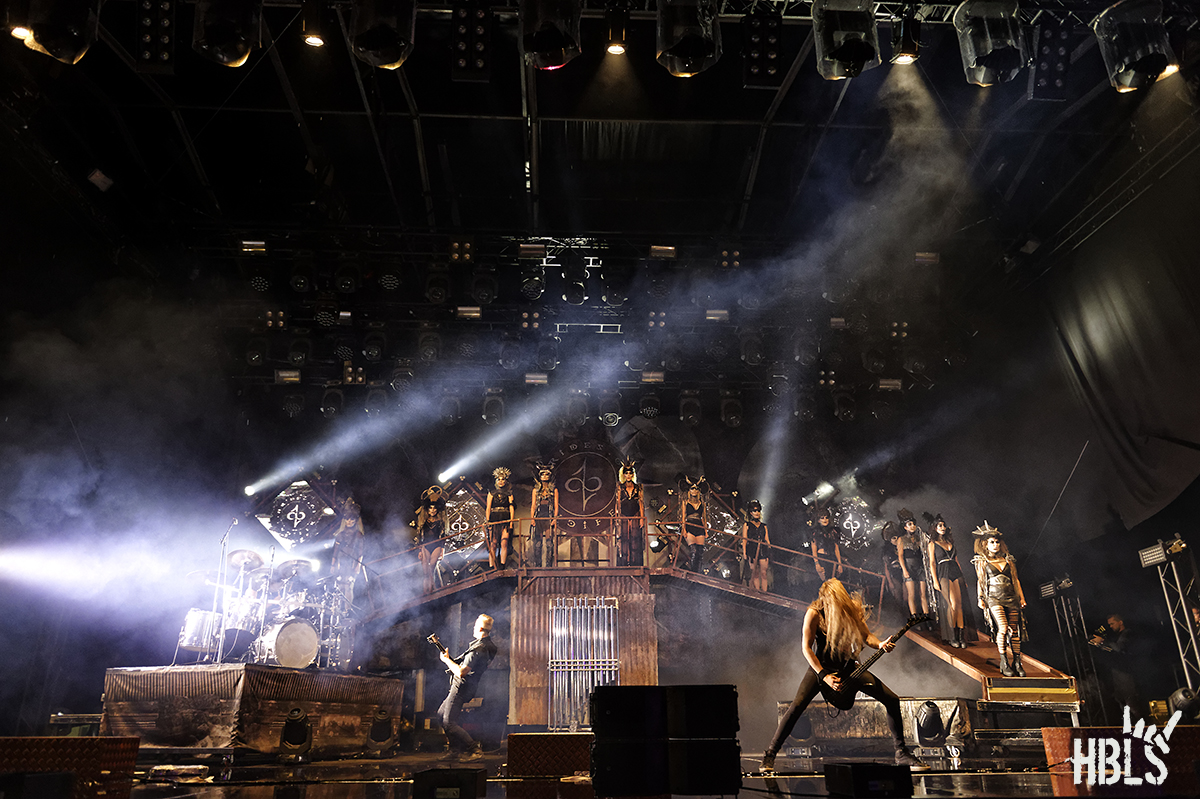 Brides Of Lucifer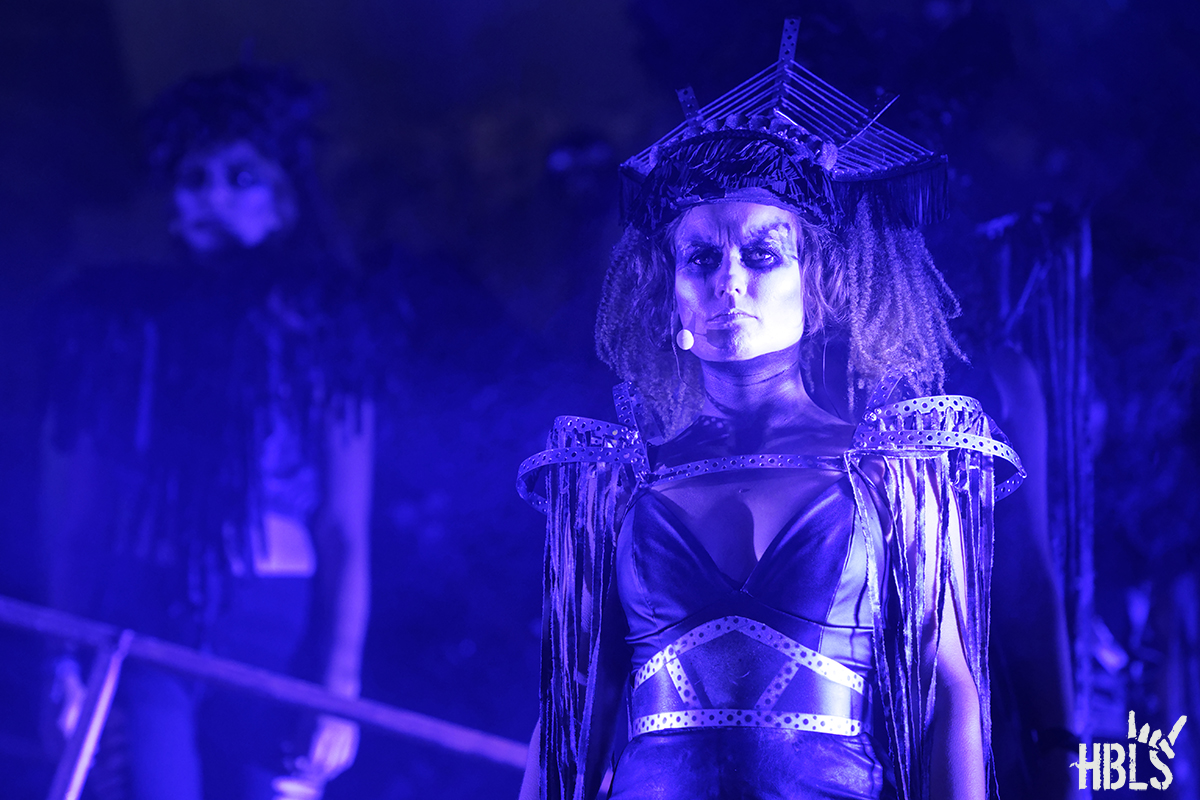 Brides Of Lucifer

DAY TWO [Saturday-August 11th 2018]
The American metal band Fozzy opened day two [Prison] and it was so worth getting up early to see them live. The show was entertaining and fun, the songs were very strong and displayed a high quality on a musical level. Frontman Chris Jericho, who is also a professional wrestler, was a real pro and a true rock star on stage, he sang amazing, and hopped off stage to walk through the audience all the way up to the VIP deck. Also the band, featuring Stuck Mojo guitarist Rich Ward, showed a lot of energy and craziness. Fozzy is the complete package so next time higher on the bill please!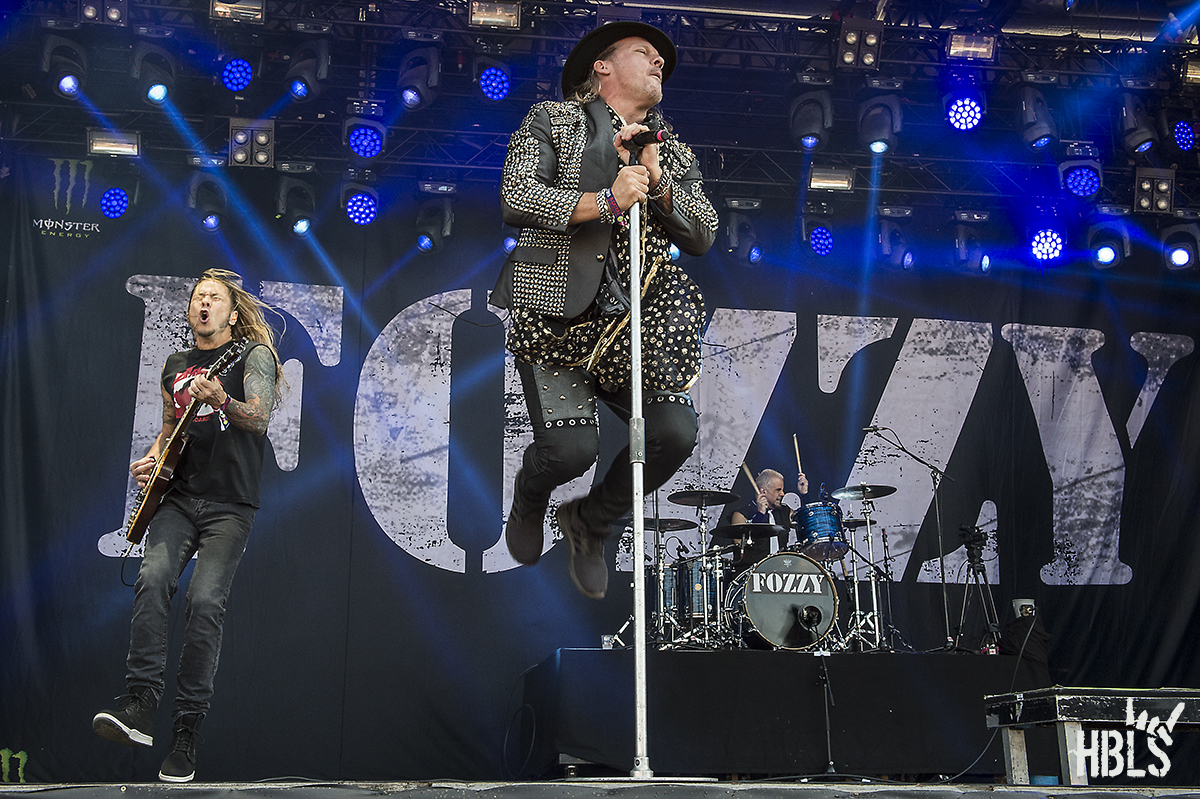 Fozzy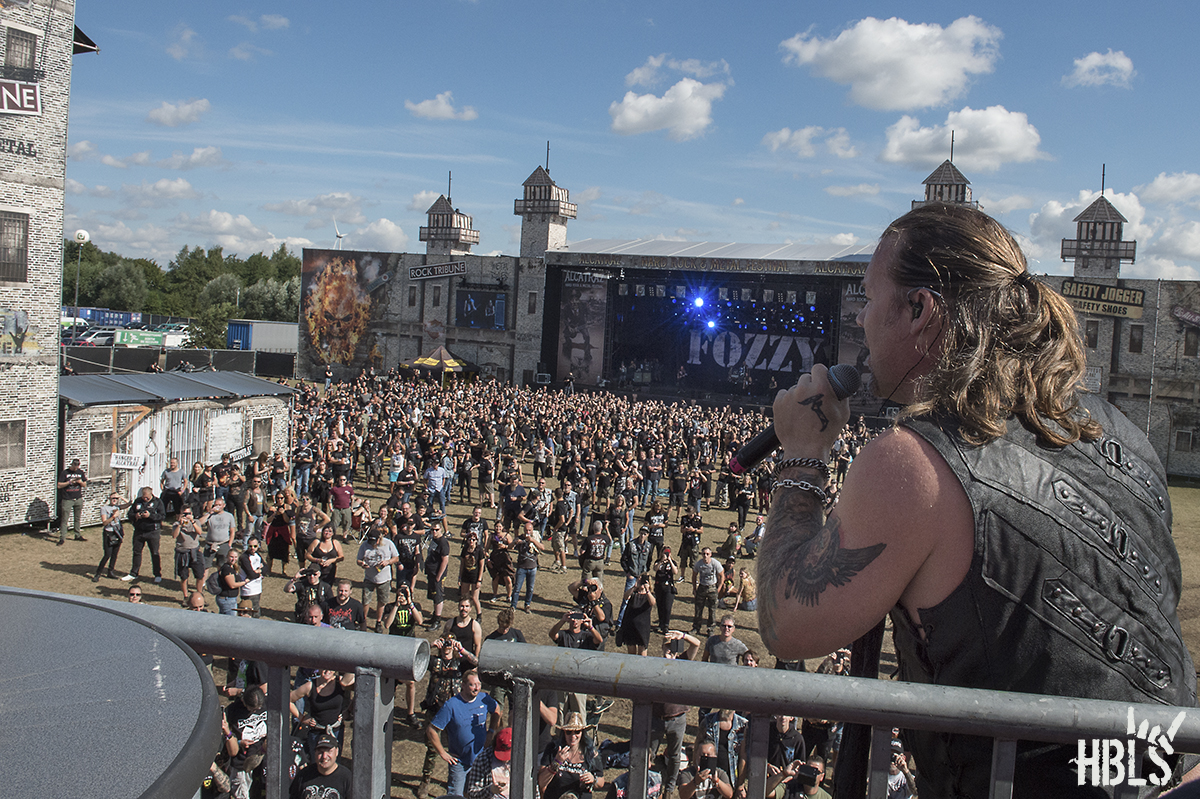 Fozzy

Also today I had some interviews [see videos below], I met new people, did some socializing with friends, checked the metal market [which was not that huge but definitely okay] and of course I tried to see as many bands as I could, or at least a part of the set.
The last time Armored Saint played at Alcatraz was 3 years ago. Singer John Bush recalls: ,,It was great then and it is great to be back.'' Well, they did a fine job today [Prison], but, for some reason, I didn't catch a real sparkle here. Guitar muscle Chris Broderick and his extreme metal band Act Of Defiance did quite the musical work out in the Swamp. The band impressed with technique and complexity in speed tempo, brutal riffing and deep grunts and growls but it were the gracefully and furious guitar solo's of Broderick that very much stuck out.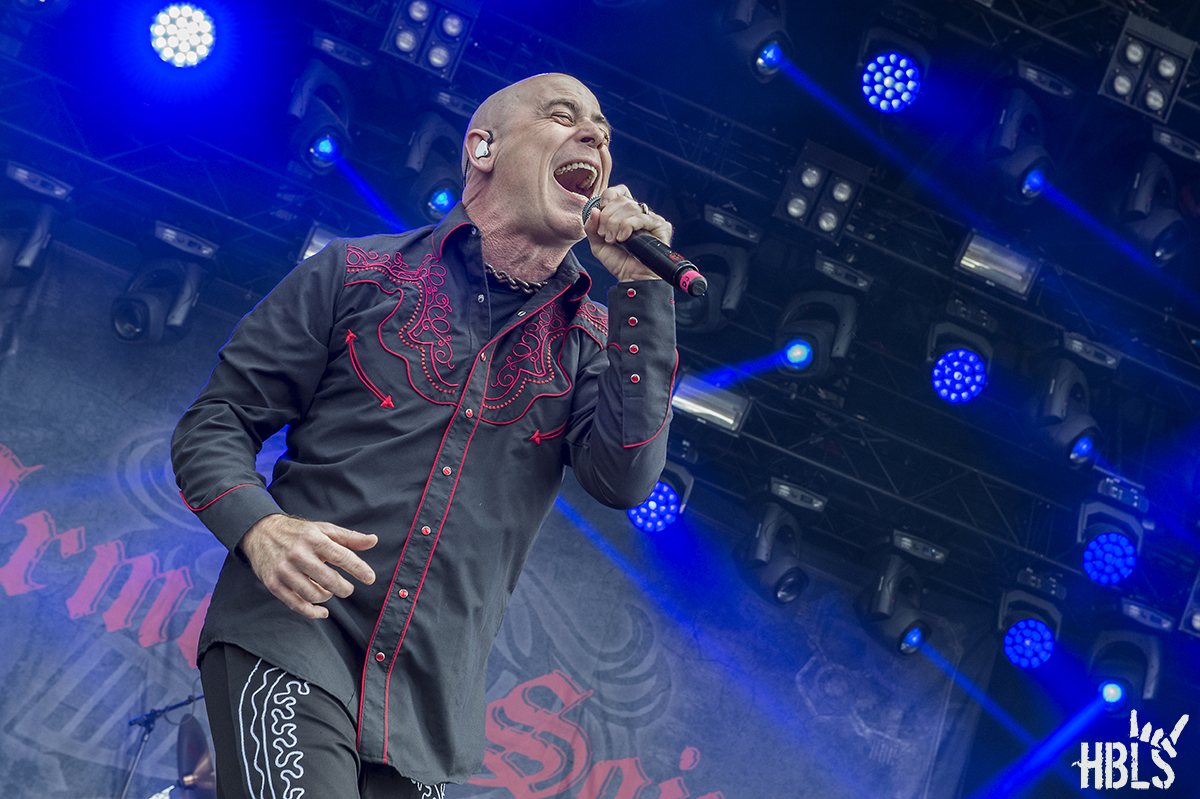 Armored Saint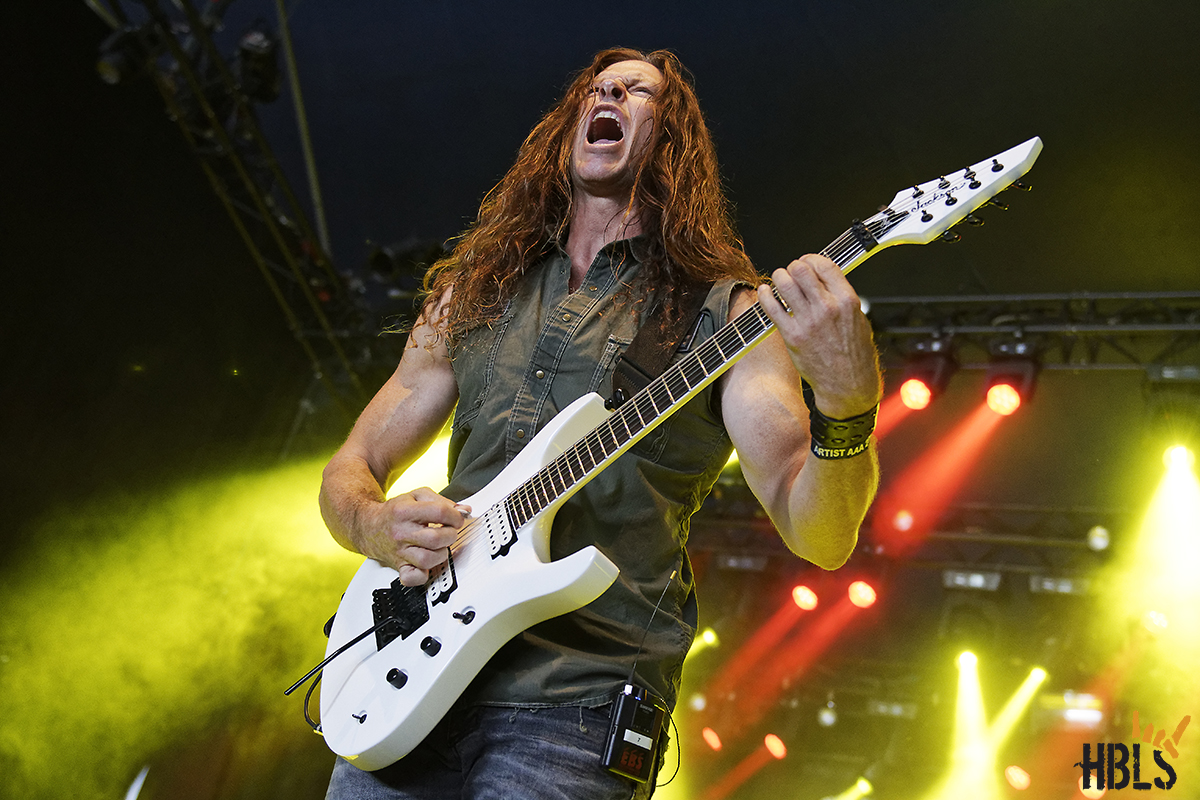 Act Of Defiance
The star of the young Finnish heavy power metal band Battle Beast is rising fast and it has a lot to do with the convincing stage presentation [Prison] and amazing vocal abilities of Noora Louhimo. This chick is a true metal warrior in every step of the way and she knows damn well how to connect with an audience. Hail to the new generation! The 70s based hard rock band Orange Goblin sounded sticky, muggy and groovy, fuelled with some old school Motörhead rock 'n roll, just as we like it. Yeah, these stoners felt quite at home in the Swamp.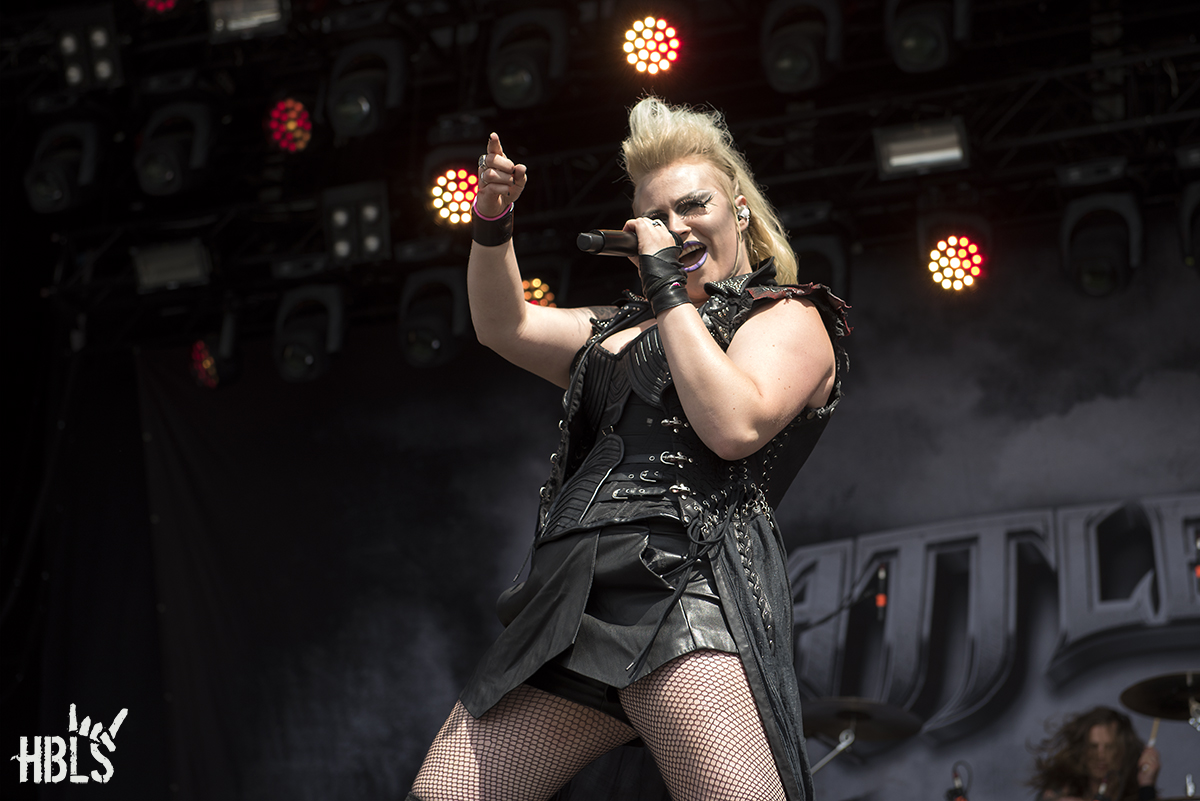 Battle Beast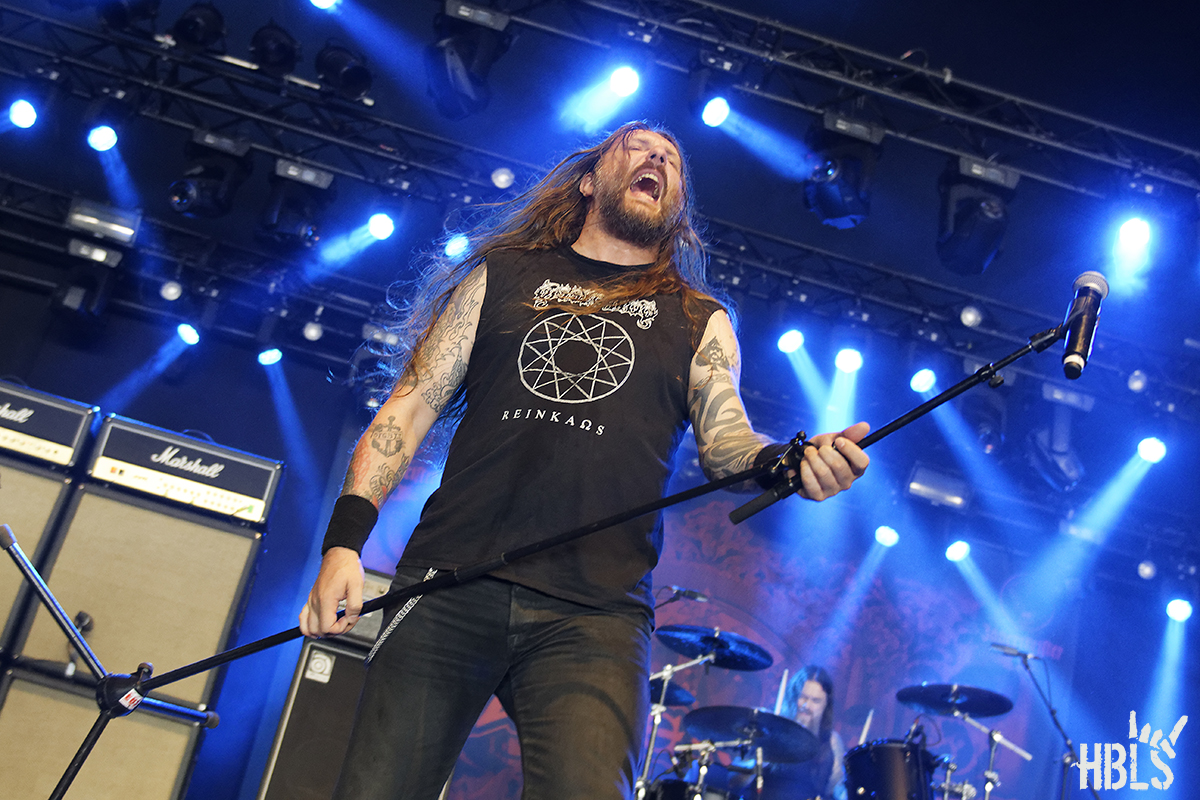 Orange Goblin
Also the gig of super group Mr. Big [Prison] was a highlight today. Their songs are timeless and the musical skills and stage presentation never gets boring. Sadly the band lost their drummer Pat Torpey [who died from complications of Parkinson's disease early February this year], but having Burning Rain drummer Matt Starr behind the drum kit now, gives the band a reason to move on.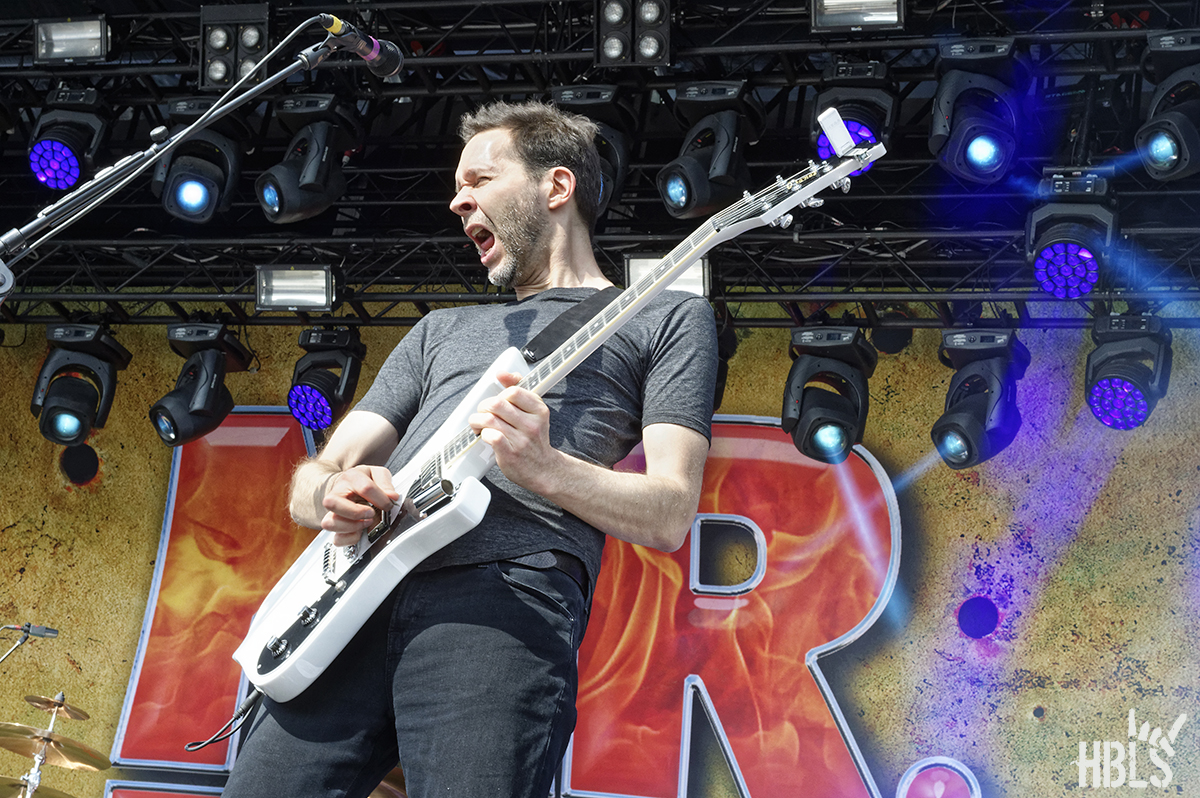 Mr. Big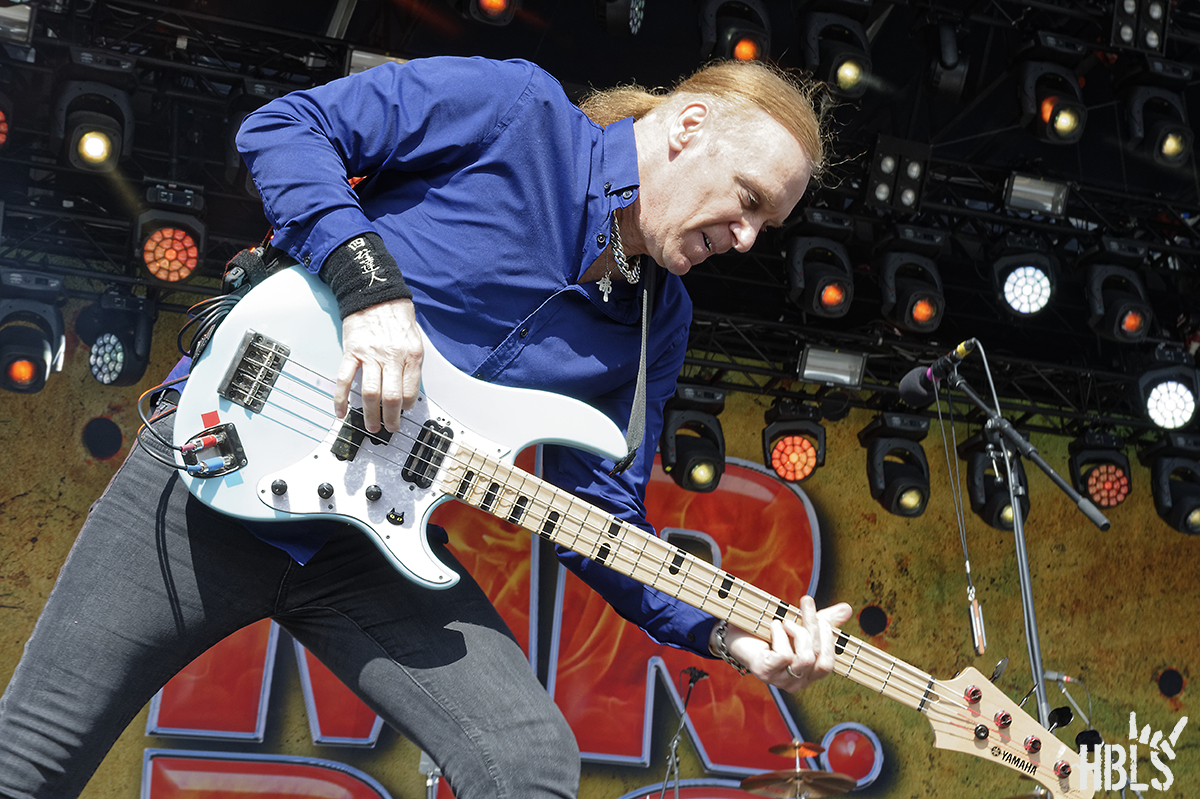 Mr. Big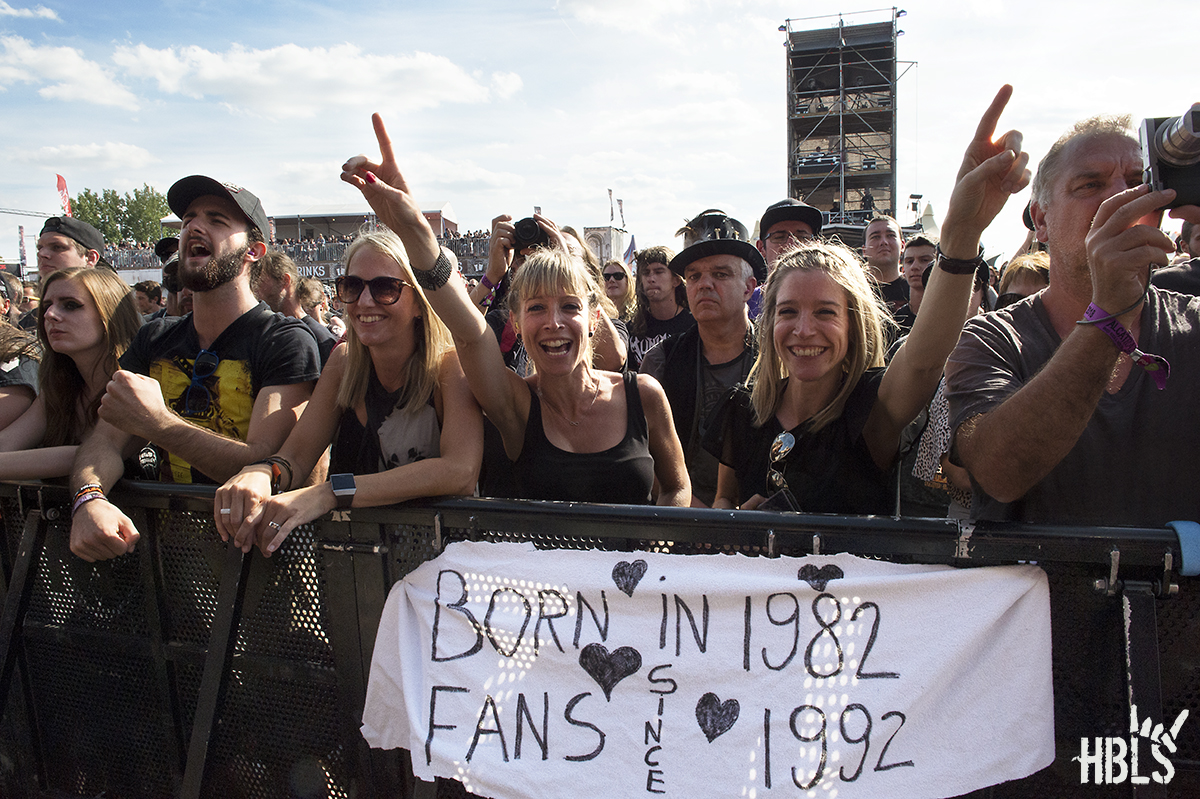 Mr. Big fans

Municipal Waste is all about mosh pits, crowd surfing and full energy, speed ahead. Their old school punk mentality set the Swamp on fire, which was an energetic experience. Epica performed, as always, as a real pro, always a pleasure to watch, and I consider Simone Simons still as one of the best vocalists in the female fronted metal genre. Yeah, these "Duchies" definitely deserved that spot on the Prison stage.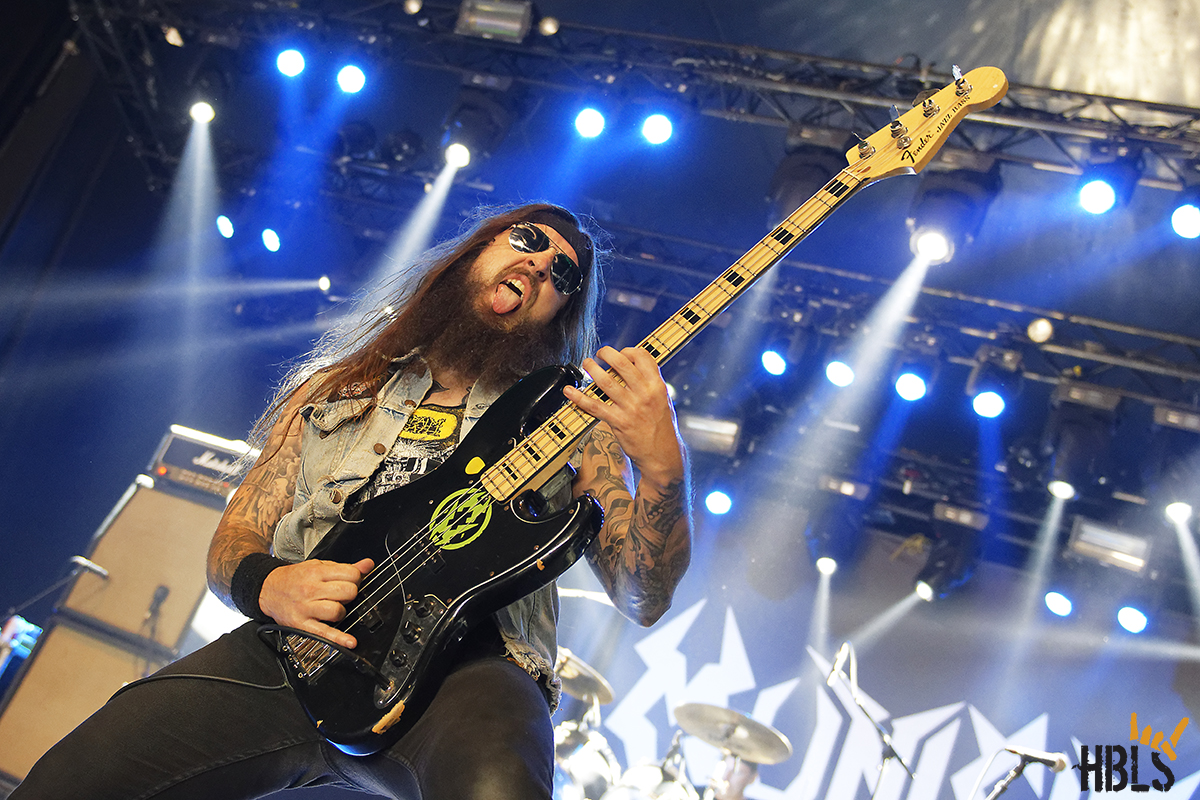 Municipal Waste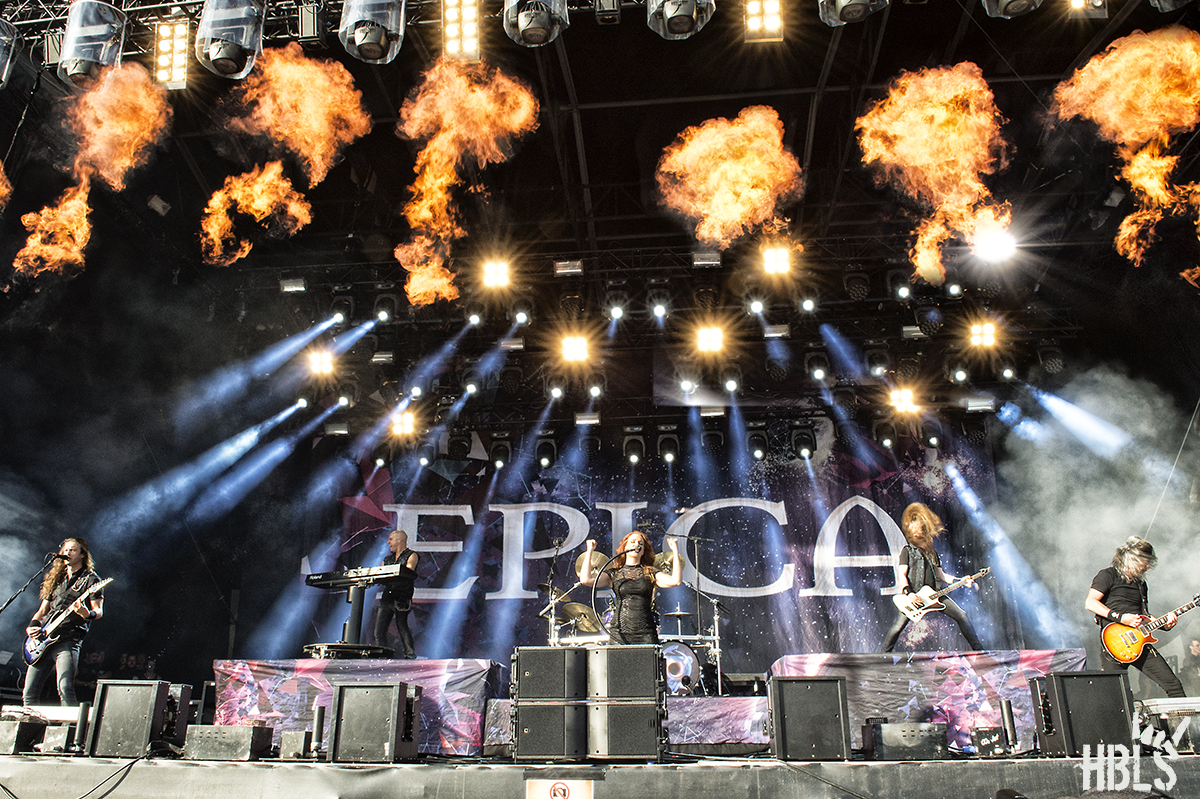 Epica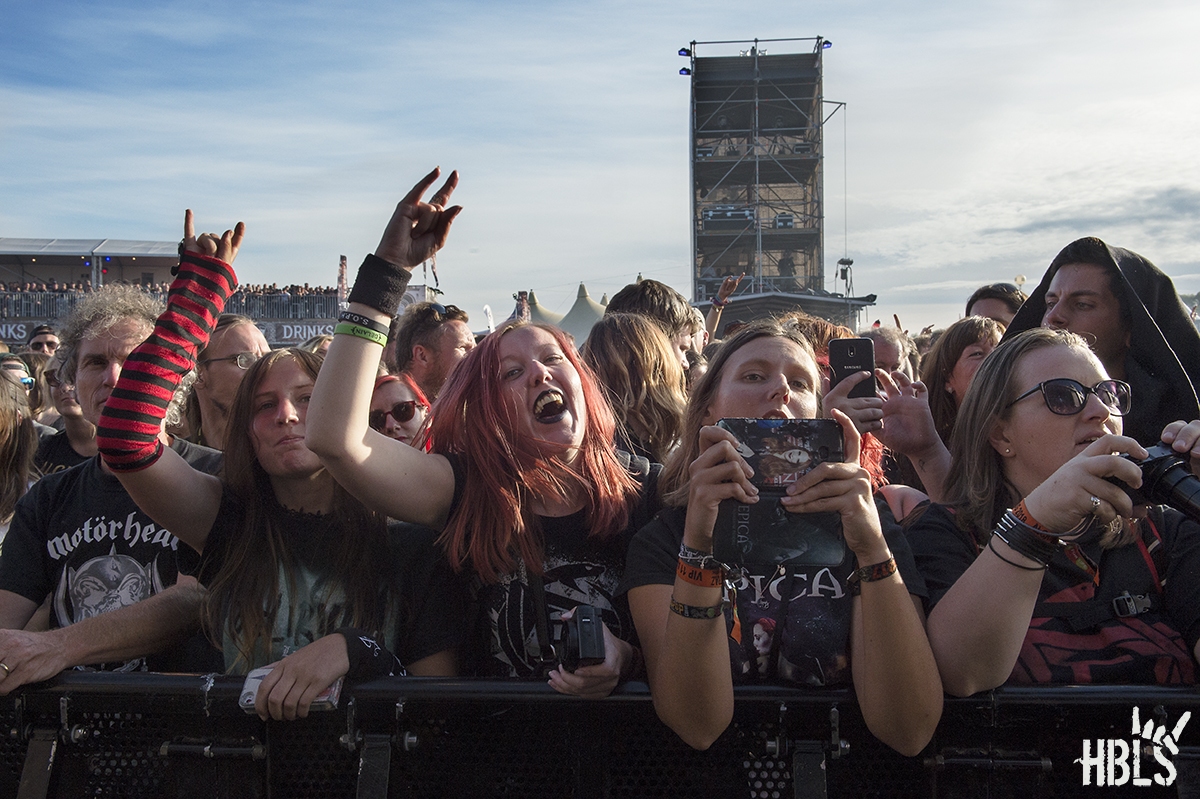 Epica fans

Symphonic black metal band Dimmu Borgir displayed lots of theatrics, including the magnificent costumes, and the total package lured us all very easy into their massive symphonic sounding songs [Prison]. It was grand and impressive. Satyricon is also hailing from Norway but this band presented their black metal music in a much more sober way. It was actually all about the oppressive atmosphere, the obscure vibe and the charisma of singer Satyr. Seeing Satyricon on stage [Swamp] was intriguing, mesmerizing and an intense experience.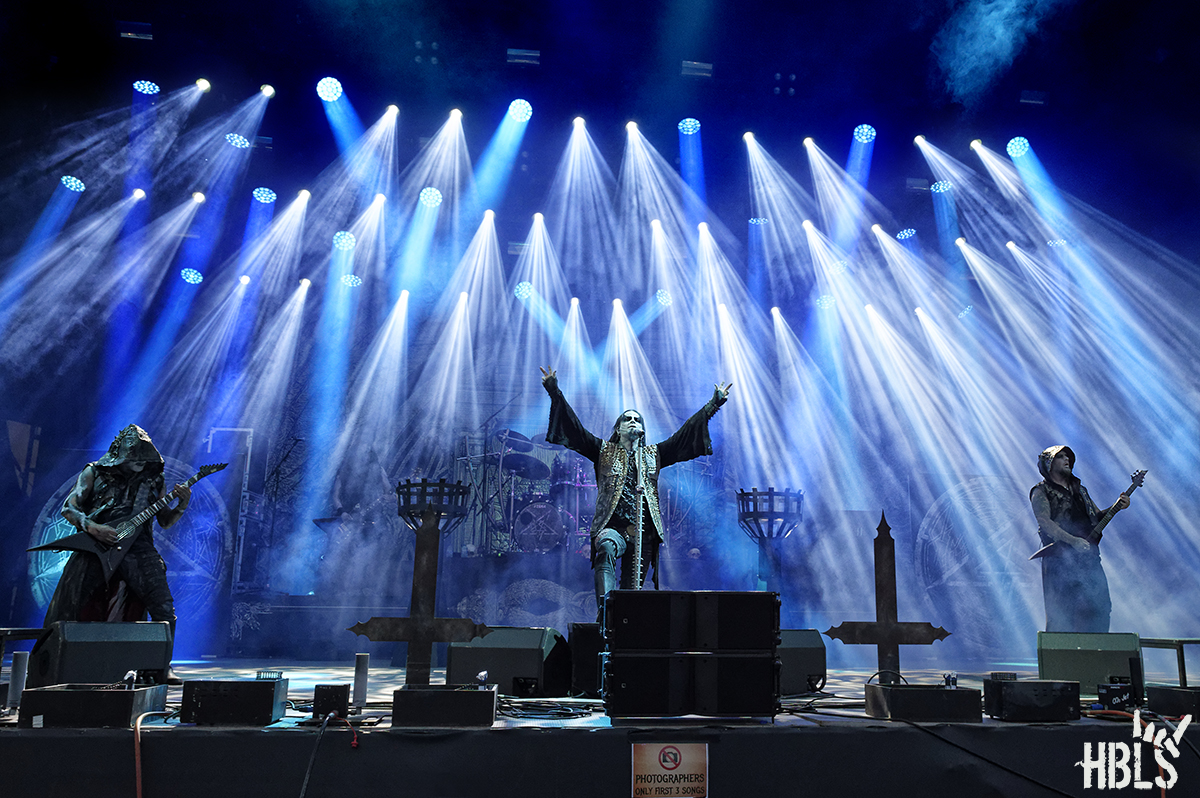 Dimmu Borgir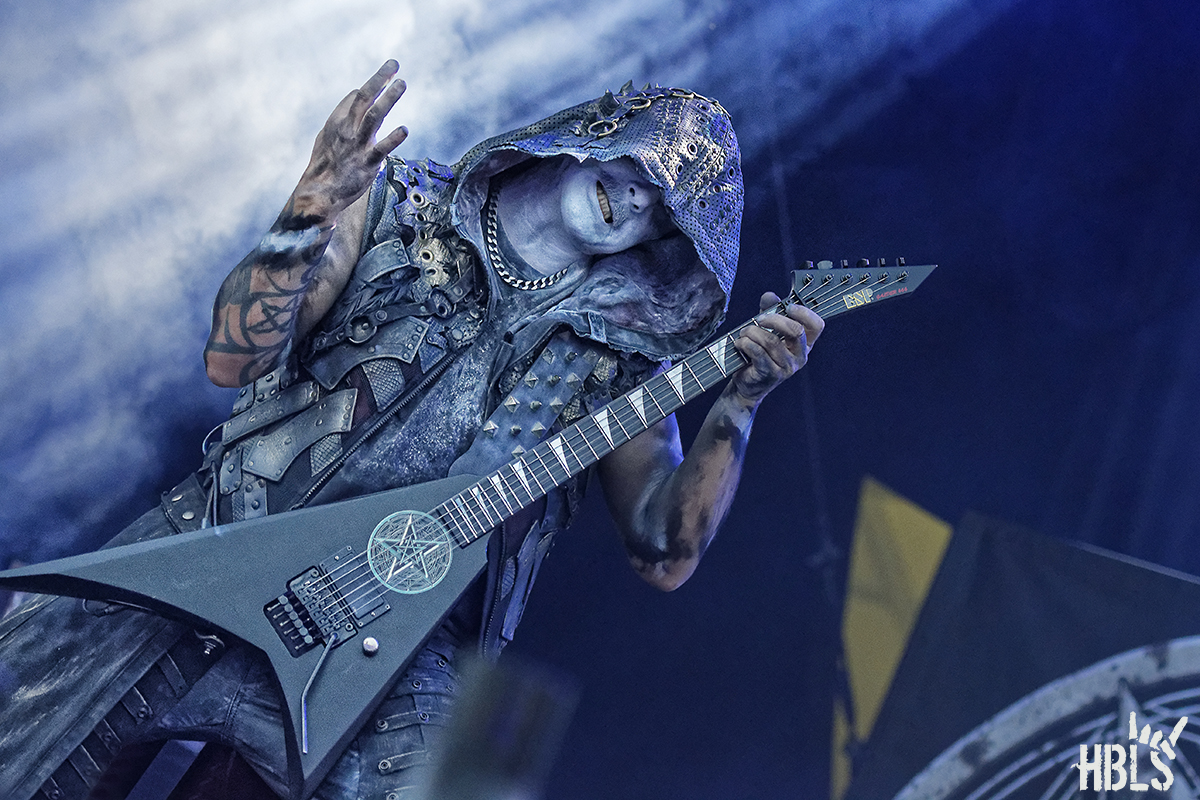 Dimmu Borgir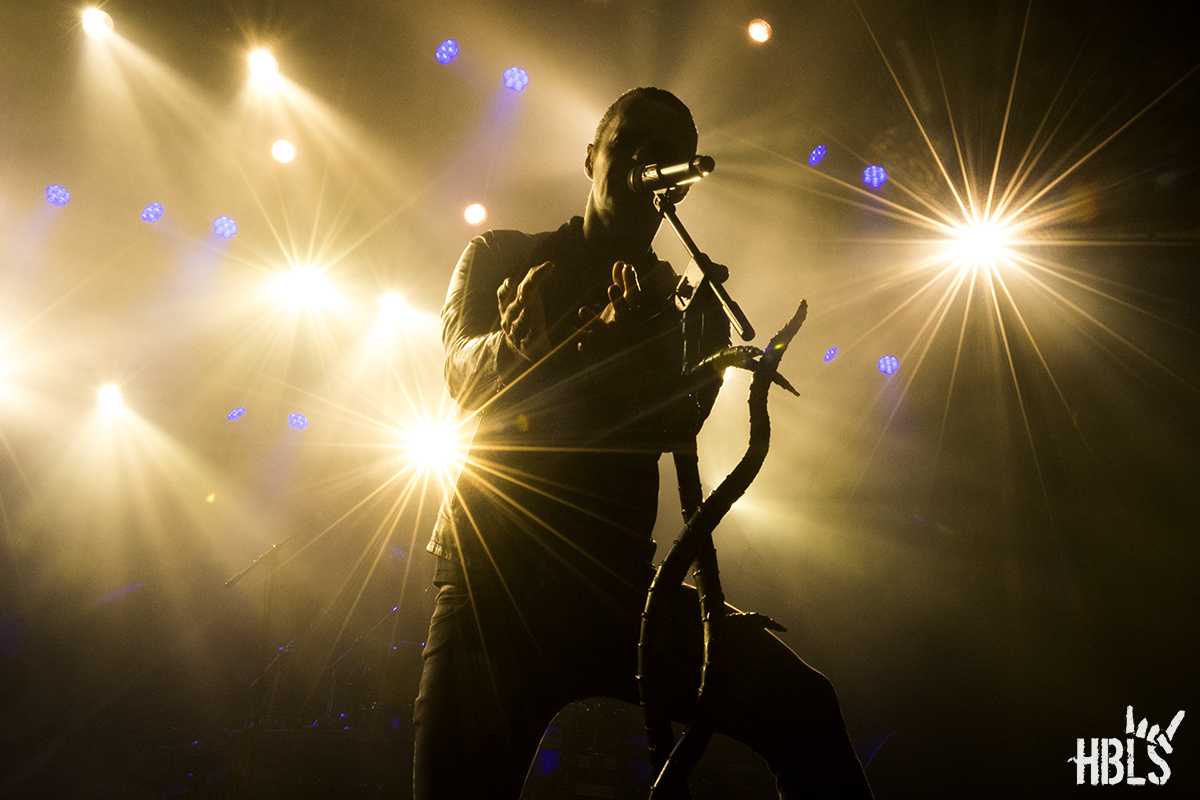 Satyricon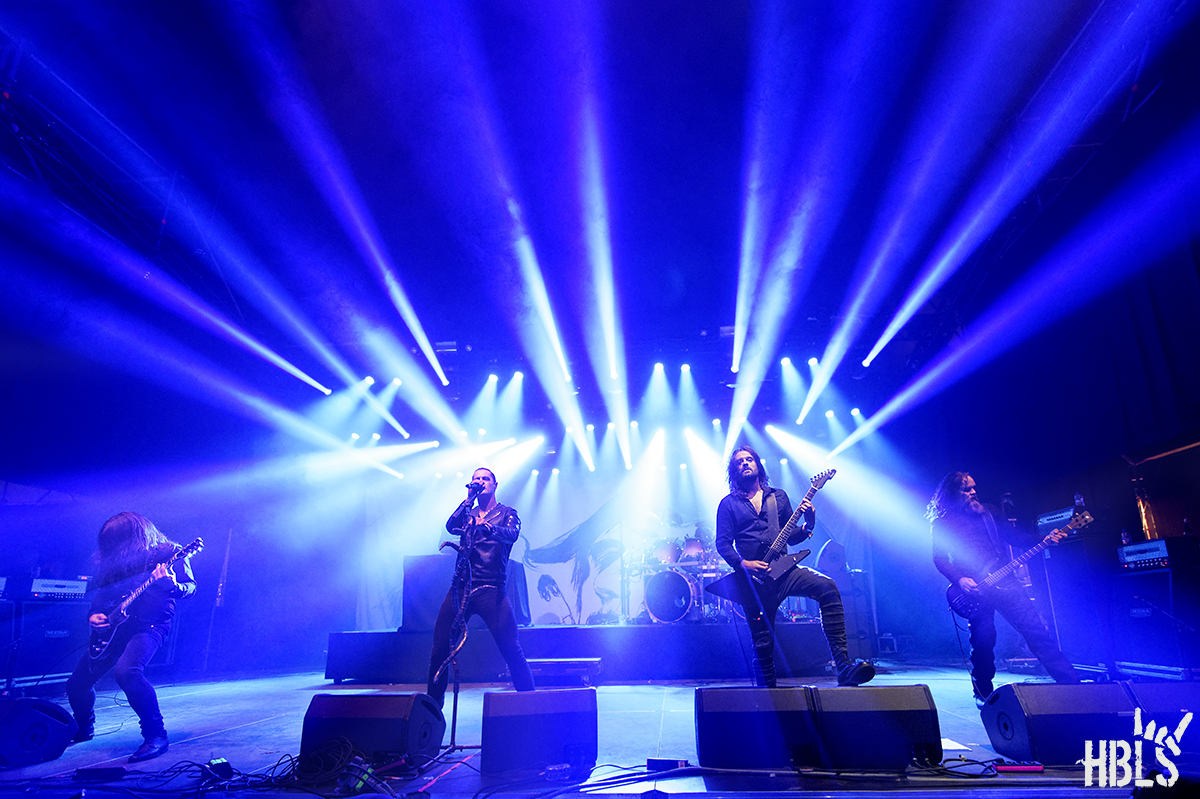 Satyricon

Today's headliner Limp Bizkit [Prison] wasn't really my cup of tea to be honest. Especially the negativity and the arrogant attitude of singer Fred Durst annoyed me, also too much rap and crap, so I hit the sack, though a lot of people were totally into it and I guess Limp Bizkit got what they came for.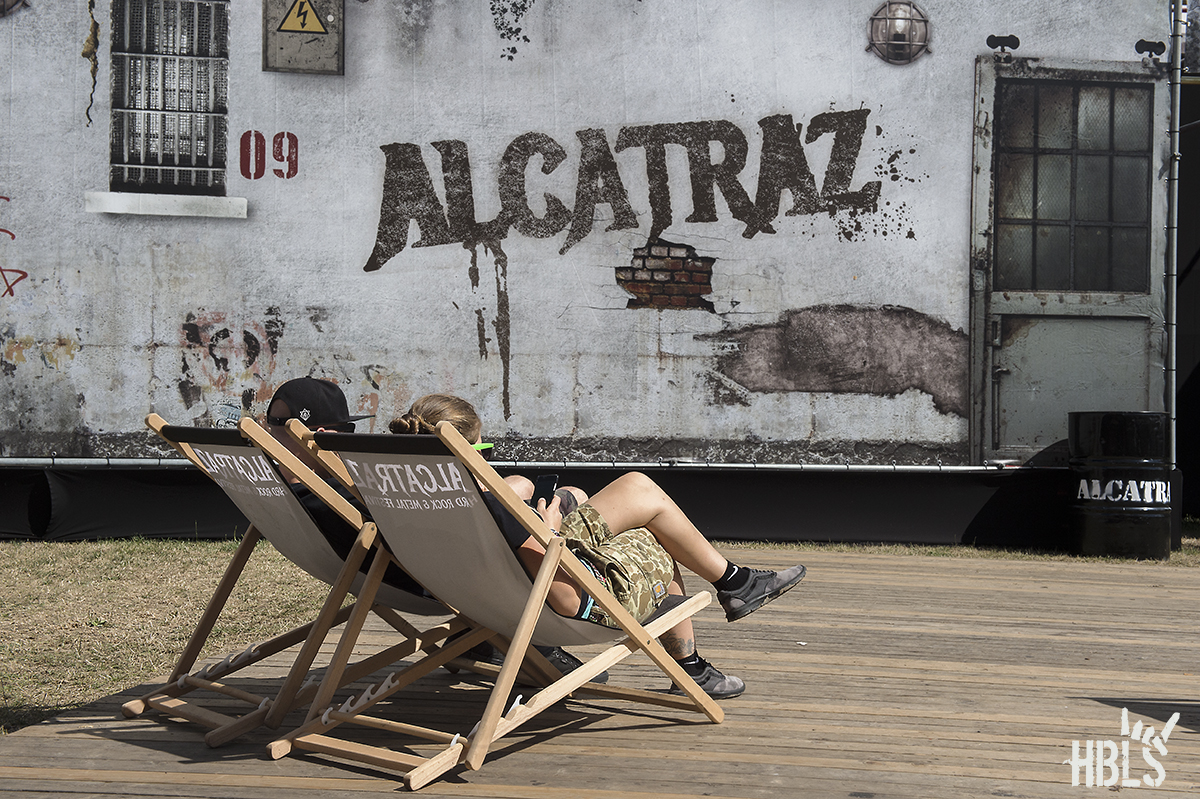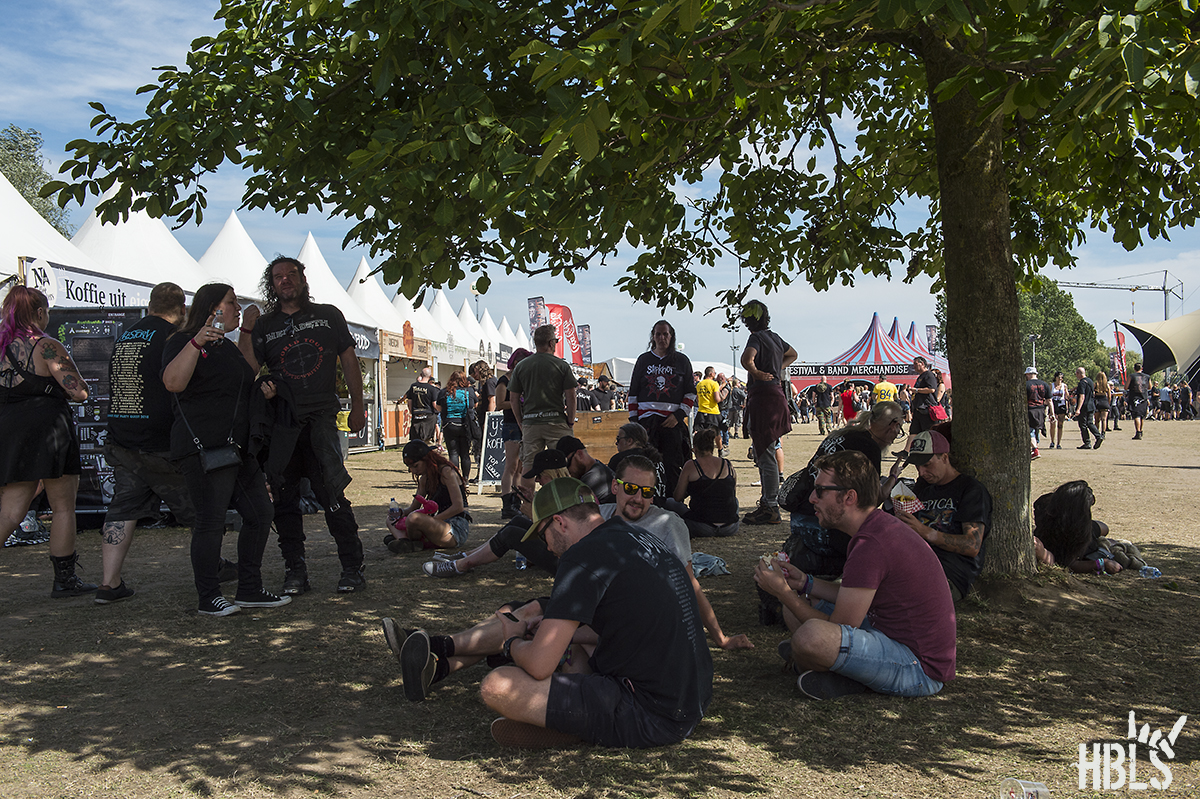 DAY THREE [Sunday-August 12th 2018]
Like the days before, also today I had some press but I also saw quite some cool and entertaining bands. Orden Ogan from Germany, for instance, did a vibrant job as opener of the Prison, to start with. Inglorious from the UK knocked me out of my socks! Singer Nathan James did an outstanding job and he gave even more depth to the soulful songs. This is the new generation of classic, melodic rock to remember. Alestorm pirated the Prison stage, threw themselves a huge party, singing about booze and nonsense, under the watchful eye of a gigantic yellow blown up duck. The crowd went all the way for it and the line for their signing session later on was insane!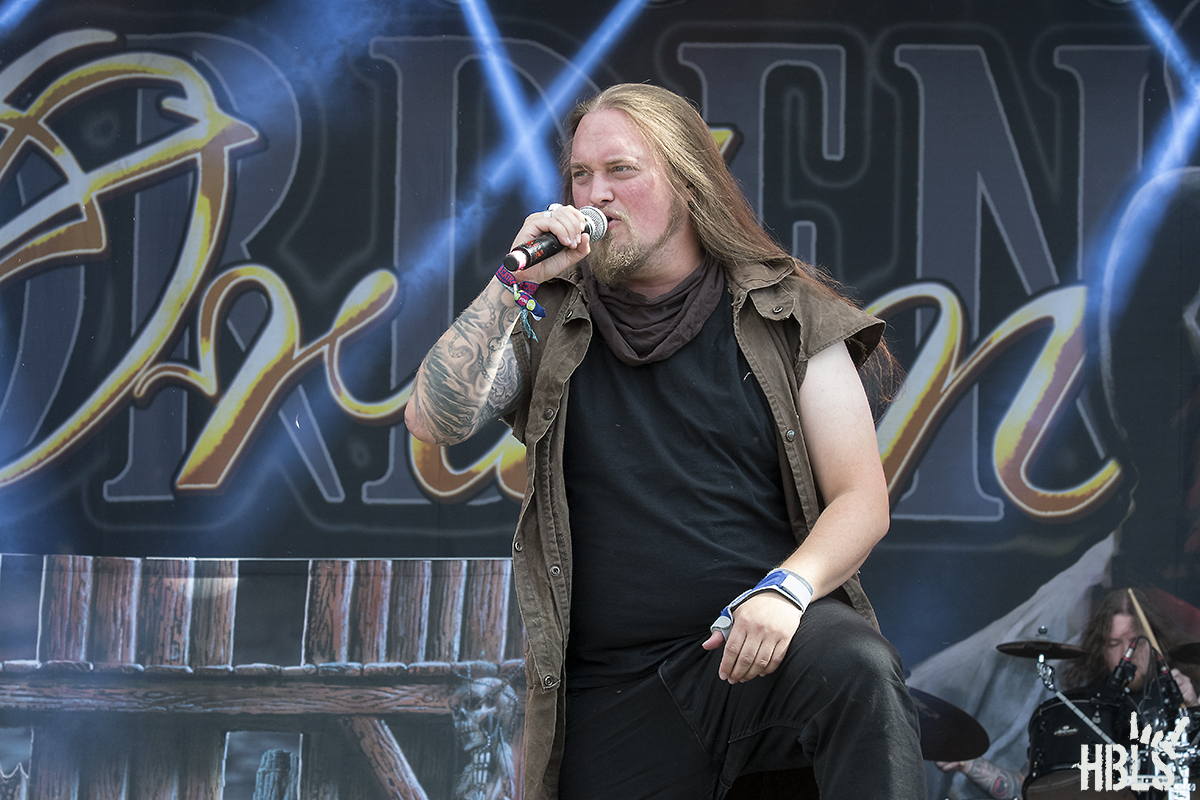 Orden Ogan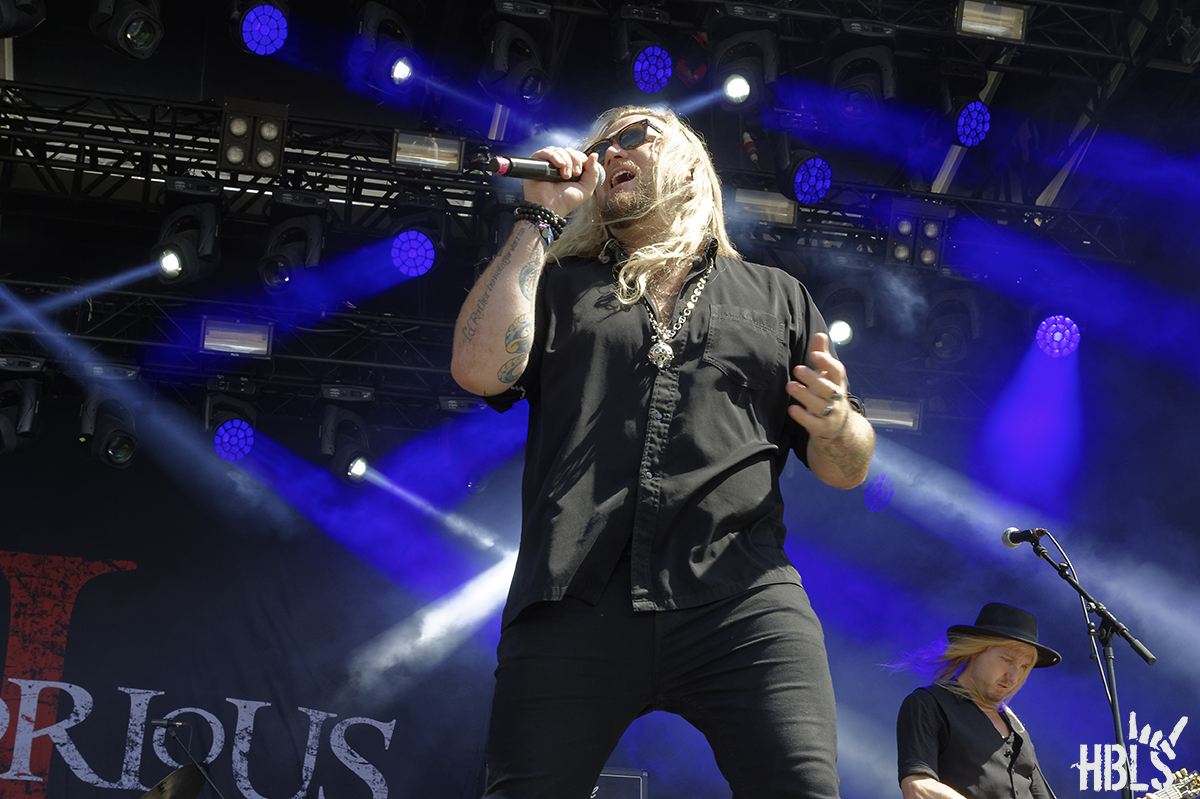 Inglorious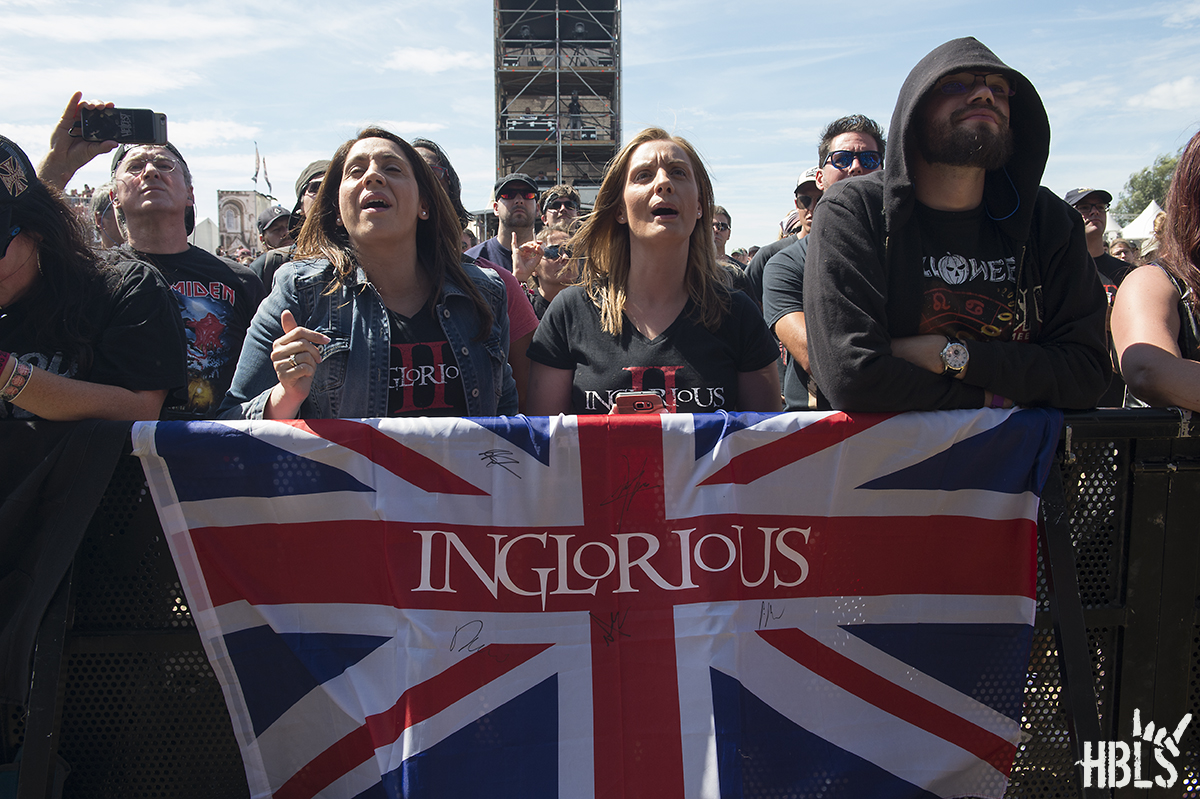 Inglorious fans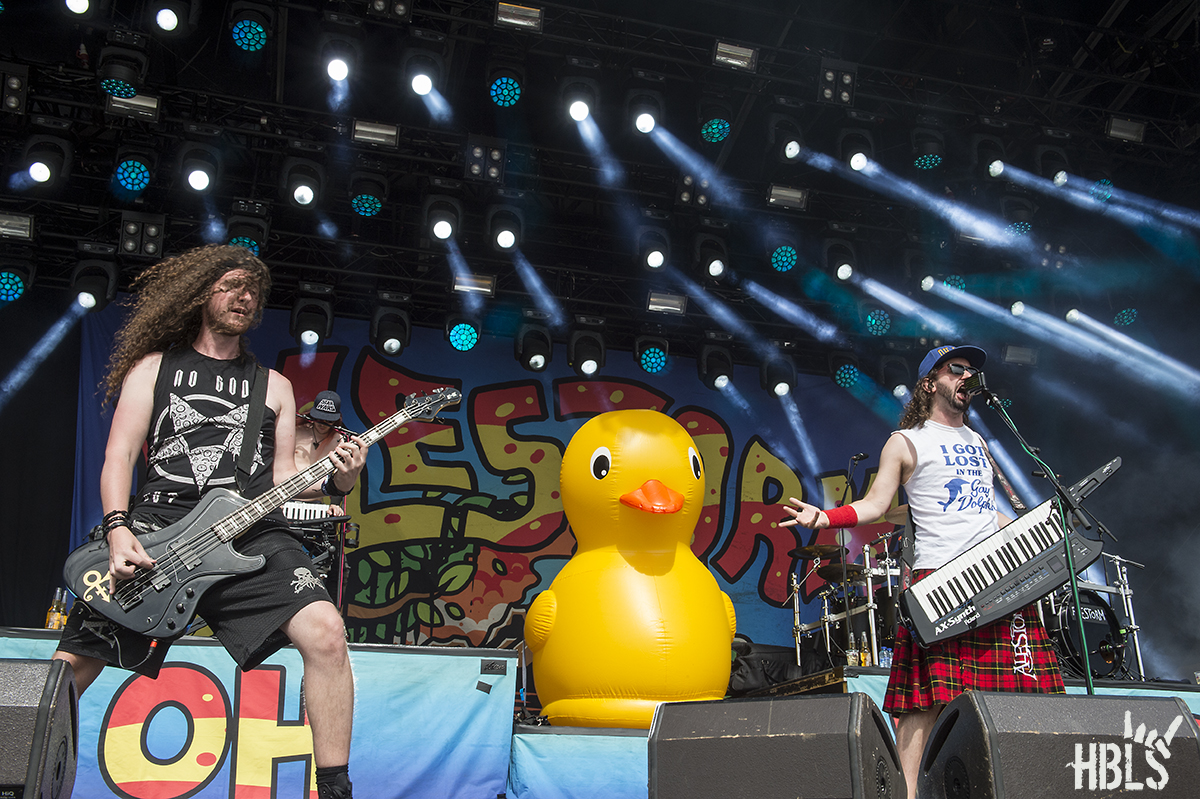 Alestorm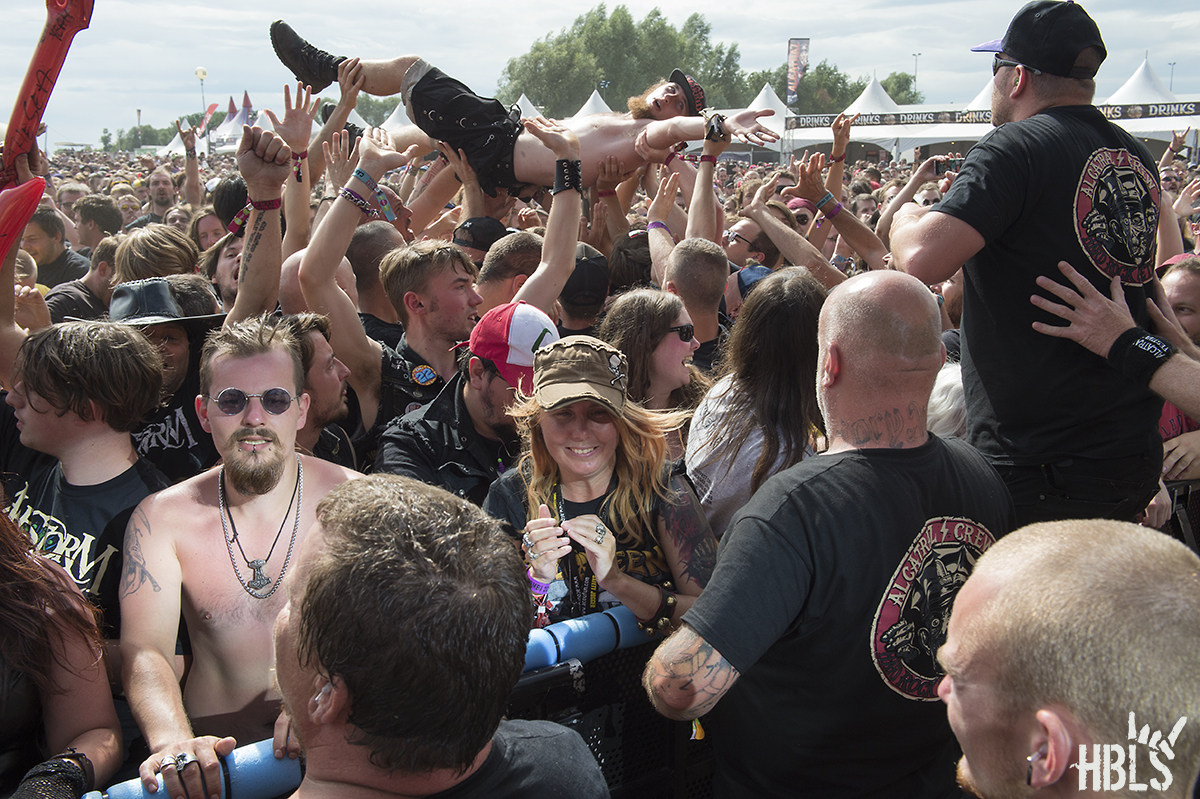 Alestorm crowd

I did a peak on The Black Dahlia Murder in the Swamp but it didn't really grab my attention. Behemoth on the other hand was one of today's bands that felt intense and fascinating [Prison]. The songs were very tight performed and the way they connected with the audience and build up their show, having beautiful graphic back drops, stage props, bloody moments, cool costumes, corps paint, doing rituals and using fireworks, creating a dark vibe, made sense from beginning till the end.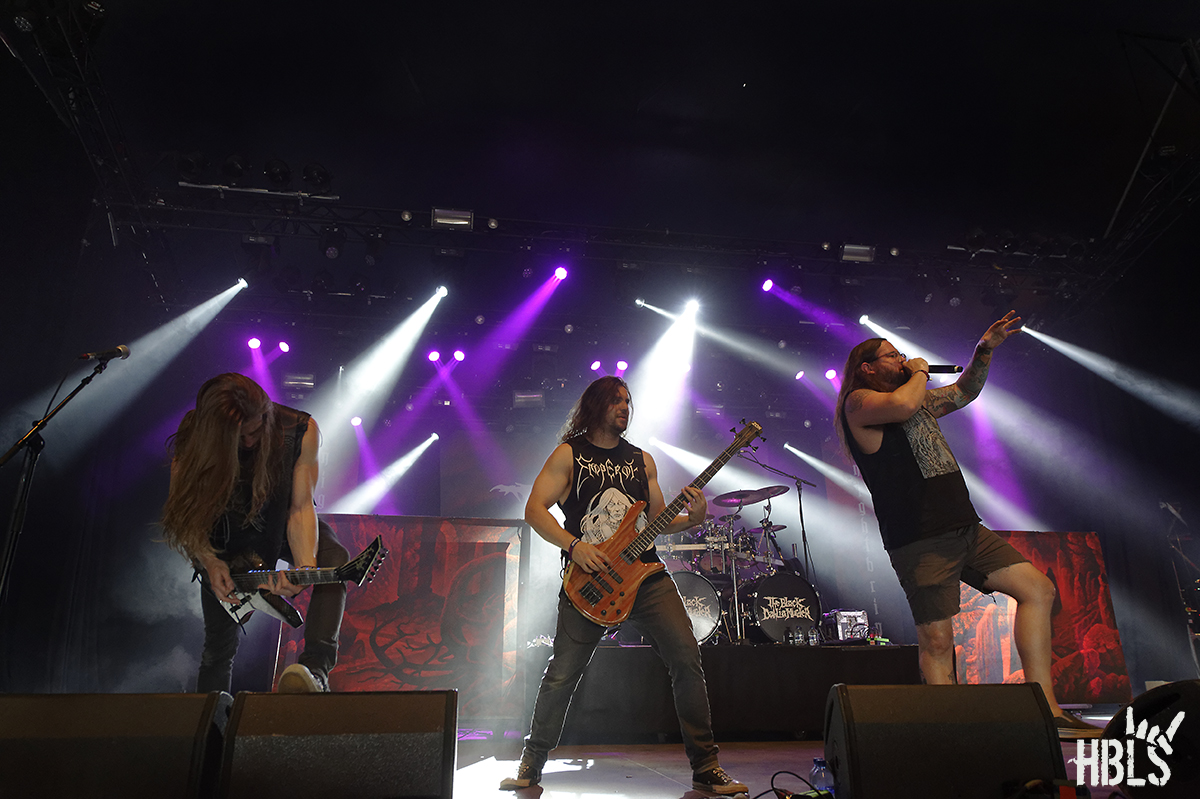 The Black Dahlia Murder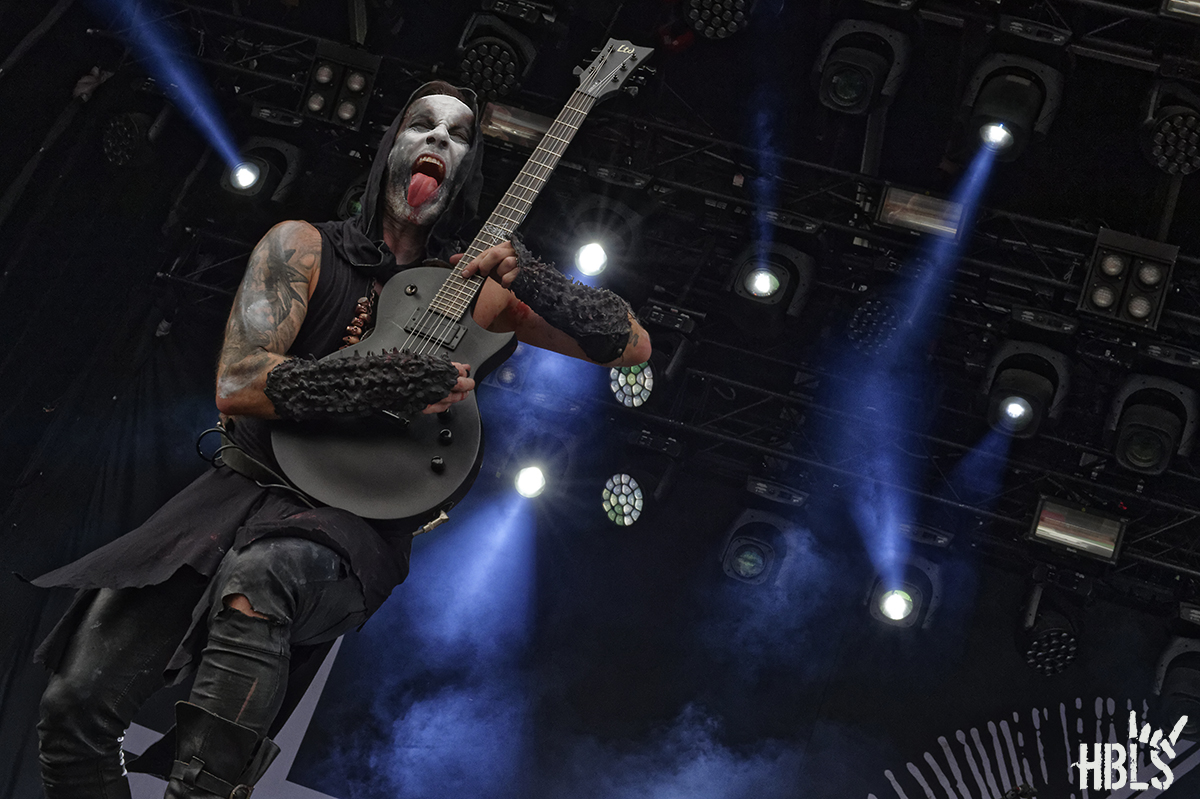 Behemoth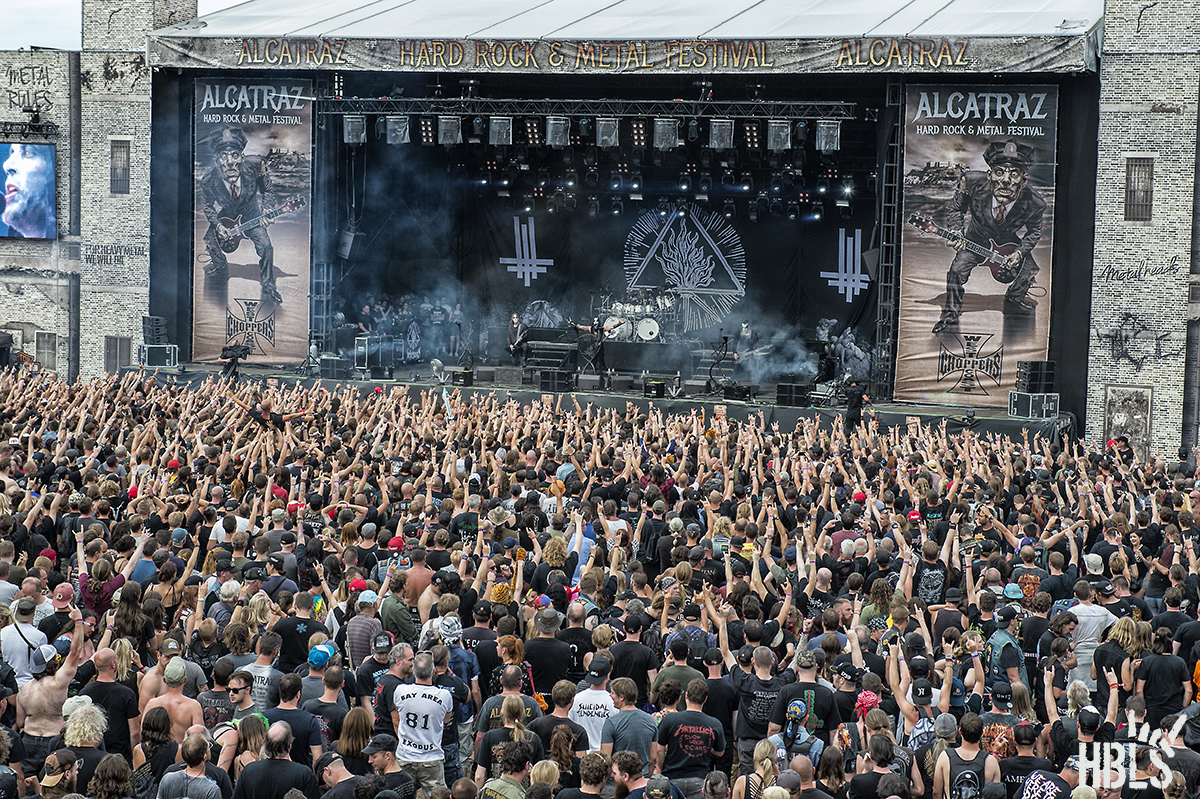 Behemoth
Before the atmospheric, post black metal band Alcest started in the Swamp the Alcatraz organisation asked for a moment of silence in memory of Phil Baheux, drummer of Belgium band Channel Zero, who died unexpected in 2013. After that it felt nice to get lost in the compelling songs of Alcest that reminded me of the old Anathema.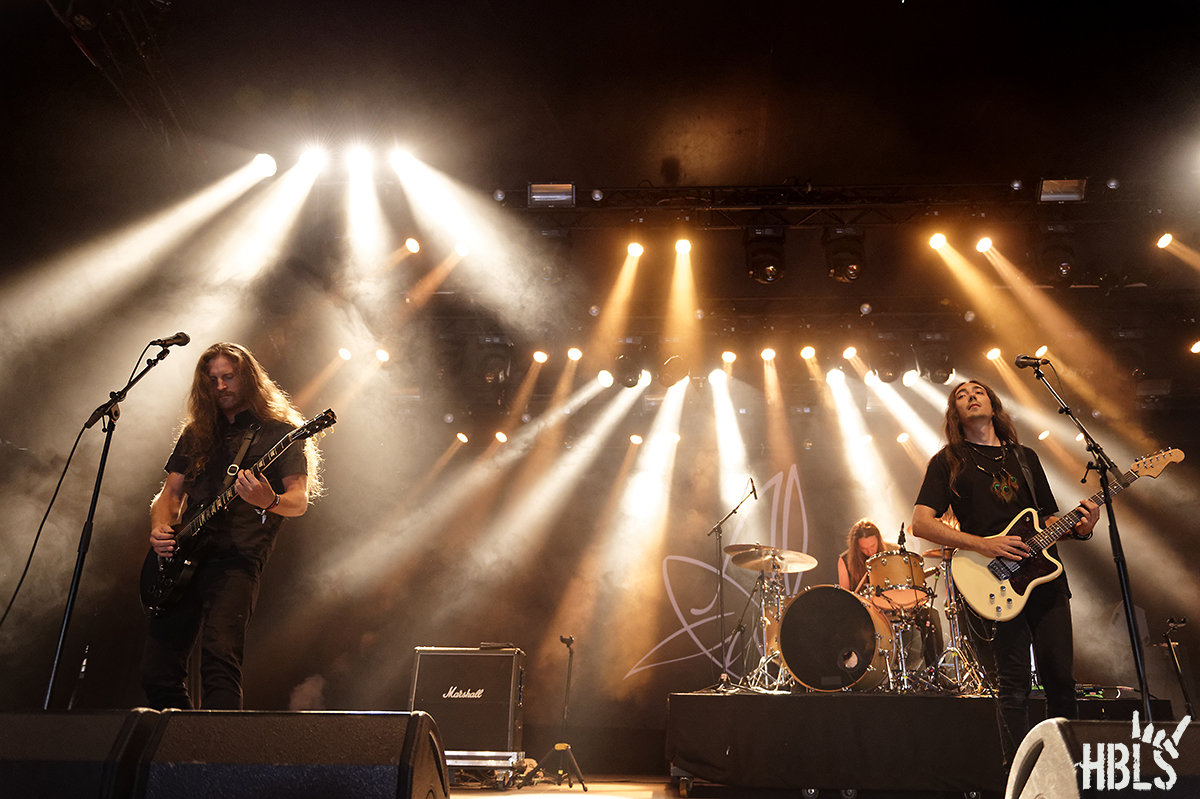 Alcest

I was totally blown away by In Flames [Prison]. These "Swedes" have always been a good live band, but WOW they took it all to the next level and seemed to be very ready for a much bigger audience. Everything was right: the sound, the light and show elements [stunning], the performance, the songs [the chorus of ,,Here Until Forever'' is still haunting me] and the sympathetic and humble attitude of all band members was heart-warming.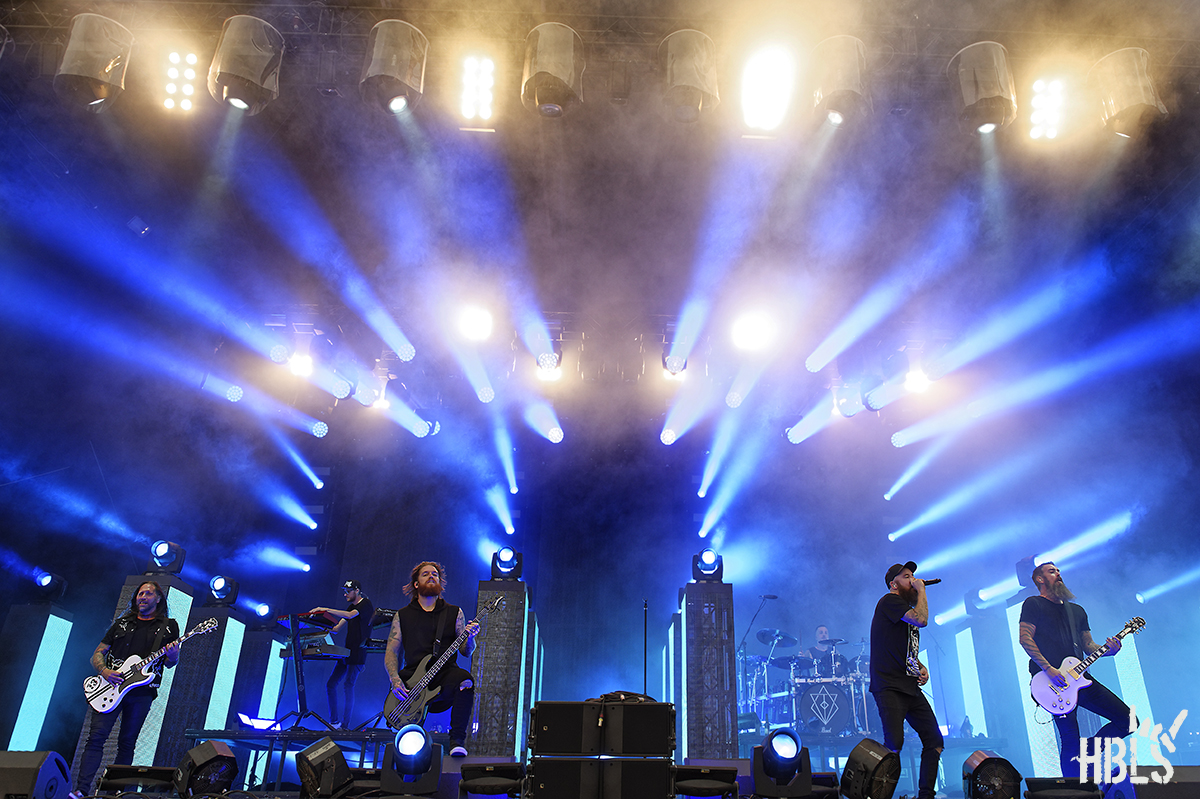 In Flames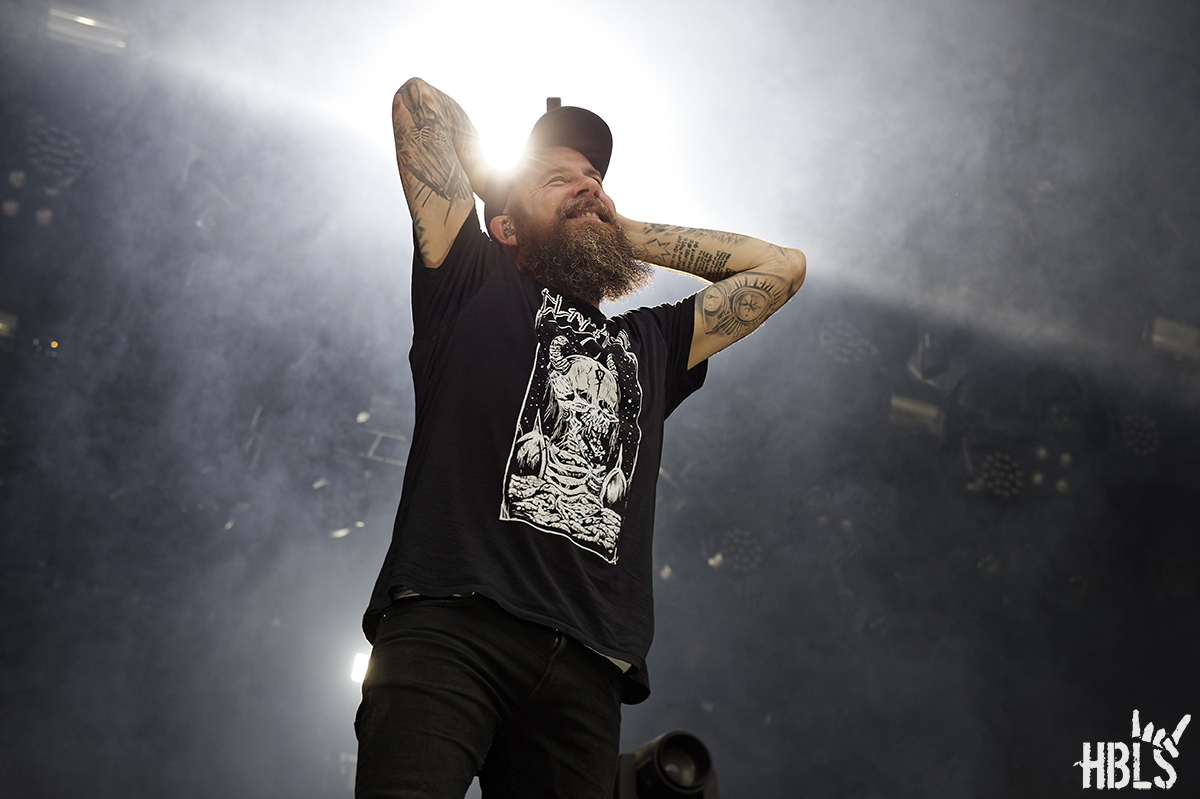 In Flames

Headliner Helloween [Prison] got loads of attention, not only from the audience but also a lot of fellow musicians were dying to see the origin of power metal. The Pumpkins United World Tour is going on for a while now but it was the perfect headliner for Alcatraz day three, because it took us all back to nostalgic times. Michael Kiske, Andy Deris and Kai Hansen all got their own spotlight during the show, but they also did fantastic together, their voices blended so well together. In fact this is a genius concept that can keep Helloween on the road for a long time and to be able to play all their classics and highlights from the entire discography. The visuals and funny animations made the total package and it can be concluded that Helloween really nailed it tonight. In the meantime Sepultura turned the Swamp into a mosh pit for those who felt their roots are more in the extreme metal.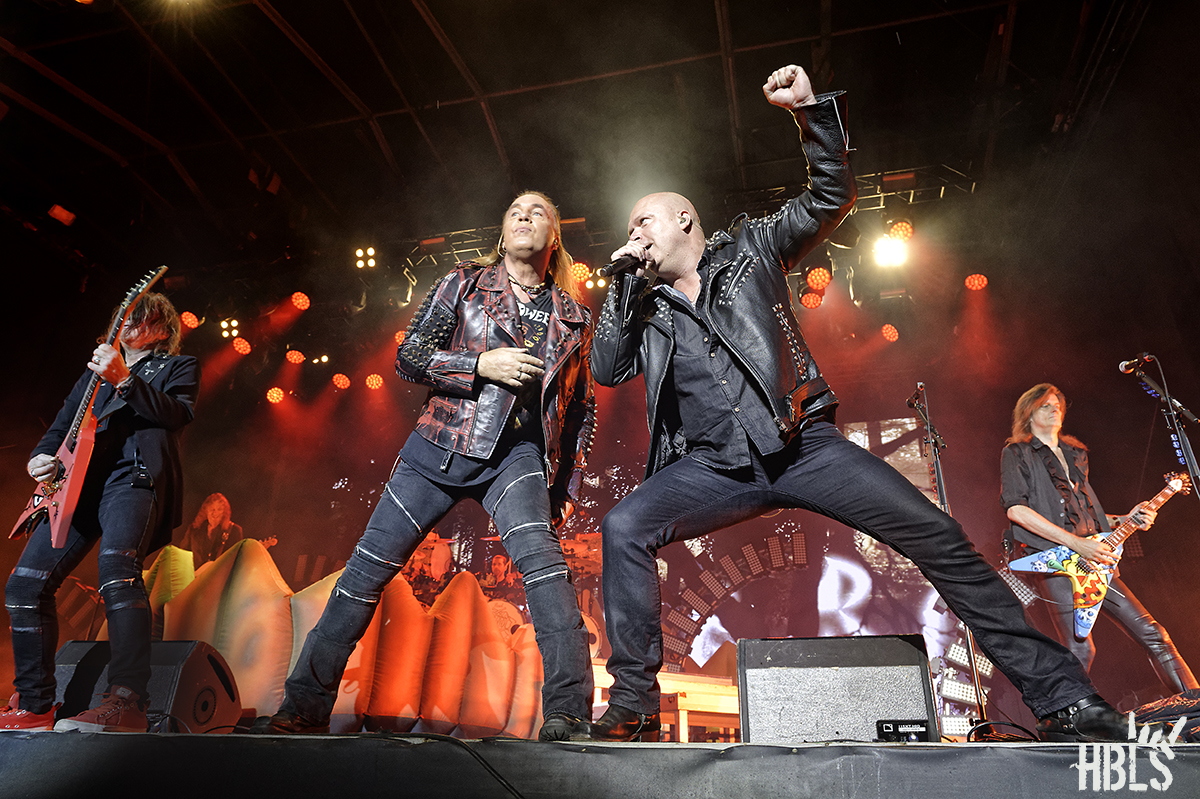 Helloween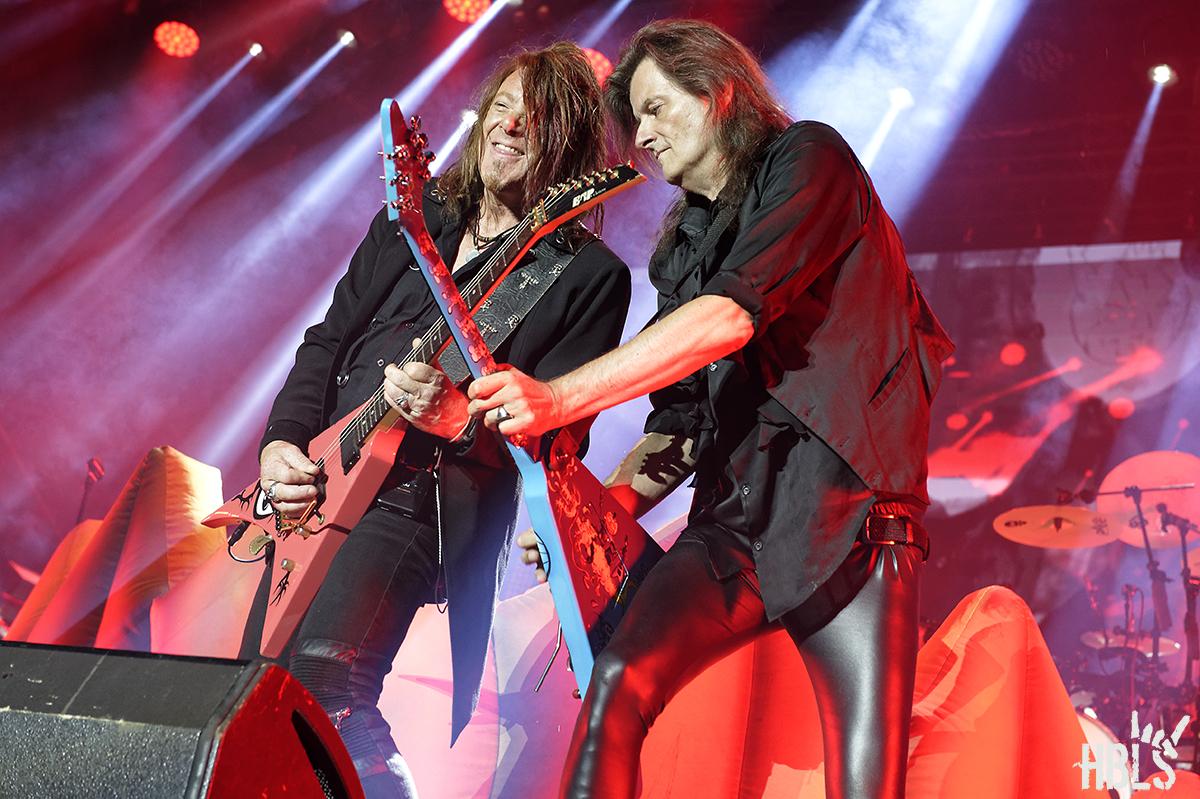 Helloween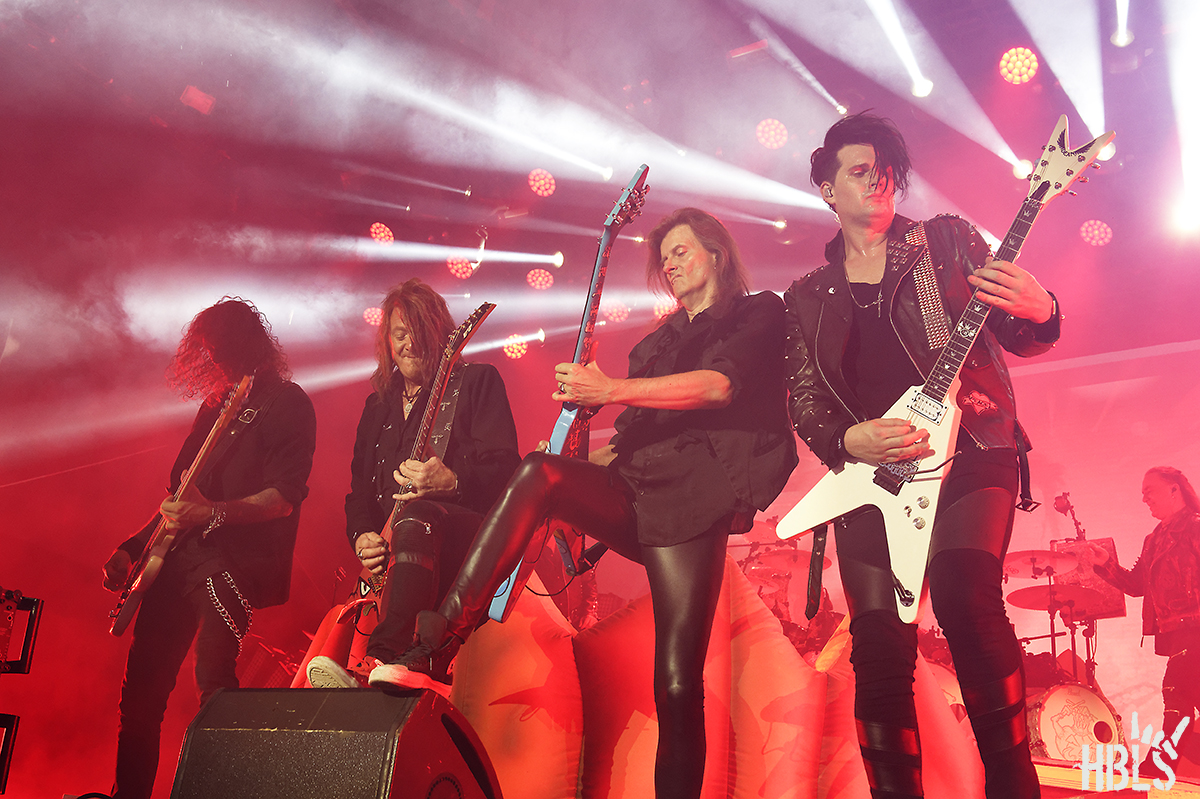 Helloween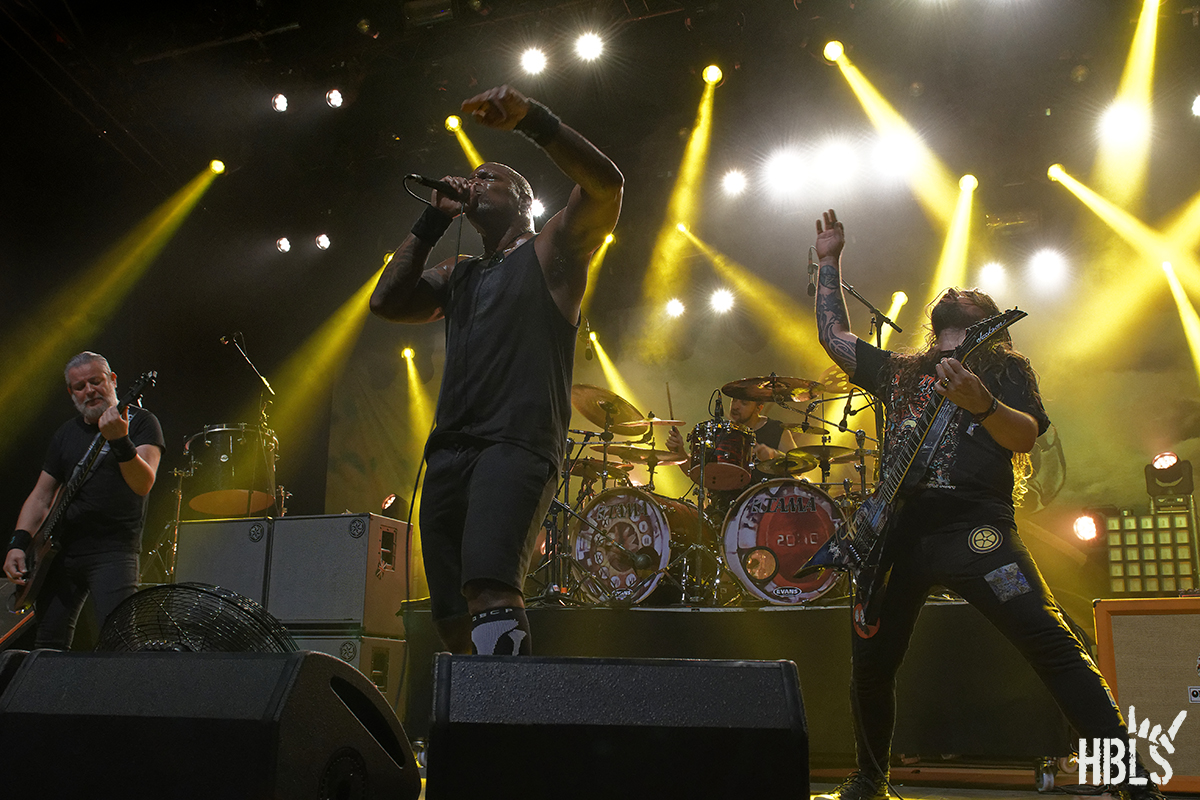 Sepultura

Unfortunately, all good things come to an end, I had an amazing weekend, but at some point it was time to hit the road, back home. If you haven't paid Alcatraz Festival a visit yet, make sure you'll check in at August 9-10-11, 2019, because it is not only about the music, it is about the total experience!
Horns Up & See U Next Year!
—
All photos by Dirk van den Heuvel of DCH Photography
Keep updated about the 2019 edition of Alcatraz Festival on Facebook and the Website.
#headbangerslifestyle #hbls #lilorocks #alcatraz2018


A FEW MORE PIX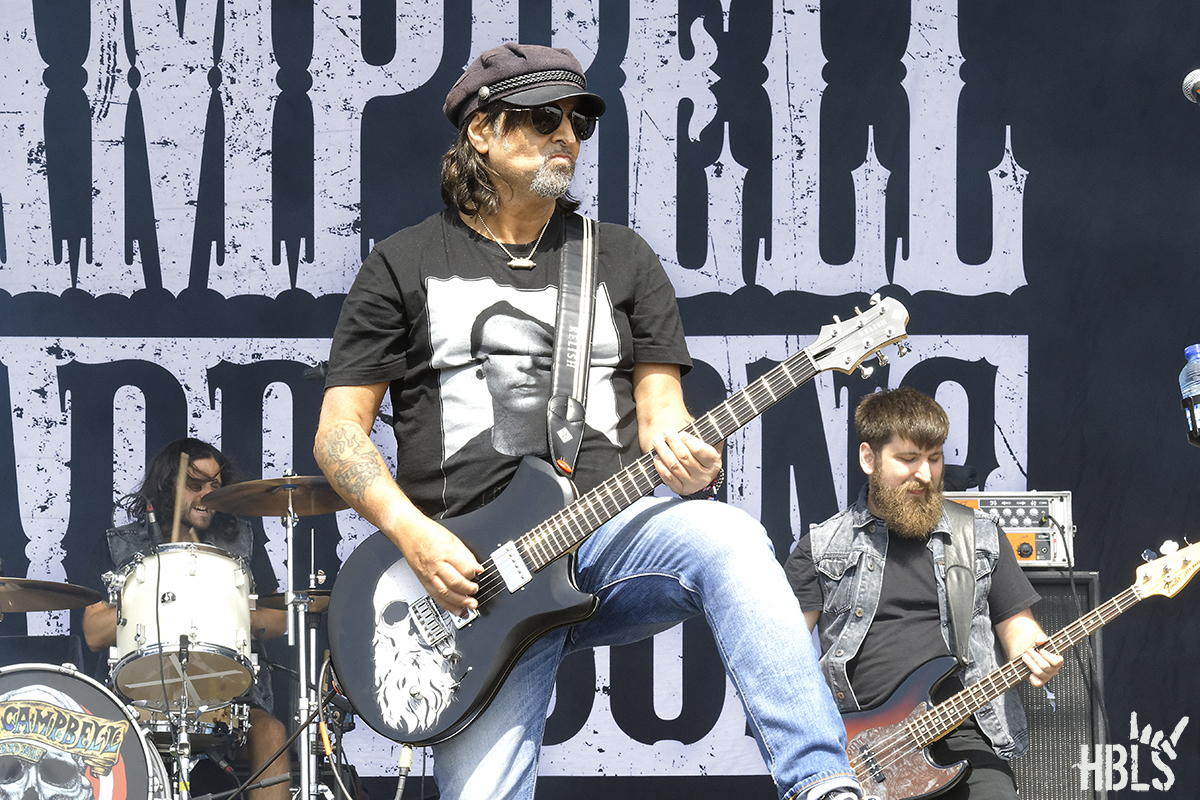 Phil Campbell & The Bastard Sons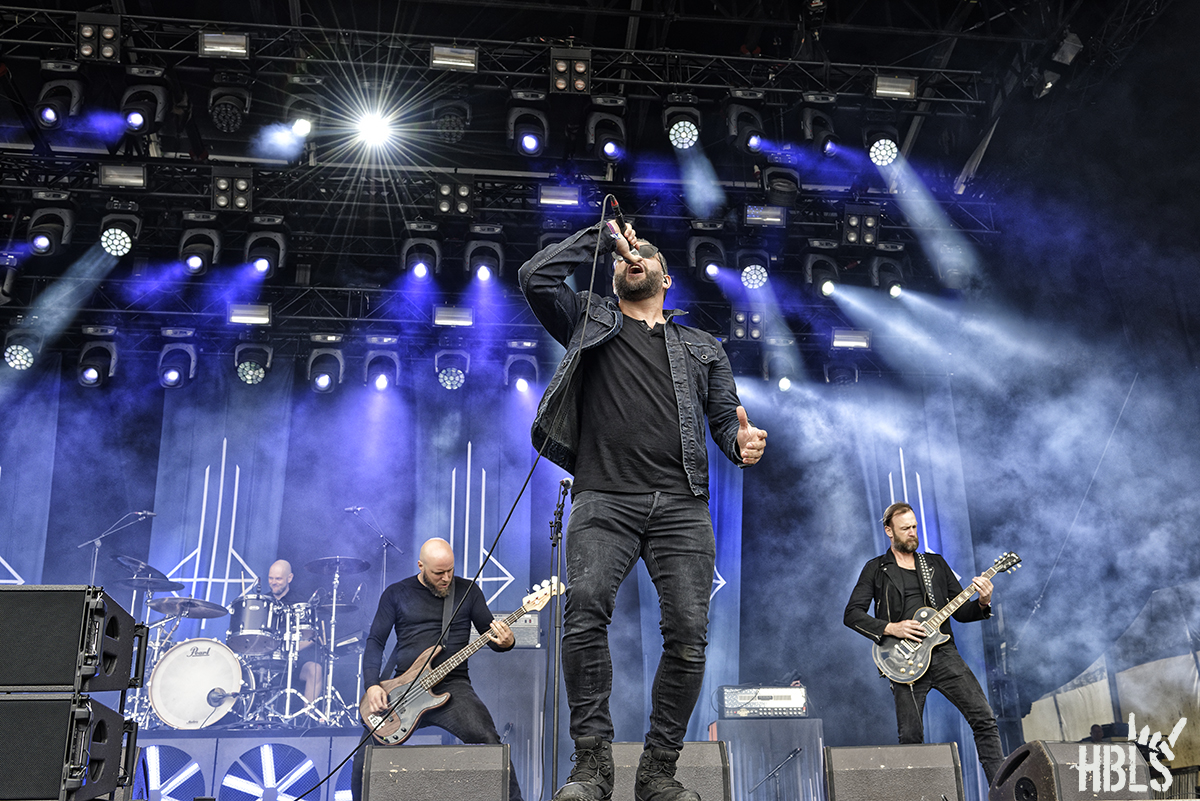 Diablo BLVD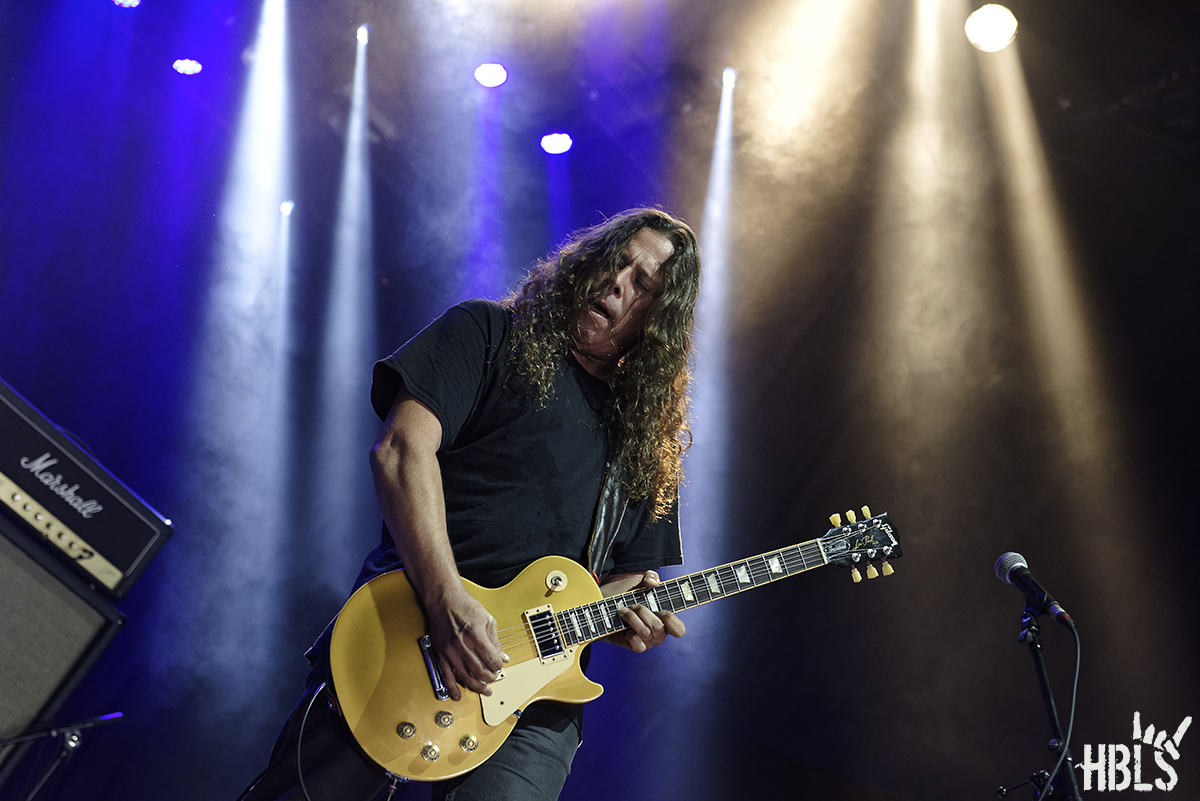 The Atomic Bitchwax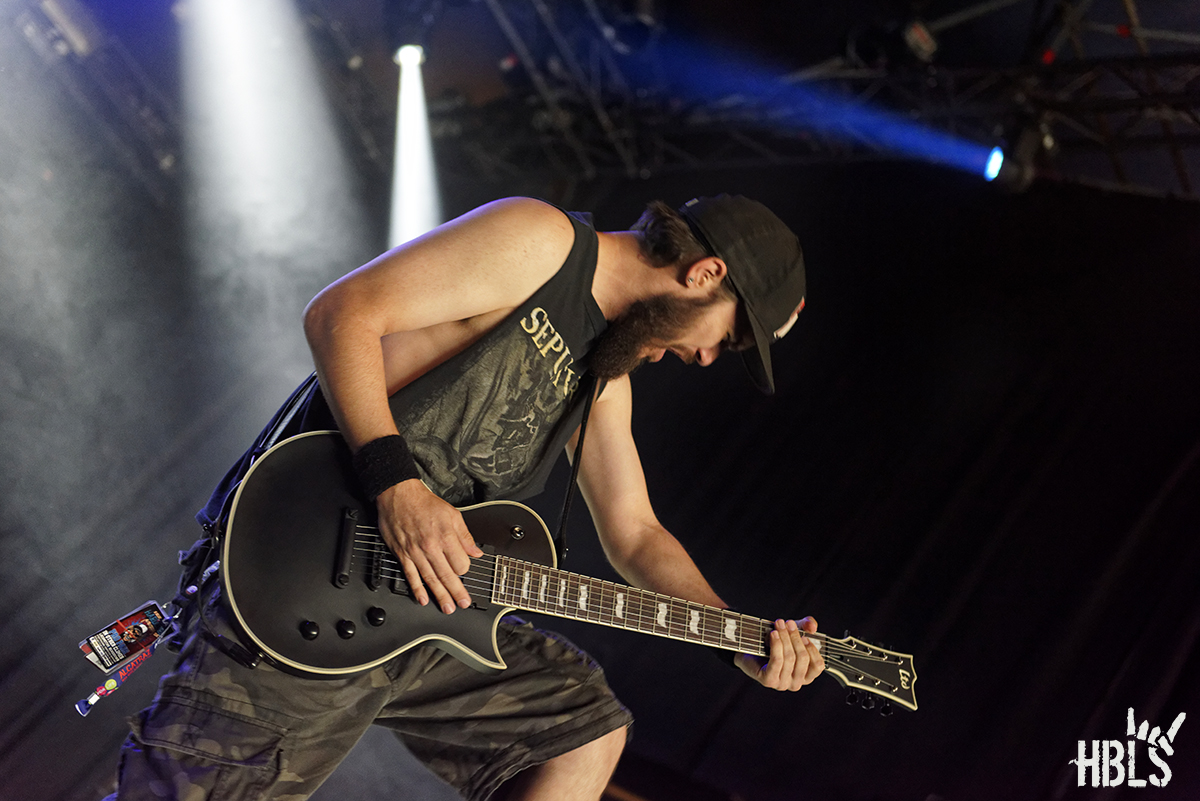 Pro-Pain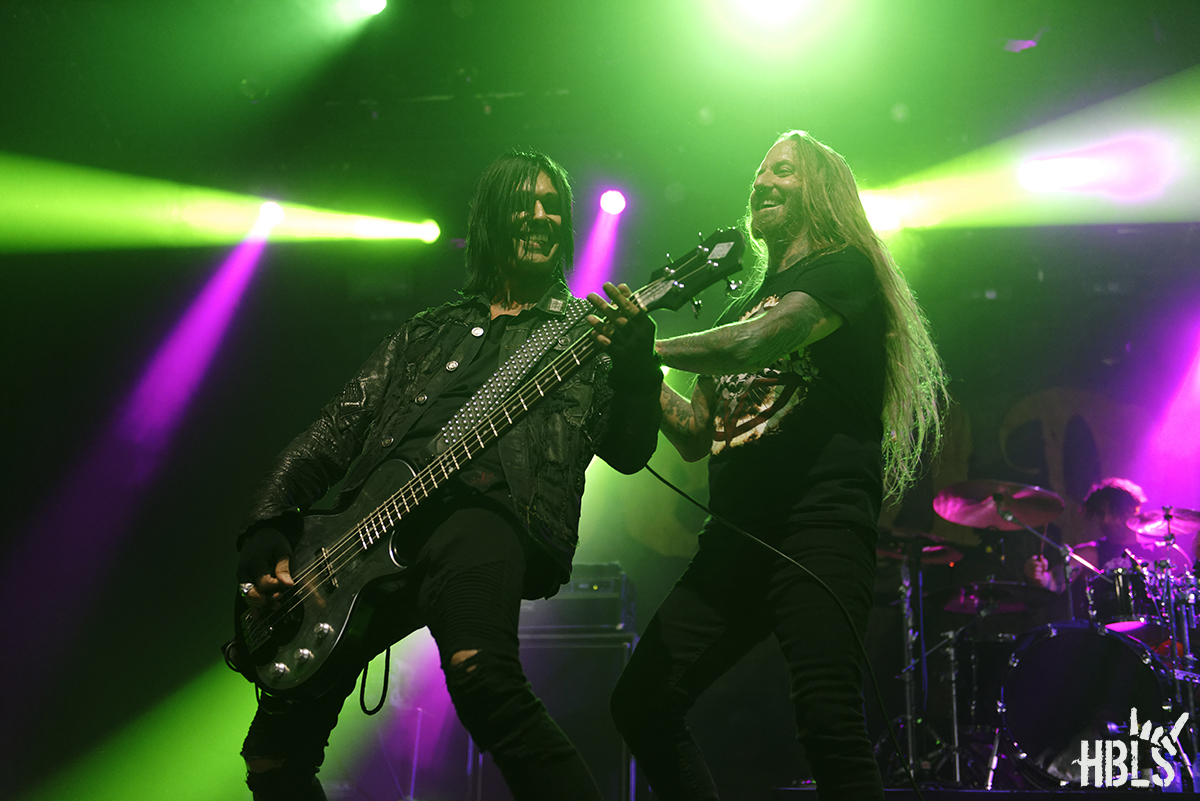 Devil Driver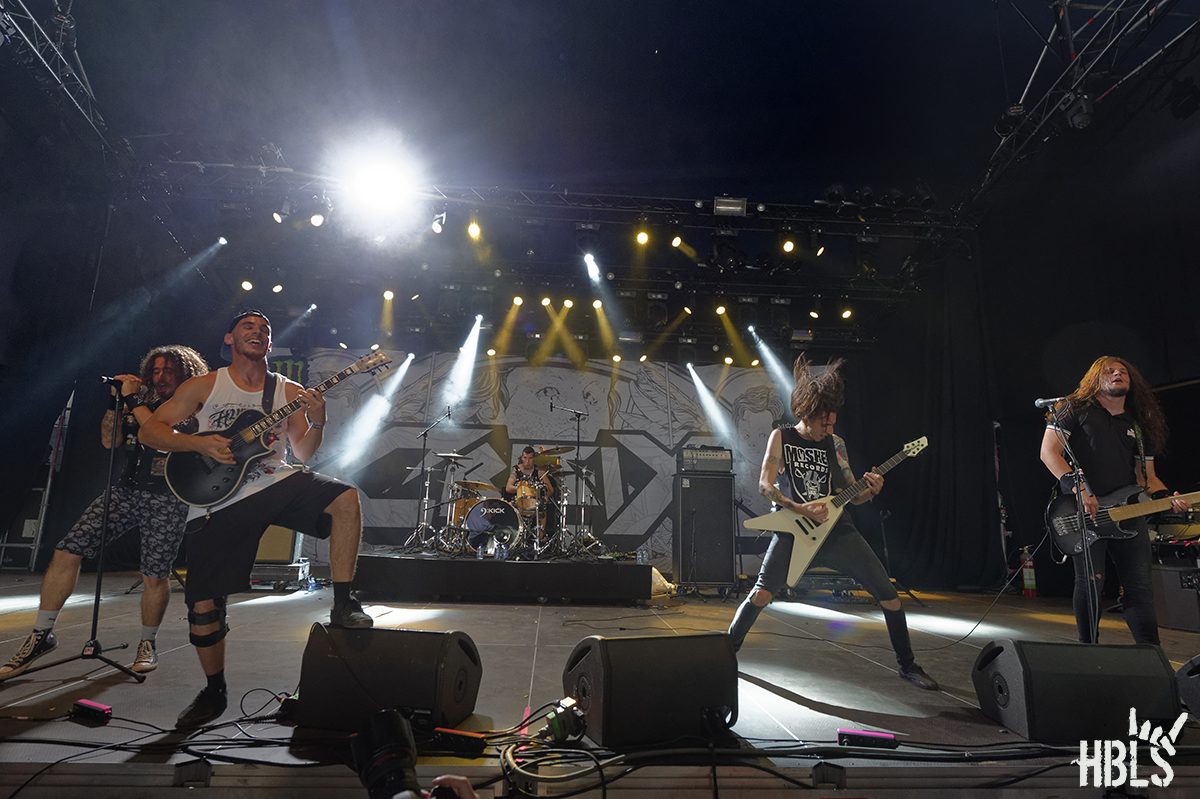 Crisix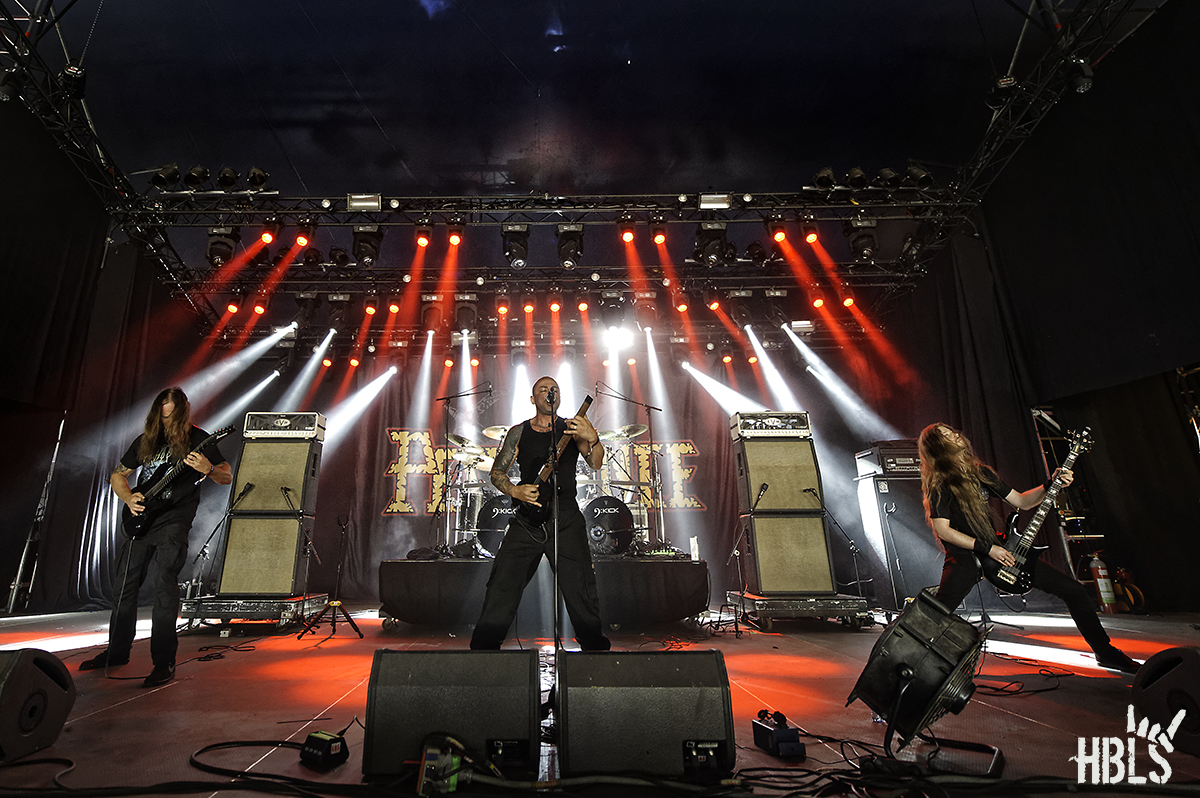 Pestilence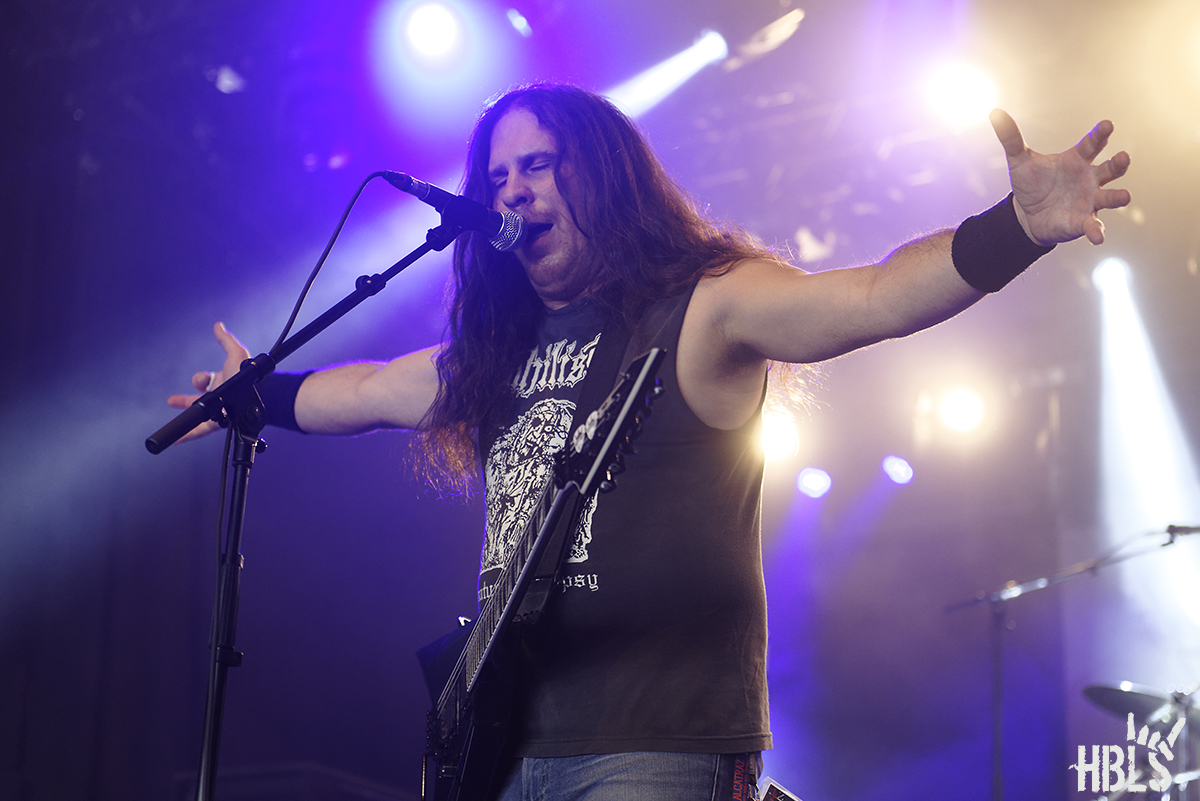 Gruesome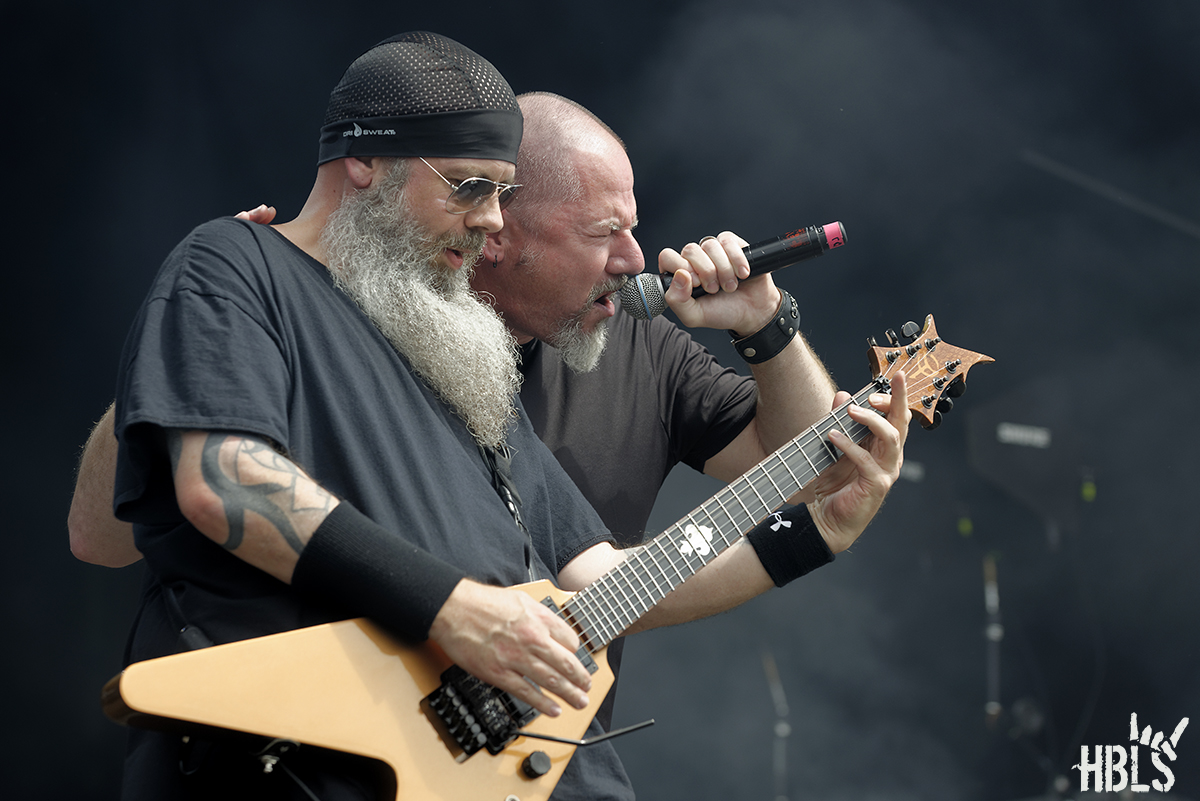 Exhorder