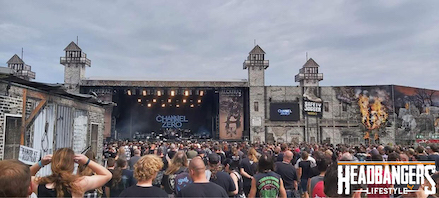 Live Report | Alcatraz Festival 2021
13/14/15 August 2021-Kortrijk-Belgium
We almost feared we had to deal with another summer without festivals but luckily for us the people who organize the Alcatraz Festival in Belgium proved us wrong. How they did it and what happened during this three day event has been documented in images and words by HeadBangers LifeStyle's Raymond Helebrand.
Where most festival organizations do not know how to organize a festival within all government rules in these times, the Belgian Alcatraz festival is an example of what is possible, if you just have the courage and the will. They have proven that it is certainly possible to make a big metal festival take place. So here we go………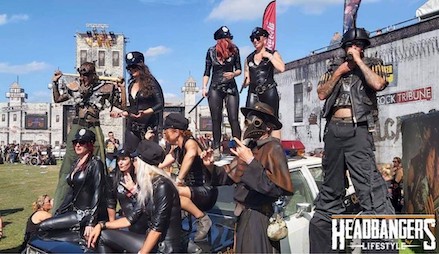 Day 1
Friday, August 13, 2021 it was finally time again, I was on my way to Kortrijk in Belgium. Once arrived at the Xpo in Kortrijk, EVERY visitor, volunteer, band members, member of the press had to be tested. Every day! Either to enter the festival with the vaccination code or with a negative covid test. 12,000 people a day, all being checked for a Covid Safe Ticket before they were allowed to enter the festival site. It was quite a job for the organizers to get all this arranged, and the visitors also had to take extra administration into account. But nobody complained, since everything was well arranged, it went relatively quickly and so everyone was in the Alcatraz bubble. Numerous shuttle buses drove from the Xpo throughout the day to transport people to the festival site.
Surreal
And then comes that moment that we have all experienced once before. I've seen it so many times, the campsites came into view. The thumping sound of the festival comes closer. Something that for a long time seemed impossible is reality. I had actually arrived at the main entrance of a metal festival. For that alone, A BIG BOW to the organization.
Once inside the sunny Prison of Alcatraz, it feels a bit surreal at first, to experience the real festival feeling again in the midst of this tested crowd. The first sounds of Channel Zero are already booming from the Prison Stage. And what a party that was. A frenzied crowd is enjoying live music!!
I can say a great feeling which every band and visitor will immediately confirm. Everyone on site had a good time and as usual there was also more than enough supply of food, drinks and even the trusted metal market, where you can look through all the stuff, to score that item you have been looking for for so long.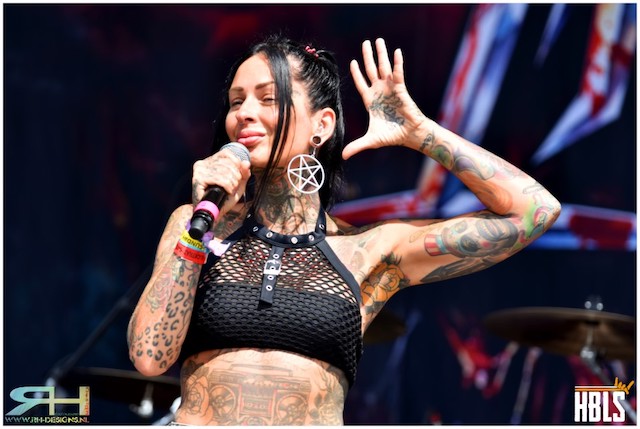 Go the extra mile
All the bands were giving their best possible show. For most of them this was the chance to play a real live gig again, after more than 1,5 years. Every single band I have seen during these 3 days in Prison did go the extra mile with their performances. Whether I'm talking about the bands in the "La Morgue" (a smaller but great tent stage), "Swamp" (the big tent stage)or "Prison" (main)stage.
I have tried to see and capture as many bands as possible, but of course there is only so much one person can do. And with 76 band performing on three stages within 3 days, one has to make choices.
Stunning performance
So on Day 1 of the festival I have seen the guys from Channel Zero giving the fans not only 1, but 2 shows. One New school set at Main stage and one Old school set on the Swamp stage. The hard working ladies from Sweden named Thundermother, played a stunning set of energetic rock and roll. Vintage Caravan from Iceland were present at the prison ground to celebrate live music with the fans. I have seen glimpses of the performances from Fireforce, White Heat, Ostrogoth on the La Morgue stage.
At the last minute the German rockers of Kissin' Dynamite were added to the Alcatraz billing. I have to say that both audience and band were very delighted they found their way to the festival. As the energy just kept splashing off the stage. The Portuguese friends from Moonspell played a great show on the Swamp Stage as did Tarja. As always she and her band gave away a stunning performance, but the joy and blast the whole band had, made this gig extra special.
At The Gates, the Swedish death metal band from Gothenburg, came and saw their chance to completely destroy the Prison stage with their performance. Last but not least our Dutch symphonic metal friends from Epica did everything to make a great impression and finally being able to introduce the people their new show and songs from their latest 'Ωmega' album.
As Epica guitarist Mark Jansen briefly said to me: 'At the moment it's not possible to perform as much as we did before the pandemic, so we can now enjoy, EVEN more, every performance we get to do'.
Tired but satisfied, the first day on Alcatraz could be concluded, only to be followed by two more days.
Day 2
And what a day the Saturday would become. This 2nd day of the festival was also a very sunny one and once arrived at the prison ground I was stunned about the amount of visitors that were already there. It seems that everyone wants to enjoy the festival feeling to the max.
First I went to the Swamp Stage to see the energetic performance of the German hardcore outfit Rykers. Directly after that I rushed myself to the main stage to see and capture the performance of four ladies from Switzerland and singer Laura Guldemond from the Netherlands better known as Burning Witches. Like on Friday, EVERY band was going crazy while seeing an amazing crowd having a blast. Burning Witches was certainly no exception and rocked the stage hard. Next stop for me was Fleddy Melculy, the Belgium metal band that started as kind of a joke, has grown into a fan favorite and blasted from the stage. And then it was time to catch Seven Witches live. US shredder Jack Frost came to Alcatraz with singer James Rivera, bassist Alex Jansen and even Wade Black was there to sing a few songs.
Energetic
Next up, we were in for a great thrash metal treat by Destruction. Singer/bassist Schmier and his team warmed up the crowd with a set of old school thrash metal as we know it from the guys. With mosh pits, crowd surfing and everything that goes with it. The men may have been around for a while, but are far from exhausted and put down an energetic set. At the Swamp stage Dark Tranquillity and Hypocrisy have been ripping the stage and the immense tent. It was almost impossible to get in or out, that's how packed it was.
Meanwhile Orden Ogan got the chance to share a few new tunes live. This sympathetic act did also get the crowd going with their anthems, after which it was Dirkschneider's turn to set the main stage on fire with a set of classic Accept songs. It is amazing how these classics stood the test of time and still get an audience going. Not even to mention that Udo himself is still going strong and always is energetic, every single time I capture him live. Whether that is ripping Accept classics with Dirkschneider, or with U.D.O. playing songs from that catalog. The crowd enjoyed every second of the gig.
Headliner on Saturday was experimental folk/industrial band Heilung. At first sight, a not so obvious choice, but it also shows how diverse the Alcatraz festival is. Probably not everyone's cup of tea, but you certainly cannot say it was a bad performance.
Exhausted but satisfied I could go to the hotel to prepare for one last day in prison.
Day 3
Sunday. After going through the testing, shuttle bus routine again, I found myself on the Prison ground for the final day of Alcatraz. And it would also become a busy one. The first gig I attended was the gig of Sloper. A project of drummers Mario Goossens [Triggerfinger] and Cesar Zuiderwijk [Golden Earring]. A very nice and rocking gig indeed and just a few moments later I witnessed the thrash/speed metal of Evil Invaders from Belgium. This band is clearly setting the bar high for the rest of the bands that perform this Sunday, as the audience really seems to love this band.
Then I made myself up for a round of bands that have been around for a while already, and that certainly doesn't mean they look worn out. On the contrary, the fun just jumps off their faces during their performances. Danish thrash metal legends Artillery, the brothers John and Mark Gallagher, better known as British heavy metal legends Raven and Dutch death metal band Asphyx. Who all did play like it was the first gig they have ever played.
Amazing live gig
After this huge dose of heavy rock it had become time for the Swedish melodic hard rockers of Eclipse to take the stage. The band was beyond excited and rocked the house even playing a few new tunes, from the upcoming record. Certainly a highlight of the Sunday.
Then it was time for the Ukrainian metal core band Jinjer. This band's star is rising!! I think they had the biggest crowd in front of them I have seen in the whole weekend. It seemed everyone wanted to get a piece of the performance of front woman Tatiana Shmailyuk and the rest of the Jinger outfit. The prison fields were on fire during the whole set. An amazing live gig.
As Violence had to cancel last minute, German power metal band Freedom Call was on the last minute Swamp stage menu. German metal queen Doro and her band were also back on the prison ground and the always friendly and energetic lady gave us a show only she can give. Again the entire audience was singing along loudly with the classic Doro/Warlock tunes.
Melodic folk death metal from Switzerland's Eluveitie was the next stop on the menu to prove there was no lack of variety at this edition of the festival.
Germany's thrash metal legends Kreator had the chance to headline on the Sunday of the festival. Singer/guitarist Miland "Mille" Petrozza and his band came to the prison grounds with great energy and a lovely portion of tunes to spoil the audience with.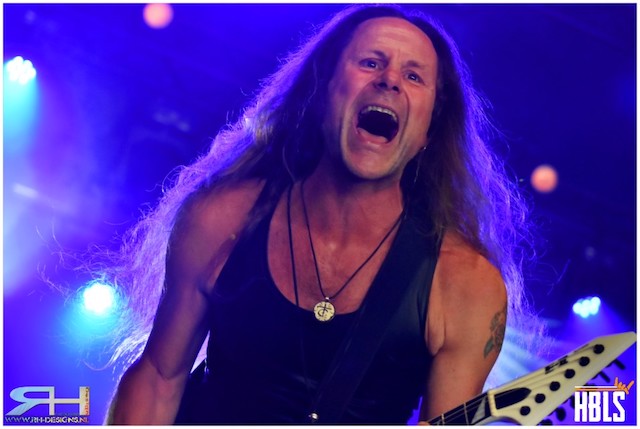 Highlights of the festival?
Too many to mention, but the best thing in general is that the festival did happen!! That alone was pure enjoyment. Everyone I saw or spoke to was in high spirits. There were bands for everyone's taste. We are all glad we got to experience this gift. Get the feeling back from a music festival. I would like to thank everyone who contributed to making the festival possible. Thanks for making this happen for everyone and I hope to see everyone again at the 2022 edition of Alcatraz.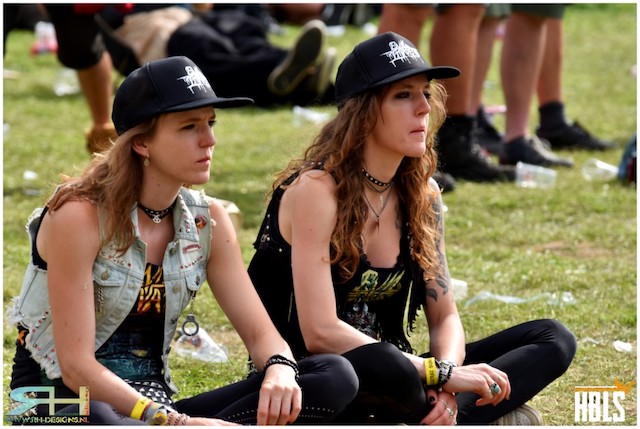 All photos by Raymond Helebrand