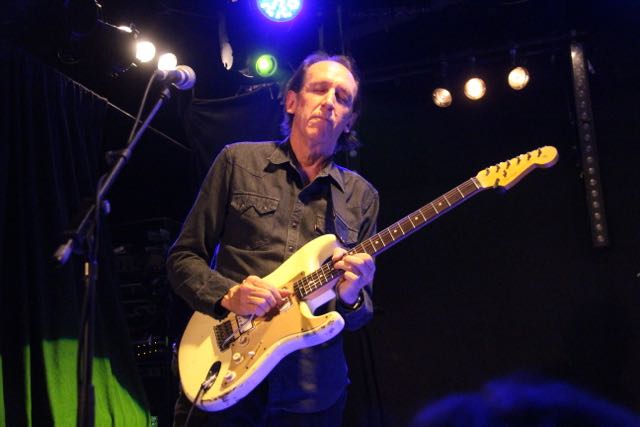 MICHAEL LANDAU
Verviers (BE)-Spirit of 66-27 February 2018
Guitar greats come in many. In terms of diversity there are only a few that know how to really stand out though. Los Angeles born and raised Michael Landau certainly is one of them. Although his name will not ring a bell amongst the mainstream audience, Landau reached many creative heights in his career and due to his lengthy résumé as studio session player the talented chameleon is extremely loved by fellow musicians, producers and engineers. At the age of 19, Landau joined Boz Scaggs for a world tour before settling down for sessions with Pink Floyd, Miles Davis, Joni Mitchell [with whom he toured extensively], BB King, James Taylor, Ray Charles, Rod Stewart and countless others. In 1993 he was chosen as 'Best Studio Guitarist' by Guitar Player Magazine. So let is be clear that this guy earned his chops.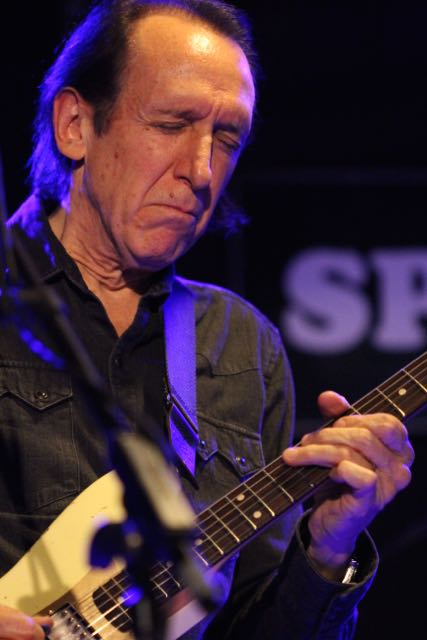 As a solo artist Landau walks the heavy rock path, bading his versatile compositions in both bluesy and jazzy tones, resulting in an utterly unique sound. And, very important, Landau is able to forge all that top nodge musicality into really great songs. As can be heard on his latest studio offering 'Rock Bottom' which was recently released by Dutch label Provoque Records. As a teenager Landau grew up with the music of the Beatles, Jimi Hendrix, Cream and Led Zeppelin and all these influences find their way to his latest recording. All that combined with a tasteful array of fusion undertones. His music is trippy at times but the focus always remains on the songs, which are all of mesmerizing beauty.
Landau and band currently spend time in Europe, touring small clubs and venues in support of `Rock Bottom'. The main question that's on my mind tonight in Spirit of 66, Verviers [Belgium] is whether or not Landau can pull it off live. `Rock Bottom' put the bar high and the expectations are high. But boy, from the first notes of the steamy show opener Landau is spot on. What a guitar sound and what an incredible technique! It soon becomes clear why Landau is considered to be one of the all-time greats. His flexible style makes things look so easy but the sea of tones that release from his fret board is downright astonishing. Landau has total control over his instrument and his dynamic way of playing showcases the highest degree of guitar wizardry. His feedback and sustain seems to be from another planet. The breathtaking performance in the ever so cosy Belgian venue is witnessed by a dominantly male crowd of +/- 150 that gets to digest two sets of standout songs played by heart by a superb group of musicians.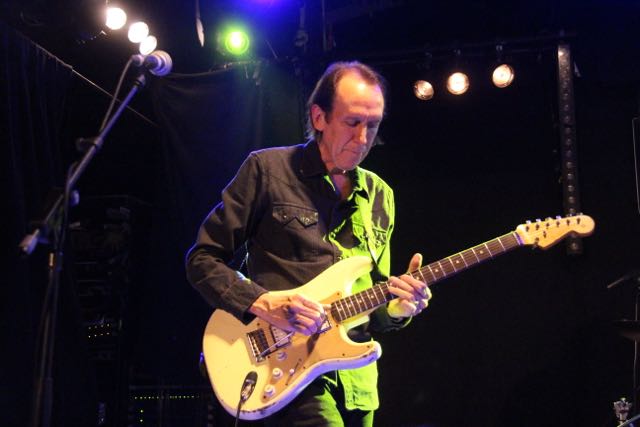 On this tour Landau is surrounded by singer David Frazee, whose laidback and poetical approach and his gravely yet soulful throat, serves the material perfectly. The rhythm section consisting of former Gov't Mule stringer Andy Hess on bass and jazz adapt Alan Hertz on drums also showcases pure class. Despite the technical challenge of the majority of the material the band seems to be cruising and in for a smooth ride, with an on stage interaction that is both warm and intense. It all just blends in together wonderfully. These cats are not here to make money, because this simply isn't a money making tour. This is all about the love for music and bringing that message across. It is therefore that I have no other way then to describe this gig as a true masterclass. Even though the sound coming of the stage can at times be sonically overwhelming, it is fair to say that music can't get more sophisticated and intellectual than this. And Landau the guitarist is a must see. One of the all-time bests for sure. And his musical stage companions absolutely serve him right.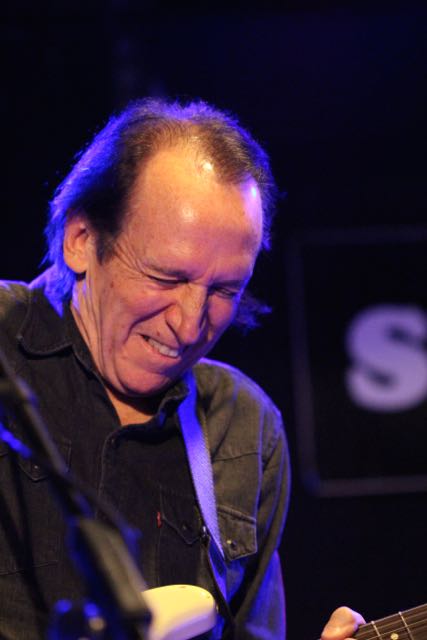 The setlist is, as one would expect, eclectic and diverse and Landau uses an endless lava of steaming solos and intriguing licks to tell his story. Three songs of 'Rock Bottom' are on the setlist, supplemented by a number of songs of Landau's catalogue. The focus is always 100% and the chemistry is almost tangible. My only point of critic is the lack of a show climax since the 100 minutes show ends rather unexpectedly after a short and single encore. On the other hand it would be fair to say that this whole show was a climax on its' own. I am certainly glad to have taken the time out to see Landau on this Tuesday night. In terms of popularity the good man will never reach Joe Bonamassa stardom but seeing, and more important hearing, is believing.
—
All photos by Paul Jacobs