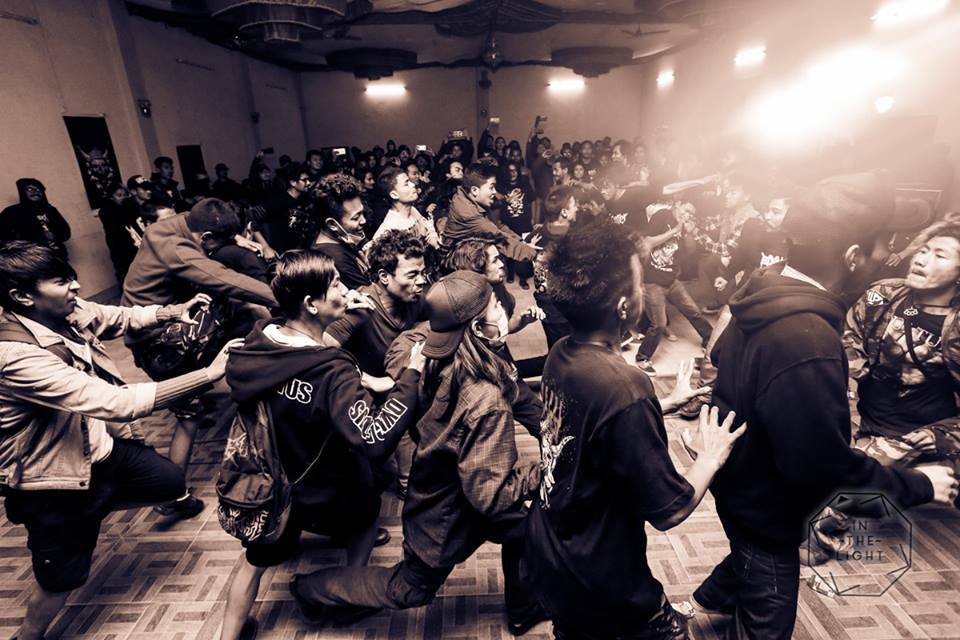 NEPAL DEATHFEST 2017-The 4th Edition
Ujjwal Party Palace, Koteswor (Nepal)-10 & 11 March 2017
The 4th edition of Nepal Deathfest brought together some of the most accomplished and intense extreme metal bands in the world. The Ujjwal Party Palace, Koteswor was a suitable venue in which to celebrate the glorious genres of the underground. All the bands were insanely awesome. We hope you made it to this Deathfest 2017! If you were wasting your life doing something else, then let me appetite you about Nepal Deathfest 2018!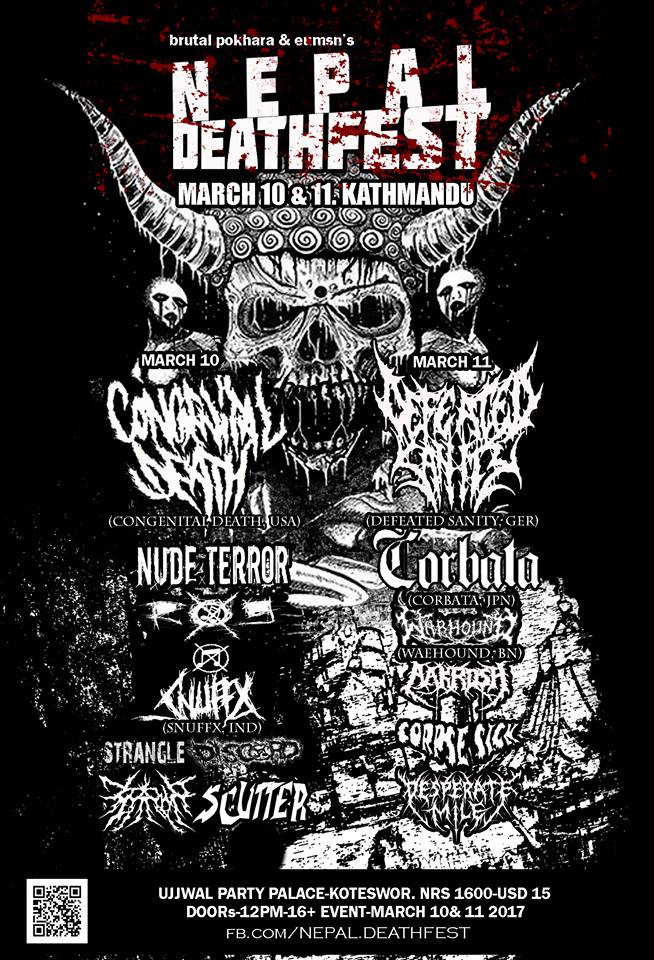 Nepal Deathfest 2017 was one hell of an experience. The great bands, the insane mosh pit, and all the awesome fans who attended from various parts of the world, like the Czech Republic, Australia, Slovenia, USA and India and reunited friends from the underground scenes of Central India, Shillong, Imphal, South India, Dharan (the Kharani guys), Jhapa (Hardcore Rajya), Pokhara, and the rest of Nepal.

Discord, is the first band from Bhaktapur, Nepal, to play grindcore. It was founded in 2016 by Keroz Shrestha along with his friends. Hell yeah, these young guys played old school, kick your ass into utter oblivion mosh tunes until the pit couldn't take it anymore.

Error, my favourite grind band, was so raw and dirty they should have had their mouths washed out with soap. Influenced by Wakk Thuu, they have a local following in hometown Dharan, and in Kathmandu. Whatever it takes to make a good grindcore band, these guys have it, and proved they have a place in this scene.

Scutter, proudly known as the 10inch band from Biratnagar, have shared the billboard with Dictated. They are an indigenous ethnic group from the Himalayas and were the cherry on top of the virgin mountains with their dose of sick hardcore sounds.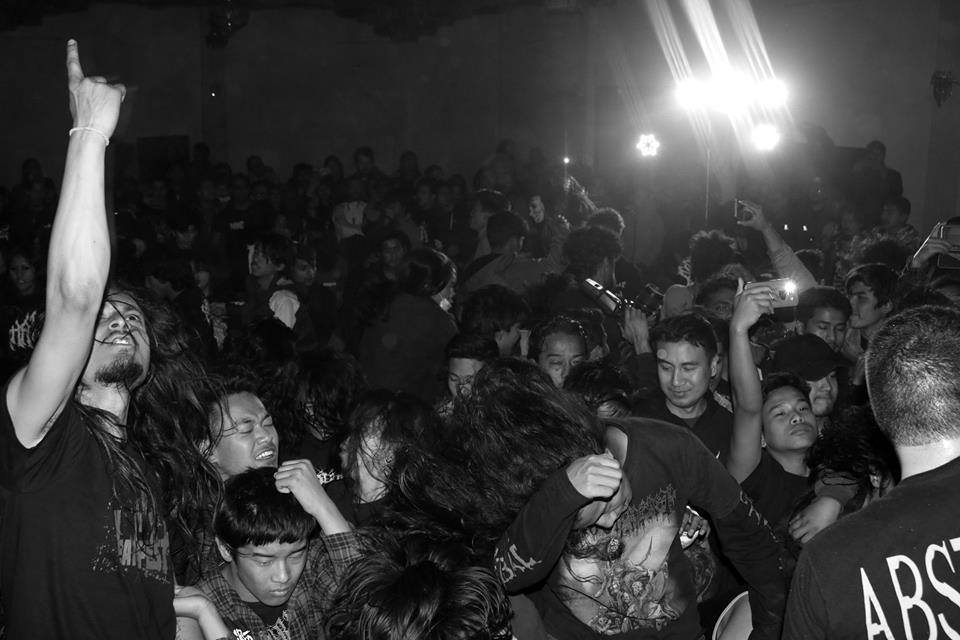 Photo by Extreme Photography

All hail the violence in the performance from Rog, from Pokhara, Nepal, who was selected to be listed in the South Asian English Music website by Sound Gimmicks. They took us to the utmost edge of extremity of grind/violence. Their mix of sound disfigured our faces forever and was a plague upon us all.

Snuffx showed us how power/violence Indian noise grinders can blast, grind, and beat ya down, and was accused by one fan "of sucking the biggest, hairiest, greasiest and stinkiest part of a grizzly bear's body." This two-piece band told me that they only played live once in India, due to not having audience for this kind of music. They came to Nepal to get that warm, fuzzy feeling of sucking the shit until they couldn't take it anymore, and everyone seemed well satisfied!

Strangle is from Nepal. It's said that a good hardcore song is like a swift roundhouse punch to your jaw, it smacks you back, knocks you back, and is gone before you're sure what happened. Add that to a band who has two vocals and you have Strangle, who last played the Show No Mercy 2017 gig. My favourite was ,,Life Full Of Shit''. It's no wonder that this hardcore/crossover thrash band is in demand! It's recommended you take your ear buds out when you listen to them on your laptop.

Nude Terror, homeboys of Kathmandu, likes to be known as playing a "socially conscious brand of straight ahead grind," and are one of the most prominent acts in grindcore around. We were proud of these Nude Terror revolutionary Nepali guys. Fuck all the activists and grind on!!!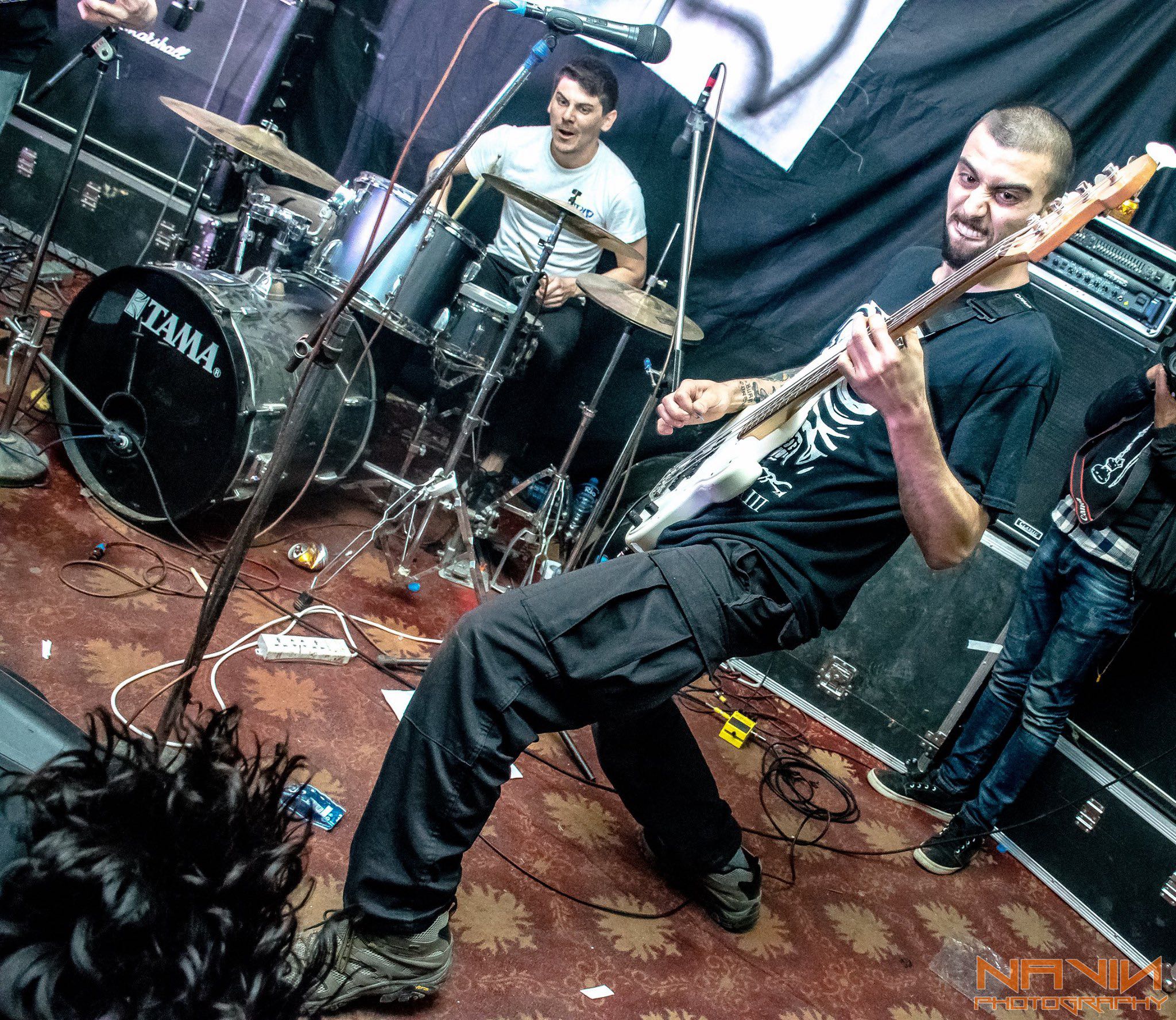 Congenital Death

Congenital Death from New York, USA, headliner on Day 1, beat the brains out of the audience, using the genre hammer of 'Philly hardcore' to bring blood running from more than just our ears. They slammed the door in our faces about a hundred times during each song and this is the way we like it! These guys sounded really pissed off, so if this type of gruesome battle is for you, this is the group to follow!

Desperate Mile, probably the best deathcore band in Nepal, played super heavy. While we watched in sheer disbelief, they created a zombie mosh of impending doom that was totally huge and the dreadful truth is that we cowered in fear. When it comes to deathcore, they are gruesome!

Aakrosh has been called Nepal's most underrated underground band. Their deep vocals, extensive use of blast beats, and heavy riffs were played so tight that anyone who didn't like them must have been a used-up pussy and couldn't take it anymore! However, they left with most of us not wanting them to stop.

Warhound, from Bangladesh, was so fresh and so damn heavy that we think the band members must have had bad childhoods. They have forged a style of their own, and the band has gotten better and better since they added Ronnie Radke. The mosh pit seemed like they were walking with heavy sandbags around their ankles. Thanks for coming over, guys!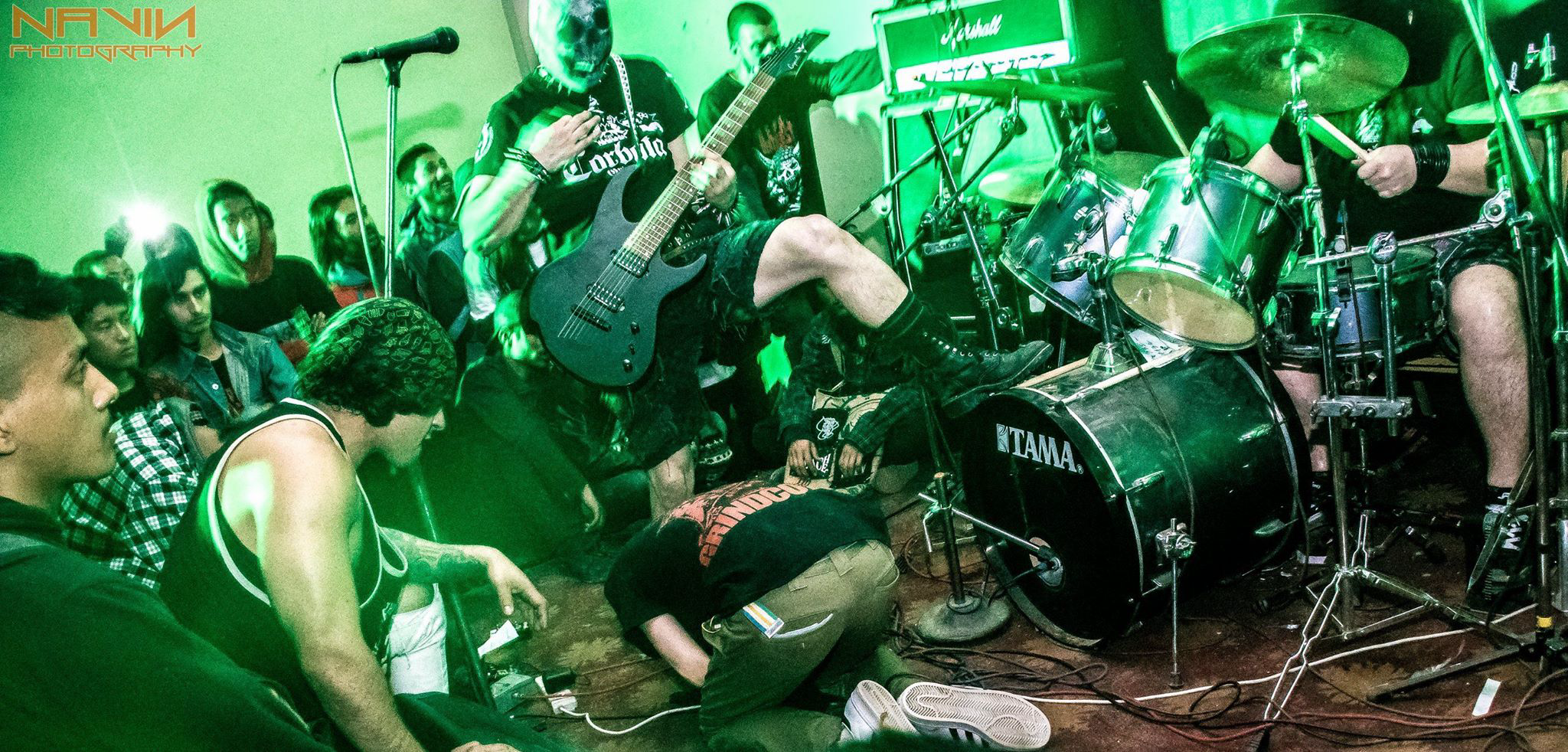 Corbata

Known as a 1980s Anarcho band, Corbata, the Masked Grind Terrorist three-man set from Tokyo, Japan, terrified us all with their masked anger and intensity. The audience was begging on their knees for more abuse and got it just where they liked it; right where it hurts the most.

The insane mosh pit of Germany's mighty Defeated Sanity was a highlight of 2017. They were the headliner of the 2nd day of Nepal Deathfest 2017. Witnessing them live was really a dream come true for those present, and fans even got chance to sing with them in the song ,,Engulfed In Excruciation''. Some are still wondering if it was a dream.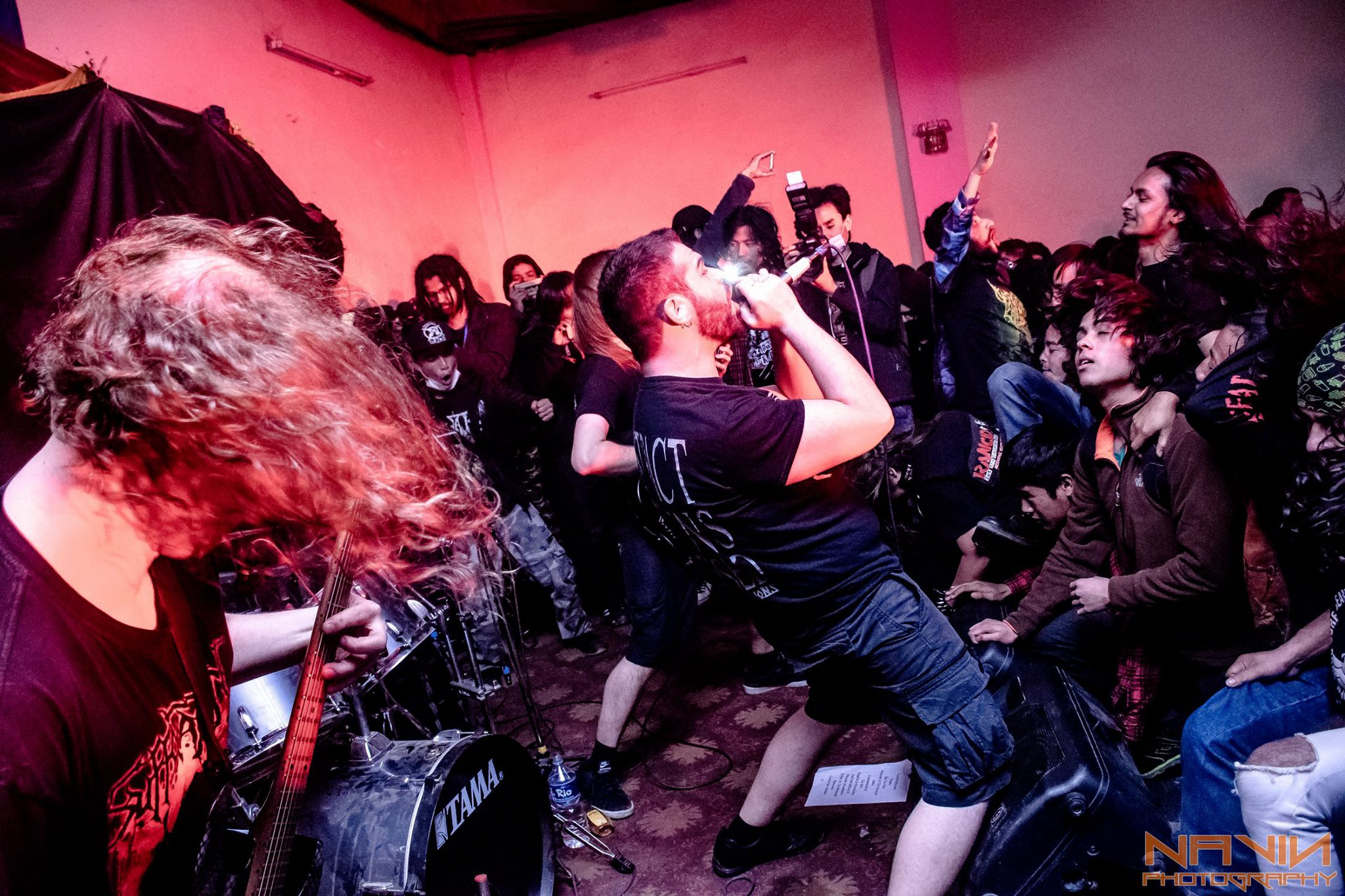 Defeated Sanity

All thanks to Brutal Pokhara Nepal and Eumsn, headed by Zivon Gurung and Vishal Vof respectively. Nepal Deathfest 2017 was one of the most lunatic shows whose amazing mosh pits were out of control. All the bands in the Fest fuckin' nailed down the sounds of chaos, violence and aggression. Salutes again to the hard work and dedication to extreme music from Zivon Gurung & Vishal Vof for bringing in so many internationally famous and intensive bands in Nepal. Staff and fans expressed that both you guys did a great freaking job which was really appreciated from the inner hearts of all.

Nepal's extreme music scene is growing by leaps and bounds and evolving into a big family. Thanks to the friends and members of Brutal Pokhara, Eumsn, Eus, Eumss, Extreme DRN, Euh and EuI India all coming together with the goal of providing love and support for every band and for everyone who showed up to enjoy. All Hails to Nepal Deathfest, the biggest metal festival of South Asia in 2017. #NDF2017 #Extreme_Yourself

BTW, If any band has the balls to play in front of these sickos, please write eumsn696@gmail.com, railahsiv@gmail.com, or brutalpokhara@gmail.com. These guys are always open to work with extreme bands from all over the world.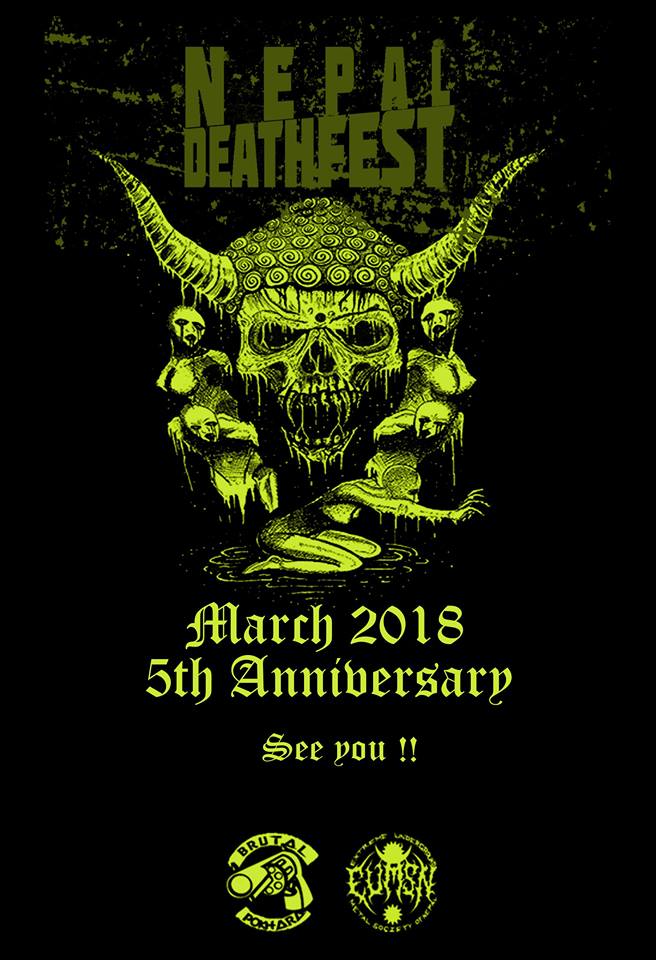 —