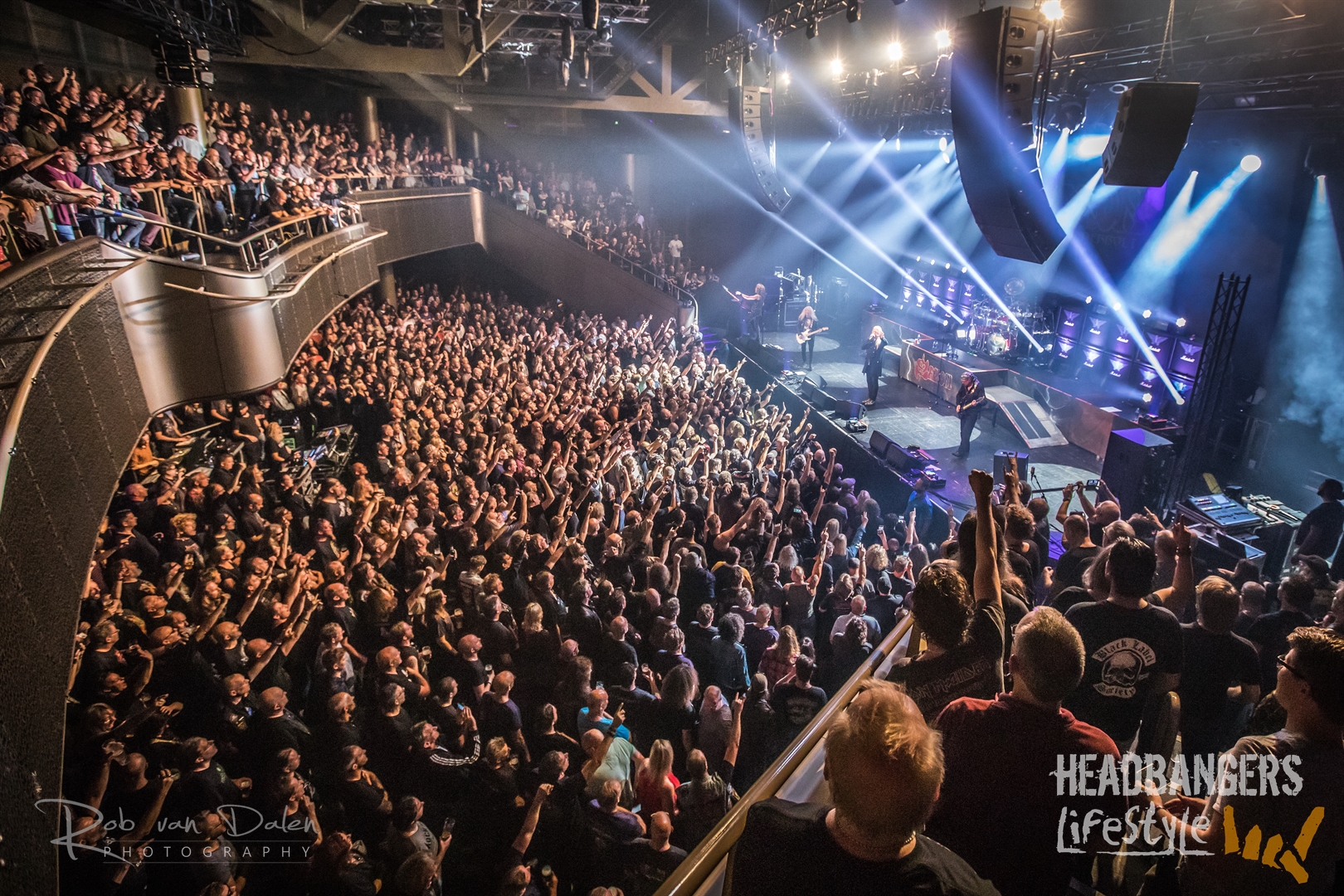 SAXON [FM & Raven]
Utrecht [NL]-TivoliVredenburg [Ronda]-16 October 2018
Early this year Saxon released their 22nd, excellent sounding, studio album `Thunderbolt' and this fine release encouraged the NWOBHM veterans even more to be on the road as much as possible. For the last few months Saxon has been touring in Europe and tonight `the eagle has landed' in The Netherlands, in Utrecht to be more specific. It happened to be the last show of the first leg of the `Thunderbolt' tour, and after tonight Saxon will go straight back to the UK for a few gigs and then will cross the ocean to put some real `heavy metal thunder' all over the US.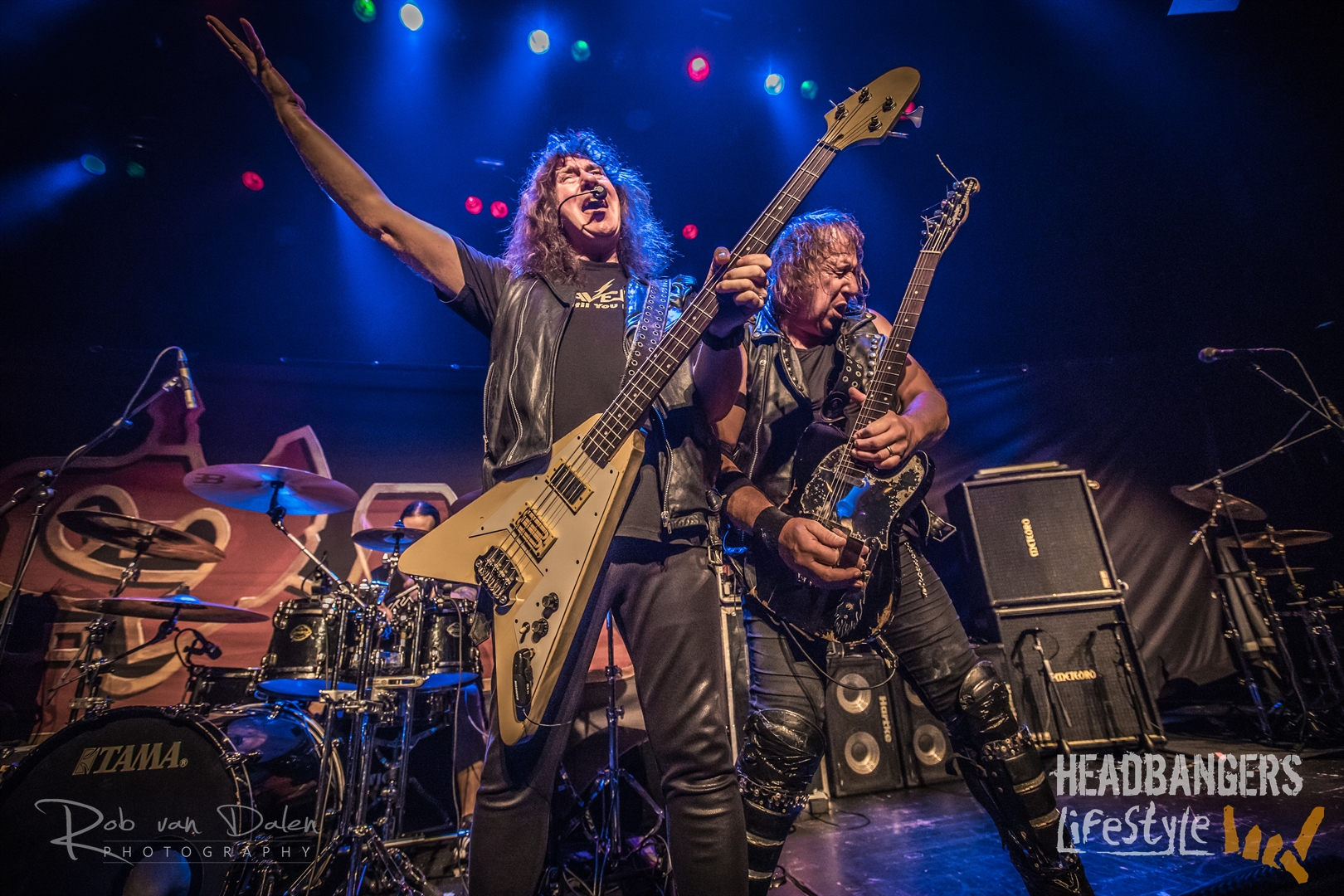 Raven

Venue Ronda has a capacity of 2.000 people and although it's a Tuesday night, it's packed with old and new school metal heads. Of course opening band Raven couldn't be more happy to play such a great venue and no doubt the British speed/heavy metal trio made sure their 30 minutes playtime was used to the max. While getting a solid back-up of touring drummer Mike Heller [Fear Factory, Malignancy], the brothers John Gallagher [bass & lead vocals] and Mark Gallagher [guitar & backing vocals] took us all back to the glory days of NWOBHM that reigned during the 80s with the tracks ,,Hell Patrol'', ,,All For One'', ,,Hung Drawn & Quartered'' and ,,On And On''. In their tight schedule the power trio showed a huge dedication to old school heavy and speed metal and most important, "the Gallagher's" obviously still had a lot of fun doing it. The poses, the running, the crazy spinning and all the funny faces and almost childlike enthusiasm, were infectious and heart-warming and it actually took me back to 1983 when I saw Raven playing live at the Aardschokdag festival [NL] for the first time. After all these years John can still hit the high pitched notes while being a beast on the bass guitar and Mark had a real feast on his guitar. Raven never stopped making new records [show opener ,,Destroy All Monsters'' is from their latest top notch effort `ExtermiNation'] and in fact John announced a new live album and a new studio album for next year. The track ,,Top Of The Mountain'' served as a sneak preview and fitted the recognizable Raven sound extremely well. Raven did great tonight and they sure made new fans, though I missed a few super classics in the set like: ,,Don't Need Your Money'', ,,Bring The Hammer Down'' and ,,Faster Than The Speed Of Light'', but hey you can't have it all.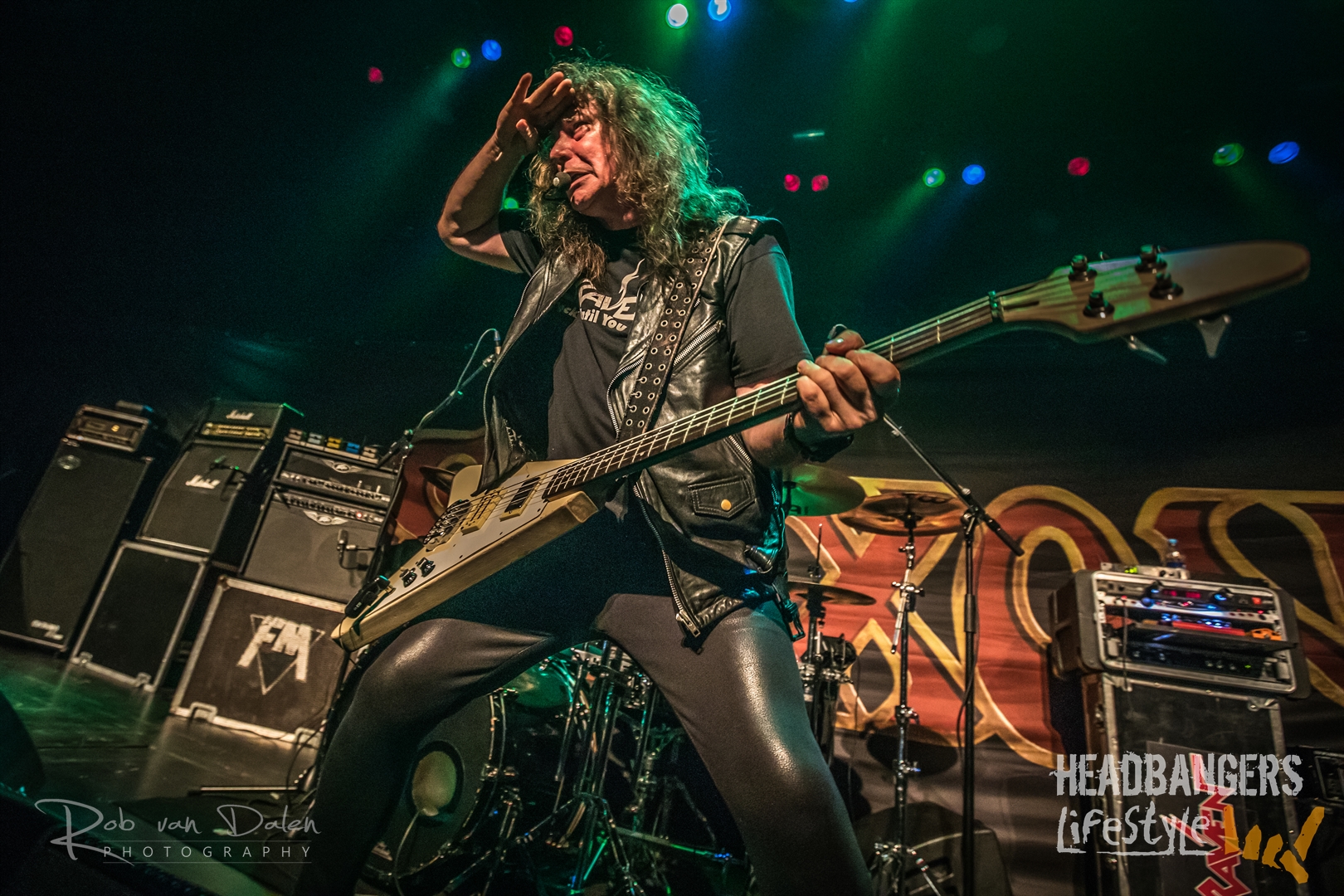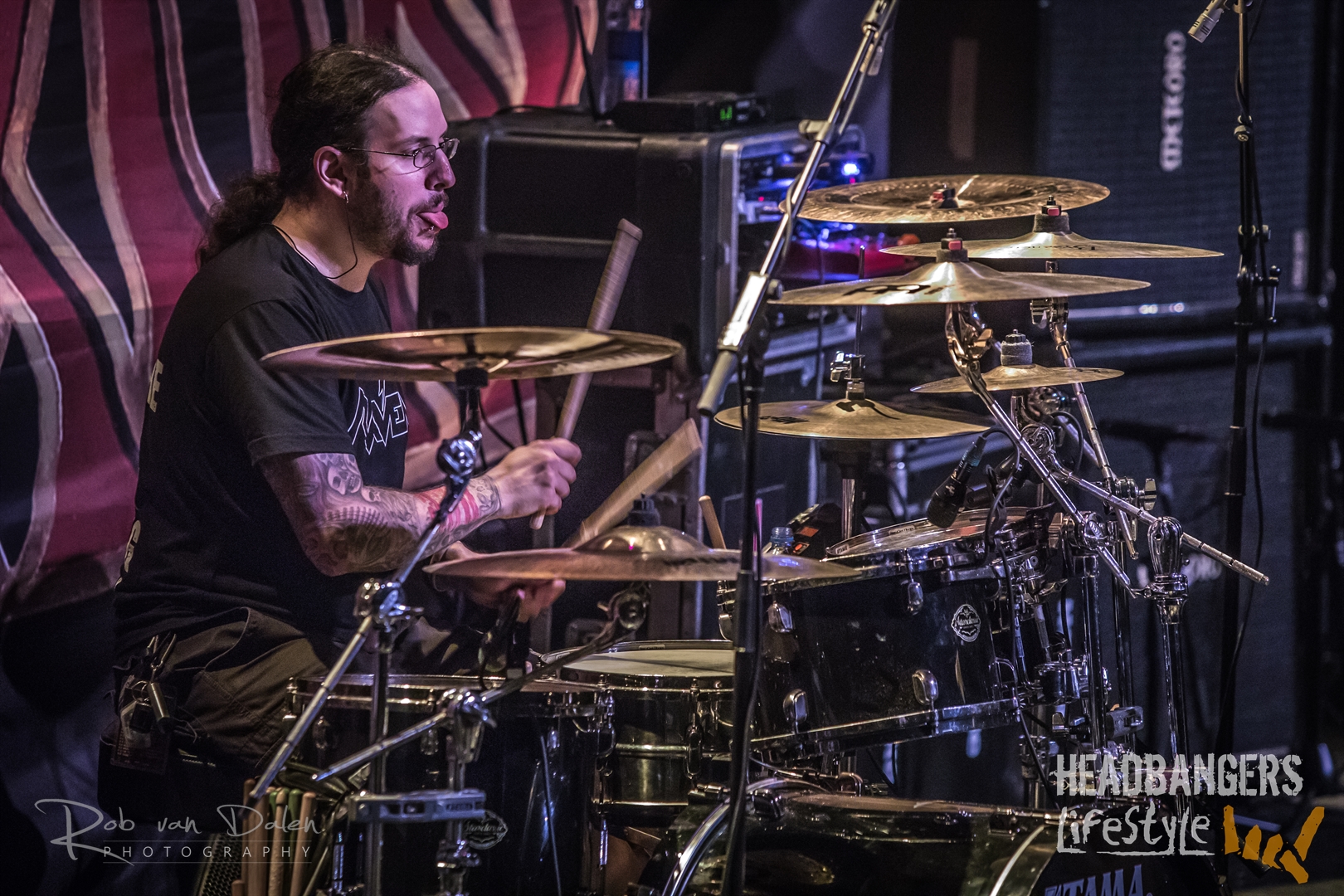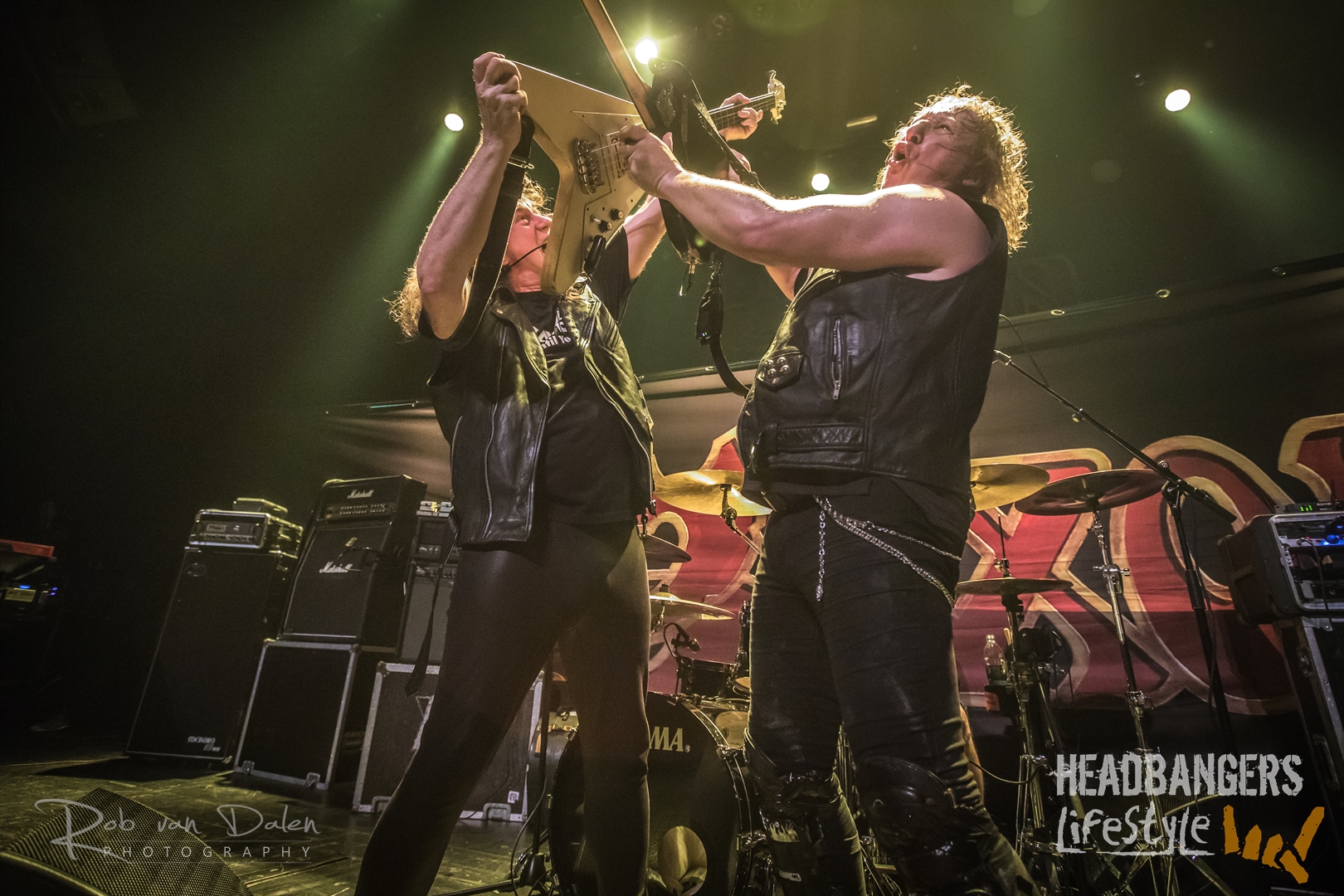 Raven

I guess quite some music lovers, including myself, were disappointed about the fact that the legendary hard rock band Y&T had to cancel this tour, due to back problems of frontman Dave Meniketti. But the UK rock/AOR band FM proved to be a fine replacement after all. Like Raven, FM had a good sound and I was especially very impressed by the very good vocal performance of Steve Overland. Sure, their songs were not heavy metal but FM displayed a tight, rich and firm sound and the driven, pomp rhythms did the job, causing the super catchy songs like ,,Bad Luck'', ,,I Belong To The Night'', ,,That Girl'' [also recorded by Iron Maiden and released as the B-side of the single ,,Stranger In A Strange Land''] and ,,Life Is A Highway'', were hard to resist. FM is a very decent and professional band and excessive behaviour is not in their book. But these guys sure as hell know what they are doing and in their 45 minutes playtime they won over the audience with simply good songs and melodies, a solid performance, a well-balanced set, great guitar work and musicality. There wasn't that much talking or crazy stuff in between the songs, actually the stage performance was a bit static but the over all uplifting vibe and positive energy of the songs, plus a good performance was all that we needed here to get reloaded for the headliner of the evening, The Mighty Saxon.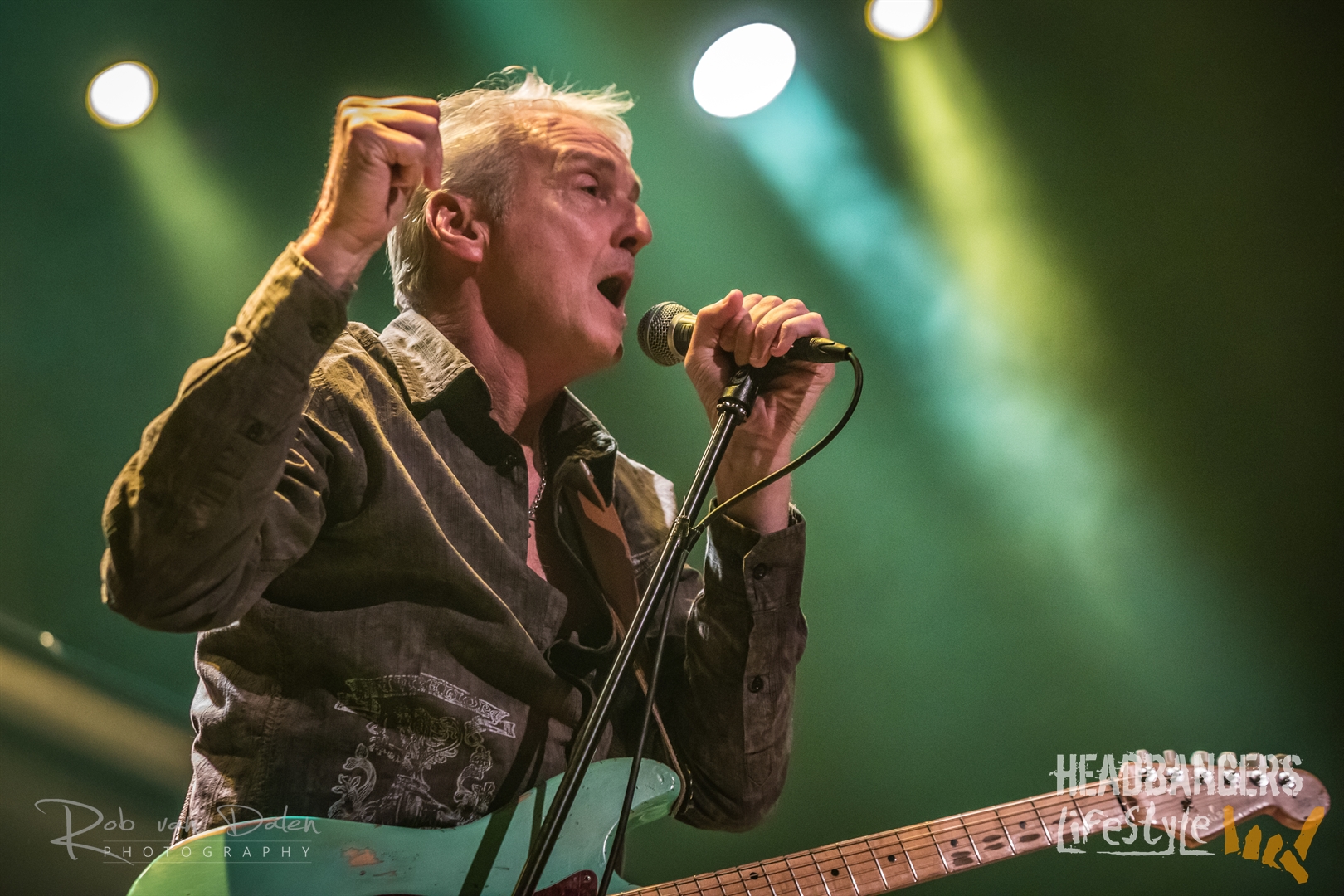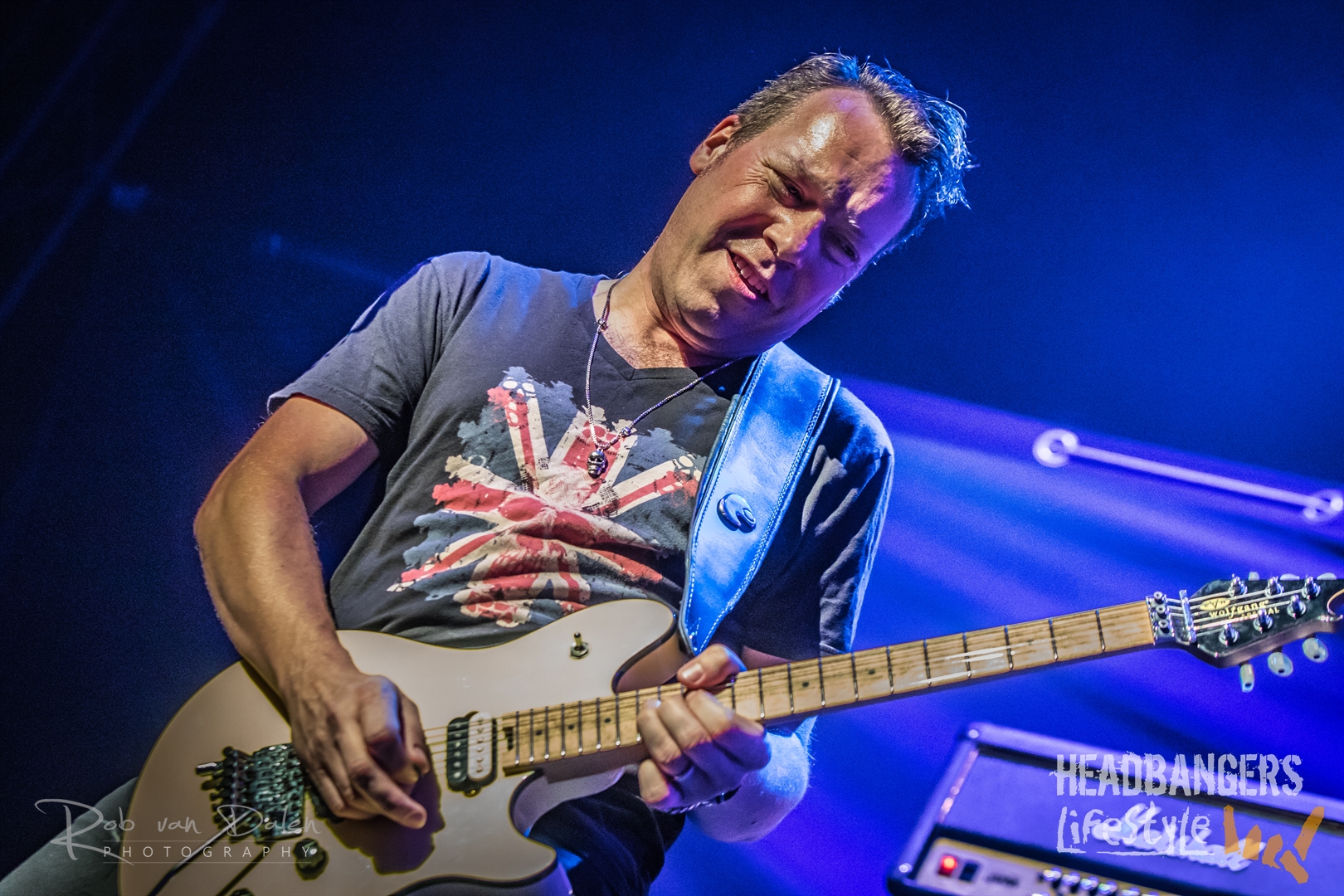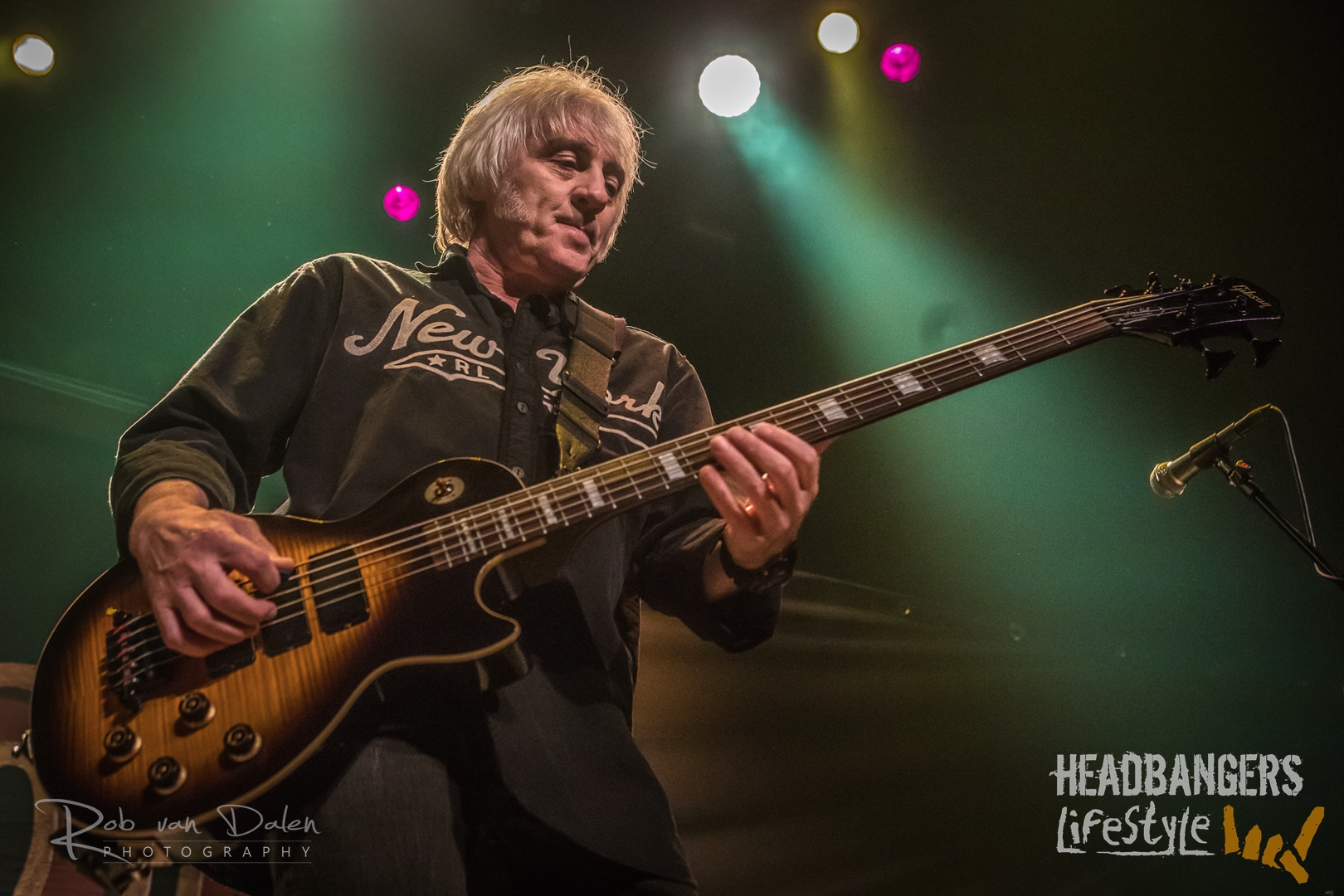 FM

After the well-known intro ,,It's A Long Way To The Top'' by AC/DC, Saxon started off very energetic and in up tempo with ,,Thunderbolt'', the title track of their latest CD and the nametag of this tour. During the evening some minor technical problems for guitarist Doug Scarratt popped up, but it didn't stop the band from keep on going full force and to make this evening memorable. As Biff said: "It's good to be back in Holland again. This is our last show of the European Tour, let's make it a good one!" Saxon is a true touring band, always on spot on delivering high quality performances but with this tour Saxon took the stage show to the next level, making it even a real rock show with steam flames, stage risers, a traditional wall of Marshall amps [a row of 10 per side of the drums] and a cool light show.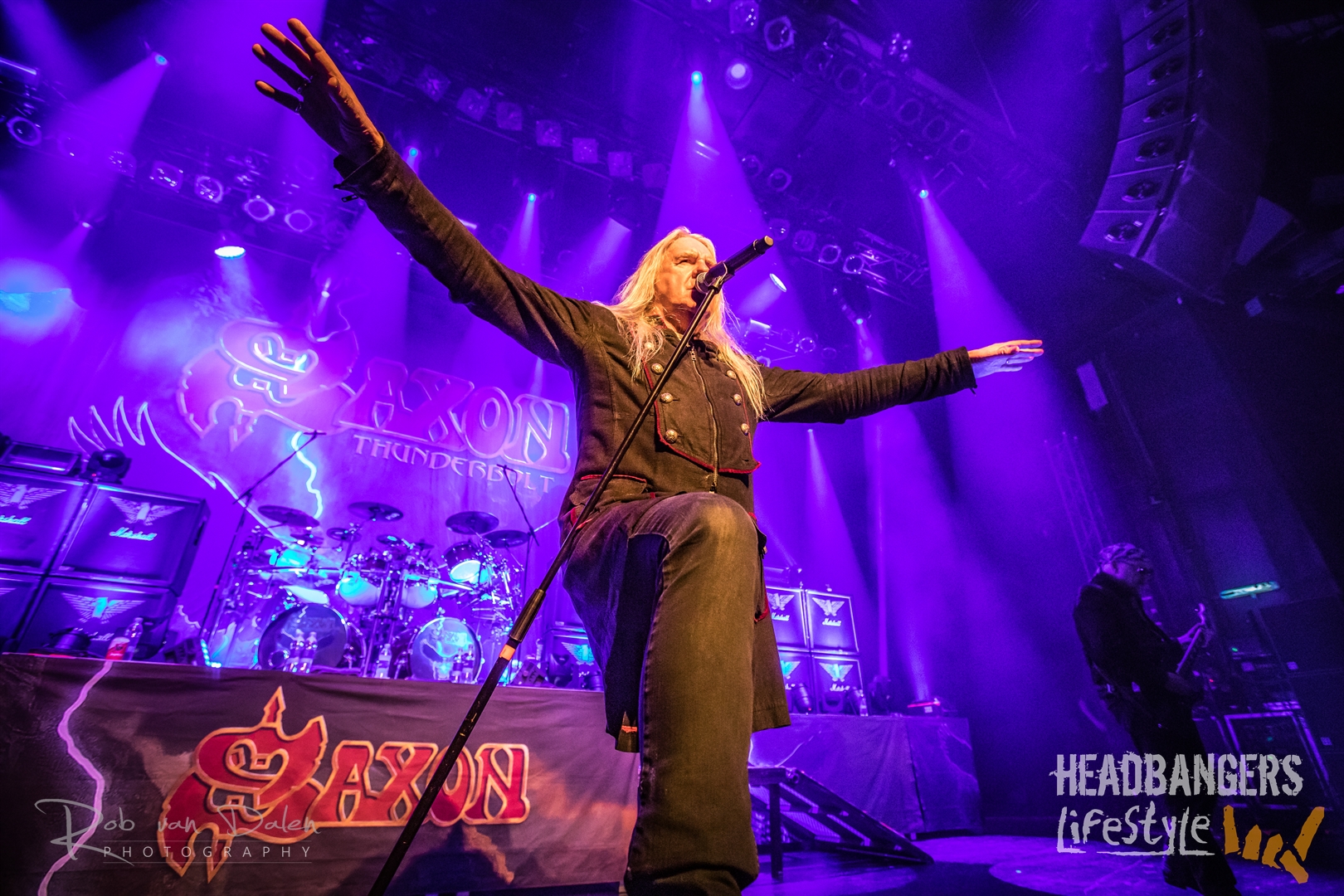 After being warmed up with newer tracks ,,Sacrifice'' and the gloomy sounding ,,Nosferatu (The Vampire Waltz)'' the party really started with ,,Motorcycle Man'', which took us all back to that extremely important heavy metal year 1980. Saxon may sound like an oiled machine but still has that vibrant energy and sparkle in the performance that fired up the songs to a timeless level. Biff is always great on CD and luckily still a fantastic and steady singer on stage. The 67-year-old frontman enjoyed himself a lot tonight and by joking around, being even silly sometimes, jumping around and head banging, he certainly didn't behave like a 67 year old fart. The spontaneous and even hilarious moments later in the evening were priceless, like when Biff putted on a heavy metal denim jacket and almost pissed his pants when Doug got himself a lumber jacket.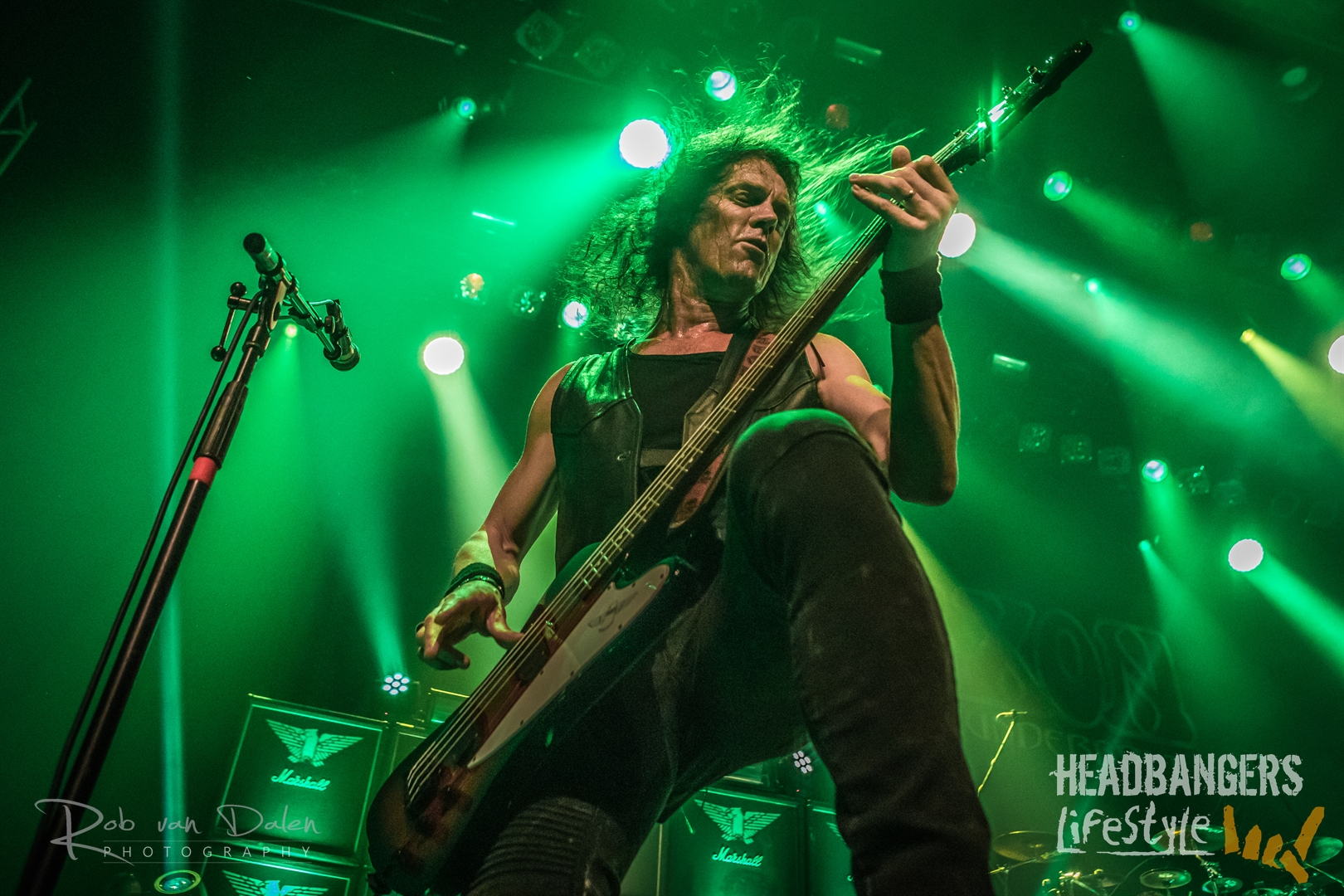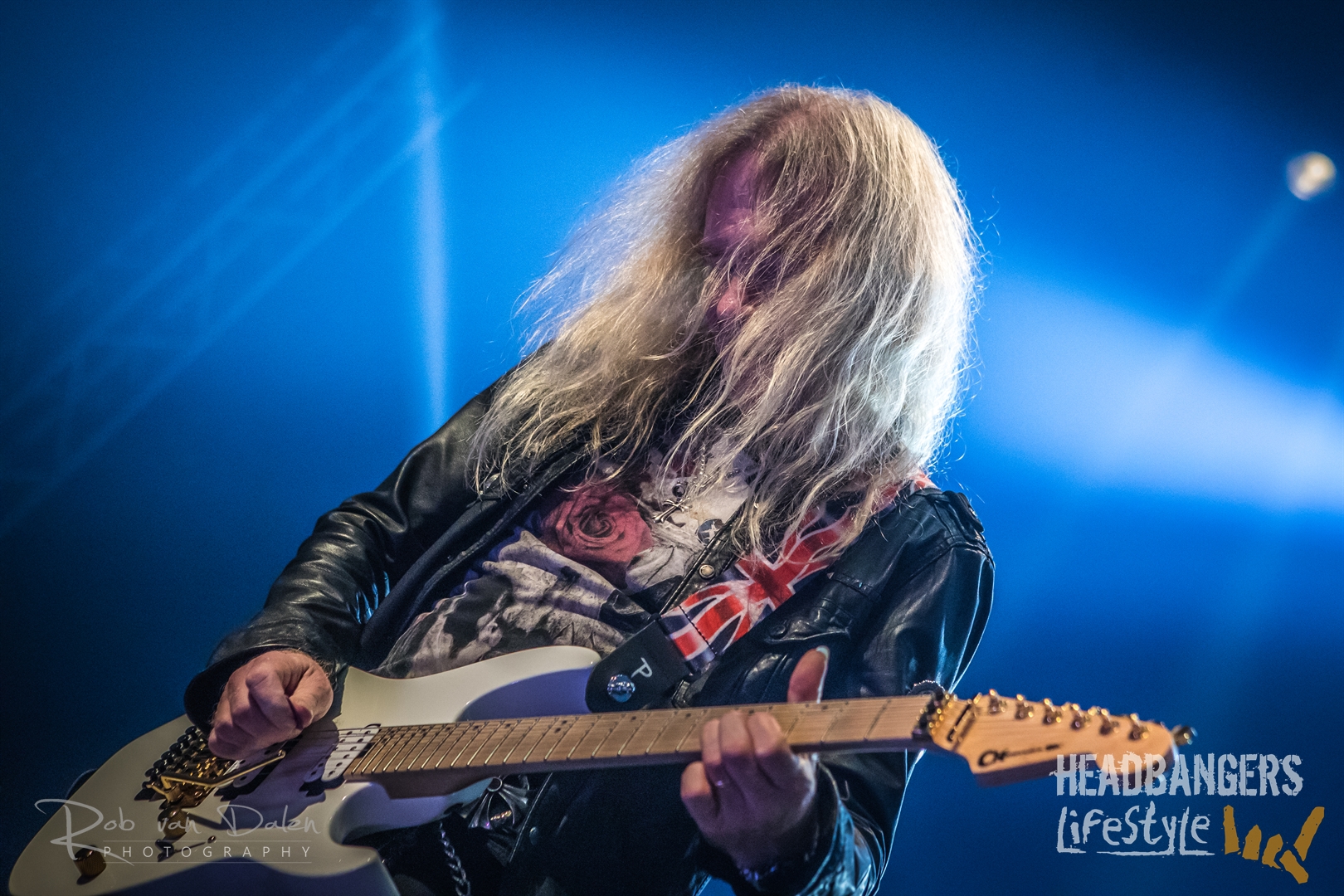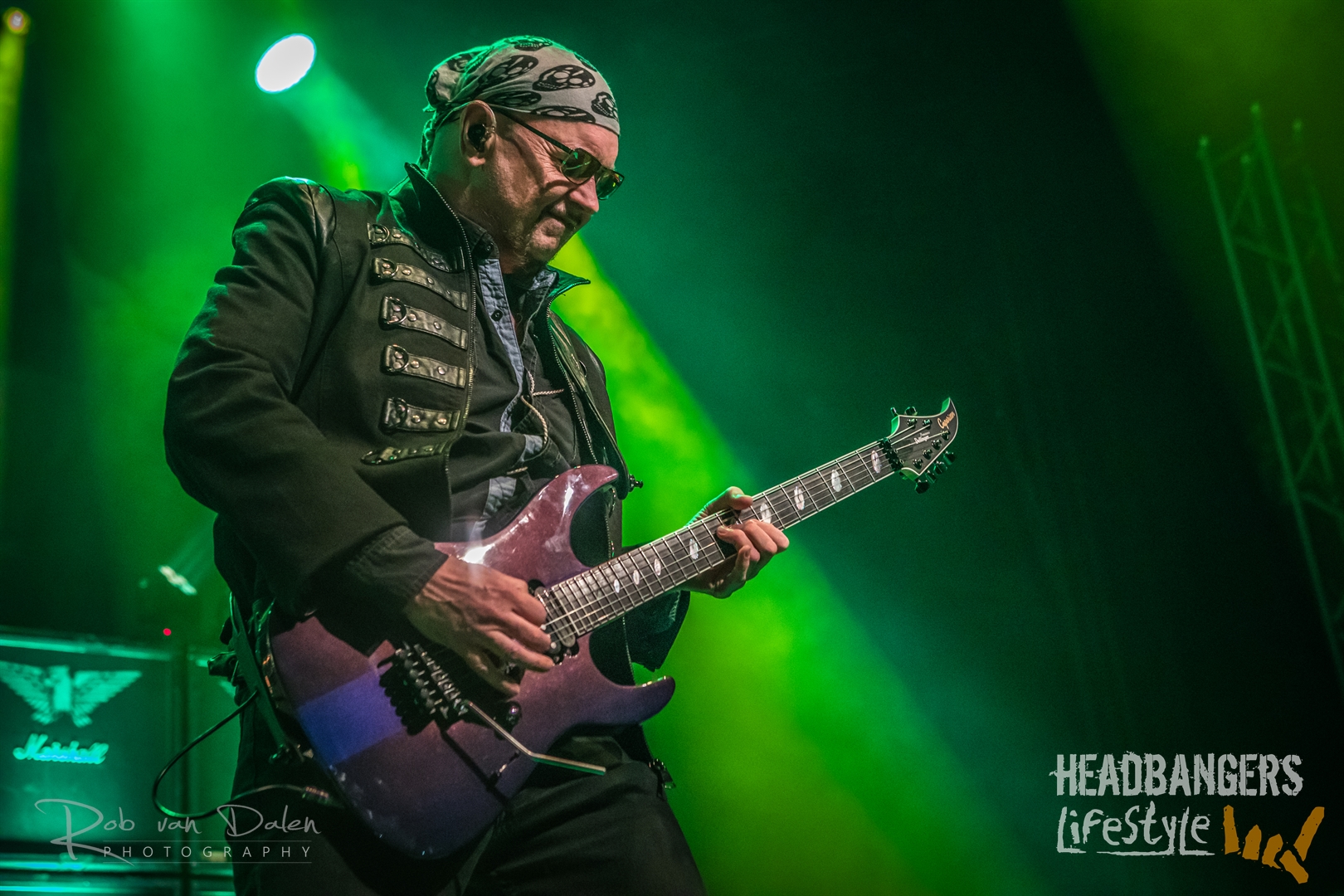 Biff was obvious in charge like a real frontman and connected close with the fans, but bassist Nibbs Carter also made a huge impression with his constant full speed work out, while guitar tandem Doug Scarratt and Paul Quinn were focussed on their six string and treated us with fantastic guitar playing and then there was drummer Nigel Glockler who was their rock, tight and thunderous. Actually this tour wasn't all about a greatest hits set list, it was a good mix between the fabulous classic Saxon anthems and Saxon in the now. It was a real pleasure to hear the newer tracks ,,Predator'', ,,Battering Ram'', ,,Sons Of Odin'', ,,The Secret Of Flight'' and the crowd favourite ,,They Played Rock and Roll'' [an ode to Lemmy and Motörhead], which were all very well received, but it was a no brainer that hell really broke lose during the jewels ,,Strong Arm Of The Law'', ,,Power And The Glory'', ,,Dallas 1 PM'', ,,And The Band Played On'', ,,20.000 Ft'', ,,747 Strangers In The Night'', ,,Crusader'' and ,,Princess Of The Night''.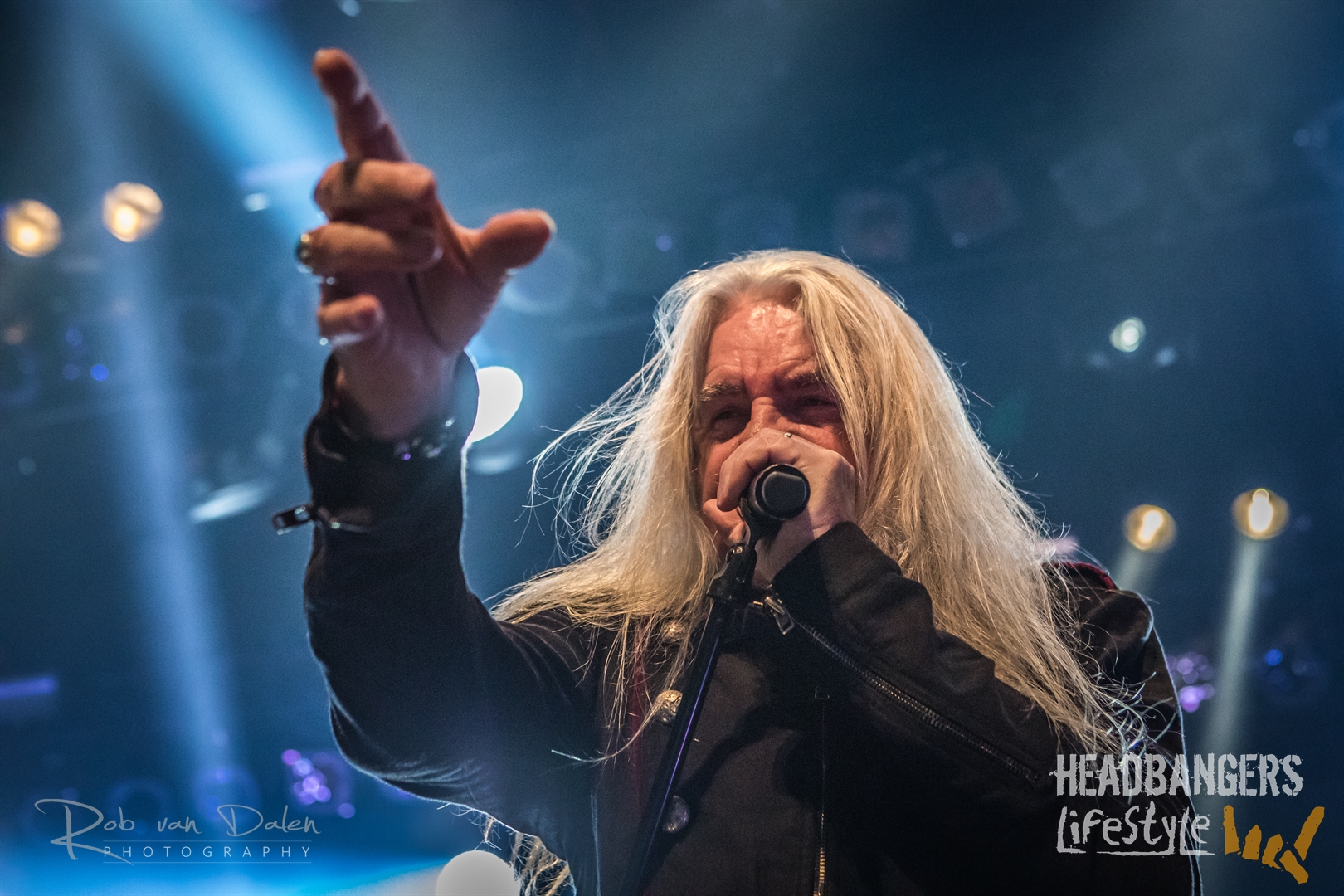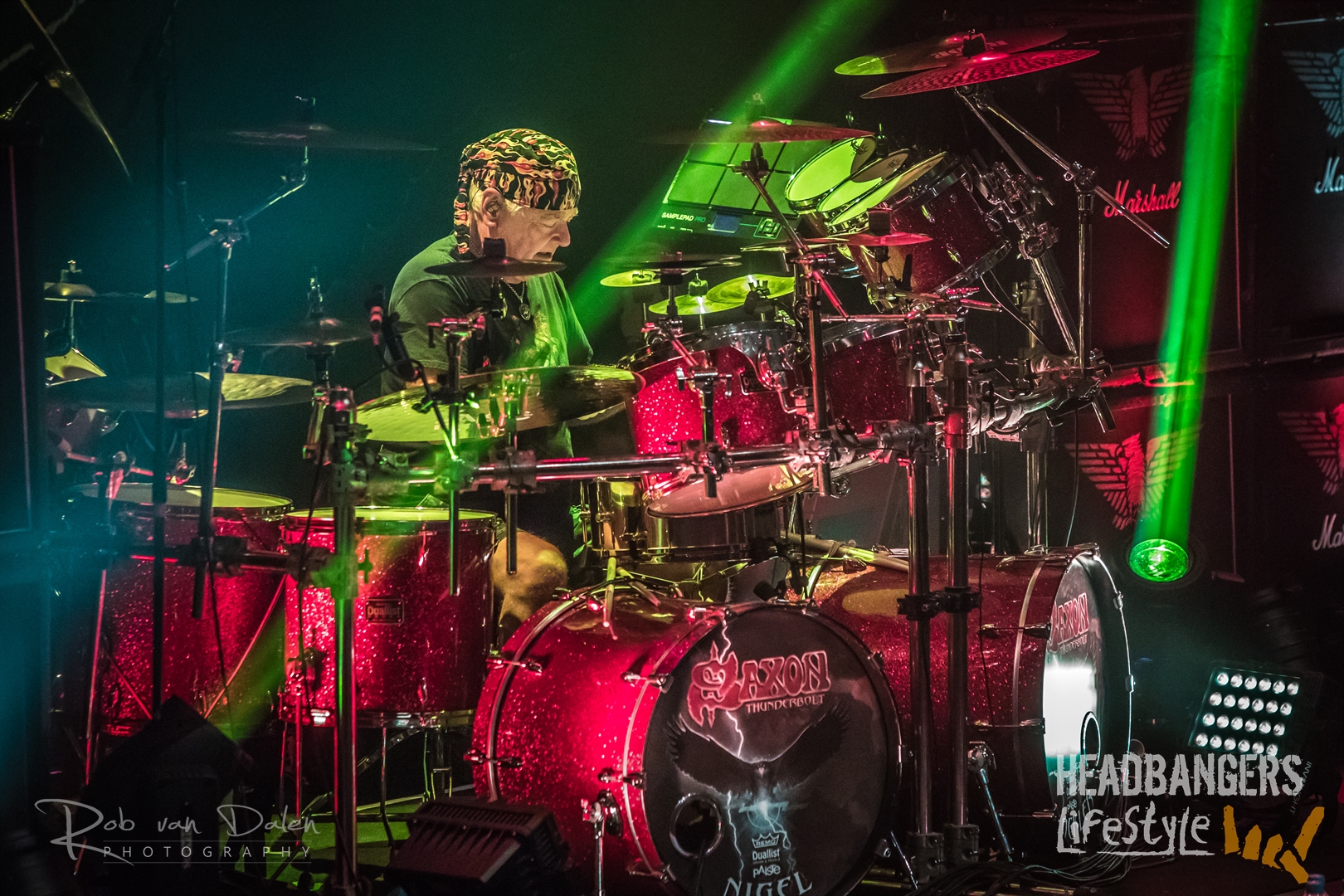 The encore made our metal heart even beat faster with ,,The Eagle Has Landed'', ,,Heavy Metal Thunder'', ,,Wheels Of Steel'' and ,,Denim And Leather''. For 2 hours Saxon owned the stage, making this a night to remember and proving not to retire anytime soon. As a final Biff reminded us that Saxon will celebrate its 40th anniversary next year, so I guess an even bigger party can be expected.
—
All photos by Rob van Dalen Photography