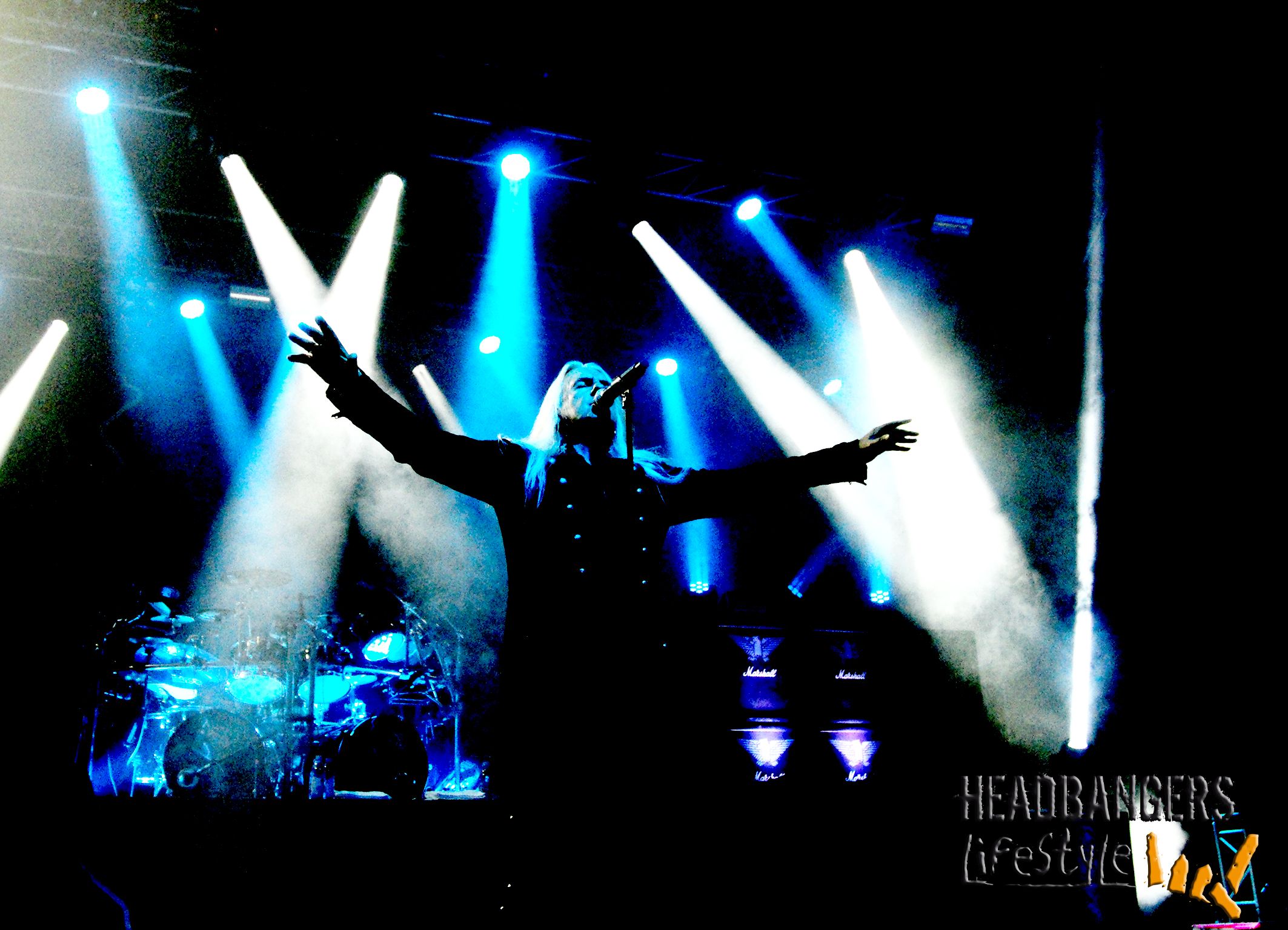 SAXON (& FM & Raven)
Oberhausen (DE)-Turbinenhalle 1-22 September 2018
Cancellation of Y&T due to Meniketti's back left an open spot on the bill of the on rolling Thunderbolt tour, which is taking Europe by storm once more. Saxon at the helm is always promising and delightful, but being served up a chop of driving melodic rock in the vein of Y&T is the icing on your cake. Filling the void are UK's finest FM, but if that's a match made in heaven?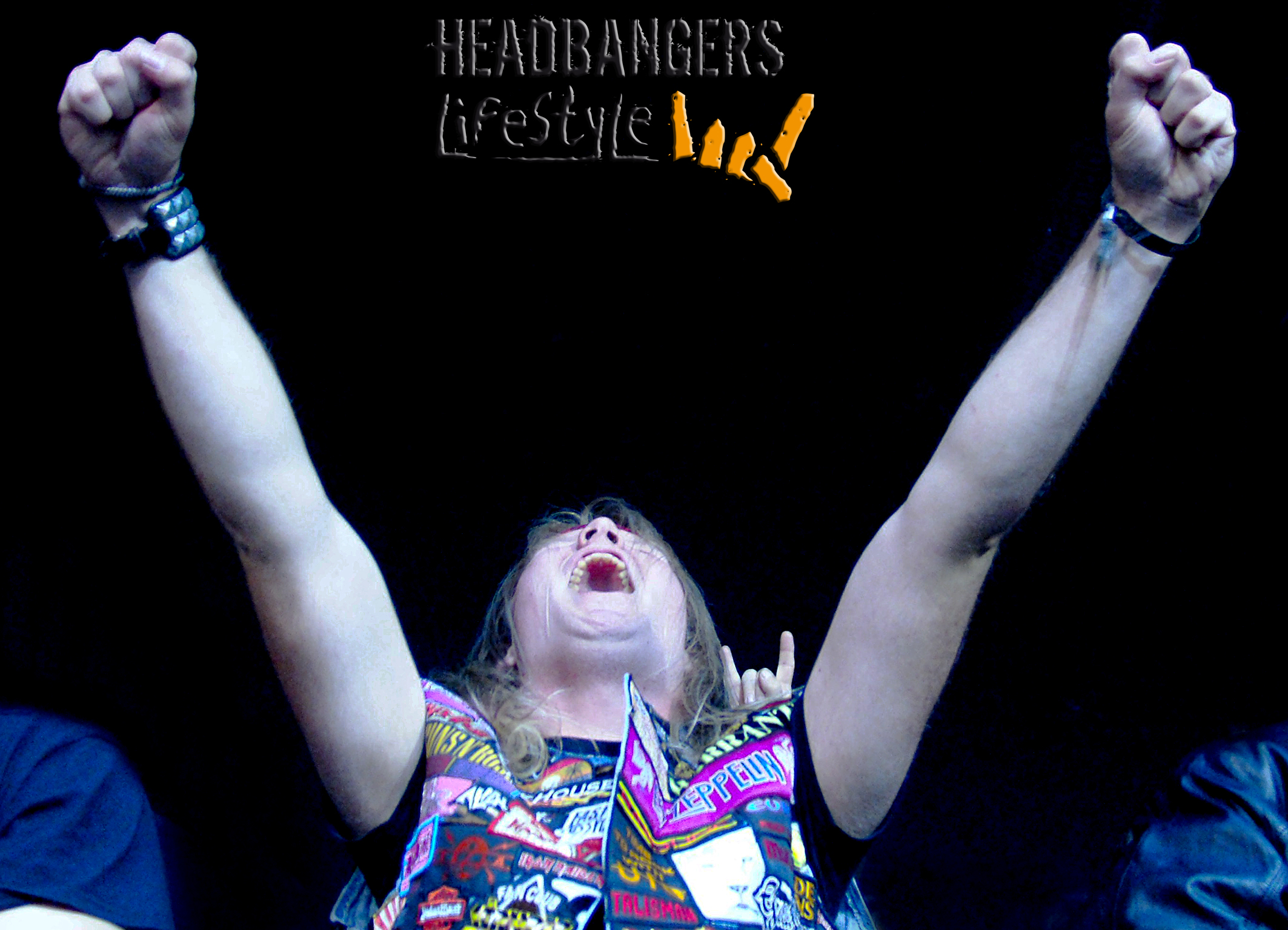 Raven

Taking the stage like a whirlwind is NWOBHM RAVEN, the metal trio around the Gallagher brother. Their furious Judas Priest etched metal still stands but at times comes across dated. Driven by Mark's powerful riffs and extravagant solos, the band storm onwards in a pointy set of career classics. ,,Destroy All Monsters'', ,,Hell Patrol'', ,,All For One'' and ,,Hung Down & Quartered'' still get metal heads banging. I'm surprised to see relatively young fans sing along to Mike's corky lyrics, with the overall crowd hitting the 50 mustard scale. ,,Top of the Mountain'' and ,,On and On'' put an exclamation point to a short-lived set of the once celebrated band that, by dropping their American Football outfits, still stands tall as a line backer.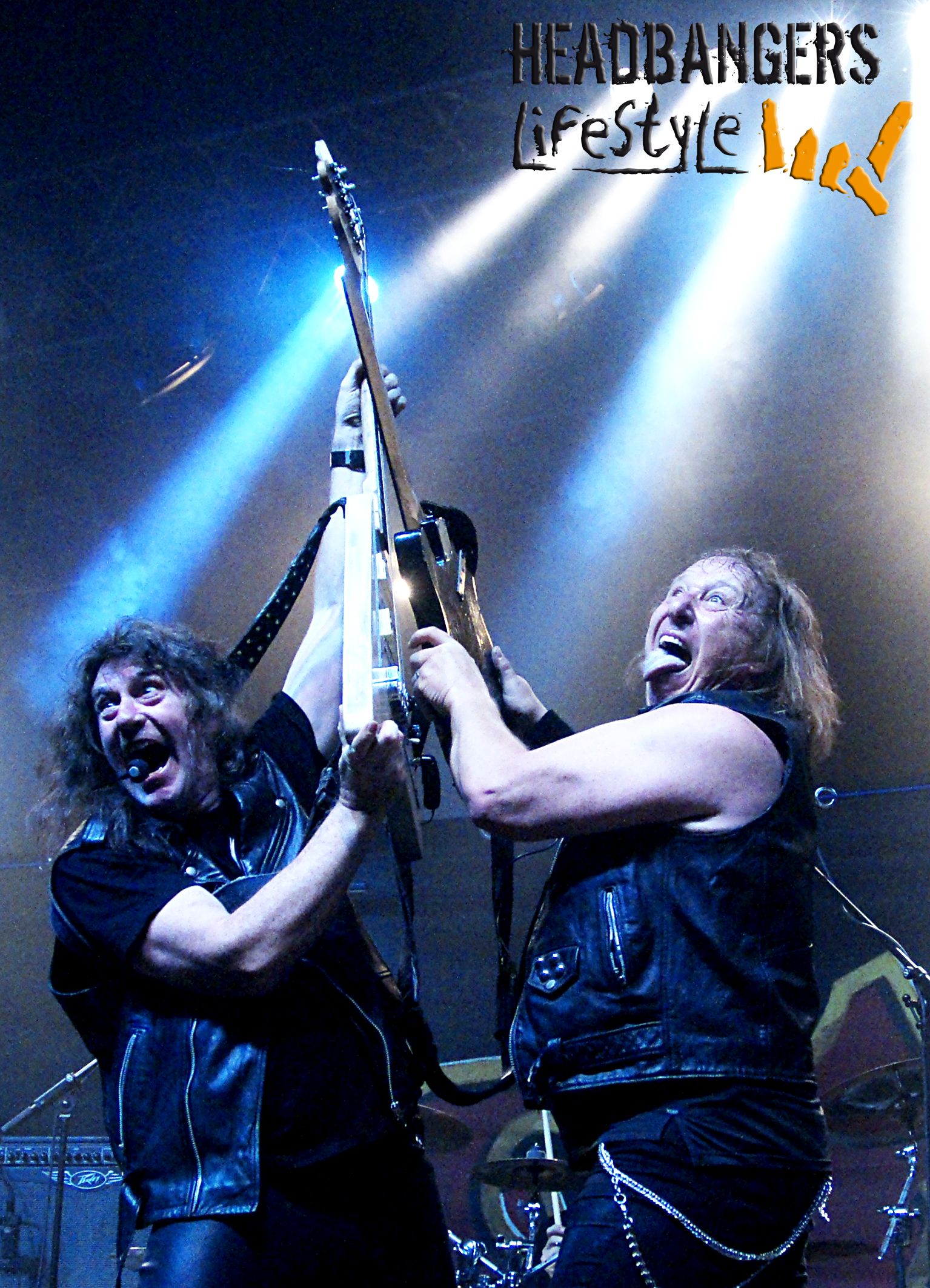 Raven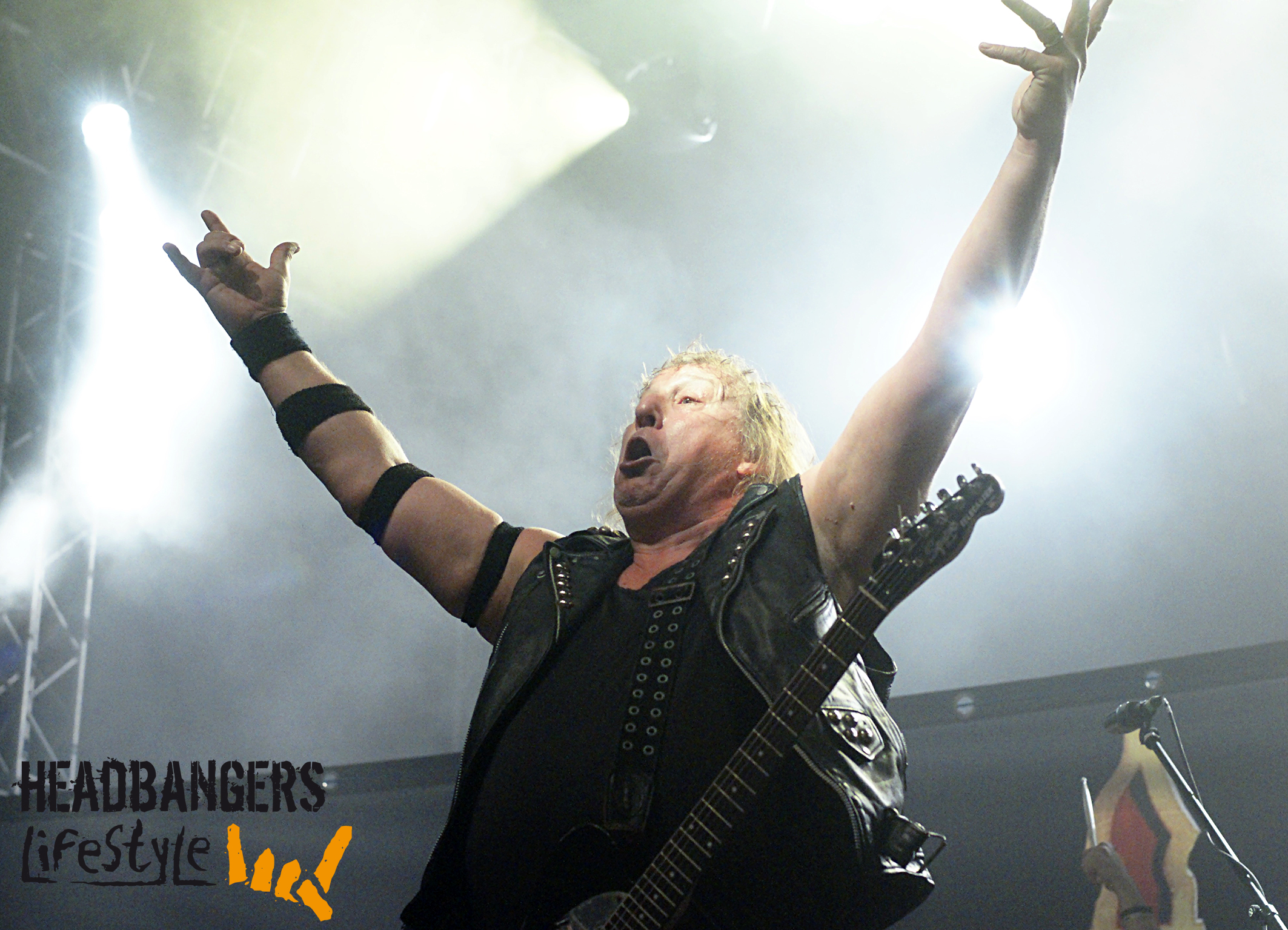 Raven

Filling the open slot in a metal drenched line up, FM relays on their expertise and can dig from an extensive catalogue of rock gems. Much to my surprise, the band is reunited with founding member Philip Manchester, better known under his moniker Didge Digital. Though his keyboard swirls are [smart enough] in the back end of the mix, he injects a potion of nostalgia into the veins of fans in the audience. There's a handful of FM shirts in my surroundings and I'm surprised to see the number of metal heads singing along to the band's best-known tracks like ,,Bad Luck" and ,,That Girl" even though they were struggling when the band entered the stage. It's that exact feeling transcended from the 80's in which rock and metal had fewer boundaries, which is present in the Turbinenhalle. Metallica shirts and Slayer studded vests singing along to poppy AOR classics from the time music videos bridged the gap.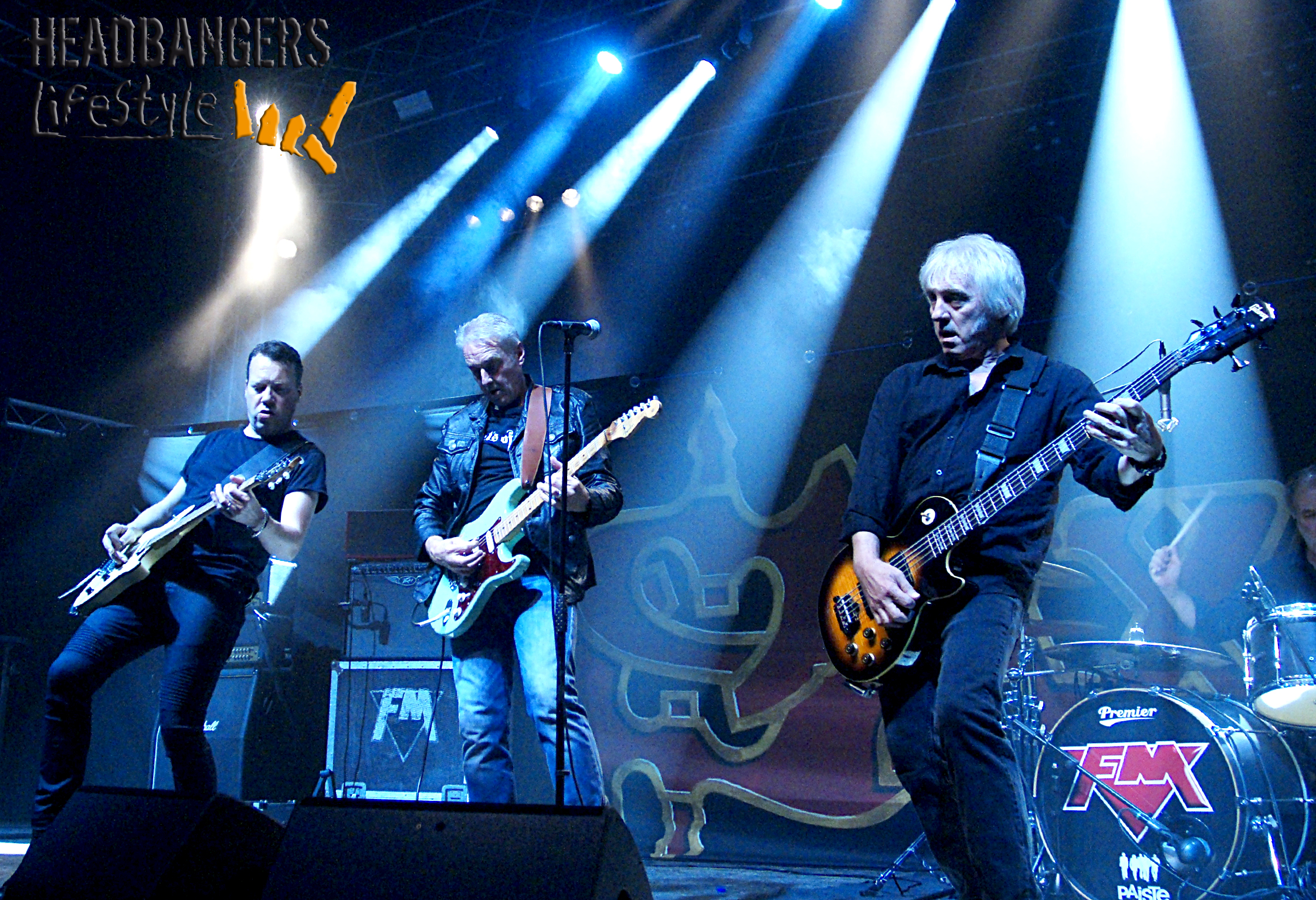 FM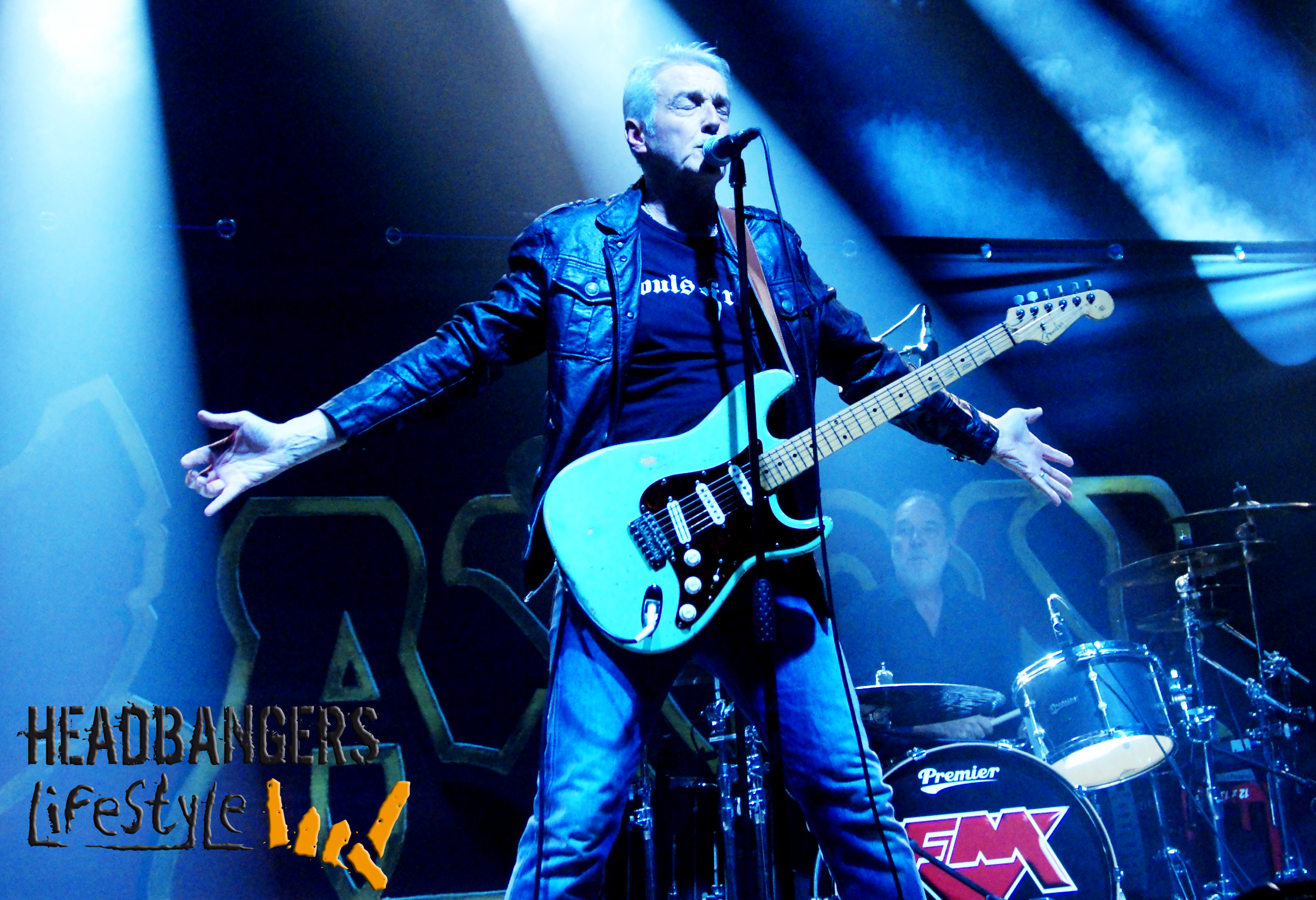 FM

It's that feeling which makes me feel so much at home on this particular night enjoying a couple of good German beers and being served excellent music. FM being keen enough to unite pop and heavy riffing, manage to drop a few bombshells in the audience. ,,Black Magic'' and ,,Life is a Highway'' have enough balls to overpower the cynical fan, while ,,I Belong to the Night'' and ,,Don't Stop'' are so instantly recognizable that they have most of the audience singing along. Overland's voice and charisma are still sublime and with Kirkpatrick the band has an excellent guitar player. Together with Jupp [drums] and Goldsworthy [bass] the band sounds rock-solid and the choirs are impeccable. And even after almost 35 years, FM enjoy themselves onstage and bring across the genuine pleasure of music. Remarkable performance from one of rock's most underrated bands.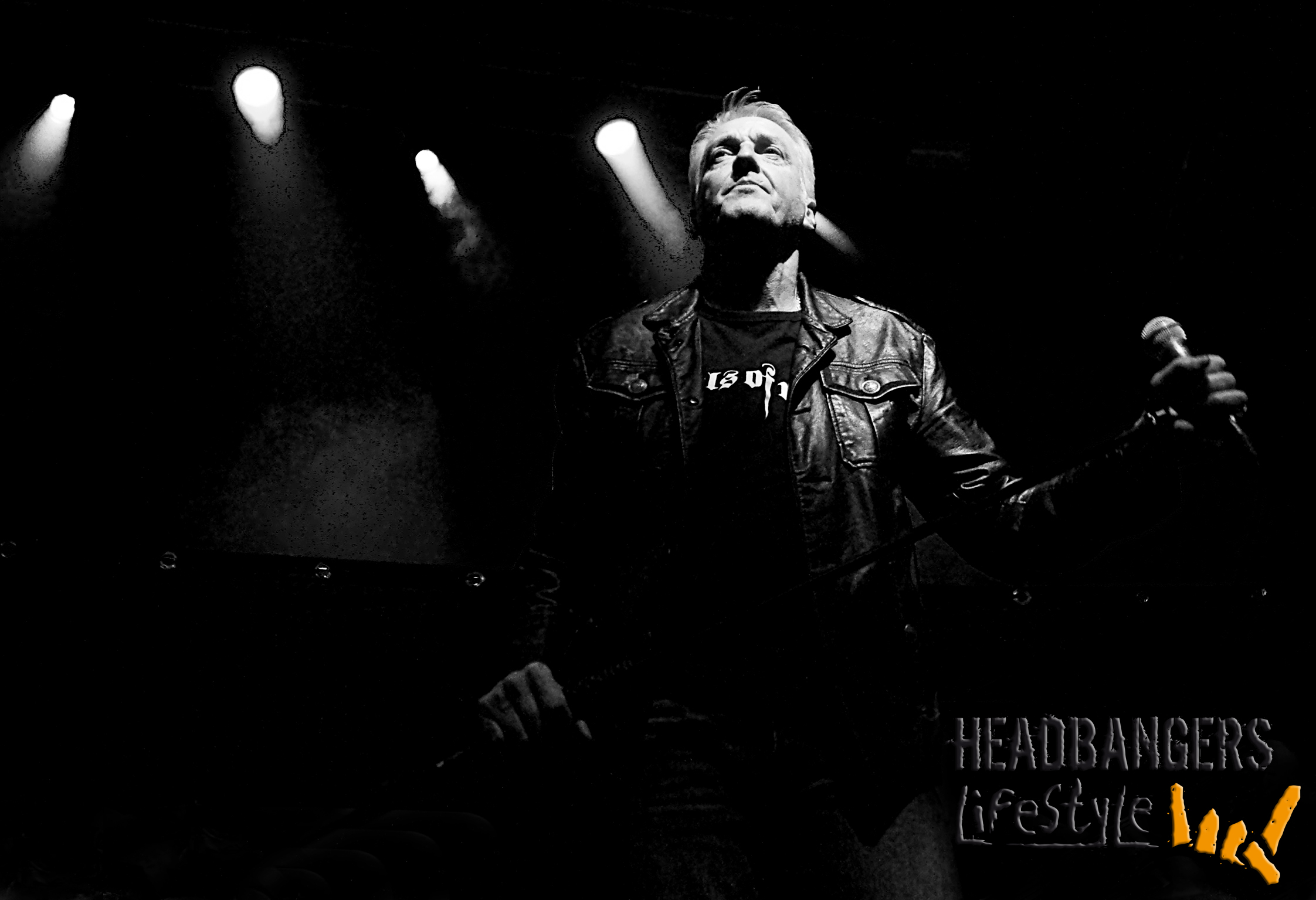 FM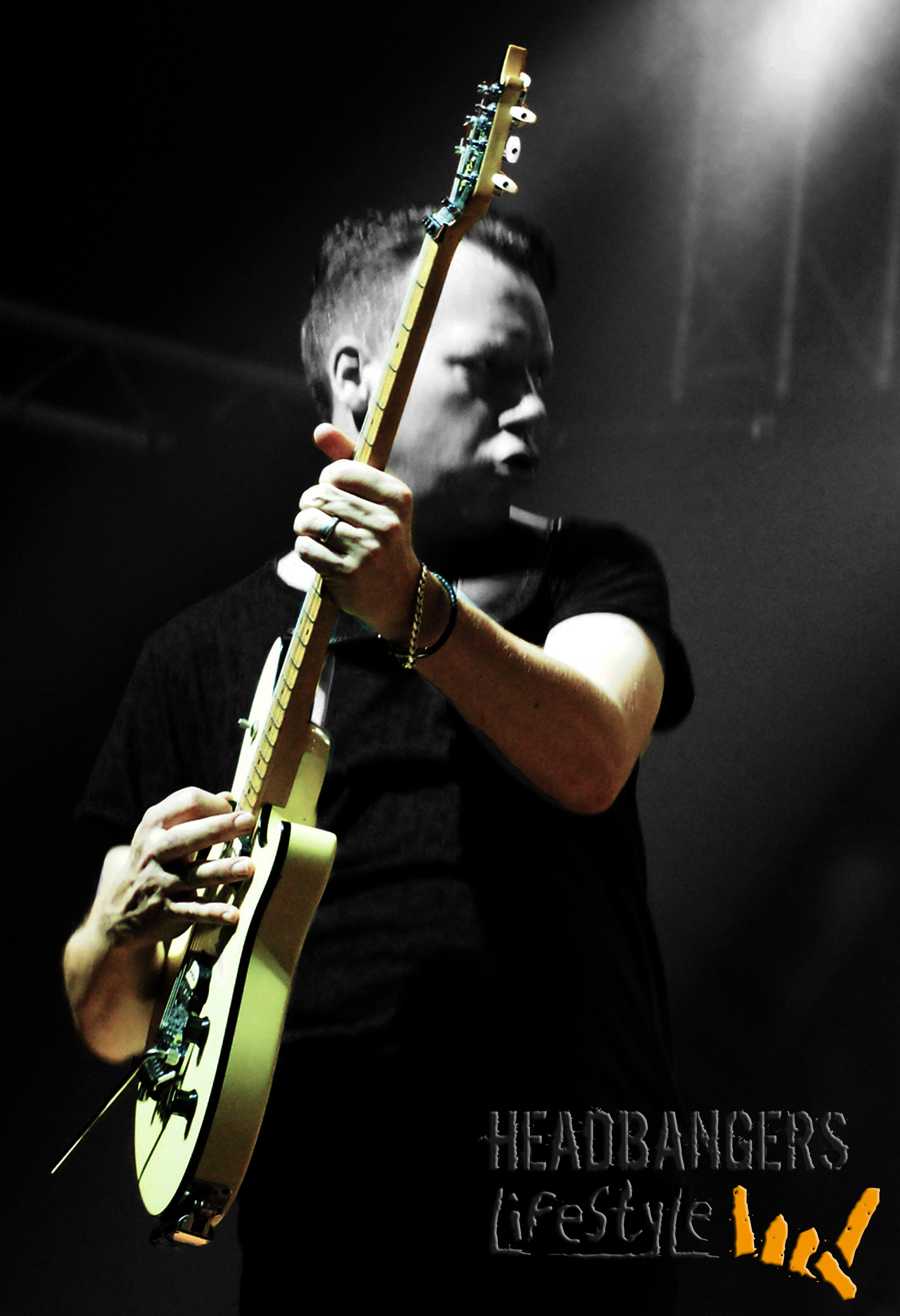 FM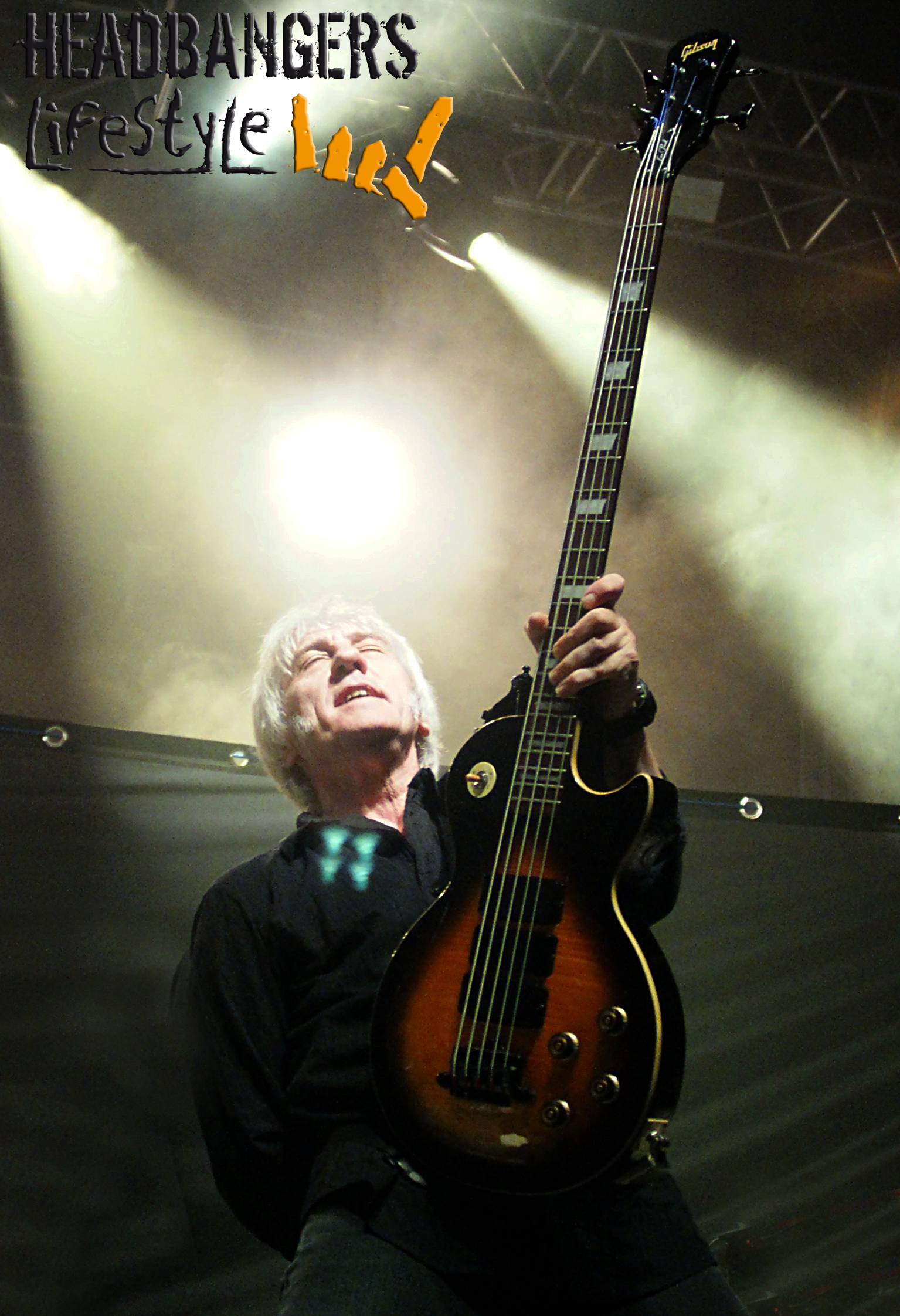 FM

But it is all about the mighty SAXON tonight, as is proven from the start. The band around Biff never lets down their crowd and tonight puts up an impressive wall of sound, which thunders loud and throws shots of lightning into the heart and soul of their fans. `Thunderbolt' covers the load of tonight's performance in which UK's finest still sound as vibrant and inspired as in their debuting days. Though differing like day and night with FM, the genuine love for music radiates off the stage tonight as Byford roars into the mic and takes us on a walk down memory lane.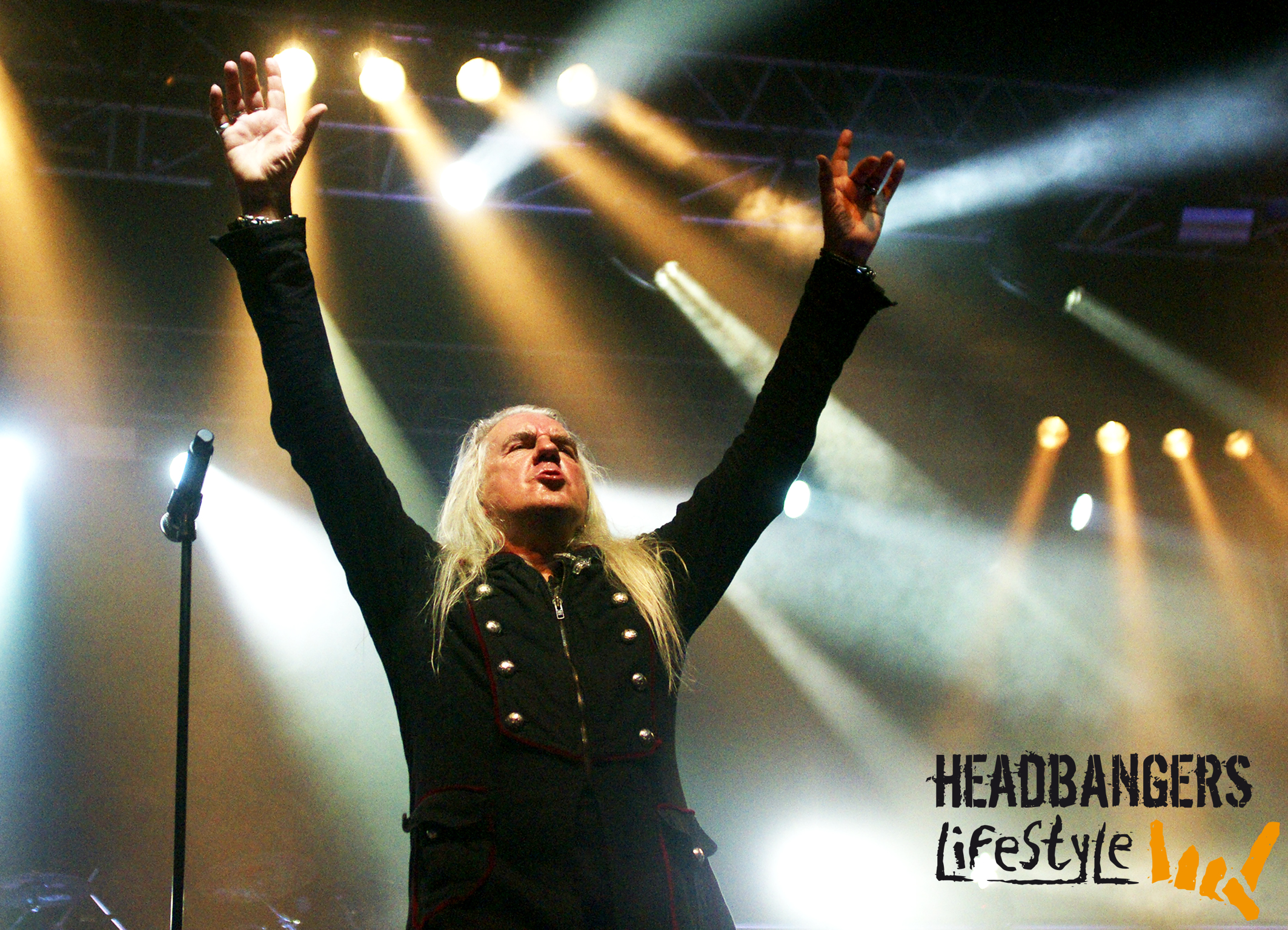 Saxon

Tugged away in between all those metallic classics lie some newer tracks that fit in perfectly. Opening with the name giver of the tour, ,,Thunderbolt'' is fierce and powerful, followed by the anthemic waltz of ,,Nosferatu''. It's this dance, which sets off all charges as Saxon drops their ball of rocking classics on the audience with ,,Motorcycle Man'' and ,,Strong Arm of the Law''. An impressive stage with walls of Marshall amplifiers and an even more impressive lighting rig emphasize the setting. Paul Quinn is backed by Doug Scarratt and this tandem still sounds ignited. Thick layers of guitars are pumped through the PA, lit up by great soloing. Short and pointy, much like the band's classics. The most impressive performance tonight must be Nigel Glockner whom's thundering drums never sounded as good in the old days as they do now. The double bass blasts are overwhelming and Glockner truly propels the band's powerful metal sound. Jumping around like a madman is bass player Nibbs Carter, occasionally getting in the way of living landmark Byford. Biff is Biff. Never disappointing and always in good spirit, the tall vocalist embodies what Heavy Metal is all about. He bangs his head, stands tall land proud and navigates the flagship Saxon over the oceans of time. The homage to Lemmy and Motörhead's music ,,They Played Rock and Roll'' is welcomed with a blaze of excitement, much like the band's classics. ,,Crusader'' roars, ,,Dallas 1 PM'' strolls, and ,,Solid Ball of Rock'' rocks where ,,Princess of the Night'' rolls.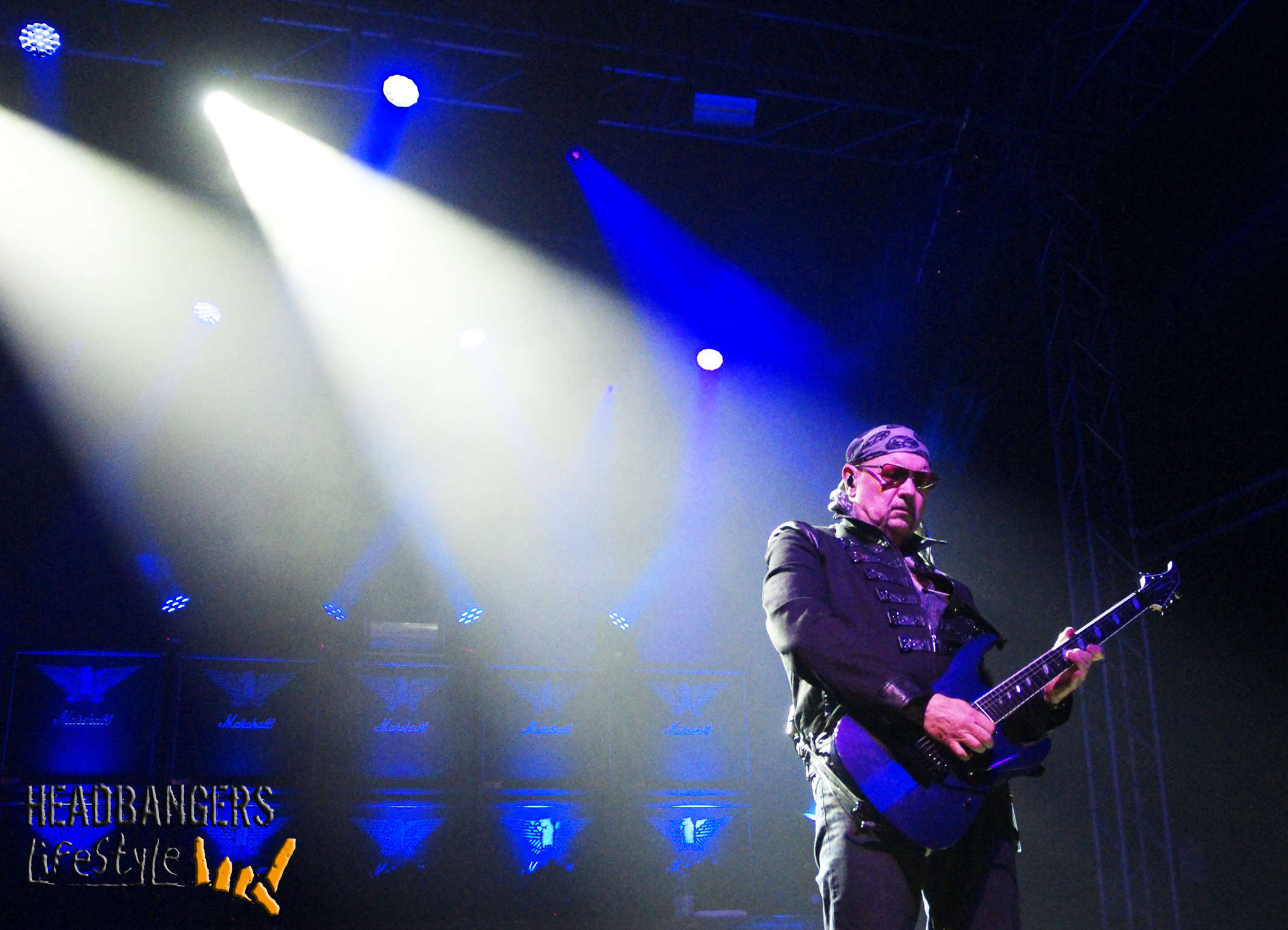 Saxon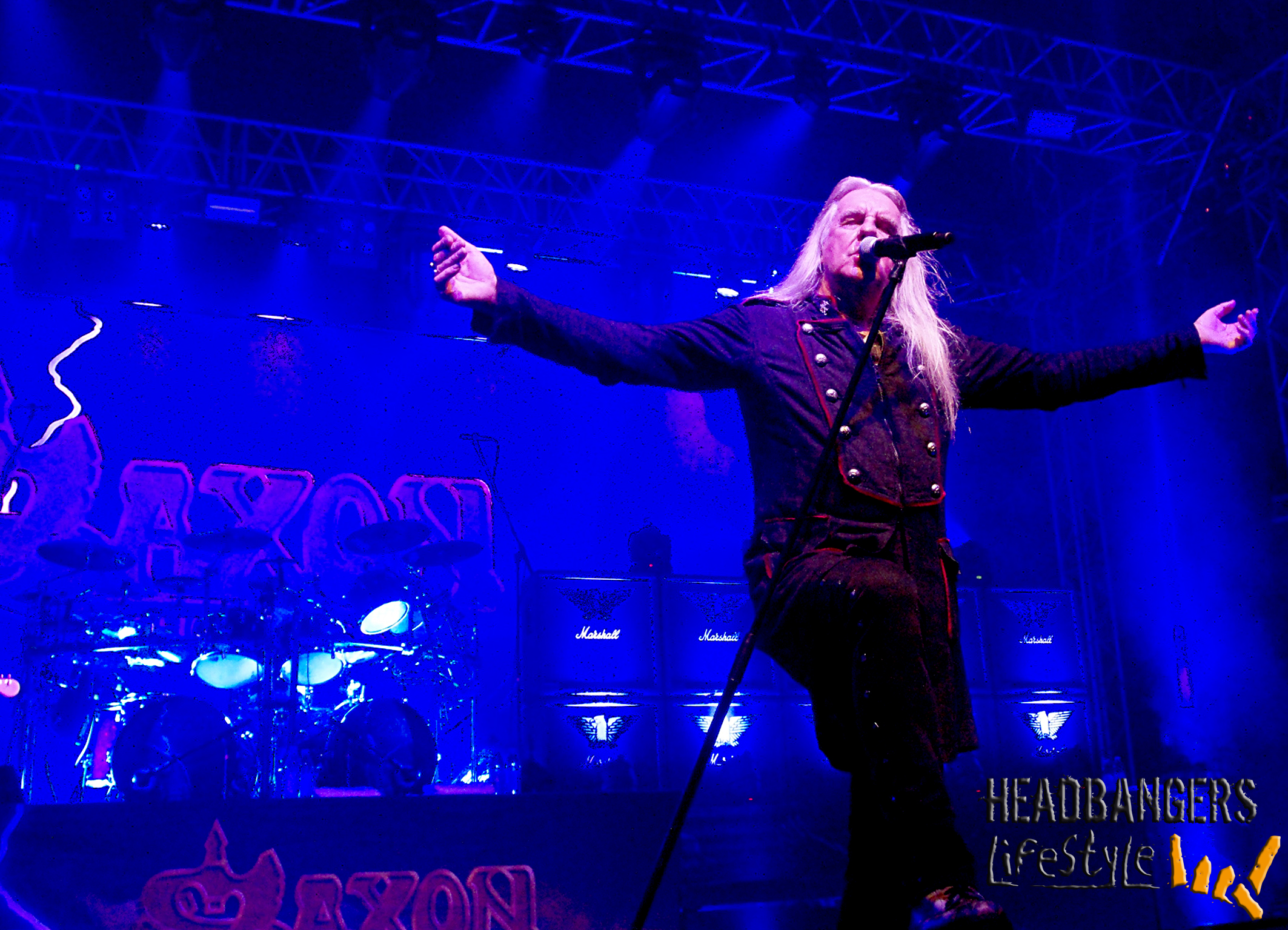 Saxon

The encores ,,Heavy Metal Thunder'' and ,,Wheels of Steel'' are benchmark heavy metal hymns and the second encore part consists of two other highlights with ,,The Eagle Had Landed'' and the even more mandatory ,,Denim and Leather'', concluding a night of celebration in it's purest form.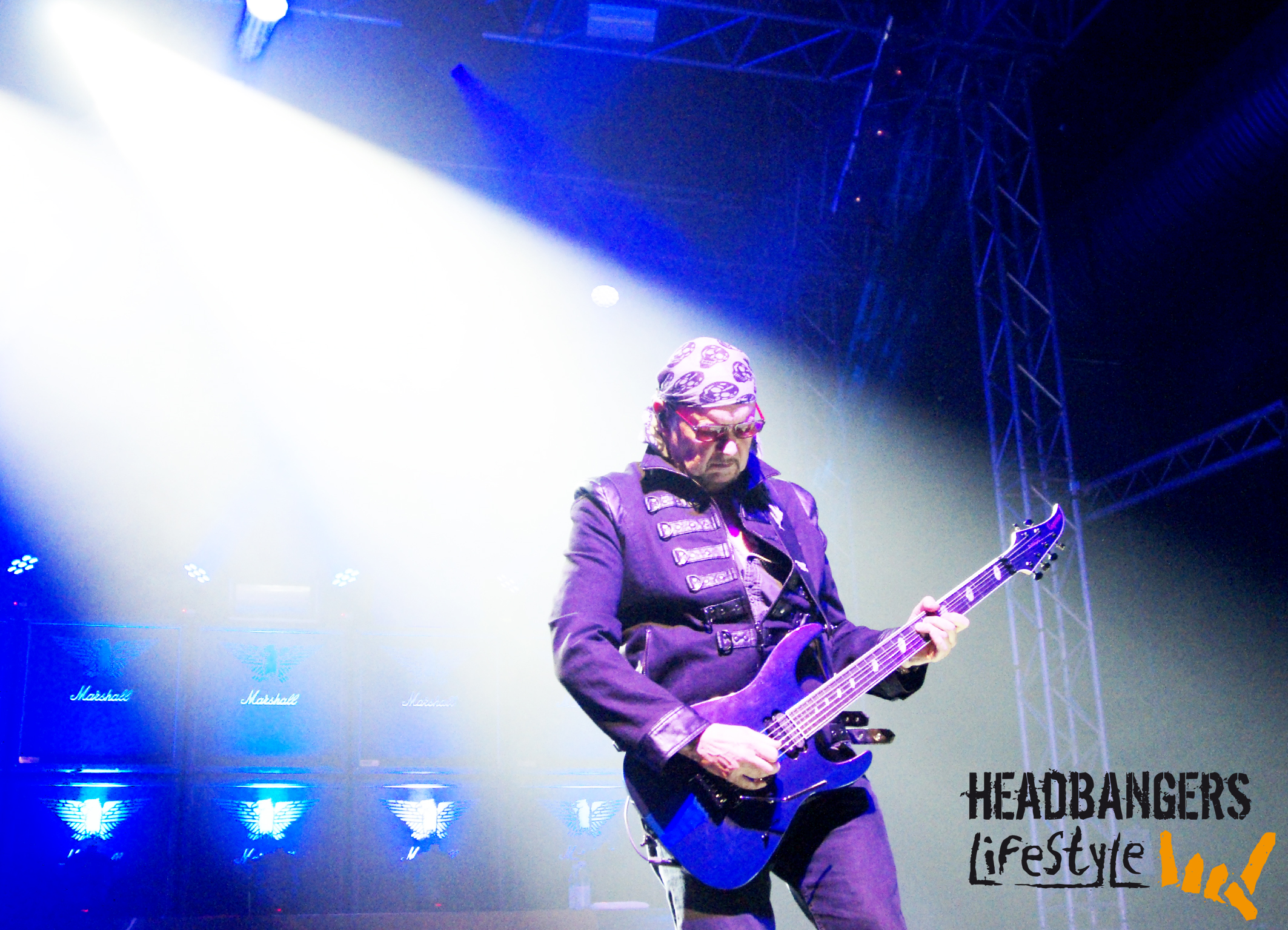 Saxon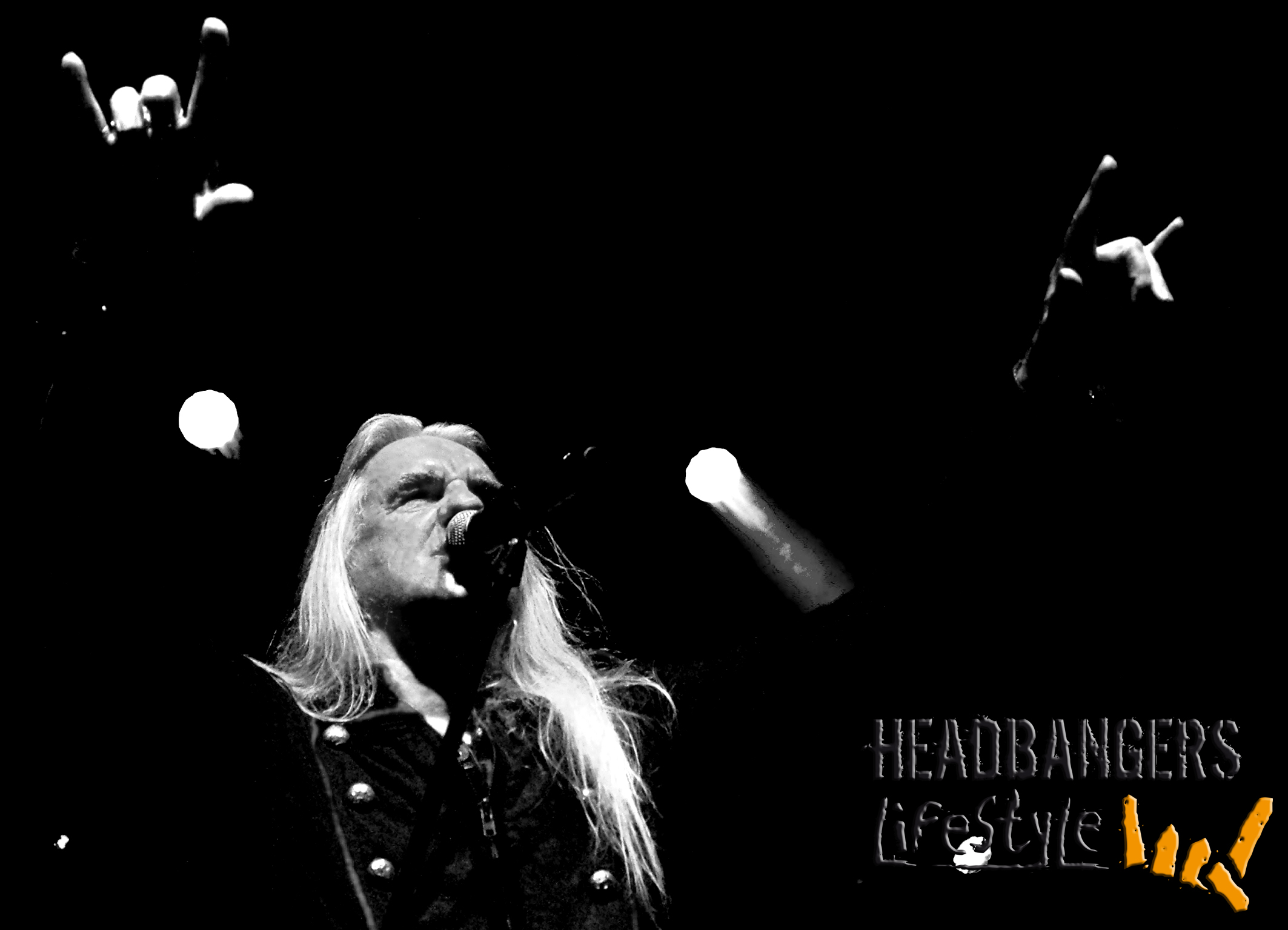 Saxon

Saxon still carries the flag of heavy metal and is by far the most consistent band in metal history. They lay down the law for over 40 years straight and tonight have proven they can easily add another decade tot heir illustrious spanning career. Saxon is alive and still hit like a thunderbolt!
—
Review by Edwin van Hoof in co-operation with William Holtackers
All photos by Edwin van Hoof