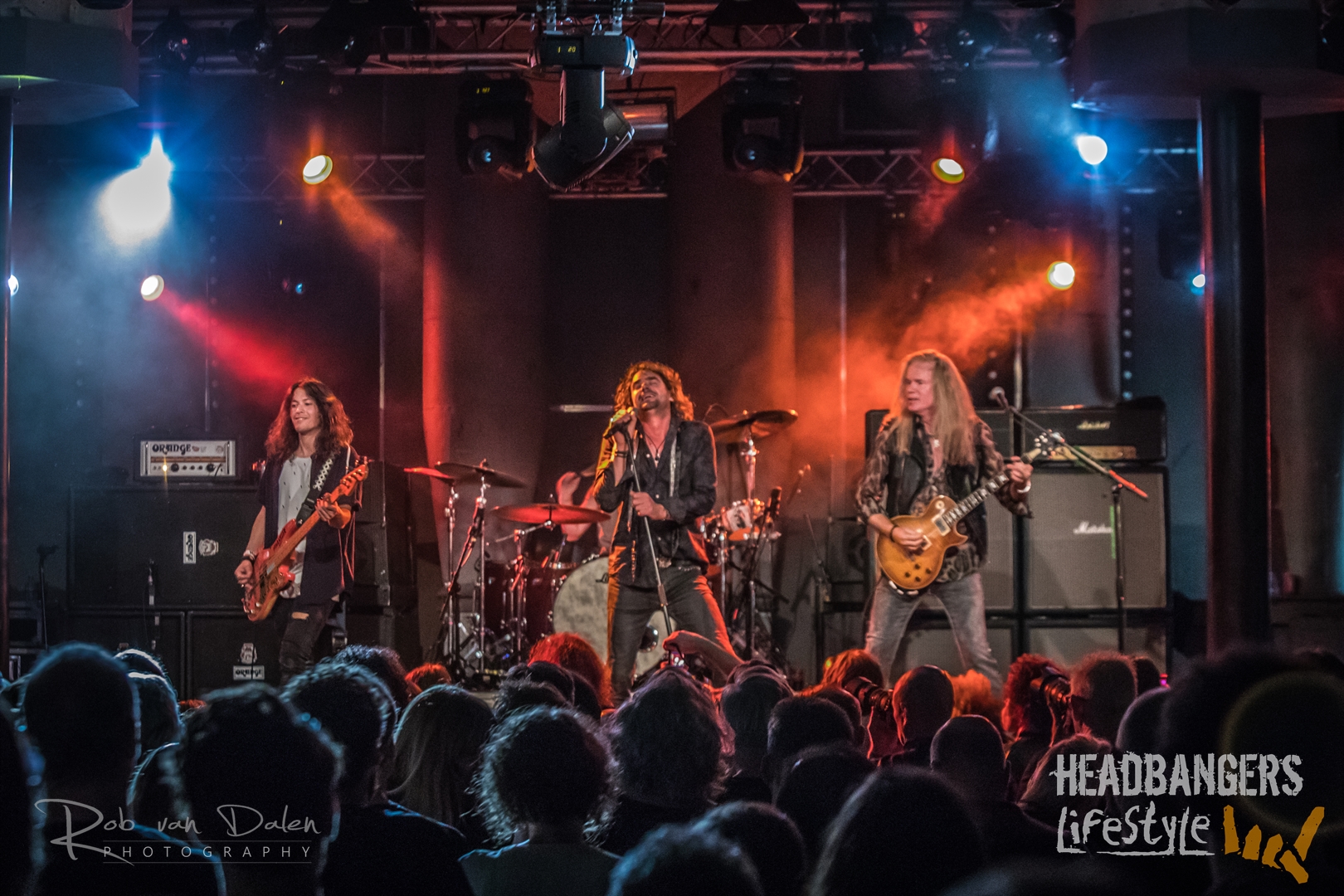 VANDENBERG'S MOONKINGS (VUUR & 7 Miles To Pittsburgh)
ROTTERDAM ROCKS XL-Rotterdam (NL)-Maassilo-13 October 2018
The Maassilo in Rotterdam was the place to be for those who still have a passion for some good old unadulterated Heavy Rock and Metal. Three of the finest Dutch leading acts within these genres were carefully handpicked and selected by the Rotterdam Rocks organization to treat the audience on a beautiful night to remember. It was the first time that the Maassilo was booked for this occasion and beside some slight miscommunications from the organization [which resulted in the long queue outside and inside the venue before the main hall was opened] this proved to be an excellent choice. Incidentally, this was only a minor blemish on the excellent organized first edition of the up-scaled Rotterdam Rocks XL event.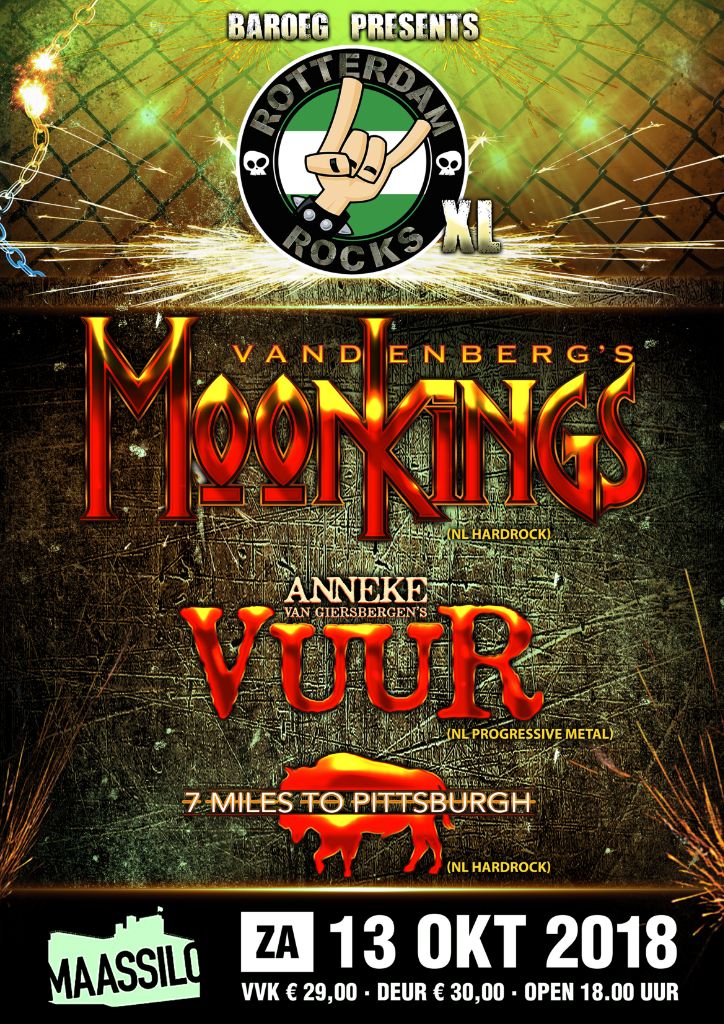 The up-and-coming 7 Miles To Pittsburgh opened the ceremonies with the hard stomping ,,Same Size Soul'' from their eponymous debut album and it was clear from the get go that 7MTP were here to take no prisoners! Sure, 7MTP had the best sound of the evening [which is quite rare for an opening band] but they also had [in my humble opinion] the best song material to choose from. What set 7MTP apart from the other two acts is the sheer diversity in their song writing without losing their unique and distinctive sound. You simply can't go wrong with songs such as ,,Pittsburgh'', ,,Lost and Found'', ,,Jambalaya', ,,Damn'', ,,Earth Dance'' and ,,Imaginary Friend'' to win over a crowd who craves some good old Heavy Rock with some modern twists. An excellent rendition of Rush's ,,Tom Sawyer'' probably won over the rest of the audience who were still in doubt of the musical capabilities of 7MTP. This phenomenal show ended with a new song, entitled: ,,Think'', which will probably be included on their forthcoming sophomore album which is due to release in April 2019.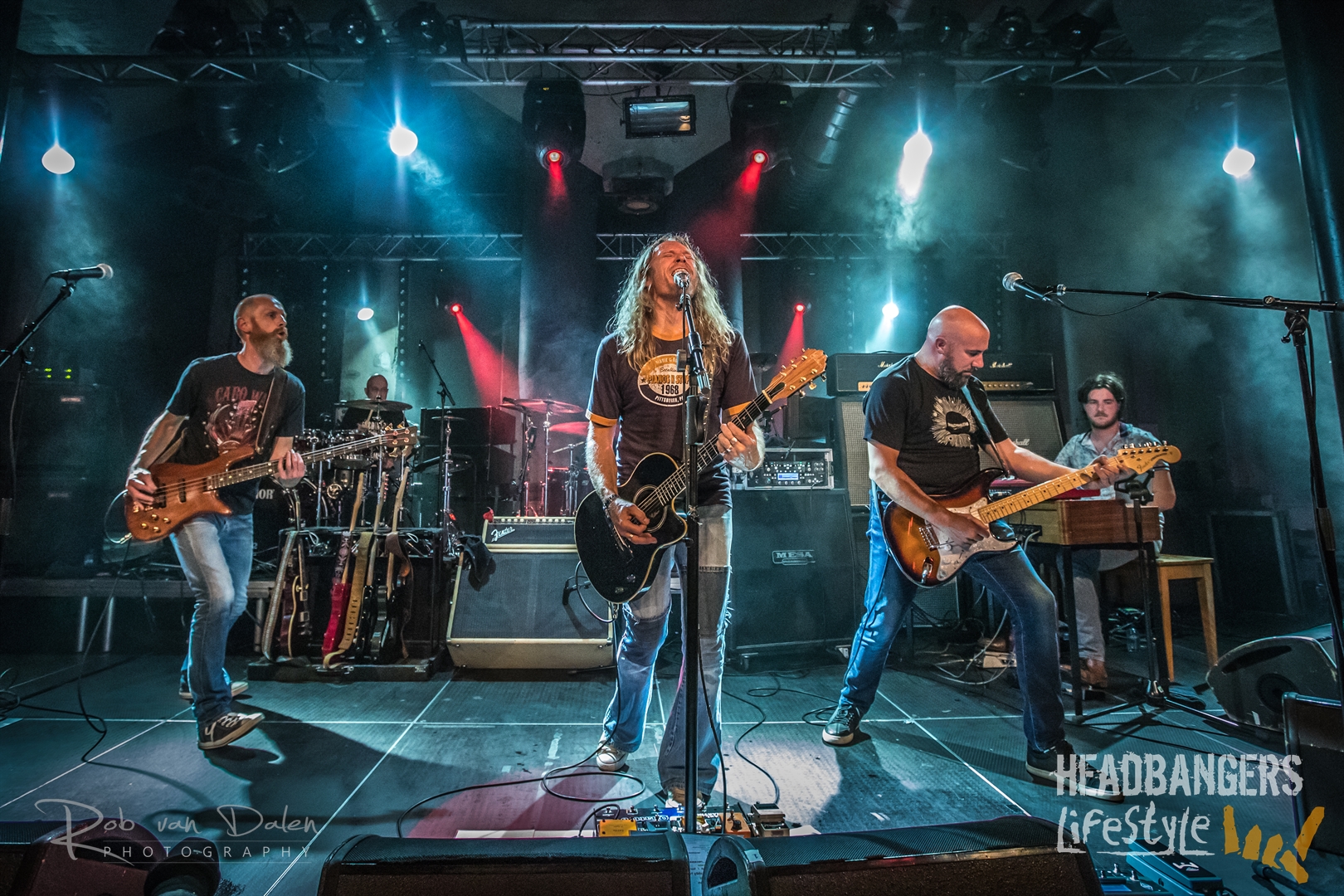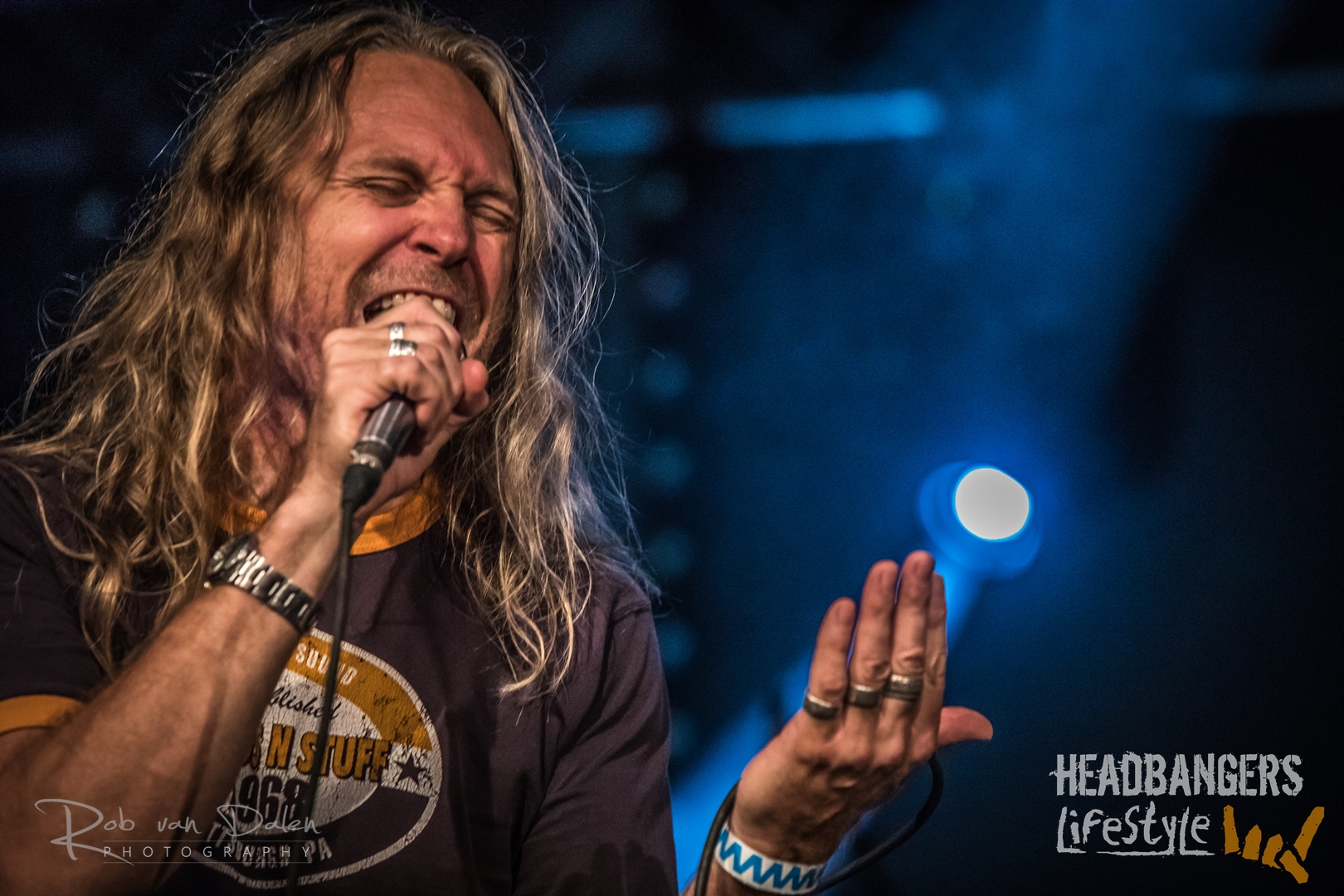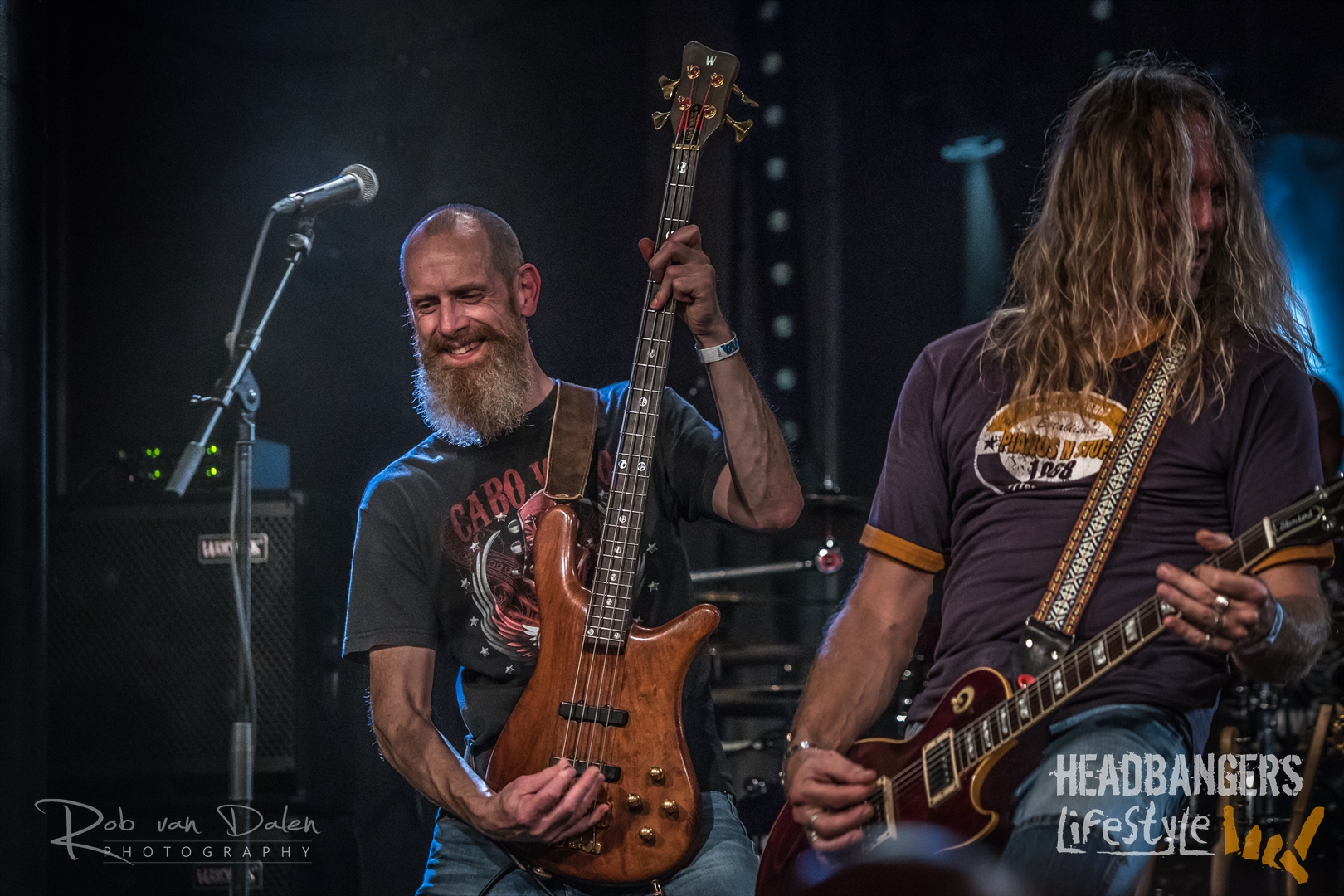 7 Miles To Pittsburgh

This was the first time that I saw Anneke van Giersbergen's VUUR performing indoors and I have to admit that they made a far better impression on me than the two previous festival shows I've seen so far of them. Some bands simply thrive better during a hot and sweaty club show than as a festival opener in broad daylight, despite the pyro. The heavy show opener ,,Time – Rotterdam'' seemed appropriate given the fact that this show was held in Rotterdam. I'm aware that this is their regular show opener but this location seemed to give this song just a little extra. Unfortunately the sound wasn't as crispy and clear as during the 7MTP set but the band including Anneke played their collective asses off and made the best of it. Seven songs from their debut album 'In This Moment We Are Free – Cities' were played to satisfy the enthusiastic audience but the greatest crowd reaction came when VUUR played covers of Devin Townsend Project's ,,Fallout'' and The Gathering's ,,On Most Surfaces (Inuït)'' and the encore ,,Strange Machines''. Despite the aforementioned lesser sound this was an excellent performance and VUUR definitely proved to be a live act to be reckoned with.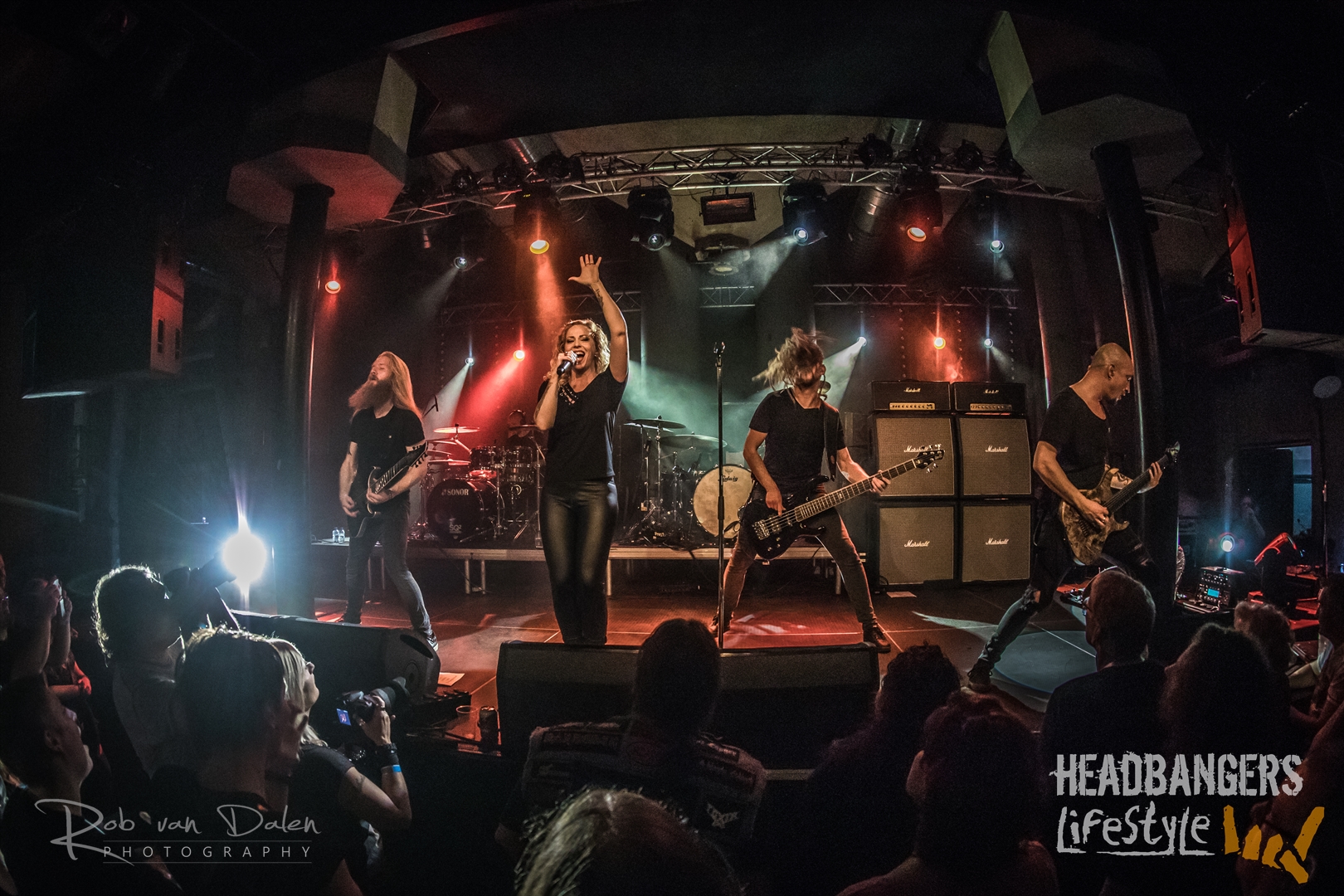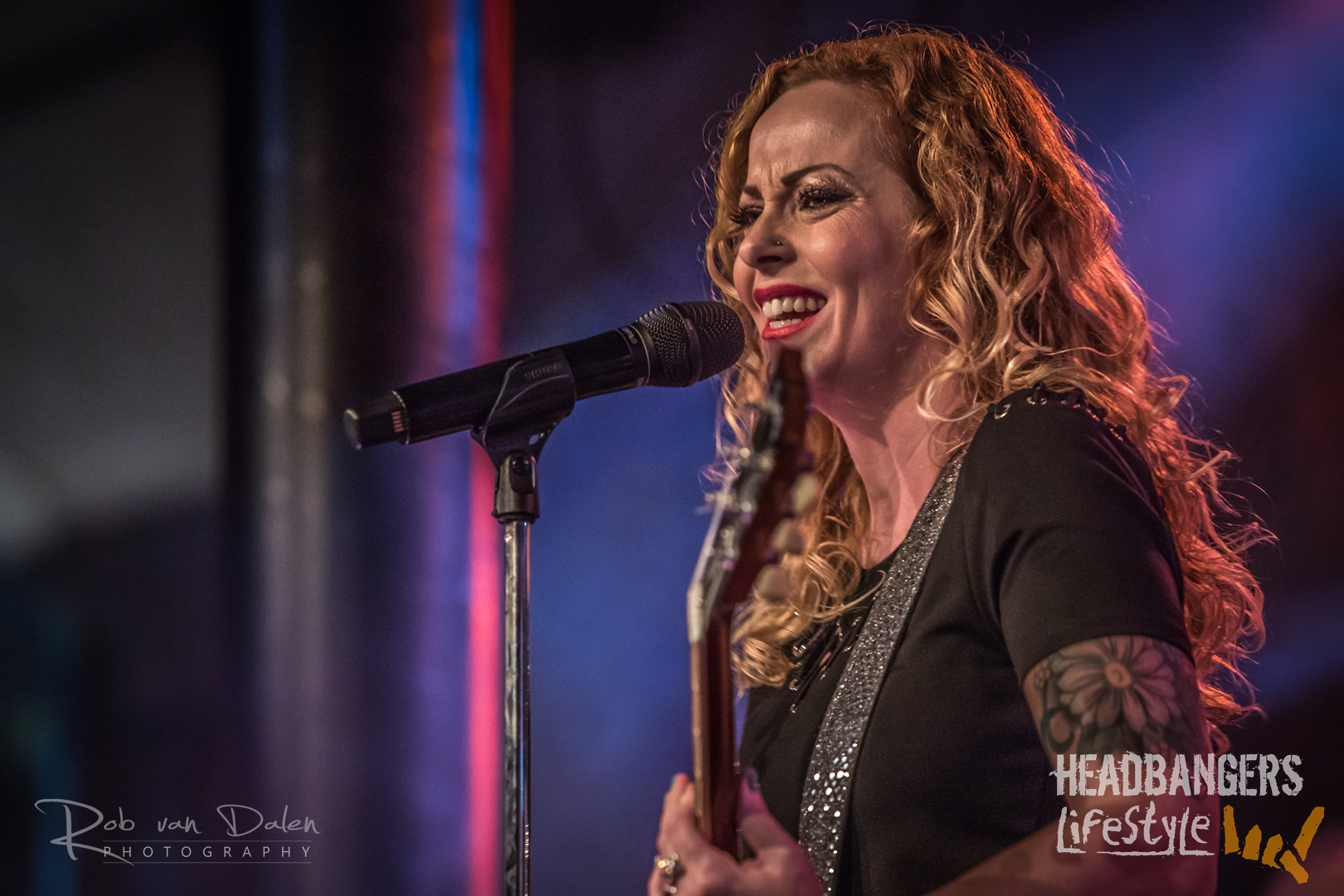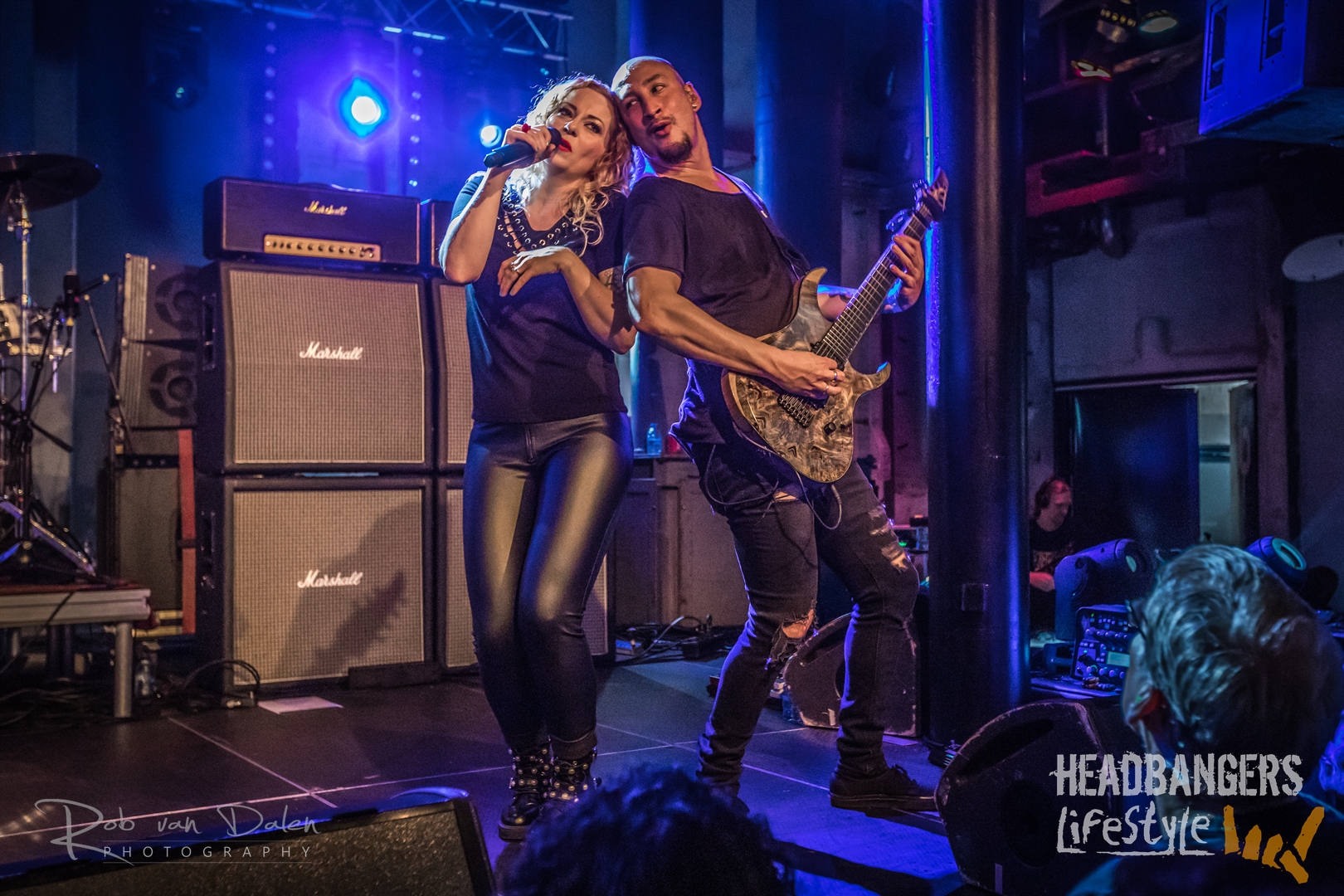 VUUR

Headliner Vandenberg's MoonKings did what they do best; they came, they saw and they kicked some serious butt! Despite some minor sound issues [there was some annoying crackle noticeable in Adrian's guitar during the softer parts] Vandenberg's MoonKings were a worthy headliner for this year's edition of Rotterdam Rocks. Personally I would like to see some slight changes in their set list considering the obligatory covers but I'm well aware that these were Adrian's biggest hits and even during this show I saw people going mentally berserk [in a good way] during ,,Burning Heart'' and ,,Here I Go Again'', so who am I to judge. One of the high lights of their show was the beautiful acoustic set were Jan and Adrian played ,,What Doesn't Kill You'' and Whitesnake's ,,Sailing Ships''. These two songs gave us a sneak peak of the forthcoming acoustic album 'Rugged and Unplugged' which is due to release in November. The Moonkings closed their set in style with a rare rendition of OneRepublic's ,,Love Runs Out'' and an absolute frenzied rendition of Led Zeppelin's ,,Rock and Roll''.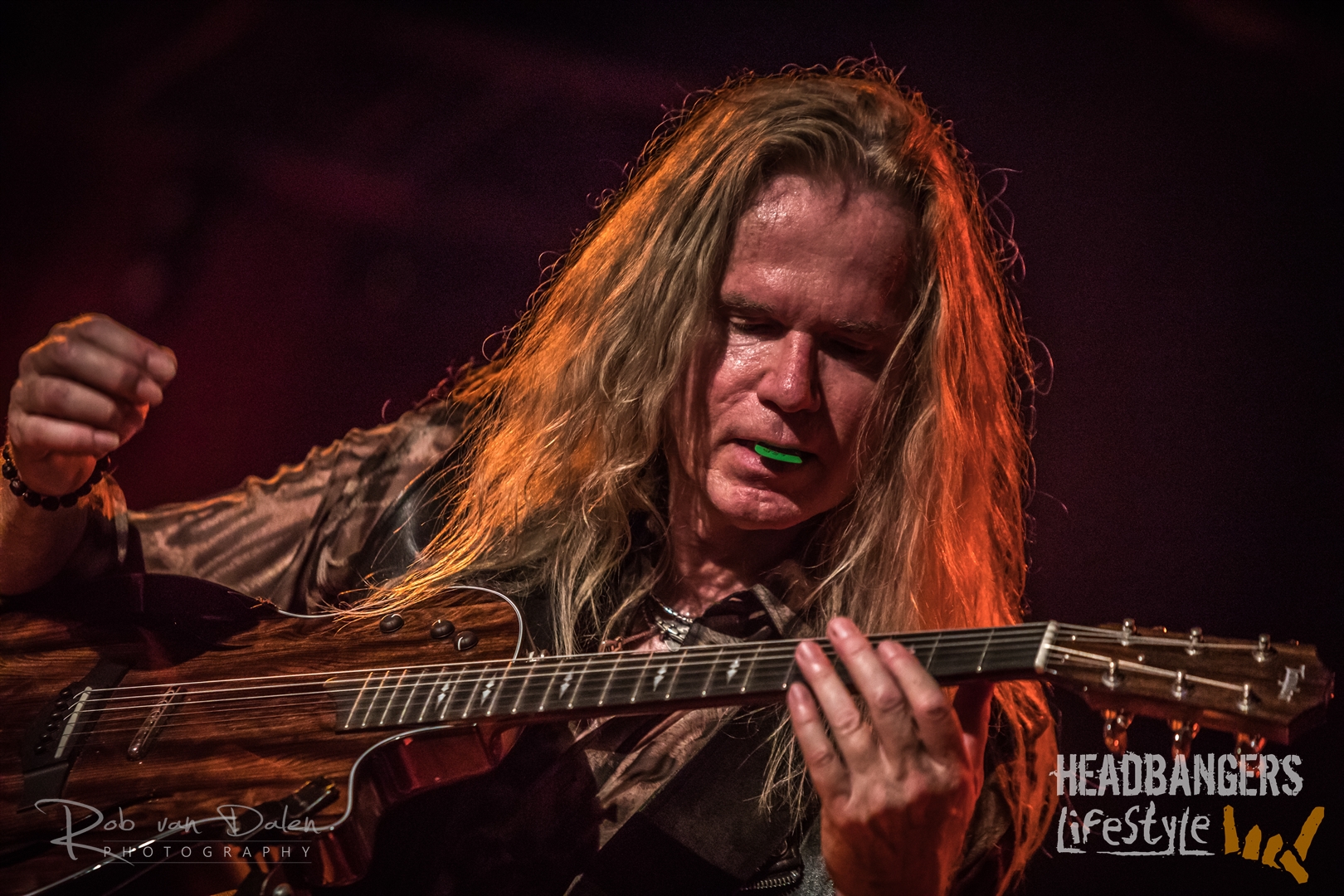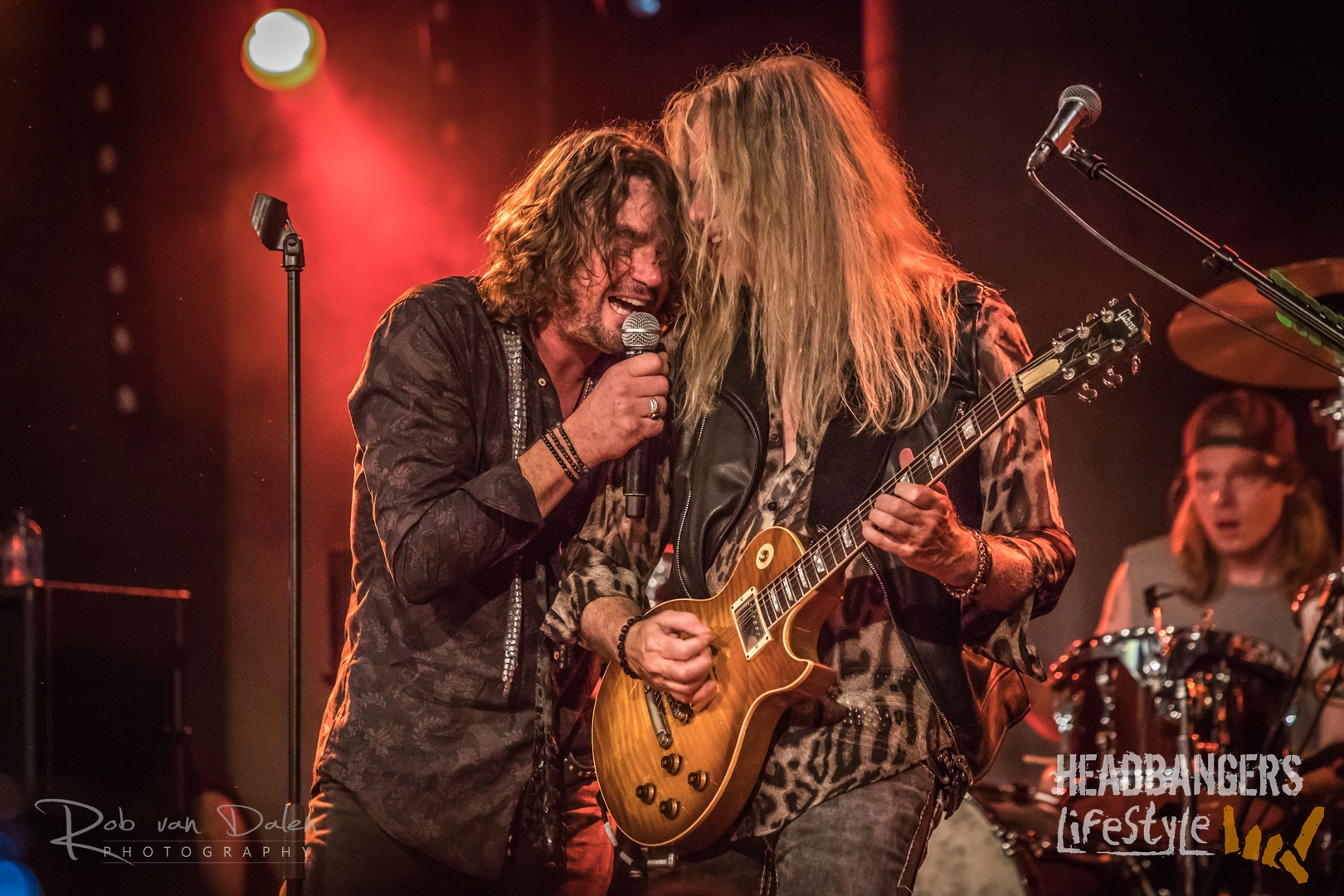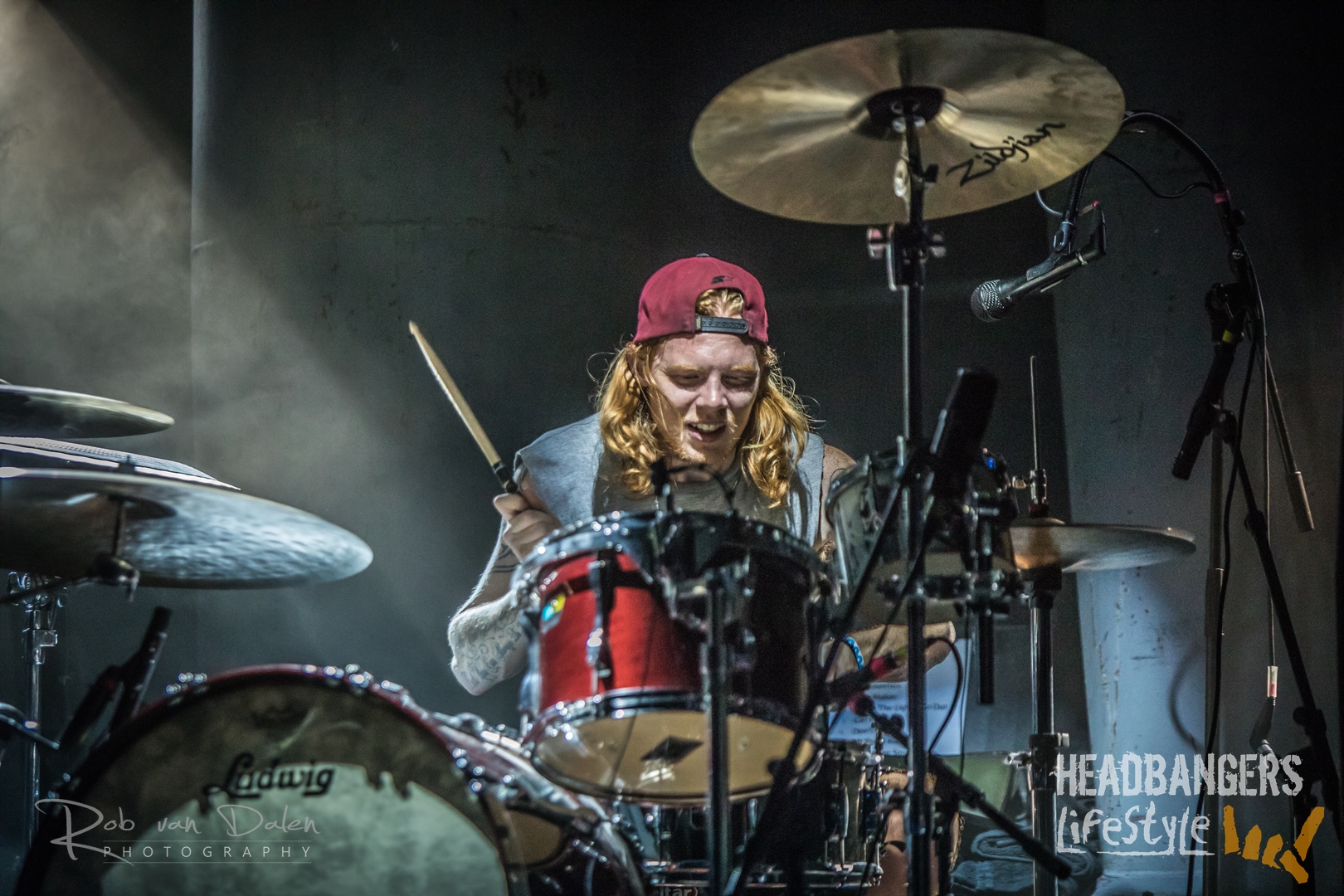 Vandenberg's MoonKings

All Photos by Rob van Dalen Photography
—
SETLISTS
7 Miles To Pittsburgh
1. Same Size Soul
2. Pittsburgh
3. Lost And Found
4. Jambalaya
5. Damn
6. Earth Dance
7. Tom Sawyer (Rush cover)
8. Imaginary Friend
10. Think (New Song)
Anneke van Giersbergen's VUUR
1. Time – Rotterdam
2. On Most Surfaces (Inuït) (The Gathering cover)
3. My Champion – Berlin
4. The Storm (The Gentle Storm cover)
5. Days Go By – London
6. The Martyr and the Saint – Beirut
7. Freedom – Rio
8. Fallout (Devin Townsend Project cover)
9. Your Glorious Light Will Shine – Helsinki
10. Reunite! – Paris
11. Strange Machines (The Gathering cover)
Vandenberg's MoonKings
1. Tightrope
2. Nothing Touches
3. Line of Fire
4. Angel In Black
5. Close to You
6. Burning Heart (Vandenberg cover)
7. What Doesn't Kill You
8. Sailing Ships (Whitesnake cover)
9. Judgement Day (Whitesnake cover)
10. Drum Solo
11. Reputation
12. Here I Go Again (Whitesnake cover)
13. Lust And Lies
14. Love Runs Out (OneRepublic cover)
15. Rock and Roll (Led Zeppelin cover)