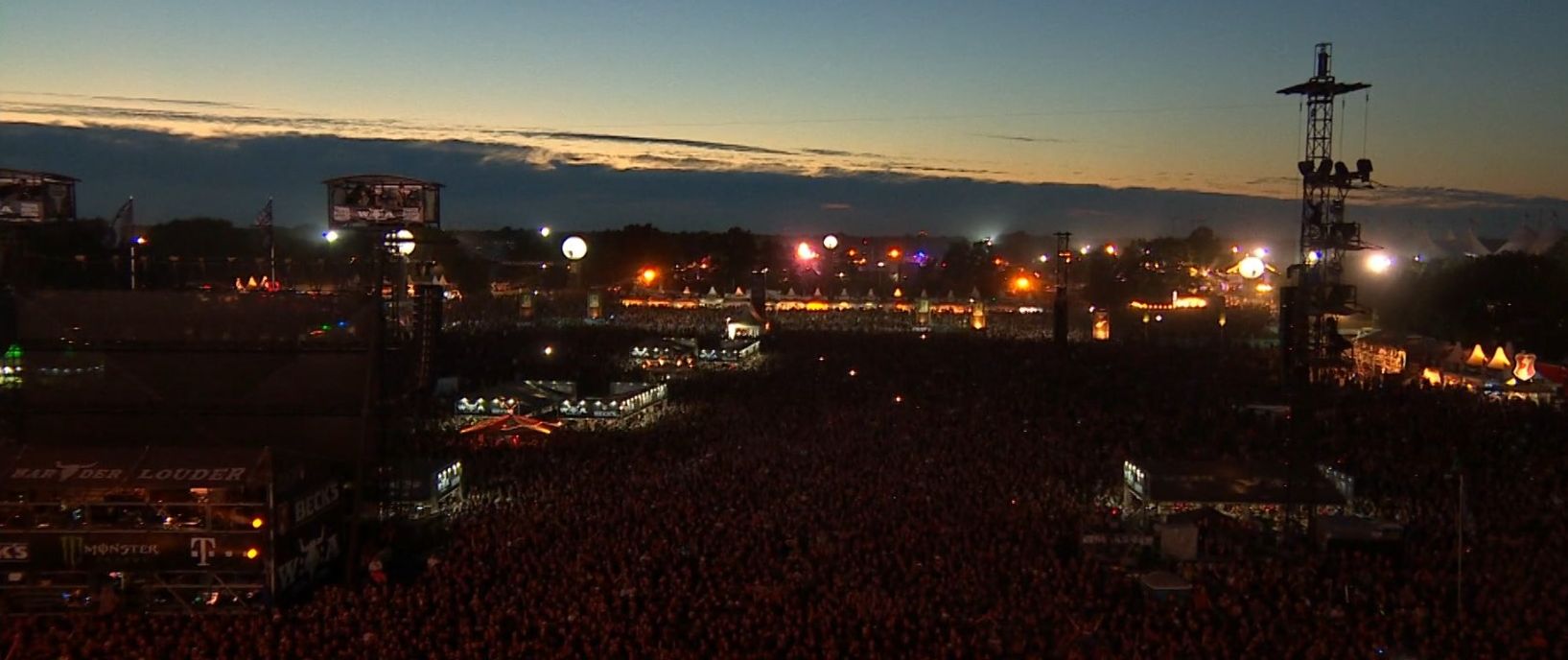 WACKEN WORLD WIDE 2020
The World's Biggest Mixed Reality Metal Festival
When it was clear that Wacken Open Air 2020 was out of the question, the organisers came up with a unique plan. If the people can't come to Wacken, why not bring Wacken to the people? And so the idea for Wacken World Wide was born. In about a month time they put together a programm worth attending, and even better: it is for FREE. WWW2020 became the first mixed reality metal online festival with exclusive performances and a spectacular new XR stage. The festival took place during the original planned period from last Wednesday July 29th until Saturday August 1st. Beforehand HeadBangers LifeStyle already paid attention to this initiative and we all were very curious to see what WWW2020 had in store for us. Raymond Helebrand installed himself in front of the TV and computer to not miss a second and this is what he came up with. Some additional texts by Ron Willemsen.
DAY 1 – Wednesday 29 July 2020

Wacken World Wide, the world's biggest mixed reality metal festival started on July 29th at 5 P.M. European time with its four day live stream.
Markus Kavka is the host. And as this is a stream that will be watched all over the globe it might be a good idea to do the talking in English, just because most people just do not speak and understand German so well. Other than that the sound & visuals we get with the stream is great. And after some start up hiccups in the first two hours, the streaming was very stable.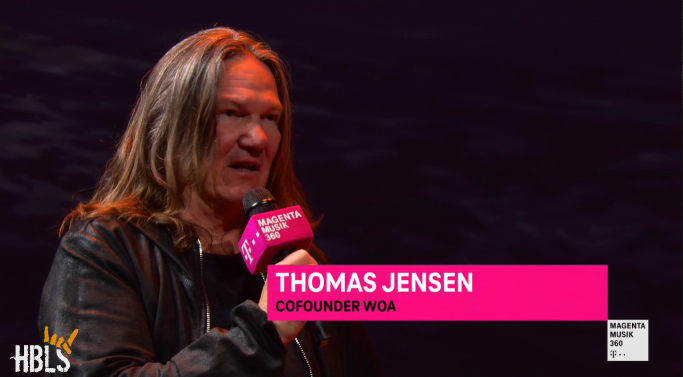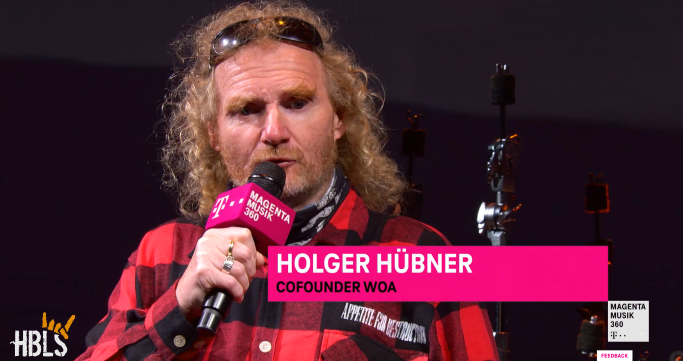 In the introduction we see Wacken fans from all over the world. Chile, Sweden, New Zealand, Germany, Colombia, Sri Lanka, Canada, Finland, Argentina, Mexico, Russia, USA, Botswana, UK, Brazil, Bangladesh to name a few.
The first hour is for several bands, from all over the world, that attended (or should attend) the Wacken Metal Battle. At the end a short interview with the two men behind this festival: Thomas Jensen and Holger Hübner, who spoke about how and why they came up with this streaming event.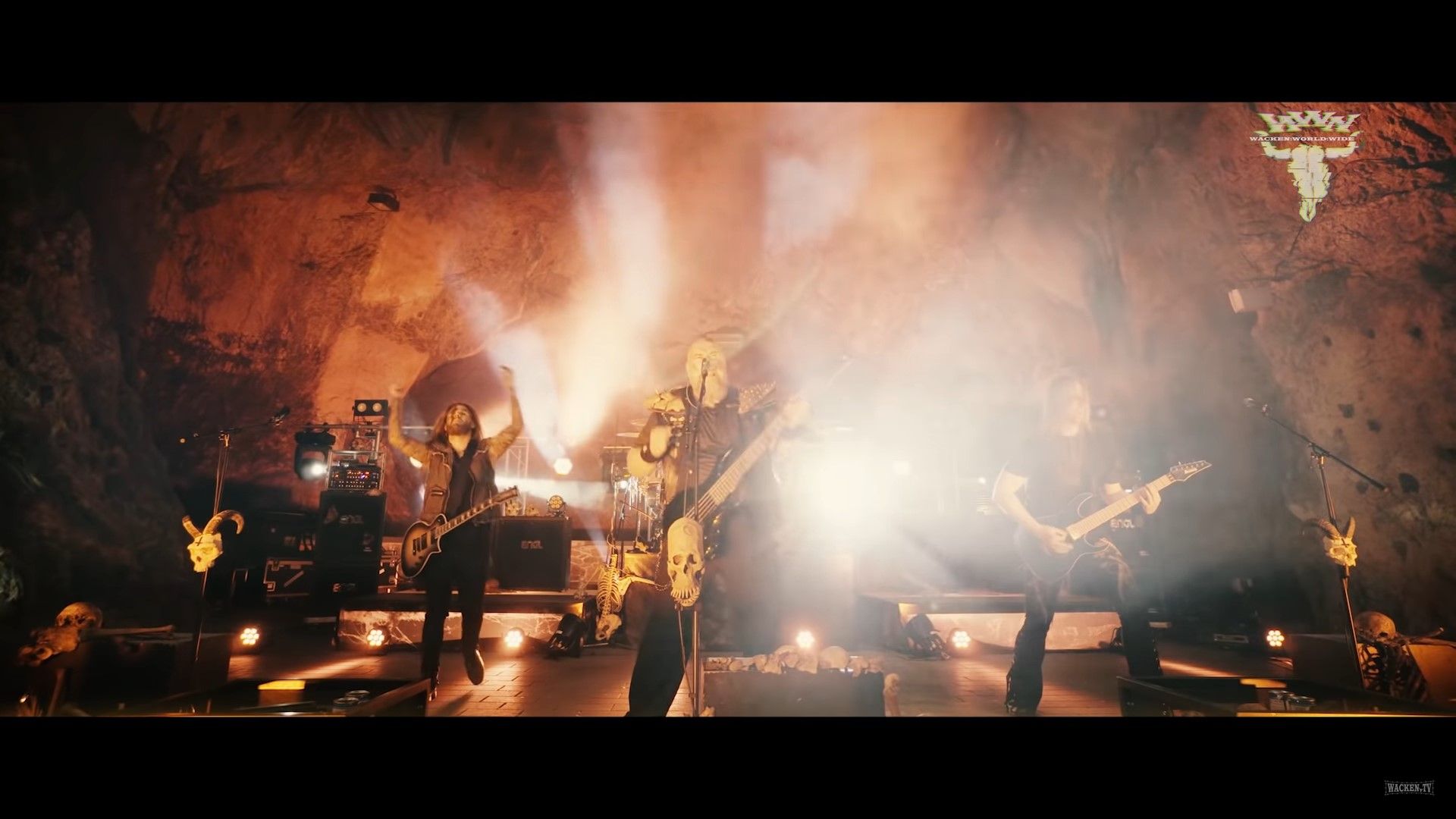 The first gigs that were served were from Motor Sister (a gig shot in the Whiskey A Go Go, Los Angeles) and the German veterans Rage, who built up their stage in a cave in Germany.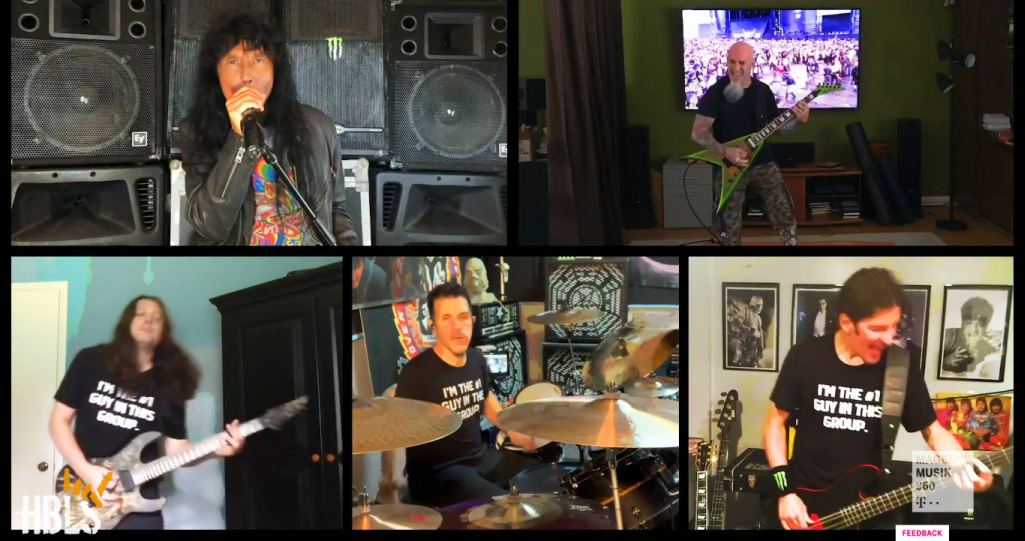 Anthrax did not perform on a stage, instead they did a video conference and played 3 songs, including ,,Madhouse". Very enjoyable and well done.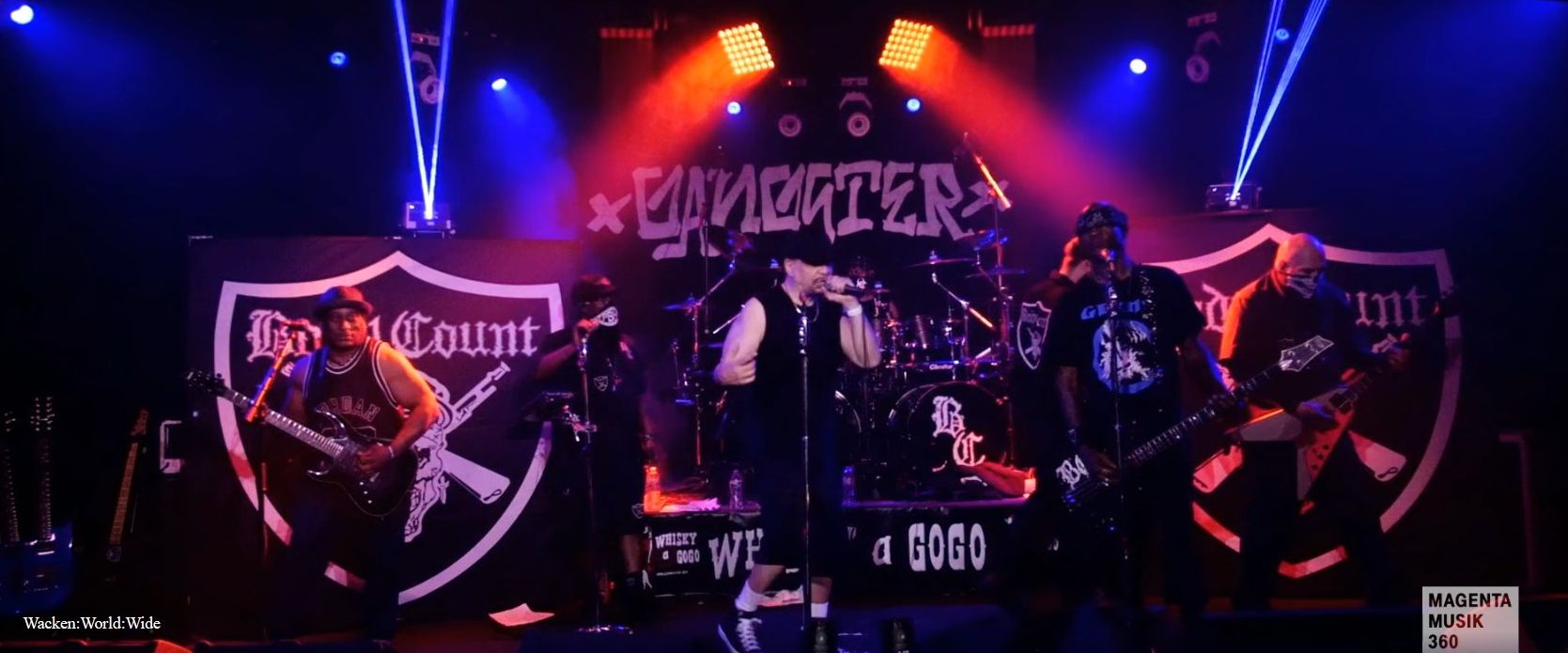 Body Count, featuring ICE-T (also filmed in the Whisky A Go Go, L.A.), played a one hour set. And to be sure everyone is still awake they hit off with Slayer's ,,Raining Blood". The set also included the controversial ,,Cop Killer" and even without an audience it was totally driven and convincing.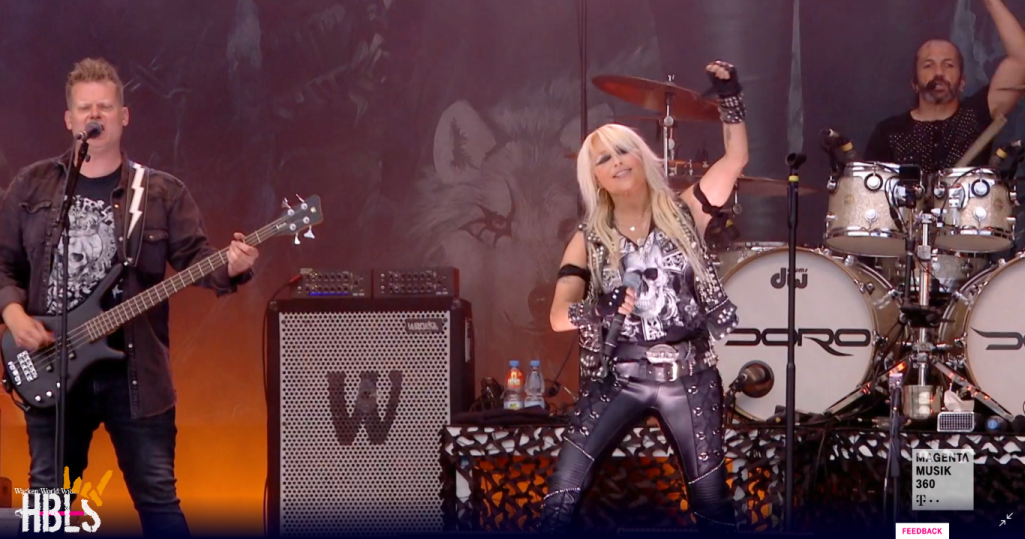 German Metal Queen Doro, is also somebody who cannot be missed on the Wacken live stream. The gig is captured in the city of Stuttgart, in a car cinema setting, so actually this was the first gig we saw with an audience.
Today's shows were mostly captured specially for this live stream. And it is fair to say that all the bands are glad to perform. All bands did try to create something special for the fans. And I have to say the Wacken organization did a great job how they build the line-up with stylewise something for everybody.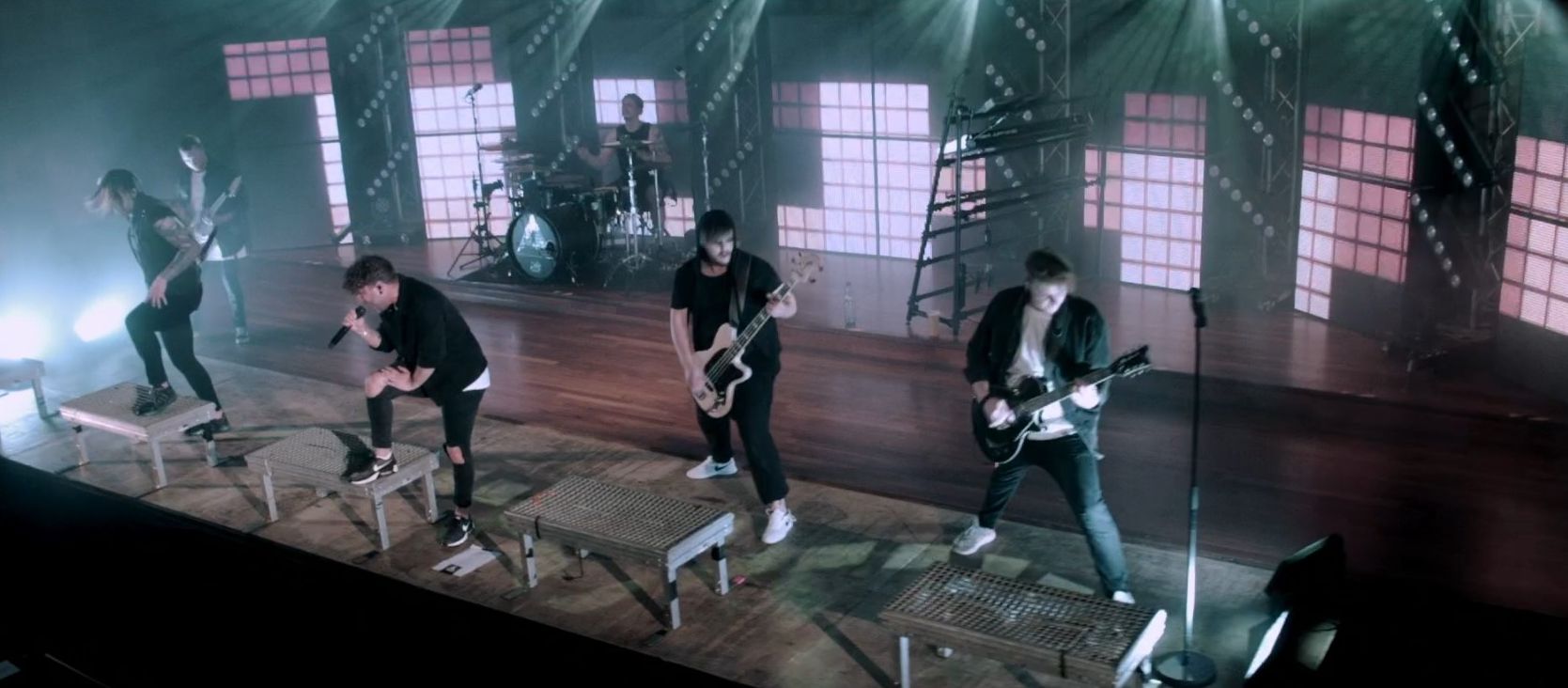 Eskimo Callboy (funny how they pretended to be on a stage in Wacken while in reality it was recorded in an empty Europahalle in Castrop-Rauxel), Trivium and Long Distance Calling were next.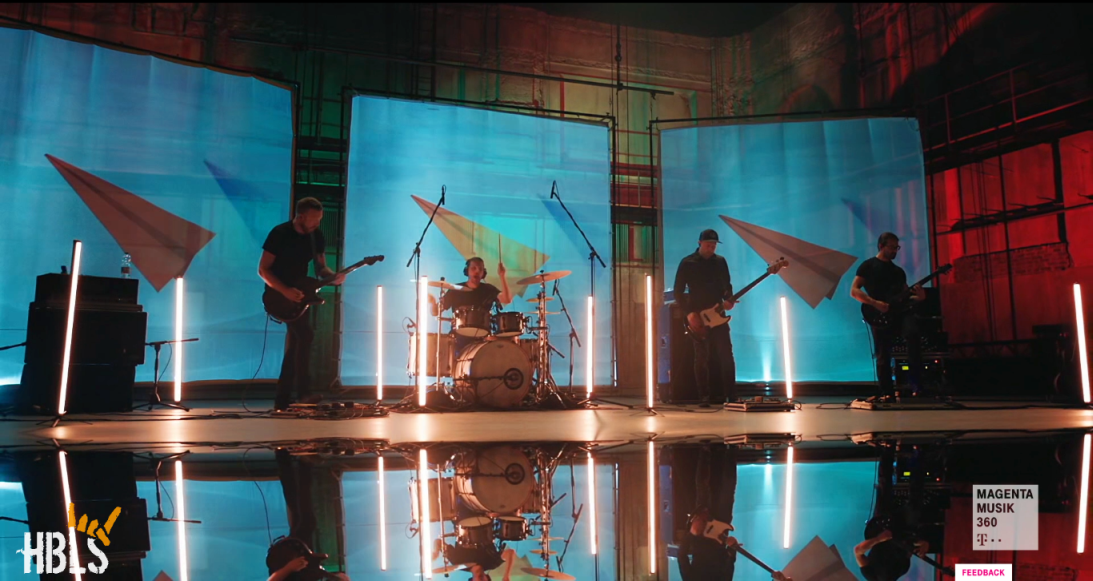 Long Distance Calling stood out for me personally, with their charismatic and atmospheric instrumental songs, excellent musicianship, crystal clear sound and a beautiful setting with great visuals on three big screens. Impressive performance.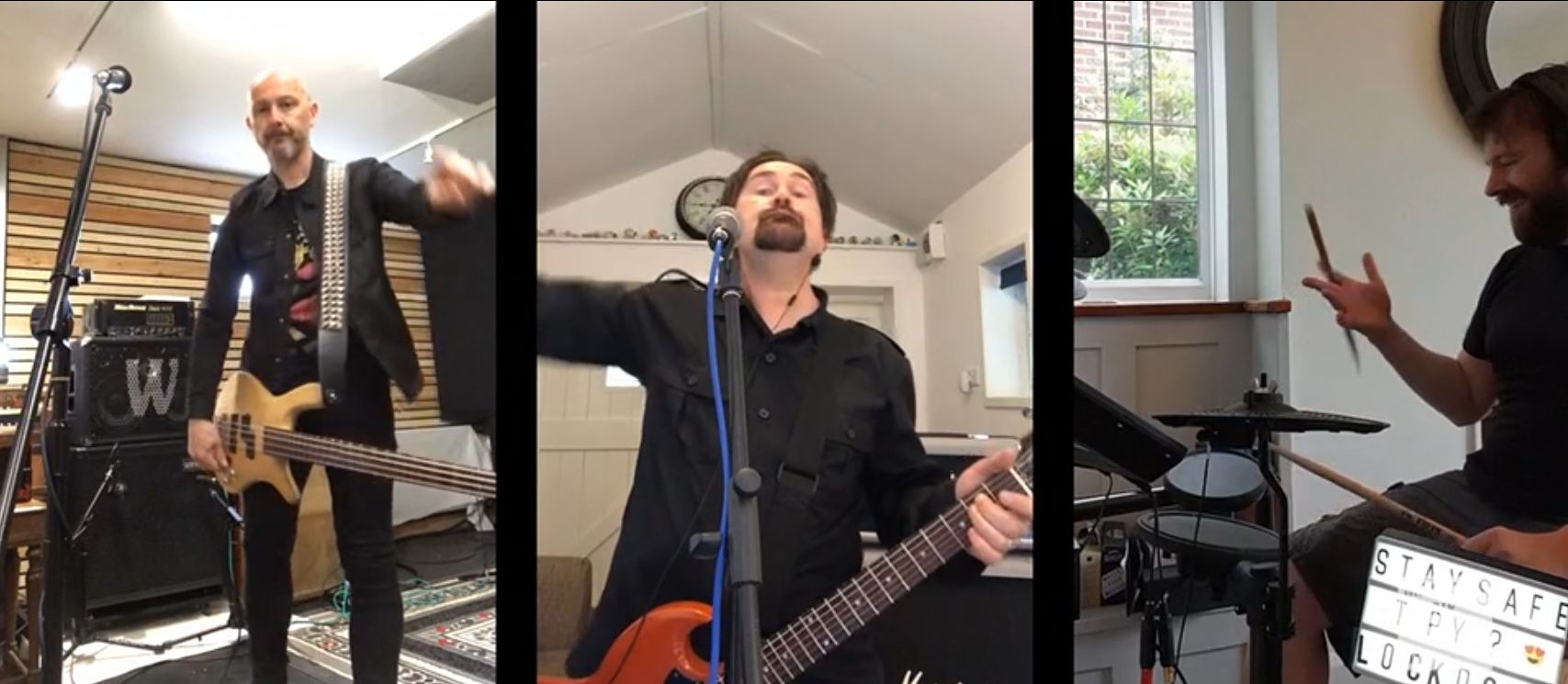 Therapy? also have made a conference video, while Ricky Warwick of Black Star Riders plays a few acoustic pieces. While Diamond Head's Brian Tatler gives us a little guitar clinic by showing us how ,,Am I Evil" is played.
Mike LePond (Symphony-X/Silent Assassins/Ross The Boss/DeadRisen) explains how and why he became a bass player and how Gene Simmons and Geezer Butler influenced him before his contribution was cut short because of a malfunction of the stream.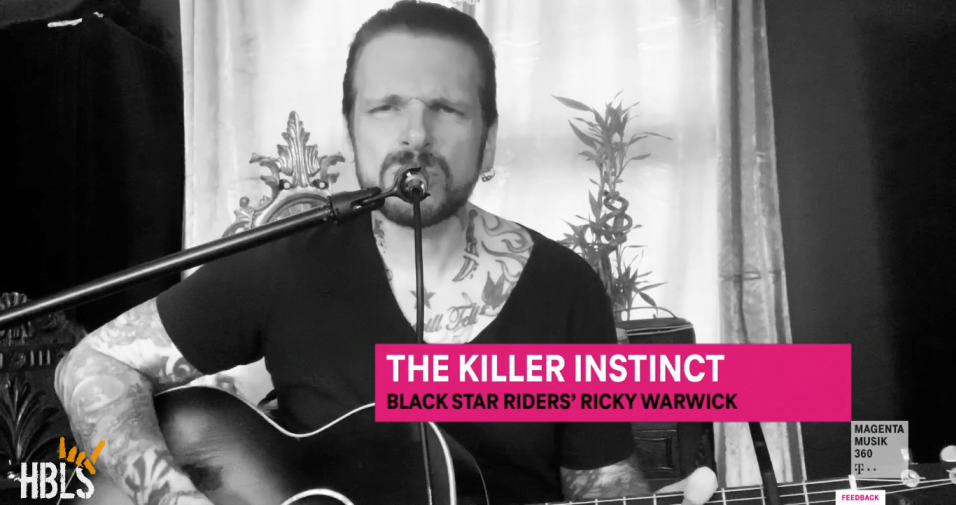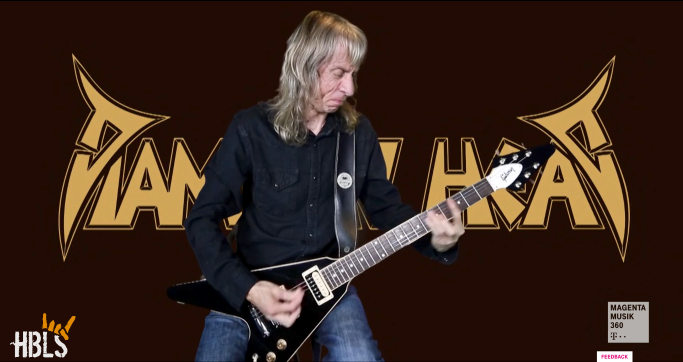 After everything was back on Soen guitar slinger Cody Ford played along with the track ,,Rival'' before it was time to end the first day with the folk/death metal band from Mexico: The Rise Of Mictlan.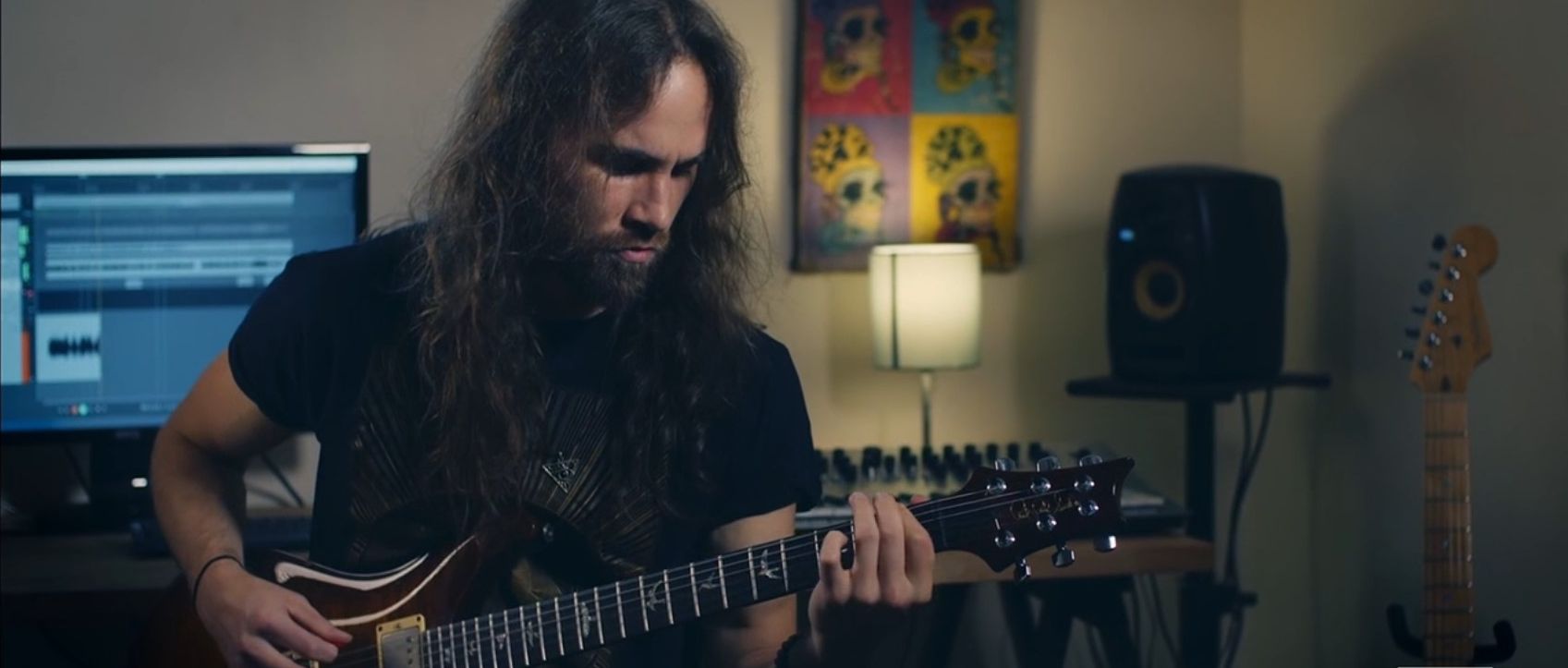 DAY 2 – Thursday 30 July 2020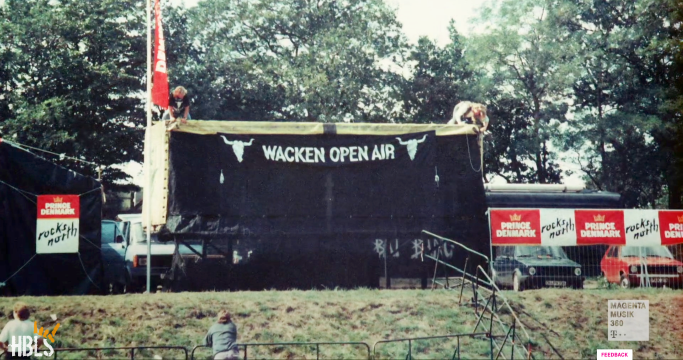 Day 2 of the Wacken World Wide live stream starts at 4 P.M. sharp with a look back at the festival's start in 1990. And for sure, it all did not start with a blast because for the first years the organization struggled with losses and had to find the energy to keep on going.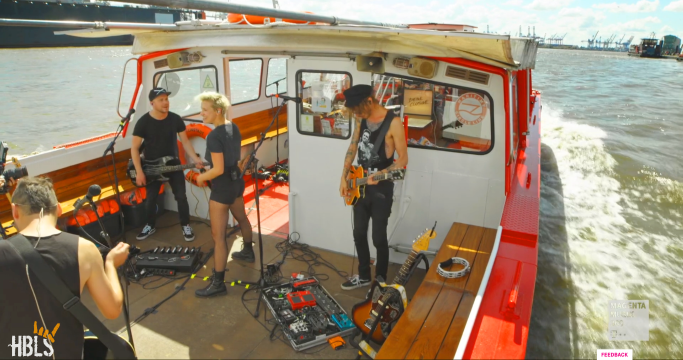 Today's first live gig is from the German 'punk' rockers Deine Cousine. For this special event they took us on a little cruise through the harbor of Hamburg. This high energy rockers, lead by power woman Ina Bredehorn, played a highly entertaining gig. Followed by the German female fronted Death Metallers from Critical Mess.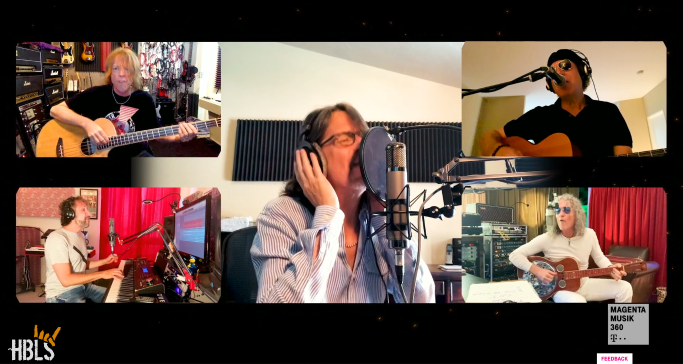 Exclusively for Wacken Foreigner recorded an acoustic version of the classic ,,Hot Blooded" and we get to see some footage from a gig filmed at a New York theatre.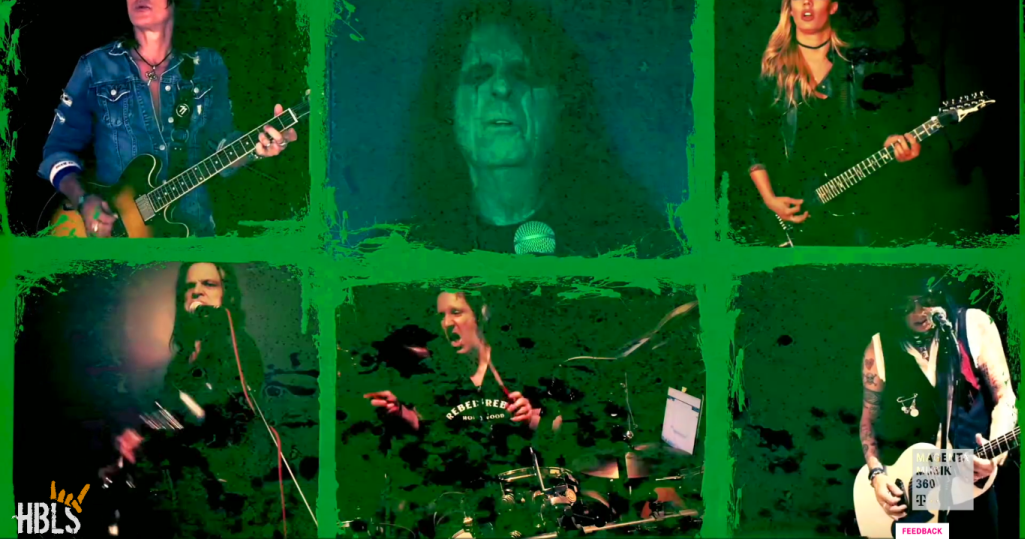 Next in line is horror master Alice Cooper. Besides the live footage from his 2013 gig at Wacken, we get a special made conference style version of ,,School's Out" and his latest release ,,Don't Give Up".
Compared to yesterday's stream, there seems to be quite some work done in the stability department, because the image does not freeze several times an hour anymore.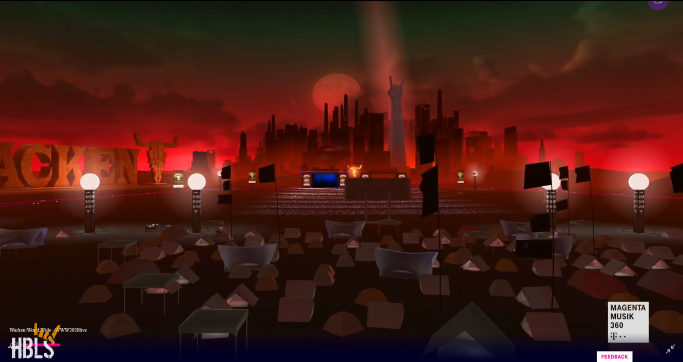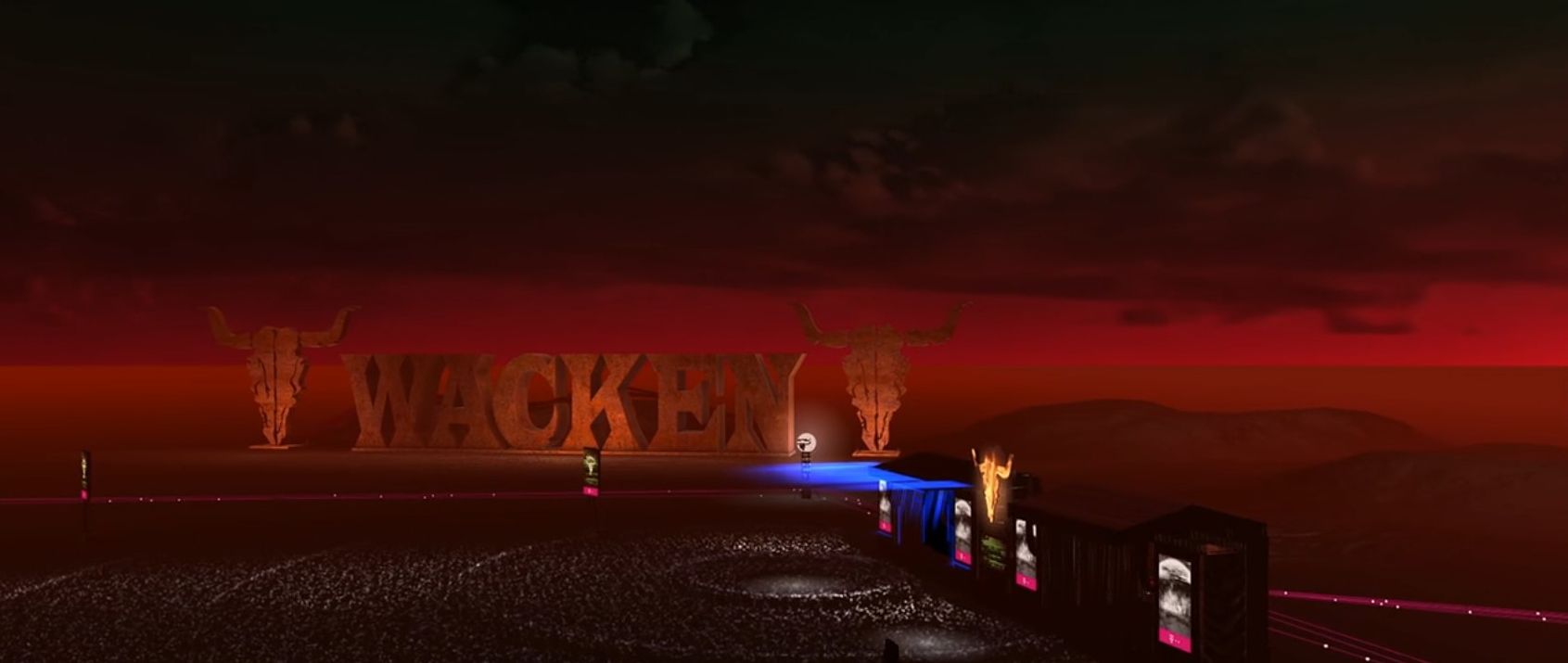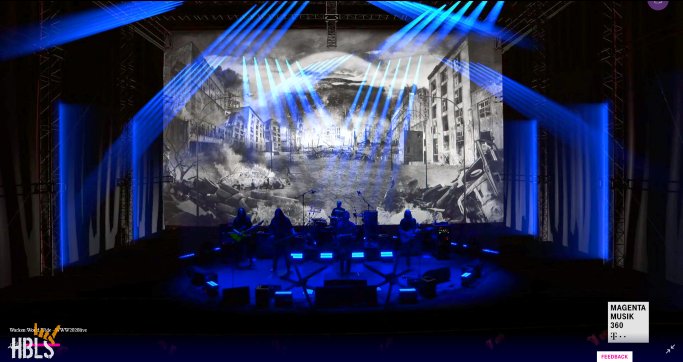 After the 2012 In Flames show from the Wacken archives it is time for the world wide premiere of the mixed reality XR stage. The first band that takes this stage is Heaven Shall Burn.This show was pre-recorded, especially for this streaming event. The whole idea is to create a setting, as if the band was standing on the real Wacken stage. The Wacken environment is re-created in virtual reality. It must have been a hell of a job, but they did it.
The question that comes to mind is how the actual feeling for the performing band is. But one thing has to be said. HSB plays a kick ass set and was visibly happy to perform again.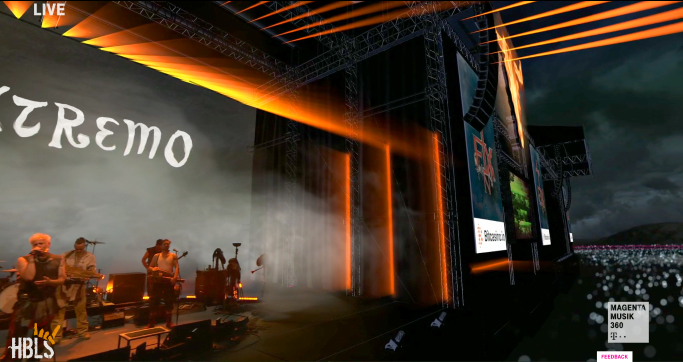 The second band today on the XR stage is In Extremo and that show is a real live (not pre-recorded) show. The sound is great, the picture quality is amazing. Lead singer Michael Robert Rhein really makes an effort to interact with the audience. Horns up for him, because it must be very hard to be in a mixed reality studio and not being able to physically interact with the audience.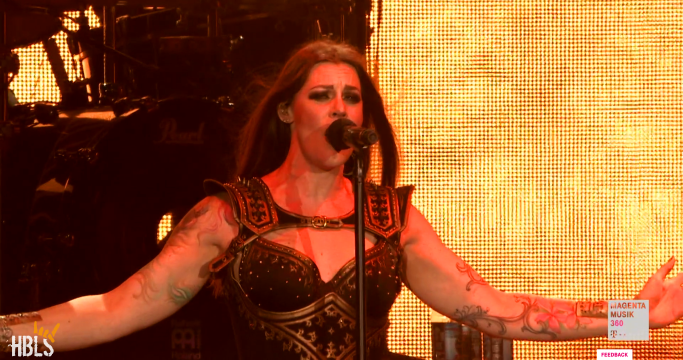 Next up is Nightwish with their 2018 Wacken show. Of course it is unthinkable that they wouldn't be present, even if it is a streaming event. They played the holy ground 8 times already and we know they are always on top of their game.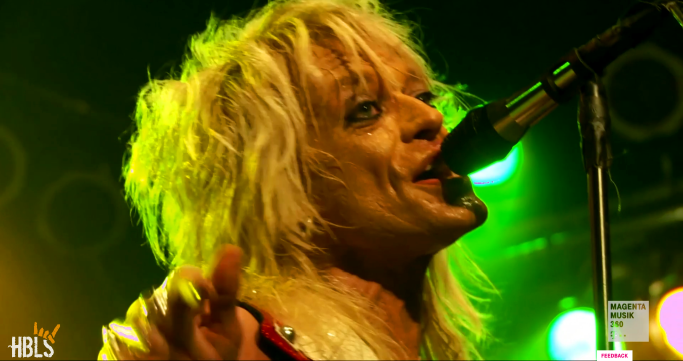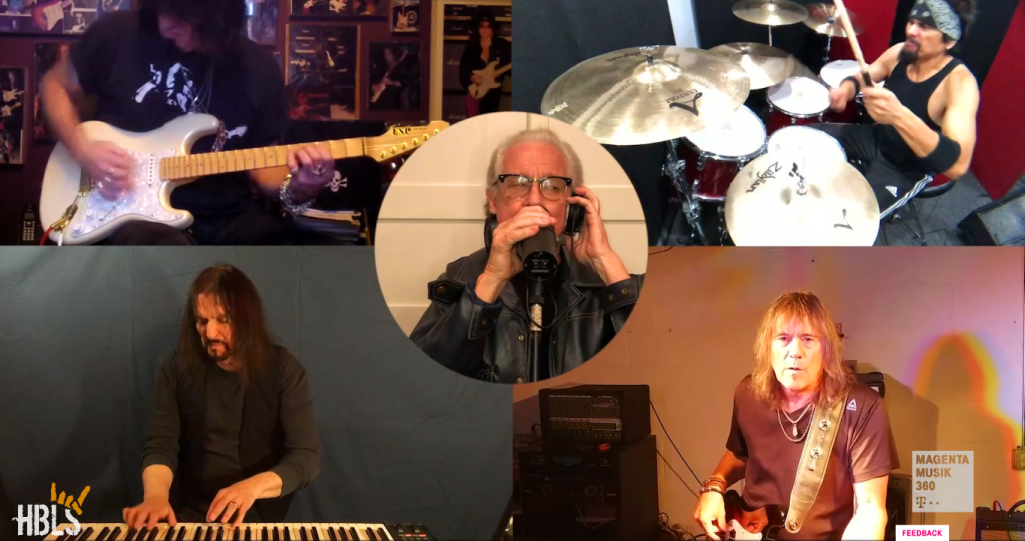 Another punk-glam-rock treat on the Wacken menu is a gig from Michael Monroe, that was filmed in Finland while Mr.Graham Bonnet's Alcatrazz did record a special video conference performance, where we got to hear three songs of the new release 'Born Innocent'.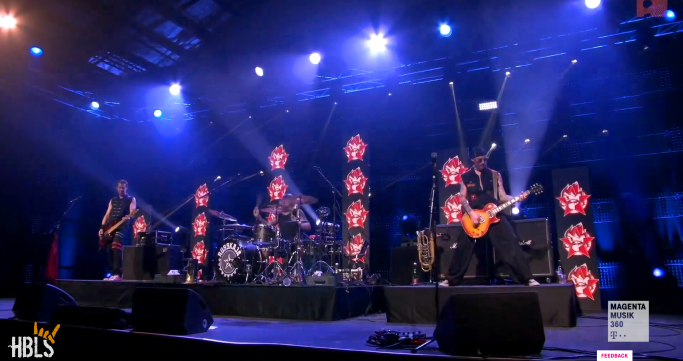 The last band for today is Russkaja, from Vienna, Austria, who also specially filmed a performance for this Wacken stream. Regular Wacken attendees probably know this band because they also have played the festival several times. It is most certainly a special outfit. That being said, it is absolute not my cup of tea. But that's also the beauty of Wacken, there is always something for everybody.
DAY 3 – Friday 31 July 2020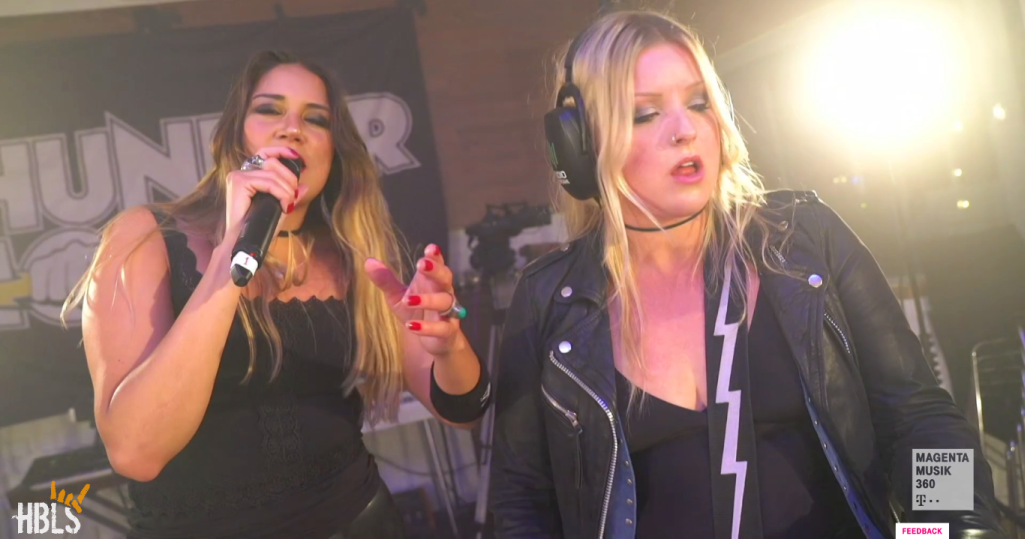 The first highlight on day 3 of the Wacken World Wide livestream is from the Swedish high voltage rock and rollers of Thundermother. On the release date of their new album 'Heat Wave', the ladies celebrate this occasion with us. With a great mini gig captured live at a studio in Copenhagen.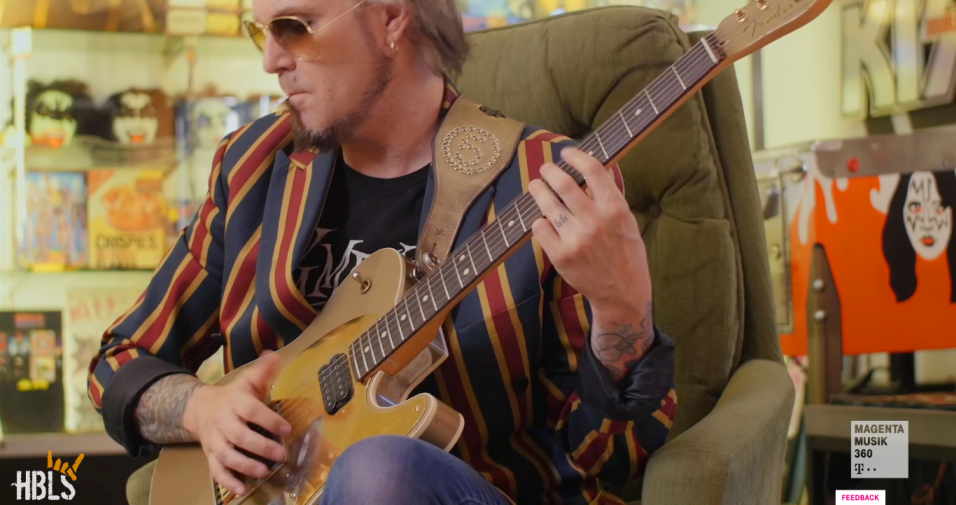 John5 from the Rob Zombie band invites us to his home to share his personal memories from the Wacken festival. He shows us his amazing collection of Kiss memorabilia, the Walhalla for Kiss fans. This man has a museum in his house!!! And in the end he also played us the song ,,Zoinks!" from his latest 'solo' project, John5 And The Creatures.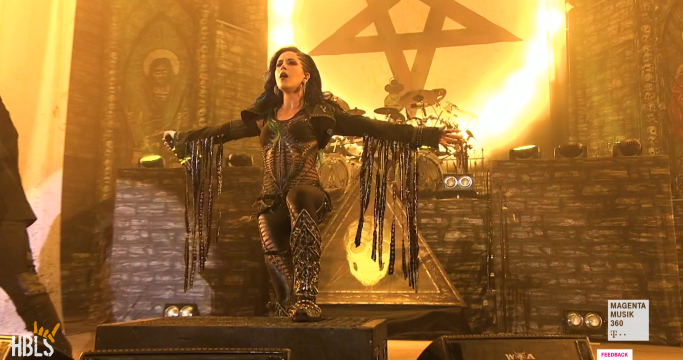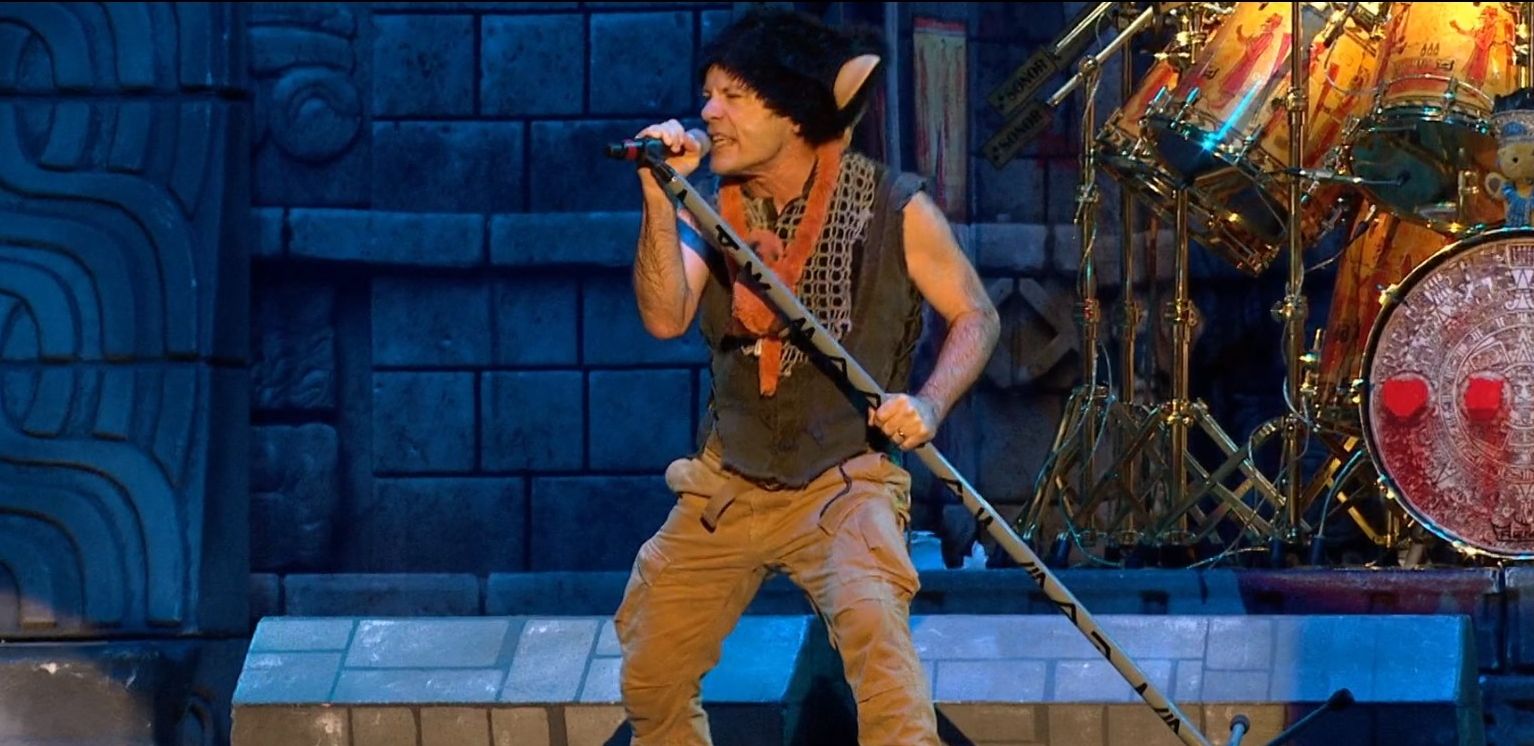 Alligatoah was not for me, I assume. So let's go further to the first 2 gigs out of the Wacken archives for today, because that means a kick ass performance Arch Enemy did back in 2016!! And if that wasn't enough candy for a day, we also get to see the gig Iron Maiden did in the same year. It makes you miss the festival and all live events even more. Or at least, these are my thoughts about it.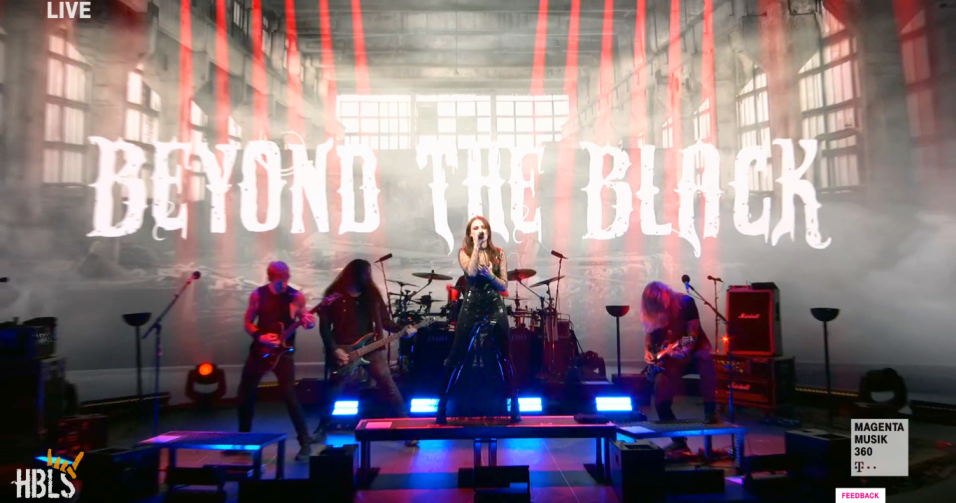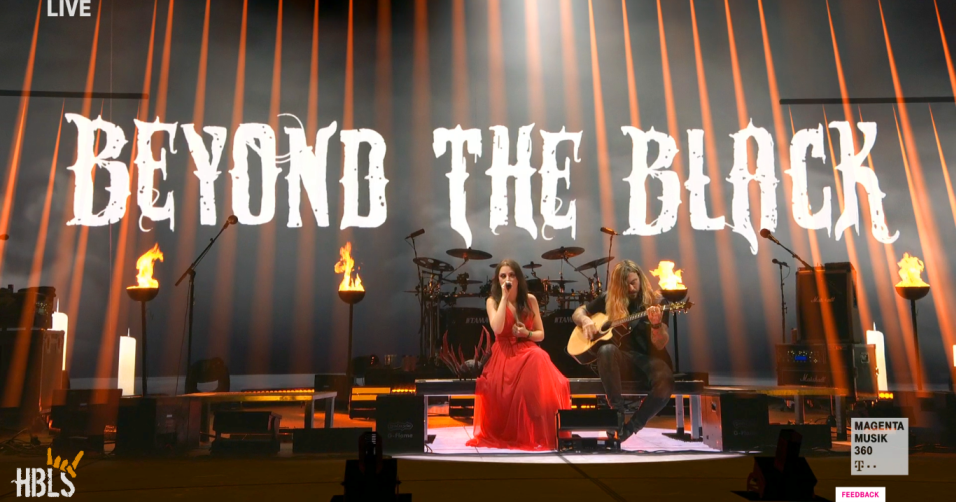 Next highlight of the day is the live performance that Beyond The Black did on the XR mixed reality stage. The band, around front woman Jennifer Haben, laid down a nice balanced set, with high tempo songs but also had room for an acoustic one.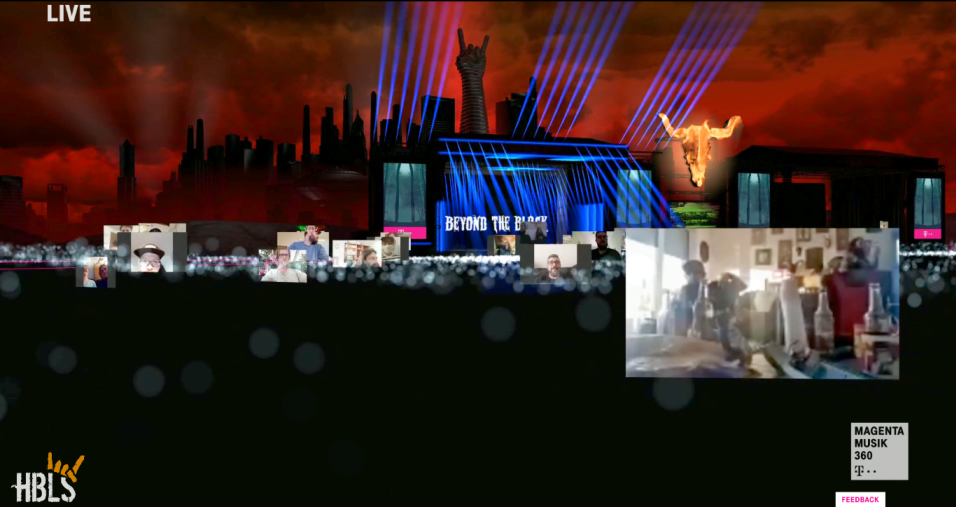 New today is the fact, we can see images of fans in the 'crowd'. By scanning the QR code it is possible to land directly into the virtual part of the gig. Together with the integration of comments the whole thing feels even more interactive than yesterday.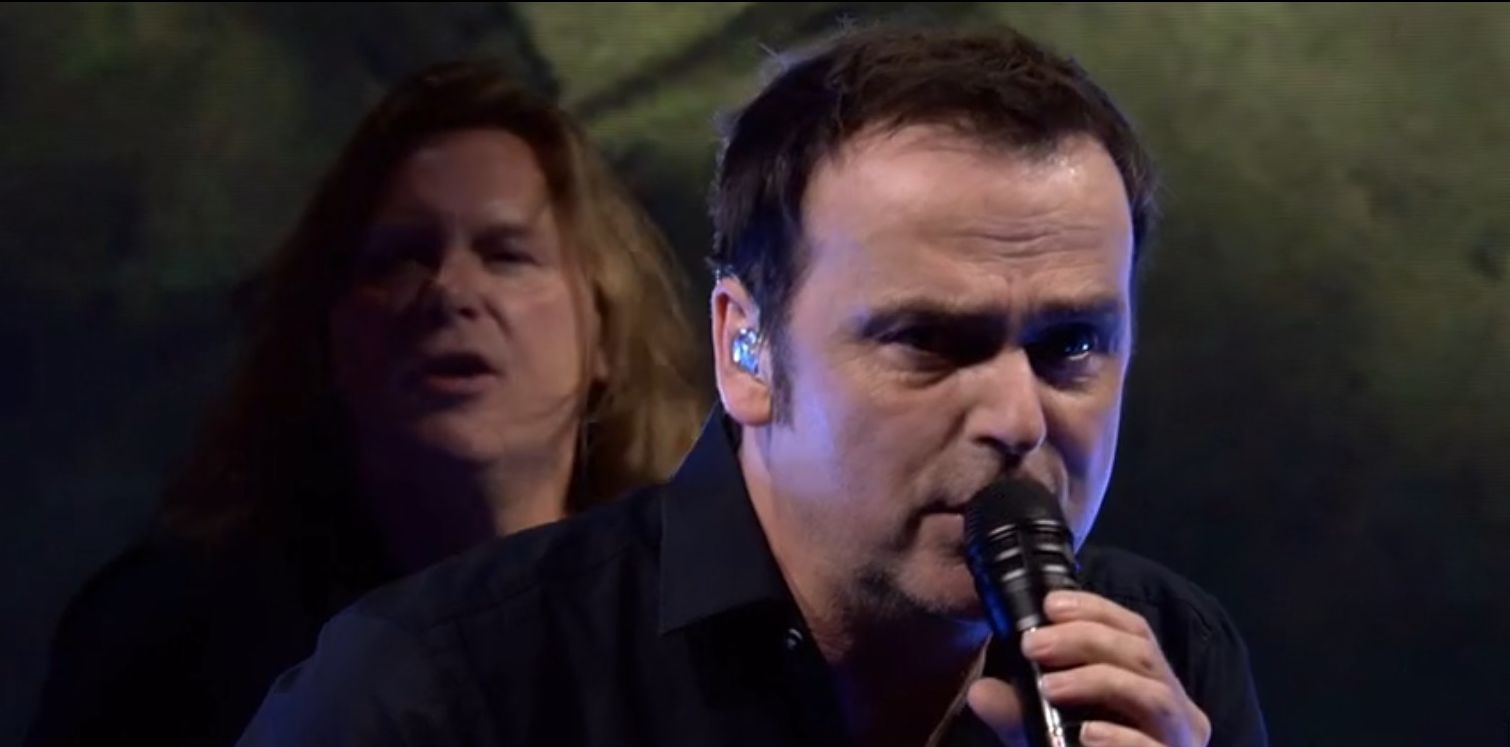 Blind Guardian is the next band that may do a live set in the XR environment. The band, fronted by lead singer Hans Kürsch plays a tight heavy metal set. The fact that our Dutch friend Barend Courbois is the bassist in this orchestra and the ONLY countryman to enter this stage, might give us more inside info on how it was to play in this kind of setting. As a bonus we get to hear the brand new song ,,Violent Shadow".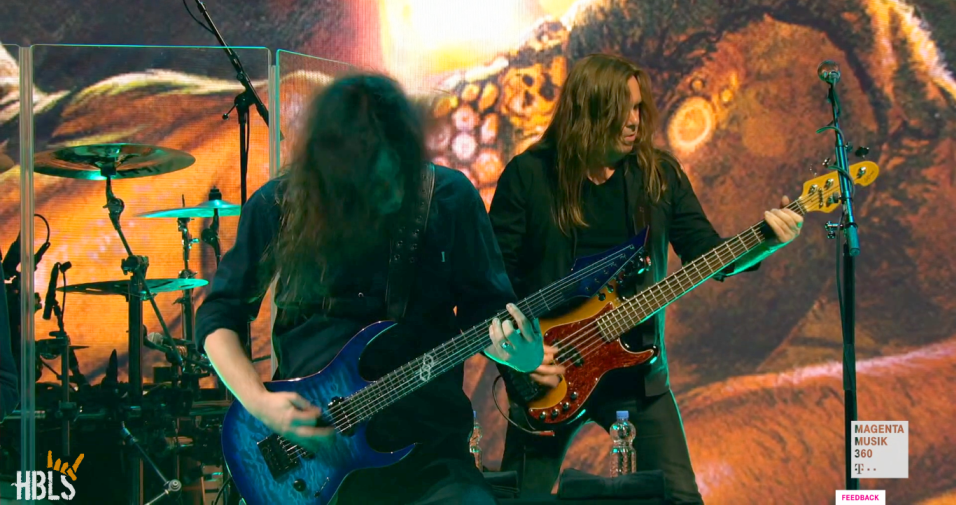 Over to Barend for his story:
,,It felt good to be back on stage. Blind Guardian played one special show in January as headliner during Zoo Aid (to support the burnt down Zoo in Krefeld, Germany). In February and early March I was stand-in bassist in Physical Graffiti (the Led Zeppelin tribute band from my big friend, singer Andrew Elt)… so, yeah, Wacken World Wide was the first one in a long time and it was pretty weird to play without an audience, especially because Blind Guardian has an audience that plays an active role during a show. We did cut short the classics a little and of course left out the 'sing alongs'. To make it all work we went into the rehearsal room…took a stopwatch…and played exactly one hour, that's how we prepared ourselves. On stage it felt like we were standing in a life size video game… beautifully done. The Wacken crew spared no effort to make it as beautiful and real as possible. We were all really impressed."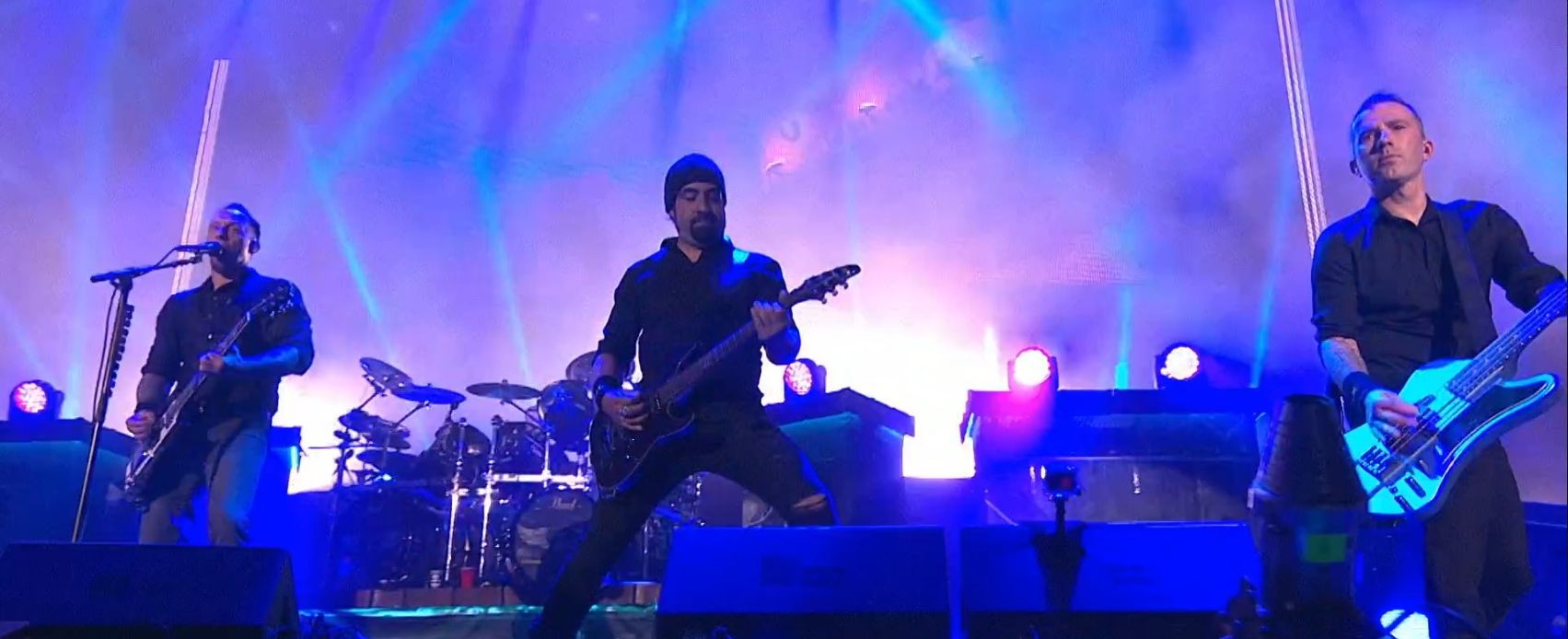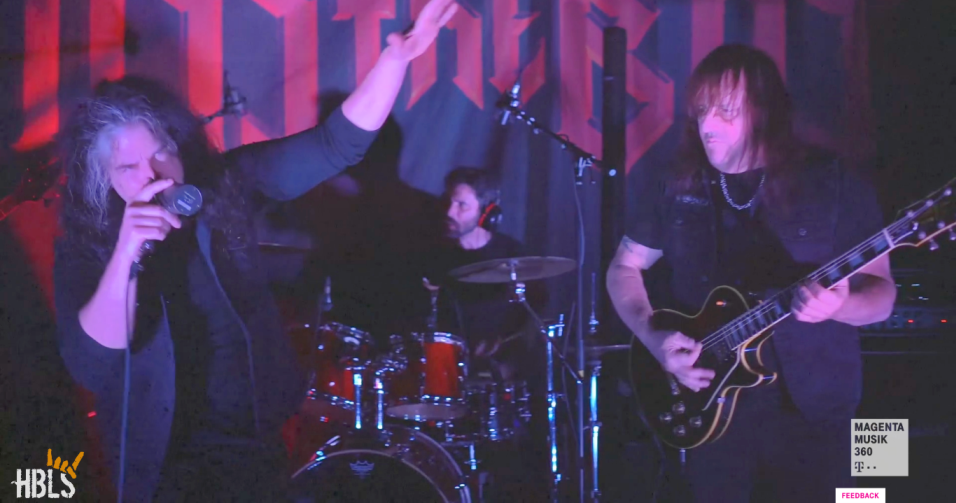 The next footage from the Wacken archives are three songs from the show Volbeat played in 2017. Followed by a special performance from Ross The Boss. The band played and filmed a handful of songs, including the Manowar classics ,,Battle Hymns",,,Kill WIth Power", ,,Blood Of My Enemies" and ,,Secret Of The Steel" which were especially recorded for the Wacken World Wide stream in New York.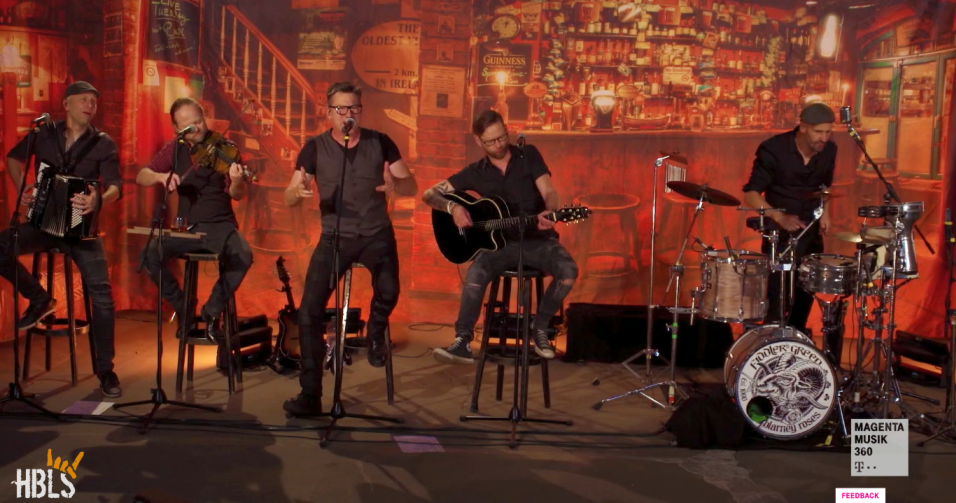 Next performance is by Fiddler's Green. We get to see a set of IRISH SPEEDFOLK straight out of Germany. The footage was filmed in a Irish pub which added to the feeling. This band was founded in 1990, so it is not exactly a newbie and I can imagine if you are a few days into the Wacken fest, you can absolutely enjoy this ensemble.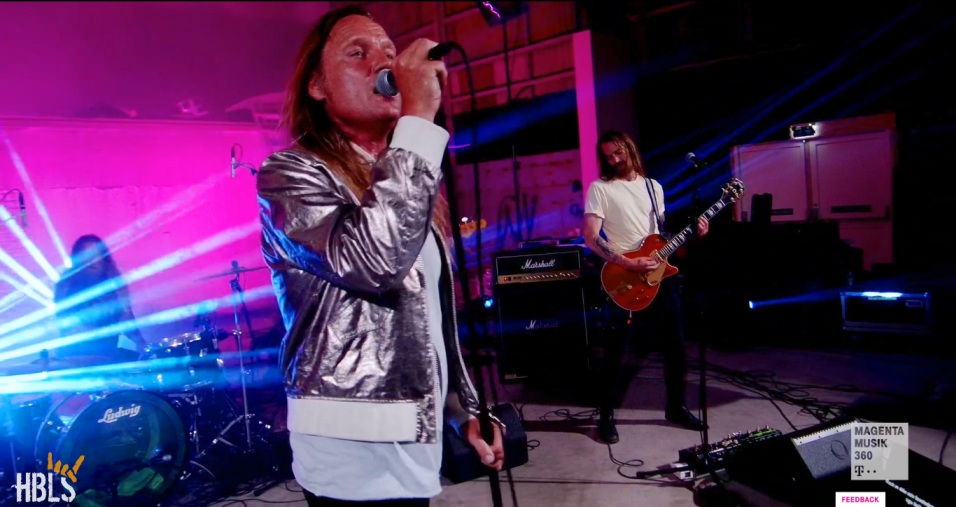 The last contribution for the third day came from Jesper Binzer (D-A-D). In fifteen minutes he shares a few tunes with us and tells personal stories about Wacken as a solo artist and with D-A-D.
DAY 4 – Saturday 1 August 2020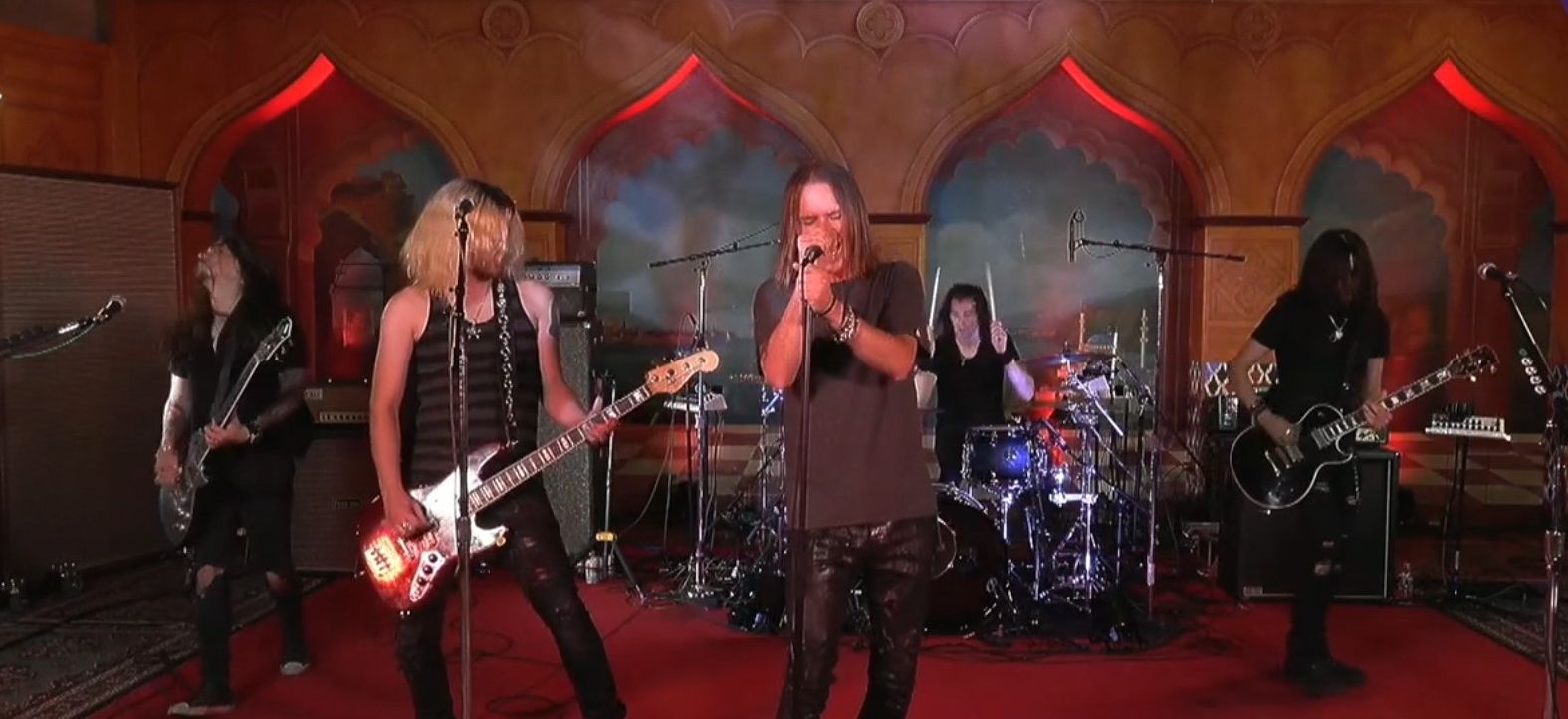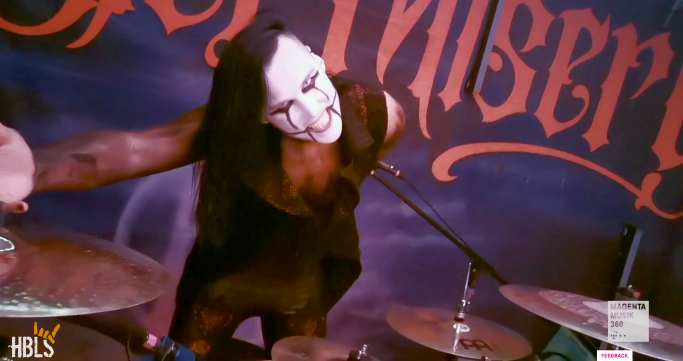 The fourth and final day of Wacken World Wide starts with Budderside captured at the NRG studio, followed by the Stockholm based power (thrash & spooky) metallers from Mister Misery, who filmed a nice quarantine show for us. A very promising band….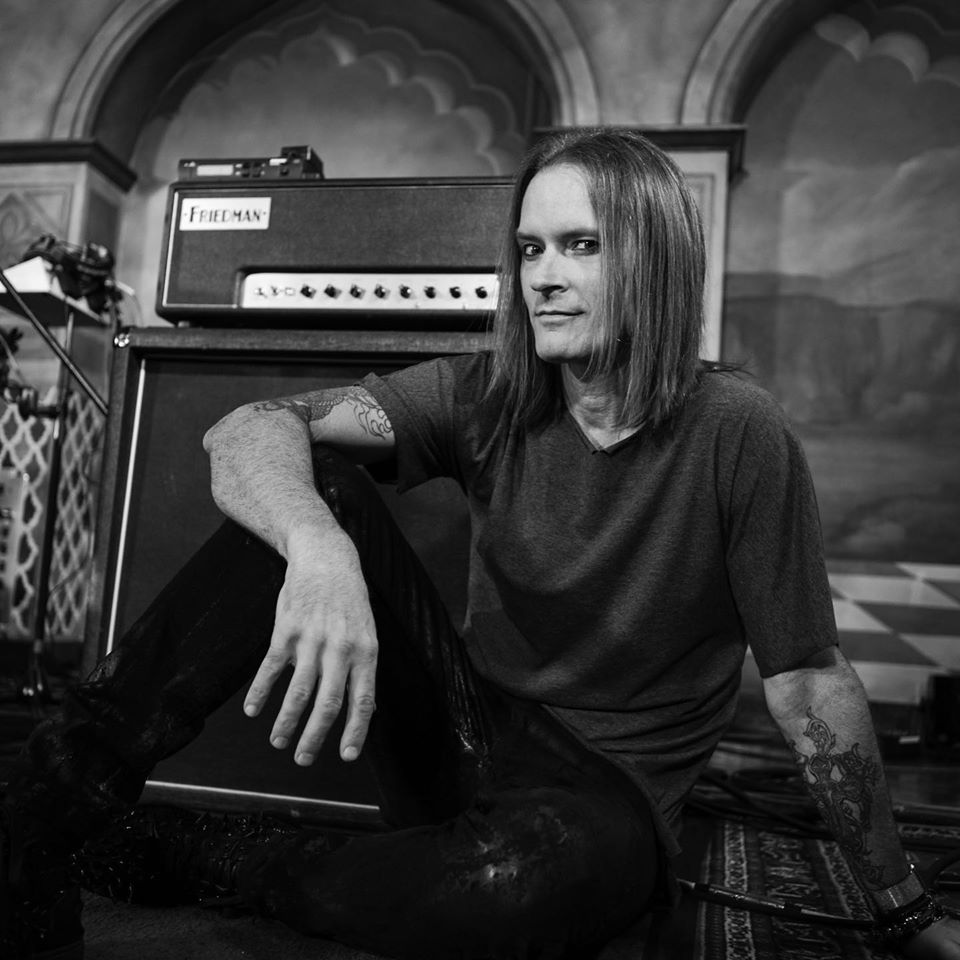 Patrick Stone Photo by Mathias Fau

Budderside mainman singer Patrick Stone talks Wacken and gives us an update about his band:
,,We were offered a slot at the beginning of July and because we've been working on the new album 'Spiritual Violence' and now that it will be released within a month or two, we thought we would share it. So most of our WWW performance was brand new material. It's interesting to watch the world adapting to this pandemic. Rock 'n Roll and live entertainment was poised and ready for its biggest year yet, but rock 'n roll does not cower and it does not fear. Ultimately we are playing for more fans this way. Everyone, everywhere can watch and keep watching, so we just imagine we are there with our family of countless music lovers all over the world. We turn it up and turn it on like we are there with them. Everything we did was 100% live. One take. No cleaning it up. When we say live we want to give you a live experience, we do. My guys are far to talented now to be insulted by any tricks or gimmicks. We're not perfect, we're fucking rock 'n roll. Mistakes are cool and human. We're not robots or DJ's!
By the way, it has been a challenge getting this album out. Not for lack of creativity or songs, legal bullshit has been a mountain to climb. The band went through some messy break ups and trying to keep it cool has been tricky. But I have the ultimate band of my dreams now, we as a band share the same passion and drive for success, we're all "on the same page", as it should be, the album has been re-tracked, remastered, better than ever and scheduled for release before fall. We're so psyched! COVID-19, like any other "set back", can really be an opportunity for new. We refuse to let it get in the way of our dream. We have faith that it will pass and the world will be stronger. It's nearly impossible for a band to come up from obscurity without COVID-19. Live shows and the audiences growing and growing are what we absolutely live for. But, it will come again, this will pass. We have Japan and Rocklahoma on the books, all on hold. Ok, fine! What are we going to do? Cry? Wait? No! We got creative. That's what we do. New amazing videos, Live-streams, record, remix, remaster, write, write, write, we wrote enough for the next two albums already. Hard work, personal relationships with great people have grown immensely in this time of lockdown. Enough to be grateful for. If you listen to the right voices in your head, the path to a dream come true, become clearer and closer everyday. We absolutely hate to see the world in the state that it's in, but that's when we need music most. Thank you for spreading the Budder!"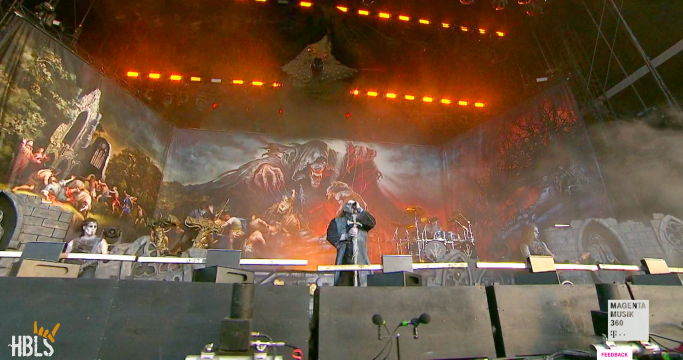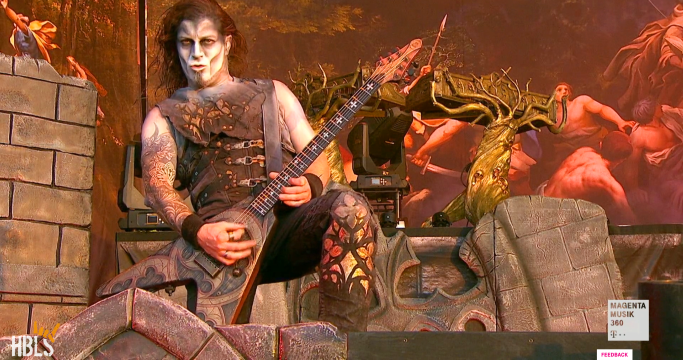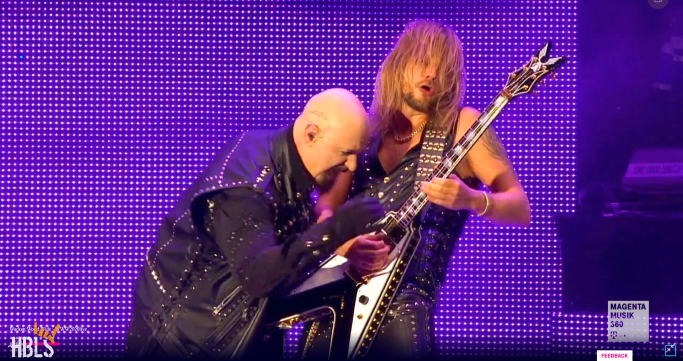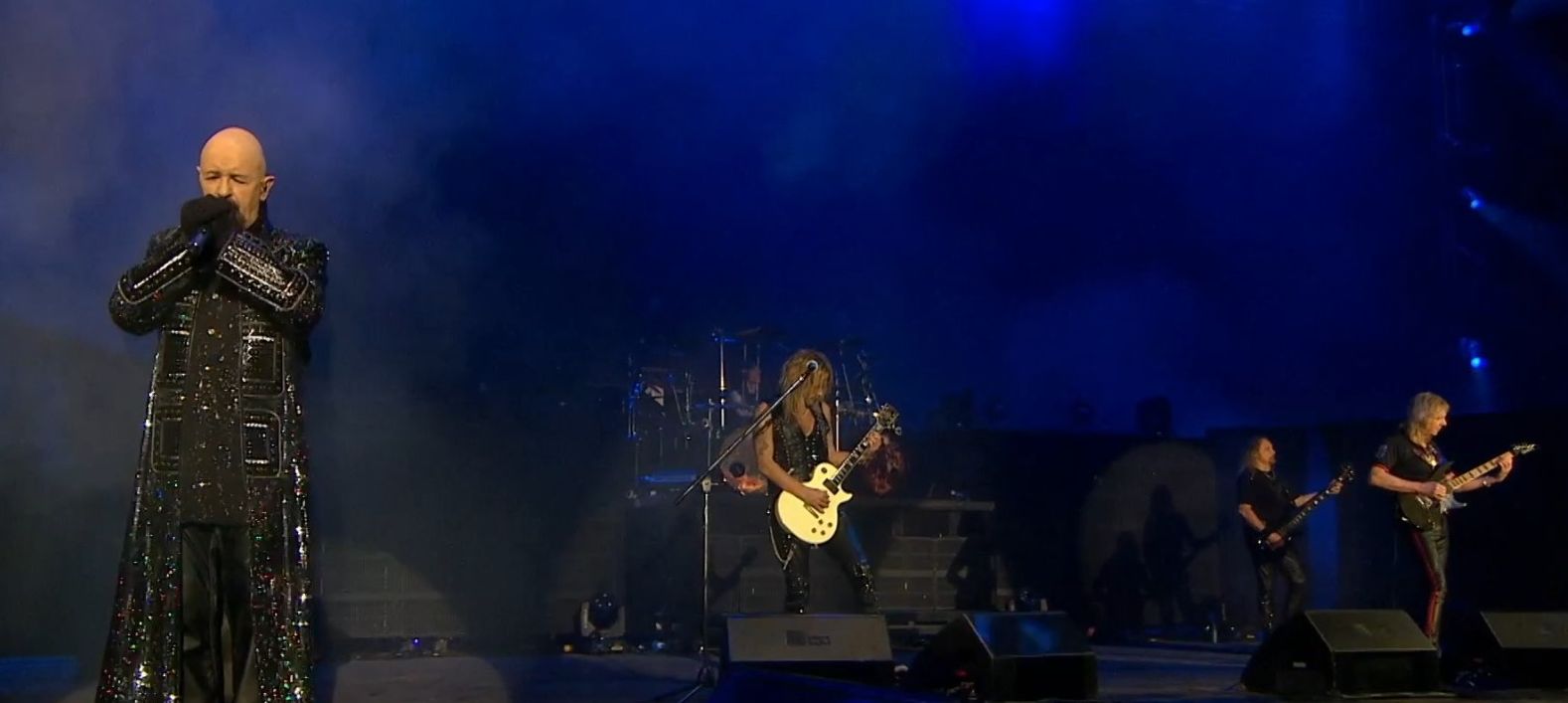 Today's first band from the Wacken Archives is Powerwolf. We get to see footage from the show they did last year at the festival. And the next band from the archives is no-one else then the Metal Gods: Judas Priest. The show is announced as the 2011 show, but I am pretty sure this was their 2015 show. Nevertheless, always good to watch a nice Priest show.
In between these two shows, we can yet again enjoy a little bit more background info on the Wacken festival and again a whole battalion of artists share their favorite moment from the festival. In these four days we seen lots of bands/artists sharing their feelings or personal stories from the festival. Amongst others: Hammerfall, In Extremo, Machine Head, Five Finger Death Punch, Foreigner, Devin Townsend, Alice Cooper and many many many others.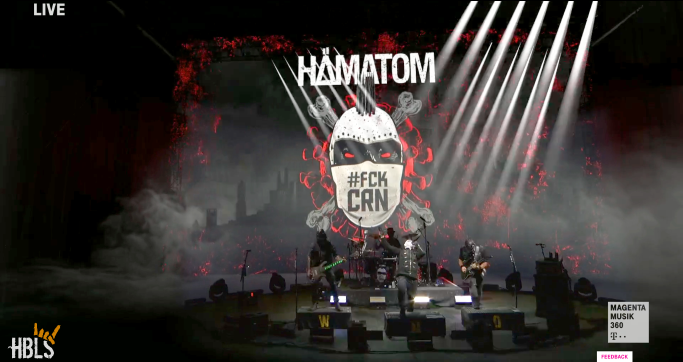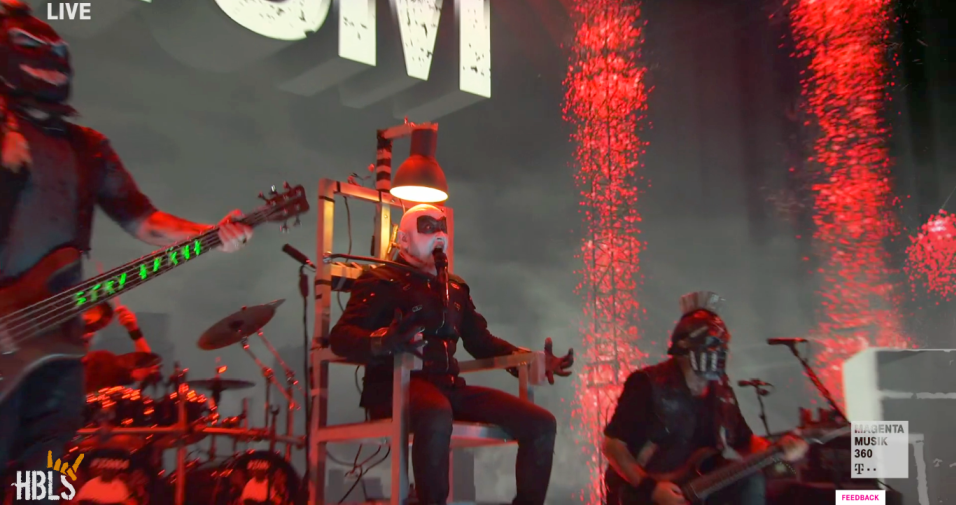 First gig today in XR mixed reality is from crossover thrashers Hämatom. This band with only German lyrics likes to give away a show, with some theatrics. Singer "NORD" gets seated on the electric chair during ,,Mörder". They also play their latest single ,,#FCK CRN" and guitarist "OST" even throws himself in the Black Lives Matter discussion. Very entertaining show from these guys.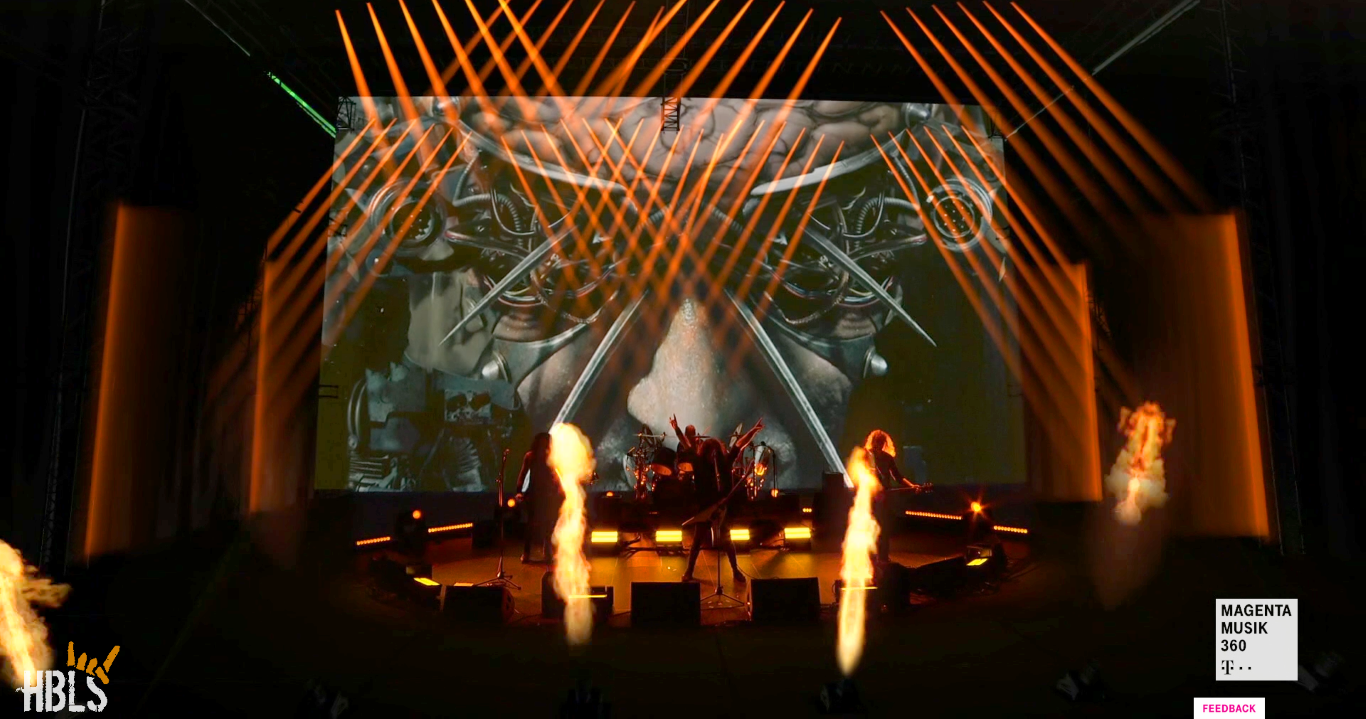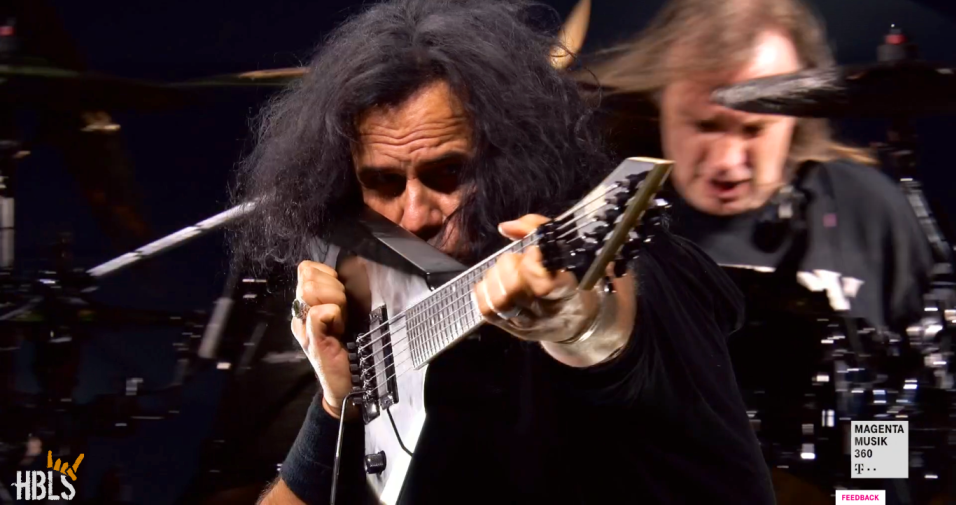 German 'Ruhrpot' Thrash veterans Kreator are the next band to play the XR stage. They lay down a supertight thrash metal concert and it shows why they are referred to as one of the "Big Four" of Teutonic thrash metal. And in Mille's Words, 'See you next year in real life!! Fuck COVID-19'.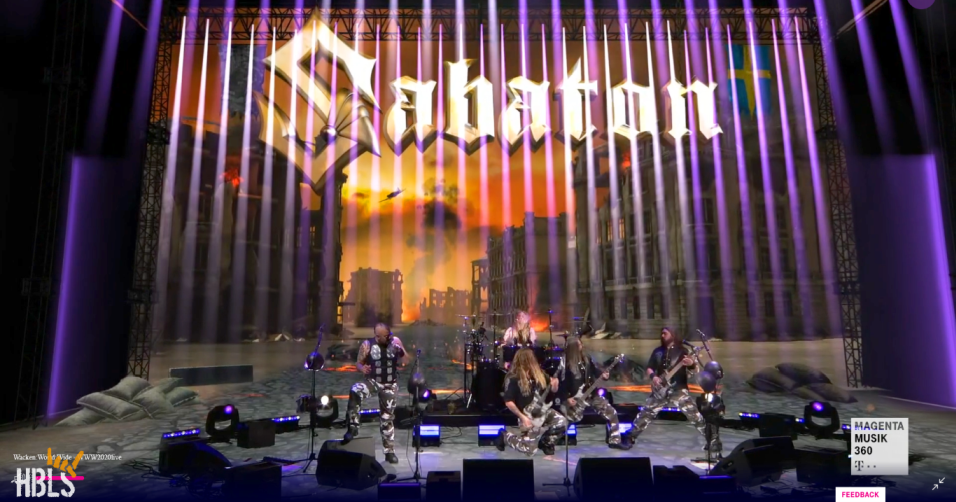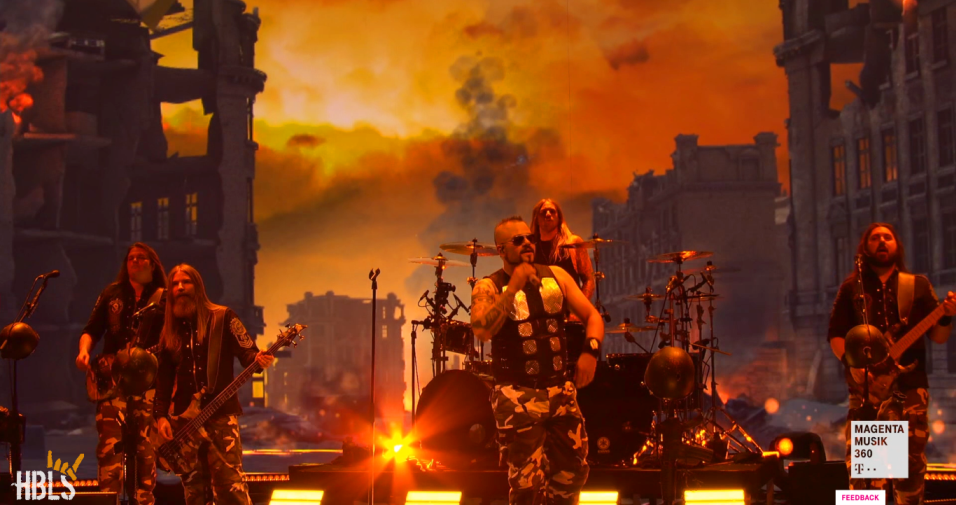 Sabaton is the last act to make an appearance on the XR stage. The band and Wacken had only two weeks to get everything prepared and I have to say they did a great job. In the virtual reality the designers created a complete warzone in Sabaton style. With airplanes, bombs, burning buildings, tanks and burning skies. As far as you can pull this off in two weeks, this was an outstanding job done.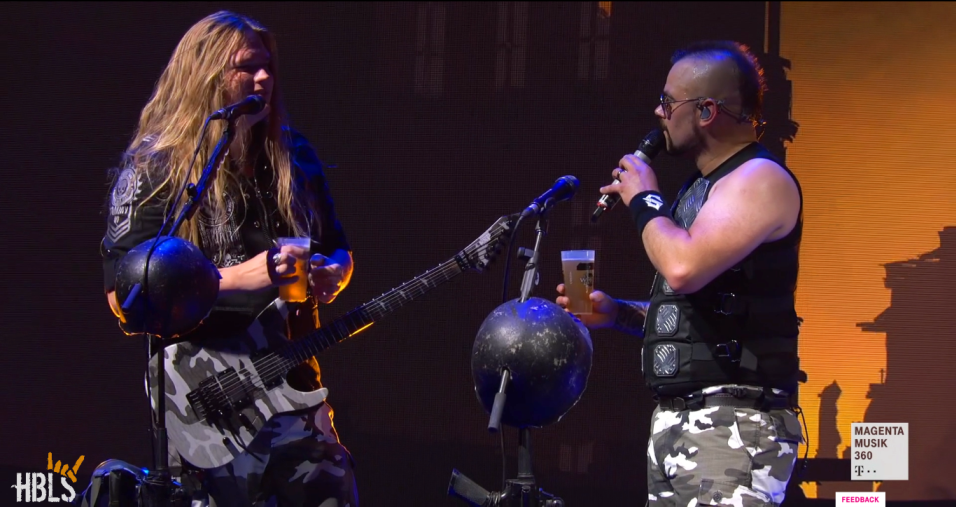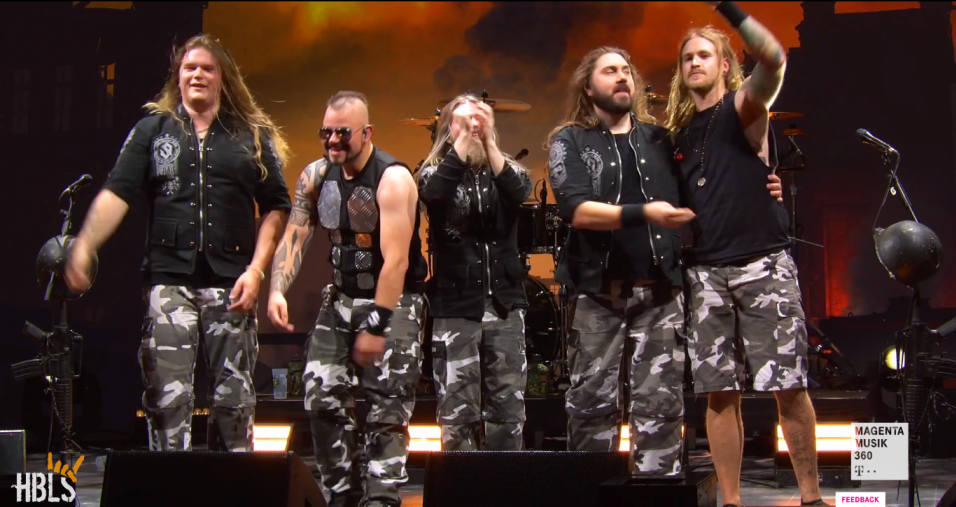 And for sure Sabaton was happy to be on stage again and play a kick ass set including the 'Noch ein Bier' contest between Tommy and Joakim, which was won by Tommy.
The band was focused, in for a joke, had a great sound and clearly enjoyed this gig. The only thing that I did not like was the solo guitar sound of Chris. It sounded as if the amp was blown, but besides that, an amazing show.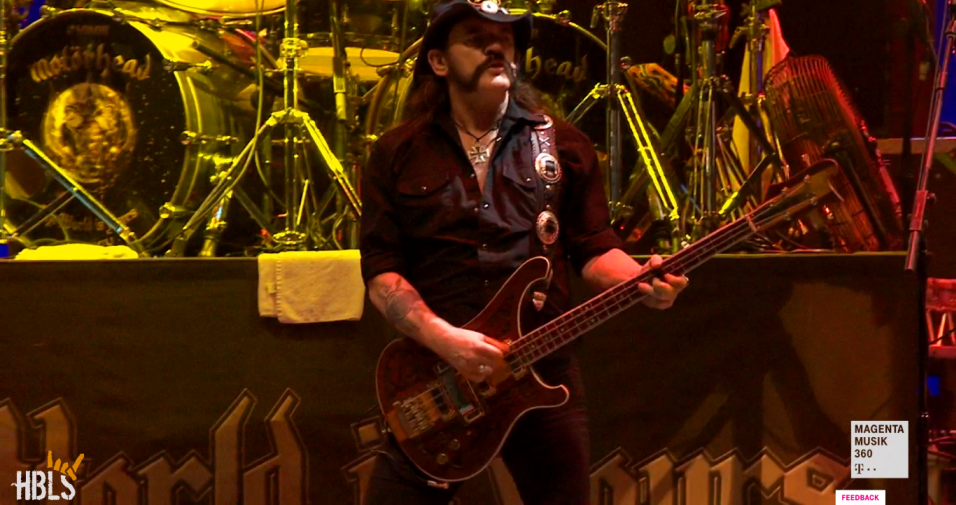 After this highlight we are treated to an archive gig from metal legend Lemmy Kilmister's Motörhead. In true Wacken tradition, no Wacken without these legends. Even if it is only a show from 2011, Motörhead has to be part of the event.
Maschine's Late Night Show did look back at the 4 days and also got a reaction from Wacken founders Holger Hübner and Thomas Jensen. And they can look back at a well received event, but in Thomas's own words, hopefully for next year's edition of Wacken the fans can come to Wacken again, to celebrate 4 days of Wacken Open Air 2021. (NOTE: the 2021 Edition of Wacken Open Air is already SOLD OUT!)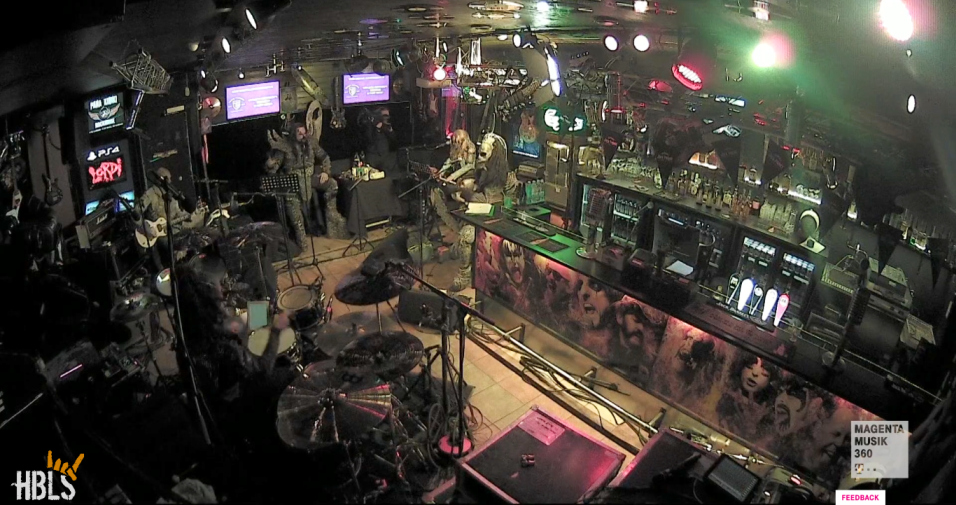 The last contribution to the Wacken World Wide event comes from Lordi, from whom we get a tour through his home town Rovaniemi Lapland and a special scream stream performance of the band, captured in a local bar.
After 4 days of Wacken World Wide stream there comes and end to this absolutely great initiative. No it can NEVER ever be a substitute for the real deal. The smell, the food, the campings, the people at the festival. Even the bands that played the XR stage missed the interaction with the fans. But I am sure the Wacken organization knows that already.
We have seen great highlights from past editions of Wacken, some amazing stuff that bands from over the globe have done to create original content and of course some awesome gigs we have seen in the innovative mixed reality XR stage. The question that remains is: how many people watched the streams?? (NOTE: The answer of the organization: ,,Approximately 11 million live-content-views worldwide). And maybe a suggestion for the organization, if it has to come to a second edition of Wacken World Wide, please do the moderation and interviews in English, because not everyone speaks or can understand the German language.
Wacken World Wide…… Great job done!!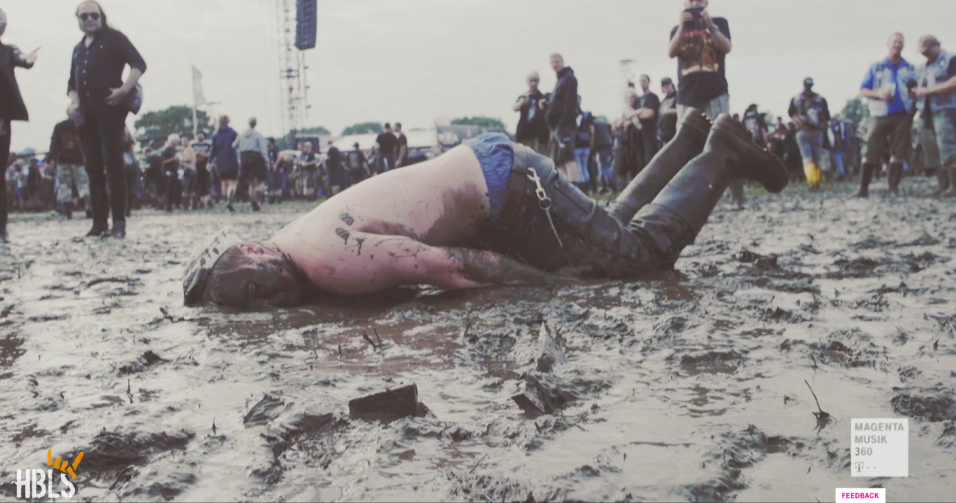 —
All photos taken from the WWW2020 Live stream

HBLS interview with Thomas Jensen here


#wackenworldwide #www #wacken #headbangerslifestyle #hbls #awayoflife