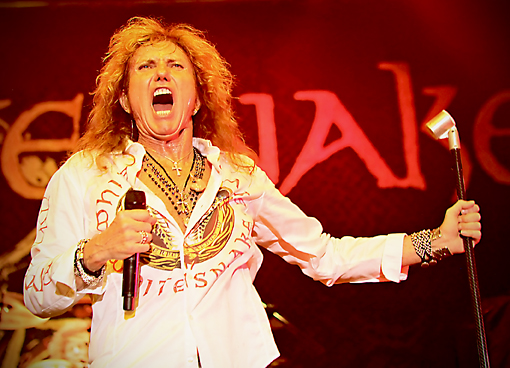 WHITESNAKE & The Answer
Oberhausen (DE)-Turbinenhalle-21st July 2016
Never ever have I witnessed a Whitesnake concert, which wasn't worth my time. David Coverdale keeps surprising his fans with exquisite shows and his showmanship is still unmatched by anyone in the field. While his voice has been slowly degrading over the years and his soulful warm tone slightly fades, Coverdale made up for that loss with his immeasurable charisma and his band taking care of more backing vocals. And what a band he has!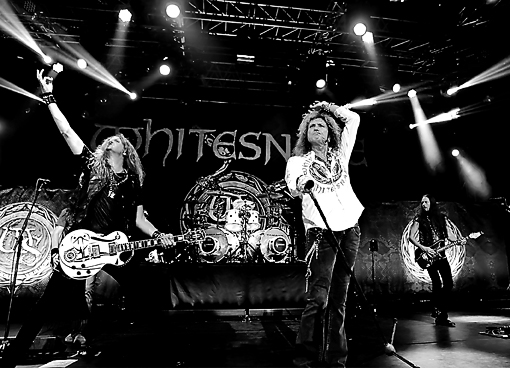 The new Snake is perhaps one of the most explosive line-ups I have seen in years. While long time partner Doug Aldrich parted ways with Coverdale two years ago, the master showed his fine nose for talent with his choice for Joel Hoekstra, a perfect match on all accounts. His razor-sharp licks are in fine tune with Reb Beach' crystal clear shreds and his stage presence lines up perfectly with that of his employer. It is the guitar duo being propelled by the rock solid foundation which pulls forward in untamed energetic pace. The loud and pumping bass of Michael Devin fits like a glove to the raw and thunderous drum blasts of good'ole Tommy Aldridge. A match made in Heaven keenly underlined by Michele Luppi's keyboards. And David?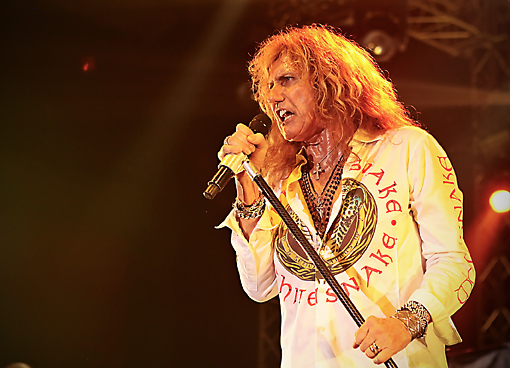 Well, Sir Coverdale owned the stage! Displaying his iconic moves and swag while howling at the moon he left no stone unturned this night. "Iconic" is the only word that can cover tonight's show which makes the immense crowd go insane.
A cacophony of sound shatters the stage with David roaring his "Are you readyyyyyyyy?!!!!" out loud, leading into a high paced execution of ,,Bad Boys''. Joel throwing around his guitar and dancing around in front of the WS sign while Devin's fist flies up to get this show on the road. The audience is immediately overthrown by the explosive package and enthusiasm of the band. The interaction is exceptional and a remainder of the show. Rolling into the sexy sticky ,,Slide It in'' and the explosive ,,Love Ain't No Stranger'' Coverdale throws around his mic stand, the band leaves no section of the giant stage untouched. It is clear that this line up leans towards perfection and this Greatest Hits Tour is the perfect way to display the newfound élan. Whitesnake radiates power and passion while the temperature is climbing to a sizzling 115 degrees (!) inside the sold out venue. The master's voice benefits from the temperature and humidity reviving his high pitches and howls, sounding better than ever.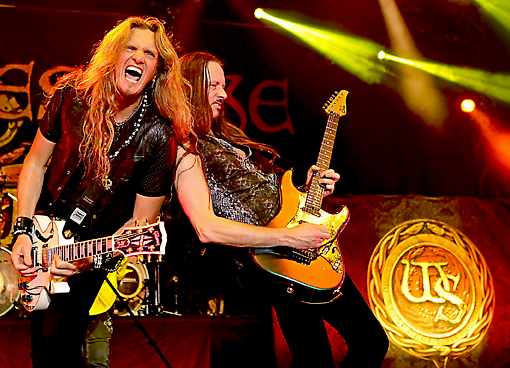 Taking their foot of the gas occasionally for the mandatory ballads and slow movers it is clear David is playing his A-game and revives his soulful sound with jaws dropping all around me. Coverdale enjoys it, so much is clear. Smiling from ear to ear and throwing around his one-liners, the man deserves a statue.
Whitesnake managed to balance out this set just exquisitely, shifting between power and passion. The largest chop is build around their chartbusting '1987' without discarding the band's long bluesy legacy. Absolute highlights are there by the dozen but it is without doubt the warm rendition of the classic ,,Ain't No Love In The Heart Of The City" that has the audience going insane. The song builds in tension suddenly sliding into the damp and steep cornered awesome ,,Judgement Day''.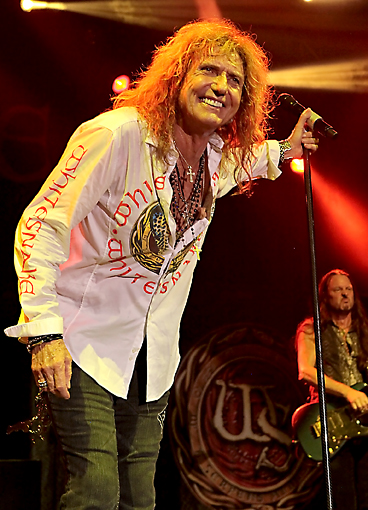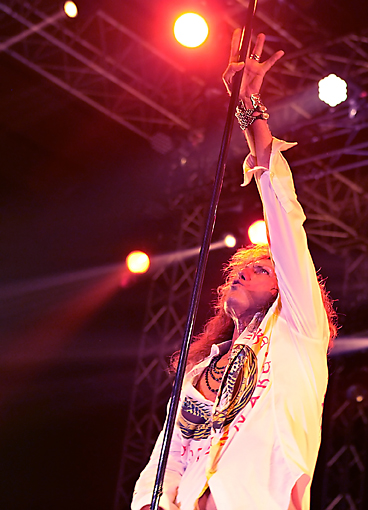 In order to allow Coverdale to breathe and work on his voice, the band members are offered (long) solo-spots. First up is Hoekstra stealing thunder with his impeccable skills. His sweep picking and eight fingers on the neck techniques are impressive, his style fluent and sharp. When Joel shifts to his acoustic guitar he introduces us to a wider horizon. Sheer virtuoso is his picking and he silences the large audience instantly. Coverdale returns to the stage for a bluesy and pompous version of ,,Slow 'n Easy'' and a sizzling and even more impressive ,,Crying in the Rain'' which unloads tons of power with thriving guitars and it's impressive drum-bass swing. Both songs are interrupted by solo spots in which Michael shines with his jaw dropping bass solo and perfectly timed loops as where the animalistic solo of Mr. Aldridge always is a pleasure to endure. Tommy makes the Muppets' Animal look pale around his nose and within minutes has fists pumping in the air front to back. As he drops his sticks to torture the skins with his bare hands, the sight for the audience is hair only. A minute long applause is his fair share.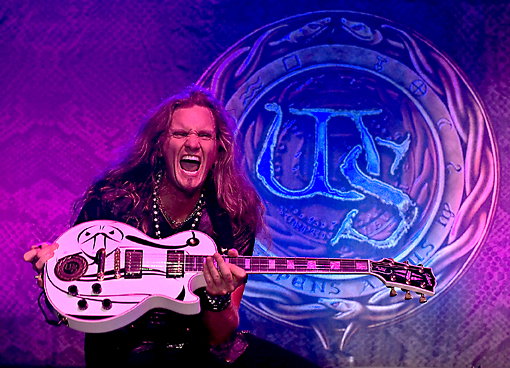 The last section builds up furthermore towards a sizzling hot ending with ,,Is This Love'' being sung along to loudly and ,,Give Me All Your Love" has the entire room swinging and cheering. ,,Here I Go Again'' got a make-over once more, but this time it is simply magnificent. The slick (keyboard) intro and the sudden power being set free makes it a true highlight of the night. The hit still hits extremely hard and works bedazzling upon its spectators.
Whitesnake is being cheered back onstage by the enthusiastic crowd awaiting the absolute closing statement of this nights hearing: ,,Still Of The Night''!
The thunderous explosion of drum and bass with the thick guitar chops delivered are making this one of rock's finest live tracks of the eighties. The song is executed with panache, Coverdale storming over the stage like in his prime. He makes his fans sing out loud and even riffs are being sung along to. It's an insane ending to a magical night, which cannot be the end of this band's long legacy.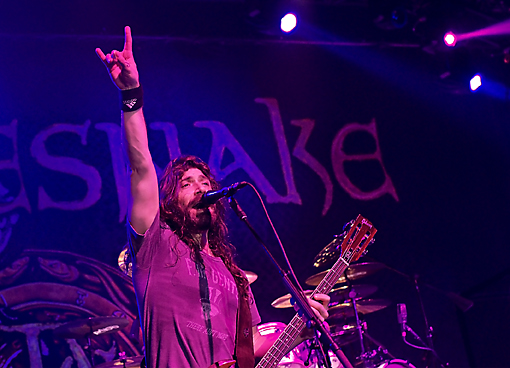 Whitesnake is so iconic that it's impossible to make this stint end. The band has proven tonight to be on top of their game reviving everything which made eighties and nineties rock so exciting. But this time it wasn't only Coverdale upholding the rattle of the snake, the current line up adds so much fuel to the fire that the flames cannot be tamed.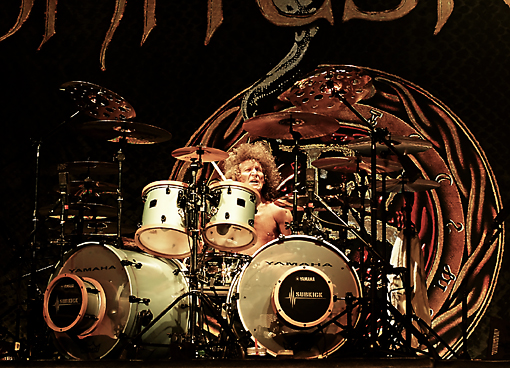 Opening for Whitesnake on their Greatest Hits Tour are Irish roots rockers The Answer. Their set was short but entertaining and the charismatic bunch easily won over the crowd. Vocalist Cormac Neeson is dancing around like Robert Plant and uplifts the bands seventies feeling with glam where guitarist Paul Mahon makes his wha-wha pedal scream. The cocktail of hypnotizing groove and soaring vocals is best served up in songs like the storming opener ,,Under The Sky'' and the band's classic cut ,,Come Follow Me''. But it is especially good to hear their roots being exposed with the Celtic inflicted ,,Thief Of Light'' which is my highlight of today's setlist. Still I believe The Answer is best enjoyed in a damp and smoky club with an atmosphere so thick you can cut it with a knife… much like their music.
—
All photos by Edwin van Hoof

Follow Whitesnake on Facebook visit their Website.