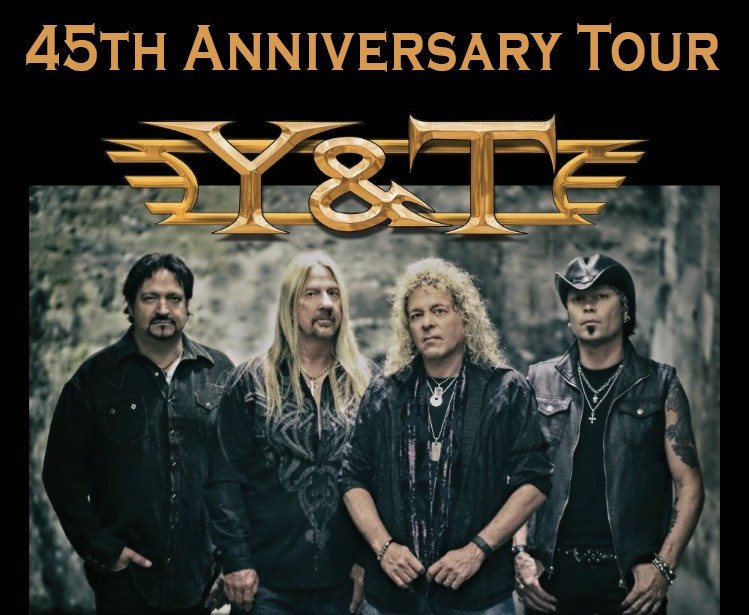 Y&T-45th Anniversary tour
Uden [NL]-De Pul, October 5th 2019
There's nights which will last forever. Sheer magical nights with memorable moments and memories lasting a lifetime. Nights, like this particular night, on this particular tour.
With the venue packed solid and the audience even residing in the entrance section of the venue, Y&T will take us on a journey through their 45 years career. A journey to celebrate the band's illustrious career, their countless classics, albums and hits. European gigs initially planned as opening act for Saxon's long running tour, which unfortunately was cancelled with Dave Meniketti suffering a back injury. However, this tour makes up for that loss easily. And believe me; easily doesn't even cover the night's magic.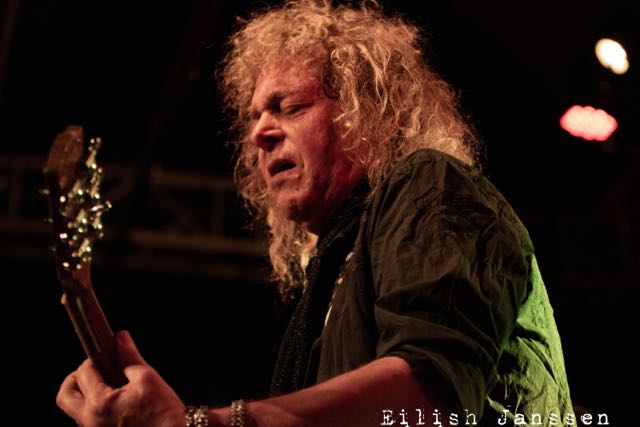 Dave Meniketti
From the opening ,,Hurricane" to the dying seconds of ,,Forever" Dave and his men take us on a trip down memory lane. Within minutes temperature is rising and the energy goes through the roof. Y&T fire on all engines, with Mr. Meniketti running point for 2 and half hours. His voice is in pristine shape and his playing… well, his playing. The man makes his Les Paul weep, makes it scream, makes it bite, quiver, shiver and tremble. He fires his blues soaked riffs upon an audience of enthusiast. Weeping solos with big screaming overhaul as he bents his strings and stretches them to the max. In the meantime he throws his six string his towering over the head of his fans. Backed by his long serving sidekick John Nymann, Meniketti surely knows the rhythms and riffs are delivered in powerful chops when he plunges into long and blistering solos. Nymann handles his duties with enthusiasm and the long lasting marriage transcends into towering heights as both fire up one another throughout the evening. Backed by the rock solid groove machine Mike Vanderhule and bass monster Aaron Leigh, Y&T still rocks with exclamation points and accolades.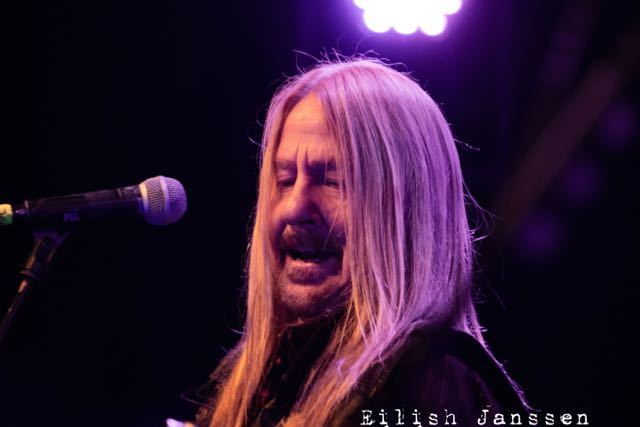 John Nymann
More than once the low end slapping and plucking bass slams a low ball through the audience, felt all the way in the back of the venue. With a packed venue at boiling point the band celebrates its career by delving deep in their catalogue. Songs never played before live are going hand in hand with the classics of their golden set list . The devil however is in the details as Meniketti explains playing songs from every album released during their long spanning career. Much to my surprise I get presented two of my all-time classics served up with impressive perfection and soul. ,,Ten" often discarded as too hit sensitive, I am very pleased to hear a rip-roaring version of ,,Come In From The Rain", one of their finest, yet most underrated tracks. It follows the massive entrance built tension from ,,Lonely Side Of Town" and eighties hit ,,Don't Stop Running", clutched solidly in between ultimate live crackers ,,Black Tiger" and the immaculate ,,Mean Streak". It tears the roof off the small venue and raises the bar. It is sheer magical already but with ,,Midnight In Tokyo" the band orbits the magic out of the stratosphere. Dave sings his ass off and his voice is in top shape. Though there's some echo and reverb on the vocal track, the man still shines brightly, clearly enjoying himself onstage. Tonight I witness him as perhaps the best-kept vocal secret in rock. His personality and charisma radiate off the stage and the band is infected by his enthusiasm. The audience interacts constantly with the band and it also adds to the magic of this intimate night.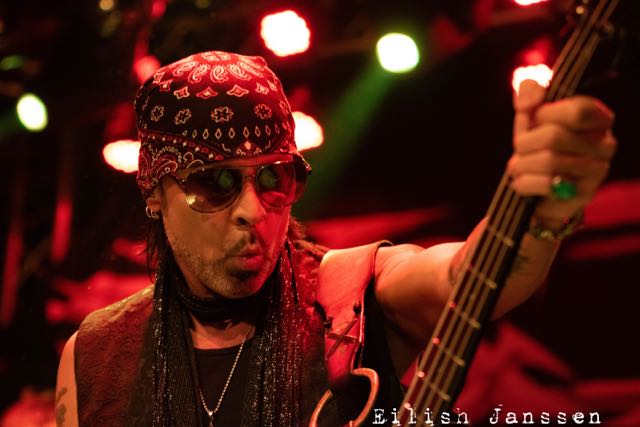 Aaron Leigh

,,Face of an Angel" shows the bands towering momentum with Dave's pealing vocals and impressive backing vocals adding to the poise and perfection. ,,Anytime At All" is followed by classics ,,Earthshaker" and the stop motion trawling ,,Struck Down" pack impeccable momentum and ,,I want Your Money" truly paves the way for one of rock's finest rock ballads of all time ,,I Believe In You". Front to back the venue trembles and shivers run up and down my spine. This moment is a reoccurring event as I recall great memories from their previous gigs, and bringing the Bang Your Head festival to a halt with metal heads celebrating this hymn to love. Goosebumps, multiple times, and when Dave plunges into the soaring and gut wrecking solo, we see memories in the making. The Les Paul flies up high as Meniketti pitches high and I see people in tears. People embracing one another, fans grabbing each other by the neck, and tattooed arms flying up to land on their buddies shoulder. It is magical. With this highlight behind their belt they pick up speed and plough forward with captivating versions of ,,Hang 'em High" and ,,21st Century", before surprising me with ,,Contagious" and the slick MTV glimmer hit ,,Summertime Girls". ,,Rescue Me" oozes comfort and packs impressive power, with the band leaving the stage after ,,I'm Coming Home". Honestly; it could have stopped right there and then, without anyone complaining. But we also need the almost mandatory and ultimate Y&T showstopper; we need an extension of this vibrating wavelength Y&T accumulated upon.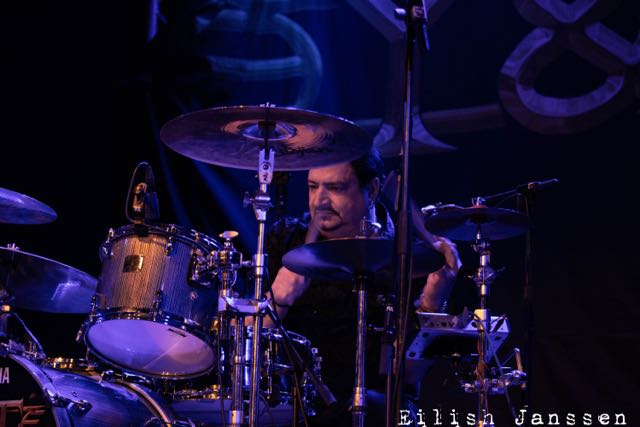 Mike Vanderhule
,,Endangered Species" is touched with a memorable and frail version of ,,Sail On By" as the band returns to the stage. It silences the crowd front to back and has the band again laying down the impressive vocal interaction. Tasteful Dave plucks his strings and makes his Gibson yearn and soar. When Dave calls out the hard rock jukebox and takes on requests, the frontrow is lit up when a fan holds up a board for his beloved one, celebrating her birthday. Y&T challenged to play ,,Don't Be Afraid Of The Dark" is a wish fulfilled. The following gritty version of ,,Dirty Girl" contrasts deeply with the melodic overhaul of its predecessor but it all bears the mark of genius musicianship. Seizing the moment of towering madness and sizzling temperatures the guys belt out an impressive live version of the classic ,,Forever", leaving behind and audience fulfilled.
This literally was one of the best gigs I witnessed. Y&T have surprised me with this long set list and unexpected wild surprises. Tonight we witnessed one of rock's finest acts strolling the earth and playing with sheer pleasure and devotion. Y&T rocks!
—
All photos by Eilish Janssen
HBLS Heavy Hangover Meniketti Wines here