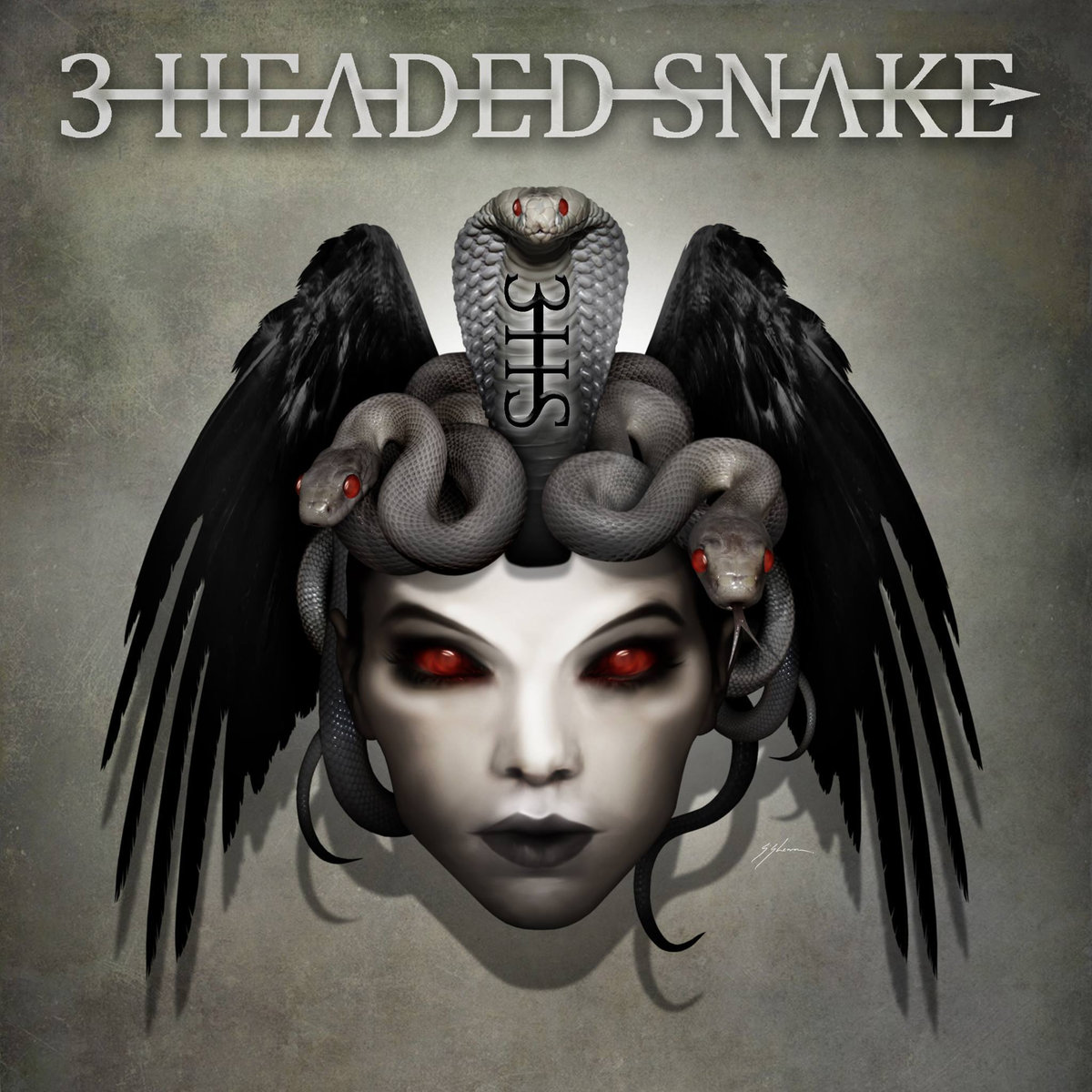 3 HEADED SNAKE-3 Headed Snake EP
Independent release
Hailing from California is brand-new metal outfit 3 Headed Snake. A line-up featuring Ministry's guitarist and songwriter Sin Quirin draws attention. The quintet just released a 3 song EP, selling out instantaneously and is bound to head to the European festival stages, as Quirin recently mentioned online. With the band's unexpected traditional power metal, they might well be the perfect fit for many.
The band fires into gear with the double bass driven ,,Symbiotic'' that instantly warps us back into the heydays of US Power Metal. Metal Church-like thundering drum and bass take the song forward with his intensity. Fierce and powerful riffs outline the eighties dominant influences with vocalist Johnny Ray reigning at the helm. His voice stretches from classic Dickinson toning to loud powerful howls in the vein of Parramore McCarty [Warrior]. The impressive echoing sound is catalysing the bands overall sound. The track reminds of Warrior and Malice, as well as Maiden and Judas Priest. ,,Wisdom Screams'' is a perfect display of the bands impressive classic metal delivery. It is deeply rooted in the late eighties and early nineties, but claws into the present with a clean and fierce performance. Piercing short-lived solos from guitar tandem Sin Quirin [ex-Ministry] / Cesar Soto, and echoing vocals uplift the mid paced riff monster. ,,Money God'' is a slow and ominous track with guitars scattering in reverb onto the powerful dark chorus. In the mid section the song blooms with heaviness and unloads in an impressive cool solo. The song plows forward with Dio and Black Sabbath reminiscent riff galore and has a strangling urge.
3 Headed Snake's 3 track EP is an impressive, but way to short, metal album. Though predictable and recognisable for fans of the genre, it is unmistakably bearing the right ingredients to light the fire in the heart of many. The songs are deeply rooted in the classic power metal era and breathe a genuine vibe all over. Clutching the ominous dark Black Sabbath matter as easily as the more traditional hammering Metal Church thunder, its ingredients are varied as they are classic. I hear Malice and Vicious Rumors, I hear the mighty Priest, and I hear Warrior as well as Dio. Above all: I hear 3 Headed Snake ready to win us over.