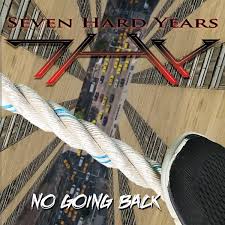 7HY-No Going Back
Lion's Pride Music
7HY [7 Hard Years] is put together by former Shy members Alen Kelly [drums] and Roy Davis [bass], who joined forces with Martin Walls [After Hours], Marshall Law guitarist Dave Martin, Elliot Kelly [Ocean Scene] and Line Of Fire vocalist Shawn Paleta. In the meantime the band only features Kelly and Paleta. They released their debut album `No Place In Heaven' in 2014 and since then have recorded 3 more albums and now report back for duty with `No Going Back'.

Though the debut album could not impress me, it offered a collection of solid melodic rock tracks. `No Going Back' picks up where the debut left off, with recognizable and slick melodic tracks. The melodies are nesting and the musical craftsmanship is up to par with what we might expect. Especially the guitars are a dominant factor that is pleasantly dosed alongside Paleta's skilful vocals. Here and there he has to pitch high to keep up, but overall, in the lower range, he delivers a solid performance. Songs that really stand out are the title track and ,,Your Reality". ,,Can't Trust The Radio" about the present programmed state of radio stations is solid but ruined by the generic sounding choirs. It is what totally wrecks the good intentions of the album. Where the debut suffered from a punch lacking production, this issue is partially not resolved on this album. Overall the mix is okay, sometimes a little thin, but the choirs are clinically generic and nerve wrecking, too much in the front of the mix [,,Deep Dark Blue"]. It takes away the pleasure of the better tracks and prevents from spinning this album again.

Though the intentions are right and the musicianship is excellent at times, the mix and production totally ruin everything. 7HY won't attract a lot of fans with this album either, unfortunately.


#7HY #headbangerslifestyle #hbls #awayoflife #melodic #aor #rock