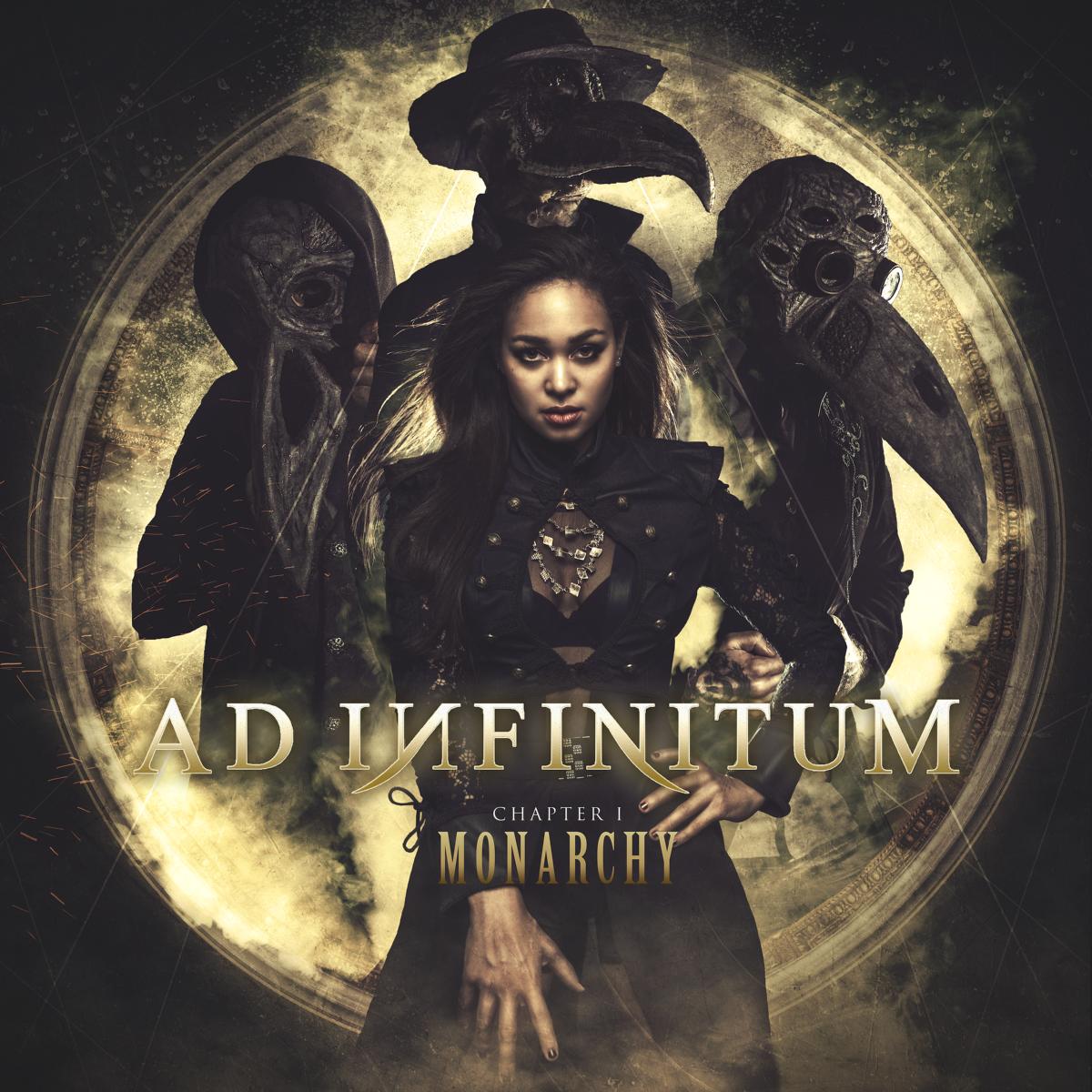 AD INFINITUM-Chapter I – Monarchy
Napalm Records
Ad Infinitum is the vehicle carrying the great Melissa Bonny (Serenity/Rage of Light) and talented Follow the Cipher's Jonas Asplind. Typically operating in the overflown symphonic metal genre, the band fuses the best of the genre with Bonny's exquisite vocal performances. Their music is action packed with historic elements and epic tendencies. And even on the first spin of the disc it comes abundantly clear that Ad Infinitum means serious business.

From the opening of ,,Infected Monarchy" all the way to the neurotic and dark ,,This Is Halloween" with Bonny going all in, Ad Infinitum unleashes an impressive collection of 15 tracks, of which 11 are unique, delivered with intensity and appeal. 2 tasteful acoustic performances and 2 instrumental editions of featured tracks making it the 15 on review. Needless to say that especially the acoustic versions add volume displaying the band's capabilities pasting the outline for Melissa to shine over. Bonny truly magnifies the action packed symphonic epic metal tracks on this impressive debut. Ad Infinitum already managed to land themselves a wide following with their predeceasing YouTube videos generating over 100k of hits since their debuting single ,,I Am The Storm" in 2018. But it wasn't until the band's 500K hitting ,,Marching On Versailles" video that the entire metal community started to take notice.
In the meantime Bonny has embellished her name in gold on many releases, but on Ad Infinitum it is the entire package that fits. The epic symphonic tracks are perfectly executed with grace and power. The interaction is sublime. Adrian Thessenvitz lays down razor sharp riffs with powerful drive and extraordinary virtuoso soloing, while and songwriter Asplind (bass) guards the low end and progressive rooted foundation together with Niklas Müller (drums). The total package is rounded up by tastefully larded keyboards pasting the pompous sound solid. Swirling piano and powerful melodies accompanying the guitar licks, making it nest inside your head on the spot. Especially ,,Marching On Versailles" with its cinematic opening and powerful overhaul empowering the lyrical historic content, proves to be the cocktail many where longing for. Ad Infinitum is the sum of 4 and as such they boost each other's performance with Bonny shining bright. Much like the music Bonny levitates between delicately executed clear sung vocals and more guttural raw, with a midrange that is compelling and tasteful. The music is as cinematic as it is epic, with variety off the board. No weak moment, no fails on this debut. It all packs tremendous power and perfection with highlights by the dozen. The drum rolls and Bonny's narration shooting ,,Maleficent" into action is just phenomenal. Pitching it up fiercely over an impressive melody the song shoots back and forth in progressive metal tenure. Müller is the centre of attention, holding up the bodywork with insane perfection and timing. The subdued riff and dominant keyboards make this a benchmark track. Roaring raw rants call out to rise with Bonny's clear wide range adding lustre. ,,See You In Hell" is a semi ballad that is powerful and oozes emotion. The acoustic version featured displays the band's abilities to arrange top notch appealing tunes and execute in a stripped down fashion without losing its grandiose power. The heavily orchestrated original favoured I do tend to switch between the tow frequently, and the same goes for both versions of ,,Tell Me Why". Exquisite in their performance both versions have complimenting emotional appeal with Bonny and Thessenvitz radiating perfection and confidence. But it is the epic symphonic tracks that are standout. All of them feature top shelf musicianship and are easily on par with the best recorded in the genre. ,,I Am The Storm" and ,,Infected Monarchy" can compete for the top ranks with Kamelot and Epica, while ,,Fire And Ice" easily matches the best Holopainen tracks in the Nightwish discography. Melissa touches nests in between Tarja and Floor and even hints towards Within Temptation's Sharon. Her mid range is comfortable and her highs are crystal clear and pitch perfect making ,,Fire And Ice" an exquisit prog tinged track. ,,Live Before You Die" packs tremendous swagger and insane melody and features a melodic steep riff hovering over the chorus. Bass is pulsating throbbing and drum breaks are slick. Both instrumental versions (,,Marching On Versailles" + ,,See You In Hell") displays the band's skills taking the spotlight off of Bonny, but are more fillers than mandatory. The closing neurotic performance of the Disney (Haunted Mansion) classic ,,This Is Halloween" which was also featured prominent in The Nightmare Before Christmas for which at was re-recorded by Marilyn Manson in 1993. Ad Infinitum adds a different glance to the track and we hear Bonny drawing from an entirely different register. Her neurotic psychic performance is nothing less than haunting. Perhaps blasphemy, but I think A.I.'s version is the best ever recorded. Impressive.

`Chapter I – Monarchy' instantly launches Ad Infinitum to the top ranks of the genre. Their songs are all top-notch compositions with insane musical appeal executed by a band on fire. Very cinematic and compelling the album runs like a freight train. Ad Infinitum also proves their skills with the cover version of ,,This is Halloween". One of the genres best releases for sure!