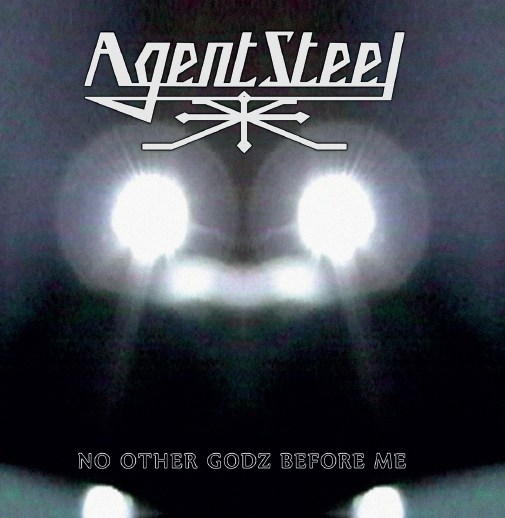 AGENT STEEL-No Other Godz Before Me
Cherry Red Records
This legendary American speed metal band, founded in 1984, made two "classic' metal albums: 'Skeptics Apocalypse' (1985) and 'Unstoppable Force' (1987), before they split in 1988. Ten years later Agent Steel reformed and made three albums before they split again in 2011.

Now, ten years later, Agent Steel is "reborn" again and now with the original singer and founder of the band John Cyriis at the helm. 'No Other Godz Before Me' contains eleven brand new songs and if you were a fan of the band in the mid-eighties and you liked their two iconic albums, then you are in for a treat with this new Agent Steel release! All tracks are under the five minutes mark and they are all fast/speedy, featuring twin guitar hooks, solos and of course the very recognisable high-pitched vocals of Cyriis, which stand the test of time without any problems. Song titles, such as ,,Crypts Of Galactic Damnation", ,,Tresspassers" or ,,Outer Space Connects" are really Agent Steel's trademark and the lyrics are again, just like when they started, mostly about aliens, UFO's, and outer space. Most of the tracks are also rather "catchy", speedy (of course) and filled with galloping rhythms, fast guitar hooks and solos and almost no musical variation. 'No Other Godz Before Me' opens with the mysterious ,,Passage To Afron-V", featuring a weird, alien voice and a rather tedious guitar melody, but follow up ,,Crypts Of Galactic Damnation" blasts with full force; this is Agent Steel at their best, speedy, loud with breakneck riffs and melodies galore! The rest of the album is more or less the same, as the variation is rather hard to find/hear… And so, this album ends with ,,Entrance To Afron-V" being an almost similar tiresome song as the opening track.

Conclusion: 'No Other Godz Before Me' is probably a must for Agent Steel die-hard fans and let's leave it with that.


#agentsteel