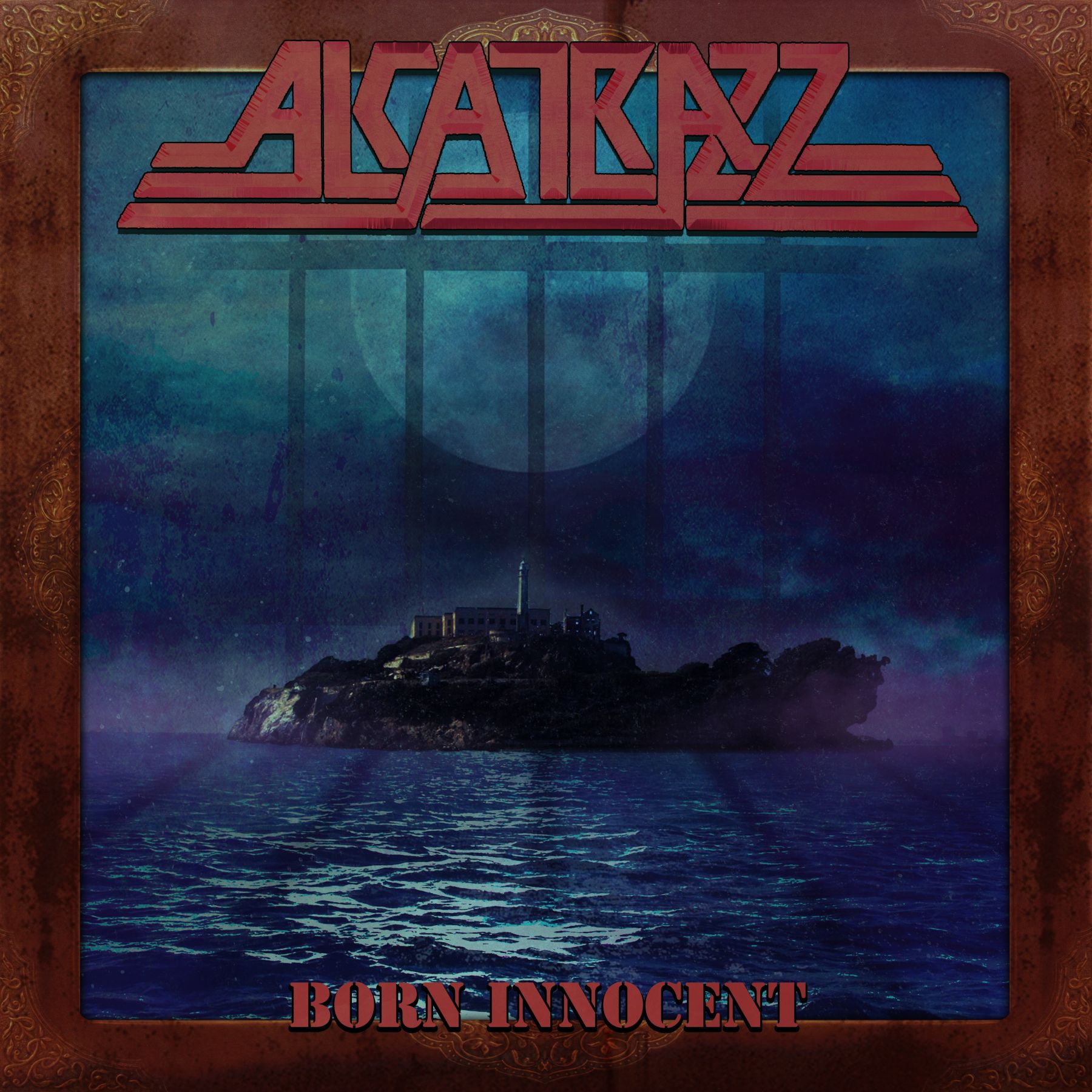 ALCATRAZZ-Born Innocent
Silver Lining Music
Some 34 years after the third Alcatrazz studio album 'Dangerous Games' there is finally a new record by the band around singer Graham Bonnet. The singer has been very active the last couple of years with his own Graham Bonnet Band and being a part of Michael Schenker Fest as well. In 2017 while touring with his own band in Japan he shared the stage for a sort of reunion show of Alcatrazz with original bass player Gary Shea and keyboardist Jimmy Waldo who was part of the Graham Bonnet Band anyway. For that evening guitarist Conrado Pesinato and drummer Mark Benquchea filled up the ranks (both musicians also at that time part of the Graham Bonnet Band) and the live-album 'Parole Denied – Tokyo 2017' was recorded.
After that Bonnet joined Michael Schenker Fest and continued with his own group as well but some time ago it was officially confirmed that Alcatrazz had reunited with Bonnet, Waldo, Shea, Benquchea and shredder Joe Stump on the guitar. Stump has been around for years with several bands like Reign Of Terror and Ravenlord plus he recorded more than a handful of solo albums and he has been a guitar teacher at Berklee college in Boston. So a very experienced and quick on the draw guitar player that should fit in well with a band that was (or shall I say is) aiming to resurrect the days of their first two albums 'No Parole From Rock & Roll' (with Yngwie Malmsteen) and 'Disturbing The Peace' (their master piece with Steve Vai on guitar).
The third album 'Dangerous Games' featured Danny Johnson on guitar but he fought a hopeless battle being a complete different guitarist than Malmsteen and Vai. That album flopped completely, the band got dropped by their major label Capitol and soon disbanded. I am not completely sure at what stage Stump and Shea entered the Alcatrazz scene as Riot V bass player Don van Stavern has played bass on six of the thirteen songs featured on 'Born Innocent', while there have been a whole bunch of guitarists pulled in to write and play on the album. It is an impressive gathering of talent that was called in to help out.
First of all Chris Impellitteri (who made an album with Bonnet called 'Stand In Line' in 1988) has co-written and played on the title track, a fast and furious song that does justice to the past of Alcatrazz. Also Bob Kulick (who recently passed away) who played with Bonnet in the band Blackthorne contributes a song called ,,I Am The King'' including guitar duties, Italian axe grinder Dario Mollo is present (,,Something That I Am Missing''), Japanese guitar virtuoso Nozomu Wakai plays on ,,Finn McCool'', D. Kendall Jones contributed on ,,We Still Remember'' and Annihilator boss Jeff Waters can be heard on ,,Paper Flags''. Steve Vai co-wrote ,,Dirty Like The City'' but did not actively play on 'Born Innocent'.
Joe Stump fills in the rest of the album (by the way the Japanese version of 'Born Innocent' has two extra songs) but because of the excellent production by Giles Lavery and Jimmy Waldo plus a crisp and clear mix by Andy Haller 'Born Innocent' does sound as a 'unit'. Also the main responsible person for that is Graham Bonnet himself. He is in his seventies now but his voice has not lost any of its power and you know as soon as Graham starts to sing who you are dealing with.
That high pitched tone, the power and the charisma, it is as if he is still in his twenties when he was singing in the duo The Marbles. It is funny but living in Australia I hear a lot of his old solo stuff on the radio and sometimes even ,,Since You Been Gone'' from his Rainbow days, but never ever anything from Michael Schenker, Graham Bonnet Band, Blackthorne, Impellitteri, Alcatrazz or any other rock band Graham was involved with during the years.
Bonnet has lived in Australia for many years and toured quite a lot with The Party Boys, a rock and roll band featuring former Status Quo bass player Alan Lancaster that toured the Australian pub circuit for years with often Bonnet singing. 'Born Innocent' is an album that restores the fact that it is still possible in 2020 to reproduce old eighties hard rock with shredding and virtuoso guitar work, impressive keyboards that are often used just to colour the total sound while the tempo is most of the time high and passionate being enforced by an excellent drummer.
Add to that the magic and power of Graham Bonnet, a cracking production and really good songs like for instance ,,Polar Bear'' (the lyrics tell an interesting story of the Eskimo people), the title track or ,,Paper Flags'' and you are confronted with an album that does justice to the reputation of Alcatrazz, an album that takes you back in time but it is also an album that has at stages a modern twist as well. Graham Bonnet is like a fine wine, the older he gets the better he becomes. Check this one out if you are a guitar freak and fan of intensive and passionate hard rock! It seems that Stump is already in the writing stage for a next album, having completed six tracks already, so it looks like this reunion is taken very seriously indeed by the musicians involved!
#alcatrazz #grahambonnet #silverliningmusic #hbls #headbangerslifestyle #awayoflife