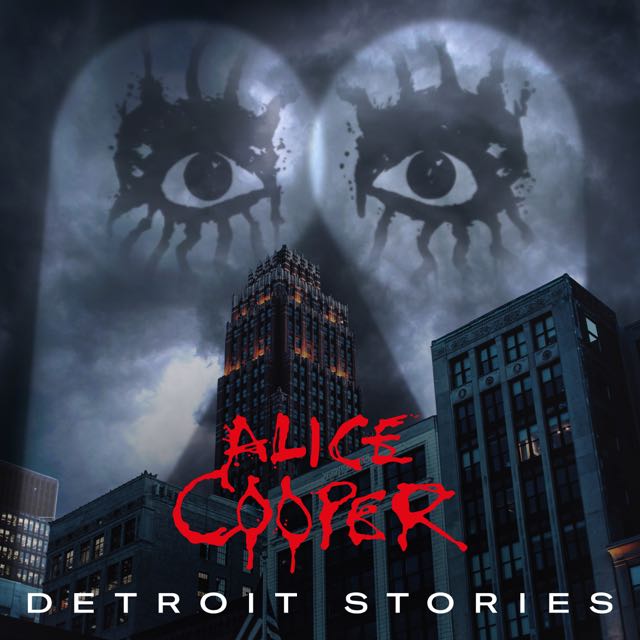 ALICE COOPER-Detroit Stories
earMUSIC
I think there are just a few people around the globe who have never heard the name Alice Cooper. For his latest project `Detroit Stories' he has returned to his Detroit Roots and that really means his roots from the early 1970s.

On this album no heavy metal, which we know from Alice since the eighties, but really back to his musical roots from the early years of the (then) Alice Cooper Band. Even two of the original band members, bassist Dennis Dunaway, guitarist Michael Bruce and drummer Neal Smith, have an appearance on this record. Producer from the classic early days, Bob Ezrin, is also back for this project. As well as a dozen of Detroit based musicians, like Wayne Kramer (MC5) and also look out for U2's Larry Mullen, Grand Funk Railroad's Mark Farner, Outrageous Cherry's Matthew Smith, a surprise guest turn by Sister Sledge, plus current Alice Cooper band member Tommy Henriksen.

The record contains a collection of originals, but also some covers like Velvet Underground's ,,Rock & Roll" or MC5's ,,Sister Anne" and Bob Seger's ,,East Side Story". To me it seems that this project seamlessly represents the spirit of the time Alice was going for. However, I can imagine that fans of the later (read heavier) work may be somewhat disappointed by this adventure. Fans from the very start however will appreciate this effort, because it brings them back to the early days of the Alice Cooper catalogue. And I am not only talking about the hits like ,,I'm Eighteen" or ,,Under My Wheels" we know them for, but the whole sound and feel of the early albums like `Pretties For You', `Killer', `Love It To Death'.
,,Our Love Will Change The World" to me sounds like Alice's personal ,,Love Is All", while ,,$1000 High Heel Shoes" is a funky, grooving 70s song, completed with a Sister Sledge sauce. A song like ,,Don't Give Up" has everything it needs to become another classic in the repertoire of Alice Cooper. And that is without even mentioning the powerful message of the song. "This is Alice Cooper in Detroit. Let's keep fighting, don't give up, call the suicide prevention hotline…"
,,Drunk And In Love" is a blues anthem, right down to the core of its being, while ,,I Hate You" is clearly influenced by the punk rock from the 70s. I can imagine, when the original Alice Cooper band would re-record their classic albums, with today's technology, it would sound like this album. Like I said, this album will absolutely not be everyone's cup of tea, but on the other side, Alice has never been afraid to be controversial and to make choices that could be questionable to the fans.
Let's bring up one of his biggest hits to date, 1978's ,,How You Gonna See Me Now" or his slickest job to date, the `Trash' album, where he collaborated with American songwriter and producer Desmond Child. Isn't that why we should love this guy?! It would just be less fun if he would be predictable. I really think this album fits in the Alice Cooper repertoire just as well as albums like `Trash', `Constrictor', `Paranormal' or `Billion Dollar Babies'.
I absolutely do not say this is his best work, but give `Detroit Stories' a listen and let it grow on you, because there are absolutely some nice tunes on it!