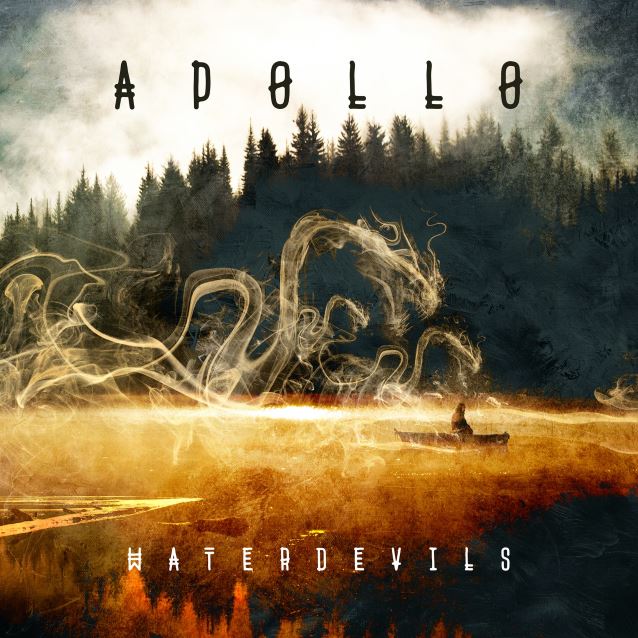 APOLLO-Waterdevils
Escape Music
`Waterdevils' marks the solo debut of former Firewind, Faith Taboo and current Spiritual Beggars vocalist Apollo Papathanasio, recorded at Global Musix Studio under supervision of producer Jalle Westergen. To take this one right off the pitch: it is one exceptional piece of work! Traditional rock tunes with a mean approach, delivered with panache and energy. Gripping rock hymns deeply rooted in the 70's and 80's with an organic, almost jam-packed underscore. The music radiates pleasure and it's Apollo who clearly enjoys this powerful endeavour. The music storms from your speakers and blasts into your living room uncompromisingly. ,,Revolution Of The Brave'' sets the tone and pace from second one onwards. Papathanasio's powerful voice puts a mark on the classic rock tracks. Somehow he reminds me of Vow Wow's Genki Hitomi on the overlooked melodic gem `V' from the late eighties. A slightly nasal sound boosted by tremendous powerful vocal chords, belting one top-notch job after another. ,,Liberate Yourself'' and ,,Buried In Flames'' are organic tracks with nice choirs and a soulful feeling all over. It touches ground with the old Skintrade debut, without the funky intentions. It's action packed melodic mayhem clinging onto the era when bands like Led Zeppelin and Deep Purple ruled the airwaves. Apollo howls like Plant in his younger days whilst the band lays down an energetic and solid foundation. Throbbing bass lines cementing together the rock solid drum groove and powerful riffing guitars. Top shelf musical craftsmanship, plain and simple. Enthusiasm radiates all over this CD that underlines the great qualities of Papathanios as a vocalist as well as a songwriter and performer. Of course several names pop up as inspiratory lead on this debut, what would you expect? ,,I Need Rock 'n Roll'' sounds like a tribute to Kiss and ,,Chasing Shadows'' is inflicted by the Hammond swirls and the shred ahead that made gold old `Machine Head' by Deep Purple so jaw dropping great. It never sounds as a rip off nor copying, both are a heartfelt homage to the bands that provided Apollo his inspiration for this remarkable debut and his long spanning career. Songs like the warm and weary ,,Fallen Endlessly'', the soulful melodic ,,Power'', the wonderful ,,Rise Up'' and the mega melodic and infestive ,,Through The Fire'' simply ooze craftsmanship and passion for music. Don't expect a dated collection of songs my friends, this album also features some top of the bill guitar playing and jaw dropping soloing front to back. The production adds fuel to the musical fire raging. Only point of attention is the cover version ,,Stop'' of the classic Phenomena album by Mel Galley, which production-wise does not link with the album. The sound is more clinical and not in line with the rest of the material, even though it' s delivered with power and passion.
Accompanying Apollo on his solo journey are friends that he worked and recorded with alongside some close friends. The list is impressive and diverse, with numerous (un) expected names like Chris Amott, Ludvig Witt and Per Wiberg of Spiritual Beggars, Kamchatka (Candlemass), Henrik Flyman (Evil Masquerade), Mike Moon (Madison, King Diamond), Michael Ehre (Gamma Ray), Mark Cross (Firewind), Peter Huss (Shining), George Rain (Citron), and Victor Olsson and Anton Roos of Saffire.
`Waterdevils' is a more than wonderful debut from Apollo as a solo artist which ignites and fires on all cylinders. The music is classic and melodic, recorded with a selection of close friends that really enjoyed anteing up for this album. Passionately performed with a modern twist. Perhaps this is one of those albums lurking to squeeze itself onto my top 10 playlist of 2016. BAM!