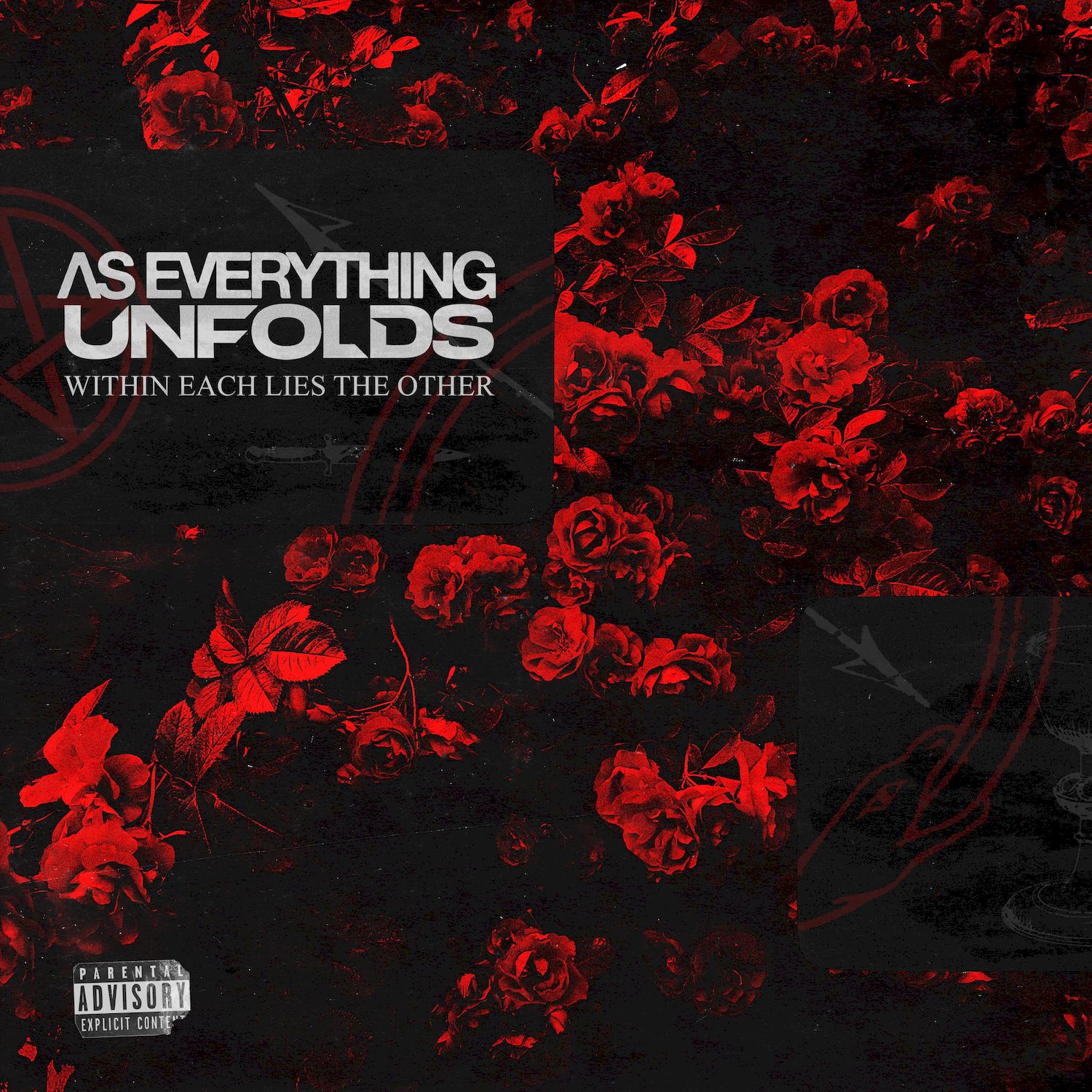 AS EVERYTHING UNFOLDS-Within Each Lies The Other
SPV-Long Branch Records
The UK melodic post-hardcore band As Everything Unfolds is a very promising newcomer in the scene. The 6-piece already released the EP `Closure' late 2018 and toured big time in the UK and Europe. Actually it was just a matter of time that As Everything Unfolds would score a record deal and drops a full-length debut release. SPV-Long Branch Records has taken the youngsters under its wings and will release `Within Each Lies The Other' on 26 March 2021.

Because female singers are absolutely under-represented in the melodic post-hardcore genre, Charlie Rolfe [and her band mates of course] is an important addition to the scene. Not only has this girl a very cool, powerful melodic voice, but also the talent to growl and add rough screeching, loaded with emotion and passion. Charlie vocally carries the songs with undeniable energy, attitude and radiance. The well-structured 11 tracks themselves are also loaded with hooks, infectious, energetic grooves and forceful guitar riffs, but despite the overall heaviness `Within Each Lies The Other' is accessible as well.
As, Charlie explains the album: "This album represents the very best and worst of ourselves. Our sadness, our vengeance but in balance also our happiness and self discovery. We cannot always be the best version of ourselves, we must travel through the pain and anguish to develop our best self, a you that has learned. This album focuses on the concept that which is above, also is the same of what is below, balance the pain and happiness, centre yourself and learn from it.''
It makes sense, because the music unleashes different vibes, textures and emotions that clearly match the intention of the album. Though, in this vortex of driven emotions and roughness, also epic, dark wave and experimental like synths are present and also sneaking in some emo-core. At times clean guitar melodies hit you as a nice breeze and sensitive mood swings adding up to the dynamics of the album. On `Within Each Lies The Others', the musicians present themselves as a modern and youthful sounding band who not only know their playing skills and composing ability but who also focus on meaningful lyrics, reaching out a hand to those who feels like they don't belong.

All in all the entire album intrigues me though I want to point out that ,,On The Inside'' and ,,Take Me There'' (what a killer arrangement) are my absolute favourites. Further I don't want to make a one on one comparison with bands like Skarlett Riot, Stitched Up Heart, New Years Day, In This Moment and The Pretty Reckless for instance, but if you are into these kind of bands I think you should check this one out as well.