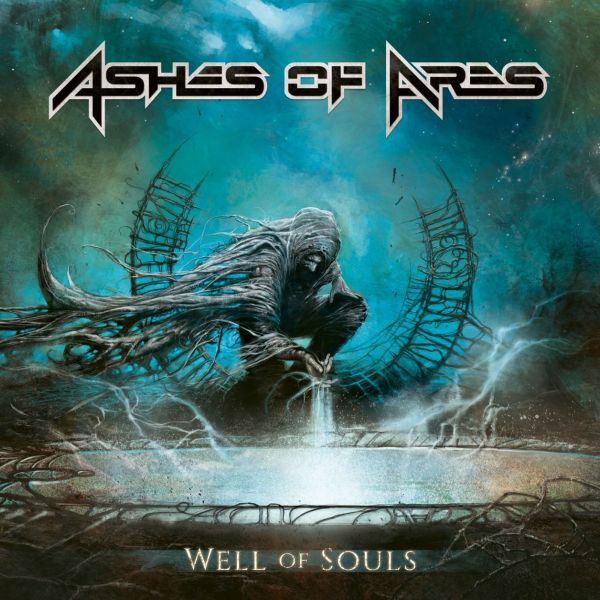 ASHES OF ARES-Well Of Souls
Rock Of Angels Records
`Well Of Souls' is the second album following their 2013 self-titled debut on the renowned Nuclear Blast label. Ashes Of Ares is the collaboration between Freddie Vidales and vocalist extraordinaire Matt Barlow. Barlow, most commonly known as vocalist of US power metallers Iced Earth, makes his Iced Earth experience on Ashes Of Ares collide with the progressive extravagance of his Pyramaze, to create an impressive new piéce de resistance together with his counterpart Vidales.

Released on the small Greek Rock of Angels label, this new Ashes Of Ares album almost went under my radar. And boy am I glad it didn't, cuz `Well Of Souls' has Barlow belting next to impossible vocal jobs, flexing his vocal chords around some impressively crafted progressive metal tracks. His gravely midrange is still powerful, and when he draws from his impressive low echoing register, any vocalist in the genre hardly surpasses Barlow. On top he frequently adds his piercing head voice in additional layers to the vocal tracks, which are tremendously powerful. Hitting the 5th octave on a dozen occasions, he ascends into the late Warrell Dane's signature field.
This wide array of vocal exploration, added to the insanely well-crafted grandeur of the music, makes `Well Of Souls' an album enjoyed by classic power metal heads as well as the more sophisticated prog metallers, idolizing bands in the vein of Queensrÿche, Nevermore and Crimson Glory. The epic appeal of the songs, combined with the pointy metallic melodies, is simply orotund. Since their debut, Barlow and Vidales clearly diverted into a more progressive direction, delivering a handful of instant classics on `Well Of Souls'. Replacing co-founder Van Williams upon his departure to found Ghost Ship Octavius, Jonah Weingarten (Pyramaze) joined the duo to handle stick duties on the album. Their also mutual connection with We Are Sentinel makes his entry a fluent and natural process with Jonah exactly knowing how to deliver on Ashes Of Ares. The audible journey immediately takes us back to the best sonic deliverances from Matt's Iced Earth past, without repetitive illusion. Ashes Of Ares simply have a lot more to offer, but the typical Barlow tone unmistakably brings the iconic releases of Schaffer's band to mind. The supreme quality of Ashes Of Ares is spawned upon us from the epical sonic experimental ,,Consuming The Mana" onwards. Kicking it up with breaks and time changes AoA spits furious and ferocious on the 11 following tracks. Shedding skin multiple times musically, the dramatic ,,The Alien" and ,,Unworthy" have neck-wrecking potential. The metal ballad ,,Soul Searches" is sublime and subtle. Frequently AoA launches double base assaults on our eardrums, in the best piercing Judas Priest tradition (,,Sun Dragon"). Blistering solos, heavy riffs, and bass and drums in great turmoil are fuelling the tracks. Subtle mid sections and gripping slow movers like the towering and gripping ,,Let All Despair" and the ominous ,,Spirit Of Man" and hell spawning ,,The God of War" with Barlows low grunts and howls, ensure diversity. ¾ paced tunes are rare, but once Barlow and Vidales embark on this terrain, the deliver eminent. ,,In the Darkness" revamps the iconic Iced Earth. ,,You know my Name" is the slick melodic last track on the album, has you reach for repeat. At first spin the song seems unsuitably smooth, but the little tweaks and guitar / vocal pitches provide depth and remarkable intensity.

Ashes Of Ares' `Well Of Souls' has the ingredients of the multiple classic and iconic bands mentioned, interlaced with a unique compelling creativity from Vidales and Barlow. The progressive metal delivered is of extremely high quality and is performed with unmeasured panache and talent. The diversity is appealing and the album reveals more of its grandeur with every spin. Fans of Barlow's vocal work definitely need to check this album, that's for sure. I also recommend Nevermore / Sanctuary and Queensrÿche fans to check out this enjoyable release. Spot on!


#ashesofares #headbangerslifestyle #hbls