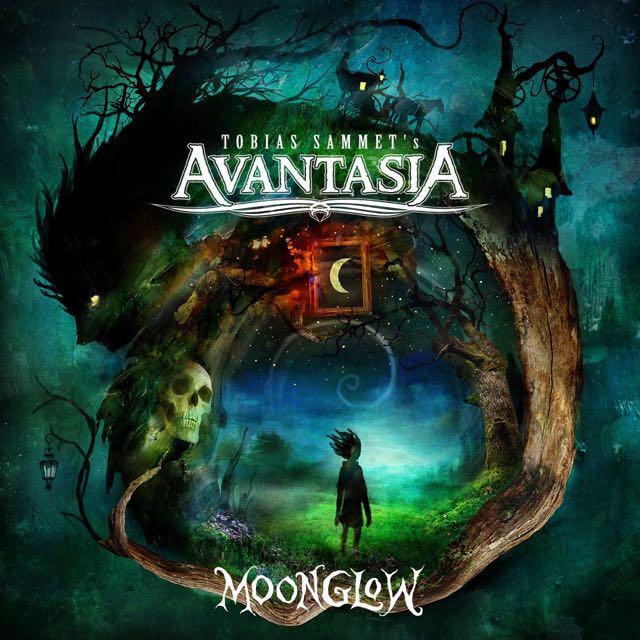 AVANTASIA-Moonglow
Nuclear Blast Records
Album number eight from German Metal aficionado Tobias Sammet, entitled `Moonglow', spent two years in the making. Carrying the banner of Avantasia, the album is packed with epic melodic metal, the trademark to Sammet's previous outlets. Though the album is having the Avantasia trademark, it also brings a wider variety of metal to the plate. Right off the bat ,,Ghost In The Moon" runs 9+ minutes and raises the bar for the album on the spot. Sammet's signature song writing dominates the track, but it also has a captivating dramatic sphere around it. Reminiscent to Jim Steinman's `Bat Out Of Hell' and the `Original Sin' release, `Moonglow' packs more drama and symphonic elements rooted in melodic rock. Sammet clearly steps from underneath the typical Euro-power metal umbrella to bring a wider and more varied sound palette to the Avantasia fans. The song flourishes with pompous urge and heavy orchestral arrangements, fused with extravagant melodies and hooks. Guitars are delivered in their finest form with delicate solos and melodies, over the rock solid and ponderous foundation of drum and bass. It is lengthy and atmospheric without lacking the Sammet trademarks.

The star studded line up of guests adds to the joy of `Moonglow', with Pretty Maids' Ronnie Atkins, former Queensrÿche lead singer Geoff Tate, Michael Kiske of Helloween, Jørn Lande [ex-Masterplan], Eric Martin [Mr. Big] and Magnum's Bob Catley, being present on previous releases as well. `Moonglow' also introduces new collaborators: Hansi Kürsch of Blind Guardian, Kreator's Mille Petrozza and Blackmore's Night front woman Candice Night, to add their unique talents.
More Teutonic and bass drum-driven is the heavy metal hammer ,,Book Of Shallows", with great interaction between Atkins and Tate, as where the title track is an impressive melodic track with an ethereal sub note. It's however the operatic grandiose epic tracks like ,,The Raven Child", ,,Alchemy" and ,,Piper At The Gates of Dawn" that are overwhelming and diverse, as well as over the top. The choruses are larger than life and pumped up to the max, twists and plots keenly implemented to surprise listeners. Shorter running tracks are more on focus and pack the Sammet-ingredients, with high paced wallop and drive. If the pace goes down Avantasia brings magical moments such as the piano ballad ,,Invincible", which has Tate shining like in his [long gone] best days. The timid setting flowers with pompous arrangements and oozes comfort as well as tension. Tension spawned on the eclectic and persistently driven ,,Requiem For A Dream". ,,Maniac" is a corky cover of Sembello's 80s dance hit and is injected with a metal dose to bring it to life.

Unlike on its predecessors I believe Sammet has more effectively managed to make his epical power metal coincide with slick melodies and AOR elements, without it affecting the outcome negatively. The entire run of this CD is well balanced and it all feels more natural, with no weak tracks in between. It still is a benchmark for Sammet's style as a songwriter of Edguy and Avantasia, heavily balancing the fine line between tacky and epic, but all in all this album feels more generic than ever. It certainly packs an interesting contemporary feel without lacking the typical Avantasia stylistics.