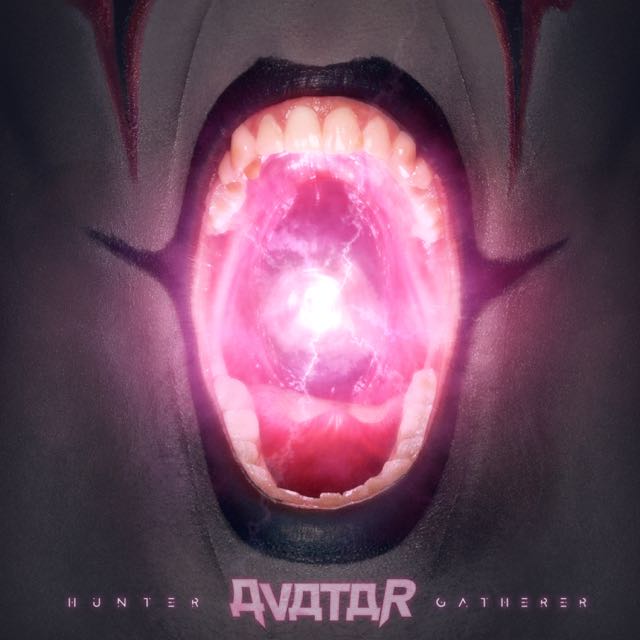 AVATAR-Hunter Gatherer
Century Media Records
After releasing the successful `Avatar Country' in 2018, the Swedish melodic (thrash) metal outfit called Avatar had the challenge to come up with a successor.
The production for `Hunter Gatherer', the band's 8th album, was in the hands of producer Jay Ruston (Stone Sour, Slipknot, Anthrax) at Sphere Studios in Los Angeles, California, where the foundation for each song on the album was laid down with the band performing altogether, as they'd done only once before on `Hail The Apocalypse'.

Opening song ,,Silence In The Age Of Apes" starts with a full blown (Stone Sour like) power riff. This opening song is one that wakes you up immediately. ,,Colussus" starts with an industrial vibe and then quickly turns into a dragging mid tempo arena monster. Because of the way the song develops, I think a reference with Rammstein is very reasonable. ,,A Secret Door" is build around the whistling intro (by Slipknot/Stone Sour frontman Corey Taylor). The song starts slow, but the chorus is again full power. The dynamics and especially the surprise factor in the song writing of Avatar is one of the strongest points of the band. ,,God Of Sick Dreams", ,,Scream Until You Wake", ,,Child" combine classic thrash riffs, grunting vocals with melodic song phrases and even theatrical elements. The choice for Jay Ruston as producer is excellent, because his way of producing suits the band's way of song writing and performance. Almost every song on the album has the signature tempo changes. ,,Justice" is no exception in that department, with a killer mid section in it. Piano ballad [?!] ,,Gun" is not Johannes Eckerström's vocal highlight on the album. Better yet not their best moment on the album and to me somewhat the odd one out on the album. It makes no sense to me at all. Ok, it makes the somewhat mediocre ,,When All But Force Had Failed" kick in harder than when it was in between a few super heavy songs. The last song ,,Wormhole" also has all the elements of an Avatar song, but cannot hold the power and excitement the earlier songs on the album have.

`Hunter Gatherer' is the darkest, most sinister version of Avatar, with deep studies of cruelty, technology, disdain, and deprivation. To me this album has its highs and lows. The first section of the album has its brilliant moments that separate the band from others. The last three songs and mostly the attempt to put a ballad on the record was not the best idea.
If you love the earlier work of the band, you will love this record as well. Avatar's fan base will undoubtedly enjoy this new album.


#avatar #centurymedia #headbangerslifestyle #hbls #awayoflife