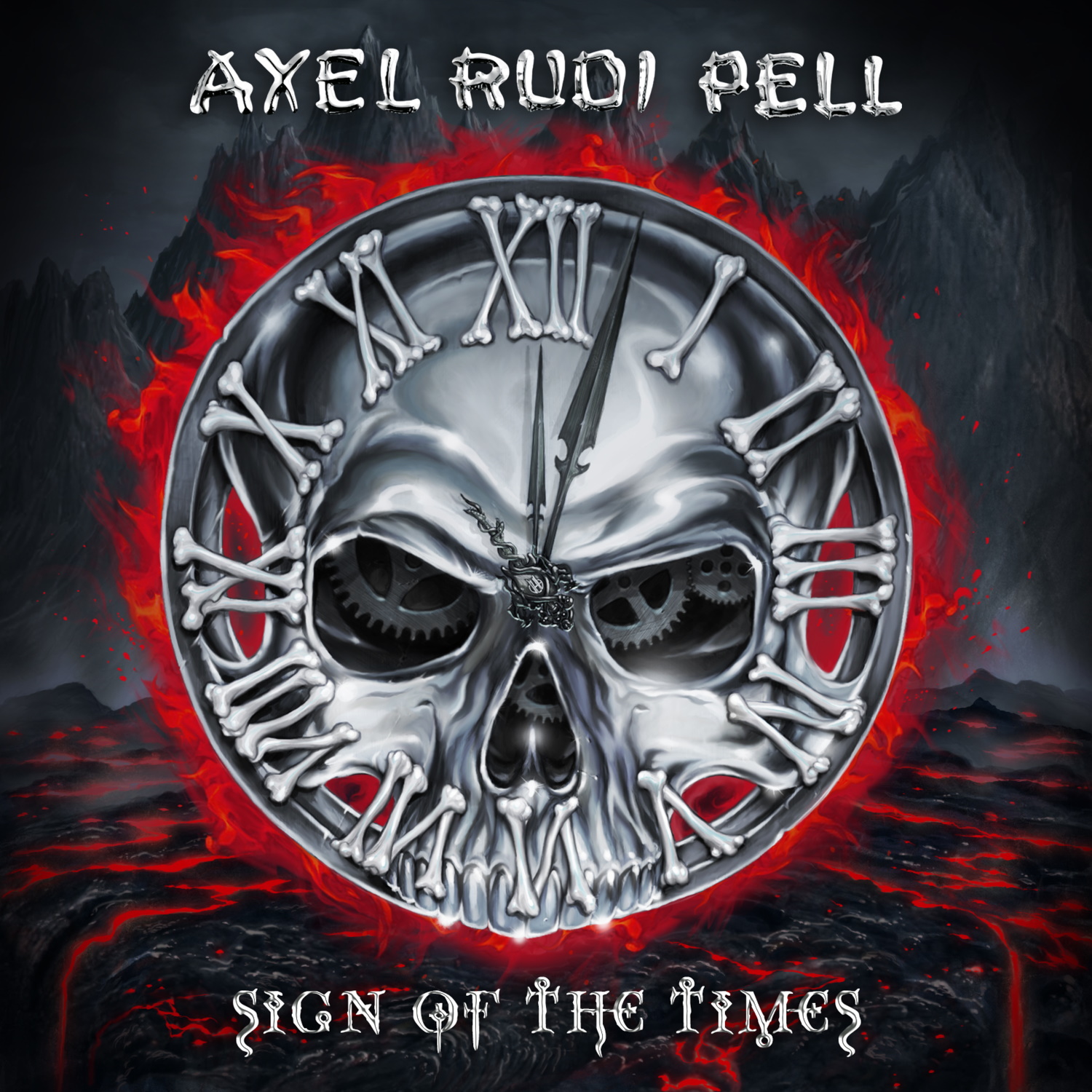 AXEL RUDI PELL-Sign Of The Times
Steamhammer/SPV
When you look closely at the cover of 'Sign Of The Times', the latest studio effort of German guitar maestro Axel Rudi Pell, you see that the time is two minutes past twelve. What is he trying to say with that? Obviously something like mankind is living in difficult and challenging times. At the time of writing and recording the album Axel Rudi Pell was more thinking about topics like climate change, love/hate relationships and some other more serious topics. Little did he know that the coronavirus was lurking around the corner disrupting everyone's life.
THE STAGE
Axel may be able to launch his new record and do some interviews via Skype or telephone to promote the record, but the thing he and his band consisting of singer Johnny Gioeli, bass player Volker Krawczak, keyboardist Ferdy Doernberg and drummer Bobby Rondinelli do best (taking their songs to the stage to entertain the public) he won't be able to do for a while.
DISCUSSION
A little while ago I followed a discussion on Facebook between some of my music 'friends' and they were spitting nothing but criticism towards an artist that has been around for more than 35 years now. 'Oh, he is always repeating himself, his sound is boring, he is not a good composer' and more of that. To those people I would like to say: listen to 'Sign Of The Times' and maybe you can hear that even after all this time Axel Rudi Pell is capable of finding some new musical and production technical avenues that do make a difference.
REGGAE
Okay, he has not abandoned his heavy classic rock style, but the record is more playful, does not have the typical lyrics about knights, demons and doom and gloom and has the best sound ever. Pell made a change in the studio involving this time not Charlie Bauerfeind but his live engineer Thomas Geiger and I don't know whether it was because of that but 'Sign Of The Times' sounds impressive and above all massive. The drums of Rondinelli pound like never before while singer Gioeli delivers outstanding quality behind the microphone. Especially the second part of the CD with for instance a reggae intro for the track ,,Living In A Dream'' has got a lot more variety on offer.
UTTERLY ENJOYABLE
The changes in sound and approach are not big but very subtle indeed. Old fans of Pell will still find what they are looking for on 'Sign Of The Times' but even they (when they listen closely) should notice these small changes for the better. Axel Rudi Pell has not re-invented himself on this album (why should he?) but has given himself and his musicians a bit more leeway that has done the whole record a world of good. A bit of fine tuning has made this a remarkable and utterly enjoyable classic rock album Pell style with a small twist. Jawohl!
#axelrudipell #hbls #headbangerslifestyle #awayoflife