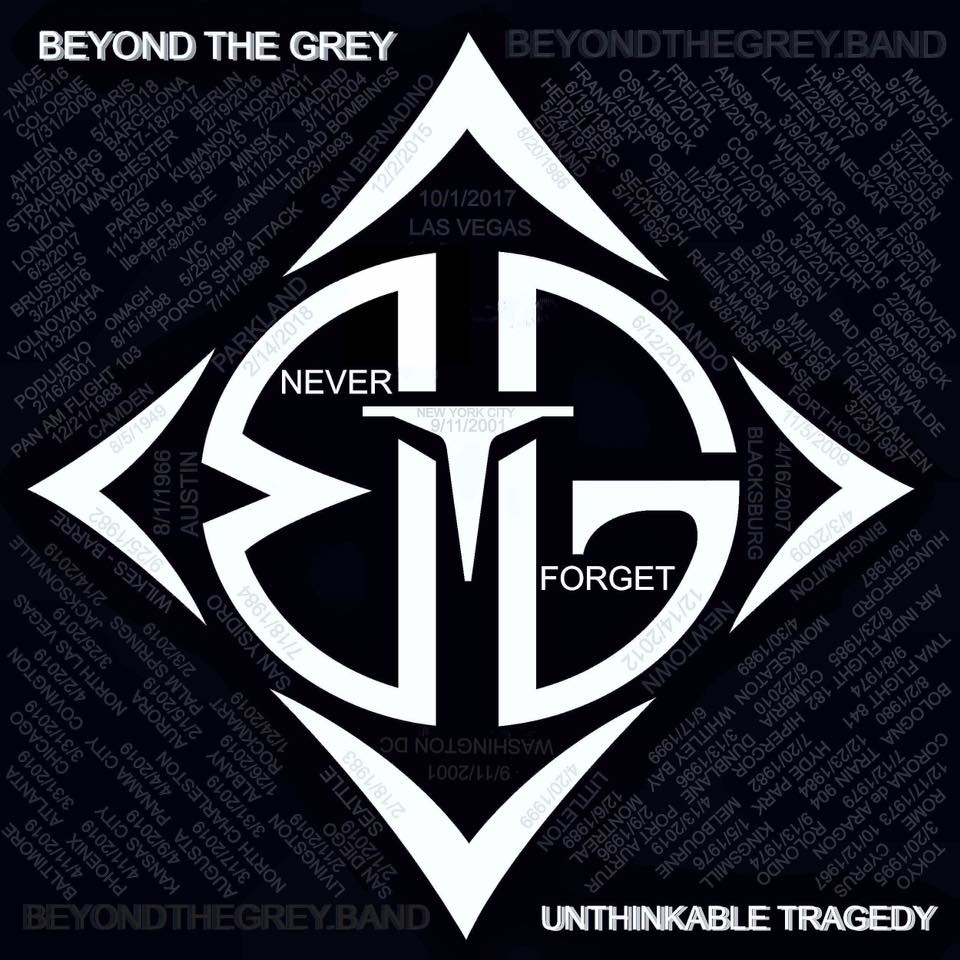 BEYOND THE GREY-Unthinkable Tragedy
Pure Steel Publishing
Beyond the Grey isn't the typical hard rock band. Hailing from Kansas City, the band aims to bring awareness to the unthinkable tragedy of survivors witnessing mass shootings and terror attacks throughout the world. With the release of `Unthinkable Tragedy' the band hints to inspire and gives a glimpse hailing from personal experiences.

The above being rather pretentious, it takes shape on the album as prophesied. Not stepping away from agony and anger, the band scorches forward with intensity needed to highlight the topic and catch the emotional factor to appeal to listeners. ,,Now Or Never" off the bat takes us into the emotional spectre set by progressive driven drums and loud slapping bass. Guitars emphasize the melodies and bridge to the emotional outpour. Bullying lying at the root of many mass hysteria, Beyond The Grey take position with towering anger addressing turmoil, yet casting hope. Melodically the band spits forward with drive and the double kicked drums taking us into the title track. Lyrically it addresses the anguish and agony with a powerful plea. It contrasts deeply with the etheric and emotion packed ,,Finally Free" that suddenly burst into flames. Linking directly with the following ,,Pain" that is slowly gaining momentum entering. Vocals isolated outside of the musical metal frame, the song has a good momentum. Driving with nu grooves it doesn't pack the typical low-end grit. A transparent melodic outline somehow adds to the package. Moving forward with the ominous ,,Gravedigger", the ominous spit is adjective and makes waves towards the sudden heavy musical twist. ,,Insanity" opens with bass and jazzy chords to delve into heavy bulldozer riffing and sombre vocals. The same start as a blueprint for ,,Overflow" which moves more into hypnotic psych, with emotional outbursts. Whammy guitar riffs take the front for the lavishing ,,Counterfeit", with great kick and intense guitar work. Reminiscent to Ozzy's withering vocals the song packs intense agony. ,,No More" shoots into gear putting a mark on the album with its drive and uplifting sub notes. Somehow it reminds me of Soundgarden in a more metallic jacket.

Beyond The Grey put a distinct mark on metal, addressing the current societal turmoil caused by upsetting hysteria as an outcome of the mindless crimes of the isolated loner. Their grip on society is captured in an emotional cocktail of modern metal frequently reminiscent to Soundgarden's typical drive. Less gritty and grungy, but still accurately addressing life.


#beyond the grey #puresteel #headbangerslifestyle #hbls #awayoflife