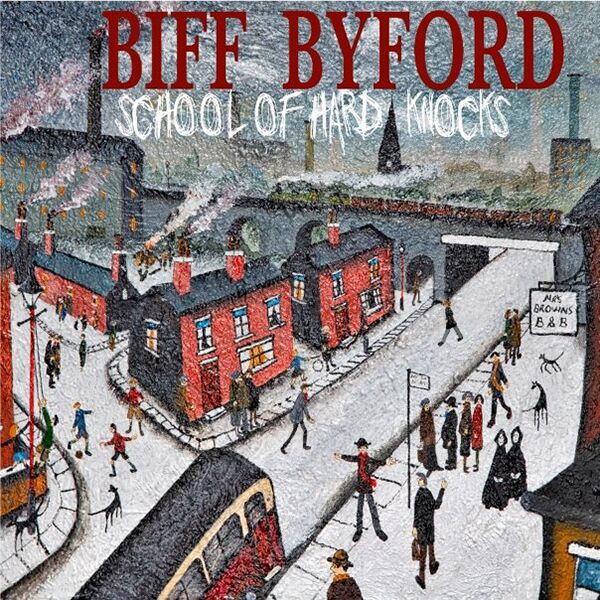 BIFF BYFORD-SCHOOL OF HARD KNOCKS
Silver Lining Music
Two years ago, Saxon released their 22nd album called 'Thunderbolt' and it was again a metal feast featuring top-notch heavy metal tracks galore. Biff Byford's band have always been one of my favourite English metal groups and now at the age of 69 Peter Rodney Byford decided to come up with his first solo album with the appropriate title 'School Of Hard Knocks'. Biff's solo debut features eleven tracks of which two are very surprising covers… ,,Welcome To The Show" and the title song are both old school hard rock/metal tracks, of course in the musical veins of Saxon; featuring amazing vocals and excellent guitar solos by Fredrik Akesson (Opeth).

The first musical surprise/treat is the prog metal track ,,The Pit And The Pendulum", an amazing song clocking over seven minutes, filled with Dream Theater – like riffs and tempos, an extremely melodic chorus and two up tempo howling guitar solos. ,,Pedal To The Metal", as the title obviously suggests.., is again a classic Saxon-sounding up tempo metal track which needs no further introduction; in other words: love it and play it f…. loud!! The real surprises on this album are the two covers – as you might know I am normally not a real fan of covers – being: ,,Throw Down The Sword" and ,,Scarborough Fair". The latter, a Simon and Garfunkel song, is in fact a Yorkshire folk song, but Biff "delivers" it as a rock ballad, featuring semi-acoustic guitars and magical vocals by the master himself; beautiful indeed. Fredrik Akesson and Byford created a new arrangement of ,,Scarborough Fair" and they did a more than wonderful job! Second cover is the classic Wishbone Ash song Throw Down The Sword'' from their legendary album 'Argus' (1972) and Byford recorded that track because that was the first song he ever heard that had anything to do with history and battles and war. Byford's version of ,,Throw Down The Sword" of course also kicks off with the classic guitar intro, followed by Byford's superb vocals and lots of amazing guitar solos, all in the veins of the legendary Ash. The song ,,Me And You" is a kind of "filler" as it is an almost poppy track with a catchy chorus and even a saxophone solo; this is indeed the odd one out on `School Of Hard Knocks'. But, overall, this is an extremely well-played, sung and produced album and Byford did a more than excellent job as he was assisted by Fredrik Akesson (guitars), Christian Lundqvist (drums), Gus Macricostas (bass guitar) and guest musicians Phil Campbell (Motörhead), Alex Holzwarth (Rhapsody Of Fire), Nick Barker (voices), Dave Kemp (Wayward Sons) and Nibbs Carter (Saxon). 'School Of Hard Knocks' is Biff's testament and love letter to his specific homeland, being the English North.

The title of the album, by the way, is a idiomatic phrase meaning the often painful education one gets from life's usually negative experience often contrasted with formal (read: better/higher) education! Highly recommended, and not only suitable for Saxon fans! Listening tips: ,,The Pit And The Pendulum" and ,,Throw Down The Sword".


#biffbyford #headbangerslifestyle #hbls #awayoflife