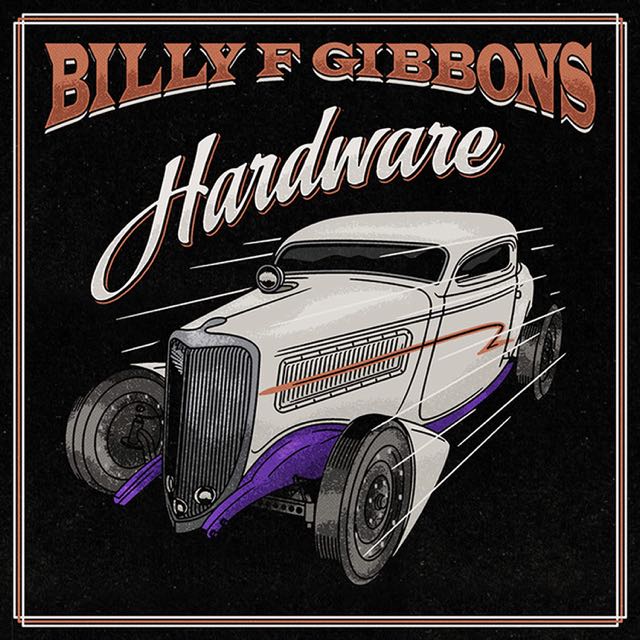 BILLY F GIBBONS-Hardware
Concord Records
As ZZ Top is on a sort of hiatus (their last record was released in 2012) guitarist/singer Billy F Gibbons has all the time in the world to concentrate on a solo career that he started some six years ago with the album 'Perfectamundo'. He followed that up three years later with 'The Big Bad Blues', an album that was filled with half covers and half original material.
For 'Hardware' Gibbons has penned eleven new tracks with drummer Matt Sorum, bass player Mike Fiorentino and guitarist Chad Schlosser. This time there is only one cover on the album and that is a 'tex-mex' version of ,,Hey Baby, Que Paso'', originally recorded by The Texas Tornadoes. The album is only 37 minutes long, but it is entertaining as hell and as low, down and dirty as can be. Big groove chords, Billy's famous gritty vocals, Sorum hitting his drums harder than ever and the solos by the bearded man are at stages breathtaking.
The girls of Larkin Poe have a guest appearance on the smoking rocker ,,Stackin' Bones'', the track ,,S-G-L-M-B-B-R'' rocks your socks off while ,,Vagabond Man'' and ,,Spanish Fly'' are real sensitive songs with superb guitar work. Although at times Billy stretches out his musical horizon on 'Hardware', is it safe to say that most of the time he stays in the neighbourhood of the ZZ Top mothership. The CD cover is with the featured Camino a sight for sore eyes and the musical rock and blues rock content with every now and then a little twist is very entertaining indeed. He might be almost 72 years old but this man sounds as dirty as in his early days with ZZ Top. Check this one out if you like vintage ZZ Top!