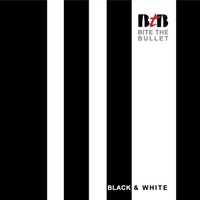 BITE THE BULLET-Black & White
Escape Music
Sometimes the re-release of an old album can lead to a new chapter. Somewhere in 2019 it was thirty years since the first album if the UK based formation Bite The Bullet saw the light of day and that fact was celebrated with a re-release. It made core members Mick Benton (vocals/guitar/keys) and drummer Graham Rowling realise that they were not done yet. The duo had always stayed friends and occasionally played together but now it was time to approach things more seriously.
So Benton put his thinking cap on and started to write new songs for an album that has now been released by Escape Music as it seems in a limited number of copies. For the occasion Benton also played bass and the production. Listening to the twelve AOR songs my thoughts at times go to bands like Stage Dolls from Norway, USA heart breaker Richard Marx with a sniff of Mr. Mister in the music as well. The twelve songs are pretty smooth, have a few poppy elements as well but should appeal to a general AOR fan as the voice of Benton is pretty easy on the ear as are the songs and the silky sound that Bite The Bullet is providing on 'Black & White' with the necessary sparkle here and there.
Surely not all songs are as catchy or as good as each other but as a whole this is a pretty package indeed. I would not call it essential perhaps but I have heard a lot worse records in this genre. Especially the title track has a certain 'Stage Dolls' feels while ,,Starlight'' is a fine tuned AOR track. There is not much wrong with 'Black & White' if you ask me. It is a light hearted affair that can be consumed at any moment of the day.