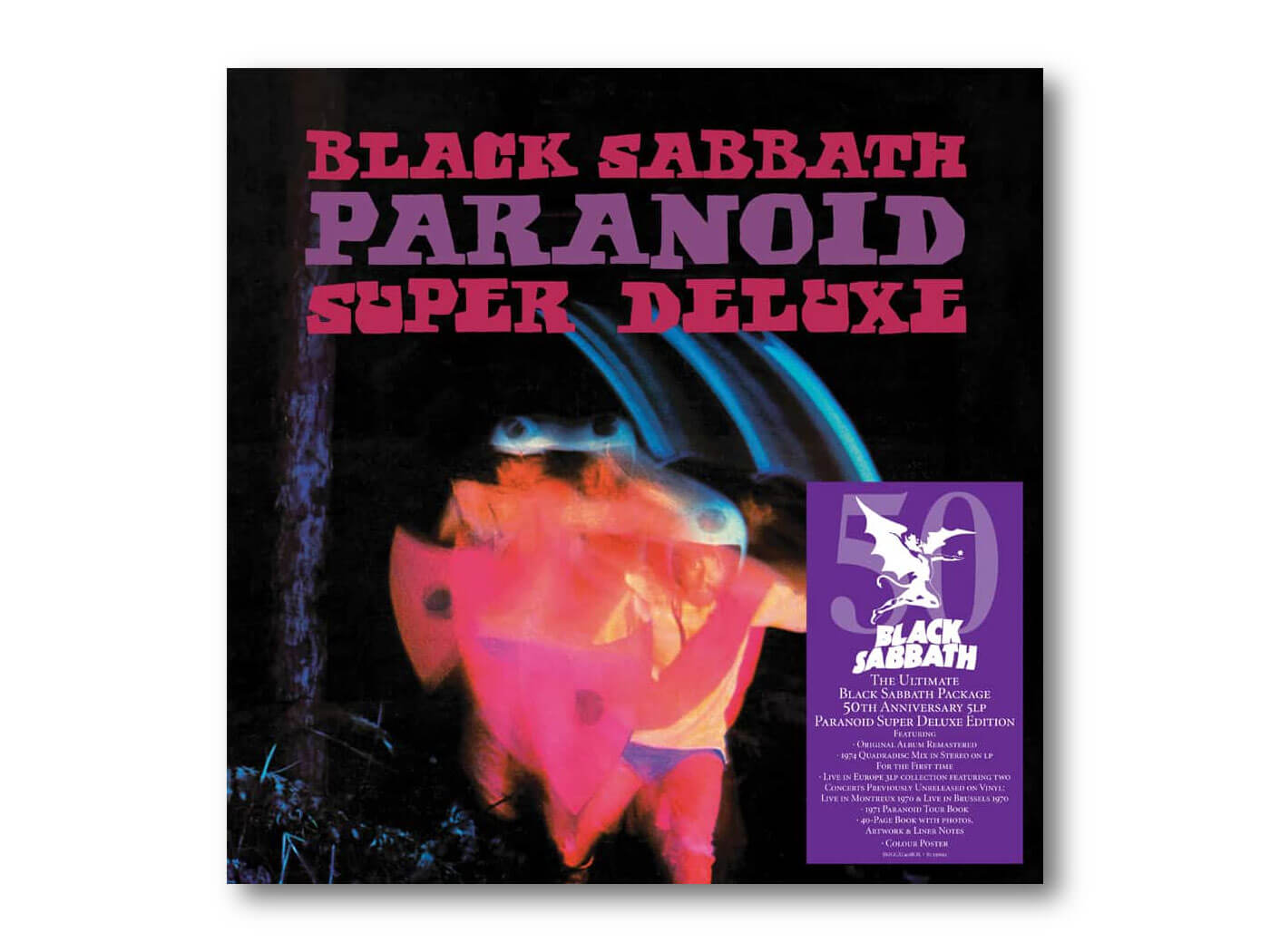 BLACK SABBATH-Paranoid 50th Anniversary Super Deluxe Edition
Sanctuary
In 1970 the world got to know Black Sabbath as the band from Birmingham released two albums in one year, 'Paranoid' being the second. Although a lot of press critics had not much good to say fans lapped it up and the fact that the song ,,Paranoid'' became a hit all over the world helped Tony Iommi (guitar), Geezer Butler (bass), Bill Ward (drums) and vocalist John 'Ozzy' Osbourne shot to fame and they also were able to put up their middle finger towards all those critics that thought it was too loud and the lyrics were occult and unheard of. Black Sabbath created a new musical genre in rock: doom metal! They became trendsetters and musicians that (in later years) got the praise and recognition they so richly deserved. Look at all the groups and musicians that were inspired by Black Sabbath to give it a shot. The list is too long to mention…
I remember hearing ,,Paranoid'' as a very young kid on the radio and a few years later when I started buying records the whole Black Sabbath catalogue was one of the first purchases. We are celebrating the 50th anniversary of 'Paranoid'. Obviously that has to be done in style by launching a Super Deluxe Edition. But wait?! Digging into my collection I found a 2016 Rhino Entertainment release, a 4-CD boxset with exactly the same material as is being presented in 2020. The whole album in a remastered version, the whole album in a Stereo Quad Mix plus two live recordings made in Montreux and Brussels.
The only 'new' thing with this release is that for the first time there is a 5 LP vinyl set available separate from the 4-CD box. It also includes the regular album, the Stereo Quad Mix and the live concerts (that are divided on three pieces of vinyl). Obviously there is a replica of the tour book, liner notes and interviews with the four musicians.
So at the end of the day you have a choice. Just take no notice if you are not into all that 'so called' extra stuff, get the 4-CD or the vinyl set. Not sure what the prices are but it will sure cost a few pounds, euros, dollars or whatever currency your country has. If you are a diehard Black Sabbath fan I guess the vinyl set is something to think about as that is really new. I don't find it in this case necessary to judge the quality of the music, we all know that 1970 album we all know what these guys have done for the metal scene and their importance for music in general. The product is out there in different formats, the rest is up to you!
#blacksabbath #paranoid #50thanniversary #hbls #headbangerslifestyle #awayoflife