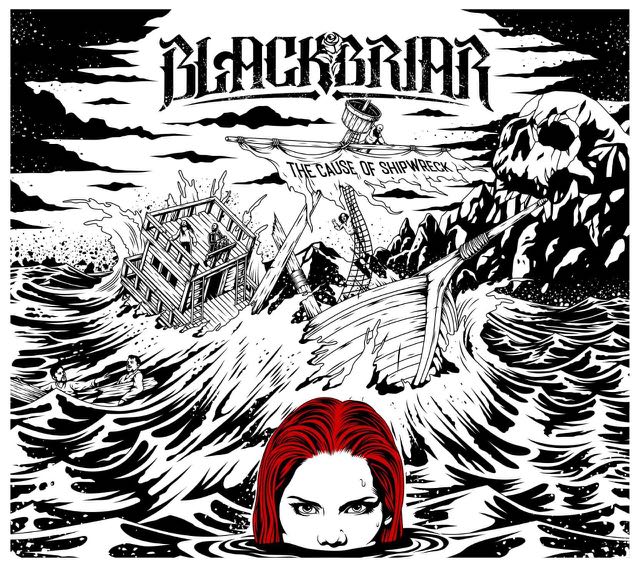 BLACKBRIAR-The Cause Of Shipwreck
Independent
The Dutch six-piece Blackbriar made name for themselves over the last seven years by releasing six singles and three EP's [`Fractured Fairytales', 2017, `We'd Rather Burn', 2018 and `Our Mortal Remains', 2019], supported by beautiful videos, which resulted into thirty million views on YouTube and over twelve million streams on various musical platforms so far.
By building a strong fan base over the years, Blackbriar was now able to successfully crowd fund the making and release of their long-awaited debut album `The Cause Of Shipwreck' [release 23 April, 2021], produced by Joost van den Broek [Epica, Ayreon, Powerwolf, Kovacs, etc.]. Blackbriar is labelled as a symphonic gothic rock band but to me they walk a slightly different path within that genre and sound forceful but different than Dutch colleagues Epica or Within Temptation.
Something that immediately stands out on `The Cause Of Shipwreck' is the striking and unique voice of Zora Cock, who produces an extraordinary, enchanting vocal sound and melodies that you will recognize her for immediately. Zora is almost like a siren, luring you into dark romantic scenarios, twisted fairy tales and ghostlike sceneries and she keeps you occupied until the very end. The approach of the arrangements, including the vocals, is exciting and quite refreshing and `The Cause Of Shipwreck' even features some light pop elements. The orchestral and symphonic arrangements are present but the band is not going too much overboard with it, as there is also a focus towards a more dreamlike and mysterious direction.
The opening track ,,Confess'' is captivating and I'm sure that the tension that's been building up in this song will work great in front of an audience. ,,Weakness And Lust'' sounds firm and dark and contrasts great with Zora's weeping vocals.
The first video single ,,The Séance'' has actually very accessible elements and a big hooky chorus, which is probably a safe way to present the band to a new audience as well. I'm immediately in love with the beautiful ghostly sounding ,,You're Haunting Me''. ,,My Down-to-Earth Lover'' embraces a more anthem rock approach in which the melodic guitar solo's are one of the key elements here. I like the entire album, but I also want to point out ,,Selkie'' and ,,Lilith Be Gone'', because these songs feature great, creative and intriguing vocal melodies and with these kind of songs Blackbriar confirms to be a creative force with its own identity. I'm curious how the band will explore their musical path after this release because they have something special going on.