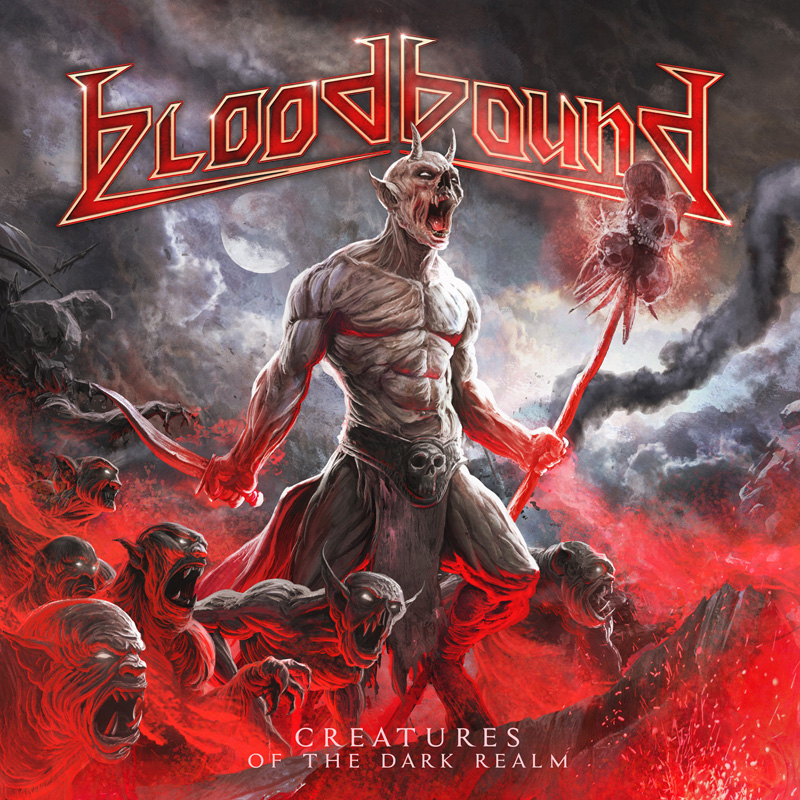 BLOODBOUND-Creatures Of The Dark Realm
AFM Records
Swedish power metal band Bloodbound got to the surface in 2005 with their debut album `Nosferatu'. Today in 2021 they have eight studio albums, a live record and an EP under their belt and are now back with album #9 called `Creatures Of The Dark Realm' and it has become an amazing album.
Bloodbound has evolved through the years and the three-headed song writing team of keyboardist Fredrik Bergh, guitarist Tomas Olsson and vocalist Patrik Selleby has delivered an album that keeps the fire burning for the genre. This album has all the elements of classic heavy/power metal, but also has room for great melodic choruses and symphonic elements. The craftsmanship these 6 guys show is just nothing short of amazing. Mix that with an amazing crystal clear production and we have all the elements we need for a great balanced album.
The intro to this epic journey ,,The Creature Preludium", is a nice acoustic one, that leads right into the album's title track ,,Creatures Of The Dark Realm", that starts with blistering drums, symphonic orchestration and blazing guitars. It has a melodic chorus that the fans can shout along with in a live situation.
,,When Fate Is Calling" quietly builds up with a verse and then opens in a wonderful melodic chorus. In the middle part we again have room for a symphonic piece that introduces the solo part. ,,Ever Burning Flame" opens with a chorus and melodic theme and evolves into a classic double bass driven power metal chorus. Yet again to make room for the melody in the verse section. ,,Eyes Come Alive" opens with a blazing priest-like opening riff and complementing vocals of Patrik. But do not think this is another painkiller wannabe song, because it goes from the power metal opening to melodic middle parts and sing-along choruses that will perform amazingly live!! What is striking, is how easy and natural the musical transitions sound. ,,March Into War" yet again starts with a vocal intro and than evolves with a great guitar riff. It is a top-notch melodic heavy metal song with a great chorus and great melodic solo parts.
Actually, every song on the album holds surprising elements that keep them interesting. The musicianship and song writing is of a high level. What I really appreciate about `Creatures Of The Dark Realm', is that the songs are not completely packed but have room to breathe and have unpredictable twists. It is all about the songs and not about the egos of the musicians. Any favourite songs? Just the complete album as a whole!
I hope we can soon go back to normal and go out and see bands on stage again to perform their songs, as Bloodbound would be absolutely a band I would like to experience live in action. Yes, if you want to moan you could say that this album could have been an Avantasia album, because they fish in the same pond, but isn't that what this genre is all about and anyway all these bands got their influences from the same bands.
What's important is the fact that this album rocks!!!  
So I would urge all fans of this genre to give this album a listen and fall in love with it.