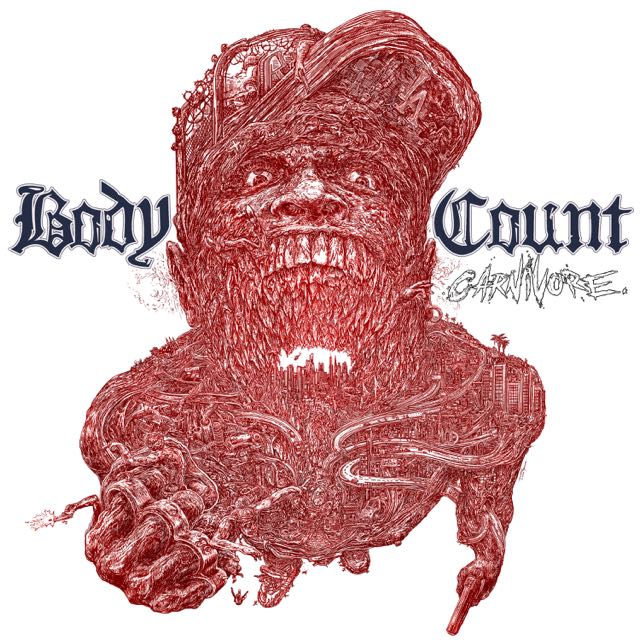 BODY COUNT-Carnivore
Century Media Records
Three years ago, I had the privilege to review Body Count's latest record 'Bloodlust'. To me that album is a musical masterpiece lyrically and musically and proofs that Ice-T and his squad are still relevant and have something to say.
As you can imagine, my expectations towards a new Body Count album had been very high, compared to the bar they raised themselves. When the band teased me with the title-track ,,Carnivore" earlier this year I had the feeling that they would easily deliver what I'd expect. And they fucking do!
I could end my review here by just saying: Body Count is the shit and 'Carnivore' is gonna be one of the musical highlights of 2020 and beyond, but that would be too easy to do.
Body Count are not re-inventing the wheel on 'Carnivore' but clearly follow their tradition in adding a tribute (,,Ace Of Spades" by Motörhead), a re-imaged version of an Ice-T classic (,,Colors", the title track of the movie with the same name by Dennis Hopper) and adding a couple of guest artists (Riley Gale of Power Trip, Jamey Jasta of Hatebreed and Amy Lee of Evanescence). The riffs, the beats, the words all come together as sharp as a butcher's knife. Always on point, all killers, no fillers.
Even though the Internet trolls constantly try to bash Ice-T because of his celebrity status, they will always fail on the man's street credibility. Ice-T doesn't age and still rip the haters apart, physically and lyrically. The lyrics are the mirror of a state of injustice, racism, hatred and the truth of a huge gap between wealth and poverty. In a time of fake news, selfish politics and constant fear it is important to raise a voice and make a stand for humanity and respect for each other. For me personally it is just hard to understand, how human beings are even capable of treating each other the way we do on a daily basis. On the other hand I'm grateful about the fact that real music still exists and how powerful music can be, transporting a feeling that give you strength and courage and deliver a clear message as well.

Since you took the time to read to the end of my review you know now:
Body Count is the shit and 'Carnivore' will be one of the musical highlights of 2020 and beyond.



#bodycount #centurymedia #headbangerslifestyle #hbls #awayoflife