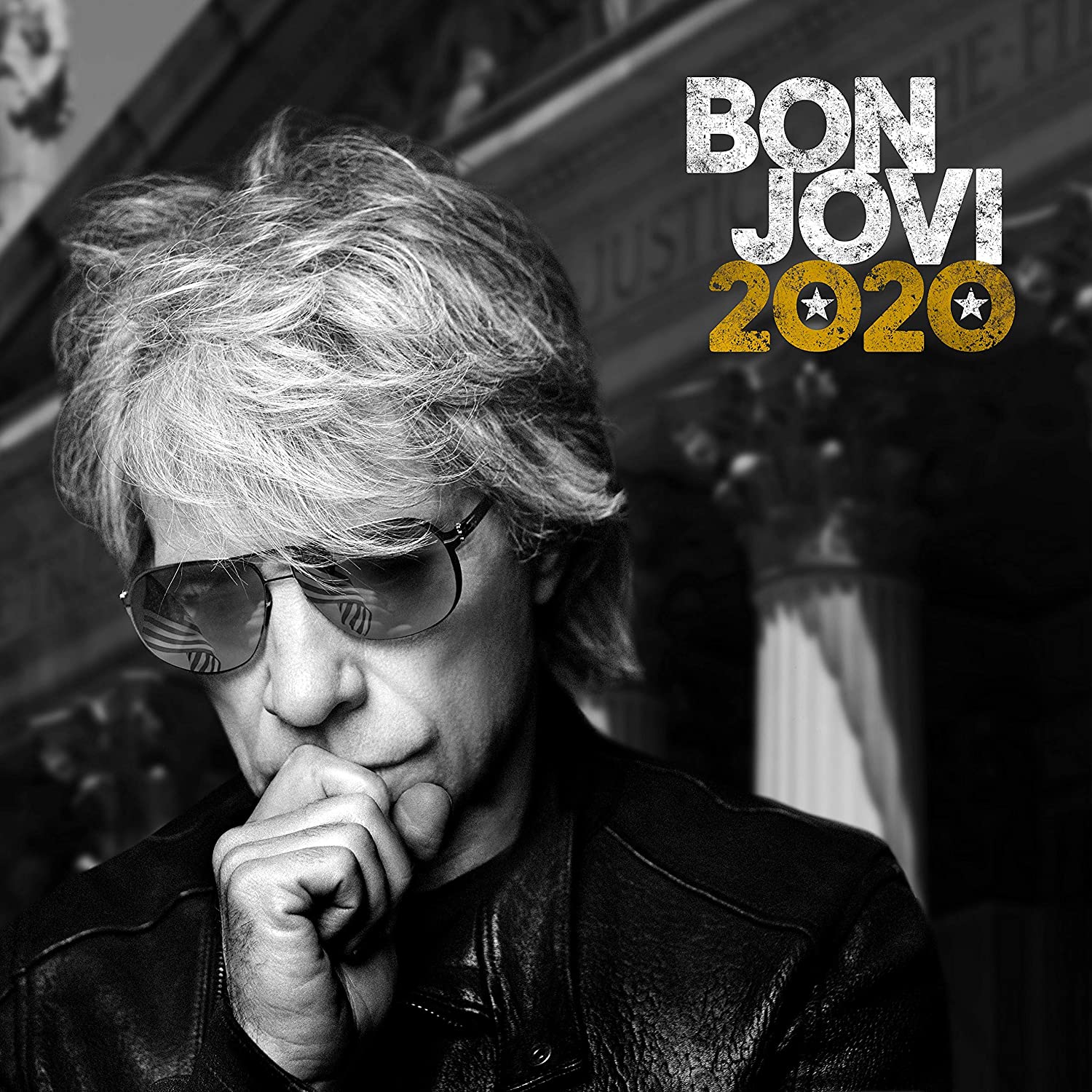 BON JOVI-2020
Island Records
Sometimes a picture tells the whole story. When you look at the cover of the latest Bon Jovi record you see the singer/composer Jon Bon Jovi as a man in deep thought, his chin resting on his hand. This year has been a disaster, that much is clear. And it is not really appropriate to sing joyful songs. Jon and his associated musicians have chosen for a direction that suits the happenings and events of this year.
'2020' is a very sober and patriotic album. Songs like ,,Limitless'', ,,Do What You Can'', ,,Beautiful Drug'' and ,,American Reckoning'' are about topics like Covid-19, unemployment, Black Lives Matter, the George Floyd saga. Some songs are downright truthful, some songs give some hope for the future. It is clear that in his lyrics Jon has gone deeper than ever before in his long career. Since the departure of Richie Sambora the music of the band Bon Jovi changed for good. Not that Sambora was the main songwriter but his influence was enormous. The character of the Bon Jovi band changed and so did the music. To be quite honest albums like for instance 'Lost Highway' did not really impress me. What I did like was the ruthless way Bon Jovi ended their career with Mercury Records by releasing the album 'Burning Bridges' where Jon and Co really took aim at a record company which they served for decades. No pictures, no lyrics, just ten songs with very bitter lyrics.
How different is '2020'. It is a rock album that is for sure, but it is also mellow and down to earth. There is no room for happiness and good time rock and roll on this one. It is not strange that Jon took aim at the US society under President Donald Trump. He clearly voted for the next US President Joe Biden, even coming out on campaign and performing on behalf of Biden. That does not mean though that '2020' is a political album. The songs are merely observations of what has happened in 2020. Some songs do actually rock like ,,Let It Rain'' while ,,Blood In The Water'' is a song written by a father (in this case Jon) who is worried what the future might bring for his children. By the way, the song has a truly blistering guitar solo.
So, to cut a long story short '2020' is very different and if you are a Bon Jovi fan based on the eighties this record might not be for you as it is pretty patriotic with songs like ,,Unbroken'' (about the military) and ,,Brothers In Arms''. But it is the most thoughtful album in the history of this band. I mean, Jon has looked around and did not like what he saw and he wrote about it. He is not preaching but merely observing and telling what he sees and feels. If you take that in mind and add to that being open minded you might feel a certain bond with '2020'. Something tells me that the days of albums like 'New Jersey' and 'Slippery When Wet' are definitely in the past and that Bon Jovi will continue on the path they paved here on '2020'.