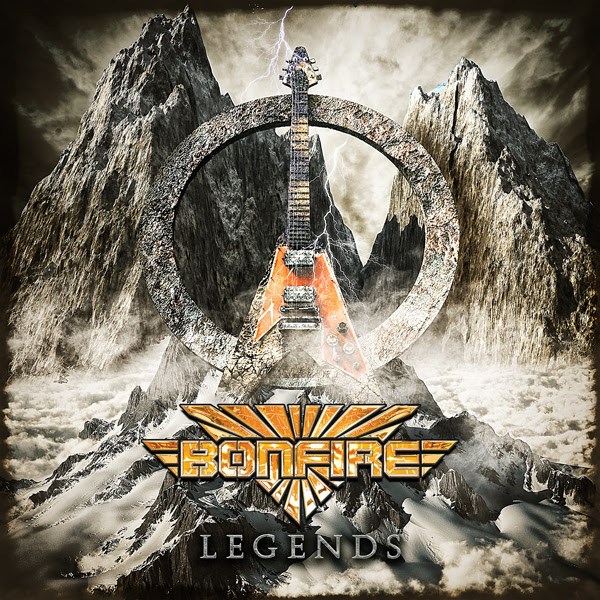 BONFIRE-LEGENDS
AFM Records
It is quite an endeavour German rock band Bonfire took upon them. The sympathetic band around Hans Ziller will embark on a full scale 28 dates tour across Europe reviving the heydays of hard rock and heavy metal. Dubbed `A Night with Rock Legends – Bonfire and Friends', the tour will feature no less than 10 legends from the rock scene to accompany the band onstage for a celebration of melodic rock and metal through the ages. Joe Lynn Turner [Rainbow, Deep Purple], Phil Mogg [UFO, Mogg/Way], Bobby Kimball [ToTo, Yoso], Geoff Tate [Queensrÿche], Robin Beck, Dave Bickler [Survivor], Johnny Gioeli [Hardline, Axel Rudi Pell], Chris Boltendahl [Grave Digger] and James Christian of House of Lords will collaborate on these magical nights or rock, as "friends" of the band. As a special guest the band also brings along Dieter HerTrampf of krautrockers Puhdys, bridging the gap to German rock. It links Bonfire's German [lyrical] roots with their more melodic rock approach, and adds up to this immaculate line up. It is certainly a tour to look forward to and spend quite some time in the making.
To accompany the tour the band has re-recorded 32 firecrackers of rock classics which will be the backbone of the band's tour dates. A chop of classics recorded by a band that never seems to let down their fans and listeners. Thus we're safe to conclude "Legends" also manages to capture front to back? 3 Toto tracks lead us into this collection of cover songs and it immediately makes clear the band has not simply covered the songs, but injected them with panache and just enough of the praised Bonfire it needs to make a difference. Staying close to the originals, but re-arranging them enough to make a fair difference per se, Ziller and his band really did their best to make this 2CD stand out between tribute albums and regular cover versions. Sure, Alexx Stahl isn't able to cover all ground on this collection of songs, but he surprisingly manages to capture the magic of the songs more than once or twice. With Toto's tracks pumped into full-blown rock anthems, stripped from the jazzy sub notes, Stahl belts an excellent job. The band emphasizes the songs and brings more power to the plate, without scratching the surface of the songs. ,,Man on the Silver Mountain'' is nearly impossible to revive though Stahl holds up firmly, and he shines on the JLT/Rainbow tracks ,,I Surrender'' and ,,Death Alley Driver'', rather than ,,Stone Cold'' which displays a lack of vivacity. Stahl certainly impresses, as does the 'new' band around Mr. Ziller. The rhythm section is ponderous and powerful and the guitar work, lead by Hans Ziller himself, is absolutely top-notch. Survivor tracks ,,Burning Heart'' and ,,Caught in the Game'' kick enough to count without being touched in it's vitals, and ,,Eye of the Tiger'' received minor tweaks and twitches to justify this re-recording. It drives with vivid guitar parts adding up. UFO classic cuts ,,Doctor, Doctor'', ,,Rock Bottom'' and ,,Lights Out'' will most certainly appeal to fans and listeners as they sound revitalized and alive. Even Schenker will like what Bonfire did with it, and I can't wait to hear Mogg sink his teeth in 'em.
The biggest challenge Alexx faced must be the vocals to ,,Child in Time'', nearly impossible to replace Gillan. Close to the original, but the high pitches aren't exactly his territory. It's these pitches he surpasses keenly on the 3 Queensrÿche tunes following. Though straying from the typical Tate-ish vocals, he manages to give the songs face with his lower register vocals. ,,Silent Lucidity'' surfaces with an even more intimate and less polished approach. Guitar work; again exquisite and well dosed. It is something that doesn't fly for ,,Eyes of a Stranger'' vocally. Let's check if Tate shakes of the wear from his vocal cords in order to revive the songs on stage on the tour.
Even more unexpectedly the band holds up firmly with Robin Beck's classic ,,Tears in the Rain'' and Stahl, though with slight nasal tone, really kicks the bucket as he does on the Coca Cola hit single ,,First Time''. It takes time to mentally adjust to the song being sung by a man rather than Beck with her crystal clear voice, but in the end it works. Hardline's tunes are less of a shift with the band patching it up with Bonfire ingredients, steering from the polished overall sound of the album.
I'm less enthused by the gospel track ,,Hallelujah'', which never strikes me, it's personal). In between all melodic 'violence' the Grave Digger songs are an oddity with Bonfire also stretching to the max. ,,Rebellion (The Clans are Marching)'' however holds up fierce. The band turns it up a notch for ,,Heavy Metal Breakdown'' to settle into a mellower mood for the wonderful [Stan Bush & Barrage] House of Lords classic ,,Love Don't Lie''. The song needs no revival whatsoever and is delivered with an 80's touch and grandeur, though vocally Stahl is not in the same league as Christian or Bush. ,,I wanna be Loved'' kicked up with more power and a modern production, as is ,,King of Dreams''. Both sound well, but miss the little sparks that make it fly. Phudys ,,Frei Wie die Geier'', ,,Erinnerung'' and ,,Alt wie ein Baum'' all surprisingly add up to the pleasure of this collection. Like I stated before; it bridges the gap between German Krautrock as it is occasionally featured on Ziller's albums, and Bonfire's hang towards melodic rock in general. Both genres are more interlaced than expected, but proven to be a tight fit [especially ,,Erinnerung''] on this CD. It will be more than likely be the songs that will make the tour nights go out with a big bang.
Bonfire belts the improbable with this `Legends' 2CD set. Not straying from the essence of the tracks the band injects all tunes with just enough of their own ingredients to justify these re-recordings. The music sounds vibrant and alive, with Hammond living up many of the classics, and spectacular guitar interaction appealing to guitarists and lovers of classic rock, the album pulls forward with excellent honesty. The vibrant and crystal clear production packs power enough to ignite as well, and it adds up to the overall genuine live feeling the band persists to bring to the plate.
Nevertheless there are some minor misses vocally which the band will more than surely erase when the original vocalists will step up to create the magic so well laid down musically on this 2CD collection. I'm looking forward to hear Kimball, Turner and Mogg add their voice to the revived tracks played by Bonfire and I'm especially looking forward to see and hear Bickler, Christian and Beck giving their best, or hear Tate flex his voice around the QR classics again. For Gioeli, by all means, we do not have to wonder…. He is hard to tame, and likely the best match possible for Bonfire onstage.

But, let's find out in November!