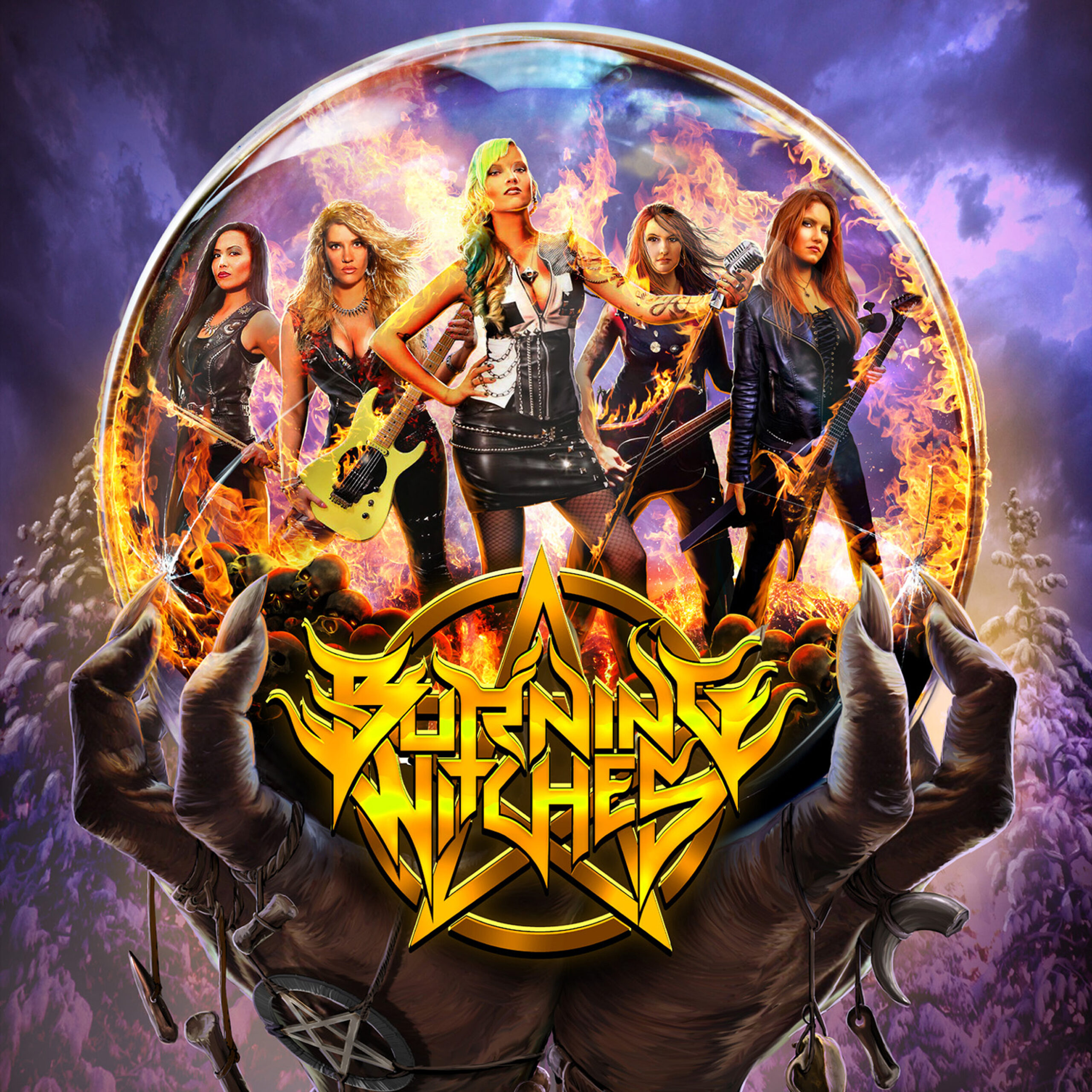 BURNING WITCHES-Burning Witches
Nuclear Blast Records
It seemed to take forever, without discarding any female metal bands in the last decades, but finally there's a new thane to the throne, left vacant by metallers Phantom Blue: BURNING WITCHES! With their debut recording garnered rave reviews, landing them the appraised title demo of the month in German leading Rockhard magazine, it didn't take long for the band to be reckoned by leading metal label Nuclear Blast. The Swiss all female metal band is sincerely a force to be reckoned with, and with Destruction's Schmier twisting the production knobs, the band debuts with a fierceful and powerful, rhythm-heavy debut in the vein of Phantom Blue's raved debut. `Burning Witches' is a sincere display of power and is blessed with all the needed ingredients to make this debut one of the better in metal history…. And I'm not referring to the all female potion now.
The Swiss quintet delivers exactly what makes them both fierce and modern as well as fresh and contemporary. The blend of their sound is classic with the presence of the US power metal classics as well as the European roots displayed when the pace goes up. The gallop and Teutonic resonance is keenly injected into the twin guitar inflicted power chops of the classic power metal. Much like Helloween teaming up with Vicious Rumors to re-record `Digital Dictator', while Sabaton overlooked the arrangements. It is fresh and vivid, captured into spot on tracks that stand out with roaring vocals and fine melodies with less harsh overhaul. The entire package is sealed by the exquisite looks of the ladies, with a kiss. `Burning Witches' spits fire upon first pitch and will retain their bedazzling pitch throughout the entire record. Opener ,,Black Widow'' and the following title track ,,Burning Witches'' both hail from the band's impressive debut and are packed with the ingredients mentioned above. Melodic driven heavy metal with Jay's ploughing bass and Lala's galloping drums, providing a hammerhard foundation. The twin solos spit onto us by Alea and Romana are tasteful and exquisite, their neck wrecking riffs are wailing and frequently drop into typical classic metal riffs. Seraina's vocal range is from powerful and loud to hysteric if needed, sneering it in perfection. This lady belts the impossible. Hysteric and haunting growls go hand in hand with melodic chants like on ,,Bloody Rose'' and the band's name track. Her range is extremely wide and even the hectic grunts and screams feel natural. Pitching it up in ,,Metal Demons'' or when the pace goes down she unexpectedly reveals a timid and warm side that easily nests in the head. The melodic power ballad ,,Save Me'' is an excellent example of her divine talents. ,,The Dark Companion'' drowns you in this comfort before spitting flames and picking up pace towards its hyper melodic chorus and neurotic underscore. The internal tension is tough to capture in words but it is a must hear! Again the mid section is sheer bliss with jaw dropping solos flying from left to right in fine harmony, sweep picking extravaganza while arpeggios fly up and down the ladder. Crowd pleasers such as the fierce and driven ,,Creatures Of The Night'' with its crunchy power chords and virtuoso leads, the vigorous double bass execution and hysterical howls with traditional gallop and anthemic harmonies, that easily set any metal festival ablaze. ,,Creator Of Hell'' with its smattering chorus, the deviant ,,The Deathlist" and the pumping ,,Jawbreaker" which is reminiscent to Judas Priest's finest classics, Burning Witches deliver a varied potion of metal.
Don't expect lyrical content with political correctness or deeply embedded messages, Burning Witches serve up their metal with almost laughable and simplistic lyrics, but every time it is infested with variety and melodic extravaganza easily casting aside the content. It's forgiven since they implement their band's name into their lyrical content all over. No fairy tales and unicorns riding the rainbows here, but witchery and satanic chants, all aligned perfectly with the enriched musical perfection of the melodic tinged metal hymns.
Believe me; Burning Witches is most certainly a band to keep your eyes skinned for; musically as well optically. Calling these metal contenders solely an 'all female metal band' would do them hardly any justice. Much like the aforementioned Phantom Blue debut, `Burning Witches' can easily rank themselves in the top of heavy metal's finest, matching their male opponents easily. Their guitar interaction with exquisite twin soloing, the pompous and ponderous drum & bass, underneath the varied vocal execution from Seraina, make Burning Witches a band to watch. On top their songs are well composed and the melodies are rich and spot on, perfectly adding up to the classic outbursts of the finest power metal at hand. All is just stellar and easily outweigh the generic lyrical imperfection on hand. `Burning Witches' is a sonic brew attracting and appealing to fans from all heavy metal genres. Yes, we have heard it all before, but why not settle for the best at last?