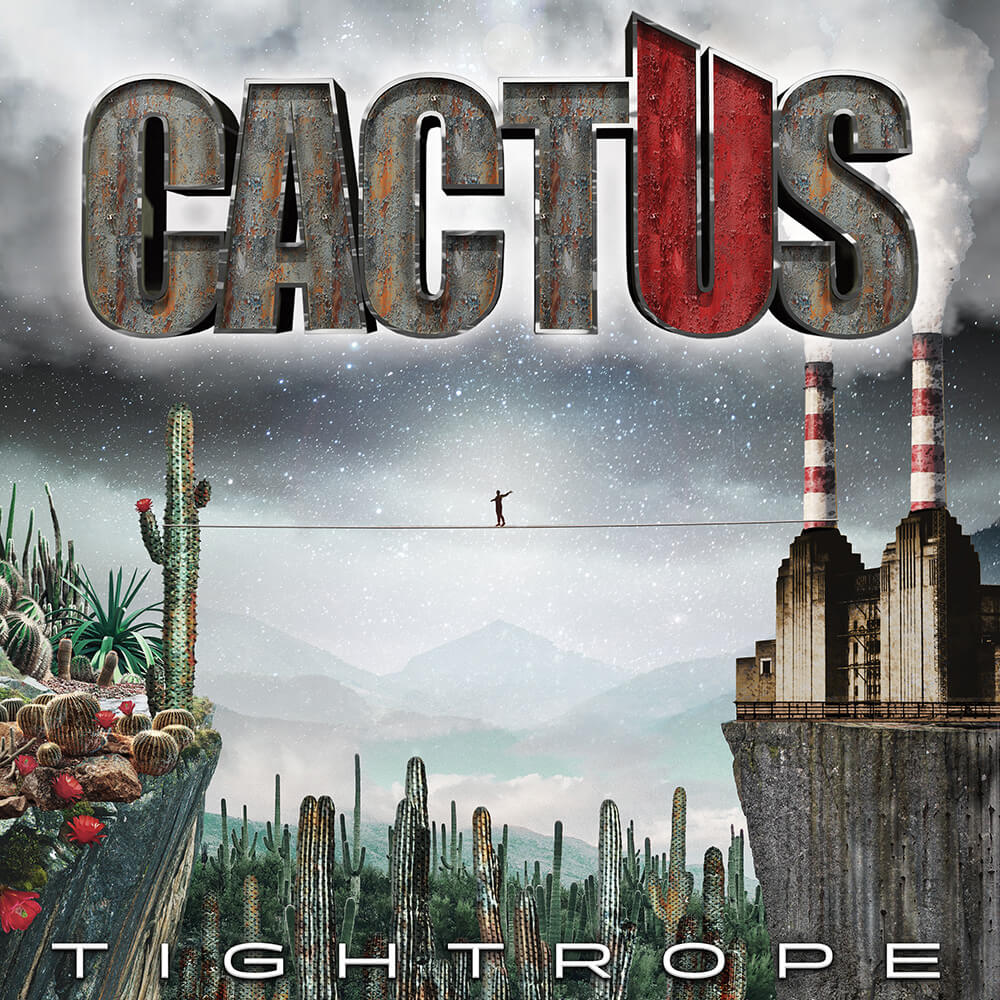 CACTUS-Tightrope
Purple Pyramid/Cleopatra Records
If you are into vintage rock from the seventies you surely must have heard of Cactus, a band formed in 1969 by drummer Carmine Appice (later active in bands like King Kobra, Blue Murder and Ozzy Osbourne and several other projects) and bass player Tim Bogert. After recruiting guitarist Jim McCarty and singer Rusty Day the band released several albums before disbanding.
Cactus has a cult status and during the years several ex-members tried to revive the group but without Bogert, Appice and McCarthy present. Some original members released 'Cactus V' in 2006 with singer Jimmy Kunes before calling it a day again. Sometimes the band had a rare gig but things really started rolling again when in 2016 the album 'Black Dawn' came out with Appice, Kunes and McCarty on board (Bogert had already retired from touring and passed away in January of this year after a long battle with cancer). Not long after the release of 'Black Dawn' McCarty retired with health issues and was replaced by Paul Warren. The group also recruited a new bass player in Jimmy Caputo while in 2021 harmonica player Randy Pratt (been active with this group earlier) completes the current line-up.
'Tightrope' is a typical Cactus record if you ask me. Produced by Appice and Warren this album offers close to 63 minutes of old-fashioned rock, blues and a touch of soul and southern rock. Jim McCarty plays guitar on several tracks and also former bass player Pete Bremy is present on a track which leads me to the conclusion that Appice and his mates have been working quite a while on this record and went through several changes in personnel during the recordings.
One of the best songs on the album is a beefed up version of the 1972 The Temptations cover ,,Papa Was A Rolling Stone''. Cactus has added a lot of power to this soul classic and it fits very well with the more rocking other songs like the excellent title-track ,,Tightrope''.
Appice and Warner have kept the sound pretty basic. There are not a lot of thrills added to the mix, it is good foot stomping vintage rock with some really cool songs where the slightly rough voice of Jimmy Kunes makes the difference together with the juicy guitar pieces that Warren has come up with. Carmine Appice is still a forceful drummer, with his fills, power and strong cymbal technique. Pratt buts in regularly with his scorching harmonica.
If you are into seventies rock and blues I suppose checking out 'Tightrope' would be a good idea. Not a bad record at all, although not all twelve songs are up to scratch. Maybe only for the happy few these days but Cactus still has something to contribute to the rock world.