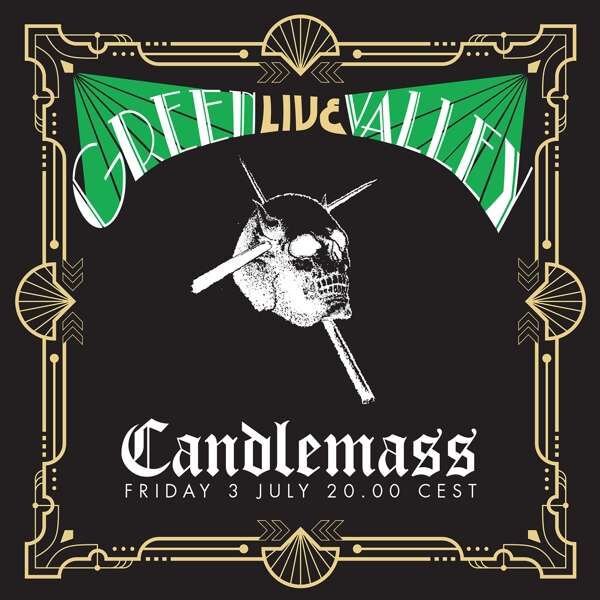 CANDLEMASS-Green Valley Live
Peaceville
Because of the pandemic lots of bands were more or less forced to reach their fans by streaming a concert. Candlemass did that as well on Friday July 3, 2020. Band leader/bass player Leif Edling and rhythm guitarist Mats 'Mappe' Bjorkman both were infected with the virus themselves which made rehearsing for the show practically impossible.
EXHAUSTED BY THE HEAT
The band dressed up the stage with candles and covered the drum kit of Jan Lindh with flowers to create some sort of atmosphere. It was a gamble but it has paid off. The 'show' without any audience present (the first time in history the band played without fans present) and the fact that the temperature in the room was very high resulted according to Edling in the fact that he made a lot of mistakes while playing, as he was trying not the fall flat on his nose exhausted by the heat. It looks a bit strange as there is no interaction on stage and the band members doing their best to make something out of nothing.
NO REPAIRS
But we are talking about Candlemass here, the number one doom metal band from Sweden (although very closely followed by Sorcerer), full of experience and armed with epic songs from the albums 'Epicus Doomicus Metallicus', 'Nightfall', 'Ancient Dreams' and their latest one 'Door To Doom' where vocalist Johan Langqvist made his comeback. After looking back at the footage and hearing the audio the band decided to do no repairs to the sound. They left it as it was performed that warm Friday night in July 2020.
LEGENDARY FIRST ALBUM
And here we are: available on CD/DVD hoping for a new album by these masters of doom, as they revisit that legendary first album with the songs ,,A Sorcerer's Pledge'', ,,Solitude'', ,,Under The Oak'' and ,,Demon's Gate''. Also the album 'Nightfall' is well present with steaming versions off,,Bewitched'', ,,Well Of Souls'' and ,,Dark Are The Veils Of Death''.
WELCOME SIGN OF LIFE
Furthermore ,,Mirror Mirror'' and a brand new track ,,Doom Jam'' are there for the taking with a guest role for Carl Westholm on keyboards on several tracks. 'Door To Doom' is represented with the track ,,Astorolus'', this time without a guest role for Sabbath's Tony Iommi for obvious reasons. It might visually not be the best show possible but given the circumstances and situation the band was in they have done a great job and have given a very welcome sign of life with hopefully more to come in the future.