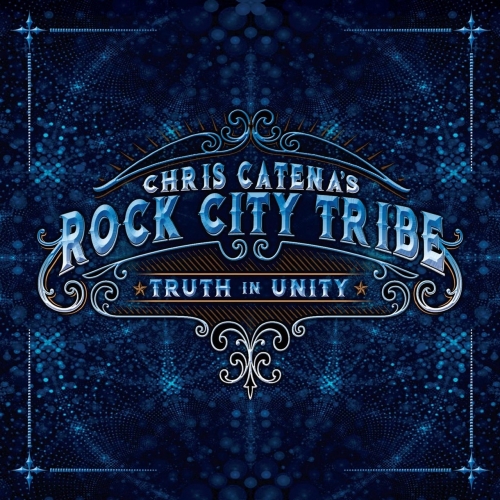 CHRIS CATENA'S ROCK CITY TRIBE-Truth In Unity
Grooveyard Records
People that like some authentic guitar masturbation should have their ears cleaned out before digesting 'Truth In Unity', a CD that marks a cooperation between Italian vocalist Chris Catena and Swedish guitarist/song writer Janne Stark, both musicians who have been in the business for quite some time now.
The list of musicians that have lend a hand with this project is enormous and overwhelming. There are contributions on the guitar by Blues Saraceno, Tracii Guns, Pat Travers, Stevie Salas, Dick Wagner, Doug Aldrich, Ron 'Bumblefoot' Thal, Kee Marcello, Rowan Robertson, Ozz Fox, Jimmy Crespo and Freddie Salem. On bass there are guest roles for the one and only Wyzard, Chuck Wright, Tony Franklin and a certain Greg Chaisson, drums are provided by Matt Starr, Brian Tichy and Troy Lucketta and on the vocal front people like Paul Shortino, John Sloman and Bobby Kimball add their talent to the mix. These are just a few names of the enormous guest list and I find it amazing that Stark and Catena have managed to make the album sound as a unit.
Most songs have been written by Stark (or on his own or in cooperation with other composers like drummer Peter Hermansson) and there is also a cover version of ,,Theme For An Imaginary Western'', once written and recorded by the late, great Jack Bruce for his solo-album 'Songs For A Tailor' but many ( 'older') rockers might know this song from the 'Climbing!' album by Mountain. Mountain bass player/singer Felix Pappalardi produced the Jack Bruce album and decided to use the song for Mountain and guitarist Leslie West has kept this track in his live set for many years as well after the demise of Mountain. For me it is the only track on this album that does not cut it as this version on 'Truth In Unity' is clearly not in the vocal range of Chris Catena. It is originally, and also in the Mountain version, a song with a slow tempo and an amazing vocal line but here we find a beefed up version that just does not do it for me (maybe because the last couple of weeks I have been listening to a lot of older Mountain albums). But for the rest this album with its 15 tracks in total is a dream for guitar lovers as the solos are practically uncountable and the quality of the songs and the performances are at stages impressive. This is a hard rock project that is quite unique as there are so many different participants and it is a record with plenty of variation as well. Listen for instance to ,,My Angel'', a ballad with a beautiful acoustic middle piece or the Kee Marcello composition ,,Still A Fool'' that just kicks ass with Kee's guitar leading the way. Also excellent is the duet between Catena and Toto's Bobby Kimball on ,,The Seventh Son'', another highlight on this record that has got groove, balls and melody. And did I mention that there are a few guitars burning a hole in the carpet as well?
#chriscatenasrockcitytribe #jannestark #hbls #headbangerslifestyle #awayoflife #grooveyardrecords