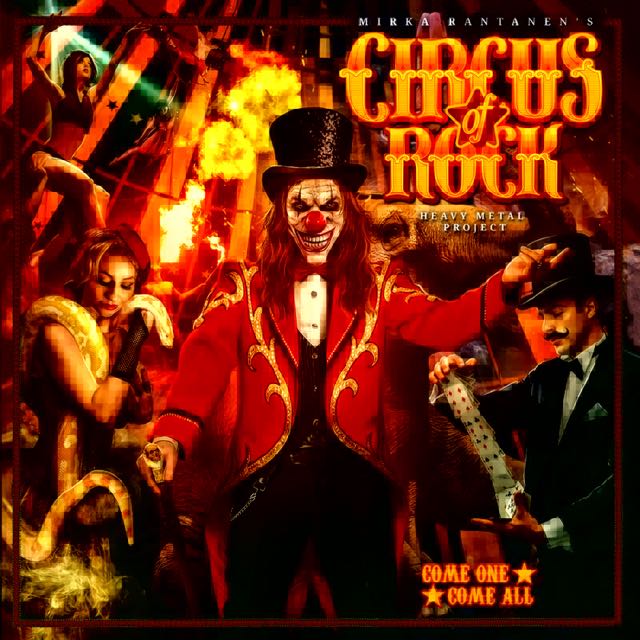 CIRCUS OF ROCK-Come One, Come All
Frontiers Music SRL
Circus Of Rock is a new band. Or rather a massive musical project masterminded by drummer Mirka Rantanen [King Company]. `Come One, Come All' has an amazing line-up of singers and musicians [check all the names here]. The amazing vocal talents involved come from the likes of Amaranthe, Tyketto and Hardline. But also Nightwish, Leverage and more. Also musicians known from Stratovarius, Brother Firetribe and Masterplan, to name a few, joined this project.
Mirka Rantanen has a long career in the Finnish hard rock scene. He has played on 30+ albums during his 30-year career. This includes releases by King Company, Raskasta Joulua and Kotipelto. But also Warmen, Northern Kings, Revolution Renaissance a.o. Ten years ago he also created the very popular heavy rock band for kids called 'Hevisaurus'. Mirka was even awarded the Emma Award in 2011, the Finnish equivalent of a Grammy, for this. `Come One, Come All' is actually an act of celebration for the drummer. It is not a standard solo album, but a wish that has been on the man's bucket list for a long time. A collaboration with many colleagues he has met and/or worked with over the years.
Opening track ,,The Beat'' is an up-tempo rocker with vocals by Riku Turunen. ,,Desparate Cry'' is most likely written to meet the musical standards of Hardline/Axel Rudi Pell singer Johnny Gioeli. Because it is a nice melodic rock song that could also have been on one of the recent Hardline albums. Third track ,,Sheriff Of Ghost Town'' is the one that makes it very clear that the songs are tailor-made for the performing artists. It is former Nightwish heavyweight Marco Hietala who is responsible for the vocals here. Frankly I'm so glad to hear this brilliant musician contributed to new music. His vocals are always top notch and it elevates this song to a completely different level. It leans somewhat towards the symphonic metal genre, but is certainly not a clone of a Nightwish tune.
In ,,Never'' Kimmo Blom [Leverage] stays away from a musical sound, instead we hear an easy on the ear AOR melodic rock song. ,,In Times Of Despair'' starts of yet again in a more symphonic metal way. Not that strange, since singer Elize Ryd [Amaranthe] has taken place behind the microphone, only to give away a great performance. The raspy voice of Pasi Rantanen is the main ingredient for the lingering hard rock anthem ,,Crossroads''.
Next up is the melodic ,,Caught In The Middle'', starring Tyketto's vocalist Danny Vaughn. It sounds slightly heavier than the work Danny usually does. But nevertheless he gives away a great performance and owns it. From the second part of this 13-track album the overtone is mainly melodic rock. You hear nice contributions from Marc Quee, Tommi "Tuple" Salmela, Jarkko Ahola and Rick Altzi a.o. To me ,,No Reason" definitely stands out. Especially because of the nice tempo and lovely chorus. Overall I especially like the first part of this album because of its great variations.
I think Mirka's dream has definitely come true with this album. He has reached a milestone in his career that he can definitely be proud of. `Come One, Come All' has become a beautiful varied album with contributions from some of the best artists walking around the globe. I wonder if and when Circus Of Rock will surprise us again with a second effort.