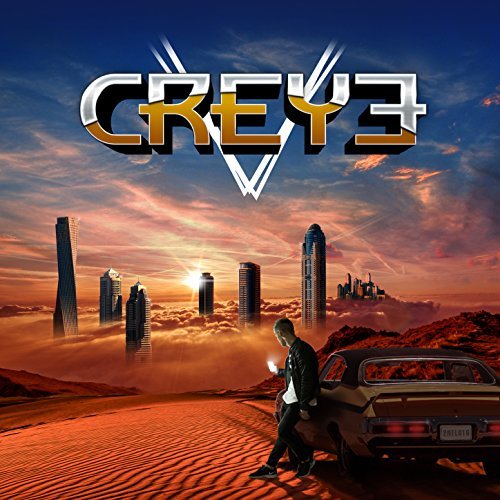 CREYE-Creye
Frontiers Records srl
Replacing Art Nation's Alexander Strandel with Robin Jidhed, Creye has come to form for their debut album released on Frontiers Records. The band's multi-album deal inked upon release of their impressive 3-track debut EP, the bands steps up to reintroduce themselves with a glorious album.

`Creye' is an introduction that will stick to you on the spot. The album is packed with energetic AOR/melodic rock, and flirts with pop. Andreas Gullstrand [Grand Slam] and his 4 companions present some of the best melodic rock of the decade. Delightful is the interaction between guitar tandem Gullstrand and [recently added] Frederik Joakimsson and keyboard player Joel Rönning, fitting like a glove. Swirling keys in thick layers, pasting the sound solid, occasionally interacting in a towering solo together with Gullstrand. The rhythm guitars shred forward and allow Andreas to spread his excellent extravagant solos and progressing crystal clear riffs. Adding a rhythm guitar to the mix creates more room for Gullstrand, and above all: it hints future touring to enable Creye playing their majestic tunes on stage. The foundation is rock solid, with Arvid Filipsson laying down a ponderous foundation and Gustaf Östa filling the gaps. Musically it all fits like a glove, and it all adds up to a celebration of some of the classic era AOR bands. It's pompous but smooth; it's edgy but slick.
The vocals and harmonies add up to the pleasure of Creye's debut, with Jidhed delivering an impressively slick performance, over and over again. From the keyboard stoked pulsating opening ,,Holding On" all the way to the fade out of ,,Better Ways", it is sheer melodic pleasure. Polished slick melodies that really haunt you for days. Each track an AOR hymn!

I won't point out any standout tunes, as the album is way to consistent featuring 13 true gems. Both EP tunes also rerecorded hint the thrive of CREYE as recording artist. Both tunes were already of impeccable perfection, but little tweaks and minor changes make it all just a tiny bit better. Both tracks also proven the productional perfection of Gullstrand and his men, and the keen eye for melody aligned with powerful choruses and gripping musical interaction. What surprises me however, is the label's move to bring in external songwriters such as Ulrick Lönnqvist [Sahara, Code Red and Jim Jidhed], Erik Wiss [Cap Outrun and Gathering Of Kings], Sören Kronqvist [Sunstorm, Find Me and One Desire], Mike Palace [Palace and Kryptonite] and Hal Marabel [Bad Habit,Arena and Mad Invasion] to work with Creye on this impeccable debut. Perhaps an act of guidance for the band to make an explosive impression and speed up the recording of this debut, but with the band's expertise proven on the EP, I can't imagine it to be.
`Creye' is an album packed front to back with bedazzling melodic rock hymns. Likely too slick for most, but It will definitely get fans of the genre in a state of euphoria. Together with the impressive TASTE CD `Human Decay' an absolute tip for the top! MUST BUY!